Amazon Echo Black Friday 2019 Deals
3D Insider is ad supported and earns money from clicks, commissions from sales, and other ways.
"Alexa, what are the best Black Friday deals?" is something you could ask if you had a speaker with Amazon Alexa, the world's leading AI assistant. You're in luck because Amazon is pulling out all the stops this Black Friday and offering their newest along with well-established Echo devices at outstanding prices.
These deals are not yet live and are estimates based on what is available from other stores.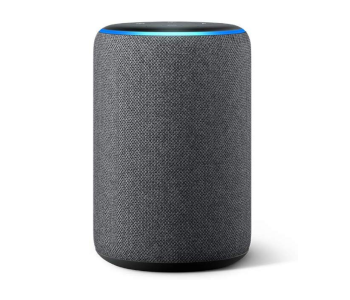 Amazon Echo 3rd-Gen
Original Price: $99
Black Friday Price: $59.99
The 3rd-gen Echo is Amazon's brand new smart speaker and a definite improvement upon its predecessor. It sports the same recognizable design but has noticeably better sound quality. You'll chiefly want the Echo for its smart capabilities, but it is an excellent wireless speaker too.
Even at full price, the Echo is a bargain since it has the same components as Echo Plus, Amazon's top-tier smart speaker. Its ZigBee antenna needed to be removed as a compromise, but that's something most people won't miss for regular use anyway. The important thing is that Echo is now a competent speaker, producing punchy bases and clear highs that are a delight to hear.
Controlling the Echo is intuitive. You either use the volume, mic mute, and Alexa activation buttons on top or issue a command to Alexa herself. The speaker has a 3.5mm jack in the rear so that you can connect it to other devices like TVs and substantially boost their sound quality. Two Echos can also be combined tor an outstanding stereo sound experience.
Alexa has gotten smarter over the years, too. She's competent at answering general questions and giving directions to places of interest. However, Alexa truly shines as the universal controller for your smart home. There are thousands of Alexa Skills designed to verbally control a growing number of compatible smart products individually. Alexa also has routines, simple voice commands you can tweak to start complex automatons.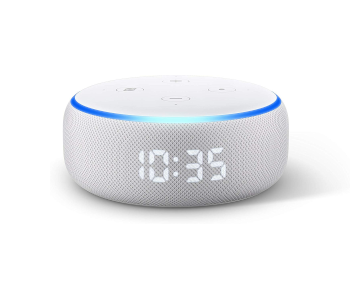 Echo dot 3rd-Gen with Clock
Original Price: $59.88
Black Friday Price: $44.99
The Echo Dot is a smaller, cheaper alternative to the original Echo and the best product to get if you're only interested in Alexa. The clock version is its newest iteration, and this Black Friday will be the first time that it's on sale. If you don't care for the clock feature, you might want to grab the standard 3rd-gen Echo Dot instead.
The mini speaker takes up little space and is easy to control physically, with your voice, or through an app. Its clock shows the time in clear white numbers softened by a layer of charcoal-covered fabric. The clock glows a pleasant white and is always the right brightness. The Dot has light sensors that adjust its brightness based on ambient light.
Your interactions with Alexa benefit from the clock as well. For example, telling her to start a countdown will cause one to appear on the speaker. Asking Alexa for the temperature creates the same effect. Of course, there's also Alexa's regular functionality that includes access to news or directions, calendar & list management or placing free calls to landlines and mobile numbers.
The Dot isn't powerful enough to envelop a large room with rich sound, but it will do fine as a personal speaker in a small space. It has a 3.5mm jack like the regular Echo, allowing you to hook up a bigger speaker and boost its audio performance.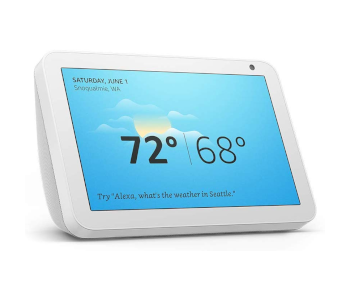 Echo Show 8
Original Price: $129.99
Black Friday Price: $99.99
The newest Echo Show will be released on November 21st and will already come with a 25% discount! This Black Friday is an amazing time to grab one since it's doubtful Amazon will lower the price any time soon after that. You can also get the Echo Show 5 for $49.99 if savings trump a bigger screen for you.
That bigger screen is the new Show's main feature. Its size has been bumped up from 5 to 8 inches, making the Show into a device that's more suited for the kitchen counter or your foyer than a nightstand. The size increase comes with a resolution bump to 1,280×800. Your digital photos and video calls will look much better. You'll also be able to make out more details if you hook the Show up to your security camera feed.
The new Show has a more attractive design with a thinner bezel and a sturdy stand. It features improved security in the form of buttons that disable the microphone and camera. There's a flap that covers the camera entirely if you're still worried about your privacy.
A screen makes the Show the most versatile Alexa speaker. It gives you access to all Alexa features along with tons of media if you're subscribed to Amazon Prime Video. The company will also be rolling out Amazon FreeTime, a service that will cost $3/month. FreeTime will provide curated content like books, videos, or songs for your kids while filtering out inappropriate content.