Headphones Comparison: Amazon Echo Buds vs. Samsung Galaxy Buds+
3D Insider is ad supported and earns money from clicks, commissions from sales, and other ways.
The Amazon Echo Buds and the Samsung Galaxy Buds+ are two of the best truly wireless headphones under $200. Both are versatile headphones that are good for different usages, with their highly portable designs making them easy to carry for everyday use. If you simply want the more affordable option, get the Echo Buds, which are normally around $20 cheaper. But if their price difference is not an issue for you, choosing between the two is not going to be as straightforward.
In this head-to-head comparison between the Echo Buds and the Galaxy Buds+, we'll give you a detailed look at their differences and similarities to help you make an informed decision regarding your next purchase.
Quick Look
Amazon Echo Buds
Samsung Galaxy Buds+
Form Factor
In-ear
In-ear
Enclosure Type
Closed-back
Closed-back
ANC
Yes
No
Connectivity
Bluetooth
Bluetooth
Battery
Headphones: 5 hours
Charging case: 15 hours
Headphones: 11 hours
Charging case: 11 hours
Weight
Headphones: 0.54 oz
Charging case: 2.5 oz
Headphones: 0.45 oz
Charging case: 1.4 oz
Price
Amazon
Amazon
Design
Although they are very similar in some aspects, the Galaxy Buds+ are better-designed truly wireless headphones than the Echo Buds. They are more comfortable to wear for long hours, feature a better control scheme, and include a more modern USB-C charging cable. They are slightly more compact, with a smaller case and earpieces, and are available in more color options. Meanwhile, the Echo Buds have a better IP rating and feature hands-free Alexa support, which is a big plus for many people.
Fit
The Echo Buds and the Galaxy Buds+ are both completely cable-free headphones, which means there are no audio cables that might get caught into something, especially while exercising or working out in the gym. This puts them in a different category from headphones like the Beats Powerbeats3 and the Jaybird Tarah Pro, which still have short audio cables connecting their earpieces.
However, their actual headphone type is different from what their product names suggest. While both include "buds" in their names, they are technically in-ear headphones or earphones. This means their small ear tips go inside your ear canals instead of simply resting outside them like earbuds. And like other in-ear headphones, they come with multiple ear tips, with both of them including three different sizes of ear tips (small, medium, large).
Both earphones are significantly more breathable than over-ear and on-ear headphones since they don't cover your ears at all. Both also include optional fins or wings for a more stable and secure fit, with three sizes of fins to choose from. The Galaxy Buds+, however, are more comfortable to wear for long hours. Their earpieces are smaller while their ear tips don't enter your ear canals too deeply like that of the Echo Buds, which makes them less fatiguing to wear for long flights and road trips.
Build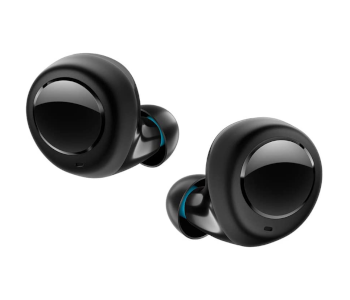 The build qualities of the two earphones are good. Both are made of plastic, with no apparent metal parts in their exteriors that might suggest a more premium build. They are extremely lightweight and include small, glossy surfaces on the back of their earpieces for their touch controls. Their ear tips are made of silicone, with the option to swap them out for separately bought foam ear tips.
Featuring sleeker and more discreet fins, the Galaxy Buds+ are available in more colors, with Samsung currently offering black, white, blue, red, and pink color options. Their charging case is also more compact and feels better-built, but on the other hand, their IPX2 rating is inferior. The Echo Buds, which are only available in black as of this writing, have a better IPX4 rating, making them more protected against water and sweat. Despite their different IP ratings, both earphones are good for sports use, but they are definitely not for swimming and other water-related exercises.
Controls
Both earphones feature touch-based controls, support voice assistants like Siri and Google Assistant, and allow for controls customization using their respective companion apps. But considering their more compact earpieces and smaller touch surfaces, their touch controls are much more limited compared to wireless over-ear headphones like the Sony WH-1000XM3 and the Bose Headphones 700.
With their touch controls, you don't need to press on physical buttons on their outer shells, which can cause the ear tips to go uncomfortably deeper in your ear canals – an issue with some truly wireless earphones with stiff control buttons. But on the other hand, you might accidentally press on their touch surfaces and activate some functions while simply readjusting the earpieces, which can be annoying sometimes.
The Galaxy Buds+ have better touch controls, allowing for single taps, the most common gesture in a touch-based control scheme. With their touch controls, you can manage your calls and music, activate your voice assistant, and enable the talk-through mode to monitor your surroundings without removing your earphones. Using the companion app, you can set the touch-and-hold gesture to a specific function, such as volume control, which is not among the default touch controls.
With the Echo Buds, you'll need to customize their touch controls if you want more variety, as their default controls are very limited. You can set the double-tap and press-and-hold gestures of each earpiece – a total of four functions – using the companion app. You can set the touch controls to functions such as music management, voice assistant activation, mic mute, and toggling between active noise cancellation (ANC) and talk-through modes.
Unsurprisingly, the Echo Buds also feature hands-free Alexa support. This means you can check the weather, get directions to a specific place, play your favorite music, and set workout timers, among other things, without reaching for your smartphone. If you own a few Alexa-enabled devices like the Amazon Echo Dot, you'll find the Echo Buds more convenient than the Galaxy Buds+.
Portability
Like all other truly wireless headphones, these Amazon and Samsung products are much more portable and easier to carry for everyday use than other types of headphones. They are extremely compact and lightweight and will easily fit into small pockets. Whether for office use, commuting, or working out at the gym, you'll have no problem carrying them around. You don't even need to bring their charging cables with you at all times, as their charging cases also hold additional battery charges.
But overall, the Galaxy Buds+ are more portable, though only by a slim margin. In addition to their earpieces being slightly smaller, their charging case is also more compact, measuring around 2.8 inches long and 1.5 inches wide, according to the official specifications. The charging case of the Echo Buds is one of the bulkier cases out there, measuring 3 inches long and 2.2 inches wide, but it's still very portable and easy to slip into most pockets.
Accessories
The Echo Buds and the Galaxy Buds+ include the same set of accessories. Both of them come with a plastic case (which serves as a storage and charging dock), a charging cable, three pairs of ear tips, and three pairs of stability fins. However, their charging cables are different: the Amazon earphones include a micro USB cable while the Samsung earphones include a USB-C cable, with the latter being the more preferable type for most people. Unlike with some earphones, there are no foam ear tips included for both products.
Performance
Like in the design department, the Galaxy Buds+ have better overall performance than the Echo Buds, though the latter is significantly better in one important aspect. The Samsung earphones sound better out of the box and have a slightly better integrated mic and a much longer battery life on a single charge. Meanwhile, the Amazon earphones have better sound isolation, with much better noise isolation performance, which is a big plus. Both earphones are limited to Bluetooth connectivity and have a good companion app for customization.
Sound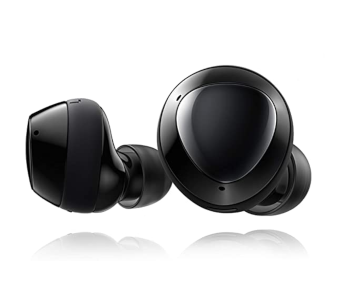 The Galaxy Buds+ are better-sounding earphones than the Echo Buds. You'd be hard-pressed to find similarly priced truly wireless headphones that sound better. They are great-sounding earphones that make a strong case for the best-sounding – or at least the most neutral-sounding – truly wireless headphones currently out. They sound more neutral and better-balanced than the Amazon earphones, with better accuracy in all ranges. Their bass is deep and has a good impact while their wonderfully clean mid-range is neither recessed nor too forward. Their treble is also detailed and never harsh.
They are suitable for most music genres and will impress even some audiophiles – a big compliment for truly wireless headphones, which are not exactly known for their audio reproduction. Their default sound is very neutral, with the right amount of bass and good instrument separation. If you are a music lover, ignore the Echo Buds and head straight for the Galaxy Buds+.
With the Samsung companion app, you can also slightly modify the sound if you find the out-of-box sound profile of the Galaxy Buds+ too flat. You get to choose from five EQ presets, including a bass boost setting for bass-heavy music genres. However, the app doesn't offer an actual graphic or parametric equalizer for manual sound customization.
And that's where the Echo Buds have the advantage. The companion app for the earphones includes a graphic equalizer, allowing you to manually modify the sound. The Amazon earphones are not bad in the sound department, though. They are actually decent-sounding truly wireless headphones, with a good mid-range and bass and a decent treble. But the Samsung earphones are simply better in pretty much all categories, making them the better choice if sound quality is very important to you.
Isolation
It's the other way around with sound isolation performance. With their ANC feature and tight in-ear seal, the Echo Buds provide better noise isolation and have lower sound leakage than the Galaxy Buds+. They are good at reducing background noise – from the sound of airplane engines to the sound of ambient chatter and air conditioning units in the office. This makes them more suitable for listening to music at the office and while commuting and traveling.
With their minimal sound leakage, they allow you to listen to music at high volume to further block out ambient noise without worrying about the audio leaking out and disturbing the people around you. And the best part is that the Echo Buds still provide good noise isolation even with the ANC feature disabled. If you want to monitor your surroundings without removing your earphones, you can easily switch to the adjustable talk-through mode using the touch controls.
For purely noise isolation, the Echo Buds are simply better, but the Galaxy Buds+ are also decent at reducing background noise despite lacking ANC. They block a good amount of ambient chatter and high-frequency noises, but they are not effective against low-frequency noises. They are good for listening to music in a noisy office, especially considering their low sound leakage, and also feature a talk-through mode for monitoring your surroundings without removing your earphones.
Mic
While both earphones feature a three-mic system, the Galaxy Buds+ have better mic performance overall. Their recording quality and noise reduction are better, allowing for better phone calls even in moderately noisy places. Both earphones are decent enough for casual phone calls, but for business calls, they are not recommended. If you want headphones with good mic performance even in noisy environments, then you are in the wrong category, as truly wireless headphones are usually either mediocre or decent at best regarding mic performance due to their design.
Battery
The Galaxy Buds+ have better battery performance than the Echo Buds. They can run up to an impressive 11 hours per charge, which is especially notable for truly wireless headphones. This puts them in the same league as the Beats Powerbeats Pro and the Creative Outlier Air, with a much longer battery life per charge than most truly wireless headphones.
With their 11-hour battery per charge, they are more suitable for long flights and all-day use at the office than the Echo Buds, especially considering their more comfortable in-ear fit. They automatically charge as soon as you put them back into the charging case. The case supports Qi wireless charging and holds one additional full charge, bringing the total battery life to 22 hours.
The Echo Buds, on the other hand, have an average battery life per charge, at least for truly wireless headphones. They are limited to five hours per charge, which means you'll need to charge them in the case at least once if you listen to music continuously throughout your work shift or during particularly long flights. You do get three additional full charges in their charging case, though, which translates to a total battery life of 20 hours.
Connectivity
Both the Echo Buds and the Galaxy Buds+ are limited to Bluetooth connectivity and can't be used in wired mode when their batteries are depleted. Additionally, both of them don't support NFC technology, multi-device pairing, and Qualcomm aptX Low Latency (aptX-LL) technology for lower latency while watching movies and gaming.
On the bright side, both of their wireless ranges are good, allowing you to walk around the office or house without needing to bring your smartphone to keep the signal from dropping. Both earphones connect easily with iOS and Android devices, with the Galaxy Buds+ allowing for seamless pairing with a select few Samsung smartphones.
Their respective companion apps – Amazon Alexa (iOS, Android) for the Echo Buds and Galaxy Wearable (Android) and Samsung Galaxy Buds+ (iOS) for the Galaxy Buds+ – are also good. They are easy to use and allow for a decent amount of customization, including options to customize the sound and the touch controls, as mentioned earlier.
Wrap-up
Amazon Echo Buds
The Echo Buds are highly versatile truly wireless headphones that are good for commuting, traveling, sports, and office use. They are decent-sounding earphones featuring touch controls and stability fins for a secure fit, which is especially beneficial for sports use. Their IPX4 rating is better than that of the Galaxy Buds+, but their controls are more limited.

They are some of the best and most affordable noise-canceling earphones currently out, providing better noise isolation than the Samsung earphones. If you want truly wireless headphones for blocking out background noise at the office and while commuting or traveling, the Echo Buds are the better pick. With their hands-free Alexa support, they are also more suitable if you are heavily integrated into the Amazon ecosystem and own several Alexa-enabled devices.
Pros
Cons

Hands-free Alexa support
Good noise isolation performance
IPX4 rating for water resistance
Customizable touch controls
Good app support
Minimal sound leakage

Short battery life per charge
Mediocre mic performance
No low-latency codec support
Samsung Galaxy Buds+
The Galaxy Buds+ are some of the best truly wireless headphones on the market, making a strong case for the best overall under $200. Like the Echo Buds, they are versatile earphones that are good for all-around everyday use, but they are better in most aspects. They have a more comfortable in-ear fit, a more compact case that supports wireless charging, a longer battery life per charge, and a better integrated mic, but their IPX2 rating is inferior.

Their sound quality is also better. In fact, they are some of the best-sounding truly wireless headphones out right now. On the other hand, their noise isolation is not as good as that of the Echo Buds, but their passive noise isolation is still decent. While they lack hands-free Alexa support, they are also compatible with voice assistants like Siri and Google Assistant and their touch controls are slightly better. Overall, the Galaxy Buds+ are better headphones than the Echo Buds, beating the latter in most design and performance categories.

You can also check out the original Galaxy Buds, which are more affordable. They look identical to the newer model and are similar in many areas – including build quality, comfort, audio reproduction, noise isolation, and Android app support. However, their battery life per charge is shorter and their mic noise reduction is inferior.
Pros
Cons

Great sound quality
11-hour battery life per charge
Customizable touch controls
Supports Qi wireless charging
USB-C charging cable
Good app support

Case holds only one extra charge
No low-latency codec support