Compare Amazon Fire Tablets: The Best One for 2020
3D Insider is ad supported and earns money from clicks and other ways.
Amazon Fire Tablets are high-performance devices designed for entertainment. They are much cheaper than their corresponding models from Apple and Samsung. Still, They are excellent for basic tasks like watching movies, checking emails, and web surfing. They also support Alexa to bring you a lot of possibilities. Furthermore, you can use them as an alternative to Echo Smart Speakers.
If you are an Amazon Prime member, the Fire is the perfect tablet for you. It can be a valuable shop assistant, helping you manage your purchased content. You can also share it among family members. Below are the top Amazon Fire tablets in the market today.
Built for Media Consumption
If you are looking for a device that you can mainly use for content and media consumption, Amazon's Fire Tablets are it. You can surely get a lot of value out of them since they do not really cost a lot, and they come with decent specs allowing you to perform everyday tasks like watching videos, reading, and browsing the web.
Amazon Fire Tablet Comparison
Let's explore the current range of Amazon's tablets so you will know how they are alike and differ so you can decide what to buy:
Fire HD 10
Fire HD 8
Fire HD 7
Fire HD 8 Kids
Edition
Dimensions
159 x 262 x 9.8 mm
128 x 214 x 9.7 mm
128 x 191 x 10.6 mm
155 x 244 x 26 mm
Weight
504 g
363 g
337 g
474 g
Screen Size
10.1 inches
8 inches
7 inches
8 inches
Touchscreen
YES
YES
NO
YES
Resolution
1920 x 1200 pixels
1280 x 800 pixels
1280 x 800 pixels
1280 x 800 pixels
Pixels per Inch
224 PPI
189 PPI
216 PPI
189 PPI
Processor
2 GHz octa-core
1.3 GHz quad-core
1.2 GHz quad-core
1.3 GHz quad-core
Memory
2 GB
1.5 GB
1 GB
1.5 GB
Storage
32 GB
16 GB
8 GB
32 GB
Expandable
Storage
YES, microSD
YES, microSD
NO
YES, microSD
Capacity
Up to 512 GB
Up to 400 GB
NO
Up to 400 GB
Front Camera
2 MP
2 MP
0.3 MP
2 MP
Rear Camera
2 MP
2 MP
2 MP
2 MP
Operating
System
Android with
FireOS Skin
Android with
FireOS Skin
Android with
FireOS Skin
Android with
FireOS Skin
Wi-Fi
YES,
802.11 a/b/g/n/ac
YES
YES
YES
GPS
YES
NO
NO
NO
Bluetooth
YES
YES
YES
YES
Audio
3.5 mm
3.5 mm
3.5 mm
3.5 mm
Battery Type
Lithium-ion cells
Lithium-ion cells
Lithium-ion cells
Lithium-ion cells
Battery Life
Up to 8 hours
Up to 8 hours
Up to 8 hours
Up to 8 hours
Alexa
YES, Hands-free
YES, Hands-free
YES, Hands-free
YES, Hands-free
Accelerometer
YES
YES
YES
YES
Ambient Light
Sensor
YES
YES
NO
YES
Amazon has taken a good foothold of the budget tablet market with its Fire devices. You will get better hardware compared with other tablets in the market at the same price. They are always an excellent deal if you are not particularly picky with your device.
As a tablet, you will pretty much be able to do all of the things that you can do on other tablets. You can play games, check your email, take photos, listen to music, shop online, and watch videos. You will also get access to Alexa and can become an extension of your smart home system.
Amazon's Fire OS
This reasonable pricing does have a catch. One of the things that you will not get is your usual Google services. The Fire tablets do come with an Android operating system, but with Amazon's FireOS skin that disables some of Google's apps. So, this means you will not be able to install apps like Gmail, Google Maps, Chrome, and other apps that you might be familiar with.
Although the good news is that Amazon usually has its version of these apps and services, so you will not really miss these. They also have their own entertainment options like Prime Video and Amazon Music, so you will likely not miss any of these.
Getting a Fire tablet is particularly useful is you are already deep into Amazon's ecosystem. If you have a Prime account and always shop on Amazon, then you will find their offerings interesting and sufficient for your needs. There are also popular apps available, like Netflix and other services, giving you some third-party options to choose from.
Tablet Deals All Year Round
One of the significant advantages of Amazon's Fire Tablets is that they are always on sale. You can find them on Amazon's e-commerce platform, and they are regularly on deals every time there is a major holiday. If you think their prices are great and reasonable, wait a few weeks, and you will surely find an excellent deal.
The Best Amazon Fire Tablet
Best Overall – FIRE HD 10 TABLET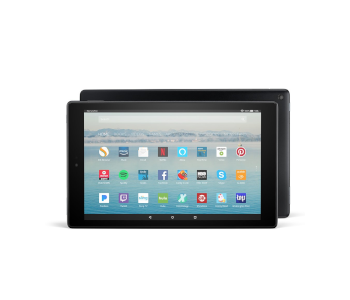 Amazon Fire HD 10 is a top budget tablet with a sharp display and hands-free Alexa integration. It also has a solid overall performance with an easy-to-use interface, practical speakers, and respectable battery life. Moreover, it is 30% faster than the previous version, which makes it more responsive in operation.
Design and Features
The Fire HD 10 is a sturdily-built tablet with a 10.1-inch, 1920×1200-pixel screen to show real 1080p videos with stable viewing angles. It has different color options, including blue, black, and orange. It also feels durable and can survive some dings and knocks. However, it isn't waterproof.
The Amazon Fire HD 10 uses a new octa-core chipset that makes browsing faster and video streaming smoother. It also comes with two speakers on the left side, a headphone jack, a USB port, and a microSD card slot that can hold up to 256GB of storage. Furthermore, the device has 2GB of RAM for a more responsive UI, smoother overall performance, and better multitasking.
Battery and Camera
Battery life is solid, with up to 6 hours of video streaming at maximum brightness and with Wi-Fi. It even has a Low Power mode and Automatic Smart Suspend to extend runtime by turning off the Internet connection and tamping down screen brightness when not in use. It also features the indisputably superior USB-C charging.
The tablet's cameras are middling with VGA on the front and 2MP on the back. They are okay for video chatting but render blurry images in even slightly challenging circumstances.
Software
The Fire HD 10 runs a new, updated version of Amazon's Fire OS 7, which is based on the recent Android 9. It does not support Google Play Store and various Google apps and services, only Amazon's App Store and the media consumption apps you're likely to want, such as Spotify, ITV Hub, Sky Go, All 4, BBC iPlayer, and Netflix.
It also features a Show mode that basically turns the tablet into an Echo Show. It allows your tablet to serve as a smart display – charging and showing information at the same time. However, you will need a compatible dock to use this feature.
AMAZON FIRE HD 10 TABLET
✔ Good and reliable display
✔ Solid battery life with USB-C charging
✔ Feels durable and performs reasonably
✔ Come with MicroSD card slot
✔ Good Alexa integration
✔ Excellent value for its price and specs
CHECK PRICE
$149
Best Value – FIRE 7 TABLET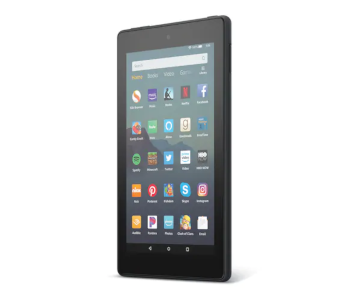 Amazon Fire 7 is the most reliable yet reasonably-priced tablet you can buy online. It has a decent design with adequate storage and good Alexa integration. It also boasts dual stereo speakers with Dolby Atmos support and a 2-megapixel front-facing camera. While it is sufficient for reading books and web browsing, you'll need a more powerful tablet for watching movies and gaming.
Design and Features
The Fire 7 is home to a 7-inch, 1024×600-pixel LCD screen surrounded by thick bezels. It is bright enough for indoor use but not the sharpest screen in direct sunlight. It also comes in four colors: black, blue, magenta, and tangerine. More impressively, it has the perfect size for portability, comfortable to hold in one hand and easy to stow in a bag.
On top of the tablet, there are the power and volume buttons, a headphone jack, and the micro USB charging port. On the sides are a single speaker and the MicroSD slot that supports up to 512GB of storage. The Fire 7 does not have an IP rating, but it can endure minor drops. Its plastic build makes it twice as durable as the iPad Mini.
Battery and Camera
Streaming videos at full brightness and with Wi-Fi lasts up to 4 hours. You can also eke out a few hours if you choose more conservative settings. Overall, battery life is mediocre at best. We suggest taking a power bank if you are going on a long trip. Moreover, the Fire 7 has no fast-charging option and may take a while to reach full via Micro USB cable or 5W charging cord.
Camera quality is not one of the selling points of the Amazon tablet. It comes equipped with 2MP front and rear cameras that don't perform well in low light. The front camera is acceptable for a selfie or video chat but does not compare with the latest Smartphones. Conversely, the rear camera is fine for quick shots of documents in bright light.
Software
The Amazon Fire 7 runs a heavily-modified version of Nougat 7.1 and has a 1.3GHz quad-core processor. It also comes with 1GB of RAM that is not great for multitasking. Overall, the tablet feels sluggish. The apps are slow to load, while games run at the lowest graphics. But, it serves fine for reading e-books, web browsing, and playing casual games like Candy Crush.
The tablet is rather basic. It shifts between the front and rear cameras and has a toggle to record videos. The build quality is good, and it's portable. If money is tight, it makes a lot of sense to get the Fire 7. But with $30 more, you can get a better display, faster performance, and dual speakers from the Fire HD 8.
AMAZON FIRE 7 TABLET
✔ Extremely affordable device
✔ Comes with a microSD slot to expand storage
✔ Reliable Alexa integration even for an older device
✔ Tremendously portable for your entertainment needs
CHECK PRICE
$49
Best for Travel – FIRE HD 8 TABLET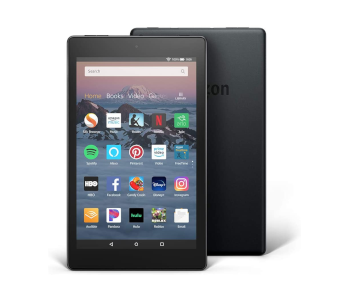 The Amazon Fire HD 8 is the best budget tablet you can get for under $100. It now supports hands-free Alexa and Show Mode, which transforms it into a low-cost Echo Show smart speaker. It also uses a new interface and has some child-friendly audiobooks. Overall, it is effortless to use and very Amazon-oriented.
Design and Features
The Fire HD 8 has a colorful back. It comes in yellow, red, black, and blue to suit every user's preference. It also has a Micro USB port and a headphone jack on the top. Although the screen is smaller than the Fire HD 10, it is still great or reading smaller-format documents, such as travel guides and comics. Furthermore, it can handle basic mapping, email, and web browsing.
The screen is 800×1280 pixels and beats every other tablet in its price range. It is available in 16GB and 32GB, with the option to expand up to 400GB. It is incredibly durable, too. Amazon claims it to be twice as sturdy as the glass and metal iPad. Additionally, it features a Show Mode that fires up an on-screen display of time, news, hints, and tips on Alexa integration.
Battery and Camera
For day to day use, the Amazon Fire HD 8 is adequate. It is enough to get through a transatlantic flight. It is also slow to charge. How often you'll charge it will depend on how you use it. With Wi-Fi enabled and an hour of streaming with Bluetooth-enabled speakers, the battery can last up to 6 hours.
The camera is terrible. It does not have sensors like other tablets; thus, it pushes out unpleasant images. The quality of the lens is also an issue. Fortunately, the viewfinder is simple to navigate. It features a capture button and a toggle for advanced settings, such as a timer, HDR function, camera switch, and grid layout.
Software
The Amazon Fire HD 8 has a slow, busy interface. It has no Google Play Store and offers a rather small selection in the Amazon App Store. While the screen is ideal for watching videos on the go, the mediocre MediaTek chipset makes the tablet a no-go for pro gamers. In total, it has an average screen, poor software, and slow performance apt for basic web browsing and undemanding apps.
AMAZON FIRE HD 8 TABLET
✔ Simple user interface
✔ Extremely durable
✔ Works as an Echo Show smart speaker
✔ The battery lasts a full day, depending on use
CHECK PRICE
$79
Best for Kids – FIRE HD 8 KIDS EDITION TABLET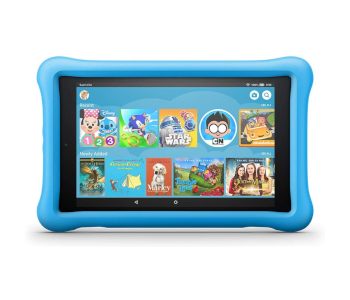 The HD 8 Kids Edition is a solid pick for families with younger kids. It is home to curated, age-appropriate content and a rugged bumper with a replacement warranty, making it the child-friendly tablet fo your dreams. It also offers a massive package of worthwhile extras for pre-teens, such as the Alexa integration, Bluetooth connection, and FreeTime Unlimited content. Moreover, it comes with a rubbery case and a kickstand the bends any angle.
Design and Features
The Amazon Fire HD 8 Kids Edition has a durable and lightweight design that fits perfectly in the hands of kids ages 3+. Built even for the toughest kids, parents can have peace of mind while their kids have the freedom to play. It also comes with a rubber case to protect the tablet against high drops.
The tablet allows you to manage and customize your kid's experience with up to four different profiles. The easy-to-use parental controls help you set bedtime curfews, limit screen time, and restrict content. It also has a kid-safe browser that offers various websites and videos. Teens, on the other hand, can exit Amazon FreeTime to get full access to Alexa and social media.
Battery and Camera
The Fire HD 8 Kids Edition has decent battery life. You can charge it via a Micro USB cable, which can be challenging for the young. It can stretch to 10 hours, depending on use, but it only lasts for 6 hours when playing games and watching movies. Compared to the HD 7 and 10 Kids Editions, its battery is noticeably shorter.
The front and rear cameras of the tablet are 2MP. It pushes awful photos and videos, but it's enough for kids to enjoy. The front-facing camera also records 720p videos. Furthermore, you can disable or enable the camera to protect your children online.
Software
The Amazon Fire HD 8 Kids Edition comes equipped with Quad-core 1.3 GHz and 1.5 GB of RAM, which allows for a smoother gaming and video streaming experience than the Fire HD 7. It also boasts a 32GB storage that is expandable by up to 400GB to store all kids' favorite movies, books, games, and apps.
The Amazon tablet is specially designed for kids. It has the content they crave and easy-to-use parental controls to ensure they are not accessing the info you don't want them to see. It even includes a year of Amazon FreeTime Unlimited at no additional cost. Moreover, it has over 20,000 movies, books, TV shows, educational apps, and games for kids to enjoy.
AMAZON FIRE HD 8 KIDS EDITION TABLET
✔ Low cost
✔ Expandable storage via MicroSD card
✔ Deep parental controls
✔ Two-year warranty
✔ Free FreeTime Unlimited service for one year
CHECK PRICE
$129
Which is the Best Amazon Fire Tablet for You?
While some of Amazon's devices give a bang for your buck, some are not a good bargain. The best Fire tablet to date is the Fire HD 10. It is entirely functional and reasonably capable of performing complex tasks. It is also the fastest and most-well rounded Amazon tablet with an octa-core chipset and 2GB of RAM. Furthermore, you get a sharp 1080p display for a dramatic impact on gaming and video streaming.
In addition to a solid performance, the Fire HD 10 tablet boasts an easy to use UI that includes a good Alexa integration and deep parental controls. The battery life is no better than the Fire 7, the HD 8, and its Kids Edition, but it features the superior USB-C charging for twice the transfer speed. The camera is average and does not have a flash, but it's better than the extremely poor-quality photos from other Fire tablets.
If you want a cheap yet durable device, Amazon's Fire HD 10 will fit your needs. It is not groundbreaking, but it gets the job done. You can stream videos and play graphically demanding games with it. However, it does not support Google Play Store and other Google apps and services. Nevertheless, it is still a significant improvement over other Amazon Fire devices.
Wrap Up
If you are looking for a value tablet, the Amazon Fire Tablets are the perfect ones. They are reasonably priced and do not come with over the top features that you will seldom use. They are an excellent middle ground that will keep you entertained for long periods. These devices are excellent for travelers since they come with solid batteries that offer lengthy watch and use times.
There are a lot of tablet options to choose from. If you want the best one, you can go for the Fire HD 10. It is not the most powerful tablet in the market, but it will surely satiate your need to watch content from your favorite creators or finally finish off that movie. There are also some value picks like the Fire 7 or the Fire HD 8, which are not priced that far apart.
The Amazon Fire Tablet product line will not compete with the best ones like the iPads, Surfaces, and Samsungs out there. However, if you are looking for a reliable device that gets the job done, these are the tablets for you.