Amazon Kindle Black Friday 2018 Deals
3D Insider is ad supported and earns money from clicks and other ways.
Black Friday deals are being announced earlier every year, and this year Amazon's deals are going to save you up to 40% on their Kindle devices. Black Friday is a chance to get a Kindle e-readers at a low price for yourself or as a gift.
The Amazon Kindle is the champion of the e-readers. The first iteration was released in 2007 and its gotten better every year since. We have compiled a list of savings below. We expect these deals to be live on Friday.
Amazon Kindle
Black Friday Price: $49 Retail Price: $79
We estimate that Amazon will reduce the price of the Kindle to $49 on Black Friday or Cyber Monday based on last year's sales.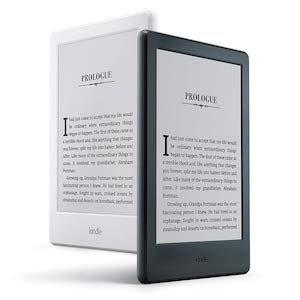 The latest version of the Amazon Kindle sees a major design change by making it sleeker, slimmer, lighter, and shorter. The new Kindle feels more compact with thinner bezels. It is also significantly lighter, making it easier to hold in one hand for a better reading experience. The corners have been made rounder, making your whole reading experience much more comfortable.
The Kindle now has 4GB of storage so you can store thousands of your favorite books. You can also store them on Amazon's cloud storage if ever you run out of room, which you can access via Wi-Fi.
The latest Kindle model now integrates with Audible. You can now access more than 200,000 audio titles on Audible. You can easily listen to them with any Bluetooth headphones or speakers opening a new storytelling experience.
The Kindle sports a 6-inch display. That's the size of your average paperback so the experience of reading a book from paper to screen is as seamless as possible. The downside of the display is the resolution. It feels a little dated compared to the Kindle Paperwhite, which has nearly double the resolution. The quality of the text isn't in any way distorted, but you'll notice the lack of resolution when you're looking at artwork for books in the Kindle Store or in your library.
The big feature missing from the Kindle is that it has no built-in lighting. If you want to read it in bed, you'll need a light beside you. It is easy to read in natural light and the problem lies if it's too bright.
Battery life isn't really an issue with e-readers such as the Kindle. You don't need to charge it every day. You will only need to charge it once every few weeks or you can even make it through a month without charging. Charging it only takes a couple of hours so it won't really disrupt your reading.
The Amazon Kindle is your basic e-reader. If you're after an affordable but capable device, then this is the device for you. It is on sale for Black Friday where a 40% deal await you.
Amazon Kindle Paperwhite
Black Friday Price: $79 Retail Price: $129
Amazon has discounted the old version of the Kindle. There's word yet if Amazon will discount the new one that was just released, but it looks like they might not since Best Buy is only discounting the old version for Black Friday.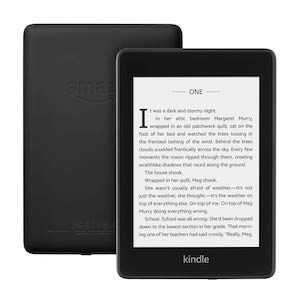 The all new Amazon Kindle Paperwhite is a mid-end e-reader. It feels premium and has a more high-end look compared to the Kindle.
The Kindle Paperwhite has a 6-inch display and a 300 pixel per inch resolution, making it easier and more comfortable for reading text. The brightness of the display has been improved so that you can easily read even when you're out in the bright sun.
The new Kindle Paperwhite now comes with a waterproof design so you can read in the bath or by the pool without worrying about getting it wet. Its waterproofing is rated up to 2 meters for up to 60 minutes so dropping it in the bath is nothing to be feared.
The battery for the Kindle Paperwhite lasts weeks, and that's even with a brighter display. It can last up to 3 weeks on a single charge so you can forget it in your bag and find it working when you open it up the next day.
The new Kindle Paperwhite is also integrated with Audible and you can connect Bluetooth headphones or speakers to listen to audiobooks. You can upload them to the Kindle Paperwhite so you can listen to them during your commute to work.
The new Kindle Paperwhite now comes with 8GB or 32GB of storage so you can store all your books and audiobooks without worrying about running out of storage space.
The software has been updated for added features. One particular feature allows you to set font preferences and is especially useful when multiple people use a single device. It's a great feature when reading with children so you can change font sizes easily even when in the middle of a chapter.
The old Amazon Kindle Paperwhite is on sale this Black Friday and you can save 33%. Kindles are the best gifts, especially for book-lovers. These deals finally make them more affordable.