6 Best Android Auto Head Units of 2019
3D Insider is ad supported and earns money from clicks and other ways.
The aftermarket head unit scene has undergone a revolution in recent years. Before 2014, every major manufacturer was trying to come up with the next big feature or upgrade to get consumers interested. Then Android Auto and CarPlay came along and turned the industry on its head.
Android Auto is an interface that connects your car and phone, mirroring the latter's capabilities on your head unit's screen. Upgrading to an infotainment device running Android Auto substantially increases your security when on the road. It lets you take & place calls, dictate messages, and ask the Google Assistant for directions, all while looking straight ahead.
Compatible devices come with modern cars as a matter of course, but if you want something better than stock or to seriously upgrade an older car, custom is the way to go. Here are the six best Android Auto head units on offer today. Take your pick, and start looking forward to fun, safer driving.
Budget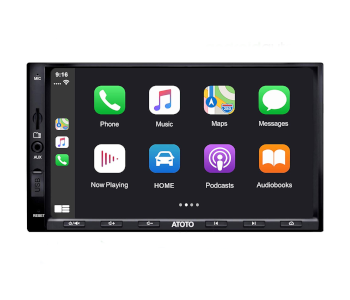 Atoto SA102
4.3/5.0
Screen Size: 6.75 in.
DINs used: 2
Easy to use and quick response time.
Check Amazon
Best Value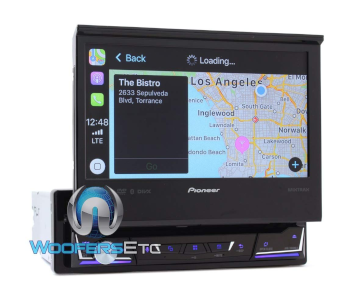 Pioneer AVH-3300NEX
4.5/5.0
Screen Size: 7 in.
DINs used: 1
Lots of in-depth audio customization options.
Check Amazon
Top Pick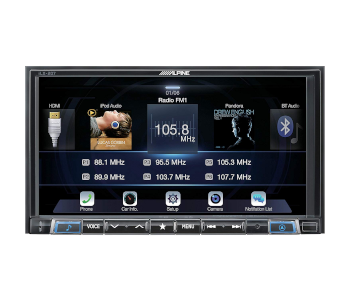 Alpine iLX-207
4.7/5.0
Screen Size: 7 in.
DINs used: 2
Excellent audio quality enhanced by amplifier.
Check Amazon
Android Auto Head Units Comparison Table
1. Best Overall – Alpine iLX-207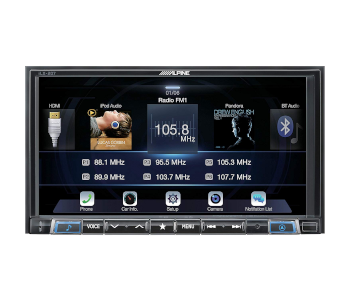 View on Amazon
Editor's Rating: 4.7/5
Alpine's iLX-107 was the first head unit to feature support for wireless Apple CarPlay. Unfortunately for Android users, it lacked Android Auto support. Its successor doesn't have this shortcoming; in fact, it's the best Android Auto unit you can get! There's a sizeable responsive touchscreen, support for dual video sources, an excellent accessory bundle, and much more. You'll pay a premium for this model compared to most others, but the features and convenience you get are worth the investment.
Overview of Features
The iLX-207 is a double-DIN head unit dominated by a 7-inch touchscreen. Using it is a delight as the screen responds instantly to inputs. You can access any feature through it, but there's also a slim row of keys beneath the screen for easier navigation. We particularly liked the favorites key. It lets you save favorite radio stations and numbers to call or text for quick access without having to search for them while driving.
Alpine is generous when it comes to accessories. You'll get a rear dashcam among them along with a bracket to mount it on the rear license plate. You also receive a GPS antenna that acts as a signal booster for the iLX-207's built-in navigation system. Other goodies include a mounting kit and a microphone for hands-free input.
Navigating the iLX-207's menu system is a breeze and accomplished by swiping at different ends of the screen. Doing so from the top brings up a general audio menu that lets you adjust sound effects or visualizations. The left-hand side opens up to quick radio selection while swiping upwards from the bottom enables app selection and transitioning to either CarPlay or Android Auto.
Even though you can screencast videos from the iLX-207 using an HDMI adapter, the head unit is primarily an audio device. It has a built-in amp that makes music sound punchier, whether you have stock speakers or the latest audio setup. Sirius XFM compatibility is present now, too, allowing you to tune in to thousands of satellite radio stations.
What We Didn't Like
The iLX-207 is expensive. You'll want to get it installed by professionals, which will further increase the price. There's only one USB input, so you won't be able to take advantage of Google Maps through Android Auto and listen to music from a USB stick at the same time.
Tech Specs
Screen Size: 7 in.
DINs used: 2
Has a CD/DVD player: No
Sirius XM: Yes
The Pros
Excellent audio quality enhanced by amplifier
Touch and physical controls are intuitive
Lag-free Android Auto navigation
Quick access to favorite stations and phone numbers
The Cons
Expensive
Single USB slot
2. Best Value – Pioneer AVH-3300NEX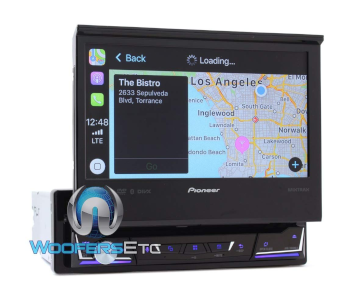 View on Amazon
Editor's Rating: 4.5/5
The best thing about aftermarket head units is that they let you upgrade an older car with the newest in multimedia technology. The problem is, most of them take up two dashboard slots or DINS. Single-DIN drivers don't need to miss out anymore, though, as Pioneer's AVH-3300NEX manages to cram everything a respectable head unit needs into a single slot. It has a flip-out screen, lots of sound options, and a well-structured menu system that makes reaching your favorite content easier.
Overview of Features
The AVH-3300NEX's main draw is its single-DIN compatibility. You use it by extending the 7-inch flip-out screen, which has a resolution of 800×480 and can be navigated by either touch commands or physical buttons. The latter might be too small for people with large hands, but they're useful for volume adjustment, track selection, and menu navigation.
This head unit is excellent for people with music strewn across multiple sources. For old-school folks, there's a CD and DVD player. Everyone else can enjoy their tunes either through USB or via playback from their Android or Apple smartphone. There's an AM/FM radio too. Sirius XLR is available, but you'll need to purchase an additional accessory to use it.
The AVH-3300NEX lets you manipulate sound in various ways. It has in-depth equalizer settings and several visualization methods. More involved options include setting a time delay and volume adjustment for each speaker, letting you create some intense effects. Mixtrax is the icing on your audio cake. This feature adds fun effects and transitions to music from all of your sources. You can pair these with different lighting effects and keep the party going after you leave a club.
What's Bad About It?
The head unit's single-DIN design can't take your car's specific dashboard layout into account. That means the screen might obstruct important instruments when extended. Music on both Android Auto and CarPlay can be slow to start playing. You'll have to either wait a few seconds each time you fire up a music app or switch to the CD instead.
Tech Specs
Screen Size: 7 in.
DINs used: 1
Has a CD/DVD player: Yes
Sirius XM: Yes, with optional attachment
The Pros
Takes up only one DIN slot
Has a CD player
Lots of in-depth audio customization options
Straightforward navigation
The Cons
Screen might obstruct dashboard instruments
Music takes a few seconds to play when using Android Auto and CarPlay
3. Kenwood Excelon DMX905S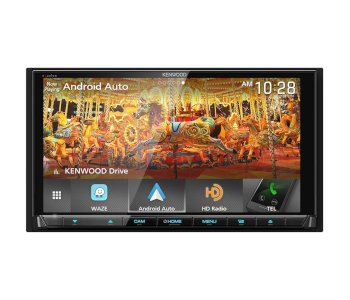 View on Amazon
Editor's Rating: 4.4/5
Kenwood is among the world's leading car audio manufacturers, so it stands to reason one of its head units would make our list. The DMX905S combines its versatile user interface with support for Android Auto and CarPlay for an excellent infotainment experience. It features a great deal of customizability, works well with Android Auto whether wired or wireless, and is generally fun to use.
Overview of Features
The DMX905S is an attractive head unit thanks to a thin black bezel and a bright 6.95-inch screen. There are several buttons under the screen for media manipulation, menu navigation, and quickly bringing up the camera feed. They aren't flush with the screen, but that makes them easier to feel for and press without looking away from the road. The screen responds to user input accurately and is visible under all but glaring sunlight.
You'll love using the DMX905S even if you don't bother with connecting your phone each time. Its interface is logically laid out and contains essentials like music playback software and Waze, a map & navigation app that rivals Google Maps. The interface also has extensive audio options like high- and low-pass filter adjustment, bass boost, an equalizer, and even the ability to direct at which point in the car sound should converge.
The wireless version of Android Auto works like a charm. You can ask the Google Assistant for directions or to answer calls & texts thanks to the included microphone. Bluetooth phone handling is seamless, too, letting you dial numbers or access favorites from the DMX905S's screen. Media playback through Bluetooth starts up immediately, and connection issues are infrequent.
What We Didn't Like
While functional, the DMX905S's interface looks dated and receives few firmware updates. You'll have a hard time if you carry an extensive music library on USB. The unit doesn't recognize file structure and bins all tracks together, making it a pain to navigate through hundreds of songs.
Tech Specs
Screen Size: 6.95 in.
DINs used: 2
Has a CD/DVD player: No
Sirius XM: No
The Pros
Noticeable sound quality improvement over stock stereos
Deep sound customization
Comprehensive interface and app selection
Lag-free operation
The Cons
Interface looks dated and receives few updates
Playing tracks from a USB drive is a mess
4. Sony XAV-AX100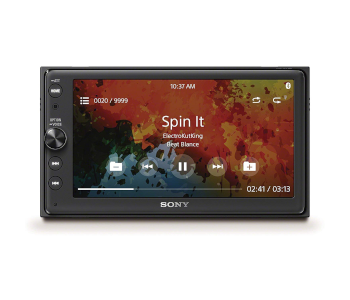 View on Amazon
Editor's Rating: 4.2/5
Are you an audiophile who needs a dependable Android Auto head unit but doesn't want to break the bank? In that case, Sony's XAV-AX100 is what you should consider. The system looks good and is easy to use without looking away from the road. It boasts various audio options but packs other useful features like rear camera guidelines too. Get one if you're on the go a lot and need your audio library to sound awesome while driving.
Overview of Features
We are impressed by the XAV-AX100's elegant design. It has a matte-black front panel that blends in well with the aesthetic of most cars. There are only three physical buttons, but they're tactile and clearly labeled, meaning you'll spend a minimum amount of time searching for the right one. Sony also installed a clever, multifunctional dial. Its primary function is volume control, but you can use it to call up the Google Assistant or bring up the quick access menu.
Physical controls take up a lot of real-estate on the XAV-AX100's left side, so the screen is only 6.4 inches in diameter. Still, it is sharp and vibrant. It's an inexpensive model with reaction times slightly longer than what you're used from your phone, but other than that, there is no lag from the apps themselves. The screen acts as a live feed for your rear camera and offers parking assistance through on-screen guidelines.
There's no CD player, but the XAV-AX100 makes up for that with lots of audio enhancement options. It has four amplifier channels and helps you manage sound levels through a graphical equalizer that supports a maximum of ten bands. The unit also employs a Dynamic Stage Organizer or DSO. This feature takes note of your speakers' relative positions and syncs them up for the best results. It even works while driving, making sure you're listening to balanced audio regardless of speed.
Are There Drawbacks?
The screen is unreadable in direct sunlight. It has good contrast otherwise and there are brightness options, but these don't make a difference. The unit connects to phones via Bluetooth, is able to store a call history, and has redial. However, this only works for one phone at a time. You'll have to undergo pairing and lose quick access to frequently-used numbers each time you reconnect if your partner also uses the feature.
Tech Specs
Screen Size: Screen Size: 6.4 in.
DINs used: 2
Has a CD/DVD player: No
Sirius XM:
DINs used: 2
Has a CD/DVD player: No
Sirius XM: Yes, with optional attachment
The Pros
Sharp and vibrant screen
Versatile volume dial
Great sound quality
Rear camera support
The Cons
Screen is useless in direct sunlight
Device remembers only one connected phone at a time
5. BOSS Audio BVCP9685A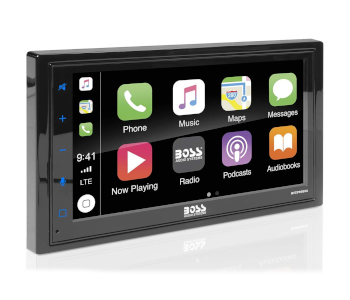 View on Amazon
Editor's Rating: 4/5
The head units mentioned so far have impressive features, but what if you're looking for a no-frills, inexpensive device that has good support for Android Auto? In that case, you should check out the BVCP9685A by Boss Audio. The unit forgoes fancier features for simplicity, offering an intuitive menu system, a pleasant hands-free experience, and support for a broad selection of multimedia files.
Overview of Features
There's nothing special about the BVCP9685A's appearance. It has a thick black bezel whose left side is even wider as it houses controls for playback, volume, and activating your voice assistant of choice. The touchscreen has a diameter of 6.75 inches and responds promptly to touch commands. It's not the sharpest, and colors may appear washed out, but that's to be expected considering the price.
Like Kenwood's model, this head unit has an attractive interface. However, its design philosophy is centered on simplicity and getting the user where they need to be ASAP. It has a grid layout with squares of different sizes depending on the popularity and expected use frequency of the function they represent. The menu system is shallow so that you can reach any option with a couple of taps. That's an excellent safety feature since accessing Android Auto or any of the BVCP9685A's system features requires little attention.
You connect smartphones through USB and Bluetooth. There are two USB cables, one for your phone and the other for data sticks or external drives. The BVCP9685A plays .WAV and .MP3 files while you're driving and also supports video playback when the car sits still. Audio quality is decent, a definite step up from stock equipment. That's thanks to four amplifier channels with a max power of 80 watts, an equalizer, and preamp audio outputs for audiophiles with external amps.
What's Bad About It?
The BVCP9685A doesn't have physical buttons; they're part of the screen and touch-operated instead. That means you'll have to spend more time looking for the right one since there's no tactile way of telling them apart. It takes a long while for the BVCP9685A to boot up. While this gives you time to get settled in and ready to drive, it might be a deal-breaker for people who want to access their phone or music straight away.
Tech Specs
Screen Size: 6.75 in.
DINs used: 2
Has a CD/DVD player: No
Sirius XM: No
The Pros
Grid-based interface makes reaching desired option easy
Supports broad array of media files
Dedicated media playback USB port
The Cons
Long boot-up time
Touch buttons can be hard to find
6. Best Budget Option – Atoto SA102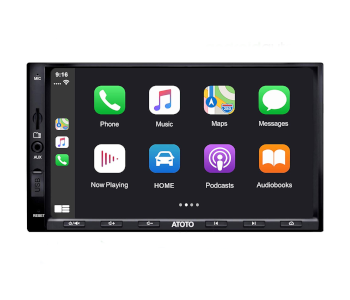 View on Amazon
Editor's Rating: 4.3/5
We didn't think there were any competent Android Auto head units under $200, but then the Atoto SA102 came along and proved us wrong! It is a basic model with limited audio options and a simple proprietary menu system. However, it has a screen that punches above its class, responds instantly to commands, and handles Android Auto as well as much more expensive alternatives.
Overview of Features
A lot is going on with the SA102's front. It has a prominent set of inputs for all kinds of devices, including SD cards, USB-connected devices, and a microphone. There's even an AUX-in port for connecting your phone thorough a 3.5mm cable. These take up the left side while a set of commands is at the bottom. They access frequently-used audio and navigation features and are easy to distinguish by touch.
We love the SA102's touchscreen. Not only is it large at 7 inches, but it also has a resolution of 1,024×600 and is brimming with detail. Best of all, its responsiveness is excellent. As in, it responds to touch as readily as a smartphone's screen. The display has good contrast and an IPS panel that ensures color fidelity regardless of the seat from which you're looking at it.
The built-in interface is basic, but in a positive way. It's divided into six sections. Four of these are large and used to access Android Auto, CarPlay, calls, and radio. The two smaller icons lead to Bluetooth audio and media playback through USB. There's also a small bar you can expand that contains brightness and volume settings, the equalizer, and more.
Android Auto comes up as soon as a phone is connected. Navigating is painless and as responsive as browsing the main menu. It lets you listen to music while using Google Maps at the same time. Other noteworthy features include an AM/FM radio able to memorize dozens of stations, and support for front as well as rear cameras.
Are There Drawbacks?
This isn't the head unit for you if you're serious about audio. The equalizer only supports seven bands, there's no subwoofer control, and there's a limited selection of effects. Android Auto isn't stable. It frequently freezes after a few minutes of use and needs to be restarted. Google Maps may lag even when Android Auto is running smoothly.
Tech Specs
Screen Size: 6.75 in.
DINs used: 2
Has a CD/DVD player: No
Sirius XM: No
The Pros
Excellent value for the money
High-quality screen
Handy inputs for different devices
Easy to use
Quick response time
The Cons
Limited audio options
Android Auto is unstable