8 Best Android Game Controllers for Your Phone
3D Insider is ad supported and earns money from clicks, commissions from sales, and other ways.
Gaming on your phone has changed dramatically. From simple games like Snake, from an era before smartphones to quick tap and drag games like Farmville, when touchscreens slowly became the norm.
Today, there is a wide variety of games to be found on the Google Play Store. A lot of mobile games are more than just drag and drop types, and the controls are slowly growing more complicated than playing them on a touchscreen may not be enough. There are a lot of game titles that you can play in a lot of ways, and some are more comfortable to play on a dedicated controller.
Get Your Game On
Smartphones are continually made with more power in mind, this allows them to run games that are meant for other platforms. Game developers are also creating games with external controller compatibility in mind.
This is where Android controllers come in. A dedicated D-pad, physical buttons, and even triggers can definitely improve your entire gameplay experience in games that require a lot more finesse than your touchscreen.
Fortunately, there are a lot of android controllers to choose from. You now have an abundance of choices with different price ranges, specifications, and preferences. You can readily get a model that suits the games you're playing.
If you're ready for a significantly better mobile gaming experience, it's time to get yourself a new Android controller. Here are some of the best ones that you can get. They're all excellent, and you can quickly stuff them in your bag and carry them with you so you can play at any time.
The Best Android Controllers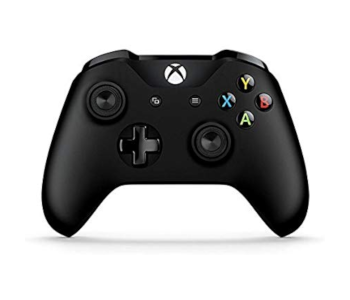 Retail Price: $59
If there's a gold standard when it comes to handheld game controllers, it's the Xbox One. Over the years, there have been different iterations of this hardware, and now they have brought a wireless version powered by Bluetooth connectivity.
Looking at other Android controllers in the market, you'll quickly notice the mark made by the Xbox One controller. A majority of the most popular controllers use the same ergonomic design, and rightfully so. It's one that feels it's perfectly molded to your hands since it's exceptionally comfortable to hold.
Same Button Layout
As with previous versions of the Xbox controller, the wireless version offers the same setup. Offset dual thumb analog sticks together with a D-pad, four side buttons, two middle buttons, and the home button. Four trigger buttons located on the top side of the controller also give you additional keys for quick commands in-game.
Battery Options
A significant difference between the Xbox One controller and others is that it chooses to use two AA batteries rather than a built-in option. These usually last up to 40 hours of gameplay. The advantage of using these types of batteries is that you can quickly get spares for an uninterrupted gaming experience.
Connectivity
The Xbox One wireless controller is primarily used in tandem with its partner console. So far, one of the best features of this controller is its connectivity options. You can connect this a couple of ways, but what we want to focus on is that it has Bluetooth. What that means is you can use this to play on your smartphone.
Pairing the controller with your phone is quick and straightforward. On your phone, make sure to enable your Bluetooth, then turn on the controller. At this point, you'll want to sync both devices, so look for that button on your controller and hold it for a few seconds. On your phone, simply scan for other Bluetooth devices and when you see them, the controller appears on the list, just tap to pair them together. Wait until the pairing process completes, and that's it, you can now use it to play games on your phone.
The Xbox One wireless controller offers everything, and it does at a high level. The solid build and ergonomic design ensure that it's comfortable to hold for hours. The buttons are extra responsive to make sure that your commands are translated into your game. The best part of the entire package is that you can connect it to devices other than an Xbox like a PC and most notably an Android phone.
The Pros
Solid game controller
Responsive buttons and triggers
Ergonomic design, that's why they are the gold standard in gaming controllers
The Cons
Controller has no means to hold your phone or tablet, so you'll need to find a place to rest them as you play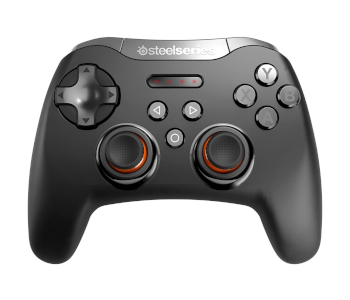 Retail Price: $39
The SteelSeries Stratus XL is a solidly built wireless gamepad that works well on Windows PCs and especially Android devices. It performs like your standard Bluetooth controller, all you need to do is to pair it with the device of your choice. Once the process is complete, you're ready to play. Since all Android devices come with Bluetooth, this is definitely going to satisfy all your game controller needs.
Performance
Catching a quick glimpse of the Stratus XL, you'll think it's one of the more popular gamepad models. Rightfully so, since it's designed around the best controllers on the market today. It's a solid and sturdy construction with responsive buttons that can improve your entire gameplay experience compared to using the touchscreen. The analog sticks are smooth and are perfect for maneuvering around in-game.
The controller looks and feels similar to the Xbox One controller. However, it's not on the same level in terms of performance, but it's also a lot more affordable.
An exciting feature of this pad is its customizability. This may be due to SteelSeries' experience when it comes to producing high-quality gaming peripherals, it definitely shows on the Stratus XL. You can change the actuation points of the trigger buttons so you can set it for quicker in-game actions.
It only takes two AA batteries to power this gamepad. This provides you with about 40 hours of gaming, and additionally, this gives you the flexibility to further extend your session by only having two cells on hand. Slap them on and continue playing.
Versatile Gamepad
The versatility of the Stratus XL is mainly due to the fact that you can use it on different platforms. It is definitely one of the better gamepads out there for Android devices. There are now a lot of games on Android that will give you a better experience when played with a controller.
Getting a gamepad like the SteelSeries Stratus XL is definitely an investment you want to make if you're serious about gaming on your phone.
The Pros
Very comfortable to hold and play with
Works with a lot of gaming devices, especially Android via Bluetooth
Minimal input lag, very responsive
The Cons
Does not have an auto-sleep mode so it might drain your batteries without you noticing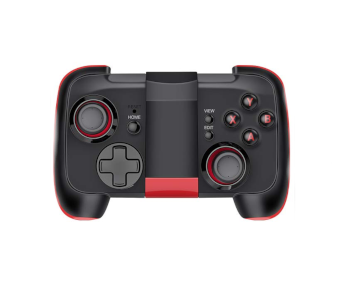 Retail Price: $25
The Beboncool wireless Android pocket game controller is the first device we're reviewing that's made with a mobile-first philosophy in mind. Unlike the first two that we have taken a look at, the Beboncool's design is something you might expect from a dedicated Android gamepad.
It's small and compact, and it works by flipping a telescopic holder from the center of the device and clips your phone snuggly in place. This allows you to hold the entire device with your phone attached, allowing you to play your favorite mobile games easily.
Familiar Button Layout
The gamepad comes with a standard set of buttons with two analog sticks, a D-pad, the usual face buttons, and shoulder triggers. It's similar to other gamepads out there. One exciting feature of the controller is that it makes good use of all these buttons is its customizability. Since you're playing mobile games, you'll need to change up your settings a bit to match it to your favorite game.
Companion App
The Beboncool controller also comes with its own companion app. It brings you about 300 games, including a number of free games close to 150. Even without getting games on the Google Play Store, you can still continue to enjoy your gamepad.
Connectivity
As a controller that's built to be used in tandem with Android devices, it supports just about every smartphone, tablet, or emulator that runs the operating system. It comes with Bluetooth connectivity and pairing it up with your device of choice is easy and fast. All you need to do is activate the gamepad for pairing and search for it on your phone, then select it to pair. Once you pair it up, you're ready to play.
The Beboncool comes with built-in rechargeable batteries that can last you about 8 to 10 hours of playtime. This makes it a great portable device that you can bring with you wherever you go. It's definitely an affordable option, so if you're mostly using it to play with an Android device, then this is something you can pick up and enjoy.
The Pros
Compact design
One of the more affordable wireless controllers in the market
Built-in mount for a relaxed gaming experience
The Cons
Only one set of triggers
Build quality is not the best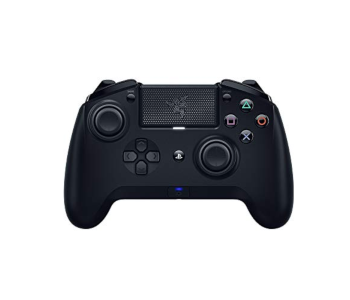 Retail Price: $139
At first glance, you'll know that the Razer Raiju is a premium product. It's on the pricier side, but they have packed with its features to make it worth your hard-earned money. Holding it in your hands the first time, you'll feel that it's definitely heftier than other controllers in the market. It's made with high-quality plastics, and pressing the buttons gives you that tactile feedback that you don't usually get with other pads.
The button layout is similar to that of the Xbox One, so if you're used to using one with a similar arrangement, this could be a worthy upgrade.
Connectivity Features
The Raiju is equipped with Bluetooth so you can connect this to any device that supports the technology, especially your favorite Android device. Latency with wireless controllers is usually an issue, but this pad has reduced that so you get the best connection even when you're connecting through Bluetooth.
Button Mapping Features
Since this is designed as an all-around controller, you might want to re-map some of the buttons. Playing mobile games on your phone may not require you to use all of the buttons. You can definitely change it up to suit how you play your favorite games. All you need to download is the Razer Raiju app so you can change your button and sensitivity settings.
The battery life on the Raiju runs a decent 11 hours of game time. It's undoubtedly more than enough time, and you might not even play that long. You can always recharge it after use to ensure that you have enough juice for your next gaming session.
The Razer Raiju Tournament Edition is a reliable game controller for your Android device. You can enjoy a variety of games using this. It is a bit on the pricier side, but if you do play on different platforms, like the PS4 and PC, then this is an excellent gamepad for them.
The Pros
Ergonomic design that's easy to hold and handle
Excellent battery life
Good all-around game controller for any platform
Bluetooth connectivity with an Android phone or tablet is excellent
The Cons
On the pricier side, even when compared to solid options like the Xbox One controller
A bit heavy, so it takes time to get used to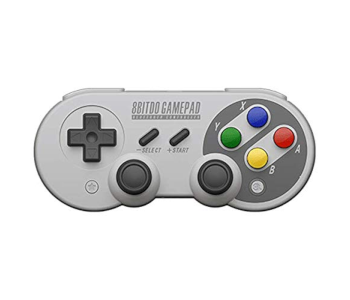 Retail Price: $45
Looking at this controller, you're instantly taken aback by its weird design. The 8bitdo SF30 is a Super Nintendo inspired gamepad. This model, in particular, is a very versatile Bluetooth controller that can be paired with just about any device, especially Android smartphones. You can also use this to play games on your Nintendo Switch and PC.
Design and Build
Since the SF30 is modeled after the SNES controller, it is significantly smaller than other Bluetooth gamepads. If you're familiar with the layout of the original SNES controller, you'll quickly identify some key differences. For one, this comes with a couple of analog sticks that are the same size as those in other controllers. This allows you to play much newer games that rely on these sticks.
On the device building end, the SF30 is a pretty solid and sturdy device. The buttons are tactile and responsive, and the analog sticks snap back in place in an instant.
Connectivity
The SF30 is equipped with Bluetooth 4.0 technology, it's an optimized version of the original, so it's much faster and more responsive. You can quickly connect this to your favorite Android device and start playing the game of your choice.
This gamepad from 8bitdo is light and compact enough that you can bring it with you wherever you go and reinforces its capability as a controller for your Android device. The price is reasonable and is an excellent buy if you're into playing retro games on your phone or any other gaming device.
The Pros
Ergonomic design that's easy to hold and handle
Excellent battery life
Good all-around game controller for any platform
Bluetooth connectivity with an Android phone or tablet is excellent
The Cons
On the pricier side, even when compared to solid options like the Xbox One controller
A bit heavy, so it takes time to get used to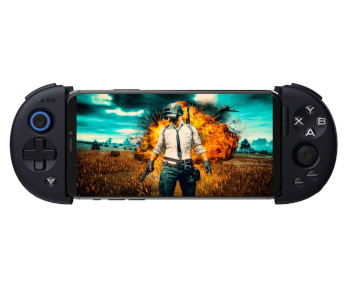 Retail Price: $45
Most of the models we have reviewed so far are mostly multi-platform or one that's made for a different machine but happens to be compatible with Android phones and tablets. The Bounabay Bluetooth controller is one that's specifically designed for Android devices. It converts your phone into something like a portable gaming console with controls to the left and right of your device.
Telescopic Design
An innovative feature of this machine is its telescopic design. This gives it flexibility, so it accommodates phones with screen sizes between 3.5 and 6.4 inches. You can easily attach just about any Android phone in between and start playing your favorite mobile games.
The great thing about the Bounabay is that you don't need to install anything on your phone. It's a plug and play gamepad, and that makes everything easier since virtually anyone can get it and use it to improve their gaming experience.
Button Mapping Technology
The problem with mobile gamepads such as the Bounabay is that for every game you play, your settings could be different. The controller comes with a feature called Flymapping, which allows you to customize your button settings so you can set things up your way. It's perfect if you're playing first-person shooting games that require a lot of control from you. This ensures that your set commands are as close to each other, so it doesn't confuse you.
The Bounabay Bluetooth controller is an excellent game controller for your Android phone. It turns virtually any Android phone into a game console that you can take with you wherever you go. That's the beauty of mobile gaming, you can play anywhere. If you have a portable gamepad, you can enjoy your games more because of more refined controls.
The Pros
Pairs very quickly with Android devices
Compatibility is excellent as it works with almost all games
Compact design so you can carry it around
The Cons
Telescopic arms are not the best built, mostly plastic, but still decent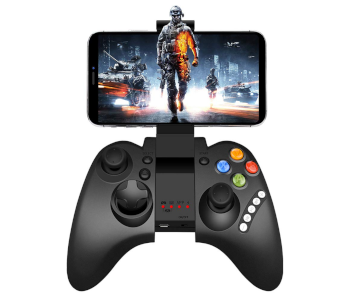 Retail Price: $25
The PowerLead mobile gaming controller is a gamepad that supports a wide range of devices. However, its design is more geared towards mobile devices because of its pop-out telescopic stand so you can attach your phone and play using the pad.
As a controller meant for mobile devices, it has excellent backward compatibility. You can use it on much older phones as long as the Android version is above 3.2. Pairing it up with newer devices should be no problem as it's easy to link up so you can start using it right away.
Easy Setup
Setting it up is easy as it requires no additional drivers. That means you don't need to download or install anything. Its Bluetooth controller is built-in, so all you really need to do is pair it up with your phone and launch your favorite mobile game. The gamepad also comes with built-in rechargeable batteries that can last you about 18 hours of game time. This definitely comes in handy when you're traveling and want to play some games.
Ergonomic Design
Getting your hands on the PowerLead controller and you'll instantly see that it looks like an Xbox One pad. That's completely understandable since everyone knows that it's one of the most ergonomic designs for a gamepad. Copying it would be the obvious choice, and that's what PowerLead did.
Thumb positions are comfortable, and the positions of the buttons are placed just right. So, your fingers don't have to actively search for them as you're playing. This provides you with an optimal gaming experience that is clearly on a different level than to when you're simply using your phone's touchscreen.
The PowerLead mobile gaming controller is definitely an affordable and excellent option for all your mobile gaming needs. The pop-out telescopic holder secures your phone as you focus all of your energy on playing your favorite Android game.
The Pros
Pop-out mount great at supporting smartphones
Great battery life
Multimedia buttons are a welcome addition
The Cons
Analog joysticks are all on the top side of the device, and it's a bit awkward
Design is a bit bulkier than expected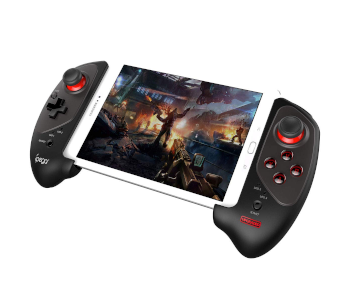 Retail Price: $36
The Ipega is a wireless gamepad that can be connected to a lot of gaming devices, especially Android phones. It comes with a direct play solution, and that means it does not require you to install or download any type of software or driver to run it. Simply pair it up with your Android phone and start playing. It relies on Bluetooth for its wireless connectivity, so as long as your smartphone has one, you can link up with this game controller.
Multi-Device Compatibility
Apart from your Android phone, you can also use the Ipega on a number of different devices. You can easily connect this with an iPhone or an iPad, Android tablets, smart TV systems, and even a PC.
The pairing process is simple and is similar to other gamepads in the market. All you need to do is search for it on your smartphone, and select it. As soon as they pair up, you can now use it as a controller to play games on your phone.
The Ipega also comes with an extra-long telescopic rod so you can fit just about any device in between the two control areas. You can even fit tablets so you can play games more comfortably since the screen is always kept in front of you. The problem with standalone controllers without a device holder is you will need to set your phone or tablet aside while you play. The Ipega totally eliminates that since it will hold it for you.
Customize it Your Way
Similar to other Android controllers in the market, the buttons are customizable. Different games on your mobile phone might require a separate button map. The Ipega comes with its own app where you can change your settings to suit your play style.
This feature allows you to play a different shooter or racing games smoothly since you can adjust the controls to one that's comfortable for you.
The Ipega wireless game controller is a sleek device that ensures your hands remain relaxed and comfortable at all times. Playing games for a long time on a controller that's not appropriately designed will just unnecessarily strain your hands. This gamepad seeks to avoid that.
The Pros
Good quality for its price
Easy and comfortable to hold
Telescopic mount helps a lot with holding your phone or tablet
The Cons
Not too plug and play may need a bit of a setup before you can use it
x
Wrap Up
Games on Android are getting more and more complex, and for most of them, the touchscreen is not enough. For one, it obstructs your view, and it's not just responsive enough. That's why investing in a good quality game controller is essential when you're looking to play your favorite games on your phone.
Smartphones are not just for texting, calling, and surfing the web anymore. They have enough power to run graphics-heavy games, and playing on the touchscreen is just not going to cut it for these games. We have provided you with a few options, some affordable, while some are on the premium side. However, all of these can be used to enhance your gaming experience considerably.