5 Best VR Headsets for Your Android Phone
3D Insider is ad supported and earns money from clicks, commissions from sales, and other ways.
Far from the vision of virtual reality as this extremely high-tech frontier of technology, it's easy enough to experience VR using just the screen of your smartphone. As the holiday season approaches, you may consider these VR headsets as gifts – they are not expensive, don't require anything more than a typical smartphone, and are ready to use out of the box.
Before you click on the checkout button for that nice-looking VR headset you saw online, we suggest reading our buying guide for VR headsets for Android phones. Not all of these VR headsets are made equal, and some may be more suitable for your needs (or your phone!) than others.
What to look for in a VR headset for your Android phone
VR headsets for Android phones are pretty simple contraptions made with a plastic body that holds up your phone near your face, a pair of lenses, and an adjustable strap. That's no excuse to not be smart about what you're buying, of course. Here are the things you should consider when choosing which VR headset to buy for your Android phone:
1. Compatibility
The phone compartment of VR headsets can only accommodate a limited size of phones – too big, and it won't fit, too small, and the screen might not be visible on the lenses. Some VR headsets are also optimized for specific phone brands, such as the Samsung Gear VR. The worst thing would be to buy a VR headset only to find out that it's not compatible with your phone.
2. Content
Phones are so much less powerful than high-end standalone VR headsets or gaming PCs, so there Is naturally less VR content available to smartphone-only VR users. Most of the fancy VR content also requires some degree of user input – a feature that may not be available in all Android-based VR headsets.
3. Interaction
Related to the previous item, a few VR headsets designed for Android phones now ship out with some sort of handheld controller. With a few buttons and motion tracking capabilities, these controllers allow users to interact with the VR environment in ways that we've only seen in high-end VR headsets before.
4. Comfort
There are a couple of factors that play a role in determining how comfortable a VR headset is: adjustable interpupillary distance (IPD) and focus, the quality and material of the face cushion, and the orientation of the straps. It's going to be hard to assess how comfortable a headset is without trying it out. Your best bet would be to give the headset a whirl or to rely on user reviews.
5. Build quality
Most VR headsets made for Android phones are pretty cheap, but that doesn't mean that settling for a poor-quality option is a good idea. A VR headset with good build quality doesn't just deliver better user experience, but it also ensures that you get to use the headset as much as possible before it starts to break down. This is particularly important if you plan on giving the VR headset as a gift to a young kid.
The top 5 best VR headsets for Android phones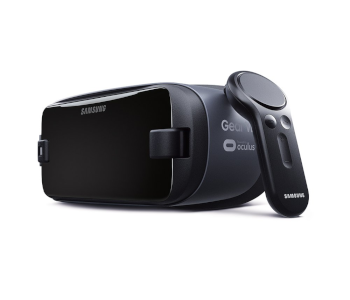 Editor's Rating: 4.8/5
The Samsung Gear VR was designed in collaboration with Oculus, which instantly tells you that this sub-$100 headset delivers a high-quality VR experience. The Gear VR line has been around for a couple of years, and the SM-325 model we are featuring here is the latest iteration. Despite a budget-friendly price tag, the Gear VR is probably the best VR headset that you can get for your Android phone.
The SM-325 Gear VR comes with a comfortable and breathable face cushion, easily adjustable focus and IPD, and an adjustable strap that wraps around your head. The biggest advantage of getting a Gear VR is its library of exclusive content, which can only be accessed through the Gear VR mobile app.
The Gear VR games and experiences are some of the best that you can find for a smartphone platform. Since these VR experiences were specifically designed for the Gear VR, they interface perfectly with the headset's touch panel and handheld controller. The level of interaction that is possible with the Gear VR opens up a whole dimension of VR entertainment to a degree that we didn't think was possible using just a smartphone.
If you already own a compatible Samsung phone, then it makes perfect sense to get a Gear VR. Unfortunately, that is the only situation where it makes sense. The Gear VR only works with Samsung phones and not even ALL Samsung phones. If your phone isn't a Samsung or is a lower-end Samsung, then it might be more practical to save a few bucks and buy a cheaper VR headset.
Tech Specs
Compatible with: Samsung Galaxy Note 9 and lower, Samsung Galaxy S10 and lower
Size: 207 x 120.7 x 98.6 mm
Weight: 345 grams
PROS
Comes with a handheld controller
Oculus-powered content library
High-quality lenses
CONS
Limited phone compatibility
Somewhat expensive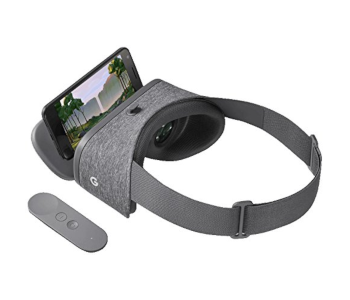 Editor's Rating: 4.6/5
The Google Daydream View costs about a third less than the Gear VR, has slightly more versatile compatibility, and gives you access to a very satisfying content library. For these reasons, the Daydream View is our pick for the best value-for-money VR headset for an Android phone.
The first thing that pops out from the Daydream View is its standout design. Far from the usual black plastic of other VR headset, the Daydream View is lined with a textured, breathable fabric that looks good and is comfortable at the same time.
With the same quality extending to the straps and face cushion, plus the fact that it's very light, the Daydream View is one of the most comfortable VR headsets we have tried out.
VR gaming can get surprisingly intense, so we're glad that the Daydream View was designed with a removable face pad so that you can take it off and wash it when it gets soaked with sweat.
Like the Gear VR, the Daydream View comes with a handheld controller, allowing it to be used for more interactive VR experiences. These are fully demonstrated by the excellent content available to the user through the Daydream app.
Also like the Gear VR, the chief drawback of the Daydream View is that it was designed only for high-end phones. The list of compatible devices for the Daydream View is a lot more diverse, though, including phones from Samsung, Asus, Google, Huawei, and LG. This still means that you can't just buy a Daydream View headset on a whim – it only becomes a practical move if you already own a compatible device.
Tech Specs
Compatible with: Selected brands and models only
Size: 167.6 x 116.8 x 99 mm
Weight: 260.8 grams
PROS
Visually appealing design
Breathable and comfortable fabric
Comes with a handheld controller
Lightweight build
CONS
Limited phone compatibility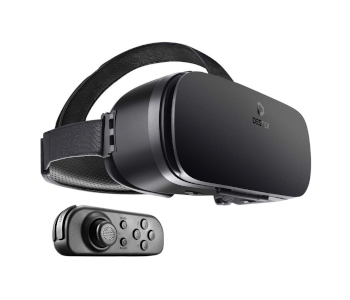 Editor's Rating: 4.4/5
For our budget pick, we didn't choose the cheapest headset on our list. Rather, the Destek V4 headset offers an all-around satisfying VR experience and extensive phone compatibility at about half the cost of a Google Daydream View – not a bad deal, if we say so ourselves.
To start off, the Destek V4 doesn't have a brand or model-exclusive list of compatible smartphones. All you need is a phone that measures between 4.5 to 6 inches diagonally – that's it. The Destek V4 makes a great, inexpensive gift since it works well with just about any smartphone.
One of the more surprising things about a VR headset this cheap is that it ships out with a handheld Bluetooth controller. The controller has a trigger, a few basic buttons, and an analog stick. It's hard to tell which VR games are compatible with the controller, so a little trial and error may be in order. The trigger can be used as a playback button, so it should at least make watching VR movies easier.
The storage bag, cleaning cloths, and extra EVA foam pads are also nice extras for this low-priced VR headset.
As you can expect from a budget option, there is a catch with the Destek V4. It might not require some fancy phone from Samsung or Google, but it also means that you don't get access to some of the best VR content from the Google or Oculus libraries. You might not think of this as a big deal at first, but VR entertainment is a rabbit hole that you can find yourself going deeper and deeper into.
Before you settle for the Destek V4, ask yourself first: will you find yourself wanting to upgrade to a higher-end V4 headset in the future? If so, it might make sense to invest in that now. The Destek V4 is a great headset for the VR newbie, but there's a good chance that you'll outgrow it quickly.
Tech Specs
Compatible with: Any phone that measures 4.5 to 6 inches
Size: 200.6 x 124.5 x 129.5 mm
Weight: 473.4 grams
PROS
Visually appealing design
Breathable and comfortable fabric
Comes with a handheld controller
Lightweight build
CONS
Limited phone compatibility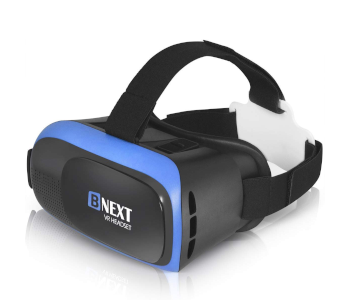 Editor's Rating: 4.1/5
The BNext VR Headset is another inexpensive option that costs around just as much as a Destek V4. It does not come with a handheld controller but makes up for it with a more comfortable fit and a small library of free content.
Like the Destek V4, the list of compatible phones for the BNext VR headset is only limited by the size of the phone slot: any model that measures between 4 to 6 inches diagonally, in this case. The face cushion of the BNext is just a tad thicker and softer and seems to be made with more breathable material. We can certainly imagine wearing this VR headset for an hour or two before we get too uncomfortable.
Minor praises aside, the BNext is as basic of a VR headset as you can imagine. It's great for watching those VR videos on YouTube or any of the VR experiences that you can download from the link that comes with the headset. Without a controller or any means of interaction, the experiences that you can enjoy with this headset are quite limited. The clarity of the picture as viewed through the lenses also isn't the best, although objective not terrible either.
All in all, the BNext VR headset is a cheap product that gives you just what you pay for. Its simplicity is actually one of the nicest things about it, as it means that anyone can pick it up and play around with it with minimal instruction. It's not a headset that we'll recommend for anyone looking for a hardcore, content-rich, or interactive VR experience.
Tech Specs
Compatible with: Any phone that measures 4 to 6 inches
Size: 177.8 x 127 x 101.6 mm
Weight: 408.2 grams
PROS
Extensive phone compatibility
Comfortable
Easy to use
CONS
No controller
Limited free content
Middling image quality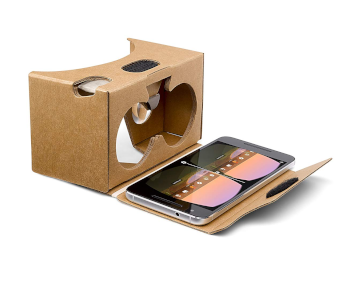 Editor's Rating: 3.9/5
The Google Cardboard is the perfect representation of the humble beginnings of the VR headset industry: simple, classic, and unchanged over the years. It's also literally made of cardboard and costs less than $10, which should be enough to tell you not to expect too much out of it.
There may be some assembly required when you receive your Google Cardboard. The headset is essentially just a corrugated paper frame for a pair of lenses. It does have a flexible strap but has no face cushion, so it's not bound to be comfortable after several hours of being pressed against your face. Without any face cushion, the Google Cardboard also has a lot of light leakage.
There are two things about the Google Cardboard that have helped it enjoy enduring popularity. The first is the quality of the lenses. There's virtually nothing to complain about the clarity of these lenses, especially since they come on such a cheap headset.
The other saving grace of this budget headset is the Google Cardboard app, which is one of the richest ecosystems of VR content today. Just to be clear, the games and experiences are very basic, but there are enough of them in there that anyone who hasn't tried VR before is sure to have a good time.
The Google Cardboard headset is so cheap that you can buy it on a whim just to try it out and ditch it without feeling too bad. If you're still not sure about VR as a form of entertainment, then this is the way to try out at almost no cost.
Tech Specs
Compatible with: Any phone that measures 3.5 to 6 inches
Size: 149 x 89 x 55.9 mm
Weight: 96 grams
PROS
Very cheap
Lightweight
Diverse phone compatibility
CONS
Uncomfortable
Has severe light leakage
Flimsy design
Final thoughts
VR technology is so common nowadays that you hold the means to it in your hands – literally, using just your smartphone. If you own an Android phone, then great news! There are dozens of VR headsets in the market that you can choose from. Just remember to pick one that's compatible with your phone, comfortable to use, and has all the features you're looking for.
VR entertainment using a smartphone-based headset isn't the best, but it's inexpensive and easy to do. Any of these VR headsets are cheap enough to make great gifts, or you can also buy one as a treat to yourself.