6 Best Apartment Security Systems and Cameras
3D Insider is ad supported and earns money from clicks and other ways.
Residents living in apartments are statistically more likely to be burgled than those living in houses. Getting a home security system should be among your top priorities if you're an apartment dweller, but sometimes getting one just isn't possible. Landlords don't take kindly to holes and neighbors don't want to be woken up by sounds of drilling either.
The solution is to invest in a security system designed for apartments. These models install easily without leaving permanent marks on the walls, come with sophisticated cameras & sensors, and can be monitored wirelessly from your smartphone. Most will even set you back less than security systems meant to work in houses regardless of any monthly fees.
Below are the six best apartment security systems you can get today. They vary by the kind and number of included sensors as well as monthly subscription options. Regardless of your budget and apartment's security needs, there's at least one among them that ought to tick all the right boxes.
Budget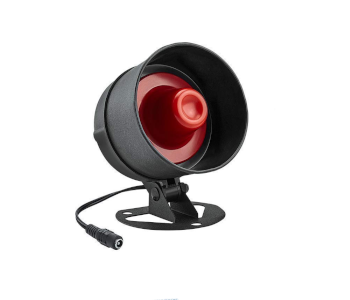 KERUI Home Security System
3.9/5.0
Included equipment: Siren, motion sensor, 2 door/window sensors
Minimum fees: Free
Affordable, responsive sensors, loud siren.
Check Amazon
Best Value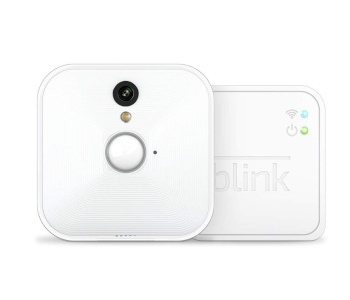 Blink Indoor Home Security
4.7/5.0
Included equipment: Camera & sync module
Minimum fees: Free
Wireless, easy to install, free cloud storage.
Check Amazon
Top Pick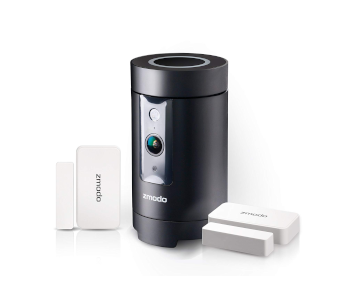 Zmodo Pivot
4.8/5.0
Included equipment: Camera, 2 door/window sensors
Minimum fees: $5 a month
Lots of useful-built-in sensors and excellent video quality.
Check Amazon
What to Look for in an Apartment Security System
Installation
Future-Proofing
Contracts & Monthly Fees
Apartment Security Systems Comparison Table
| Make and Model | Rating | Included equipment | Monthly cost | Price |
| --- | --- | --- | --- | --- |
| Zmodo Pivot | 4.8 | Camera, 2 door/window sensors | Free local storage, cloud storage starts at $5/month | Check Price |
| Blink Indoor Home Security Camera System | 4.7 | Camera & sync module | Free | Check Price |
| Honeywell L5200 | 4.5 | Control panel, motion sensor, key fob, 2 door/window sensors | Monitoring starts at $10/month | Check Price |
| iSmartAlarm Apartment Security Package | 4.3 | Hub, motion sensor, door/window sensor, remote control | Free | Check Price |
| Bibene WP6 Wireless Alarm System | 4.1 | Hub, motion sensor, 5 Door/window sensors, 2 remote controls | Free | Check Price |
| KERUI Home Security System | 3.9 | Siren, motion sensor, 2 door/window sensors, 2 remote controls | N/A | Check Price |
1. Best Overall – Zmodo Pivot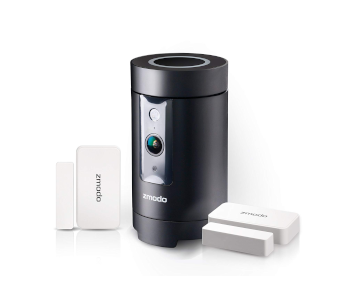 View on Amazon
Editor's Rating: 4.8/5
Security cameras offer the most in home security as they complement sensors and sirens with irrefutable video evidence of a burglar's wrongdoings. Trouble is, most of them have a fixed angle. This forces you to place them in a way that offers an overview of the entire room, which requires either a convenient piece of furniture or wall mounting. The Zmodo Pivot solves this problem with its 360-degree panning feature. It's not just a camera, but a highly versatile security system with a slew of sensors & accessories which put it at the top of our list.
The Feature-Packed Apartment Security Camera
The Pivot is a cylindrical camera which arrives with two additional battery-powered door/window sensors. It has a long power cable so you can take advantage of its shape and keep the camera on a coffee table for the best overview. It'll be up and running in minutes as you only need to plug the camera in and pair it with the Zmodo app to get started. Apart from video recording, the Pivot has two-way audio, temperature & humidity sensors, as well as a Bluetooth speaker!
Videos are shot in crisp 1080p and look excellent in any lighting. The lens has a 135-degree field of view. This alone gives it a good overview, but the camera's true potential lies in 360-degree rotation. There are motion sensors placed along its top. Whenever they're triggered, the camera will pivot towards the source of the noise. If you place the door/window sensors in the same room, activating one will cause the Pivot to face its direction as well.
Zmodo's app takes getting used to as some frequently-accessed features are hidden behind menu screens, but once you're used to it, navigating the menus becomes routine. You can access the camera's live view, check out stored clips, and browse past alerts.
The Pivot has 16GB of onboard storage. Zmodo also offers fairly-priced cloud storage options. For $5/month, you get 7 days of continuous coverage and alert logs. Spending $10/month gives you access to 30 days instead.
What We Didn't Like
Motion alerts can be activated only every 10 minutes to prevent blowing your phone up with false alarms. This can become a security risk if a burglar is only temporarily discouraged by your reaction and decides to try again in less time. 5GHz routers aren't supported, so check that yours has a frequency of 2.4 GHz before purchasing.

Tech Specs
Included equipment: Camera, 2 door/window sensors
Minimum fees: cloud storage starts at $5/month
Camera resolution: 1080p
Field of view: 135°
The Pros
360-degree pivoting action
Lots of useful-built-in sensors
Excellent video quality
Both local storage and reasonable payment options
The Cons
Motion alerts are sent in 10-minute intervals
Supports only 2.4Ghz Wi-Fi
2. Best Value – Blink Indoor Home Security Camera System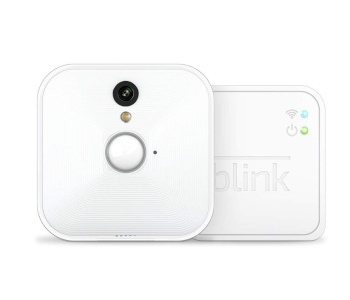 View on Amazon
Editor's Rating: 4.7/5
Blink is a security company recently acquired by Amazon which specializes in creating cameras with a low profile and an even lower cost. The indoor version of their latest model is perfect for smaller homes as it is unobtrusive, completely wireless, and can capture what's going on in a room of any size in decent quality. A single camera is affordable, and the price per unit only goes down if you buy more at once. Add a generous, free cloud storage plan, and you've got a security deal that's almost too good to be true.
Apartment Security at an Amazing Value
Blink's indoor camera is a small, rectangular device you can either place on a bookshelf or mount using the supplied brackets. The camera itself is wireless. It is powered by two AA batteries which Blink claims can last for two years. It needs to be within reach of a sync module that facilitates its connection to your smartphone, but it can be set up anywhere you like otherwise.
Footage is captured at a resolution of 720p, is very sharp, and boasts vibrant colors. The camera's field of view is 110 degrees which gives just the right amount of coverage without barrel distortion on the edges. Rather than relying on infrared, night vision is enabled thanks to an LED which lets the camera produce usable color footage in the dark. Blink's camera has a microphone so you can listen in on what's going on as well as motion and temperature sensors.
The Blink app has a simple, functional interface one gets used to quickly. You can access the live feed as well as previous recordings and triggered alerts from the home screen. The camera doesn't have geofencing, so you'll have to set up arming and disarming schedules manually. Fortunately, this is straightforward and if you've got a stable weekly schedule, setting the corresponding rules up is a snap.
Another strong reason to consider Blink is its free cloud storage. Whenever the motion sensors are triggered, Blink will record a 5-second clip. The duration can be extended to 60 seconds and the last 120 minutes of clips are always available for perusal and download free of charge. Support for Amazon Alexa is Blink's newest service which lets you control the camera as well as get status information on it through voice commands.
What's Bad About It?
The motion sensor is far too sensitive. You may get the occasional false positive even if you use the lowest setting. Each notification is sent only when recording stops. If you've set the clip length to 60 seconds, a burglar could do a lot of damage before you're even aware that something is amiss.

Tech Specs
Included equipment: Camera & sync module
Minimum fees: Free
Camera resolution: 720p
Field of view: 110°
The Pros
Wireless
Easy to install
Free cloud storage
Excellent value for the money
The Cons
Overly sensitive motion sensor
Notifications are sent when recording is done
3. Honeywell L5200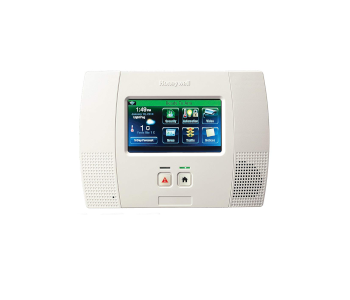 View on Amazon
Editor's Rating: 4.5/5
If you're planning on creating an apartment fit for the 21st century complete with smart plugs, bulbs, and security cameras, Honeywell's L5200 is the perfect place to start. This modular security system doesn't only protect your home, but it serves as an automation hub with support for additional switches, key fobs, and more. Thanks to Z-wave integration, the number of supported devices is huge and constantly growing.
A Solid Foundation for Your Smart Apartment
The base package consists of the L5200 control module, three door/window sensors, and a motion sensor. The panel is relatively easy to install – you need to connect a backup battery to the main panel and plug a transformer into it which plugs into a standard outlet. This is a simple project for DIY-ers and doesn't require you to damage the property, so it's great for renters.
The panel has a quality color LCD screen that's easy to navigate. From it, you can control the included sensors, set up zones & schedules, and view alerts. If you buy a Wi-Fi module, the same can be done via an Android or iOS app. The screen can also act as a monitoring device if you connect a camera to the system. As you add more cameras, locks, and other security essentials, the L5200's usefulness grows since it enables complete control of each addition from one place.
After the initial purchase, the system is completely free to use for self-monitored security. You can opt to pay a professional company for support, 24/7 monitoring, and email or text alerts. Honeywell's own plans start at $15/month, but if you shop around you can get the same service from companies like AlarmGrid for $10/month.
Are There Drawbacks?
The L5200 is an expensive purchase, especially if you do not plan on any future upgrades. The basic accessories you get with it are adequate for comprehensive apartment protection, but if you're only looking for window and motion sensors you can monitor remotely, there are much cheaper options out there.

Tech Specs
Included equipment: Control panel, motion sensor, key fob, 2 door/window sensors
Minimum fees: Monitoring starts at $10/month
The Pros
Supports many 3rd-party devices
Excellent LCD screen
Non-invasive installation
The Cons
Expensive
Contains only basic sensors
4. iSmartAlarm Apartment Security Package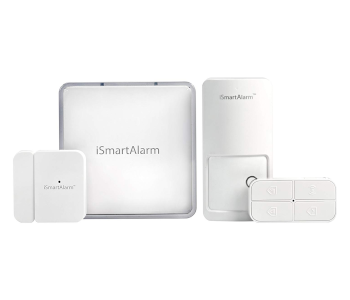 View on Amazon
Editor's Rating: 4.3/5
Do you live in or rent a small apartment? If so, the iSmartAlarm is the best and one of the most affordable solutions you can get. No drilling or complicated setup is required, monitoring the system is intuitive, and everything can be removed in minutes when you're moving. This is the basic iSmartAlarm package which you can further customize later on by adding additional sensors and even security cameras.
A Small Security System for Small Living Spaces
The Apartment security Package consists the CubeOne hub, a motion & door/window sensor, and a handy 4-button remote control. CubeOne is the brains of the operation and needs to be plugged in. It connects wirelessly to your home network and other iSmartAlarm devices. The hub supports 70 additional accessories, so you can easily buy & connect more if you ever move into a bigger home. It also has a built-in 110dB siren the whole floor is sure to hear.
The door/window and motion sensors are battery-powered and come with double-sided adhesive tape for easy installation. You can adjust the motion sensor's sensitivity and angle so pets or rotating ceiling fans won't trigger false alarms. The door & window sensor is best used either on your front door or an important cabinet. Once the connection between its two parts is broken, a notification is sent to your smartphone. Finally, the remote gives you basic control over the system without having to open up the app. With it, you can arm and disarm the system as well as turn the siren on and off.
The App's home screen looks like a virtual representation of the remote, the only difference being that the siren's on & off functions are now handled by one button while the last one puts the system into "Home mode". While this is on, only the door/window sensor is active. The app lets you name and assign pictures to each sensor, review past alerts, and control a camera if you purchase one.
iSmartAlarm's service is free. It includes push notifications or text messages sent to your phone as well as an automated call which informs you that an alarm has been triggered. These can be disabled in the app.
What We Didn't Like
There's no way of scheduling when the sensors are active – they can only be manually armed, disarmed, and set to "Home mode". You'll eventually need to replace the batteries in each sensor. To access them, you have to remove a back panel secured with tiny screws. You don't get the corresponding screwdriver with the system, so you'll need to get one separately.

Tech Specs
Included equipment: Hub, motion sensor, door/window sensor, remote control
Minimum fees: Free
The Pros
Easy to set up and remove
Can be expanded with additional components
Responsive sensors
Free professional monitoring
The Cons
Battery replacement requires screwdriver which isn't included
Arming and disarming can't be scheduled
5. Bibene WP6 Wireless Alarm System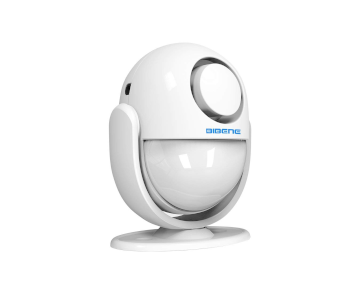 View on Amazon
Editor's Rating: 4.1/5
The security systems we've reviewed so far all come with only 1-2 door/window sensors. You could pay for expensive upgrades if you have more drawers or cabinets to protect, or you could buy The WP6 wireless alarm system from Bibene. It comes with 5 door/window sensors which work right out of the box, has a great companion app, and even supports Amazon Alexa!
A Great Security System for Larger Apartments
A curious-looking hub dubbed the Smart Egg is at this security system's heart. It connects to your 2.4 GHz Wi-Fi, has a 120dB siren whose loudness you can adjust, and is equipped with its own motion sensor for a total of two. The other sensors are recognized as soon as you turn it on so no lengthy pairing is necessary. They're battery powered and work for 3 months before needing replacements.
The Smart Egg can be armed or disarmed either with the remote control, by saying the appropriate command to Alexa, or through the WP6 app. It doesn't actually need Wi-Fi to work – The Smart Egg will continue to guard your apartment even if the wireless connection becomes unavailable. Both it and the sensors will reconnect without issue once it's back up.
Bibene designed the WP6 app with attention to ease of use & functionality. The main screen consists of 6 icons used to adjust the security system's behavior as well as a gear icon that leads you to a screen with adjustable system settings like the activation code.
Tapping the "Sensor" icon opens an overview of active sensors. This screen lets you arm and disarm each sensor individually as well as name them for easier recognition. "Timing arm" is useful when you want to schedule arm and disarm times on a weekly basis, while "Delay arm" delays them for a specified time. If you'd like to be woken up by one of the Smart Egg's five alarm sounds, there's the "Alarm clock" option.
What's Bad About It?
The way in which the WP6 works with Alexa is clunky. You can only tell her to arm & disarm it, and both actions are instantaneous. Since your Echo or Fire TV is always at home, you can't arm the alarm through Alexa without triggering it as soon as you move or open the door to leave. This system doesn't work with 5 GHz Wi-Fi, and alerts are sometimes delayed on the iOS version of the app.

Tech Specs
Included equipment: Hub, motion sensor, 5 door/window sensors, 2 remote controls
Minimum fees: Free
The Pros
Lots of sensors for a good price
Excellent companion app
Scheduling & delayed arming
The Cons
Unintuitive Alexa integration
No 5GHz Wi-Fi support
Delayed messages on iOS app
6. Best Budget Option – KERUI Home Security System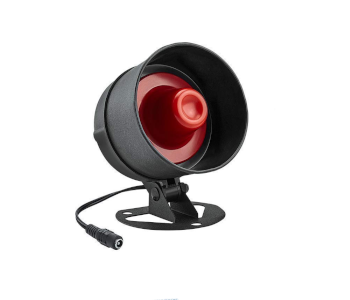 View on Amazon
Editor's Rating: 3.9/5
Kerui's home security system is proof that you can get a comprehensive package that will make burglars think twice before trying anything at less than $30! Cameras are naturally out of the question at this price point, but you do get a blaring siren and enough sensors to proof an entire apartment against theft. There's no better option if you want to keep a rented property secure without spending too much.
The Best Cheap Security System for Renters
The best thing about this system is its ease of installation. A 100-dB siren is the only component which needs to be plugged into an outlet via the supplied power adapter. Other accessories – a motion sensor, two door/window sensors, and two remotes, all use batteries. You'll want to take note of the cell batteries used in the small sensors and have them nearby as they aren't easy to find.
The way this system works is simple yet effective. The siren starts to wail when the sensors are tripped. Both sensor types are very sensitive and react as soon as they're triggered. Individual components communicate with each other through radio waves, but there's no Wi-Fi for remote monitoring. This means you can set the system up inside a cabin or an RV and it will work flawlessly.
Like other entries in the list, this is just the base unit. Kerui offers other accessories like cameras, doorbell buttons, and a Wi-Fi hub at little extra cost. This is good to keep in mind as upgrading will continue to be affordable should you ever need to beef up security.
Are There Drawbacks?
The various components are made from cheap plastic, unsurprising given the price. This can become an issue if you use the remotes a lot because the buttons can break and stop working. The instructions that come with the security system are sparse and written in broken English.

Tech Specs
Included equipment: Siren, motion sensor, 2 door/window sensors, 2 remote controls
Minimum fees: Free
The Pros
Affordable
Responsive sensors
Loud siren
Easy & cheap to upgrade
The Cons
Made from low-quality materials
Poor instruction manual