Headphones Comparison: Apple AirPods Pro vs. Apple AirPods 2
3D Insider is ad supported and earns money from clicks, commissions from sales, and other ways.
Apple released two new AirPods in 2019: the AirPods 2 and the AirPods Pro, with the former being the first to hit the market. The second-gen AirPods are relatively more affordable, selling for less than $200 regardless of the charging case type. The AirPods Pro, which sell for around $250, are the more premium product, with their active noise cancellation (ANC), making them unique among Apple's current lineup of earbuds and earphones, including those under the Beats brand.
Considering their significant design differences and price gap, choosing between the AirPods Pro and the AirPods 2 is not easy. If you need a detailed comparison between them to help you with your decision, then we got you covered. In this head-to-head comparison, we'll give you a detailed look at their individual strengths and weaknesses, along with their similarities.
Quick Look
Apple AirPods Pro
Apple AirPods 2
Type
Truly wireless in-ear
Truly wireless earbud
Enclosure
Closed-back
Open-back
ANC
Yes
No
Connectivity
Bluetooth 5.0
Bluetooth 5.0
Battery
4.5 hours
5 hours
Weight
Headphones: 0.38 oz
Case: 1.6 oz
Headphones: 0.28 oz
Case: 1.4 oz
Price
Amazon
Amazon
Design
The AirPods Pro and the AirPods 2 are both well-built truly wireless headphones with excellent portability and better features when connected to iOS devices. But their similarities end there, as they are different in all other important design aspects, with the AirPods Pro easily standing out as the better-designed headphones overall.
They have a more stable and customizable fit, a more user-friendly control scheme, and better water resistance. Their default case supports wireless charging while their Lightning cable has a more modern USB-C connector on the other end. However, the AirPods 2 are better in one important area due to their different design: comfort.
Fit
While the AirPods Pro and the AirPods 2 look similar at first glance – mostly due to their similarly protruding stems – they technically fall under different headphone categories. The former is a pair of truly wireless in-ear headphones or earphones while the latter are truly wireless headphones with an earbud fit, which is more uncommon. This means the AirPods Pro enter your ear canals while the AirPods 2 simply rest outside your ear canals, on your conchae, similar to the EarPods.
The AirPods Pro are quite comfortable for in-ear headphones and are more comfortable to wear for long hours than most earphones, with their ear tips not entering your ear canals too deeply. But the universal fit of the AirPods 2 is more comfortable overall. You can wear them continuously for long hours without experiencing the kind of discomfort often associated with earphones. However, their stability depends on the size and shape of your ears and can be inconsistent.
Featuring shorter stems, the AirPods Pro stay more securely in your ears, with their stability being one of the best among truly wireless earphones that lack stability fins or hooks. Their superior stability is especially helpful if you intend to use them for running or working out. They come with three different sizes of silicone ear tips, giving you options to find the best fit for your ears.
There is no way to change the universal fit of the AirPods 2 – at least not without using third-party solutions. If you want to make them even more comfortable or increase their stability, you can look into foam sleeves, stability fins, and ear hooks from third-party sellers. You can even get an accessory that converts them into in-ear headphones for a tighter seal.
Build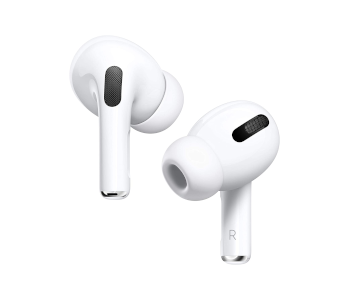 The AirPods Pro and the AirPods 2 are both well-built headphones that are primarily made of high-quality plastic. They feel sturdy and durable and certainly look like high-end products, though they lack the more premium finish of other expensive truly wireless headphones such as the Master & Dynamic MW07. Both have the same minimalist aesthetic and all-white color scheme of the first-gen AirPods and the EarPods, which some people find more appealing.
Although their build qualities are similarly good, the AirPods Pro are the better product in this specific category, mainly because of their better water resistance. Unlike the AirPods 2, they have an official IPX4 rating, which means they are better-protected against sweat and rain. This is especially beneficial if you plan to use them as your go-to headphones for running and working out in the gym.
The charging cases of both headphones are also solidly built and sturdy. Both have secure lids and protect the headphones against scratches and minor physical impact, but they won't protect them from heavy water exposure. Like the headphones themselves, they are not available in other colors, but you can have personalized engravings on them, which is an option offered by Apple. You can also look into more colorful and more stylish case sleeves from third-party sellers.
Controls
Both the AirPods Pro and the AirPods 2 have touch-based control schemes, but they are used differently. The former has a force sensor on each stem that you need to pinch with your fingers to register input while the latter requires you to tap on the earbuds themselves. Both control schemes are limited, with no volume controls regardless of your smartphone OS. For both headphones, you can use the touch controls to manage your calls and music.
The touch controls of the AirPods Pro are better overall, but not because they offer more useful features but simply because they are easier to use. Unlike with the AirPods 2, their touch controls – which also allow you to quickly switch between ANC and ambient sound modes – are less prone to being activated accidentally.
While both the AirPods Pro and the AirPods 2 are compatible with Android devices, you'll have access to more functions when connected to iOS devices. When paired with a compatible iOS device, you get hands-free Siri support, allowing you to make calls, play songs, and adjust the volume, among other things, without touching your headphones or mobile device.
Additionally, you get an auto-pause feature, which automatically pauses the audio once you remove one unit from your ear, which is convenient. The audio automatically resumes when you put it back in your ear. You can also customize the controls of both headphones, with the option to assign Siri activation to their press-and-hold (AirPods Pro) and double-tap (AirPods 2) gestures if you prefer to have an alternate method of activating your handy voice assistant.
Portability
Like other headphones in a truly wireless format, the AirPods Pro and the AirPods 2 are both extremely lightweight and compact, making them more portable and easier to carry every day than other types of headphones. Even with their charging cases factored in, they are still highly portable and easy to store in small pockets.
Their charging cases are actually some of the smallest and lightest among truly wireless headphones, but their size and shape are not completely identical. The charging case of the AirPods Pro is wider and bulkier overall, but the difference is very small and practically negligible for most people. Whether for commuting, office use, or jogging, both the AirPods Pro and the AirPods 2 are incredibly easy to carry, with the magnets in their charging cases keeping them securely in place when docked.
Accessories
The AirPods Pro include more accessories in the box, but they are not necessarily better in this category due to their different design. They include three sizes of ear tips – a typical setup for earphones – along with the case and the Lightning-USB-C charging cable. The case supports Qi wireless charging, which is nice but not all that useful for many people.
Meanwhile, the AirPods 2 only come with a case and the Lightning-USB-A charging cable. Unlike with the AirPods Pro, Apple offers two options for the charging case: a regular case and a wireless charging case, with the latter option being the more expensive option.
Performance
Like in the design section, the AirPods Pro are the better headphones regarding overall performance, beating the AirPods 2 in two of the most important categories: sound quality and isolation. Their sound quality is considerably better and they are better at both masking ambient noise and keeping the sound leakage low. On the other hand, the AirPods 2 have a slightly better battery life per charge and a faster charging time. Regarding total battery life, mic performance, and connectivity options and features, the two headphones are similar.
Sound
The AirPods Pro have a much better sound quality than the AirPods 2. They are actually some of the best-sounding truly wireless earphones on the market, though many people are hesitant to give them credit simply because they are an Apple product. They sound better-balanced and more detailed overall; they have a smoother treble and a significantly better and more consistent bass reproduction. While they are not recommended for music production, they are good for listening to most music genres and for general media consumption.
The AirPods 2 are outclassed by their more expensive sibling in audio reproduction, but that doesn't automatically mean they sound terrible. Their sound quality is satisfactory. Their mid-range is good while their treble is decent, but their bass is lacking. Their soundstage is also better compared with the AirPods Pro because of their open design. Most consumers will be satisfied by their sound quality for listening to music, audiobooks, and podcasts and for watching video content.
Isolation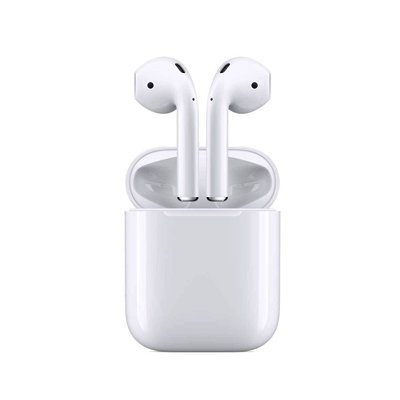 With their ANC, closed-back design, and tighter in-ear seal, the AirPods Pro are significantly better at sound isolation. They are some of the best noise-canceling earphones currently out on the market and have low sound leakage. They are good at blocking out ambient chatter and low-frequency noises and are decent at reducing high-frequency noises. This makes them more suitable for blocking out background noise and listening to music in a noisy office, during commutes and flights, and while working out in a crowded gym.
If you want to temporarily monitor your surroundings or have a quick conversation with someone, you can let background sounds in by switching to ambient sound mode. The AirPods Pro have one of the best ambient sound modes among noise-canceling headphones, with the background sounds filtered in by their integrated mics coming off as more natural-sounding. You can switch between ambient sound and ANC modes using either the touch controls or your iOS device.
The open-back AirPods 2 are more suitable if you prefer to have better situational awareness at all times, most especially while outdoors. They are poor at blocking out background noise, forcing you to increase the volume to unhealthy levels when listening to music in noisy places. But on the bright side, their sound leakage is not too high for open headphones. This means you are less likely to bother people around you with their sound leakage unless the volume is turned all the way up.
Mic
The AirPods Pro and the AirPods 2 have similar mic performances, with their slight difference in recording quality being practically negligible and unnoticeable for most people. But while their mics are decent at noise reduction for better calls in moderately noisy environments, both are still best used in a quiet setting. Their integrated mics are decent enough for phone calls and video conferences. If you want a pair of headphones with a good mic for specific usages, then you'll need to look into other types of headphones, as truly wireless headphones are not exactly known for their mic quality.
Battery
Like many other truly wireless headphones, both the AirPods Pro and the AirPods 2 have a short battery life per charge, but the latter edges out the former in overall battery performance by a slim margin. At five hours, they can run 30 minutes longer per charge when used for listening to music with the volume set to 50 percent. Their total battery life is more than 24 hours when you count the additional charges in the case. They also charge faster, only requiring about 30 minutes of charging in the case to go from a dead battery to fully charged.
You also get more than 24 hours of total battery life with the AirPods Pro, but they are limited to four and a half hours per charge with ANC enabled and the volume set to 50 percent. Their battery life per charge increases to five hours with both ANC and ambient sound mode disabled. Although they have the same quick-charge feature that allows them to gain one hour of playback after just five minutes of charging, they take longer to fully charge. On the other hand, they already come with a case that supports Qi wireless charging, which is only optional for the AirPods 2.
Connectivity
The AirPods Pro and the AirPods 2 are tied in this category, with both offering (and lacking) the same connectivity options and features. Both headphones are equipped with Bluetooth 5.0 and the Apple H1 chip. The latter allows them to integrate better with iOS devices, with more useful functions and more customization options than when paired with Android devices.
Both headphones pair seamlessly with compatible iOS devices and have better connection range, stability, and latency when connected to an iOS device. Moreover, both offer hands-free Siri support and allow audio sharing between two different AirPods, with independent volume control for each pair. You also get Announce Messages with Siri on compatible devices, which is convenient in some situations, and the option to modify the touch controls of both headphones on the settings screen.
On the other hand, both headphones lack a dedicated app for customization and don't support multi-device pairing, which is especially disappointing for the more expensive AirPods Pro. In addition, both are limited to wireless connectivity, with no option to switch to wired mode when their batteries are depleted, but this also applies to other truly wireless headphones.
Wrap-up
Apple AirPods Pro
The AirPods Pro are some of the best truly wireless headphones currently out on the market. They are better than the AirPods 2 in many aspects and are much more versatile. They are good-sounding in-ear headphones with customizable touch controls, great noise isolation performance, low sound leakage, good stability, and an IPX4 rating for water resistance. They are more suitable for listening to music and blocking out background noise in the office, during commutes and flights, and while running outdoors or working out in the gym.

Although they are not as comfortable to wear continuously for long hours as the AirPods 2, they are still quite comfortable for in-ear headphones. Unlike with the universal earbud fit of the AirPods 2, their ear tips are customizable, with Apple including three tip sizes to choose from. Unless you prefer an earbud fit or an open design, it's much better to save up for the AirPods Pro than to settle for the more affordable AirPods 2 – they are the better product overall.

Pros
Cons

Good sound quality
IPX4 rating for water resistance
Customizable touch controls
Great noise isolation performance
Hands-free Siri support on iOS
Qi wireless charging case
More than 24 hours of total battery life

Short battery life per charge
Limited controls
Very expensive
Apple AirPods 2
The AirPods 2 are a solid pair of earbuds that are good for casual everyday use, but their open-back design makes them unsuitable for listening to music in noisy environments. They are some of the few truly wireless headphones with an earbud design, which means they have a universal fit. Their build quality is good while their portability is excellent. Their earbud fit is more comfortable than the in-ear fit of the AirPods Pro. Furthermore, their battery life per charge is slightly better while their charging time is faster.

While they are the less premium product, you still get access to the same features and benefits that come with the Apple H1 chip, which is also found in the AirPods Pro. Overall, the AirPods 2 are a better option than the AirPods Pro if you want something relatively more affordable or simply find in-ear headphones too uncomfortable. They are also the better choice if you don't really need noise isolation and prefer to be more aware of your surroundings instead.

Pros
Cons

Comfortable earbud fit
Good build quality
Customizable touch controls
Hands-free Siri support on iOS
Fast charging time
More than 24 hours of total battery life

Short battery life per charge
Limited controls
Poor noise isolation