List of Every Apple HomeKit Compatible Device
3D Insider is ad supported and earns money from clicks and other ways.
Picking a home automation platform is a daunting task, but Apple fans have it easier since HomeKit is a safe, robust, and user-friendly choice. A smart home is only as good as the device that make it up, however. Even though HomeKit supports fewer accessories than its competitors, the number and diversity of compatible products can still make anyone confused.
In this extensive guide, we cover more than 130 products that are currently available to HomeKit users in America. We've split them up by category and included highlights as well as brief descriptions to help you more easily find the products that interest you the most. There's also a small FAQ section where you can find out everything about HomeKit and why it should become your smart home foundation of choice.
Table of Contents
Lights
Smart light bulbs are great as your first step into the world of automation. Installing them is literally as easy as the idiom says, everyone understands their basic operation, and they become more useful the more other gadgets you get.
Name
Highlights
Check price
Eve Flare
Versatile mood light with excellent battery life
Amazon
Feit Electric A19 Color
Feit Electric A19 White
Feit Electric BR30 White
Affordable and brighter than advertised
Amazon
Amazon
Amazon
iHaper B1 RGB
iHaper B2 White
iHaper DL1 Smart Desk Lamp
iHaper L3 Smart Light Strip
iHaper Wifi Lightbulb Socket
Low energy consumption
Inexpensive
Detachable flashlight and motion sensor (Smart Desk Lamp only)
Works with all standard E26 bulbs (Wifi Socket only)
Amazon
Amazon
Amazon
Amazon
Amazon
iDevices Socket
Has night light and works with wide variety of bulbs
Amazon
IKEA TRÅDFRI
Quick response time
Ikea
Incipio CommandKit Wireless Smart Light Bulb Adapter
Controls and dims dumb bulbs
Amazon
Koogeek LB1
Koogeek LS1 Light Strip
Koogeek Socket
Energy expense monitoring
Easy to use
Competitive price
Amazon
Amazon
Amazon
LIFX A19 LED Light
LIFX Beam
LIFX BR30 LED Light
LIFX + A19 with Night Vision
LIFX + BR30 with Night Vision
LIFX Mini Day & Dusk
LIFX Mini White
LIFX Tile
LIFX Z
Bright
In-depth color-changing options
Change shade of white as the day progresses (select models only)
Provide infrared light for security cameras (select models only)
Amazon
Amazon
Amazon
Amazon
Amazon
Amazon
Amazon
Amazon
Amazon
Mi Bedside Lamp 2
Mi Desk Lamp Pro
Great for productivity and relaxation
Amazon
Gearbest
Nanoleaf Canvas
Nanoleaf Light Panels
Nanoleaf Light Panels | Rhythm Edition
Intricate color & scene customization
Touch-operated (Canvas only)
Amazon
Amazon
Amazon
Opro9 iU9 Smart Lightbulb Socket
Has geofencing
Amazon
SYLVANIA SMART+ A19 Filament Soft White Bulb
SYLVANIA SMART+ A19 Full Color Bulb
SYLVANIA SMART+ A19 Soft White Bulb
SYLVANIA SMART+ BR30 Full Color Bulb
SYLVANIA SMART+ BR30 Soft White Bulb
SYLVANIA SMART+ Flex Full Color Kit
Excellent value
Good response times
Quick pairing
Incandescent retro look (A19 Filament only)
Amazon
Amazon
Amazon
Amazon
Amazon
Amazon
VOCOlinc L1
VOCOlinc L1 A21 version
VOCOlinc L2
VOCOlinc LS1
Three different glow patterns
Scene creation from photos (L1 only)
Waterproof (LS1 only)
Amazon
Amazon
Amazon
Amazon
American Red Cross Blackout Buddy Connect Charge
Emergency flashlight, night light, and powerbank in one
Amazon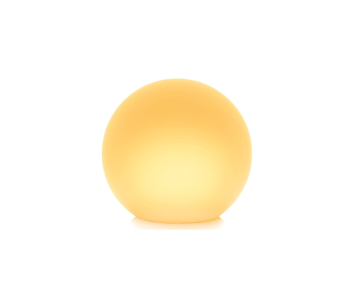 The Flare is a sphere-shaped mood light that glows either in multiple shades of white or different colors. It has a recharging base but can be lifted and placed anywhere, or even used as a lantern thanks to a hidden handle. The Flare's battery life is advertised at 6 hours, but you can expect it to last throughout the day. You'll have the most fun controlling it with Siri as she can adjust the Flare's brightness, change its color, or tell you how much juice is left.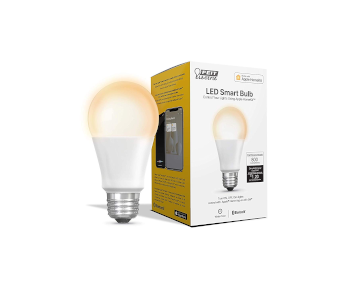 Feit Electric's smart bulbs are among the newest HomeKit-compatible models and draw attention with their attractive price as well as their brightness. Even though they're rated at 800 lumens, both A19 bulbs actually put out closer to 900 at a power draw of just 10 watts. The white bulbs have a color temperature of 2,700K and emulate the yellow glow of incandescent bulbs while the Color gives you 16 million colors to choose from either by asking Siri or using the Home app's color wheel.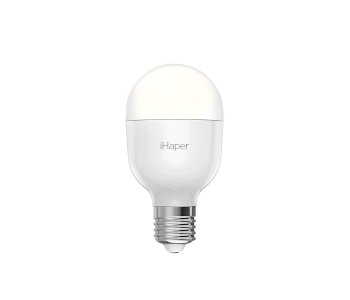 iHaper has got you covered whether you want to replace or smarten up dumb bulbs, boost your home's ambiance, or raise productivity. The B1 & B2 are affordable bulbs that put out close to 500 lumens of pleasant white or RGB colors while consuming only 7 watts. The Lightbulb socket works with ordinary halogen, CFL, or incandescent bulbs and allows you to incorporate them into scenes, set schedules, etc. The L3 strip is 6.6 feet long and can be cut into smaller pieces to add flair to your TV or cabinets.
The DL! Smart Desk Lamp is iHaper's newest & most intriguing product. It's a combination of elegant reading lamp with an adjustable angle, a detachable flashlight, and a responsive motion sensor you can take charge of separately from the Home app.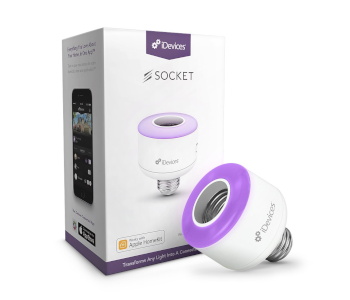 The Socket turns any Edison-style bulb rated at 60 watts or lower into a smart light bulb. You screw the Socket into a lamp or fixture and then screw a bulb into it. The Socket supports dimmable bulbs and lets you control their brightness with its own app or through Siri and HomeKit. It also has a set of color LEDs that turn it into a functional night light.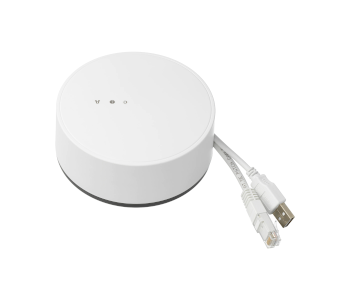 TRÅDFRI is a smart light system that consists of bright yet energy-efficient RGB bulbs, a motion sensor, and a bridge. You need the bridge to connect the bulbs to HomeKit while the sensor acts as a control device and is quick to react to movement. Quickness is this bulb's standout feature as it takes no time at all to either come on or do its part in an automation. The color palette doesn't give you 16 million options, but there are enough to fit in well with your style.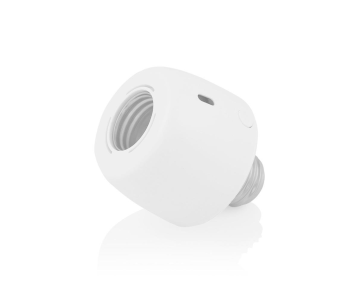 Incipio released the first HomeKit light bulb adapter in 2016, and it's still going strong. Provided your fixtures accommodate an extra two inches, it smartens up old bulbs and even adds dimming controls to incandescent ones. Setup is straightforward, controlling the adapter is a breeze, and you can have it for next to nothing.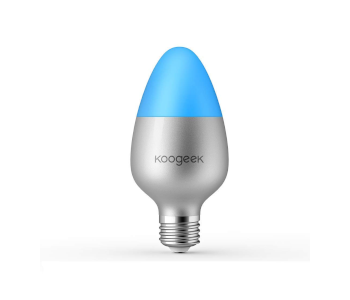 Koogeek's smart light lineup consists of a bulb, a strip, and a smart socket. The LB1 is a stylish RGB bulb with an output equivalent to a 60-watt incandescent alternative. It isn't hot to the touch and has a lifespan of 25,000 hours or more than 10 years of daily use. The dimmable strip has 60 equally-spaced LEDs and marked cut-off points for custom length adjustment. The Socket functions like other light bulb adapters we've mentioned, except it also monitors power consumption you can look up in the Koogeek app.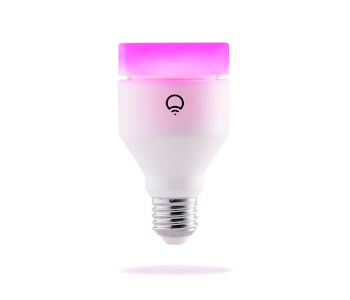 LIFX offers the most comprehensive hubless smart light lineup for your entire home. Their flagship products are the A19 and BR30 LIFX & LIFX+ models. These smart bulbs give off more light than the competition – up to 1,000 lumens – without drawing more than a fraction of an incandescent bulb's power requirements. Bulbs in the LIFX+ line also have infrared LEDs whose light helps cameras see in the dark better. Are these too expensive for you? Then get a LIFX Mini.
Beam, Tile, and Z are more exotic offerings designed to spruce up your home's style & set the mood. The Z is a traditional light strip while Beam & Tile are fixed-length fixtures in shapes of rods and squares respectively. You can customize their layout in numerous ways and have parts of either glow a different color.
LIFX lights are also unparalleled when it comes to customization. Apart from choosing a color and dimming, most LIFX lights can be set to mimic a particular mood or scene such as nature or a sunset. You may also turn on the Day & Dusk feature to have the lights cycle through different shades of white throughout the day for energetic mornings, productive afternoons, and calm evenings.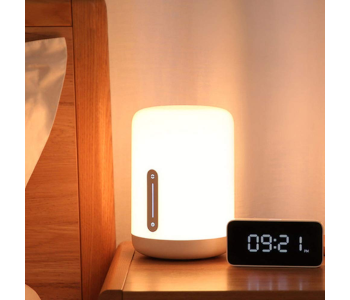 The two HomeKit-enabled lamps made by Xiaomi complement each other perfectly. The Smart Lamp Pro is an adjustable reading light focused on productivity. Its two joints allow for maximum mobility and weird light angles while the app is used to adjust its color temperature from 2,700K to 4,500K or set up different schedules. The Bedside Lamp 2 features intuitive physical controls for brightness, a time-delayed shut-off, and changing colors. You get more advanced color options like cycling between select shades or setting the lamp to a color extracted from an image in the companion app.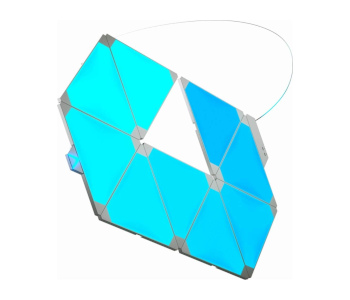 Unique in design and brimming with features, Nanoleaf's ambient lights stand out from the crowd. They fit seamlessly together and look great on your wall in any conceivable combination. The Aurora Light Panels are triangle-shaped, and the Rhythm edition syncs to your music to create a choreographed light show. Canvas panels are square-shaped but touch sensitive. This means you get to interact with them physically to change lighting scenes and even play games. The Nanoleaf app offers a wealth of options regarding panel behavior such as color and scene selection or light-up order adjustment. Scenes created in the app can be exported to and accessed from the Home app.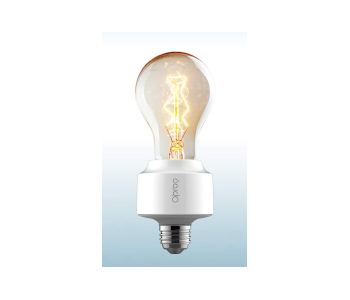 Opro9's smart socket distinguishes itself from the competition with its detailed scheduling options. You can set the lights to turn on based either on a daily & weekly time schedule or to work with geofencing. The latter registers when your phone goes out of range and turns the light off only to turn it back on again once you're home. The Smart Lightbulb Socket is an intuitive light management tool you set up once and benefit from for years.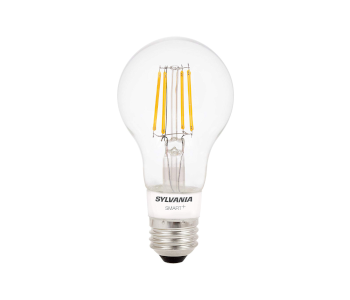 Sylvania is another smart light manufacturer with an impressive lineup. You'll find everything from standard white bulbs through multi-colored ones and smart light strips at excellent prices. The standout model here is the A19 Filament Bulb which mimics traditional incandescent lights. Instead of being white and frosty, it has transparent glass with four small LEDs that glow at a warm 2,700K. All Sylvania SMART+ bulbs take seconds to pair with HomeKit and even less to respond to your touch or voice.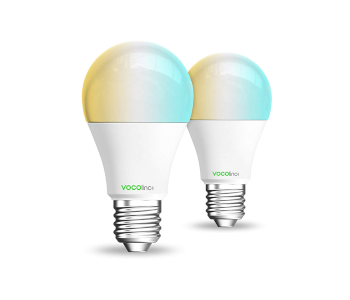 There are two kinds of VOCOlinc smart bulbs to choose from. The L1 is available in A19 and A21 versions and supports RGB color selection while the L2 is white only but does have dimming and color temperature adjustment from 2,200K all the way up to 7,000K. They provide a standard user experience through HomeKit, but the companion app adds more features like color capturing from photos for the L1 or color temperature scheduling based on time of day for the L2. Both bulbs also have Breathing, Flashing, and Smoothing modes that either help you relax or create a party atmosphere.
The VOCOlinc light strip is unique because it is waterproof, so you could place its LED portion on your porch or over a backdoor. The strip also has a manual on/off button for when you don't want to use an app and can be either shortened or extended with additional elements.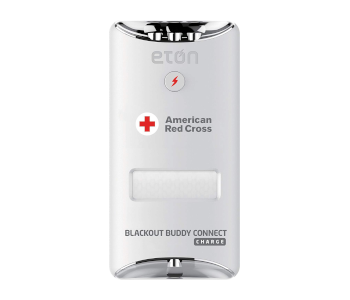 You'll be glad you bought the Blackout Buddy whenever there's a power outage. Its everyday use is as a motion-activated night light. Once there's an emergency though, you can use it as a bright flashlight or simultaneously charge two phones from its large powerbank. The night light, flashlight, and motion sensor get separate tiles in the Home app, opening up lots of motion- and light-based automations.
Switches
Upgrading your bulbs one by one gets expensive quickly, which is why smart switches are a great investment for large-scale light control. While they don't have color-changing options like individual smart lights, a single switch can add scheduling, dimming, and more smart capabilities to multiple dumb bulbs.
Name
Highlights
Check price
ecobee Switch+
Has Alexa speaker and multiple sensors
Amazon
Elgato Eve Button
Elgato Eve Light Switch
Excellent response times
Can control scenes or groups of devices (Button only)
Amazon
Amazon
Fibaro The Button
Has wall mount
Amazon
iDevices Dimmer Switch
iDevices Wall Switch
Have versatile nightlight
Supports multi-switch setups (Dimmer Switch only)
Amazon
Amazon
Incipio CommandKit Smart Wall Switch
LED brightness indicator and motion sensor
Amazon
Koogeek Light Switch (1-Gang)
Koogeek Light Switch (2-Gang)
Affordable and easy to use
Amazon
Amazon
Legrand Radiant Smart Switch
Legrand Radiant Smart Tru-Universal Dimmer
Premium finish
Diverse scheduling options
Legrand
Legrand
Leviton Decora Smart 15A Switch
Leviton Decora Smart 600 Watt Dimmer
Leviton Decora Smart 1000 Watt Dimmer
Straightforward installation
In-depth dimming controls and support for multi-switch setups (dimmers only)
Amazon
Amazon
Amazon
Logitech POP Smart Button
Long battery life
Amazon
Lutron Caseta Wireless Smart Lighting Dimmer Switch
Lots of customization options & geofencing
Amazon
SYLVANIA SMART+ Switch
Right balance of price and quality
Amazon
Wemo Smart Light Switch
Wemo Wi-Fi Light Switch 3-Way
Wemo Dimmer WiFi Light Switch
Clean design
Sophisticated scheduling & dimming settings (Dimmer only)
Amazon
Amazon
Amazon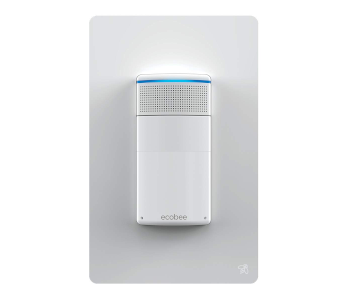 The Switch+ is the smartest light switch on the planet! It has a motion sensor, a night light, and even a built-in Alexa speaker. If you own an ecobee thermostat, it also acts as another connected temperature sensor. There are multiple ways you can control it. Voice assistants, manual control, and the app are standard, but the Switch + offers up more options like automatic activation in sync with the sunrise & sunset or based on a room's occupancy.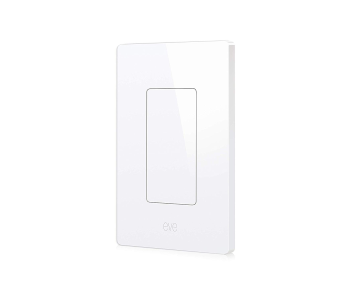 Elgato makes two elegant switches with distinct functions. Their light switch has a single touch-sensitive surface that you press to turn the lights on or off. Its app has its own automations panel that is more sophisticated than the Home app's because you can set temperature sensor data as a trigger for the switch. The Button is used to take charge of any HomeKit-compatible device manually and can even start or stop scenes. It accepts three different commands and can control as many devices simultaneously. The app also has a log that shows when either the switch or the button were pressed.
It's not as futuristic as asking Siri, but pressing a button and watching an entire evening scene play out is still awesome. Fibaro's The Button behaves similarly to the Eve Button – it has three press modes, responds quickly, and connect easily. Its advantage over the competition is that The Button comes with a wall mount and is available in 8 fun colors.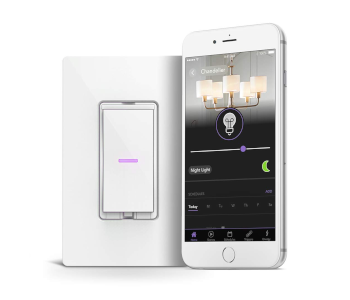 The majority of smart switches only work with single-switch setups. The iDevices Dimmer switch works with three-way setups. Both switches have a traditional rocker design and a versatile night light. You can dim the light, change its color, and even program when to turn it on as a subtle hint to your kids that it's time for bed.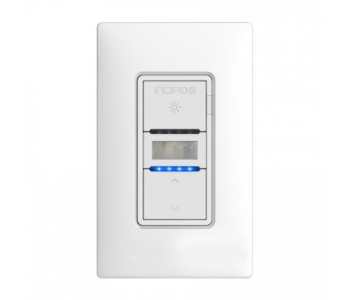 Incipio's light switch looks cluttered, but that's because it packs so many features. There's an LED indicator that shows how bright the light is, and a motion sensor that activates the lights without the need for apps or button presses. It's also one of the most affordable smart light switches on the market.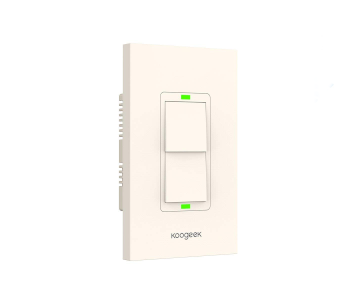 Want to retrofit your entire home with smart switches and not go bankrupt? Then turn to Koogeek. Their smart light switches are basic in design and functionality since they don't support dimming, but you get to orchestrate all of your lights by voice or Home app for just a few dollars per switch.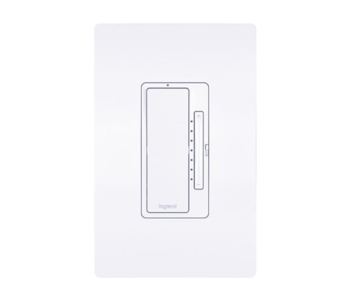 If you're looking for the polar opposite of affordable & basic, spring for smart switches and dimmers from Legrand's Radiant line. Both models are made from premium components, have wall plates that easily snap on or off, and a rocker design with a satisfying "click" each time you use the light. The dimmer has a vertical series of LEDs that tell you the current brightness at a glance. Control via the app enables setting schedules and light control based on sunrise & sunset.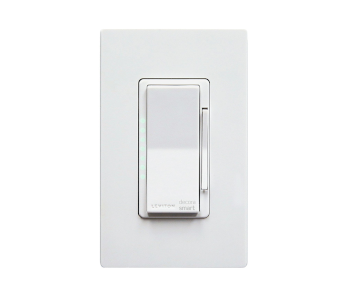 Don't like the iDevices Dimmer design and have a multi-switch setup? Leviton decora's 600- and 1,000-watt smart dimmers are a worthy alternative. They're as straightforward to install as regular dimmer switches and feature physical dimming controls with 7 settings. You can customize dimming further in the app by assigning minimum and maximum brightness levels or adjusting the fade speed.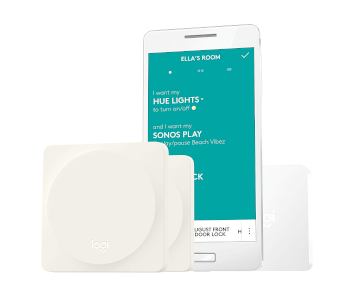 The Pop works on the same principle as the other two already mentioned smart buttons. Its main difference is a powerful battery that keeps it operational for 5 years of daily use. The button also comes with adhesive mounting strips, so it's easy to position anywhere.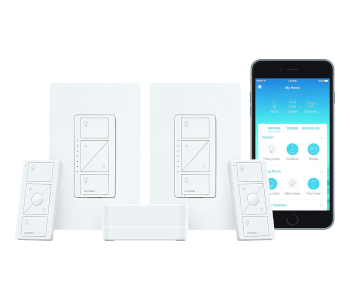 Lutron Caseta is hailed as one of the best smart witches around because of its reliability, functionality, and elegance. The Caseta starter pack contains a bridge you need to hook up to your router for wireless control since Lutron uses a unique communication protocol. You also get a Pico remote with a range of 30 feet, more if there are no walls in the way.
Lutron dimmers support scheduling, nuanced dimming settings, and geofencing that turns the lights on as you approach home. HomeKit & Siri support is excellent, and you can use the switches with Alexa or the Google Assistant too.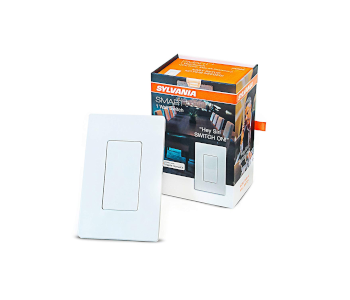 Sylvania's is another simple yet elegant smart switch with no dimming options. It requires hardwiring but doesn't need a hub to work, unlike the Lutron Caseta. This switch strikes the perfect balance between price & quality and responds well to simple automation instructions.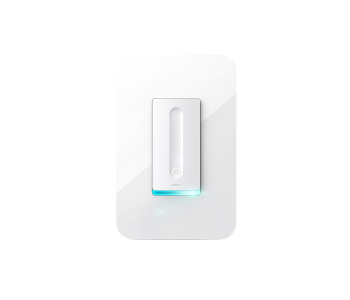 Wemo has been making smart switches since 2013 and has recently released its latest model that works with 3-way setups. However, the star of Wemo's lineup is the Dimmer Wi-Fi Light Switch. It features intuitive physical dimming controls that are sensitive to touch along with advanced control options accessible from the Wemo app. These include Night mode, which limits the maximum brightness during specified hours, and Away mode that will randomly turn the lights on to give the illusion of occupancy.
Outlets
Outlets are the most versatile HomeKit accessories as the number of devices they can smarten up is endless. Let your toasters, coffee makers, or desk lamps dance to the tune of your voice or the tap of your fingers and save power to boot.
Name
Highlights
Check price
Elgato Eve Energy
Elgato Eve Energy Strip
Detailed energy consumption reports
Surge and overvoltage protection
Amazon
Amazon
iDevices Switch
iDevices Outdoor Switch
iDevices Wall Outlet
Replaces traditional outlet without causing clutter (Wall Outlet only)
Advanced grouping and scheduling options
Waterproof (Outdoor Switch only)
Amazon
Amazon
Amazon
iHome Control Smart Plug iSP5
iHome Control Smart Plug iSP6X
iHome Control Smart Plug iSP8
Support multiple home automation platforms
Compact design
Remote control (ISP8 only)
Amazon
Amazon
Amazon
Incipio CommandKit Wireless Smart Outlet With Metering
Incipio CommandKit Wireless Smart Power Strip
Energy consumption reports (Smart Outlet only)
Four outlets in one (Smart Power Strip only)
Apple
Amazon
Kasa Smart WiFi Plug Mini
Has Away mode
Amazon
Koogeek P1 Smart Plug
Koogeek P2 Smart Plug
Koogeek Smart Outlet O1US
Long-term power consumption reports
Dimmable night light (P2 only)
3 outlets & 3 USB charging ports (Smart Outlet only)
Amazon
Koogeek
Koogeek
Legrand Smart Plug-In Switch
Legrand Smart Plug-In Tru-Universal Dimmer
Reliable
Compatible with most dimmable bulbs (Dimmer only)
Legrand
Legrand
OPRO9 iU9 Smart Power Outlet
Doesn't obstruct second outlet
Amazon
PureGear PureSwitch
Has USB charging port
Amazon
Satechi Dual Smart Outlet with Real-Time Power Monitoring
Two smart outlets in one
Amazon
SYLVANIA SMART+ Smart Plug
Great for beginners
Amazon
VOCOlinc Smart Plug
VOCOlinc P1 Smart Plug
VOCOlinc P3 Smart Plug
VOCOlinc Smart Power Strip
Inexpensive
Made from fire-resistant materials (all except Smart Plug)
Have USB ports (P3 and Smart Power Strip)
Amazon
Amazon
Amazon
Amazon
Wemo Mini Smart Plug
Reliable and quick to respond to commands
Amazon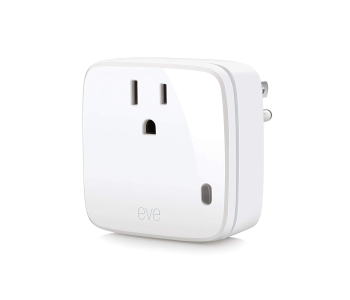 There are two Elgato Energy smart outlets – a single outlet which won't obstruct the adjacent socket, and a power strip with plugs for three devices. The strip is particularly interesting since it has buttons to manually turn each plug on and off which can be disabled in the app so that children don't tamper with them. It also has overvoltage and surge protection, making it one of the most secure outlets on the market.
While you can easily control either outlet through HomeKit, the Eve app offers a deeper insight into energy consumption. It shows how much power a given outlet is using and extrapolates yearly cost projections based on reported use within the last day, hour, or minute.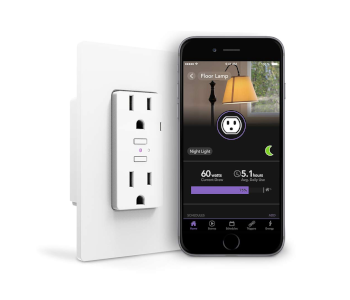 Plugs might clash with your home's décor, so iDevices has come up with a twin outlet that replaces your existing dumb ones. Both it and the portable Switch have customizable LED night lights. The Outdoor Switch is a heavy-duty smart plug with a waterproof casing and downward-facing outlets for use in outdoor conditions.
All three devices are supported by a functional app that enables scheduling, expense reports, and advanced grouping options. This lets you organize multiple iDevices outlets by room, group, or zone, while HomeKit adds scenes into the mix for complete control.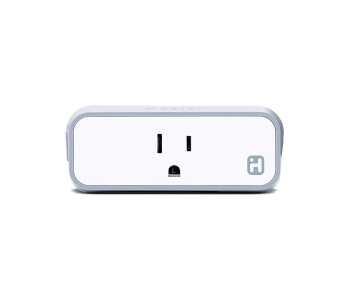 Need simple smart plugs that are compatible with a wide array of home automation environments? Then iDevices is the way to go. Their smart plugs take up little space and feature an effortless setup. The ISP5 is the barebones model without energy reports while the ISP6x and ISP8 both monitor energy usage. The ISP8 even comes with a remote control you can use to turn it on and off at a maximum range of 35 feet. Handy to have given it works through walls.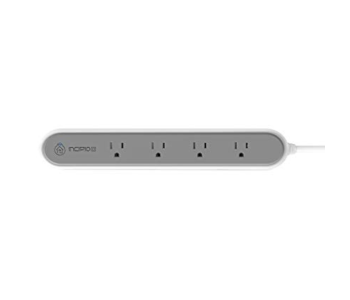 Most smart power strips have only three outlets, which is why you'll want to get the Incipio power strip and take advantage of its four outlets at your computer or workspace. The smart outlet accommodates only one device, but it comes with metering so you can keep track of power consumption through its app.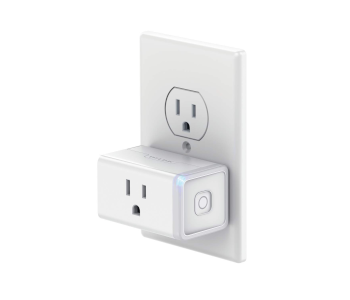 Want to add another layer to your home's security? Get Kasa's Smart Wifi Plug Mini and activate Away mode. This will randomly turn on whatever you've plugged in and make burglars think someone is in. You can also take charge of the plug with your voice, come up with schedules, and trigger its activation with other smart devices.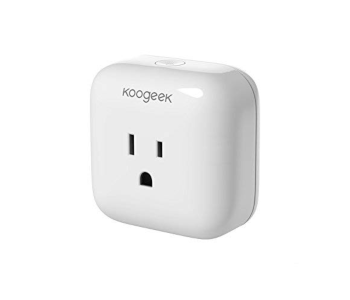 Koogeek offers three products in the smart plug department – two standalone plugs and an intriguing power strip. The P1 and P2 plugs are well-made, and their differences boil down to size and the fact that the P2 has a dimmable night light. The Smart Outlet has three outlets and as many USB ports. Like the Elgato Eve Strip, it has built-in surge protection.
The Koogeek app gives you access to detailed energy expenditure reports and projected future costs. It keeps usage data for an unlimited number of plugs for two years, allowing you to track data over time and take control of spending habits.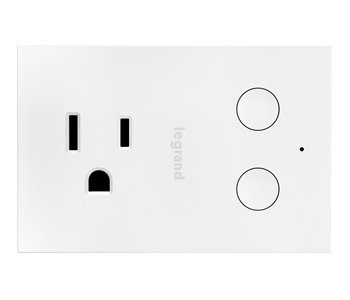 Legrand is a manufacturer of high-end lighting components that's recently expanded their lineup to include connected devices like smart plugs and switches. The Tru Universal Dimmer Is particularly interesting since it works with all dimmable lights except those with a voltage of less than 10 volts through in-app dimming. It and the regular smart plug are ready to go out of the box.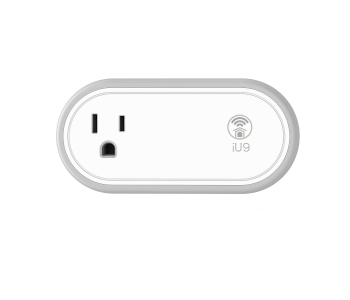 The iU9 Smart Outlet is a well-made gadget that takes up a single space of your regular outlets and lets you control fans, lamps, and other plugged-in devices either from the Home app or by asking Siri to turn them on and off. Pairing and controlling the outlet is effortless, and it's ideal as the first of many smart gadgets with which to upgrade your home.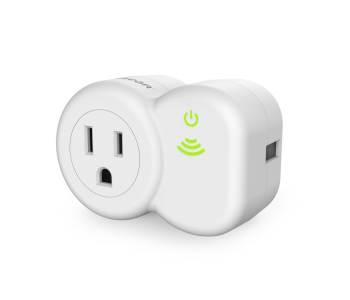 The Pureswitch is another basic smart plug with the distinction of also having a USB port for charging your phone or iPad. There's a bright power & Wi-Fi indicator on its side, so you always know if the plug is working correctly. Its app has many of the features found in the Home app like rooms, zones, etc. There are no usage reports, but you can invite others to share control of the plug through iCloud.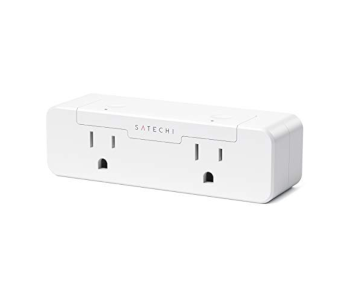 Before Satechi's outlet came along, you had to buy a smart power strip if you wanted access to more than one smart outlet at once. In a stroke of genius, they managed to fit two outlets side by side and even make them small enough for another pair to fit in the 2nd wall outlet. Along with convenience, the Satechi outlet features quick response times and power monitoring.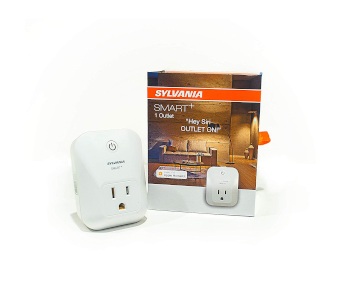 If your home is already full of Sylvania smart lights and switches, you'll want to get a few Sylvania smart plugs to automate the remaining dumb lamps and other accessories too. Featuring a simple design and an even simpler user experience, this plug is ideal for newcomers to home automation and anyone who wants things to work without having to fiddle with settings.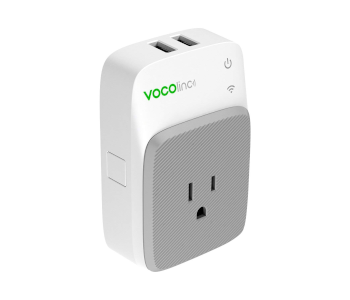 VOCOlinc makes a wide variety of inexpensive yet smart plus for anyone's needs. The one named "Smart Plug" is the smallest & simplest, and two of them easily fit next to each other. The P1 and P3 are bulkier yet more sophisticated. Both sport overvoltage and surge protection and are made from fire-resistant materials. The P3 adds 2 US ports as well as an adjustable night light on top of that. Finally, the Power strip has room for 3 USB charging ports and 3 outlets.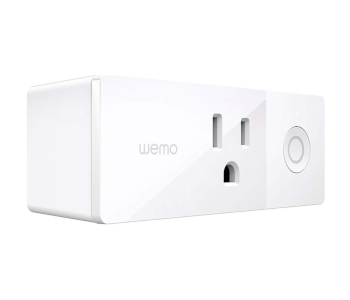 Wemo's Mini is the first smart gadget to receive HomeKit compatibility through a software update. However, the pairing process remains straightforward, and the plug works as well with Siri as it did with Alexa and the Google Assistant before the update. It's a compact and stylish plug with an Away mode and good scheduling options. The Wemo Mini is also among the more affordable models in this category.
Thermostats
Thermostats were the first smart devices that gained mainstream popularity. They keep your home temperate while expending just enough power to do so. Smart thermostats aren't the cheapest HomeKit products, but they have the greatest return on investment potential.
Name
Highlights
Check price
Bryant Housewise Wi-Fi Thermostat
Four-day weather forecast
Bryant
ecobee3
ecobee3 Lite
ecobee4
Additional smart sensors
Lots of Siri commands
Built-in Alexa speaker (ecobee4 only)
Amazon
Amazon
Amazon
Elgato Eve Thermo
In-depth single radiator regulation
Amazon
Fibaro Heat Controller
Intelligent room temperature management
Fibaro
Honeywell Lyric Round
Honeywell Lyric T5
Honeywell Lyric T6 Pro
Responsive geofencing
Support for dual-fuel heating systems (T6 Pro only)
Easy to use either from touchscreen or app
Amazon
Amazon
Amazon
iDevices Thermostat
Affordable and easy to create schedules
Amazon
Lennox iComfort E30
Lennox iComfort S30
Take weather forecast and "feels like" temperature into account
Amazon
Amazon
Lux Kono Smart Thermostat
Multifunctional adjustment knob, swappable faceplate
Amazon
Mysa Smart Thermostat
Works with baseboard heaters
Mysa
Sensi Touch Smart Thermostat
Customizable touchscreen
Amazon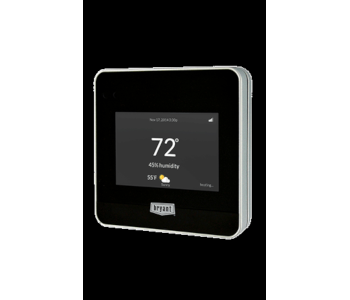 The Bryant is a two-stage thermostat that controls both temperature and humidity for optimum home comfort. It has a color LCD display that shows you the current indoor temperature and can bring up a 4-day weather forecast too. The thermostat connects to Wi-Fi, so you can adjust the climate in your home and keep track of expenses from anywhere. HomeKit users may take advantage of geofencing, set humidity, & temperature as part of a scene, and configure them separately for each room.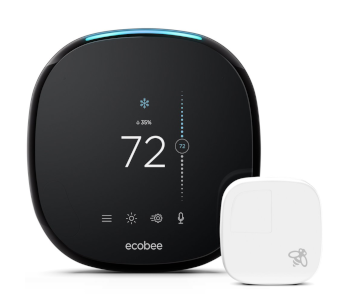 Ecobee thermostats are among the most sophisticated and versatile models on the market. Each of the three that support HomeKit has something unique to offer. Ecobee3 comes with an additional sensor you can place in a different part of your home to get more balanced readings and achieve nuanced HVAC control. Its Lite version has the same functional touchscreen and app but is cheaper since it lacks support for ventilators and (de)humidifiers. The fourth ecobee has an integrated Alexa speaker and is the perfect choice if you want to branch out into Amazon's smart environment.
All supported ecobee thermostats work well with Siri. She's able to tell you what the temperature is at either the thermostat or a connected sensor and can adjust the temperature just as easily. HomeKit recognizes ecobee as a thermostat and its sensors as temperature and motion detectors. This opens up numerous options for scene setups across different rooms.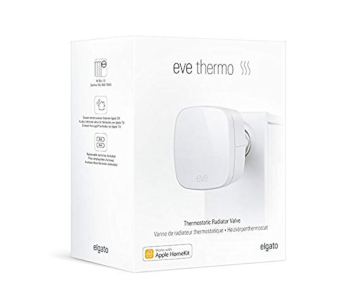 While smart thermostats regulate the temperature throughout your home, the Eve Thermo from Elgato does so on a room-by-room basis. Installation literally takes a minute as you just need to pair the Thermo with Bluetooth and screw it onto the radiator valve. From there, you need to set a desired room temperature, and Thermo will do the rest- It's possible to group multiple Thermos and set each group to a different temperature. Detailed historical data in graph form is available too, as is temperature adjustment through Siri.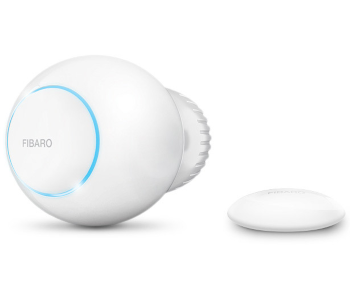 The Heat controller is another temperature regulator that attaches directly to a radiator valve. It has a simple color-based interface that lets you check the temperature at a glance or make sure there are no problems with the heating. The Heat Controller's rechargeable battery lasts for an entire heating season on one charge. The device is sensitive to room size and dynamic changes like an opened window or the presence of multiple people. It uses a sophisticated algorithm to optimize heating in each situation and maintain a desired temperature while saving money. You can use the Heat Controller manually, by asking Siri to adjust the temperature, or through its app. The app also lets you manage heating schedules and see an outline of past temperatures.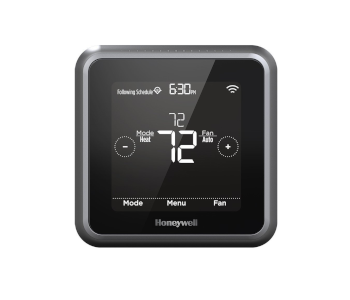 Honeywell's range of smart thermostats caters to users of all levels. Want a quick way to tell the temperature and keep it regulated? Go for the stylish Round. Need a sophisticated thermostat with support for dual fuel heating systems and universal ventilation relays? The T6 Pro has got you covered. For everything else in-between, there's the Honeywell Lyric T5
All three models feature a 24-hour weather forecast, in-depth scheduling options, and HomeKit support. There's also geofencing which places the thermostats into Away mode when your phone is out of the home zone and starts up climate control when you're close to home.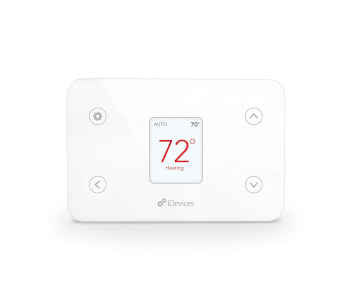 The iDevices Thermostat is a great inexpensive alternative to the likes of ecobee. A simple physical interface is used to set the target temperature and supplemented well by voice commands and an intuitive app. Geofencing isn't present, but you can use creative scheduling as well as 15-minute pre-heating to make the house toasty as you arrive home from work. The app's setup process asks you for the times of day when the house isn't in use and your preferred temperatures to come up with a schedule. You can tweak the schedule yourself or ask Siri to change it to a set value at any time.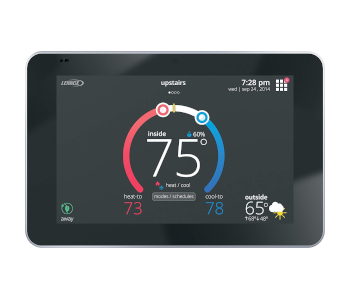 Lennox thermostats combine an informative 7-inch color touchscreen with extensive climate control options and HomeKit integration. The E30 and S30 are identical feature-wise, but the S30 only works with proprietary Lenox HVAC systems while the E30 accommodates systems by other brands too. The thermostats display a 7-day weather forecast complete with air quality levels and let you specify the climate to conform either to actual temperature & humidity, or the "feels like" setting.
Now that they're HomeKit-compatible, you can access the iComfort thermostats from any Apple device and either schedule temperature changes, have them play out alongside other automations, or adjust the climate manually.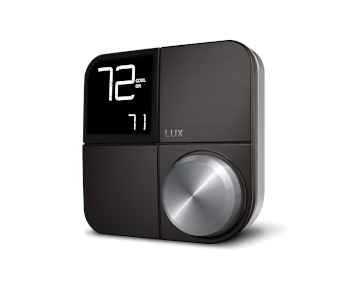 The Kono is an excellent choice if you're looking for a simple thermostat for effortless temperature management. You control it manually using a knob opposite the temperature display screen, through its own app, or with one of the three major AI assistants. You're asked about temperature preferences and habits during the initial setup and are shown the potential savings you can expect depending on selected settings.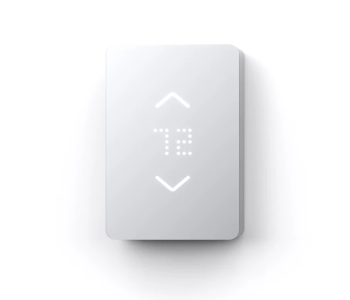 Mysa's thermostat is the only HomeKit-enabled model that works with high-voltage baseboard heaters. Its minimalistic interface is intuitive to use, as are the app's scheduling options. You can also view the current temperature and humidity or a breakdown of running times and associated costs. If you buy multiple Mysa thermostats, you can assign each to a zone and heat different parts of your home individually.
The main appeal of the Sensi Touch is its responsive touchscreen. You use it to set the temperature incrementally, set up schedules, turn the night light on or off, and customize the information you want displayed on the home screen. The thermostat's app is great for setting up geofencing and daily or weekly schedules, while Siri responds to temperature adjustment requests as soon as you make them.
Air Quality
A fragrant home and a soft breeze are creature comforts you can control with HomeKit too. Turn on your smart diffuser or fan and let them soothe your soul.
Name
Highlights
Check price
VOCOlinc Smart Aroma Diffuser
Humidifier, diffuser, and mood light in one
Amazon
Casablanka Aya
A smart fan that works outdoors
Amazon
Hunter Apache
Hunter Signal
Hunter Symphony
Quiet operation
Separate fan and light controls
Elegant look
Amazon
Amazon
Amazon
Lutron Caseta Wireless Smart Fan Speed Control
Adds detailed speed control to dumb fans
Amazon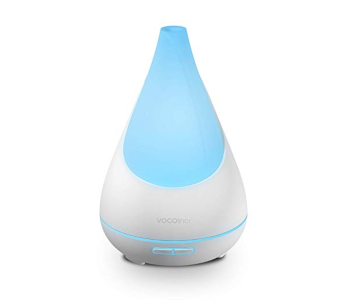 The Smart Flowerbud diffuser fills your home with the fragrant scent of essential oils while also acting as a mood lamp. The diffuser has its own app, but you'll hardly use it after the initial pairing as everything can be done through Siri and the Home app. The Diffuser works as a humidifier you can set to activate once the humidity in a room falls below a set percentage. You can adjust the mood light's brightness and pick from 16 million colors. Finally, the diffuser can either be set to start working at set times or as you return home.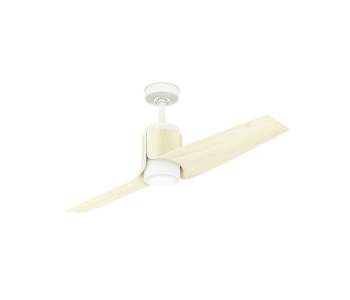 Aya is the first smart outdoor ceiling fan. It's ideal for sunrooms, porches, or patios thanks to rust-resistant hardware but won't look out of place in your living room either with its elegant twin blades and 18-watt LED light. In spite of its ruggedness, Aya is energy-efficient and uses just 20 watts per hour to move large quantities of air. It comes with a battery-powered remote switch you can place anywhere used to take charge of fan speeds and light dimming, both of which are also accessible through the Home app.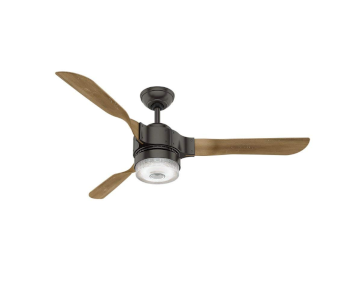 The Apache, signal, and Symphony are three beautiful fans from Hunter that feature whisper quiet operation and have reversible motors. This lets them blow cooler air downward in summer and keep hot air from rising and cooling in the winter. The differences between the three boil down to aesthetics, size, and the fact that the Apache has a single LED ring instead of bulbs.
The fans show up in the Home app as dimmable lights as well, so you get to control air movement and lighting separately.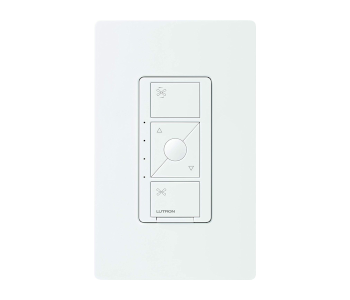 Why spend money on new fans when Lutron's Smart Fan Speed Control can retrofit your existing ones and make them respond to taps and voice commands? This gadget replaces your in-wall fan control switch and acts like one too – you can turn the fans on or off and set the speed in 25-percent increments manually. The fan controller appears in the Home app and can do everything dedicated smart fans can except change spinning direction.
Smart Shades
You no longer need to get up from the couch to get rid of glare or wonder whether you've drawn the shades before going to work. Smart shade controllers offer remote control and scheduling for all the natural light in your home.
| Name | Highlights | Check Price |
| --- | --- | --- |
| Hunter Douglas PowerView | In-depth scheduling options | Amazon |
| Serena Smart Shades | Intuitive Siri commands | Home Depot |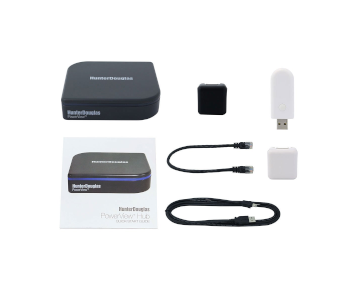 With the Hunter Douglas PowerView Hub system, you can control all of your Hunter Douglas shades and blinds and add them to HomeKit scenes. This upgrade pack lets you control each shade individually or in groups. You also get to schedule when the shades will be open and closed. There's even an option of syncing your shades with the sunrise & sunset.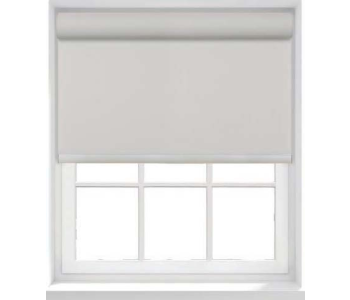 Eliminate the risk of your child or pet choking on a shade cord with Lutron's Serena smart shades! These battery-powered shades are easy to install, barely make any sound as they move, and are highly customizable. Using them with Siri is a delight since she understands a variety of commands that make controlling the shades more natural. You can tell her to lower them by any percentage or "just a little" if you aren't sure. In the Home app, you can schedule the shades' behavior daily, manually adjust their transparency, and add them to existing routines.
Locks
Smart locks deliver whether you're worried about the security of traditional key locks or want an efficient way to manage the entry privileges of multiple people. They keep you informed about who's been using the door and make sure it's locked even if you forgot to do it yourself.
| Name | Highlights | Check price |
| --- | --- | --- |
| August Smart Lock | Can sense when the door is ajar | Amazon |
| Danalock V3 | Fits American, Scandinavian, and European doors | Amazon |
| Friday Smart Lock | Has Wi-Fi access without a hub | Amazon |
| Koogeek L3 Keyless Biometric Padlock | Secure padlock opened with fingerprints | Amazon |
| Kwikset Premis | Can be rekeyed | Amazon |
| Schlage Sense Smart Deadbolt | Built-in alarm | Amazon |
| Yale Assure Lock SL with iM1 | No physical keys needed | Amazon |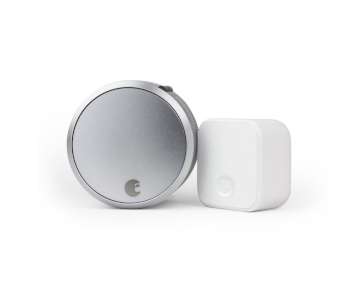 August's 3rd-generation smart lock attaches to your existing deadbolt assembly, so upgrading is a breeze. You can use it from anywhere, add permanent or temporary keyless access, and view a detailed log of comings & goings complete with timestamps and user identification. The Smart Lock also comes with a DoorSense sensor that alerts you if a door was left ajar. This is a considerable security update since most locks will only tell you whether the door is locked or not without checking its actual position.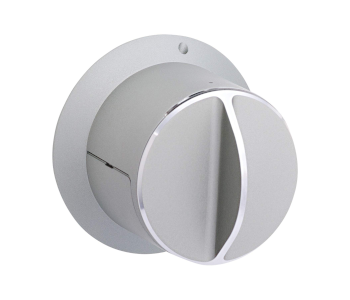 Unlike August's lock which is compatible with US single-cylinder deadbolts, the Danalock V3 fits on European and Scandinavian door & deadbolt designs too. It's another device that's easy to install since it only replaces the lock's internal hardware, letting you keep existing handles and plates. The lock runs for 18 months on 4 CR123A batteries. You can use the Danalock with a traditional key, with Siri voice commands, or by tapping on it in the Home app, which is where you also manage access for others.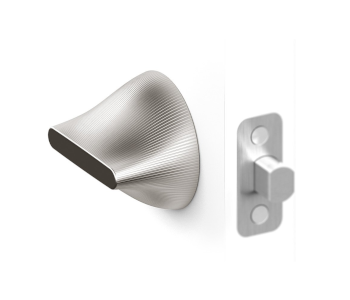 Friday's Smart Lock is the best choice if you want to control the lock from anywhere but don't have an Apple TV or iPad. It has a rechargeable Li-ion battery, can be installed in minutes and has interchangeable shells that fit any home's décor. Friday's lock is also among the most secure thanks to overtorque, a feature that prevents forceful entry. HomeKit compatibility is excellent, and scene integration works flawlessly, as do geofencing and lock sharing.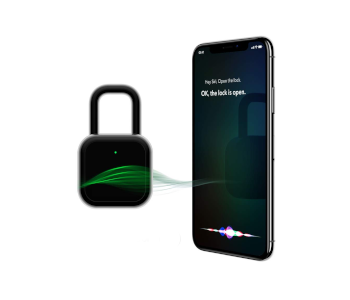 Keep your valuables safe without worrying about keys as Koogeek's L3 uses fingerprints to unlock. Its stainless steel shank and robust body ensure thieves won't gain access while support for 50 fingerprints lets you invite others to use this advanced padlock. It has a rechargeable battery which runs for a year after just two hours of charging. You can unlock the L3 with the Home app or Siri as well as access a log of the last 100 locking events.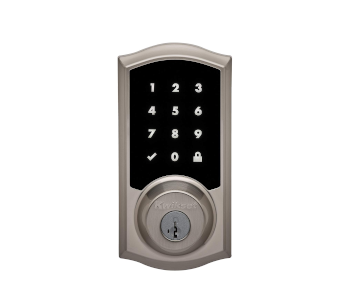 The Kwikset Premis is a great option for landlords and hosts since it can be rekeyed without having to replace the cylinder. The lock is a combination of traditional finish and modern keypad that supports 30 passkeys. Feel that a passkey has been compromised? Delete it or disable passkeys altogether from the app, leaving you with Siri voice control, the Home app, or traditional keys. You'll need to replace the entire locking mechanism to install the Premis, but there's a how-to video that explains everything.
If you live in Canada, you can get the Weiserlock Premis instead. It has all the features of the Kwikset Premise, including HomeKit compatibility.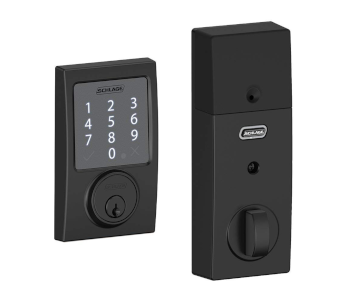 This sturdy deadbolt will not only give thieves a hard time trying to break in, but it also has an alarm siren that triggers if someone is tampering with the keypad. The Schlage Sense comes in one of two finishes and trims. You can program 30 passcodes into it, each between 4 and 8 digits long. These can be permanent, temporary, or time-sensitive. The lock's app lets you turn on alarm mode, browse an event history, and turn on autolocking for added security.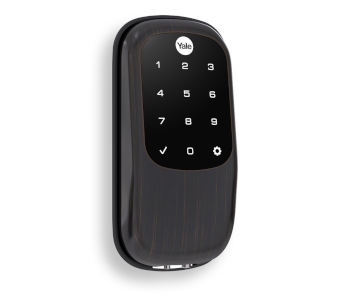 There's no better option than the Assure Lock SL if you want to go completely keyless. It features an elegant keypad with bright, contrasting keys capable of storing 250 numerical combinations. You can hand these out on a permanent or temporary basis or have them work at certain times of the day. Yale's lock can be activated from its own or the HomeKit app as well as voice-controlled through Siri.
Cameras
Video surveillance is instrumental to home security, and HomeKit cameras excel at delivering crystal-clear footage to all of your Apple devices. Whether you're looking out for your valuables or your little ones, a smart camera will help you sleep soundly.
| Name | Highlights | Check price |
| --- | --- | --- |
| Arlo Baby Monitor | A slew of sensors & free cloud storage | Amazon |
| D-Link Omna 180 Cam HD | Wide-angle view | Amazon |
| Logitech Circle 2 | Weatherproof | Amazon |
| Netatmo Presence | Dimmable floodlight | Amazon |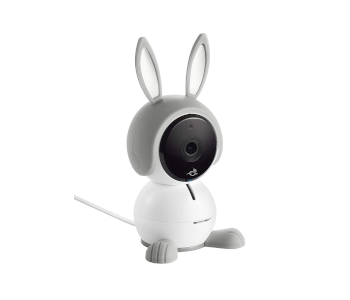 The ultimate in nursery surveillance, The Arlo Baby Monitor is a 1080p camera jam-packed with advanced features. It can put baby to sleep and keep the monsters at bay thanks to a night light and speaker that either generates white noise or plays lullabies. The camera also has temperature & humidity sensors and can react to the baby's movements or sound. Sensor readings and alerts can then serve as triggers for other HomeKit devices. Best of all, Arlo offers 7 free days of video storage along with fairly-priced subscription options if you need more.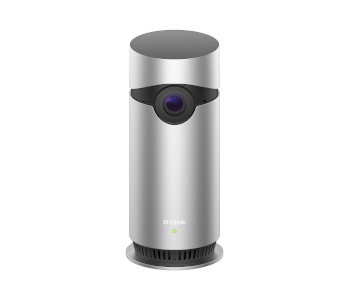 The 180 in D-Link's camera stands for 180 degrees of coverage, meaning it is able to monitor an entire room when positioned correctly. The 1080p video is of excellent quality, and there's no barrel distortion in spite of the wide angle. The camera has night vision with a 15-foot radius and saves footage to an SD card. It has motion sensors whose sensitivity and coverage you can adjust. They and the camera count as separate devices in the Home app and either is usable as part of an automation. You can ask Siri to bring up the live view or tell you whether motion is being picked up, and you can access a smaller live view directly from the Home app's dashboard.
The 2nd-gen Circle is a versatile security camera you can use both indoors and out thanks to an IP rating of 65. Its 180-degree lens ensures nothing escapes your attention while a built-in speaker & mic let you talk to people on the other side. HomeKit integration allows you to display the live feed on everything from your Apple Watch to an Apple TV. You can also adjust motion sensitivity, mute the mic, and configure notifications to appear when it's convenient for you.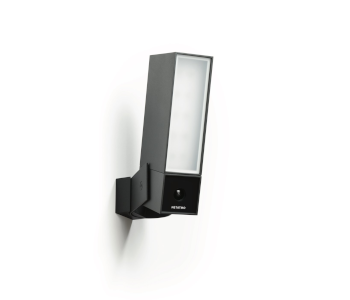 While it won't be winning any design awards, Netatmo's Presence is a capable outdoor camera that keeps your property safe. Its 12-volt floodlight can illuminate your yard at a distance of 60 feet, and the motion sensor is able to tell apart cars, animals, and people. Each of the three triggers can either be ignored or followed up with a notification. You can tell Siri to turn on live view and activate or dim the floodlight. Using HomeKit gives you access to a live feed of its 100-degree view in crisp 1080p, while the Presence's own app also lets you designate detection zones.
Sensors
Sensors are the cornerstone of the HomeKit ecosystem. They detect a wide variety of phenomena which then trigger countless automations. Other than that, sensors provide historical & live stats on different aspects of your home.
Name
Highlights
Check price
Elgato Eve Degree
Elgato Eve Door & Window
Elgato Eve Motion
Elgato Eve Room
Elgato Eve Weather
Solidly built
Easy to pair
Provide useful information at a glance
Amazon
Amazon
Amazon
Amazon
Amazon
Fibaro CO Sensor
Fibaro Door/Window Sensor
Fibaro Flood Sensor
Fibaro Motion Multisensor
Each sensor measures temperature
Seamless HomeKit integration
Fibaro
Amazon
Amazon
Amazon
iHome iSS50 5-in-1 Smartmonitor
Five sensors in one at a great price
Amazon
Kaiterra Laser Egg 2
Kaiterra Laser egg 2+
Real-time updates on room air quality
3-day local weather forecast
Amazon
Amazon
Netatmo Healthy Home Coach
Easy to read & has tips on improving air quality
Amazon
Onelink Environment Monitor
Onelink Smoke Detector and Carbon Monoxide Detector – Hardwired
Onelink Smoke Detector and Carbon Monoxide Detector – Battery-powered
Onelink Safe & Sound
Calm yet commanding voice (smoke detectors only)
Built-in Alexa speaker (Safe & Sound only)
Amazon
Amazon
Amazon
Amazon
ONVIS Smart Motion Sensor
Timed trigger delay
Amazon
Elgato offers a wide array of sensors that keep you apprised of everything that's going on in your home and around it. The Door & Window sensor is a simple yet effective security device which alerts you when the door or window it is attached to is opened. Motion is able to detect movement at an angle of 120 degrees in a 25-foot area around it. Degree & Weather are similar sensors which track the temperature, humidity, and barometric pressure, the difference being that Degree is intended for indoor use while Weather is waterproof. Lastly, Room is the most sophisticated sensor as it combines the capabilities of Degree with air quality measurement.
All Elgato Eve sensors are made from quality plastic, run for a long time on batteries, and need no hub to work. Pairing them with HomeKit involves scanning QR codes and takes seconds to complete. Once that's done, the Home app turns into a wellspring of information and gains access to new event triggers along with more refined automation options based on sensor data.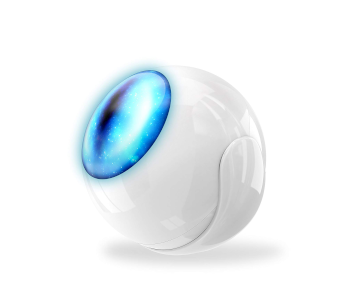 Fibaro has a smart sensor ecosystem of its own. There are fewer Fibaro sensors than ones made by Elgato, but their detection capabilities are more diverse. The CO sensor measures even slightly elevated carbon monoxide levels and has a loud alarm that makes sure you hear the warning in time. The Door/Window sensor detects which state your doors and windows are in. The Flood sensor quickly detects leaks and can sound the alarm if your pipes are about to freeze. The Multisensor is the most versatile since it detects movement and light levels. It also has an accelerometer that detects when the sensor is being moved and prevents tampering.
In addition to their respective capabilities, all Fibaro sensors can detect the temperature. Each comes with a set of Siri commands, so you may ask her if a window is open, what the CO levels are, etc. Their information is easily accessible through the Home app too.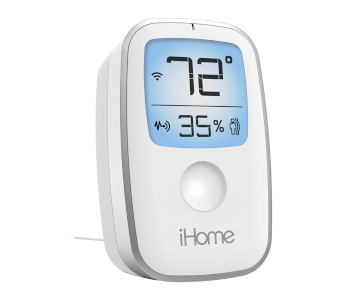 Why buy a host of sensors separately when you can get five of them in one device? The iHome Smartmonitor detects motion, temperature, and humidity along with light & sound levels. This opens up numerous interesting automation options in the Home app. Sound detection is only supported by iHome's own app, but it's a useful tool for automating the behavior of other iHome devices nevertheless. The Smartmonitor connects to the Home app through Wi-Fi instead of Bluetooth, which results in instantaneous sensor readings and prompt motion alerts.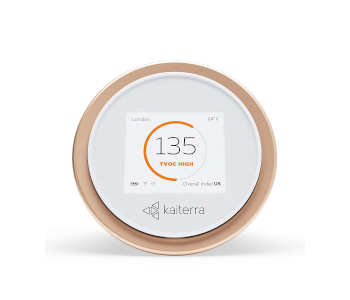 Unclean air may lead to allergies and adverse effects on your health. That's why Kaiterra's Laser Egg 2 & 2+ give you an edge by measuring air quality in your home so you can do something to improve it before hazardous levels are reached. The Laser Egg 2 measures the presence of particulate matter smaller than 2.5 microns in diameter while the Laser Egg 2+ also reports on the level of volatile organic compounds for a more complete report on air quality. Both devices display their readings along with a 3-day forecast on color LCD screens.
Adding either Laser Egg to HomeKit opens up automation options that address foul air. Their readings can serve as a trigger to activate your HVAC system or ceiling fan. Want to know the current air quality level? Just ask Siri.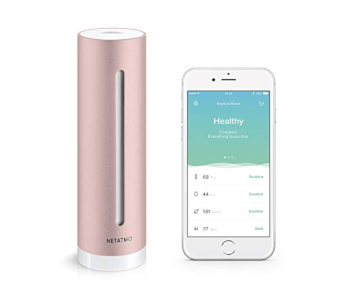 While other sensors just show their measurements, Netatmo's Healthy Home Coach helps you make sense of them with a simple star rating and tips. It measures CO2 levels, temperature, humidity, and sound levels, and has short suggestions on improving each one. The device itself has a simple visual indicator of overall air quality that glows from red to green. You can set parameters for different kinds of people like babies or asthma sufferers from the Netatmo app or use all sensors except sound in your HomeKit automations.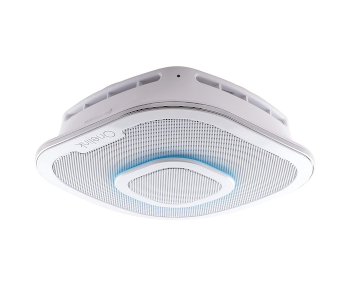 Onelink's lineup of sensors aims to keep your family and property safe & sound. The Environment monitor is a device you place in your child's room to measure changes in temperature, humidity, and CO levels. Its strip will glow a different color if any of these exceed the threshold and you'll get notifications via HomeKit. Two generations of Onelink smoke detectors support the Apple platform. Safe & sound is the earlier version and noteworthy for having an integrated Alexa speaker. The newer carbon monoxide and smoke detectors are smaller and less expensive, but lack Alexa.
All smoke detectors have a calm voice instead of a siren. The voice is loud enough to be heard throughout the house. It informs you what kind of emergency triggered the alarm and in which room if you have multiple devices. Coupled with HomeKit's automation routines, this makes Onelink's smoke detectors truly life-saving devices.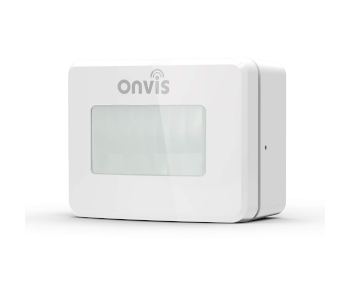 This unobtrusive device actually has three sensors in one – it measures motion, temperature, and humidity. All three sensors are quick to respond and appear separately on the Home dashboard. The motion sensor, in particular, is excellent since it isn't as sluggish as other Bluetooth models and continues to report motion until 20 seconds have passed since it was triggered. Arming delay is another cool feature that lets you specify when to arm the sensor and works up to two hours in advance.
Irrigation Controllers
A smart irrigation controller with HomeKit support will ensure that you can maintain a prize-winning lawn without hefty water bills. Hook one up to your old irrigation system to start enjoying more control & savings.
Name
Highlights
Check price
Eve Aqua
Simple scheduling options & detailed water consumption reports
Amazon
GARDENA smart Irrigation Control
GARDENA smart Power Adapter
GARDENA smart Sensor
GARDENA smart Water Control
Great for smartening up existing irrigation systems
Live soil moisture readings & weather info (sensor only)
Gardena
Gardena
Gardena
Gardena
Rachio 3 Smart Sprinkler Controller
Sophisticated water consumption algorithms for optimum irrigation
Amazon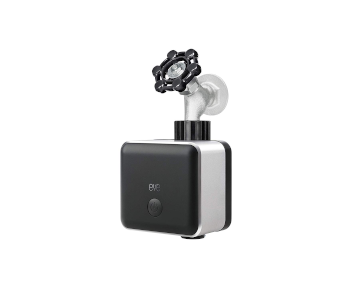 Eve Aqua is your go-to solution for simple lawn irrigation management. Just attach it to the tap, pair with your iPhone, and you're done. You can use Aqua to schedule sprinkling and specify how long the sprinklers should be active or gain insights into water consumption with reports that are easy to understand.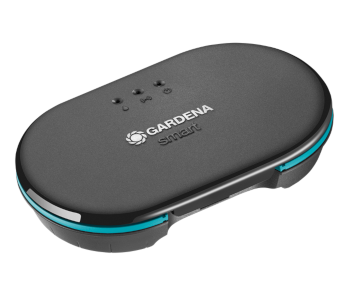 Gardena offers a full set of devices for smarter and more nuanced water management. The Irrigation Controller replaces existing irrigation control units while Water control attaches directly to the irrigation valve and has a sensor that warns you when the temperature approaches freezing levels. Alternately, you can use the Power adapter for sprinkler scheduling. Whichever method you decide on, it's a good idea to also get the Smart Sensor to measure soil moisture at the root level and feed the Gardena app up-to-date info on local weather conditions.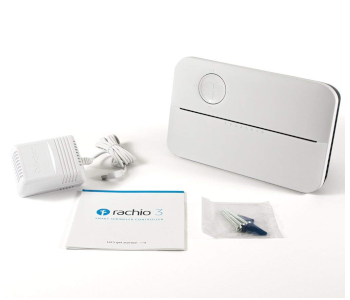 Rachio is the most sophisticated sprinkler controller out there. It not only recommends watering schedules which you can adjust, it also takes into account the soil type of your lawn and the season. Rachio has access to localized weather forecasts and won't water the lawn if it's going to rain or there's a chance that temperatures will drop below freezing. This results in a lush lawn without runoffs and unnecessarily high water bills.
Controlling Rachio through the Home app is limited to selecting a zone and tapping its tile to start and stop watering. Its own app is more sophisticated since you get to rearrange the order of zones or sync the schedule so that watering doesn't happen before sunset and after sundown.
Garage Door Openers & Controllers
Why fumble with a remote when your garage can open automatically as you enter the driveway?
| Name | Highlights | Check price |
| --- | --- | --- |
| Chamberlain MyQ | Easy to install | Amazon |
| Insignia Wi-Fi Garage Door Controller | Works with many garage door openers | Best Buy |
| Nice IT4WIFI | Has GPS- based action control | Nice |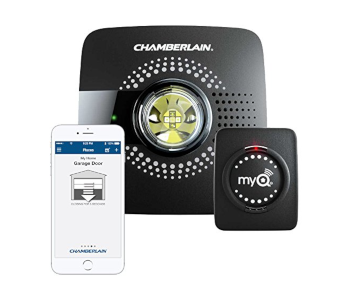 Chamberlain makes the best garage door openers on the market, and now older models can become part of your smart home thanks to the MyQ base unit and sensor combo. Installation isn't technical and can be done quickly by anyone. The MyQ's app lets you use the door remotely from anywhere as well as check how long it's been open or closed accompanied by an event history. Connecting the MyQ to HomeKit lets you add garage door operation to smart home scenes.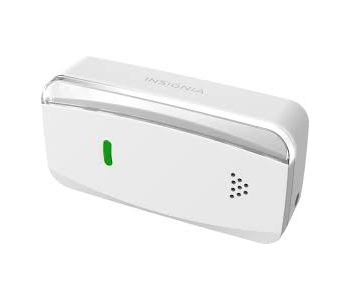 Don't have a Chamberlain garage door opener? No worries, because the Insignia controller works with most openers, provided you have a segmented garage door and reliable Wi-Fi in your garage as indicated by the sensor's green LED. You can integrate the controller into HomeKit Scenes, us Siri to open or close the door via voice commands, or receive notifications every time the door's status changes.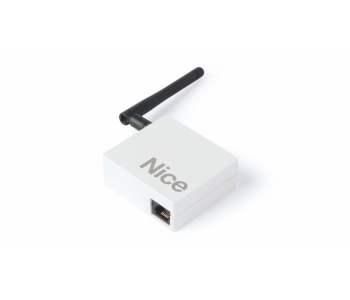 Nice's IT4WIFI is a wireless garage door controller that lets you operate the door with a single tap on the appropriate icon in HomeKit. It notifies you when the door opens or closes and can even open the door automatically once your iPhone or Apple Watch is in the designated Home Zone. You can also program one-off actions or create a garage door schedule.
Bridges
While most supported devices work with HomeKit out of the box, some require a go-between in form of a smart bridge or hub. These gadgets don't do much on their own, but they do expand the number of devices you can take charge of through the Home app significantly.
Name
Highlights
Check price
Aqara Hub
Adds HomeKit support to multiple sensors, switches, and other devices
Amazon
Honeywell Lyric Controller
Enables security system management through HomeKit and Siri
Amazon
Lutron Caseta Wireless Smart Bridge
Lutron Connect Smart Bridge
Makes Lutron switches and other proprietary devices compatible with HomeKit
Amazon
Amazon
Philips Hue Smart Hub
Controls dozens of different smart lights
Amazon
Wemo Bridge
Adds HomeKit compatibility to older Wemo products
Amazon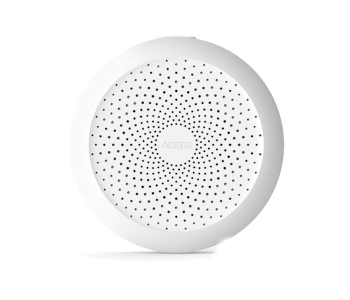 Aqara is a company that's managed to create an impressive smart home ecosystem of its own. Products made by Aqara include plugs, wall switches, door locks, curtain controllers, and multiple sensors. The Aqara hub makes all of them available through the Home app, exponentially increasing the number and complexity of scenes you can come up with. The hub also acts as a color-changing night light.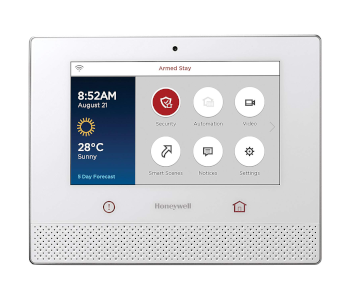 The Lyric Controller allows you to connect the Honeywell Lyric security system to HomeKit. This makes an array of door & window sensors, chimes, glass break sensors, and other components visible in the Home app and eligible for scene integration. It also makes controlling your security system more intuitive because you can name every sensor and quickly discover which one triggered an alert. The security system will now arm and disarm itself or go into standby mode with a voice command too.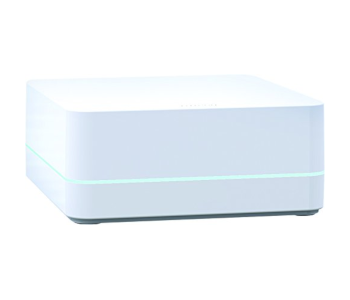 Lutron uses a proprietary communication protocol for its devices, so a bridge is required if you want to control them through Wi-Fi and add them to HomeKit. The Caseta bridge works with Lutron's eponymous line of smart switches and dimmers while the Connect allows for complete climate control in your home through lights, shades, and thermostats.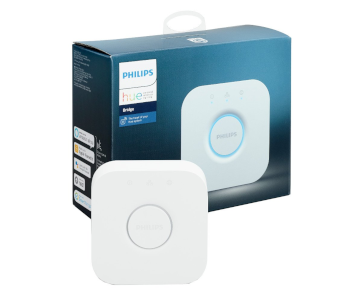 Hue is the world's most popular smart light collection. The only caveat is that it needs a smart hub to work, and that hub is now compliant with HomeKit. The Phillips Hue lineup contains bulbs, strips, ambient lights, lamps, and a host of other items, all of which you can monitor or use with the Home app.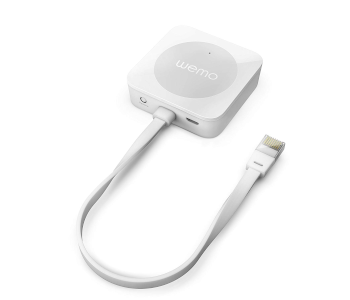 The Wemo Mini might work with HomeKit now, but you'll need to purchase the Wemo Bridge if you want older products like the Wemo Insight plug to work too. Luckily, the device is small and doesn't cost much, so adding your Wemo plugs & switches to HomeKit is a no-brainer, especially if you own more than one.
HomeKit FAQs
What is Apple HomeKit?
HomeKit is a home automation platform that supports various smart devices like lights, thermostats, security cameras, or locks, and makes it easy to control all of them with a single app. While some devices might need you to install their apps for pairing purposes, all gadgets that are certified as "Works with HomeKit" accessories can be controlled from the free Home app. You may also take charge of them by issuing voice commands to Siri, Apple's AI assistant.
Are HomeKit products easy to set up?
An effortless setup experience is one of HomeKit's most appealing features. The setup process for the vast majority of supported products boils down to installing an individual device's companion app for initial pairing & firmware updates, and then using a provided QR code to link the device to HomeKit. Newer products like the Nanoleaf Canvas automatically connect to HomeKit during their initial setup. The process is intuitive and takes minutes to complete, so even home automation beginners should find it a smooth experience.
How does HomeKit work?
You control HomeKit through the Home app. It starts by adding compatible devices which you can then name and place inside virtual rooms for more straightforward navigation and grouping. Each device is assigned one or multiple tiles depending on how many actions they can do. Tapping a tile will turn its corresponding action on or off while holding it opens up additional settings. For example, tapping a smart light bulb's tile will switch it on while holding it lets you adjust the brightness or pick a color.
Automations and Scenes are HomeKit's greatest features since they fundamentally change the way you interact with your home. Automations are a set of pre-programmed rules you use to force devices to behave a certain way once the conditions are met. A thermostat is an excellent example as you can set it to lower the temperature come bedtime and when you leave the house, or create a schedule that makes everyone comfortable while saving energy.
Scenes are a special kind of automation that set multiple devices in motion with a single tap. The Home app comes with four pre-made ones, but you can edit these and add new ones too. Tapping on the Good Morning scene in a home filled with smart gadgets may turn on the lights and set them to glow an energizing shade of white, activate a smart plug that powers your coffee maker, disarm the alarm system, and so much more.
Can I use HomeKit while I'm not home?
The Home app on your iPhone communicates with your smart devices via Bluetooth. This limits its range to around 30 feet, less if there are walls between you and the device you're trying to control. However, HomeKit works over Wi-Fi too and allows you to control devices from anywhere, provided you have a hub. The good news is that hub functionality is built directly into some Apple products, so you might already have one. These are fourth-generation Apple TVs, the HomePod smart speaker, and the iPad.
Is HomeKit Safe?
HomeKit is the safest automation platform available for several reasons. Many supported devices connect to it through Bluetooth and aren't exposed to outside threats. Those that connect through Wi-Fi need to meet strict security criteria and keep all communication encrypted. Apple's centralized approach to connectivity also means that everything runs through a single system which is easier to safeguard. Finally, Apple keeps the usage habits and identifying data of its users private.
Is the HomeKit ecosystem growing?
It is harder to get the coveted "Works with HomeKit" badge than alternatives for other smart home ecosystems because of Apple's rigorous requirements. Nevertheless, there are more HomeKit devices added at regular intervals. Apple no longer requires their partner to install special chips in order to qualify, meaning that devices that aren't currently supported by HomeKit may become compatible after a software update.
HomeKit's expansion prospects look bright and exciting new products have already been announced to release in the near future. The most interesting include the first HomeKit video doorbell by Netatmo, the Iotega security system, locks by Avia Smart & Koogeek, and smart lights from GE.