Arlo Pro vs Arlo Pro 2: Which System Should You Buy?
3D Insider is ad supported and earns money from clicks, commissions from sales, and other ways.
Arlo offers an excellent smart home security platform. They have a solid product line of mobile and wireless home camera systems that you will be able to use inside and outside your home. Let's focus on two of their more popular products, the Arlo Pro and the Arlo Pro 2.
These two are definitely what the average home and business owner is looking for, reliable systems that are capable of showing you what is happening in and around your home. Let's compare these two, so we can see which device will bring the perfect set of features that will fit your needs.
Arlo Pro vs Arlo Pro 2 Comparison
Both the Arlo Pro and Arlo Pro systems are nearly identical. They have a great and long list of features and capabilities that make them pop out when compared against cameras from other brands and companies. They also fit the DIY mold since you should be able to set them up quickly, whether you choose to install them against a wall or on top of a tree branch.
These two systems also come with base stations, which can sometimes be contentious to users, but offer the right amount of value-add. As these are both earlier models from Arlo, these are definitely welcome additions. They ensure stable connectivity and efficient communications between cameras, especially if you have a few of them installed.
Let's take a look at the different features of both these smart home security systems and see where they differ.
Camera
Arlo Pro
Arlo Pro 2
Video Resolution
Up to 1280 x 720 (720p)
Up to 1920 x 1080 (1080p)
Video Format
H.264
H.264
Field of View
130 degrees
130 degrees
Imaging
Full Color CMOS
Full Color CMOS
Audio
Two-way (Speaker & Microphone)
Two-way (Speaker & Microphone)
Motion Detection
YES, Adjustable sensitivity
YES, Adjustable sensitivity
Custom Activity Zones
NO
YES
Digital Pan and Zoom
YES, 8x Digital Zoom
YES, 8x Digital Zoom
Night Vision
YES, 850nm LEDs
YES, 850nm LEDs
Night Vision Range
Up to 25 feet
Up to 25 feet
Local Storage
YES
YES
Battery
2440 mAh Rechargeable
2440 mAh Rechargeable
Battery Level Indicator
YES
YES
Battery Life
Depends on use, 3 to 6 months
Depends on use, 3 to 6 months
Focus Range
Fixed Focus
Fixed Focus
App Compatibility
iOS, Android
iOS, Android
Smart Home Integration
Amazon Alexa, Google Home,
IFTTT
Amazon Alexa, Google Home,
IFTTT
Operating Temperature
-4° to 113° F (-20° C to 45° C)
-4° to 113° F (-20° C to 45° C)
Dimension
3.1 x 1.9 x 2.8 inches
3.1 x 1.9 x 2.8 inches
Weight
136 grams
136 grams
Base Station
| | Arlo Pro | Arlo Pro 2 |
| --- | --- | --- |
| Interface Port | Ethernet | Ethernet |
| IP Configuration | DHCP | DHCP |
| Antenna | Internal | Internal |
| Wireless Range | Up to 300 feet line of sight | Up to 300 feet line of sight |
| Wireless Connection | 2.4 GHz, 802.11n | 2.4 GHz, 802.11n |
| Processor | 900 MHz ARM Cortex A7 | 900 MHz ARM Cortex A7 |
| Memory | 128 MB RAM | 128 MB RAM |
| Storage | 128 MB Flash | 128 MB Flash |
| Operating Temperature | 32° to 122° F (0° to 50° C) | 32° to 122° F (0° to 50° C) |
| Dimension | 2.3 x 6.9 x 5.0 inches | 2.3 x 6.9 x 5.0 inches |
| Weight | 316 grams | 316 grams |
Design
All Arlo cameras come with a similar design. Both the Arlo Pro and Arlo Pro 2 have that oval-like shape and come with the same set of attachments that will allow you to mount the cameras to walls or ceilings. It is quite challenging to tell them apart, but when it comes to these two, the Arlo Pro 2 has a white edge around the camera face while the Arlo Pro has a black one. They are also compact, allowing you to mount them just about anywhere without having to worry about clearance and hitting other objects. You can even install them in cramped spaces.
One design advantage that these two have over other home security systems is that their camera modules are equipped with rechargeable batteries to power them. This feature comes in handy when you want to set them up in places where routing your home power line can be a challenge. Although you can directly plug them in when needed, the built-in battery option is undoubtedly something to keep in mind.
Both these cameras are also weatherproof and are able to withstand some beating from nature, so installing them outdoors should not pose a problem. They can handle winds and heavy rain and still be assured that they will do their job and record activities around your home.
There really is no clear winner between the Arlo Pro and Arlo Pro 2 since they both come with similar design capabilities.
Our Pick: It's a Tie. Similar design and capabilities between these two camera systems
Camera
In terms of camera power, there are certainly newer models that can give you unprecedented quality and detail. However, both the Arlo Pro and Arlo Pro 2 are still excellent, especially if you are looking for your first system and on a budget. As long as you are not after the latest and the greatest, any of these should be an excellent choice.
The Arlo Pro's camera is capable of recording videos with resolutions up to 720p. It can already be considered high-definition even though it may lack some pixels and detail, but it surely makes up for it in video quality. The footage is clear and crisp, especially on days with ample lighting allowing you to distinguish faces of those in the frame.
Since the Arlo Pro can run on batteries, there are times when it does power down. The camera only activates when it detects motion or sound and then starts recording. It then stores the clip to a MicroSD card or uploads it to the cloud for review. You can still turn on the camera whenever you are interested in viewing it live.
The Arlo Pro 2, on the other hand, has an upgraded resolution of up to 1080p. Night vision is similar to the Arlo Pro at 25 feet. It also comes with motion and sound detection capabilities that prompt it to start recording whenever it detects activity.
The main difference between the Pro 2 and Pro is that you do get additional customization features like sound thresholds on when the camera activates and starts recording. You can also change activity zone settings giving you quite a bit more flexibility than the Pro. The camera does have a better idea of what is going on compared to the previous version.
The Arlo Pro 2 does have superior hardware over its older iteration. The bump in resolution certainly helps with detail and zooming in. The added customizability of the action zones also helps in making sure that the alerts your get worth reviewing rather than an object randomly falling over that's in the frame of your camera.
Our Pick: Arlo Pro 2 for the upgraded resolution and added customizability
Additional Features
These cameras also come with additional features that you will be able to use to keep track of what's happening around your home. Both these devices have two-way audio, which means that they come with a microphone and speaker so you can communicate with whoever it is your camera picks up. This feature definitely comes in handy if you use your Arlo cameras as some sort of doorbell to answer your front door.
The most prominent hardware of these two systems comes with is the base station. It is pretty much where everything gets relayed to and from the cameras. It is particularly useful if you have multiple cameras set up since you don't have to go back and forth to make sure they are appropriately connected, instead simply link them to the base station.
The base station also allows you to connect a USB drive to act as a local backup. This way, you will not have to get separate storage solutions for each camera if you have a few set up around your home.
Since the base station is the same for both the Arlo Pro and Arlo Pro 2 systems, it does provide similar levels of performance. There's really no device getting the upper hand in this category since these features are available to both and operate pretty much the same way.
Our Pick: It's a Tie. Similar levels of performance with the base station and audio features
App Features
Arlo comes with its own smartphone app and web portal that allows you to take full control of your system. However, you want to access it. The great thing is that the app and web portal are identical, so you will not need to adjust to whatever it is you are using. Arlo's companion app is clean, robust, and easy to use so you can quickly navigate to what you want to do.
The app allows you to set up motion and sound detection sensitivity and is quite easy to master. For the Arlo Pro 2, you can set specific activity zones to get alerts from that part of the frame. Arlo Pro does not have this neat feature. However, you can still set up scheduling so you can ensure that videos are being recorded accurately and alarms do not go off whenever you are home.
As for the app and web portal, both should have a similar layout, but Arlo Pro 2 does come with an added feature giving it a slight advantage over that of the Arlo Pro. The rest should work similarly, giving you a good amount of control and customizability on how you want your cameras to behave.
Our Pick: Arlo Pro 2 for its extra app features like customizing your camera's motion zones
Smart Home Compatibility
These two security camera systems come with smart home features that allow you to integrate them with other devices. They are compatible with Amazon Alexa, letting you control them using voice commands. This feature works really well with Amazon devices like the Echo Show, where you can view a live feed from your cameras. You can also use your Fire TV devices to communicate with your cameras, allowing you to check out recent alerts and saved clips.
There is also support for Google Home, where you can use Google Assistant for some voice control action. Although Alexa integration is a lot more seamless, having an option definitely helps.
Most smart home devices are compatible with IFTTT, and both the Arlo Pro and Arlo Pro 2 are no different. It is an excellent app that allows you to integrate various devices depending on the behavior of another. You can set it in a way where whenever a camera detects movement, it will turn on a smart light bulb, like a Philips Hue, in your room to alert you.
The possibilities are endless with IFTTT, so if you have quite a few smart devices in your home, you will be able to link them together in ways that no other software will be able to do. If you have a highly integrated home, this is the compatibility you want with your devices, and the Arlo Pro and Arlo Pro 2 surely delivers on this front.
Pricing
When it comes to pricing, there are a couple of aspects that you need to consider when getting an Arlo home security system. The first one is the price of the physical device itself. The other is all about the different cloud storage plans that you can get.
If you are getting these systems for the first time, it is essential to note that you will need to get the full kit that includes the base station. This will undoubtedly add to the overall price, but after getting the base station, you should be able to get add-on cameras at a more affordable price.
Arlo also offers bundles where you can get awesome deals when you get kits of multiple cameras. If you are looking to set a security system up, make sure that you know how many cameras do you need so you can get the kit that has the number you need. You will surely save some money if you get the four-camera kit compared to getting the base package.
Also, watch out for deals so you can get the best price possible. Prices change over time and depending on the season, you should be able to score some excellent deals like Black Friday and Cyber Monday sales.
The next aspect that you will need to note is Arlo's cloud storage plans. You do get access to their free plan that will offer you 7 days of rolling video storage. If you feel that it's not enough, then you can certainly upgrade to one of Arlo's paid plans. It will provide you with 30 days of rolling storage so you can store more videos for more extended periods.
The Best Security Camera System for Your Home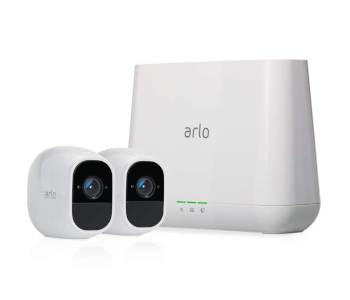 Retail Price: $479
Between the two devices we are comparing, the Arlo Pro 2 is the better one. It is a definite upgrade and refinement of the original Arlo home security system. It is one of the best ones that you can buy. There are a few other alternatives from other brands in the market, but Arlo stuck to their philosophy and continues to provide a high end experience for serious home owners and small businesses.
At around $480 for a two-camera kit, it does cost quite a sum, but it is packed with exciting features that will make you forget the money you spent on it. It is definitely going to stand out from the crowd of security camera systems in the market. The totally wire-free operation, coupled with a robust weatherproof design and excellent scheduling and geofencing features, offers you one of the most versatile smart home security systems compared to other brands.
Although the inclusion of the base station can be quite troublesome, it does provide some advantages, as well. It simply makes your set up more efficient and straightforward, especially when you have multiple cameras installed around and inside your home. You also get a siren on the base station, so you can hear alerts even when you don't have your smartphone with you. Lastly, having the base station around lets, you connect external storage drives so you can save clips locally, which can come in handy in case of an internet outage.
The Arlo Pro 2 may come at a premium, especially if this is your first time investing in a home security system. However, it certainly pays off with all the features that it comes with. There are more affordable alternatives out there, but if you are looking for a high quality system with a camera that is capable of recording clear and crisp images, this is the device for you.
Arlo Pro 2 Home Security Camera
✔ Weather-resistant design for outdoor installation
✔ Full HD 1080p video resolution
✔ All-day recording with local storage
The Budget Alternative for First Time Users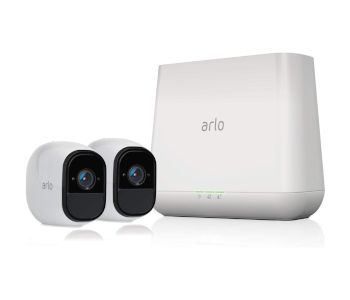 Retail Price: $419
If you are someone looking for a smart home security camera system for your home and are not inclined to spend a lot on it, the Arlo Pro is an excellent option. Now, it's not significantly more affordable than the Arlo Pro 2, but the price difference is large enough where you will be able to get an extra camera.
There are a few downgrades as well if you choose to get the Arlo Pro, but for the most part, everything seems to be pretty much alike. The main difference between the two systems is the camera. With the Arlo Pro 2, you get one that is capable of recording in Full HD or up to 1080p. The Arlo Pro, however, only comes with 720p resolution. Viewing it in small screens like your smartphone should not be a problem, but if you do rely on a large screen TV to look at your footage, you will surely see some quality differences. Still, a 720p resolution passes as high definition, so you should still be able to see the right amount of detail in every recording that your camera makes.
There is also a slight difference in terms of the software where the Arlo Pro does not support custom motion zones. If it detects movement in any part of the frame, a notification will pop up and alert you. This should not pose much of a problem, but if you do want a good amount of control over your notifications, then this is probably going to bother you just a bit. It's a good thing that the Arlo Pro's scheduling system is excellent, so you do not get these alerts whenever you are at home.
Apart from the camera resolution and custom motion zones, the rest of the features are pretty much identical, so you can expect similar levels of performance. The Arlo ecosystem is certainly one of the best when it comes to home security, so you can be sure that you are getting a quality product.
The Arlo Pro, similar to the Arlo Pro 2, is a premium camera in its own right. The jam-packed features make it worth every penny you spend on it. If you are a first-time user and want a reliable and affordable machine that punches above its class, the Arlo Pro is an excellent choice.
Arlo Pro Home Security Camera
✔ Sharp HD video
✔ Built-in support for IFTTT
✔ Easy to install in and around the house
✔ Robust weatherproof design
Wrap Up
Arlo makes high quality smart home security cameras, and both the Arlo Pro and Arlo Pro 2 show that. The performance of both these cameras are impressive and provide clear and detailed pictures, no matter the situation.
You do get a video resolution bump with the Arlo Pro 2. The additional features are also helpful, but if you are not a hardcore security enthusiast, then they may not be for you. The Arlo Pro does provide you with a more straightforward approach to security, but with a good amount of the bells and whistles found on its more recent version.
If you are the type of user that is keen on getting Full HD resolution on your security footage and is willing to connect your cameras on AC power for a continuous recording feature, the Arlo Pro 2 is the perfect system for you. However, if you are not concerned with the resolution and 720p is enough for you, the Arlo Pro is an excellent alternative. You can spend the difference by getting an extra camera.