Arlo Q vs Nest: The Indoor Security Camera King
3D Insider is ad supported and earns money from clicks, commissions from sales, and other ways.
When it comes to home security, there are two brands that are trusted by users everywhere, Arlo, and Nest. These companies are known for the quality of their cameras, especially the Arlo Q and Nest Cam Indoor line. If you are looking for an indoor home security solution, these are the most top-rated devices that you can choose from.
Arlo Q vs Nest Comparison
Looking at the numbers, these systems and cameras may look similar. For example, all of them come with a Full HD 1080p resolution, but hidden in these specs are some differences that might sway you from getting one camera over the other.
Let's take a closer look at these four home security systems so you can find out which one is the right fit for your needs. Whether you are an enthusiast or simply want a camera that can keep an eye out whenever you are away, there is definitely one that is going to be perfect for you.
Arlo Q
Arlo Q Plus
Nest Cam IQ
Indoor
Nest Cam Indoor
Video Resolution
Full HD 1080p
(1920 x 1080)
Full HD 1080p
(1920 x 1080)
Full HD 1080p
(1920 x 1080)
Full HD 1080p
(1920 x 1080)
Video Format
H.264
H.264
H.264
H.264
Field of View
130 degrees
130 degrees
130 degrees
130 degrees
Imaging
Full Color CMOS
Full Color CMOS
Full Color HDR
Full Color CMOS
Audio
Two-way (Speaker
& Microphone)
Two-way (Speaker
& Microphone)
Two-way (Speaker
& Microphone)
Two-way (Speaker
& Microphone)
Motion Detection
YES
YES
YES
YES
Activity Zones
YES, Up to 3
YES, Up to 3
YES
YES
Night Vision
YES, 850nm IR
LEDs
YES, 850nm IR
LEDs
YES, 940mm IR
LEDs
YES, 850nm IR
LEDs
Night Vision
Range
Up to 25 feet
Up to 25 feet
Up to 25 feet
Up to 25 feet
Local Storage
NO
NO
NO
NO
Power
AC Power
AC Power
AC Power
AC Power
App
Compatibility
iOS, Android
iOS, Android
iOS, Android
iOS, Android
Smart Home
Integration
Amazon Alexa,
Google Home
Amazon Alexa,
Google Home
Amazon Alexa,
Google Home,
IFTTT
Amazon Alexa,
Google Home,
IFTTT
Connection
Wi-Fi
Wi-Fi, Ethernet
Wi-Fi
Wi-Fi
Operating
Temperature
-4° to 113° F (-20°
C to 45° C)
-4° to 113° F (-20°
C to 45° C)
32 to 104°F (0 to
40°C)
32 to 104°F (0 to
40°C)
Weather
Resistance
NO
NO
NO
NO
Dimension
2.75 x 2.8 x 4.5
inches
2.75 x 2.8 x 4.5
inches
2.9 x 2.9 x 4.9
inches
2.8 x 2.8 x 4.5
inches
Weight
168 grams
168 grams
357 grams
203 grams
Design
As indoor cameras, the most notable feature that is missing compared to their outdoor counterparts is the weatherproof capability. Of course, these cameras do not necessarily need this feature as they are going to stay inside your home all the time. They are not as robust-looking compared to outdoor versions, but they do will surely do the job without you having to worry about it getting wet.
The Arlo Q's design is quite different from that of their other camera models. It comes with this quirky diamond shape and not the traditional ovoid of other Arlo devices. The design, though, allows the camera to rotate and pivot quickly, giving it a good range of motion. This will enable you to cover every part of your home without drastically changing its position. You also have a choice of a magnetic base or one with screws for mounting on a variety of surfaces.
As for power, since it is mainly an indoor camera, the Arlo Q comes with a power cable that you can connect to a variety of sources like a USB port on a computer or an electrical socket. This makes installation a lot easier compared to outdoor cameras.
In the case of Nest, their outdoor and indoor cameras look quite similar with some notable differences. When it comes to the design, they do not look that far off compared to how Arlo approached their Q model.
You will notice the Nest indoor cameras since they do come with different mounting hardware compared to their outdoor counterparts. They sit on a base, making it easy for you to install them on top of shelves and surfaces around your home. The camera can pivot freely around the base so you can position it at an optimum angle, allowing you to capture a wider space.
Both Nest indoor cameras are sleek and come with an elegant design that integrates well with your existing furniture and fixtures without standing out. They are attractive, and the built-in mounts definitely help, so you will not need to do more work to install them.
When it comes to the design, both the Arlo and Nest models have their own flair. They both have built-in stands that provide a good range of motion so you can position them anywhere. It comes down to preference since if you are looking for that sleek traditional look, Nest's IQ Indoor is your best bet.
Our Pick: Nest Cam IQ Indoor for its sleek and elegant design paired with function
Video Quality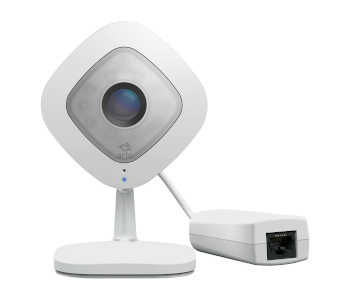 When it comes to video quality, all these cameras come with very similar specs. The Arlo Q has a 4-megapixel sensor that captures excellent quality 1080p video. As long as you have enough lighting, they come close to what you will be able to see with your own eyes, making it an exceptional security camera. Contrast is good, and the colors are vibrant giving you the detail that you want if you are looking to identify faces inside your home.
The camera also has a night mode that uses its infrared LEDs so you can see what is happening inside your home in the dark. The footage is bright with good contrast allowing you to see persons and objects with ease even if it is night time.
On the Nest side, the IQ Cam Indoor is undoubtedly one of the more powerful cameras in the market. It has a much larger sensor than all the other cameras we are comparing at 8-megapixels. Even though the camera records video at 1080p, it adds a level of depth and detail to the footage. It also has HDR capabilities giving you better contrast between light and dark tones.
The Cam Indoor, on the other hand, is a less powerful camera with a 3-megapixel sensor for your 1080p videos. It lacks the enhancement features of the IQ Cam Indoor, but it still offers high-quality footage that does the job.
Both these Nest cameras have night vision capabilities as they come with IR LEDs that allow you to see even if there are no light sources. As a security camera, this feature definitely comes in handy.
The Nest IQ Cam Indoor is definitely the favorite with its added HDR feature. Even though they all record at 1080p, this extra gives you a different, but much better recordings.
Our Pick: Nest Cam IQ Indoor for its HDR recording capabilities
Additional Features
Indoor security cameras also come with other features that rely on their video capabilities. They are not just recording devices, but they certainly do a few more that will help keep you safe and give you that peace of mind.
One of the key features of these cameras is their motion and sound detection capabilities. The Arlo Q, for one, can detect movement in the frame, and then records it for you to review at a later time. The Arlo Q is known for its comprehensive controls on motion and sound detection. One of the issues with it is that it can sometimes be too sensitive that it will alert you even if your pets run across the frame.
The motion and sound detection are definitely powerful tools, and for the Arlo Q, you will be able to set it in a way that suits how everyone behaves in your home. You can set custom activity zones where the camera focuses its detection capabilities and alert you when something moves in that area. This feature inevitably comes in handy to determine that something fishy is going on inside your home.
On the Nest side of things, similar to the Arlo Q, the cameras also give you access to 24/7 live video streaming allowing you to use it as a traditional security camera. They also come with motion and sound detection, so you can continue to keep your home safe even without looking at it all the time.
Since the Nest IQ Cam Indoors has HDR capabilities, it comes with a feature called Supersight that relies on its 8-megapixel sensor to track movement in frame up close. The most significant difference between the Arlo Q and this device is that the IQ Cam Indoor can detect persons so it can give you timely and accurate alerts. This way, you will not get notifications for your pets moving back and forth inside your home.
In terms of features, the Nest Cam Indoors does not come with built-in person alerts. However, you will be able to activate it with a Nest Aware subscription.
When it comes to extra features, the Nest Cam IQ Indoor takes the prize here. The built-in person alerts are absolutely welcome, so you only get notifications whenever someone is in the frame of the camera. You don't want to be bothered by unnecessary alerts whenever you are away from home, so this ensures that you only get notified on the right situations.
Our Pick: Nest Cam IQ Indoor for its Supersight feature and built-in person detection
App Features
Apart from the camera hardware, the next part of the system that you need to take a closer look at is the companion app. It is likely the interface from where you will be controlling your cameras, so packing in a lot of useful features in there is going to be helpful.
The Arlo Q does come with excellent motion and sound detection features, and on top of that, the companion app also helps you achieve a few more tasks like scheduling. This is a feature that is going to make your entire experience with the Arlo Q efficient. If you already have a routine that you usually follow, you can quickly set this up into the schedule feature and have your cameras arm or disarm at the right time. Now you do not have to deal with alerts that show you are home.
You will also be able to access a lot of other features of the Arlo Q using the app, like reviewing saved recordings. On top of that, you can also change some of the settings of the camera like brightness. The app also allows you to use the two-way audio capabilities of the device so you can talk to whoever is on the other end of the camera.
Arlo's app is definitely powerful and will give you a the right amount of flexibility when it comes to taking full advantage of your indoor security camera.
On the Nest Cam IQ Indoor, the companion app is robust and easy to navigate. Just like the Arlo Q, it does have a scheduling feature, but it is more intuitive to use. Setting schedules is convenient, allowing you a more granular approach. The app also allows you to set a custom activity zone so you can focus on a few key areas on when the camera will alert you. Also, it does support facial recognition, allowing it to differentiate motion from your pets or people.
The app also gives you the capability to review footage saved on the cloud, and playing it back is relatively easy. You will also be able to use it to change settings and give you better control of the camera, like utilizing its two-way audio features or watching a live feed.
If the Nest Cam IQ Indoor's app is packed with a lot of controls, the Nest Cam's is a bit more straightforward. You do not get a lot of the controls from its more powerful sibling, but you do get the essential ones like reviewing saved videos on the cloud and watching a live view from the camera. It might not stack up to the Cam IQ's features, but it can certainly handle the job.
The Nest Cam IQ Indoor's built-in app is the superior of the bunch. It's easy to use and gives you a lot of fine-tuned controls. This allows you to take full advantage of what the camera is capable of rather than trying to figure out what you can squeeze out of its other capabilities.
Our Pick: Nest Cam IQ Indoor for its facial recognition capabilities and robust app
Smart Home Compatibility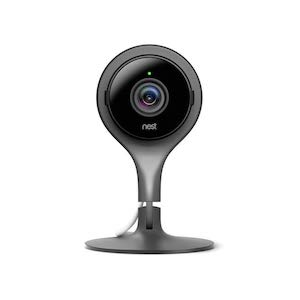 Since these are all smart devices, one of the more essential features that they need to have is their connectivity and compatibility with existing systems. You are looking for cameras that work well with the usual suspects like Alexa, Google Home, IFTTT, and others. The great thing with all these options is that they play well with all of these systems. However, let's still look at the minor nuances that make these devices distinct from each other.
Connectivity is where the Arlo Q and the Q Plus differ just a bit. The Q Plus relies on wired Ethernet cables for its internet connection while the Q is a fully wireless device. If you are concerned with connection stability, the Q Plus is absolutely an option that you have to take into account.
Apart from the different methods of connecting to the internet, they both come with similar smart home features like compatibility with Alexa and Google. This will allow you to control your cameras using your voice if you have other compatible devices scattered around your home. These two devices also support IFTTT giving you some additional integration options with other smart home devices in your home.
Cloud storage options for your Arlo cameras are also available, and they do come with the basic plan that includes a rolling 7-day recording repository of up to 1 GB. You can definitely upgrade this plan and enjoy 30 days of footage at 10 GB of storage space. There is also a plan that includes continuous video recording, so if you are into that, you can absolutely get it.
The Nest Cam IQ Indoor, first of all, integrates seamlessly with other Nest devices. So, this includes their thermostats, doorbells, speakers, and displays. As part of the Google line of smart home products, it also works really well with Google Assistant and Chromecast giving you a good amount of versatility in the things that you can do. On top of this, it also integrates well with Alexa and other enabled devices such as the Echo Show.
You should be able to use your voice to view a live feed or review previous footage on your smart TV or other devices with a display. This feature definitely comes in handy if you want to quickly check on your cameras from anywhere around your home. The Cam IQ Indoor also offers IFTTT support where you can enjoy advanced integration with other smart devices such as Yale's smart locks and Philips Hue bulbs.
The Nest Cam Indoor does not come with the advanced features of the Cam IQ Indoor, but it does integrate well with other Nest devices. It also works well with Alexa, and Google Assistant for some voice-activated action, but the features are not as robust as its higher-end sibling.
For both Nest cameras, you get access to their Nest Aware cloud storage system that offers face detection and activity zones. This is a notable feature since both these devices do not come with local storage options, so you will have to rely on cloud options, unlike the Arlo Q Plus. You do get a few plans for Nest's cloud storage system where you have a choice to get a 30-day or 60-day event history.
The Nest Cam IQ Indoor does offer a wide array of smart home features that makes it an excellent device. The versatility is definitely there, and Nest's cloud storage options are definitely something to take into account. However, Arlo's free plan does give you a bit more in terms of storage at 7 days, but once you get into the paid plans, this is where the Nest Aware extends its lead.
Our Pick: Nest Cam IQ Indoor for its advanced smart home integration and cloud features
Pricing
These systems are generally in the same price range, except for the Nest Cam IQ Indoor. It does offer a bunch of features that the other cameras do not have, so it is something that you should take into account. With the rest, though, none of them exceeds $200, so if that is the budget that you have set, you should be in good shape.
If you are looking to install multiple cameras inside your home, you can absolutely score an excellent discount by getting them in bundles of two, three, or four. You can use the savings by getting a premium cloud storage account so you can fully secure your home.
Since these are basically Amazon's and Google's systems, you can also watch out for deals to get the best possible price. These systems usually go on sale multiple times a year, so you can definitely get these cameras at a significantly lower price than what they cost on retail. While their retail prices may be a little on the high side, discounts will definitely help if you know to watch out for them.
Cloud storage also plays a part when it comes to pricing, and both these systems come with relatively similar plans. Arlo's plans start with a free tier that gives you 1 GB of storage or about a week's worth of saved recordings for five cameras. Their plans are definitely a lot more generous compared to that of Nest's.
However, if you are looking for a more robust option, you can get their premium plans that start at $99 a year for up to 30-day rolling storage or 10 GB of cloud storage for up to 10 cameras. Arlo also offers continuous video recording that's great for small businesses. You can get a 14-day plan for $99 a year per camera. This is definitely an excellent option if you are looking for this particular feature on your security systems.
Nest also has its own cloud storage solution called Nest Aware. Although their free tier is not that great of a solution since it only provides a 30-day free trial, their paid plans are excellent. As soon as you move to their paid tiers, you gain access to their Familiar Face detection technology and continuous recording.
Nest's cloud storage plans start at $60 per year for 30 days of rolling storage from unlimited cameras. So, if you have built an extensive Nest security system indoors and outdoors, this is probably an optimal solution since you do not have a device limit. The added features also help in making Nest Aware the superior cloud storage solution.
The Best Indoor Security Camera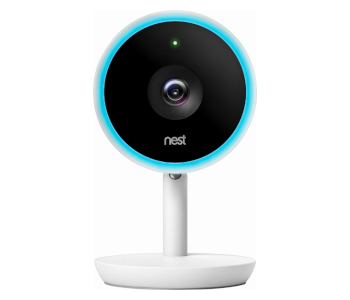 Retail Price: $299
One of the features of the Nest Cam IQ Indoor that we have not yet focused on is its image sensor. Yes, we know it is capable of HDR, but on top of that, it does come with a 4K sensor. Now, although it does not record videos in 4K, instead of only 1080p, there are still a few advantages of having a massive sensor compared to your maximum resolution.
The sensor allows the camera to up to 12x digital zoom capabilities, which means that you can get close up shots without suffering from a lot of detail loss. This is precisely what Nest's Supersight feature does.
The Nest Cam IQ Indoor is a powerhouse of a camera packed with advanced specs and features than any other similar device on the market. It does come at a premium, though, since it is significantly more expensive than the rest of the cameras we are comparing.
It is absolutely a solid, smart home security camera with an app that keeps pace with the hardware. You do get live feed and built-in face detection capabilities for improved security. However, if you are someone who uses their cameras as a way to check on your pets when you are at work, you can definitely go for other options.
The Nest Cam IQ Indoor has a lot of performance headroom and potential. If you are the hardcore user who is going to love the extra bells and whistles that they have included in this device, you are definitely going to love this. Otherwise, some alternatives are going to do the job for you.
Nest Cam IQ Indoor
✔ Top-notch audio and video quality
✔ Familiar face detection is an intelligent feature
✔ Software is intuitive and well-designed
✔ Excellent third-party integration support
The Indoor Camera That Offers Best Bang for Your Buck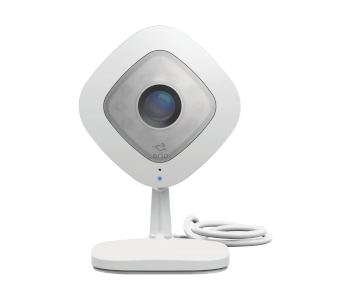 Retail Price: $149
The Arlo Q home security camera is a straightforward system to use. It is easy to install and offers reliable performance every time. This is the reason why it is the camera that provides the best bang for your buck. The value that you get from this device compared to its price is fantastic. To put it simply, the Arlo Q just works.
It is going to give you the essential features that you are looking for in a home security camera without the added bells and whistles that you might not even use. Motion and sound alerts come on time, and the activity zones are consistent, basically, what you want in a device that is going to help keep your home safe.
The video is clear and reliable, although you might not get the level of detail compared to the Nest Cam IQ Indoor. The Arlo Q is still able to give you footage that you can surely use when something goes wrong. You also have access to live streaming, allowing you to check your home even when you are away.
As for the software, the app and scheduling system is reliable, so you can make sure that it will not send an alert whenever you come walking across your living room. One knock of the Arlo Q is its lack of third-party integrations, so you will have to make do with the usual systems like Alexa and Google Home.
Clearly, the Nest Cam IQ Indoor is a much better camera and system to the Arlo Q. However, if you are looking for a camera that simply works and will perform the way you want it, it is undoubtedly a more affordable option that you can get. If the Nest Cam IQ Indoor is for hardcore home security enthusiasts, this is for the more casual user who simply wants an eye open at all times.
Arlo Q Indoor Camera
✔ Robust and intuitive app and scheduling
✔ Detailed controls for motion and sound detection
✔ Excellent free cloud storage plan
Wrap Up
Both of these companies make high quality home security cameras. Even though these are designed for indoor use, they do not differ much from their outdoor counterparts. They may not have weatherproof capabilities, but in terms of hardware and performance, these cameras can go toe to toe with the best ones in the market.
Each of these systems offers something different for everyone. Even though they come with quite similar features and functions, some devices suit a particular type of user. If you are looking for a camera that simply works and provides you with reliable alerts and video, the Arlo Q and Nest Cam Indoor are your best bets.
They will slightly differ in cloud storage capabilities, but you can certainly pile them up in a similar category. The Nest Cam IQ Indoor, on the other hand, is a different beast. It comes with extra features and capabilities that take it further into the enthusiast spectrum. You get upgraded hardware, face detection, and zoom capabilities that are not found in other devices.
You can never go wrong with any of these camera systems. It will eventually depend on how you want to use them and the features that will satisfy your security needs.