Arlo Security Camera System Black Friday 2019 Deals
3D Insider is ad supported and earns money from clicks, commissions from sales, and other ways.
Home security cameras are becoming more affordable, and they are also straightforward to install. This is one of the reasons why a lot of people install them in their homes.
One of the more popular brands when it comes to security camera systems is Arlo. Their cameras are robust, versatile, and offer a wide array of features that will satisfy your home security needs. Arlo cameras are always in high demand, and they seldom announce deals for their systems.
The great thing is that during Black Friday, they always publish their best deals. We have gotten our hands on Best Buy's Black Friday ad, and they do have Arlo systems in their listings. You can save up to 38% on their wireless security systems, making this the best time to get one and safeguard your home.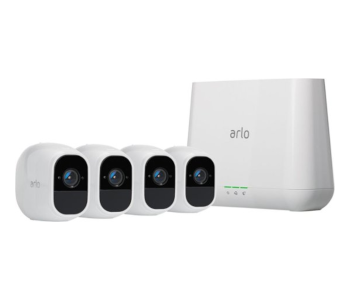 ARLO PRO 2 4-CAMERA WIRELESS SECURITY CAMERA SYSTEM
Original Price: $649
Black Friday Price: $399
This deal will be available at Best Buy.
The Arlo Pro 2 is a professional-grade camera system for your home. The entire system is solidly built and capable of recording Full HD videos so you can always keep an eye on your home even when you are away.
Base Station
The system is wire-free, it is designed a bit differently since it comes with a base station, which is common in wired solutions. One thing you need to do is connect this station to your home router via an Ethernet cable. There are pros and cons with a physical connection, but this is going to provide you with constant connectivity at all times.
You can think of the base station as the brains of the entire operation. It will connect with your cameras wirelessly so your cameras can relay everything they picked up.
Cameras
The cameras look like giant eggs and are fully encased in a waterproof shell, so you can mount them outdoors. Installing them is simple, as they come with sturdy magnetic stands so you can secure them in different areas around your home. You can also simply leave them standing on top of shelves or any flat surface.
They are not just your ordinary cameras since they come with a small speaker and a microphone for two-way audio so you can talk to whoever is on the other end.
Performance
As a smart home security system, you can quickly fire up the companion app to gain access to your cameras. You will be able to control them by panning or zooming in to get a closer look. The app also allows you to view live streams from your cameras side by side, so you can feel comfortable knowing that your home is safe from intruders.
The cameras can capture videos in Full HD 1080p resolution so you can instantly identify those that have been caught. There is a Nightvision mode so you can see everything that is happening in the dark, especially if you have installed the camera outdoors.
An exciting feature of the Arlo Pro 2 is its motion detection capabilities. You will not be watching the feed from your cameras 24/7. This is extremely useful since the system will inform you if it has detected some form of movement by a notification on the app or an email.
The Arlo Pro 2 is an effective system that is straightforward to install. After you finish setting up the base station, all you need to do is push the sync buttons on your cameras to link them up. The image quality is excellent, and the app is intuitive to use, so you always have eyes out around your home.
This Black Friday, getting the 4-camera system seems to be the most lucrative deal since you will be able to save up to 38%. There are other deals as well for a 2-camera system or a 1-camera system where you can save up to 30%.
Here are the other deals that you can enjoy if you think the 4-camera system is not for you:
ARLO PRO 2 2-CAMERA WIRELESS SECURITY CAMERA SYSTEM
Original Price: $399
Black Friday Price: $279
ARLO PRO 2 INDOOR/OUTDOOR SECURITY CAMERA SYSTEM
Original Price: $249
Black Friday Price: $199