ASU Invests in 3D Printing
3D Insider is ad supported and earns money from clicks and other ways.
In the coming decades, as millions of older engineers retire from their profession, a new generation will take their place. The world of manufacturing and engineering that the new generation will have to contend with is going to be significantly different from what their predecessors faced. One of the most significant changes will be a far greater emphasis on 3D printing. That is why immediate steps need to be taken to ensure that current engineering students are aware of 3D print technology and know how to properly use it.
The Ira A. Fulton School of Engineering at Arizona State University (ASU) saw this need early on and has already made significant strides towards addressing it. The Southwest's largest 3D print research facility recently opened at ASU's Additive Manufacturing Research Center on the Polytechnic Campus. Taking up a 15,000 square foot space and holding 3D printing equipment worth more than 2.5 million dollars, the facility is being used for a variety of research and development activities by ASU students. The facility was born out of a partnership between ASU, Honeywell Aerospace, and several 3D printing companies.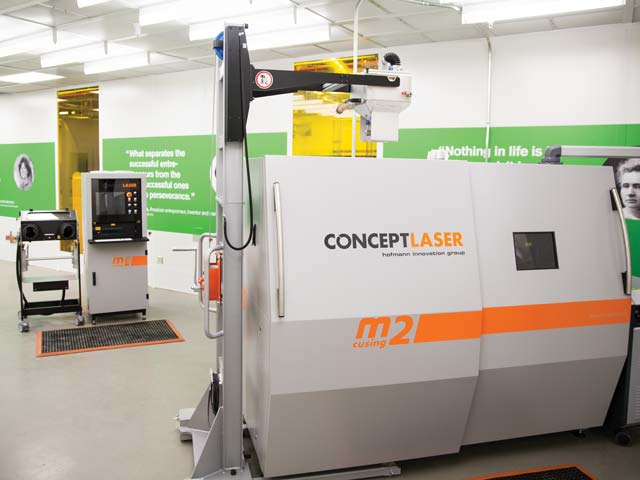 The aim of the facility is to spark curiosity among students. The field of 3D printing has a great need for researchers and innovators, yet too many universities ignore the technology's future potential and refrain from introducing it to students. ASU's Polytechnic School is currently the only program in Arizona that offers a manufacturing engineering undergraduate degree. Great focus is given to ensuring students get plenty of hands-on experience with the printers and receive a solid introduction to additive manufacturing.
A Helping Hand
ASU's focus on additive manufacturing has already borne fruit in the case of Noah Muns. Noah was an eight year old who suffered from a blood clot which caused his right hand to stop growing. His mother, Heather, raised her son to become self-sufficient with only one hand, but the plan was always to help Noah get a prosthetic hand somewhere down the line. The thing was, it made poor fiscal sense to create a custom hand for Noah which would only last a couple of years for the growing boy.
Enter John Hughes, a former student at Estrella Mountain Community College (EMCC). Hughes was looking for a final assignment project for his Physics II class. When a new 3D printer was awarded to EMCC, its capabilities were introduced to the college's faculty, which also happened to include Heather Muns. She was introduced to John Hughes by a faculty member who was aware of their overlapping interest in prosthetics, and from there a fruitful partnership was born.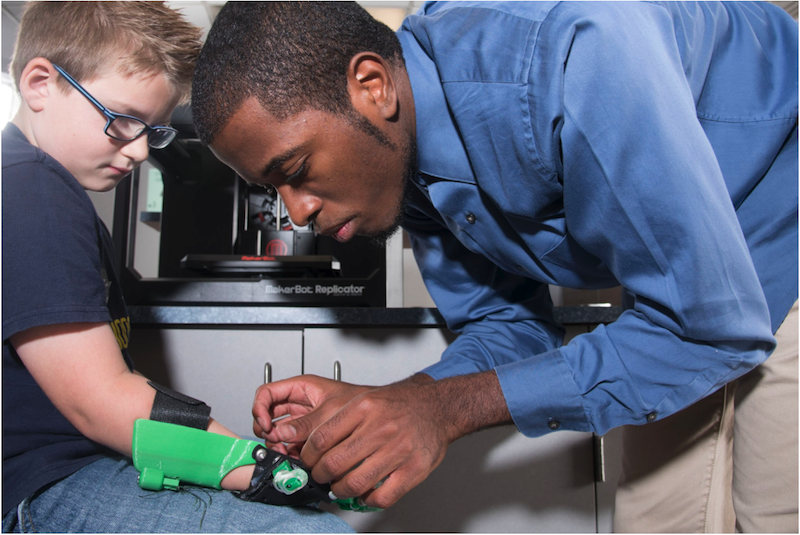 Hughes set to work crafting the perfect prosthetic for Noah. Even with the aid of the 3D printer, it took more than 12 hours of sanding and drilling holes in the product to fit it to Noah's limb. Hughes continued to work on the project even after his course was over. Many iterations of the prosthetic had to be gone through to find the perfect match for Noah.
After Hughes was accepted into ASU, he continued his work on the prosthetic, making it larger than before and adding in an elbow attachment that allows for greater flexibility. Hughes plans to use the help of his fellow students and teachers at ASU to expand on the range of prosthetics that Noah will be able to use as he grows older.
Dissolving Parts
Another interesting problem that researchers at ASU have tackled was the task of creating overhangs for 3D printed parts. For designers, adding overhangs to a 3D model can be serious hassle and involves long hours of post processing time. The research team came up with a new technique for printing overhangs that takes advantage of the differences between chemical and electrochemical stability of different metals. How it basically works is that the designer creates the support for the overhang out of a particular metal that can be subsequently removed via electrochemical etching. No residual support material is left behind once the product is finished.
What this new technique does is significantly reduce the post-processing time that goes into creating the overhanging. With this new method, there's no need for additional machining operations to remove the support structures from the model. The research team is working on making the process applicable across a wide range of metals and oxides through selective chemical dissolution.
The future of 3D printing depends on research and development from universities. ASU has shown a true commitment towards 3D printing and has made themselves a leader in 3D printing education.
Warning; 3D printers should never be left unattended. They can pose a firesafety hazard.