ASUS Gaming Laptop Deals for Black Friday 2019
3D Insider is ad supported and earns money from clicks, commissions from sales, and other ways.
When Black Friday rolls in, most people think about TVs, appliances, and smart devices. It is also a great time to grab gaming stuff like PC components, and most notably, gaming laptops. If you are looking for a new laptop to upgrade your current setup, the Black Friday sale season is the perfect time to buy since you can get deals where you will be able to save up to 35%.
If you think that it is time to expand your gaming horizon, then here are some of the best ASUS gaming laptops that are on sale: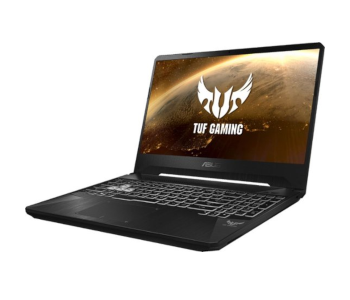 ASUS TUF GAMING FX505GT 15.6-INCH GAMING LAPTOP
Original Price: $849
Black Friday Price: $579
The ASUS TUF may not be the brand that enters your mind when shopping for gaming laptops. However, the ASUS TUF Gaming FX505GT offers the right balance between features and performance. There is a bit of sacrifice in areas such as build quality and portability to keep prices down to make this an attractive machine for those on a tight budget.
Performance on a Budget
As a budget gaming laptop, you will expect the FX505GT to come with an AMD processor since they give about similar performance levels at a lower price point. Surprisingly, the computer is equipped with a 9th Gen Intel Core i5-9300H processor. It is certainly not the top of its class, but it can provide the right amount of grunt for gaming and power efficiency when you are not. This tells you that if ASUS cut some corners to release this laptop at this price point, it is not performance-related.
The laptop also comes with 8GB of memory so you can multitask and still have enough for most of the latest games. You can always upgrade to support future resource-heavy games since it is much easier to add more memory to your laptop.
Additional evidence that shows that ASUS maximized the FX505GT's performance is its decision to equip it with a PCI-e SSD as its storage solution. This is an excellent hard drive for gaming and storing files in general. It has significantly faster read and write speeds, which means quicker loading and transfer times.
As a gaming laptop, you want the best graphics card that fits your budget. The FX505GT comes with an NVIDIA GeForce GTX 1650, which gives the laptop excellent graphics performance when gaming. This allows you to play games at higher framerates at better rendering quality. Couple this with the Full HD 1080p 120Hz display, gaming is undoubtedly going to be a more immersive experience.
Gaming laptops are not really known for their battery performance. They will be able to provide you with about 2 to 3 hours of non-gaming use, and significantly shorter if you fire it up to play unplugged. The same is true for the FX505GT, it is decent at best, but it is as expected compared to other similar laptops with the same specs.
Design and Build
This is definitely not the laptop to get if you want portability. It is on the heavy side weighing 4.9 pounds, you will have a hard time carrying this around for long periods. You can tell that ASUS cut costs in this area, but you would instead choose a laptop where you can play your favorite games rather than the ability for you to carry it around. You can definitely take this for one-off trips to LAN parties, but it is not going to be your daily driver to the office, especially if you are commuting.
The ASUS TUF FX505GT is an excellent gaming laptop if you are on a budget. It is undoubtedly an affordable machine, but it is equipped with a lot more power for its price. This Black Friday, you can save up to 30% more, giving you more value for its price.
ASUS ROG STRIX SCAR III G731GU 17.3-INCH GAMING LAPTOP
Original Price: $1,399
Black Friday Price: $899
Now we move on to ASUS' premium gaming laptop brand, their Republic of Gamers, or ROG line. This gaming sub-brand is known for its high-performance machines with impressive RGB lighting, and the ASUS ROG STRIX SCAR III G731GU comes with all that.
Design and Build
Gaming laptops have continuously been slimming down every year, and the SCAR III G731GU is a considerably thin machine. It weighs only 6.3 pounds, which is not as hefty as you would think for a device with specs that are present on this laptop. It is still not something you will want to carry around for long periods, but for short bursts, the weight is bearable.
The most notable design feature of the laptop is its RGB light bar that is wrapped around the entire base of the device, lighting up the area where you set it. It also comes with per-key RGB keyboard lighting, which is the gaming trend these days.
Premium Performance
The SCAR III G731GU is equipped with Intel's 9th Gen Core i7-9750H processor, which gives you a lot of power for its 120Hz display and your favorite games. The processor is supported with 16GB of RAM so you can multitask and run resource-heavy games.
To improve the laptop's performance, it comes with an NVIDIA GeForce GTX 1660 Ti graphics card that helps it render your favorite games so you can have a fully immersive experience every time you play. This is definitely a step-up from other similar machines and is enough so you can enjoy the latest games.
To fully enjoy your games and installed apps, the SCAR III G731GU is fitted with a 512GB PCI-e SSD for faster read and write performance, which translates to quicker loading times. Using a solid-state drive allows you to boot up Windows in seconds rather than waiting for a long time before your laptop is usable.
As with most gaming laptops, battery capacity is not the SCAR III G731GU's strong suit. Powering resource-hungry components, you are lucky if the laptop lasts three hours when you are not playing. Expect it to be significantly shorter when you are playing games unplugged.
The ASUS SCAR III G731GU comes with a quirky design with a lot more RGB than you would want. But if you are into that type of looks, then this is the gaming laptop for you. Even if you are not, it is one of the more powerful machines in the market due to the top-of-the-line components fitted.
Black Friday makes this an even sweeter deal since you will be able to save up to 35%. This is unquestionably one of the best times to get hardware such as this since you will be able to get them for far less.