Audio Technica M40x vs M50x: The Midrange Headphone King
3D Insider is ad supported and earns money from clicks, commissions from sales, and other ways.
Looking for the best pair of headphones can be difficult. Especially in a saturated market where big brands have a device in the game. In this comparison, let's look at two of the best in the midrange class from Audio Technica.
These headphones are also the most popular ones, with most users opting to get these compared to the company's other offerings. The main reason is that both come at under $150 with sound quality that can satisfy any audiophile. If there are headphones that are reasonably priced and always are on the top of the charts when it comes to sound quality, these two are it.
Feature-Packed Headphones with a Reasonable Price
The reason that both the Audio Technica M40x and the M50x are extremely popular is that they are packed with a ton of features. Some of those can be found on more expensive premium headsets. Audio Technica also got the build quality of both of these headphones right, and easily match that of devices hundreds of dollars more expensive.
Audio Technica M40x vs M50x
If you are looking for high quality headsets that far exceed their value, these two are your best bet. Let's look at how these two compare against each other to help you decide which is the best one to get for your audio needs.
Design and Build
Comparing these two headphones can be quite tricky. For one, they are in the same series, with the M50x a direct successor to the M40x. Their general design and build are very much similar, but there is some minute difference that can make or break a particular model for you.
Audio Technica is a company that is known for its sound devices, and both the M50x and M40x are some of the best in their class for their price. They are also known to listen to their customer base and tweak their designs based on constructed feedback.
Similarities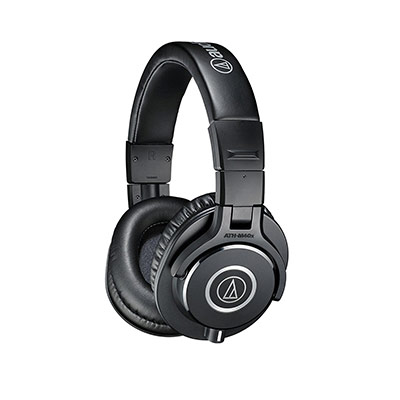 When it comes to the design, there is not a lot of changes from the M40x to the M50x, and this is proof of the top-notch build for both of these devices. If you have been a follower of this headphone series, you can readily attest to their quality.
They may look similar, but under the hood, there have been a lot of changes between the M40x and the M50x. Both of these are made of heavy duty, durable plastic coupled with an aluminum headband for a secure fit.
As for the earpieces, they do come with a plush padding that is comfortable so you can use it for hours on end without feeling it clamping your head. The ear cups are also large enough that they offer an excellent fit, keeping them fresh so you do not sweat while wearing it.
The headband also comes with padding that is thick and comfortable resting on your head without adding a lot of weight and tension.
Differences
Even if they look the same, there are differences between the M40x and the M50x. For one, the older M40x have ear cups that swivel up to 90 degrees. The M50x, on the other hand, pivots a full 180 degrees giving it more flexibility and can provide you a more comfortable fit.
There is also a bit of a difference in build quality between the two. The M40x has a precise snap around the ear cups, while the M50x uses a different way to lock them into place. This makes the M50x a bit more durable. They are also a bit heavier compared to their older sibling, adding a bit of heft that improves its robustness.
It is really not much of a difference between these two fabulous headphones, but when you are wearing these two for long periods, you will surely enjoy the slightly better build quality of the newer M50x model.
Is there really a clear winner between the two? The similarities in design and build quality are readily apparent, and the differences are not that pronounced to give one clear advantage over the other. They are incredibly comfortable to wear, and last longer that you will not have to replace them after a year or two.
| | Audio Technica M50x | Audio Technica M40x |
| --- | --- | --- |
| Type | Over-ear headphones | Over-ear headphones |
| Weight | 285 g | 240 g |
| Driver Size | 45 mm Neodynium | 40 mm Neodynium |
| Frequency Response | 15,000 to 28,000 Hz | 15,000 to 24,000 Hz |
| Sensitivity | 99 dB | 98 dB |
| Impedance | 38 Ohms | 35 Ohms |
| Wireless | NO | NO |
| Noise Canceling | NO | NO |
| Microphone | NO | NO |
| Call/Music Controls | NO | NO |
| Volume Controls | NO | NO |
| Case Type | Pouch | Pouch |
Our Pick: It's a Tie. Similar design and build quality, not to mention top-notch comfort.
Sound Quality
Even though the two models look and feel the same, this is the category where they start to diverge. The sound quality is entirely different between the two, and it is understandable since the M50x is the successor of the M40x, and you should expect it to be better.
M40x Sound Profile
Let's talk about the M40x first, as on its own, it performs really well. The audio that the M40x produces is a bit more on the relaxed side, you can even consider it neutral. It is right smack in the middle allowing you to listen to different types of music genres and makes it an excellent device to listen to podcasts.
The audio output from the M40x feels like it is not sculpted, making it the perfect headphone to use when you are doing a lot of sound editing. It is designed in a way that you listen to how it was initially recorded.
The bass, high, and mid tones all get the attention that they need, and no one overpowers the others. This is great because a lot of headphone manufacturers boost their bass, which can sometimes ruin the overall audio. The M40x is not that type of device and offers a balanced sound that is perfect for just about any kind of genre you are going to listen to.
M50x Sound Profile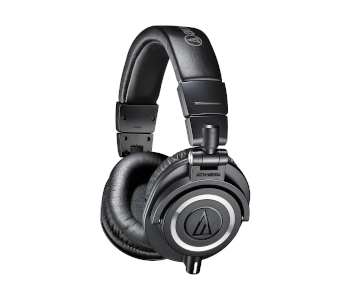 The M50x, on the other hand, is an entirely different audio beast. It is not as neutral as the M40x but also does not add a lot of bass as other headphones. You can definitely feel the lower tones, but they do not overpower your entire experience. This is mainly due to the larger drivers found on the M50x.
Apart from the slightly added bass, the mid and high tones continue to be balanced as with the overall sound.
The M40x and the M50x may look the same, but under the hood, they sound slightly different. They are both excellent headphones but you can definitely choose a favorite between the two.
If you are someone who listens to soft music and mostly podcasts, the M40x is your headphone of choice. It mainly provides you a more vanilla audio experience, which is perfect for listening to voice recordings and doing a bit of sound editing.
However, if you are looking for more of an everyday listening pair of headphones, the M50x is your best bet. The added bass is definitely a welcome addition to bring a bit more life to the music you are listening to.
There is no clear winner between the two when it comes to sound quality since they are both exceptional devices. Each has its own set of listeners to please, but overall you could not find a knock on both of these fantastic headphones.
Our Pick: It's a Tie. Slight sound profile differences, but both are amazing headphones that produce high-quality audio.
Connectivity
Both the Audio Technica M40x and the M50x are not wireless headphones. That means they rely on a wired connection to work. Both these devices come with detachable cables making it easier for you to store it since you do not have to worry about tangling.
They come with extremely long cables, which can be a good thing, but for the most part, when you are using it in front of your computer, they can get a bit cumbersome to manage. Both the M40x and the M50x can connect to any device that has a 3.5 mm jack. So, definitely your PC, older smartphones, and game consoles.
The only problem with the cables of these headphones is that they use Audio Technica's own. You could not replace it with a generic cable, but only those from the manufacturers. Ruining cables is admittedly hard, but when emergencies arise where you need a couple of new ones, you will not be able to use your headphones readily.
| | Audio Technica M50x | Audio Technica M40x |
| --- | --- | --- |
| Bluetooth | NONE | NONE |
| Wired Connection | Analog | Analog |
| Detachable | YES | YES |
| Connection | 3.5 mm TRS | 3.5 mm TRS |
| Length | 10 ft | 10.1 ft |
| Analog Audio Latency | 0 ms | 0 ms |
Our Pick: It's a Tie.
Comfort
Comfort is essential, especially with over-ear headphones like the Audio Technica M40x and M50x. It is a requirement that you can wear it for hours without even realizing that you have one over your head.
For both these devices, the ear cups are large and fit well on most ears. It allows for a gap between the insides of the headphone so your ears do not actually touch anything, even fabric. This adds to the overall comfort compared to one that is filled with padding.
If you are wearing a brand-new pair of either the M40x or M50x, there is a noticeable tightness around your head. It will feel like it is clamping down but should subside when all the materials have relaxed and stretched out after a few times of use. After a few uses, it should feel natural and you will not even notice you are wearing headphones at all.
The design of both the M40x and M50x is similar, and, understandably, their comfort levels are the same. The build uses similar materials so there really is not much of a difference in terms of user comfort.
Our Pick: It's a Tie. Both are extremely comfortable to use for long periods
Durability
Both the Audio Technica M40x and the M50x are headphones that are built well. They are durable, and the quality materials used are enough to last you a good number of years.
These are midrange audiophile-level headphones, and there is a good chance that you are going to be wearing this for hours at a time. Whether it is for listening to your favorite tunes, podcasts, or sound editing, you need it to be durable enough so it does not break a few months after getting it.
Audio Technica has made sure that they make both of these devices as comfortable to use as possible without compromising on durability. The hard plastic and aluminum materials that they use ensure that both these headphones can take a beating without breaking.
Both the M40x and M50x are excellent headphones, and will definitely last you a long time. They made sure that they are worth their price while maintaining the quality of the audio and build.
Our Pick: It's a Tie. Both are well-built and durable to last you a long time
The Best Audio Technica Midrange Headphone
Looking at the different categories of comparison, there is definitely no clear winner between the two. They have a similar design and build, which is understandable since both the M40x and the M50x are from the same series. These two headphones also perform similarly in terms of audio quality.
There is really not much difference between these two amazing headsets. The only category where there is a significant gap is the price. The great news is that both of these devices are reasonably priced. They are not the most affordable ones in the market, but they are also not the most expensive ones.
The M50x is at a price point that when compared with other headphones in its class, it should easily dominate them. However, we are comparing it to its much older sibling, the M40x, which is significantly more affordable than the latest iteration.
Is the price difference worth it? Well, the truth is that the M40x offers everything that the M50x has. There is really nothing in between these two, other than the added bass of the M50x. Overall, the M50x does have an audio quality advantage, but it only edges the M40x ever so slightly that unless you are a true audiophile, you might not even notice the difference.
It is not like the M40x is a horrible headphone, which is absolutely not. It undoubtedly offers an excellent set of features for its price, and that is why we have to name it the best Audio Technica midrange headphone, even though it is an older model.
Best Bang for Your Buck
It is challenging to choose between two amazing headphones. Both the Audio Technica M40x and the M50x delivers everything they promised. The biggest difference between them is their price with the newer M50x significantly more expensive than the M40x. You can definitely wait for deals to get it at a much lower price point. The problem with bargain hunting is that there is a good chance that the M40x is also up for an even better deal.
Undoubtedly, the M50x is newer and comes with a different sound profile than its older sibling. It adds a bit more oomph compared to the M40x due to its improved bass response. Apart from that, these two devices are almost identical. Unless you are after the added bass, then the M40x, because of its lower price, is the better deal. It certainly offers a lot more value compared to the M50x.
The best part about choosing between two exceptional pieces of hardware is that you can never go wrong. Both offer the highest quality build, coupled with the best audio in its class.
The Audio Technica M40x is definitely the headphone that is going to give you the best bang for your buck. As long as you are okay with the fact that it is an older model and comes with a more neutral audio profile, you can surely save at least $50.
The Perfect Headphone for You
Audio Technica is a brand known for its prowess in sound hardware. They make top notch audio solutions, and the M40x and the M50x are some of their best ones. The perfect headphone at this price range for you may not necessarily be the cheaper option, and there is a reason for it.
The M50x has a slightly different audio profile than the M40x. It packs added bass bringing a different dimension to your listening experience. If you are looking for a new pair of headphones that you can use to listen to your favorite music, then the Audio Technica M50x is an excellent pickup. It is also a great pair to use when listening to podcasts or even editing audio for your own professional use.
However, if you are coming from an older model from the series such as the M40x, then you might probably not want to spend an extra $149 to upgrade to the latest one unless you are getting a massive discount.
If your focus is on your limited budget, but still want a headphone that can provide you with quality audio for your needs, then the Audio Technica M40x is undoubtedly enough. This is especially true if you are upgrading from something that is not Audio Technica hardware. You will be able to hear the difference even with the older and more affordable M40x.
Final Thoughts
These two are similar in a lot of ways. You also can never go wrong when choosing Audio Technical headphones for your needs. Both the M40x and the M50x offer the best sound quality, features, comfort, and durability for a device at this price range.
Choosing a midrange device is often tricky as the cost is not high enough to warrant premium features and components. It can also not be at the lower end of the spectrum and sacrifice a lot of performance. The middle ground is tough, especially for audio products like headphones.
Audio Technica hit the nail on the head with the M40x and the M50x. They are in that sweet spot that it is not too expensive, but you also get to enjoy the best in build and sound quality. Choosing any of these will definitely satisfy your needs whether it is listening to your favorite music or podcasts. You can even use them professionally, for sound editing tasks as they are reliable and offer crisp and clear playback.