Autel Releases the Evo 2: Will It Put Them Ahead of DJI?
3D Insider is ad supported and earns money from clicks, commissions from sales, and other ways.
We aren't even halfway through January 2020, but Autel has already struck first blood when they released the Evo 2 at this year's Consumer Electronics Show (CES). The second iteration of Autel's Evo series, the Evo 2 is proof that the battle for supremacy over the foldable drone market is still alive and thriving.
What upgrades have Autel made for the 2nd version of their Evo line? Will the Evo 2 give the DJI Mavic drones a run for their money? Will this finally be the year when other drone brands enjoy the level of mainstream success of DJI? Let's look at what the Evo 2 has to offer to answer these questions:
The original Autel Evo: too little, too late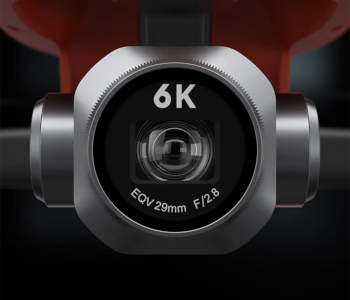 The first Autel Evo was announced in late 2017, back then being hyped up as a "Mavic Pro killer." In some ways, there was truth in those words. The Autel Evo had a 4K camera capable of shooting videos at higher framerates, a slightly longer flight time, a remote controller with an integrated screen, and a fairly reliable obstacle avoidance system. Compared to the Mavic Pro, the Autel Evo did seem like a small step ahead in terms of hardware and performance.
Unfortunately for Autel, the Mavic Pro had already been in the market for more than a year by the time they released the first Evo. Just a few months after the Evo was released, DJI came out with the much less expensive Mavic Air and the more powerful Mavic 2 drones, leaving the Evo with very little room for relevance.
The Autel Evo 2: more powerful and more capable
The first Evo was not as successful as it could have been because Autel fell behind the pace of DJI in terms of product development and launches. This is a mistake they seem to be determined not to repeat with the Evo 2.
Autel is following the product launch strategy done by DJI when they released the two Mavic 2 variants simultaneously. The Autel Evo 2 isn't just a single drone – there are three distinct types that will be made available all at the same time.
The Evo 2 will have a camera that can record 8K video and capture 48 MP stills
The Evo 2 Pro will have 1-inch camera sensor for 6K video recording and an adjustable aperture that can go from f/2.8 to f/11
The Evo 2 Dual comes with dual sensors – an 8K camera (presumably the same one found in the Evo 2) and an FLIR Boson sensor for thermal imaging (640 x 512 resolution at 30 Hz refresh rate)
All Evo 2 optical sensors are capable of HDR imaging, have an AEB mode, and use a log color profile to make those photos and videos a boost of color and vibrancy. Only the camera differs between the three models – they are all mounted on the same frame.
Other features
Autel has loaded the Evo 2 with all of the industry-leading features that put them at par or ahead of their nearest competitors. Like many of the recently released foldable drones, the Evo 2 has an omnidirectional obstacle avoidance system delivered by an array of 12 computer vision sensors, two sonar sensors, and two LED landing lights. It remains to be seen how well the system works, but on the surface, it's looking like it's going to be the best obstacle avoidance system we've seen on a foldable drone so far.
The Evo 2 has a top speed of 45 mph and a maximum range of 9 kilometers. You'll be able to enjoy all that power for a long time since the Evo 2 comes with a battery that lets you fly up to 40 minutes in a single cycle. Although we're apprehensive about accepting this flight time at face value, it still leaves all other foldable drones in the dust. The long flight time will certainly come in handy especially for commercial drone pilots.
The Evo 2 isn't just powerful – it's also smart. A dual-core object detection module aids the onboard AI technology to recognize up to 64 objects in the drone's surroundings, including people, animals, and objects. This technology forms the backbone for the drone's active tracking mode, allowing it to follow a subject at high speed and through obstacles. The patented Dynamic Track 2.0 feature creates a smart flight path for the drone, which you can see in real-time.
The Evo 2 comes with a built-in 8 GB storage capacity, and it accepts SD cards up to 256 GB. Again, this is going to be great for anyone who does professional work with drones.
Autel is also quite open about what the Evo 2 doesn't have – a geofencing feature. This might be a desirable feature for those who are concerned about being limited to where they can fly. In light of recent developments regarding the FAA's Remote ID proposal, we're not sure if this is such a good selling point for Autel.
The drone's bright orange exterior is a huge departure from the mostly gray and chrome-colored foldable drones that have become incredibly common in the last few years. Perhaps this is a conscious effort in the part of Autel to diverge from the image of being a "Mavic clone" and become its own thing.
How does the Autel Evo 2 compare to other ultra-portable drones?
To predict how well the Autel Evo 2 will be received by the drone community, the best way would be to compare its specs with two of the most popular foldable drones today: the DJI Mavic 2 Pro and the DJI Mavic Air.
| Parameter | Autel Evo 2 | DJI Mavic 2 Pro | DJI Mavic Air |
| --- | --- | --- | --- |
| Camera | 8K videos and 48 MP stills (Evo 2), 6K videos with 1-inch sensor (Evo 2 Pro) | 4K videos and 20 MP stills with 1-inch CMOS sensor | 4K videos and 12 MP photos with 1/2.3-inch sensor |
| Flight time | 40 minutes | 31 minutes | 21 minutes |
| Obstacle avoidance | Omnidirectional | Omnidirectional | Forward, backward, and downward only |
| Range | 5.6 miles | 5 miles | 2.4 miles |
| Speed | 45 mph | 44.7 mph | 42.5 mph |
| Subject tracking | Dynamic Track 2.0 | Active Track 2.0 | Active Track |
| Built-in storage | 8 GB | 8 GB | 8 GB |
The comparison table isn't as detailed as we would like it to be, but some of the specs for the Autel Evo 2 haven't been released yet. We'd like to see more of the drone's smart camera modes, the camera's field of view, or if it has slow-motion capabilities. How well the gimbal produces jitter-free videos is something that can only be assessed in the field.
Lastly, we would like to know how much each of the Evo 2 variants will sell for. The foldable drone market is slowly crawling up to the sphere of professional-grade drones, and it seems apparent that the standard price for these drones will continue increasing. In any case, we can say for sure that the Autel Evo 2 will not be appealing to the budget drone market.
What will be the closest competitor of the Autel Evo 2?
Looking at the numbers that we have, we can come to a reasonable conclusion that the Autel Evo 2 will be at par or be better than the most advanced ultra-portable drones that are in the market today.
However, rumors have been swirling around for months that the Mavic 3 is on its way. There's no way to confirm these rumors right now, but many are assuming that the Mavic 3 will feature an improved camera with better video quality and an ADS-B feature. We will be able to know for sure soon, and we think that we won't have to wait for long.
Does the Autel Evo 2 have what it takes to be a "Mavic killer"?
It's hard to conclude right now, but the specs of the Autel 2 are looking really good so far. With incredible optical sensors and a provision for thermal imaging, Autel seems hell-bent on grabbing a good portion of the commercial drone market from DJI.
Autel has also caught up on many of the features that we have come to expect from high-end prosumer drones, such as an omnidirectional obstacle avoidance system and a subject tracking feature. The extended flight time could be a huge selling point for the Evo 2. We'd like to take a closer look at how Autel was able to achieve such a feat and maintain an ultra-portable build.
What Autel did right this time around is that they released their drone at the perfect time. Since no foldable drone exists that has the same specs as the Evo 2, it quickly made a lot of people take notice. Time will tell if the DJI Mavic 3 will trump what the Evo 2 has to offer, but this move has already put the Autel Evo 2 in a much better position than the original Autel Evo ever was.
Whatever happens, we'll surely see a head-to-head competition between these next-generation ultra-portable drones. The Evo 2 isn't going down so easily this time around.