5 Best Laptops for AutoCAD
3D Insider is ad supported and earns money from clicks, commissions from sales, and other ways.
If there's one thing that most people know about AutoCAD, it's that it is a pretty resource-intensive piece of software. This standard for industrial design often requires working with several dozen objects in 3D space. This is best done on a powerful computer rig.
This did not use to be a huge problem, given how powerful desktop computers aren't really expensive. However, times have changed. The mobility and convenience of a laptop have now made it the hardware of choice for engineers and industrial designers. If you work with AutoCAD regularly, which laptop should you buy? What should you look for in a good AutoCAD laptop?
Buying guide for laptops for AutoCAD use
If you've used AutoCAD before, then you probably know how much of a hog it is to your computer's resources. This can be quite troubling if you need to work on a laptop, considering how components like processors can't exactly be upgraded so easily. To make sure that your new laptop isn't underpowered for AutoCAD, here are some specifications to look out for.
CPU
The process of 3D modeling is one that requires executing several thousand calculations almost simultaneously. To handle all these processes, you will want to have an appropriately powerful central processor.
As a general rule, you will want to go with a multi-core processor as these are better equipped to handle multiple simultaneous processes. This is particularly important if you do 3D rendering work with software like VRay or Blender. An 8th gen i7 processor is always a good bet, although it's still a bit expensive nowadays. You can go a notch lower – an 8th gen i5 processor or a 7th gen i7 processor- and still get generally good performance.
GPU
A powerful graphical processor will also come in handy for rendering your files faster and for better overall graphics quality. You don't exactly need the kind of GPU found in gaming laptops, although those are reliably good options as well. For intensive 3D modeling, we suggest a GPU with a minimum of 512 MB of VRAM. Going down to 256 MB is still acceptable but will come with a significant dip in performance.
RAM
The physical memory of your laptop plays a huge role in determining how well it can handle the processing of several concurrent datasets and programs. A minimum of 16 GB RAM is recommended for 3D modeling. It would also be ideal to buy a laptop with free memory slots, just in case you need to make an upgrade.
Monitor quality
If you're constantly on the move, then it's safe to assume that you will have to rely on the monitor of the laptop as your main display. The resolution of the monitor is not all that important – either 1080p or 1440p will do just fine. We don't recommend going for a 4K monitor as these aren't supported by most CAD software platforms. In any case, a high-resolution monitor will inevitably draw more power and make your laptop's battery life shorter.
The more important aspect to consider is the size of the monitor. You will want to have a monitor large enough to see fine details without having to waste so much time zooming in and out of your drawing. Laptop screens generally range from 11.6 to 17 inches. A bigger screen is always better, but you'll have to balance that with how much bulk you're willing to travel with regularly. A 15.6-inch display is a fairly good compromise.
Storage
When it comes to storage, you will almost certainly want to go with a solid-state drive (SSD). Compared to an old-fashioned HDD, an SDD allows you to open and access files much faster. The lack of dependence on optical media also makes SDDs much more durable. If you're doing 3D designs professionally, this extra layer of security is priceless.
As you would expect, the downside of an SSD is that it's just more expensive than an HDD. A lower-priced option would be to get a laptop that combines a low-capacity SSD for system files with a high-capacity HDD as main storage. The boost in boot-up times is still well worth the extra cost.
Since you'll be getting a laptop, the unmentioned qualifier is that you should get a model you're comfortable carrying around regularly. Don't forget to buy a couple of essential accessories while you're at it like a good wireless mouse or a drawing tablet, if that's your thing.
Top 5 best laptops for AutoCAD
Considering the hardware requirements for AutoCAD, it's really not surprising that all the top picks we chose for this list turned out to be gaming laptops. This was not a deliberate decision, but the selection process naturally led us to this direction.
In 2020, the "gaming laptop" branding has seemingly transcended the compatibility with modern video games but now encompasses just about all laptops with high-end hardware. In fact, you would be hard-pressed to find a laptop with A top-of-the-line CPU, GPU, and RAM that isn't referred to as a gaming laptop. Don't let the branding fool you – these are some of the most powerful laptops available right now.
1. Best value: Acer Nitro 5 Gaming Laptop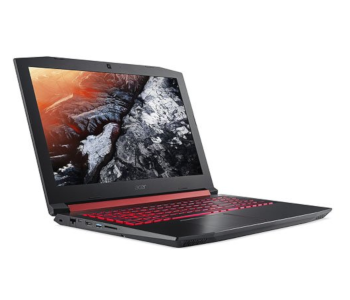 View on Amazon
While $700 isn't exactly cheap, it's a relatively low price tag for a laptop that can handle CAD projects smoothly. This is the value proposition of the Acer Nitro 5, a budget-friendly laptop that is powerful enough for those who are into basic 3D modeling.
First off, it's tough not to notice a few glaring numbers like the i5 9300H processor and the 256 GB SSD. In both categories, this laptop is already a notch below the recommended specs for an AutoCAD laptop. Fortunately, the GTX 1650 is probably a more powerful GPU than you will ever need for AutoCAD.
Even the 1080p display and the 8GB RAM seem underwhelming. That said, what makes the Acer Nitro 5 worthy of being on this list?
Simply put, the Acer Nitro 5 is an excellent choice for those who are just getting into CAD and 3D modeling. It's more than good enough for 2D modeling and isn't likely to feel sluggish for anyone working on basic 3D models. It's not the best one there is but looking for a laptop with a dedicated GPU at less than $1000 is enough of a challenge on its own.
Specs
Processor: Intel Core i5 9300H
GPU: GeForce GTX 1650
Display: 15-inch 1080p
RAM: 8GB (upgradable)
Storage: 256 GB PCIe SSD
Weight: 5.07 lb.
PROS
Relatively affordable
Bright, colorful screen
Good GPU for the price
Has provision for a RAM upgrade
CONS
Bulky
Under-powered processor
Low storage capacity
2. Best overall: ASUS ROG GU502GW-AH76 Zephyrus M Gaming Laptop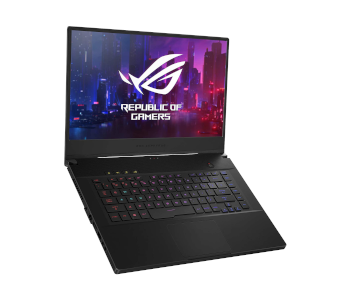 View on Amazon
An impressive feat of this ASUS ROG 15.6-inch gaming laptop is that it manages to have some of the best hardware we have ever seen on a laptop while being incredibly lightweight and compact.
Enumerating the hardware specs of the Zephyrus M laptop feels like making a wish list of what we're looking for in an AutoCAD laptop. From the i7 Hexa-core processor to the RTX 2070 GPU and 1TB SSD, this laptop can handle just about any AutoCAD project and then some. The resolution of the display may not be impressive, but it truly shines for gaming on account of its 240 Hz refresh rate.
For the hardware it's packing, the Zephyrus M is an incredibly compact laptop. The extra-high screen-to-body ratio likely plays a huge role in attaining this unique form factor.
The drawback is that this laptop is very expensive – more than twice the cost of the Acer Nitro 5. This is a huge investment that we only recommend for those who intend to use it professionally for advanced AutoCAD projects. If you commonly work on complex 3D models with hundreds of parts, then this high-end laptop may be an investment worth considering.
Specs
Processor: Intel Core i7 9750H
GPU: GeForce RTX 2070
Display: 15.6-inch 1080p
RAM: 16 GB RAM
Storage: 1 TB PCIe SSD
Weight: 1 lb.
PROS
Very powerful hardware
Large storage
Compact and lightweight
3. Best budget: ASUS F512DA-EB51 VivoBook 15.6-Inch Laptop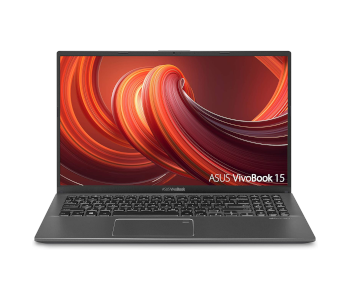 View on Amazon
As far as hardware goes, you can certainly do a lot better than the ASUS VivoBook. While it won't blow anyone away, it also only costs a little more than $500 – perfect for anyone who's on a tight budget.
The quad-core AMD Ryzen processor does a well enough job in handling multiple tasks, even when doing AutoCAD jobs. The 8 GB RAM can make the laptop feel sluggish, especially since it allocated 2 GB permanently to the GPU. The 256 GB SSD is a bright spot in this laptop, as it makes opening files and system boots up satisfyingly fast. The 15-inch IPS screen also looks great, although it suffers from some minor backlight bleed.
The battery is a department where this laptop suffers. It lasts about 2 hours under normal use, and we imagine that shortening by a huge margin if you use it for intensive 3D modeling work. Fortunately, the power brick that comes with the ASUS VivoBook isn't exceptionally heavy.
All in all, this is the kind of purchase where you would like to keep your expectations low. It's not incredibly powerful but should be good enough for basic AutoCAD work. You'll just have to be quite conscious of its limitations.
Specs
Processor: AMD R5-3500U
GPU: AMD Radeon Vega 8
Display: 15-inch 1080p
RAM: 8GB (Upgradable)
Storage: 256 PCIe SSD
Weight: 3.53 lb.
PROS
Inexpensive
Relatively light
CONS
Underpowered hardware
Small storage space
4. MSI GS65 Stealth-006 15.6-Inch Gaming Laptop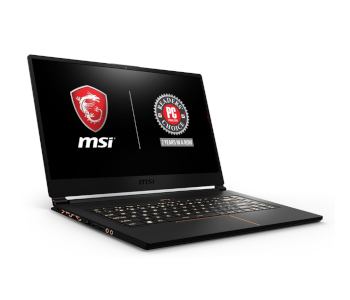 View on Amazon
If you're going all-in on an AutoCAD laptop, then you can't do much better than the MSI GS65. On the strength of its powerful Hexa-core processor, the MSI GS65 has enough juice under the hood even for the most intricate AutoCAD 3D modeling tasks.
The sizable 16 GB RAM and 512 GB SSD make this laptop's performance surprisingly fast, even when working on several simultaneous tasks and handling large datasets. The 15.6-inch display with anti-glare technology is also great for when you need to work outside under harsh lighting. The 144 Hz refresh rate is an excellent bonus, in case you want to take a break and play some video games.
At 4.19 lbs., the MS1 GS65 isn't exactly as light as its "Stealth" branding makes it seem. This is probably something that most people can live with, especially given how this laptop's battery can run up to 8 hours on a single charge. This comes in handy if you're on the go but need to work on your drawings and 3D renders.
The MSIGS65 costs close to $2000, making it the kind of laptop that only pro-level users would seriously consider. It's a huge investment that is well worth it if you regularly work on complex AutoCAD projects.
Specs
Processor: Intel Core i7 8750H
GPU: GeForce RTX 2060
Display: 15.6-inch 1080p
RAM: 16 GB
Storage: 512 GB NVMe SSD
Weight: 4.19 lb.
PROS
Powerful processor
Long battery life
CONS
Very expensive
Quite heavy
5. ASUS TUF FX505DT Gaming Laptop
View on Amazon
Rounding up this list is another fairly affordable laptop in the $700 price range. Just like the Acer Nitro 5, it's a laptop powerful enough to handle basic AutoCAD projects but does not deliver anything exceptionally impressive in any single department.
When it comes to the processor, the AMD Ryzen 3550H is just a tad slower than its Intel Core i5 9300H counterpart. It has the same 8 GB RAM, a dedicated GPU, and a 256 GB SSD which might be smaller than you would be comfortable with. It's theoretically a little slower than the Acer Nitro 5 but the difference would likely be so small that it's barely noticeable.
In terms of build quality, the ASUS TUF is solid but not particularly premium on account of a somewhat flimsy hinge holding the screen open. At 4.85 lbs., it's not very heavy but isn't exceptionally portable, either. The backlit keys are great, as expected of a "gaming" laptop.
Compared to the other entries in this list, this gaming laptop from ASUS seems more appropriate for actual gaming than AutoCAD work. However, it certainly has all the hardware for basic 3D modeling that is more than powerful enough for 2D drawing.
Specs
Processor: AMD Ryzen R5-3550H
GPU: GeForce GTX 1650
Display: 15-inch 1080p
RAM: 8GB
Storage: 256 GB NVMe SSD
Weight: 4.85 lb.
PROS
Relatively affordable
Middle-of-the-ground specs
CONS
Quite heavy
Small storage space
Final thoughts
Powerful computer hardware and portability are a combination that is tough to nail, but that's what today's fast-paced professional environment calls for. There are certain compromises to be made, of course. An exceptionally light laptop would probably have a small battery capacity, while very powerful but lightweight hardware is likely to be very expensive.
In the field of industrial design, being able to show your work to clients or continue working on your projects while traveling is a huge advantage. If you are a CAD professional who would like to get off the shackles of working on a desktop computer, then we hope that this list was helpful to you.