5 Best Mouses for Working in AutoCAD
3D Insider is ad supported and earns money from clicks, commissions from sales, and other ways.
AutoCAD is still the gold standard when it comes to 3D design, providing a common platform that almost all industries recognize. It's not unusual to hear of professionals in architecture, engineering, and product design spending several hours per day designing on AutoCAD. With that much time spent using the software, it's important to have tools that are specially designed for the software's workflow.
In this article, we take a look at the best mouse for AutoCAD users. If you've been using AutoCAD with a standard mouse, then you might not know what you're missing out on.
What to look for in a mouse for AutoCAD
For the most part, a good mouse for AutoCAD must still have the same features as a good standard mouse. However, AutoCAD users may have more specialized needs. Both these areas need to be addressed to maintain comfort and productivity when working with AutoCAD.
Ergonomics
If you're going to spend six hours or more working in AutoCAD with your hand on your mouse, then you need to make sure that your mouse is comfortable. Ergonomics isn't all about comfort, though. It considers subtle elements such as its weight, the type of grip, orientation, and button layout. The idea is for the user to suffer minimal strain, even when using the mouse for long periods.
Wired or wireless?
Both wired or wireless options for a mouse has benefits and drawbacks. A wired mouse is a classic – reliable, does not run out of batteries, but the wire can clutter up your desk workspace. A wireless mouse looks much cleaner but may have responsivity issues and you'll need to recharge or replace its batteries once or twice a year. For the most part, this is a question of personal preference.
Sensitivity
The sensitivity of a mouse, measure din dots per inch (DPI), and its response time, measured in reads per second (Hz), have to be discussed in tandem. These two parameters measure how well the motion of the mouse translates to on-screen movement. The rule of thumb to follow is – the higher, the better. If you find that your mouse is too sensitive, then most mouse will offer adjustable settings that you can personalize
Mappable keys
By far, this could be the most useful feature for an AutoCAD user. Customizable keys allow a user to assign functions to each button so they can optimize it to their workflows. Basic requirements include dedicated pan, zoom, and rotate functions. Anything beyond that would be well-appreciated bonuses.
Top 5 best mouse AutoCAD users
As you shall see below, some mouse designed especially for AutoCAD use have very unusual form factors. This may disorient users who have gotten used to old-fashioned mouse designs. However, these are some of the most highly recommended mouse of AutoCAD professionals.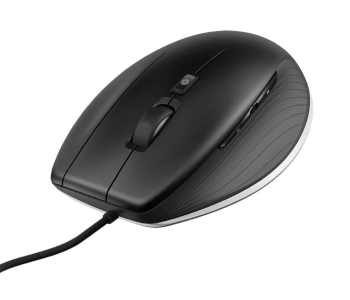 Our top choice is the CADMouse from 3DConnexion, which is a fairly standard-looking mouse that conceals its many specialized functions. We like how this wired mouse retains an old-fashioned form factor yet offers features that would likely appeal to professional AutoCAD users.
To start off, the CADMouse is highly responsive with an 8200 dpi rating and a 1000 Hz sampling frequency. It has a total of seven buttons including a smart mouse wheel, QuickZoom side buttons, and a gesture button that can access several different menus with just a flick of your finger. With PTFE feet and an ergonomically curved body, the CADMouse is a sleek and comfortable mouse for long hours of use.
The biggest issue with the CADMouse is connected to its longevity. Despite being rated for 1000 clicks, users have found themselves needing to replace their units after only about a year. This is disappointing because the CADMouse isn't exactly a cheap mouse. This is bad news if you are an extremely heavy user – otherwise, the CADMouse is still a nice option if you prefer using a mouse with a more traditional form factor.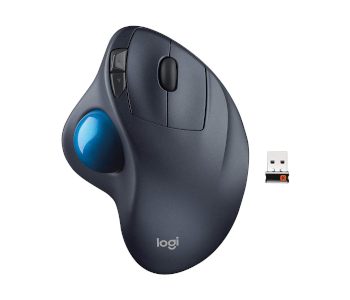 One of the best things about the Logitech M570 is that it's a mouse and trackball in one. Just this combination powers many of this mouse's capabilities which could prove handy for an AutoCAD user.
If you're looking for a versatile AutoCAD mouse that's wireless, this is certainly one of the best choices. The M570 uses the Logitech Unifying receiver which lets you add other compatible Logitech devices like a wireless keyboard and a second mouse. A single AA battery will power the M570 for up to 18 months. A handy battery indicator will help you keep track of the remaining battery life.
On top of the standard left and right buttons, the M570 has a scroll wheel, up and down buttons, and the bright blue trackball. The trackball is a huge game-changer, allowing you to navigate in 3D space even without a single movement of your wrist. Any of the buttons are programmable to fit with your workflow.
The M570 may lack the rich customization and control options of higher-end models but it also costs less than $25. This is a surprisingly capable mouse for such a low price.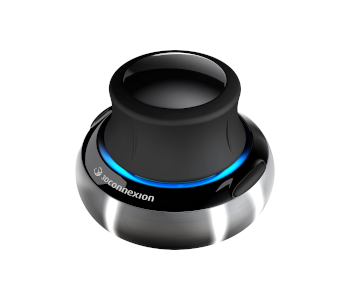 With its unusual form factor, this is the type of mouse that will instantly catch your eye. The shape isn't just a novelty, though – this is a brilliantly designed mouse that was made specifically to navigate through 3D space.
To start off, the SpaceNavigator is both smaller than a traditional mouse. The innovative bottle cap design provides a full six degrees of motion and allows you to simultaneously pan, zoom, and rotate 3D models in a manner that is smooth and intuitive. For the usual mouse functions, the SpaceNavigator comes with two programmable buttons.
The biggest advantage of the SpaceNavigator lies in precision. The control scheme allows for extremely granular navigation, letting you perform intricate adjustments to 3D models and camera views. All of this is aided by a heavy stainless-steel base that provides a stable platform for the mouse.
The unusual shape of the SpaceNavigator almost assures that it's going to take some time for you to get used to it. It gets better after a while, although the grip and wrist support will never be quite at the level of a traditional mouse. The SpaceNavigator is also very expensive – around five times more expensive than a brand-name gaming mouse.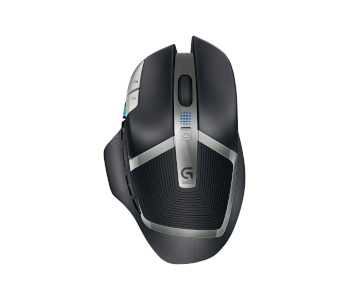 The gaming mouse market may be a surprising place to look for an AutoCAD mouse, but they have something going for them – superior responsiveness. A gaming mouse is built to be as sensitive as possible to user input, translating mouse movements to on-screen action quickly and precisely. Moreover, they are designed to be comfortable for long hours of gaming.
The G602 wireless gaming mouse promises lag-free gaming. For AutoCAD users, this means highly precise inputs and navigation. If the responsiveness somehow feels off to you, the G602 has a dedicated on-the-fly DPI shifting button. The requirements of AutoCAD aren't quite as fast-paced as gaming, but this is still a nice option to have.
The batteries of the G602 can last up to an impressive 250 hours. In fact, longevity is a trademark of a gaming mouse. The G602 is rated for up to 20 million clicks. Simply put, this is a mouse built to withstand heavy punishment.
With 11 customizable buttons, there are infinite ways for you to customize the G602 according to your needs. Gamers are an extremely finicky bunch. The G602 mouse is a way for AutoCAD users to take advantage of the standards that the gaming industry has set.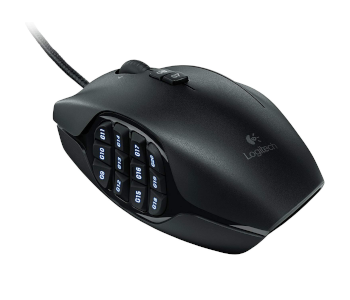 Another gaming mouse from Logitech, the G600 is a wired mouse that satisfies all the same durability and responsiveness standards. The laser tracking sensor has a maximum sensitivity of 8200 dpi, although this can also be shifted with a single button. The primary buttons are rated for 20 million clicks, and even the USB cable features ultra-durable braiding.
What sets the G600 apart is its unparalleled customization options. The G600 has a total of 20 buttons – three primary buttons, a clickable scroll wheel, dpi and profile switching, and an impressive array of 12 thumb buttons. The quick-access thumb buttons may have been designed for fast-paced MMO gaming, but there's no reason that AutoCAD users cannot program these to suit their needs.
The quick-access functions of the G600 is a game-changer, especially for a software platform like AutoCAD where you may find yourself having to memorize dozens of shortcuts. Mapping them to thumb buttons can take a bit of getting used to, but the amount of time you can save makes it all worth it.
This is also a remarkably cheap mouse, although we would have preferred that it be a bit more expensive if it can be designed with more heft. The lack of stability is a minor complaint, though – the customization of the Logitech G600 more than makes up for any of its shortcomings.
Final thoughts
While AutoCAD work is not impossible with a standard mouse, the workflow can be made so much simpler and faster by using a mouse that has been specially designed for this type of work. Whether it's for intuitive navigation in 3D space or a way to map the common shortcuts in AutoCAD, any of the options we've listed here can truly change the way that you work with AutoCAD.
Beyond just the fancy features, don't forget that comfort and ergonomics are just as important qualifications in choosing a mouse. If you're going to spend up to around eight hours a day working on your computer, choosing the right tools is instrumental in avoiding long-term work-related injuries.