6 Best Automatic Pill Dispensers of 2019
3D Insider is ad supported and earns money from clicks, commissions from sales, and other ways.
According to a review produced for the Annals of Internal Medicine, people don't adhere to prescription instructions for around 50% of medication used to treat chronic illnesses. Even more alarming is the fact that patients who do take their medication tend to self-regulate the dosage and use up around half of the pills they're given.
Automatic pill dispensers are a simple yet effective means of ensuring compliance and counteracting forgetfulness. They have loud alarms that are hard to ignore and even let caregivers know if an alert was missed. They let you organize prescription pills, vitamins, and supplements weeks in advance. Some also have apps that help you monitor your loved ones' pill-taking habits and give you access to comprehensive medication histories.
Below you'll find six of the best automatic pill dispensers on the market. They have different capacities, features, and designs, so pick one that falls in line with your preferences and budget. Get an automatic pill dispenser and stop worrying about your and your family's medication schedules.
Budget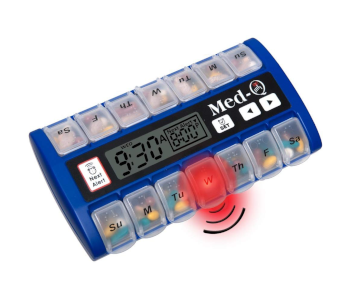 Med-Q Automatic Medication Pill Box Dispenser
3.9/5.0
Holds pills for: 14 days
Can be locked: No
Compartments light up when it's medication time.
Check Amazon
Best Value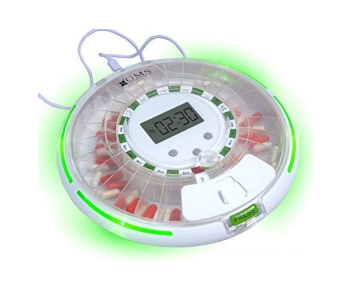 GMS Automatic Pill Dispenser
4.5/5.0
Holds pills for: 28 days
Can be locked: Yes
Companion app is feature-rich and easy to use.
Check Amazon
Top Pick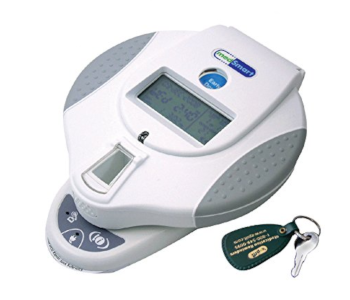 e-Pill MedSMART Plus
4.7/5.0
Holds pills for: 28 days
Can be locked: Yes
This notifies caregivers if doses are missed.
Check Amazon
Automatic Pill Dispensers Comparison Table
1. Best Overall – e-Pill MedSMART Plus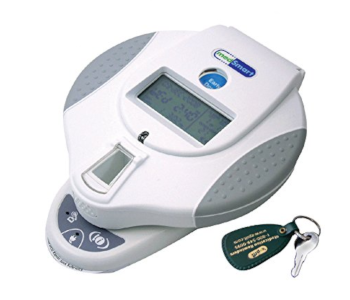 View on Amazon
Editor's Rating: 4.7/5
Alarms are a core feature of automatic pill dispensers, but they don't guarantee that a person will take their medicine. E-pill's MedSMART Plus keeps on sounding the alarm until the dose is dispensed. It also sends notifications via text or email to caregivers if no one takes the pills for an hour. It's robust, secure, and easy to use for anyone.
Overview of Features
MedSMART Plus is a system made up of a base and removable dispenser that holds one of two trays. You plug the bottom into an outlet but also get four AA batteries that serve as a backup in case of power outages. The rings have 28 compartments, each holding the equivalent of 20 aspirin tablets. Depending on the required dosage, this lets you set up a medication schedule anywhere from one week to one month in advance.
The removable dispenser has two rubberized grips, so it's comfortable to hold. Using it involves picking the dispenser up from its base station and tilting it forward, so the medication falls out through a small chute. The delivery method is excellent for people with reduced motor function since there are no switches or buttons to press. The dispenser stays locked when in use, and you get two keys with tags that denote their purpose.
Its diverse programming options are the main reason the MedSMART Plus is our top pick. You can set a maximum of six alarms per day and load up each compartment with different medication. There's a screen that shows how many doses are left, when the last dose was taken, and the day's remaining alarms.
Once it's medication time, the MedSMART Plus will start glowing and beeping. That continues until someone picks it up and collects the pills. If the alarm goes on for longer than an hour, you get notified via text or email and can check on your loved one. The MedSMART Plus is too bulky to be carried around, so it has an early release feature that lets you access a dose ahead of time.
What We Didn't Like
The MedSMART Plus' most significant drawback is its weight. You have to pick it up and tilt it down, which some people can't manage. E-pill has a customer service department, but they're slow to respond to questions and don't always provide solutions to technical problems. However, they will exchange the device for a new one if there's a severe malfunction.
Tech Specs
Dimensions: 9 x 3 x 9 in.
Holds pills for: 28 days
Powered by: AC power, batteries
Can be locked: Yes
Sends alerts to caregivers: Yes
Has app: No
The Pros
Informative screen
Keeps on beeping until used
Notifies caregivers if doses are missed
Easy to fil and organize pills
Has battery backup
The Cons
May be too heavy to lift for some
Unreliable customer support
2. Best Value – GMS Automatic Pill Dispenser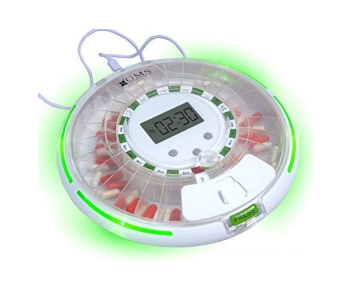 View on Amazon
Editor's Rating: 4.5/5
As a caregiver, being notified each time a loved one has taken a pill is crucial for maintaining an effective treatment regimen, not to mention peace of mind. The Automatic Pill Dispenser by GMS solves this issue by having a companion app. Through it, you can set up alarms, check the history, and micromanage which medication is dispensed.
Overview of Features
The dispenser itself is round in shape. It has a tray with 28 compartments you can take out and fill quickly. The device comes with six rings that have different reminder patterns depending on daily dosages. Administering pills works the same way as it does on the E-pill MedSMART Plus.
A locking mechanism enforces the device's security. You get a key that inserts into the dispenser's bottom and toggles a lock. You may then access the tray by pressing a button and popping the top cover. Otherwise, the compartments are accessible one at a time and only when the alarm sounds.
The maximum daily dose is once every four hours or six times in total. This dispenser isn't as annoying with its alarm, but it does draw attention. It has a circular green light that turns on as well as a woman's voice prompting you to take the pills come administration time. The alarm keeps going for half an hour, after which you get a notification that the dosage was missed.
You control scheduling through the LeBox app. The dispenser connects to your phone via Bluetooth and is easy to pair. A connected device syncs its internal clock with your phone's, and you can then begin setting up a schedule. You may customize each reminder by adding the amount and type of medication. That makes it easier to keep track of what was dispensed and when you'll need to renew the prescription. There's also a handy history tab with a calendar view that shows successful and missed administrations for each day.
What's Bad About It?
This model isn't the right choice if you live far away from the loved one who needs it. The internal clock relies on periodically connecting to your phone to remain synced. Not doing so results in the clock gaining time and can mess up the schedule. The locking mechanism isn't strong enough to keep a determined individual from stealing the pills. Enough force can pry the lid open enough for a section of the tray to become exposed.
Tech Specs
Dimensions: 10 x 3 x 10 in.
Holds pills for: 28 days
Powered by: AC power, batteries
Can be locked: Yes
Sends alerts to caregivers: Yes
Has app: Yes
The Pros
Unobtrusive yet persistent alarm
Can be locked for extra security
Companion app is feature-rich and easy to use
Customizable scheduling and an informative history tab
The Cons
Clock becomes inaccurate if not synced with the app
Can be pried open with enough force and determination
3. MedaCube Automatic Pill Dispenser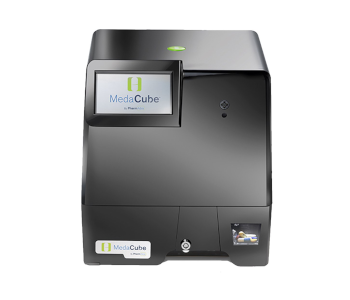 View on Amazon
Editor's Rating: 4.7/5
Do you like the idea of an automatic pill dispenser but dread having to fill all the trays up each time? PharmAdva's MedaCube is the answer! It's a smart dispenser which allocates doses automatically without you having to pre-sort anything. It's effortless to use, has a lot of advanced features, and alerts you if pills weren't taken in multiple ways.
Overview of Features
The MedaCube is by far the largest and heaviest device on review. This is intentional, both because of its large capacity and how it dispenses pills. The MedaCube can hold a whopping 90 days' worth of twelve different medications thanks to four large and eight medium-sized cups.
You take the bottle, pour all the pills into the cup, and you're done! Then you can set the schedule for each medication individually. Best of all, the MedaCube has a QR scanner that stores all medication info and lets you set scheduling up automatically!
At 15 pounds, the MedaCube isn't a breeze to move, even for healthy individuals. This is to give it stability and prevent tampering. Only the caregiver has a key and has access to the MedaCube's innards. Unauthorized access is impossible, and you get a notification if someone tries to tilt or drop the device. Notifications are also sent in case of a power failure. Luckily, there's a built-in backup battery with enough juice for 24 hours.
Alarms on the MedaCube are versatile. On the one hand, you've got ones that go off come medication time. The person needs to press the MedaCube' touchscreen, and a small tray will open to dispense the correct medication. On the other, you can set up additional alerts for other medicines such as Insulin or inhalers.
You get an alert if the medication isn't picked up by a specified time. These alerts take the form of calls, emails, and text messages. Finally, there's a secure web portal you can access to view a detailed history of the quantity and type of dispensed medication.
Are There Drawbacks?
The reason the MedaCube isn't at the top of our list is its price. Owning it will set you back more than a thousand dollars. PharmAdva offers a 3-year leasing plan for $60/month or a $100/month contract you can break at any time. However, these can turn out to be even more expensive in the long run.
Tech Specs
Dimensions: 9.8 x 9.8 x 10.5 in.
Holds pills for: 90 days
Powered by: AC power, batteries
Can be locked: Yes
Sends alerts to caregivers: Yes
Has app: No, but it has a web interface
The Pros
No need to pre-sort medication
Large capacity for 12 different pills
Tamperproof
Effortless for anyone to use
The Cons
Prohibitively expensive
4. MedReady 1700 Medication Dispenser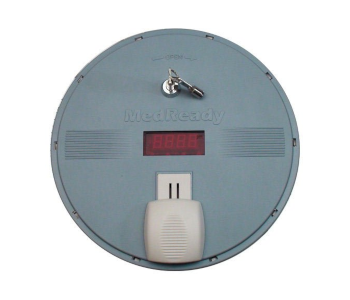 View on Amazon
Editor's Rating: 4.3/5
Do you need an inexpensive alternative to the MedSMART Plus? The MedReady 1700 is ideal if you don't mind the lack of an app and are buying it for someone who isn't tech-savvy. The dispenser is simple yet robust, holds a month's worth of pills, and has a blaring alarm your loved one is sure not to miss.
Overview of Features
The MedReady 1700 looks much like other pill dispensers in its price range, the primary difference being its clock and lid. The clock shines a bright red, which makes it easy to check the time and use the dispenser in the dark. On the other hand, the lid is gray and opaque, so the composition and number of pills inside the device remains hidden. There's a lock above the clock display used to restrict access to the inner tray.
The dispenser's package contains pill dosage cheat sheets you place around the clock for easier sorting. Each compartment can hold up to nine M&M-sized pills. The tray rotates each time an alarm goes off and is accessible by pulling back a protruding cover. You can then either lift and tilt the dispenser or scoop the pills out of the compartment.
The alarm is the MedReady's best feature. It is loud and low-pitched, so even very old or hearing-impaired people will have no trouble hearing it. The alert is annoying, which is a good thing since it will urge the person to shut it off as soon as they can. This can only be done by exposing the tray. Alarms may go off four times daily at whatever time you choose. Their duration is configurable and lasts from three minutes to four hours.
The MedReady is suitable for short-term trips. It plugs into a standard outlet but also comes with a rechargeable battery that lasts 48 hours. Another great feature is that you can temporarily turn the device off. There's a button you need to press for the off message to appear. Doing the same turns the alarm back on once you need it.
What We Didn't Like
Positioning the lid correctly is a chore. You need to place it on top and then turn so that a hole aligns with the currently active tray. An older person won't be able to manage this on their own, and it's a hassle for younger people too, especially if you have the fill the tray weekly. There's an extra compartment for some reason. It can cause confusion when it's refill time, and you can't access a dose until the next alarm if it comes up during the rotation.
Tech Specs
Dimensions: 14.5 x 12 x 3.5 in.
Holds pills for: 28 days
Powered by: AC power, rechargeable battery
Can be locked: Yes
Sends alerts to caregivers: No
Has app: No
The Pros
Strong annoying alarm
Bright red clock
Has 48-hour backup battery
Can be turned off temporarily
The Cons
Replacing the lid can be complicated
Extra pill compartment serves no purpose and is confusing
5. Memo Box Mini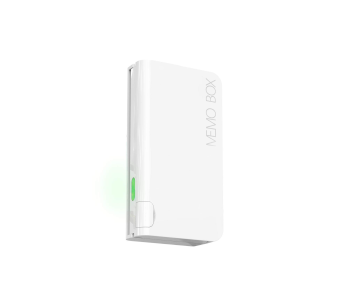 View on Amazon
Editor's Rating: 4.1/5
The products we've discussed so far are great for retired folks and people living in assisted care facilities, but what about the rest of us? The Memo Box Mini is a portable pill case designed to alert you when it's time to take your meds. It's compact, unobtrusive, and comes with an advanced app that lets you keep track of your medicine intake. Use the case either alone, or buy it together with one of the above products to have a fantastic alternative when traveling.
Overview of Features
The Memo Box Mini is a small pill case which fits into your pocket. It has three compartments which can hold either a couple of larger pills or multiple smaller ones. There's an LED which glows green when it's medication time or red to prevent you from accidentally taking a second dose too early. The box is powered by a rechargeable battery which lasts for a month. You get a short USB cable to charge it from a computer.
Much of the Memo Box Mini's functionality comes from its Bluetooth connection to the Memo Health app. For example, it will remind you that you forgot the case at home if it's time for your meds and it isn't in Bluetooth range. It's also easy to find a misplaced Memo Box Mini as you can activate its beeping alarm from the app.
Alerts are the app's most important feature, and you get them per your schedule as well as when you've missed a dose. You can set up alerts so that multiple people receive them — that way a loved one can check in on you or vice versa if the warnings persist. The app lets you customize alerts by naming them and adding pictures of the medication you're supposed to take.
What We Didn't Like
The Memo Box Mini is flimsy and breaks easily. Its charging port is especially prone to coming off, so you'll need to be careful when handling it. Three doses cover three days at best. Having to refill the box continually is a hassle.
Tech Specs
Dimensions: 2.5 x 1.3 x 0.8 in.
Holds pills for: 3 doses
Powered by: Rechargeable battery
Can be locked: No
Sends alerts to caregivers: Yes
Has app: Yes
The Pros
Great for remembering to take your pills on the go
Prevents double dosing
Intuitive companion app
Long-lasting battery
The Cons
Poor build quality
Small capacity
6. Best Budget Option – Med-Q Automatic Medication Pill Box Dispenser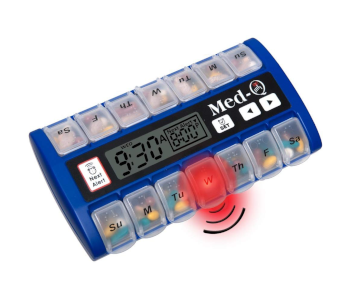 View on Amazon
Editor's Rating: 3.9/5
Dementia is a debilitating illness which slowly robs sufferers of their wits and their dignity. Med-Q's dispenser helps your loved ones maintain their autonomy longer by straightforwardly administering pills. The device is easy to use and refill, has a persistent alarm, and an informative display.
Overview of Features
This dispenser is box-rather than disc-shaped, and its pill compartments have an intriguing design. You can take them out individually, and each one has a small lid. This makes administering easier and helps with refills since they're larger than compartments on other models. One can hold 25 aspirin-sized tablets, and opening it doesn't require much strength or dexterity.
There's an LED screen on top which tells the current date and time along with the time of the next alarm in bold numbers. You can set alerts up once or twice per day. There are seven pairs of compartments, each labeled with a day of the week. They light up once the alarm goes off. Depending on the dosage, the order is either Monday through Sunday or two times Monday, then Tuesday, and so on. Doses can also be skipped by pressing the Next Alert button.
The alarm will continuously emit single beeps for 5 minutes. It will repeat this every 25 minutes if a compartment isn't accessed. Med-Q also sells a gray dispenser which emits two beeps. That way you can take care of two people, and each will know which machine is theirs.
Are There Drawbacks?
Programing Med-Q's dispenser is complicated. A more concerning issue is the fact that its buttons are flat and easy to press accidentally. This can cause unintended alarm resets and beeping at the wrong time. Speaking of which, the alarm is quiet and high-pitched. Older people have trouble recognizing high frequencies and may not hear the alarm.
Tech Specs
Dimensions: 9 x 5 x 1 in.
Holds pills for: 14 days
Powered by: Batteries
Can be locked: No
Sends alerts to caregivers: No
Has app: No
The Pros
Great value for the money
Compartments light up when it's medication time
Large clear info screen
Comes in two variants
The Cons
Buttons are too easy to press accidentally
Quiet and high-pitched alarm