6 Best Backlit Keyboards of 2019
3D Insider is ad supported and earns money from clicks, commissions from sales, and other ways.
How many typos have you made because there wasn't enough light in the room while you were working? How many gaming moments were ruined because you didn't see that a power was ready to be used? You could always turn on an extra light or pay closer attention to the HUD, but why bother when backlit keyboards are a more elegant answer?
Backlit keyboards have LEDs under the keys that illuminate them for extra visibility regardless of ambient light. Some models have lights that brighten the space around the keys or even the keyboard's edges, while others only illuminate letters & symbols for maximum concentration.
Most backlit keyboards are RGB, meaning there are millions of colors for you to choose from. These can be customized on a per-key basis, set to glow in mesmerizing color patterns, or even be interactive and tell you when you can unleash an attack with a can't-miss color shift.
We've assembled the six best backlight keyboards for all of your needs. Whether you're a pro gamer or need a new keyboard for stressful office work, there's a model among our top picks that's sure to brighten up your life.
Budget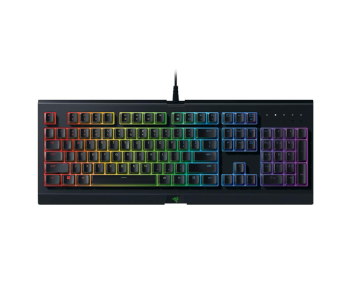 Razer Cynosa Chroma
4.0/5.0
Keyboard type: Membrane
Lighting: Per-key RGB
Excellent customization software.
Check Amazon
Best Value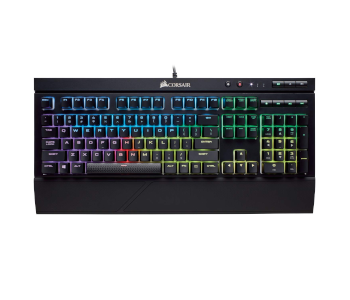 Corsair K68 RGB
4.6/5.0
Keyboard type: Mechanical
Lighting: Per-key RGB
This has a fantastic companion software.
Check Amazon
Top Pick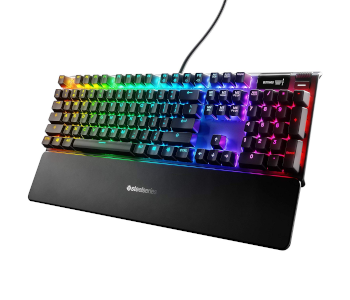 SteelSeries Apex Pro
4.8/5.0
Keyboard type: Mechanical
Lighting: Per-key RGB
Has vibrant lighting with diverse settings.
Check Amazon
Backlit Keyboards Comparison Table
1. Best Overall – SteelSeries Apex Pro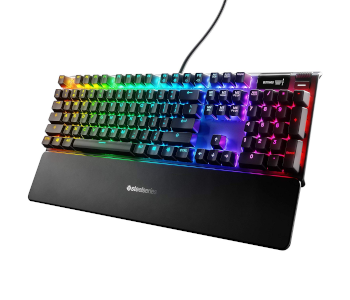 View on Amazon
Editor's Rating: 4.8/5
Do you find yourself regularly pressing multiple keys by accident? Do you want a keyboard that responds differently to user input based on your activities? The SteelSeries Apex Pro is an innovative backlit keyboard that lets you adjust each key's actuation. That means you can have it one way for gaming and another for typing, or even make that one stubborn key harder to press! It will set you back a bit, but there's no better backlit keyboard out there at the moment.
Overview of Features
We love the Apex Pro's minimalistic design. It has a sturdy aluminum frame that takes up no unnecessary space. There's also a wrist rest attached with magnets, so you can easily remove it. We found the wrist rest comfortable enough to keep it on, though. Other interesting physical elements include a tiny OLED display, a media wheel, and a USB pass-through.
The display offers info on key actuation and lets you access five custom profiles. You can even set it to display a custom gif or picture to make your Apex Pro unique. The media wheel serves as a volume dial as well as a mute button. Lastly, the USB pass-through is a convenient way of attaching drives, headphones, or other peripherals without having to move your computer case.
Keys on the Apex Pro are raised, meaning the LEDs pop with a brilliant glow. They're clear & bright even when standing several feet away but can be dimmed or turned off entirely if they bother you. Customization is king when it comes to the Apex Pro's lighting setup! On the one hand, there are five preset profiles you can toggle on the keyboard itself. On the other, installing SteelSeries Engine 3 lets you customize the glow for each key, create differently-lit groups, and decide what kind of ripple effect happens when you press a key.
The Apex Pro's lighting is fantastic, but customizable actuation is even better. The switches aren't fixed in place; you can adjust their actuation from 0.4 to 3.6 mm. You may do so individually for each key and save the changes to a profile. Switching from one actuation type to another is effortless. You may tie it to different lighting profiles for a complete overhaul of how the Apex Pro looks and behaves with one keypress.
What We Didn't Like
This keyboard is a couple of months old and still expensive. There's a tenkeyless version as well as the Apex 7 if you're looking for a less expensive alternative with the same lighting properties but without actuation adjustment. SteelSeries Engine 3 needs some work. The program sometimes freezes and crashes on Mac systems. We're sure the issues will be resolved with future updates, but the software is a hassle to use for now.
Tech Specs
Dimensions: 17.2 x 1.9 x 4.4 in.
Weight: 2.14 lb.
Keyboard type: Mechanical
Lighting: Per-key RGB
Has wrist rest: Yes, magnetic
The Pros
Customizable key actuation
Vibrant lighting with diverse settings
USB pass-through
Useful OLED screen and media wheel
The Cons
Expensive
Buggy software
2. Best Value – Corsair K68 RGB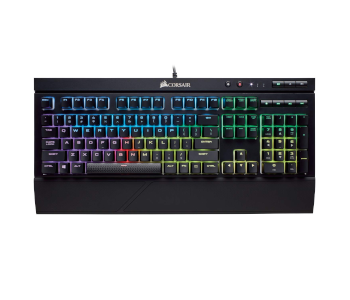 View on Amazon
Editor's Rating: 4.6/5
Anyone who snacks at their desk or burns the midnight oil with coffee cup in hand dreads spills. If you buy Corsair's K68 RGB, you can continue with your messy habits and not worry since the keyboard is dust- and spill-resistant. Its Cherry MX keys offer a pleasant, tactile experience, while the accompanying software suite is among the best in the business. The price has also fallen from the original MSRP of $120, making this keyboard a true bargain.
Overview of Features
The K68 RGB looks like an ordinary mid-ranged keyboard until you activate its lighting. Its frame is plastic but doesn't feel cheap. There are dedicated media buttons above the numeric keypad, and the spacebar is textured to prevent slipping. You also get a removable wrist rest that slides into place thanks to a set of prongs. It has a rubberized texture and feels better than your bare desk.
Spill resistance is the keyboard's standout physical feature. With an IP rating of 32, the K68 RGB is capable of withstanding splashes and crumbs. Two lines of defense protect its delicate innards – a rubber layer that keeps most of the liquid away, and a set of canals that guide the liquid away from crucial components if it manages to get inside anyway. The proofing is effective, but don't go testing it on purpose since cleanup is a chore.
Lighting on the K68 RGB is fantastic and customizable to the smallest degree with Corsairs CUI software. You can use it without the software, in which case you're limited to a handful of presets accessible through various function key combinations. You may choose from 16 million colors that shine through each etched key for maximum visibility.
Mastering CUI is instrumental in unlocking the K68 RGB's limitless potential. The software takes some getting used to, but the rewards are worth it. You can choose the color for each key or a group or have one part of the keyboard glow a solid color while another pulsates with a rainbow. Synchronizing the keyboard with the glow pattern on your Corsair mouse is possible as well.
CUI can do so much more, though. Its most useful non-lighting feature is the ability to set up macros. MMO players will find this particularly helpful as it lets them spam long messages or execute a complex series of commands with a single keystroke. Better yet, you can bind two macros to one key and have them fire off at the same time. You may use CUI to disable Windows-related key combinations, reassign keys, or create a timer that lights the K68 RGB up when an ability goes off cooldown. Adjusting a few settings is all it takes to never switch to the desktop again accidentally.
What's Bad About It?
Some keys on the K68 RGB are more sensitive than others. It takes minimal pressure to activate them, and pressing normally may register as two or even three strokes. This doesn't happen on every unit, so ask for a replacement if you're unfortunate enough to get one. The small feet that prop the keyboard up are flimsy and may break if you apply too much pressure while typing.
Tech Specs
Dimensions: 17.9 x 6.7 x 1.6 in.
Weight: 3.11 lb.
Keyboard type: Mechanical
Lighting: Per-key RGB
Has wrist rest: Yes, pronged
The Pros
Excellent value for the money
Resists spills
Fantastic companion software
Satisfying tactile experience
The Cons
You may get a unit with overly sensitive keys
Flimsy feet
3. Roccat Vulcan 100 Aimo RGB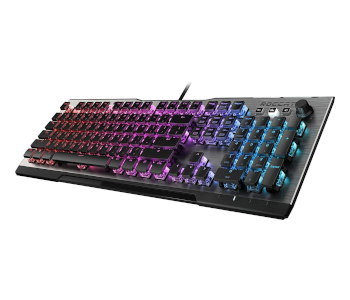 View on Amazon
Editor's Rating: 4.5/5
Roccat is a German company known for its excellent peripherals and out of the box thinking. The Vulcan 100 Aimo RGB exemplifies its innovation philosophy with its unique design and extensive lighting configuration options. The keyboard is light yet durable, has proprietary switches that feel great, and comes with a comprehensive software package.
Overview of Features
The Vulcan 100 is hands-down the most uniquely-designed keyboard on review! Rather than having a traditional frame that hides the lights, keys jut out of its aluminum base on gloriously illuminated Titan switches. These make the Vulcan 100 one of the brightest keyboards around while also cleverly protecting sensitive components from spillage. Keys press down quickly and accurately in spite of their elevated position thanks to Roccat's own Titan switches. These are similar to Cherry MX Browns and feel amazing to press!
Unlike its construction, the keyboard's layout is unremarkable. The f keys have additional functions that are segmented into groups. The first lets you switch between four color profiles. The second helps you access frequently-used windows programs like your explorer or the calculator, while the third regulates playback options. There's a large dial above the keypad which adjusts either brightness or the volume. Insert through Page Down also act as macro keys.
You can play with the Vulcan 100's settings through Roccat Swarm, a robust and versatile configuration program. You use it to set up lighting profiles, adjust colors either individually or collectively, and select among different patterns. It's also where you can configure Aimo, the keyboard's intelligent lighting system.
Aimo doesn't do much on its own apart from changing the color once you press a key and providing you with a dazzling light show. Hook up a Roccat mouse and download an interactive desktop tool, and you'll experience ripples or other effects throughout your setup. It's a gimmicky feature more than anything, but the results look cool.
Are There Drawbacks?
The Vulcan 100 is loud, even for a mechanical keyboard. You should look for something quieter if you regularly work or game with someone else sleeping in the same or adjacent room. The keyboards excellent build quality means you shouldn't run into trouble. However, don't count on Roccat's customer support of you do as they're slow to respond.
Tech Specs
Dimensions: 6.3 x 18.2 x 1.3 in.
Weight: 2.17 lb.
Keyboard type: Mechanical
Lighting: Per-key RGB
Has wrist rest: No
The Pros
Unusual yet effective build
Resists spills and is easy to clean
Swarm offers lots of customization
Aimo is an intriguing concept
The Cons
Poor customer support
Loud
4. Logitech K800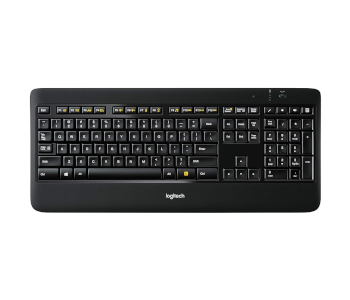 View on Amazon
Editor's Rating: 4.4/5
Do you often work into the small hours of the night? If so, you need an unobtrusive keyboard that provides superb backlighting that ups your productivity. Logitech's K800 ticks all the right boxes for busy bees and everyone who needs backlighting yet is sick of the RGB trend. It's whisper-quiet, feels uniform no matter which key you press, and is simple to configure without software.
Overview of Features
The K800 has a slim and elegant profile with slightly concave laptop-style keys that contrast with a cylindrical bottom row. In spite of its svelte aesthetic, the K8000 is as large as a standard keyboard and offers ample room between keys. Anyone who's been using a laptop will find its feel familiar while standard keyboard users won't take long to make the transition.
We love how quiet the K800 is. That's partly due to it not being mechanical, relying on scissor switches instead. You could lay a baby to rest and type out a financial report in the same room without waking it! Moving the K800 is a breeze too, since it is wireless. You get Logitech's unifying receiver which communicates over 2.4 GHz Wi-Fi and has a solid connection. Better yet, you can get other wireless Logitech products and connect them through the same dongle hassle-free.
The K800's lighting isn't as advanced as those of other models, but it doesn't need to be. Its keys are laser-etched, and light shines only through the letters and symbols. That makes the K800 excellent for productivity as you're distracted neither by colors nor by excessive light. There are three light levels to choose from either by hitting the Fn key with F5 and F6 or a key above the numpad. The white light is uniform, bright enough for typing with no other light source, and pleasing to look at for long periods.
Since the K800 is wireless, it runs on batteries. There's a rechargeable battery you fill up via USB that lasts for 90 days of regular use. You may also use AA batteries as a backup. Logitech has implemented battery-saving features to extend the time between charging. The most interesting one is automatic dimming – there's a proximity sensor that causes the K800 to brighten as your hands get closer and dim if you remove them.
What We Didn't Like
The K800 is fragile. It doesn't take much force to bend its frame and keys are almost impossible to put back in without damaging the switches. That's a serious flaw – a K800 with removed keys becomes useless. Logitech will send you a replacement if it's still under warranty, but it's frustrating to have such a fantastic use experience spoiled by cheap engineering.
Tech Specs
Dimensions: 8.2 x 2.3 x 18.4 in.
Weight: 2.2 lb.
Keyboard type: Membrane
Lighting: Uniform white
Has wrist rest: Yes, fixed
The Pros
Feels great to type on
White light is pleasing and excellent for productivity
Long-lasting battery with power-saving features
Slim profile
The Cons
Fragile
Can't be repaired if you pop off a key
5. Dell Alienware AW768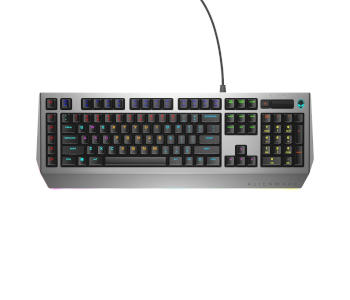 View on Amazon
Editor's Rating: 4.2/5
Alien is a brand associated with both quality and otherworldly designs. Their premium AW768 gaming RGB keyboard continues the trend with cool aesthetics and a host of lighting options. It feels good to type and game on, offers a unique visual experience when you're playing certain titles, and is reasonably priced.
Overview of Features
Alienware gets extra points for the AW768's classy design. The burnished gray casing and angular design go well with any modern PC setup. This is the widest keyboard we've tested as room needed to be made for a set of function keys to the left of the usual layout. That leaves you with fifteen function keys used to switch profiles, access frequently used programs, and more.
There's also a volume roller along with a mute button that lets you adjust loudness intuitively. The Alienware logo next to it is actually another button that turns off the lighting or initiates a predefined sequence. There's no dedicated wrist rest, but the AW768's front protrudes enough for wrist placement when you need it.
Plugging the AW768 in for the first time automatically installs the Alienware Control Center. There you can customize the function keys as well as turn on Gaming mode. That disables the Windows key by default but can encompass others like Alt or Shift. There are a lot of lighting options at your disposal. There's the usual per-key option, but you may assign colors to different zones too. These are divided either by function, i.e., the F keys, WASD, etc., or by position. The latter divides the AW768 into five zones, each with a custom color.
What's Bad About It?
The Alienware Control Center has a feature called AlienFX that enables different lighting profiles for various games. These are supposed to change the lights depending on what you're currently experiencing but only work on Alienware PCs. The additional profile keys take some getting used to because of their awkward placement. "Switch profile" is especially annoying since it's positioned where you'd expect the Escape key to be. You'll likely press it a lot accidentally and wonder why you haven't exited to the main menu.
Tech Specs
Dimensions: 19.5 x 6.9 x 1.3 in.
Weight: 3.11 lb.
Keyboard type: Mechanical
Lighting: Per-key RGB
Has wrist rest: No
The Pros
Modern and cool design
Useful volume roller
Many customizable function keys
Adjustable lighting for different key groups
The Cons
You need an Alienware PC to take advantage of AlienFX
Profile keys are confusing
6. Best Budget Option – Razer Cynosa Chroma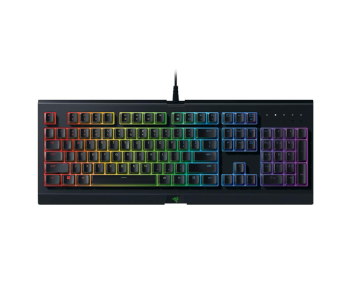 View on Amazon
Editor's Rating: 4/5
Our least expensive pick is a membrane gaming keyboard with excellent RGB lighting. You wouldn't expect membrane and gaming to sit well in the same sentence nowadays. However, the Razer Cynosa Chroma pulls off responsiveness, comfort, and customizability at an inviting price. If you're looking for a keyboard you can work on during the day and use for gaming at night, this is the best affordable option out there.
Overview of Features
We give props to Razer for designing the Cynosa Chroma to be unobtrusive. There are no unnecessary frills or weird shapes protruding from its edges. The Cynosa could pass as a high-end office keyboard If it wasn't for the Razer logo, and many gamers will appreciate this low-key aesthetic. It's a shame that there are no dedicated macro or media keys, though, but that's understandable given the price.
Typing on the Cynosa Chroma is a positive experience. You won't get those satisfying clicks present on more expensive mechanical keyboards. Then again, you won't wake your neighbors during a heated CS:GO session either. The keys are almost as quiet as those on the K800 while being hardier. One could argue that they're less responsible than ones with mechanical switches, but only the pickiest pro gamers will notice and care about the millisecond difference in reaction time.
Considering its low price, the Cynosa Chroma's lighting is fantastic! Keys are individually backlit, and there's also a strip surrounding each row that gives it a cool-looking underglow. This is the first keyboard compatible with Razer's third iteration of the Synapse software. The integration is seamless, and changes to its behavior are easy to make. You can customize the lights, create macros, or disable the Windows key along with unwanted combinations when you start a game.
You can choose between eight lighting presets and even combine them to create unique effects. The Synapse Workshop contains a growing list of games for which there are custom profiles. For example, the color scheme might change once you enter a new area or depending on the character you're currently playing. Unlike AlienFX, this feature works on any PC.
Are There Drawbacks?
Razer needs to implement better quality control since some units are constructed poorly. The most frequent problems are squeaky keys and adjacent keys registered as being pressed when they weren't. Synapse 3.0 is functional but tedious. It requires constant updates and needs to run in the background for settings to be remembered.
Tech Specs
Dimensions: 18.2 x 6.1 x 1.2 in.
Weight: 2.09 lb.
Keyboard type: Membrane
Lighting: Per-key RGB
Has wrist rest: No
The Pros
Inexpensive yet rich with features
Excellent customization software
Subdued appearance suitable for both offices and LAN parties
Quiet operation
The Cons
Inconsistent production quality
Synapse is a hassle to use