6 Best Backlit Wireless Keyboards
3D Insider is ad supported and earns money from clicks, commissions from sales, and other ways.
There are lots of reasons to cut your keyboard's cord. Maybe you go to a lot of LAN parties and don't want to plug and unplug each time. Or perhaps you have laptops, tablets, and other devices that would benefit from keyboard input and can only connect to one through Bluetooth. Sadly, most wireless keyboards are utilitarian and leave little room for individual expression.
That's why your next wireless keyboard should be backlit! There aren't many of these models around since backlighting takes a severe toll on battery life. However, manufacturers are coming up with clever ideas to maintain brightness and response times while keeping reasonable intervals between recharging.
Here you'll find comprehensive reviews of the six best backlit wireless keyboards that are currently available. We've covered models of different shapes and color options, so finding one you'll love to type on won't be difficult. Figure out which keyboard you like best and start typing in style and comfort anywhere.
Budget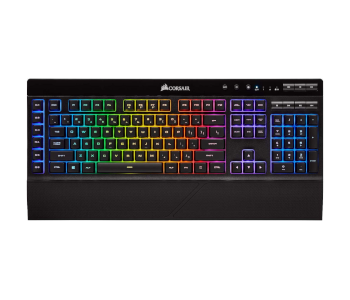 Corsair K57 RGB
4.3/5.0
Type: Membrane
RGB: Yes
Has excellent membrane and tactile keys.
Check Amazon
Best Value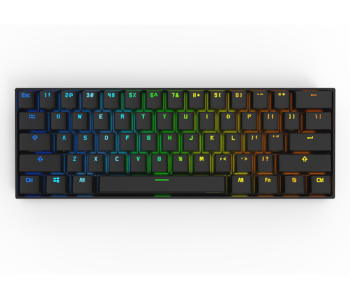 Anne Pro 2
4.5/5.0
Type: Mechanical
RGB: Yes
Has two additional layers and the tap function.
Check Amazon
Top Pick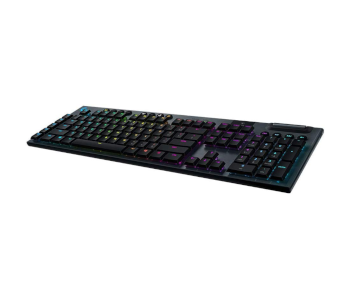 Logitech G915
4.7/5.0
Type: Mechanical
RGB: Yes
Stable wireless connection and long-lasting battery.
Check Amazon
Backlit Wireless Keyboards Comparison Table
1. Best Overall – Logitech G915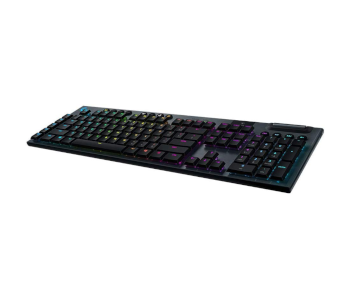 View on Amazon
Editor's Rating: 4.7/5
The G915 is Logitech's flagship gaming keyboard, and its wireless version is a testament to ingenious design. There's nothing else like it as the G915 manages to successfully combine a low profile with satisfying key travel times and split-second responsiveness. Add comprehensive customization into the mix, and you've got a clear winner. It will set you back a lot, but you won't even dream of buyer's remorse once you start working or playing with it.
Overview of Features
We love the G915's combination of premium build, unobtrusive design, and clear gaming intent. On the one hand, it has an aluminum-magnesium alloy frame that's just 8mm high, not counting the keys. On the other, the custom GL switches strike the perfect balance between letting enough light through and preventing color bleed. Five macro keys, dedicated multimedia controls, and a waterfall volume roller make for a comprehensive layout.
Logitech collaborated with Kalih to come up with the G915's custom mechanical keys. They're curved so that your finger naturally wants to press the middle and come in three variants – clicky, linear, and tactile. The keys have a travel distance of 2.7mm but activate when reaching 1.5. That means typing on the G915 is both responsive and indistinguishable from models with much higher profiles.
We are impressed with the G915's battery life. It can run 30 hours before running dry if you crank the brightness up. The keyboard also has power-saving features that dim the keys when not in use and extend a full charge to four days. Turning the lighting off increases the runtime dramatically to a maximum of over 130 days.
The G915 uses LightSpeed Wireless connection to deliver lag-free gaming indistinguishable from its wired counterparts. Combined with the keys' low travel time, this ensures you can stay competitive and perform more keystrokes while not being tied down by a cord. You can also connect the keyboard through Bluetooth. It's great for when you want to connect to a laptop or smartphone without hassle.
Logitech's G-HUB software lets you tailor the G915's keys and lighting to a ridiculous extent. There are presets to choose from if you don't want to fiddle with the extensive controls, or you can set the RGB up to mimic whatever's on the screen. Most impressively, G-HUB lets you design animations that turn the keyboard into a visual experience unlike any other.
What We Didn't Like
This is the most expensive keyboard on review. We believe that its feature set and handling justifies the price, but it's still a lot for a gaming peripheral. The only other complaint we have is that the G915 doesn't come with a hand rest, which is surprising given the price.
Tech Specs
Dimensions: 20.8 x 7.3 x 1.9 in.
Weight: 3.6 lbs.
Type: Mechanical
RGB: Yes
Size: Full
The Pros
Low profile with excellent key travel time and feel
Stable wireless connection
Long-lasting battery
Comprehensive configuration software
The Cons
Expensive
Doesn't come with hand rest
2. Best Value – Anne Pro 2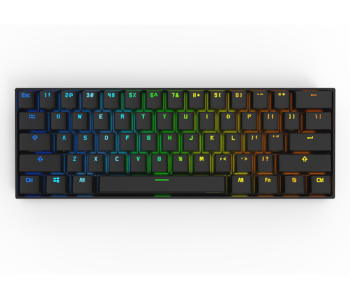 View on Amazon
Editor's Rating: 4.5/5
The original Anne Pro was a compact keyboard in a time where these were still uncommon. Its second iteration takes what was great about the Anne Pro and adds welcome features like a Bluetooth off switch and significant improvements to the control software. This is the model to get if you're always on the go and need a dependable keyboard that will be as good for gaming as for office work.
Overview of Features
Anne Pro 2 is a 60% keyboard. That means it was designed to have a small footprint, which could only be achieved by getting rid of the function row and everything to the right of the Enter key. Unlike the G915, this is a high-profile keyboard with caps that stick out prominently to display the Kalih or Cherry MX switches underneath. The feet aren't adjustable but are rubberized and have a tight grip. The keyboard is slanted upward to compensate.
Losing so many keys doesn't mean that the Anne Pro 2 is inferior. Two function keys triple its command potential. The Fn1 key is used to access F row functions while Fn2 controls lighting and multimedia playback. There's also a cool tap mechanic that turns the bottom right portion of the keyboard into arrow keys while tapping. Keeping keys pressed activates their original function.
Anne Pro 2 was designed with mobility in mind. It weighs under 2.5 pounds and easily fits into backpacks. You connect it to other devices through Bluetooth 4.0 and use USB-C for charging. The Bluetooth connection is stable, and you can turn Bluetooth off altogether with a dedicated switch. This is useful when you're traveling and don't want to drain the battery accidentally.
Poor software support was one of the chief complaints about the Anne Pro. ObinsLab Starter has thankfully been revamped to become more user-friendly and has received an expanded feature set. You can use it to look up the battery life, customize both function rows as well as the tap row, and create different color profiles. You can change the layout to Mac or Dvorak and even turn the Caps Lock key into an additional Fn key for easier reach during gaming.
What's Bad About It?
The USB-C connection is unreliable on some units. It sometimes stops working, so you have to plug the keyboard back in to not waste battery power. ObinsLab Starter can act up too. You have to plug the Anne Pro 2 in before first running it, or else the keyboard won't be recognized.
Tech Specs
Dimensions: 11.2 x 3.8 x 0.8 in.
Weight: 1.4 lbs.
Type: Mechanical
RGB: Yes
Size: 60%
The Pros
Compact, lightweight design makes it great for travelers
Two additional layers and the tap function
Bluetooth can be turned off
Improved customization software
The Cons
The USB-C connection is unstable
Software can't initially recognize the keyboard if it isn't plugged in
3. Razer Turret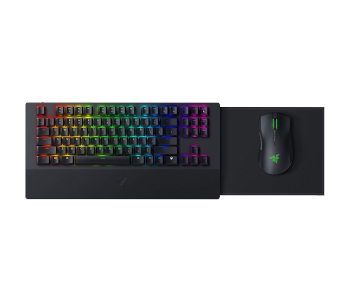 View on Amazon
Editor's Rating: 4.4/5
Do you live in a small apartment with no room for a dedicated computer desk? Do you have a PC and Xbox and want to use a keyboard and mouse for both? In that case, Razer's Turret and you are a match made in heaven. The keyboard was designed specifically to sit in your lap. It even comes with a mouse that sits on a retractable pad. It might seem expensive at first glance, but you're getting a quality Razer combo that performs well for work and play alike.
Overview of Features
The first thing you'll notice about the Turret is how heavy it is. That's because it has a sturdy aluminum case and houses a rechargeable battery. There's also a switch you can pull to slide out the built-in mousepad. The pad is magnetized so that the mouse doesn't slide off when you aren't using it. This design is practical but takes some getting used to as there's slight resistance whenever you lift the mouse.
Speaking of which, the mouse is similar to Razer's Mamba. It is well built, has two custom function buttons, and a dedicated DPI adjustment button. There's a compartment in the bottom for the wireless receiver, so you don't lose it. The mouse lasts for 55 hours if you turn its RGB off, 30 if you don't; the numbers for the Turret are 40 and 11 hours respectively. You charge the keyboard through USB-C, and the mouse has a MicroUSB cable that lets it charge from the keyboard.
The Turret has no feet and feels awkward on flat surfaces as a result. However, things change once you place it on your lap. There's a hand rest whose angle is exactly right in a sitting position. The keys have proprietary Razer green switches that are clicky and have a tactile response. Their polling rate is 1 ms, and there's ten-key roll-over, so you can either game or type without worrying that a keypress won't be properly registered.
You can use the Turret with PC and Xbox. Both systems offer lighting customization, which is understandably executed with more depth on Windows through Razer Synapse. That's where you can also turn on game mode to disable windows and other system keys while gaming, set up macros, and save countless custom lighting profiles.
Are There Drawbacks?
There are currently few Xbox games with native support for the Turret. We don't feel that its price is justified if you plan to use it exclusively for Xbox, at least not until the game roster improves. The console and PC lighting setups clash. You'll want to turn the Xbox off before reconnecting the Turret to a PC to avoid glitchy behavior.
Tech Specs
Dimensions: 23.6 x 14.8 x 7.6 in.
Weight: 4.3 lbs.
Type: Mechanical
RGB: Yes
Size: Compact, expandable
The Pros
Feels great to hold in your lap
Comes with an excellent mouse
Has a retractable mousepad
Works with an Xbox
The Cons
Limited library of compatible Xbox games
Color profiles clash if console and PC are on at the same time
4. Logitech K800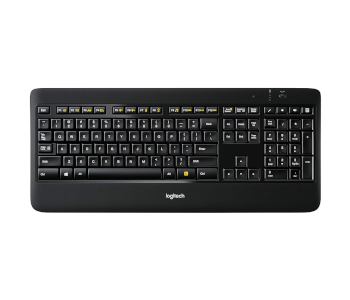 View on Amazon
Editor's Rating: 4.3/5
We've only focused on gaming keyboards so far, but what about ones meant primarily for work? If you're prone to spending evenings looking at code or spreadsheets, Logitech's K800 is the workhorse you need. It has a pleasant white backlight with adjustable brightness, offers an amazing typing experience, and is easy to set up or recharge.
Overview of Features
The K800is a textbook example of how a minimalistic keyboard can still look beautiful. It has a full complement of laser-etched keys with a travel distance of 3.2mm and all feel the same when pressed regardless of row. The function keys double as multimedia controls while lighting is adjusted by pressing two of them together with the Fn key.
This is a membrane keyboard, meaning that the keys have a low profile, and there's no color in the rows between them. However, laser etching and font choice make each key bright and easily recognizable. You can comfortably type in complete darkness and not take a hit to your WPM.
The keyboard has a fixed hand rest that's matte black and lets you position your hands for optimum typing. It might take some time to get used to the K800 if you're switching from a desktop-style keyboard. After a week or two, though, you'll notice that your typing speed and accuracy will both be equal or better than before.
The K800 runs on battery power, either through its rechargeable cell or backup AAs. One charge lasts around ten days, more if you keep the light low. Logitech has implemented battery-saving proximity sensors that turn off the K800'is illumination once you remove your hands.
The wireless connection is established through Logitech's Unifying receiver. This small dongle allows you to connect six compatible Logitech products while using up only one USB slot. Each product comes with its own dongle, so you could technically buy a mouse and other accessories and use all of them on multiple computers instantly.
What We Didn't Like
The K800 is a desktop keyboard, i.e., it isn't meant to be transported constantly, as evidenced by its flimsy case. You could bend it if you apply enough force, so a gentle approach is required. The keys might start to stick after a while, especially if you get dust and crumbs into them. You can't replace or repair them as the delicate switches tend to break and render the keyboard useless.
Tech Specs
Dimensions: 8.2 x 2.3 x 18.4 in.
Weight: 3.6 lbs.
Type: Membrane
RGB: No, white
Size: Full
The Pros
Exceptional typing experience
Laser-etched keys provide optimum amount of light without distraction
Works with multiple other devices from same dongle
Clever battery-saving features
The Cons
Poor build quality
Keys can't be replaced
5. Corsair K63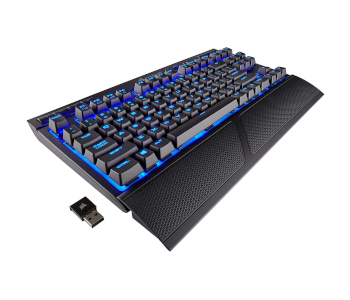 View on Amazon
Editor's Rating: 4.1/5
Do you want a portable, backlit, wireless gaming keyboard but couldn't care less about RGB and the price hike it entails? In that case, Corsair's K63 should be right up your alley. It's a sleek and sophisticated tenkeyless keyboard that behaves as well in your lap as it does on a desk.
Overview of Features
The K63 is somewhere between the Anne Pro 2 and a standard keyboard in size. It's a tenkeyless model, so the Numpad is gone. The F row is intact, though, and there are multimedia keys on both its top ends. The left part controls playback while the right one controls volume. There are two more buttons for brightness adjustment and locking the windows key in the center. The K63 has a plastic case, but it's both hard and scratch-resistant.
Corsair uses genuine Cherry MX red switches to provide a world-class typing experience. Gamers prefer the red switches because of their responsiveness, but you'll appreciate them for work as well since they're among the quietest. Underneath each is a bright light available in either regular or ice blue. The steel base plate has also been dyed blue for a more striking effect.
Corsair opted to go with full-strength LEDs in spite of the K63's wireless design. You can plug the keyboard in to give the battery a breather or expect seven hours of runtime with the light at maximum otherwise. The model used is removable and common, so you don't need to give up on the keyboard if the battery dies.
The K63 comes with a detachable hand rest. It's textured to keep your hands from slipping and feels well made. You can also buy the lapboard extension. It provides enough space to place your hands as well as a mouse, turning the K63 into a competent couch keyboard.
What's Bad About It?
We already said that battery life is mediocre. It gets worse if you forget to turn the K63 off since there's no automatic shutdown function. You can set it up with Corsair's iCUE software, but not everyone will think to look for the option. Connectivity issues are a serious problem as well. The K63 will randomly lose connection, whether you're in Bluetooth or wireless mode. Not every unit is affected by this issue, so you should contact Corsair for a replacement if you're unlucky enough to get one.
Tech Specs
Dimensions: 14.4 x 6.8 x 1.6 in.
Weight: 2.4 lbs.
Type: Mechanical
RGB: No, blue or ice blue
Size: Tenkeyless
The Pros
Compact design great for LAN parties and couch gaming
Strong, vibrant LEDs
Original Cherry MX Red switches
Comfortable hand rest
The Cons
Mediocre battery life
Prone to random connection errors
6. Best Budget Option – Corsair K57 RGB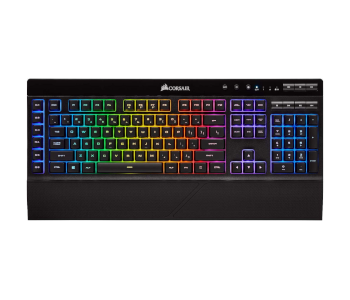 View on Amazon
Editor's Rating: 4.3/5
You don't hear membrane and RGB a lot in the same sentence these days, especially not as part of a guide on the best keyboards. Corsair makes a convincing argument with the K57, an RGB membrane keyboard that feels almost as good to type on as its mechanical cousins. You can also look forward to flawless lighting, a stable connection, and a slew of customization options through iCUE. Not bad for less than $100 when not on sale.
Overview of Features
The K75 RGB is a large keyboard, yet it doesn't weigh much because of not being mechanical. There are plenty of keys, though, five for controlling music playback and six for macros. A detachable hand rest comes with the keyboard and snaps into place for easy assembly. Its top has an aggressive texture that might not appeal to everyone, but it definitely keeps your hands in place.
Corsair did an excellent job of tailoring the K57's typing feel. The keys have a satisfying travel depth and respond to presses with an audible pop. You'll have to press firmly to get them to register, but that's good news for people with larger fingers. Each keystroke is transmitted at a polling rate of 1ms thanks to the Slipstream protocol that powers wireless transfer.
The K57 also has a long-lasting battery. Using it with the RGB on gives you thirty days of fun and productivity, while turning the lights off makes it last four times longer. You can hook the keyboard up to four devices wirelessly and toggle between three Bluetooth connections with a combination of F and Fn keys. It's a convenient solution if you own a laptop or want to use your tablet with a physical keyboard in a snap.
iCUE is corsair's versatile configuration software. It lets you design custom lighting patterns and set up different ways of activation. The patterns can be mapped to the dedicated macro keys, as can complex commands or frequently used actions that speed up your workflow. iCUE isn't as intuitive as solutions offered by Corsair's rivals. Still, you may find yourself spending hours coming up with new effects once you get the hang of it.
Are There Drawbacks?
The K57 RGB is a great-looking keyboard, but it isn't the most durable. Corners had to be cut somewhere, and going for plastic instead of metal for the case was the most logical option. While it's not as fragile as the K800, you should handle this keyboard with care. There' a milky white surface between the LEDs and keycaps. It causes colors of individual keys to bleed into each other, so you might want to look elsewhere if you insist on clean breaks.
Tech Specs
Dimensions: 18.9 x 6.5 x 1.4 in.
Weight: 2.1 lbs.
Type: Membrane
RGB: Yes
Size: Full
The Pros
Excellent membrane and tactile keys
Media controls and macro keys increase versatility
iCUE is versatile and fun to use
can connect to four other devices
The Cons
Build quality isn't the best
Noticeable color bleed between keys