6 Best Backup Cameras of 2019
3D Insider is ad supported and earns money from clicks and other ways.
Accidents caused by backing up into something or someone you couldn't see are common. In fact, they're so common that it has become mandatory for cars in the US to be equipped with a backup camera. Newer cars come with backup cameras by default. You'll need to look for an aftermarket solution if you have an older model though.
It's easy to see why backup cameras have become a mandatory safety feature – they eliminate both the blind spot behind your vehicle and the guesswork when you need to back up or park. Backup cameras are especially useful for trucks and trailers, but car drivers get much out of them as well including parking guidelines and night vision.
In this guide, we're tackling six of the best backup cameras you can get today. The models on review vary wildly in terms of how easy they are to install and how expensive they are, so check out their reviews to find the right combination of price & features. By the time you're through, you'll have all the info you need to make worrying about backing up a thing of the past.
Budget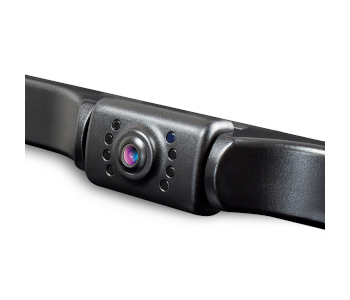 eRapta ERT01
4.0/5.0
Wireless: No
Field of view: 149°
This is dustproof and water-resistant.
Check Amazon
Best Value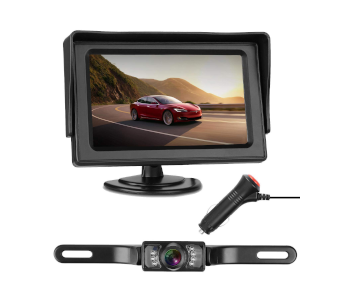 LeeKooLuu Backup Camera and Monitor Kit
4.6/5.0
Wireless: No
Field of view: 135°
Has wide field of view with no distortion.
Check Amazon
Top Pick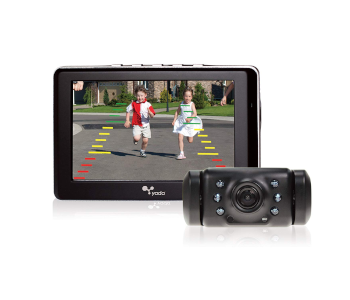 Yada Digital Wireless Backup Camera
4.7/5.0
Wireless: Yes
Field of view: 130°
Provides good overview of what's behind the car.
Check Amazon
Best Backup Cameras Comparison Table
1. Best Overall – Yada Digital Wireless Backup Camera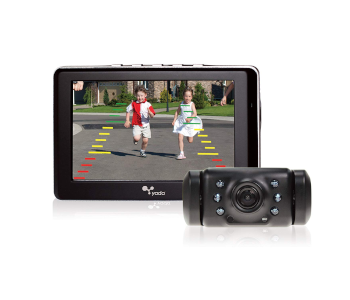 View on Amazon
Editor's Rating: 4.7/5
Backup cameras are a crucial improvement to your car's safety, provided you can set up all the wiring properly. Running wires from the back end of your vehicle to the front can be a messy affair, which is why there's minimal wiring required for Yada's wireless backup camera! All it needs is a power source, and your parking jobs will become safer and much more accurate. The camera is easy to use, comes with a quality monitor, and the set can act as a basis for future expansion.
Overview of Features
Its package contains the Yada backup camera and its 4.3-inch LCD monitor, plus all the cables, adhesive tape, and zip ties needed for a clean installation. The only wiring you'll need to do is connect the camera to a backup light once you've positioned it on top of the rear license plate. The backup light acts as the camera's power source, so the camera will only turn on when you're backing up and put minimal strain on the car battery.
Installing everything takes less than 30 minutes if you've done any car wiring before. Even if you haven't, Yada's website features excellent video tutorials that will get you started. The monitor is designed to work with two cameras, and Yada offers models for different situations. There's a baby monitor cam to keep an eye on the backseat as well as an external battery-powered camera you can attach to the back of a trailer. These are sold separately.
The camera you do get has impressive picture quality. Its surroundings and potential obstacles are easy to make out due to its high resolution, and you can further tweak daylight performance by tinkering with the brightness and contrast settings. There are also infrared LEDs which enable night vision that's usable up to 30 feet! Finally, the monitor has a guideline mode which displays parking guidelines over the feed. These help you park the car in the middle of a spot and determine the distance between it and other objects.
What We Didn't Like
It takes a few seconds after you put the car in reverse for the camera's view to be displayed. While Yada claims that the backup camera is waterproof, you shouldn't put that to the test. It will handle splashes fine, but you should put a protective cover on it if you want to use the camera in heavy rain.
Tech Specs
Wireless: Yes
Field of view: 130°
The Pros
Easy to install
Excellent picture quality
Strong night vision
Provides good overview of what's behind the car
The Cons
It takes long for the feed to kick in
Not as waterproof as advertised
2. Best Value – LeeKooLuu Backup Camera and Monitor Kit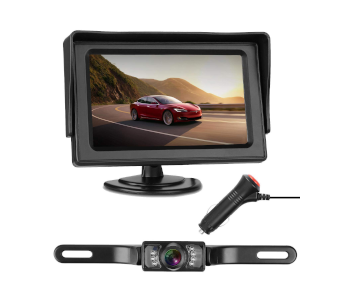 View on Amazon
Editor's Rating: 4.6/5
Is connecting a backup camera to its monitor through a video cable a deal-breaker for you? If not, you can save some money while still getting excellent results if you purchase the backup camera and monitor kit from LeeKooLuu. This kit can be installed in multiple ways, has a camera with solid picture quality, and can accommodate an additional camera for quick view switching on the included monitor.
Overview of Features
The installation for LeeKooLuu's backup camera kit is more involved than Yada's since there's a video cable you need to pass through your car to get to the monitor. Luckily, you get some zip ties to hold it in place. The camera has two side panels for easier mounting to the license plate which make it more stable and keep it from shaking. You can wire the camera to your backup light like the Yada, but there's also the option of continuous power through an included 12-volt extension cable.
The monitor adheres to the dashboard with sticky tape, or you can mount it from the windshield if its 4.3-inch screen is a distraction. It comes with a removable sun shield which is great protection against glaring sunlight. Two cameras are supported, but the backup camera takes priority and will override the other camera's feed when the car is in reverse.
The camera's video quality is adequate. Its resolution is 420×272, enough to get a sense of what's behind you in a pixelated form. The lens has a viewing angle of 135 degrees that lets you monitor everything in front of and to the sides of the camera while not distorting the view. Seven infrared LEDs surround the lens and produce enough light for serviceable night vision.
What's Bad About It?
The wires you get with this backup camera could be longer. You'll be able to connect the camera even on large trucks, but that leaves no slack so the wires could easily disconnect when you run over a large bump, etc. The camera has a CMOS sensor that's sensitive to the outside temperature. It has poor color quality at best, and everything is either close to black & white or purple when it gets cold.
Tech Specs
Wireless: No
Field of view: 135°
The Pros
Good value for the money
Runs off of two power sources
Versatile monitor installation options
Wide field of view with no distortion
The Cons
Picture suffers from color issues
Wires are too short for comfortable use in trucks
3. QuickVu Digital Wireless Backup Camera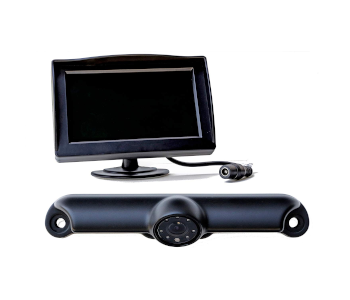 View on Amazon
Editor's Rating: 4.5/5
Wireless backup cameras are straightforward to install, but this does still require some electrical knowledge. What if you have none and don't want to pay for a professional installation either? Batteries are the best option in that case, and QuickVu's backup camera is the model to get! There's absolutely no wiring required since the camera is battery powered. It also has decent picture quality, a bright monitor, and comes with useful accessories.
Overview of Features
QuickVu's camera runs on AA batteries. You access these by removing six gaskets and safety screws. The gaskets are there to protect the screws from rusting and help make the camera waterproof. A set of batteries lasts for a year with moderate daily use. Since there are no power cables to deal with, installing the camera involves inserting the batteries and attaching its mounting bar to the license plate. The bar is fixed in place, so adjusting the camera angle is impossible.
The 4.3-inch monitor plugs into the cigarette lighter. You can mount it on the dashboard using the included adhesive tape and pedestal, or you can go for a suction mount if you're looking for a less permanent solution. The monitor is bright enough to use during the day, even in sunlight! It has a simple control scheme consisting of three buttons that let you turn it and the camera on and off as well as toggle the guideline display. You can also choose how long the camera will stay active once turned on and considerably prolong the battery life.
The QuickVu camera's picture quality is excellent. Colors are vibrant and the contrast is pronounced, so obstacles are easy to identify and avoid. The monitor's guideline overlay is particularly helpful for this since it has horizontal lines that go the length of the screen rather than vertical ones. Night vision is present too and works well.
What We Didn't Like
This is by far the most expensive backup camera on the list. While battery power makes a compelling case, you could get one of the cheaper models on review, pay for a professional install, and still spend less. The camera's bar mount is thick. This means your existing license plate screws might not be long enough and you'll need replacements.
Tech Specs
Wireless: Yes
Field of view: 150°
The Pros
Effortless installation
Long battery life
Horizontal guidelines make backing up safer
Various monitor mounting options
The Cons
Expensive
Needs long screws to attach to license plate
4. AUTO VOX T1400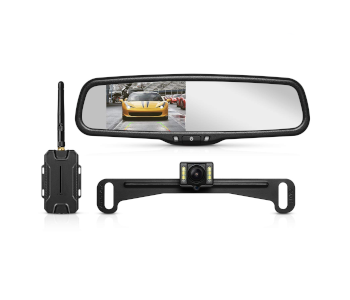 View on Amazon
Editor's Rating: 4.5/5
All three backup cameras we've reviewed so far come with their own monitors. While having a dedicated monitor is great for your safety when backing up, it clutters up your dashboard while not in use. Since the monitor is blank most of the time anyway, it makes sense to incorporate it into another car part. That's exactly what Auto Vox did with the T1400 – this system has a monitor that doubles as your rearview mirror! You can also look forward to excellent picture quality, speedy boot-up times, and straightforward use of the camera.
Overview of Features
The idea behind the T1400 is as ingenious as it is practical. The monitor is actually a rearview mirror you install in place of your old one. The mirror works like any other while the camera is off. Put the car in reverse though, and its left portion will turn into an LCD screen with a clear image of the camera's view! This makes the display completely unobtrusive and lets you monitor it in a way you're already accustomed to from checking the mirror.
This is another wireless system, so you can look forward to an easy installation. The mirror connects to a plug that draws power from your car's cigarette lighter while the camera hooks up to a rear light and a 2.4GHz Wi-Fi antenna. The rearview mirror's plug also has a USB adapter so you can still charge your phone while it is in use. Wi-Fi eliminates the need for wires and de-clutters your car while good signal strength ensures that the live feed doesn't suffer from interference. Best of all, the monitor takes just a second to turn on backup camera view!
The TI400 installs onto the rear license plate. Its bracket is fixed in place, but you can tilt the camera to find the optimum angle. Its resolution is the same as LeeKooLuu's, but the picture quality is noticeably better. Colors are more vibrant, and the camera has an automatic brightness adjustment feature that eliminates glare and makes for better visibility in low light. Night vision is available too thanks to LEDs on each side of the lens. The TI400 has a 170-degree field of view. This means that some barrel distortion is present, but the wide angle lets you see more of what's to the vehicle's sides.
Are There Drawbacks?
The mirror has a serious issue – it isn't dimmable. This means that it won't become darker at night when hit by tail lights, which can become a distraction. On the other hand, the monitor is hard to see during the day, especially when the sun is shining on it.
Tech Specs
Wireless: Yes
Field of view: 170°
The Pros
Monitor doubles as rearview mirror
Wireless and easy to install
Good picture quality and night vision
Fast boot-up
The Cons
Rearview mirror isn't dimmable
Monitor is hard to see in sunlight
5. Garmin BC 30 Wireless Backup Camera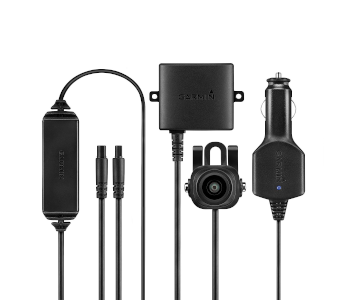 View on Amazon
Editor's Rating: 4.3/5
Garmin is the world's leading manufacturer of GPS equipment, but did you know they make quality backup cameras too? You can take advantage of the BC 30's crisp video quality and different installation options if your car is equipped with a Nuvi unit from 2013 onwards. The two components work flawlessly together, and the BC 30 comes with everything you need to expand the system to include more cameras in the future.
Overview of Features
The BC 30 kit consists of the backup camera, a wireless transmitter, and the parts necessary to power them on and keep them in place. You secure the camera to the license plate with a bracket and two screws, but it can be placed on other parts of the vehicle as well, like the tailgate. You can tilt the camera to achieve an optimum viewing angle and then tighten the screws.
The transmitter sends a wireless signal to your Garmin GPS device and needs to be connected to both the camera and a power source. It can draw power from the rear lights or a constant 12-volt source. The former causes the camera to turn on when you back up while the latter lets you toggle the feed on and off manually at any time from the GPS device. A single transmitter allows you to add three additional cameras to the same system. The first camera comes paired to the transmitter, but additional ones need to be paired manually.
The BC 30 has a resolution of 640×480. While this isn't on par with modern dash cams, it is good enough to assess the car's surroundings. There's no dedicated night vision though. Fortunately, the car's lights provide enough illumination for good footage at night.
What's Bad About It?
The cord that connects the camera with its receiver may be too short depending on your vehicle's size and the camera's location. Garmin sells an extension cable to help with this, but the cable's length is 50 feet. The camera is prone to hiccups at startup. Sometimes you'll need to turn the engine off and on again, and even then this fix isn't reliable.
Tech Specs
Wireless: Yes
Field of view: 140°
The Pros
Connects to existing Garmin devices
Can be expanded with three more cameras
Installation isn't limited to license plate
Excellent night vision in spite of lacking infrared LEDs
The Cons
Connection cord might be too short
Camera experiences occasional startup issues
6. Best Budget Option – eRapta ERT01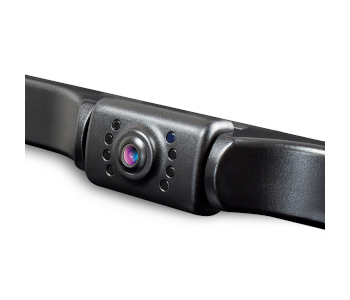 View on Amazon
Editor's Rating: 4/5
Our final backup camera is the 2nd-generation ERT01 made by eRapta. This affordable model is a solid solution if you already have a modern head unit with dual camera inputs. The ERT01 doesn't have advanced features and can't connect wirelessly, but its video quality is good enough to considerably improve your safety and the safety of others while backing up.
Overview of Features
The ERT01 comes in a small package along with wires to connect it to your car's backup light and head units. The manufacturer is generous with the wires' length, so you can install the camera on a large truck and still have enough slack. Wiring the ERT01 to the backup lights will turn it on once you go into reverse, but you can also wire it to the tail lights if you want it to be on constantly.
The camera is rugged and durable for its price. It has an IP rating of 69, meaning it is completely dustproof and has enough water resistance to not get wet in a storm. Its 149-degree viewing angle hits the sweet spot when it comes to letting you see what's behind the car and to the sides without distorting the image to the point of uselessness.
Getting the ERT01 to work with your head unit is a matter of connecting them with a video cable and switching the unit's view over to the second camera. How fast you're able to access the view is limited by the head unit's boot-up time. However, the switch occurs instantly if you boot your head unit up fully before putting the car in reverse.
Are There Drawbacks?
eRapta produced a batch of faulty backup cameras that can't display the color green correctly. There's no way of knowing whether you got a defective unit before trying it out. Luckily, the company has an excellent customer service department that will set you up with a functional replacement. The video quality might deteriorate over time, and the feed can become blurry.
Tech Specs
Wireless: No
Field of view: 149°
The Pros
Affordable solution for when you already have a modern head unit
Optimum field of view
Comes with extra-long cables
Dustproof and water-resistant
The Cons
You might get a unit with color issues
Video becomes blurry with use