6 Best Battery-Powered Security Cameras in 2019
3D Insider is ad supported and earns money from clicks and other ways.
Installing a security system for your house and front yard sounds like a great idea until you're faced with the prospect of having to run several feet of cables to provide both power and communication for your security cameras. This inconvenience in the installation is primarily why wireless cameras have gradually come into fashion in the last couple of years.
While there are several options for how wireless cameras can store the videos that they store, they have no choice but to rely on batteries for power supply. Naturally, there are both good and bad sides to relying on a completely battery-powered camera. In this article, we try
Why get a battery-powered camera?
Battery-powered cameras are certainly less common than hard-wired ones. They are also usually more expensive. Given these characteristics, what's the point of using a battery-powered security camera anyway?
1. Easy to install
If there's such a thing as a plug and play security camera, then it almost certainly has to be battery-powered. A battery-powered camera eliminates all the work needed to run wires and to drill holes in walls for those wires to pass through different rooms in the house. Installation becomes even more challenging if you also need to have security cameras outside your house, as you need to run longer wires and make sure that they are durable enough to withstand outdoor conditions.
2. Room for more
You can only install so many security cameras before your house looks like a mess of tangled electrical cables running across several walls. This will no longer be a limitation if you settle for a completely wireless setup. You can have several cameras in the same room or even have multiple cameras set up close to each other. Since wireless cameras are so easy to install, having lots of them scattered all around your property doesn't take much work at all.
3. Suitable for remote places
There are places where having a wired power supply simply isn't an option. You might need to install security cameras at a strategic point in a large farm or ranch, or perhaps in a cabin that hardly anyone goes to. Battery-powered security cameras allow you to have a working security system even in areas that can be considered off the grid.
4. Safe from power outages
Thieves cutting the power supply to the security cameras is a very common movie trope, but it's also a potential risk for a real security system. Relying on a hard-wired power connection leaves your security cameras vulnerable to a deliberate power interruption or an untimely power outage. With a battery-powered camera, you always have backup power – as long as you don't forget to switch out your batteries regularly.
In spite of all these benefits, battery-powered cameras have a glaring flaw: they can only work for a limited time before you have to replace the batteries. This can be particularly problematic if you have multiple battery-powered cameras spread out over a large area. You'll need to be very particular and organized about keeping a schedule to replace those batteries, or you'll end up with security cameras that haven't recorded a thing.
The top 6 best battery-powered security cameras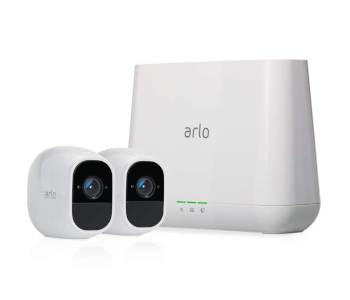 If you're looking for a battery-powered security camera system that has as many features as possible, then the Arlo Pro 2 from Netgear should be worth your consideration. This bundle comes with two wireless Arlo cameras and the base station that you'll need to connect to your internet router to enable cloud recording.
The incredibly compact Arlo Pro 2 cameras are capable of recording 1080p video, equipped with wide-angle PIR sensors, and have an IP65 rating that makes them suitable for outdoor use. They also offer a 2-way audio feature that allows you to talk and listen through the camera using your smartphone. The camera comes with an optional smart siren feature that lets out a 100-decibel siren when any motion or sound is detected – sure to scare off any potential intruders to your house.
Each Arlo Pro 2 camera comes with a removable 2440mAh battery. How long these batteries last will depend on how often the camera records videos because of its sensors getting triggered. In any case, Netgear provides for an easy way to monitor your cameras' battery levels through the companion mobile app. We particularly like how knowing when to switch out batteries for the Arlo Pro 2 isn't a guessing game.
The main drawback of getting an Arlo Pro 2 security camera system is the price. The two-pack system goes for close to $500, although you might be able to get it at a discounted price of a bit more than $300. It's still much more expensive than many of the other battery-powered security cameras in the market. Netgear has also received quite a lot of complaints with regards to their customer service – not exactly a good look considering how expensive the Arlo Pro 2 is.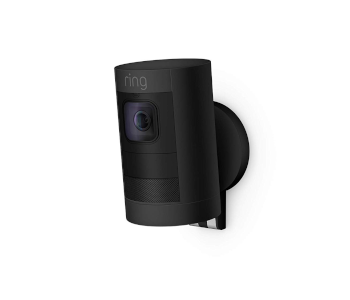 The battery-powered Ring Stick Up Cam looks simple and unassuming, but it's actually one of the best value-for-money outdoor security cameras available today. The Stick Up Cam is a slim and compact security camera that comes with a stand that can act either as a base for setting up the camera on a shelf or desktop or as a screw-on mount for a wall or ceiling.
Despite being quite cheap, the Ring Stick Up Cam comes with all the essential features of a modern security camera. It records 1080p HD videos, has motion-activated video recording and notifications to your phone, comes with a two-way audio feature, and was built to withstand the elements outdoors.
The Stick Up Cam has a quick-release mechanism for the battery that allows you to switch out batteries with virtually no downtime for the camera. A huge benefit of the Stick Up Cam having minimalist features is that it helps extend the camera's battery life. Mounted in a spot with moderate foot traffic, the battery of the Stick Up Cam probably won't need to be replaced for two to three months. It takes less than eight hours to charge the battery to full, so you'll be risking only minimal downtime should you have no spare batteries on hand.
Our biggest issue about the Stick Up Cam is that it doesn't come with any free subscription for cloud-based storage of security videos. The camera does come with a 30-day trial for the Ring Protect Basic Plan, but you'll be forced to pay $3 a month to maintain the subscription. What's even worse is that the monthly fee is charged for each Ring device in your home. If you have multiple security cameras in your property, then that amount can quickly pile up.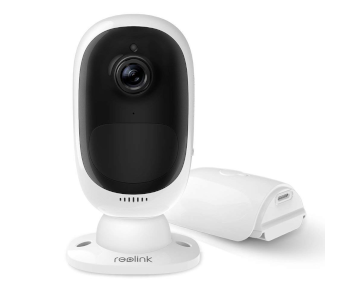 Not everyone has a huge budget for a security camera system for their homes. Fortunately, you won't need to settle for a low-quality model to stay within your limited budget. The Reolink Argus 2 costs less than $100 each and is almost as capable as the models that cost twice as much.
The Argus 2 camera is equipped with a Starlight CMOS sensor that allows it to capture 1080p videos up to a range of 33 feet. It also has a motion detector that can trigger a 75-dB siren, a custom voice command, a push notification to your phone, or an email alert. The Argus 2 is perfectly suitable for outdoor use with its IP65 rating, protecting it from harsh conditions of direct sunlight and heavy rains.
The removable battery of the Argus 2 can last up to 180 days on standby mode. This will naturally get shorter if the camera gets triggered often, but you have the option of hooking up a solar panel to the Argus 2 so that the battery gets charged daily. This is a nice little setup if you need to install security cameras in extremely remote locations – that is, if you can afford to have a solar panel accessory for each camera.
The Argus 2 does lack a critical feature that prevents it from being considered the top security camera – it does not offer 24/7 recording. Instead, all videos will only be recorded once the motion sensor is triggered. This may be a huge limitation for some homeowners and business owners who prefer keeping a closer eye on their property.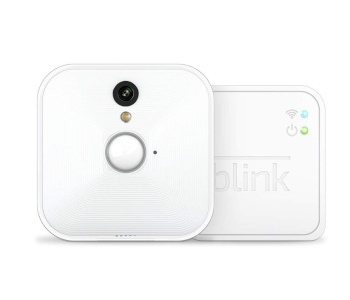 The Blink Security Camera is an excellent low-profile camera that is incredibly easy to mount anywhere. It offers real-time video monitoring, a motion sensor that starts video recording when triggered, and sends instant notifications to your phone should it detect any motion. This version of the Blink camera is designed only for indoor use, thus the low price tag. You can also get an outdoor version at a slightly higher price.
What sets the Blink Security Camera apart from all the other cheap security cameras is that all of its cloud-based services are available at no extra cost. There is a limit to this provision, of course – the Blink server will only retain up to 2 hours of video footage, and all videos older than two weeks will be automatically deleted. These seem like reasonable terms for a service that comes for free.
The Blink Security Camera requires two lithium-ion AA batteries. Although it's quite disappointing that the camera does not come with a built-in battery, the tradeoff is that a single pair of AA batteries can last up to two years.
Those nice features aside, there are a couple of compromises that Blink has made to make this indoor security camera quite affordable. For one, it can only record videos with a 720p resolution. It's audio feature also only works one-way, which means that recorded videos come with sound, but the camera does not have a built-in speaker.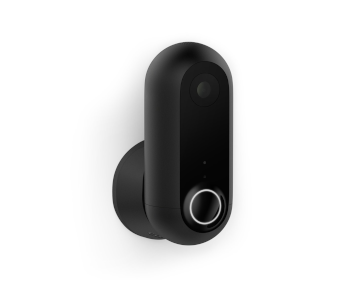 At first glance, the Canary Security Camera seems to be an affordable camera that offers practically all of the features of the best models in this list. It does have on fatal flaw – but we'll get to that later.
The Canary Flex is an excellent choice for an indoor or outdoor security camera with its 1080p video recording, 360-degree magnetic swivel, and a bunch of intelligent features that let it detect activities while filtering out insignificant motion. The camera is built weatherproof, has a two-way audio feature, and even has a button for one-touch access to emergency services.
One feature we really like about the Canary Flex is the option to activate Privacy Mode using just the companion mobile app. This shuts down all connected cameras and microphones so that you don't need to worry about your intimate moments being recorded and the footage falling into the wrong hands.
There's a perfectly good reason for why the Canary Flex is ranked this low in the list, despite being a cheap camera that comes with a good set of features. This is because most of the features that make the Canary Flex so excellent are locked behind their monthly subscription scheme. If you are not willing to pay the $10 per month subscription, then the Canary Flex becomes a very limited security camera that only records 10 seconds of video every time the motion detector is triggered.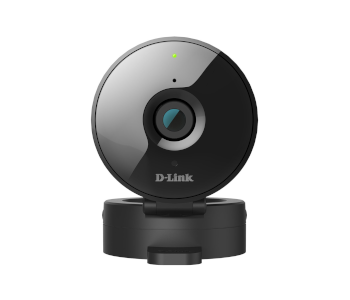 First things first – this D-Link security camera is dirt cheap. At less than $40, this camera is about half the price of our budget choice. However, this is one of the cases where we'll warn you to manage your expectations. The D-Link WiFi Security Camera is far from being one of the most sophisticated security cameras in the market, but it is certainly not bad for its price.
The resolution of the videos recorded by this camera is limited to 720p. It does, however, have a built-in infrared sensor that gives it up to 16 feet of night vision. It can still connect to your local WiFi network, allowing the camera to send notifications to your phone whenever its motion and sound sensors get triggered.
Another major limitation of this model is that it doesn't offer cloud storage. Instead, all videos are stored in a micro SD card with a capacity of up to 128 GB. While this means that you'll need to manually retrieve the SD cards from your cameras to view any footage, a camera that uses purely local storage is particularly suitable for places that have no Wi-Fi coverage, such as in large farms or in an uninhabited cabin. The lack of cloud services also means that there are no subscription charges – perfect for staying within a budget!
Final thoughts
Using a battery-powered security camera instead of a hard-wired one might feel like taking a step back technology-wise, but there are simply some cases where a wireless camera is more suitable. Going completely wireless also makes it much easier to mount cameras around your house – just screw them on walls or place them on top of countertops – since you won't need to run wires or drill holes through walls.
There is the matter of having to replace the batteries of your cameras regularly. Some models make it easier for you to monitor the camera's battery level through the mobile app, while others simply strip down the features to make the batteries last – up to two years, in some instances. Either way, this might end up being as inconvenient as having to install wires for your cameras. You'll just have to pick your poison, it seems.