Headphones Comparison: Beats Powerbeats 4 vs. Beats Powerbeats Pro
3D Insider is ad supported and earns money from clicks, commissions from sales, and other ways.
The Beats Powerbeats 4 and the Beats Powerbeats Pro are both great headphones for sports, with the latter being the more premium product, selling for around $100 more. While the two products have more similarities than differences, choosing between them is still not going to be easy. If you want a more affordable product, the Powerbeats 4 – which are simply called "Powerbeats" officially, with no number like the Powerbeats3 – are obviously the better option.
But if you can afford either product, then you'll need to look past their price tags and instead consider the other things that separate the two headphones from each other. In this head-to-head comparison, we'll help you do just that by giving you a detailed look at their individual strengths and weaknesses, along with their many similarities.
Quick Look
Beats Powerbeats 4
Beats Powerbeats Pro
Type
Wireless in-ear
Truly wireless in-ear
Enclosure
Closed-back
Closed-back
ANC
No
No
Connectivity
Bluetooth 5.0
Bluetooth 5.0
Battery
15 hours
9 hours
Weight
0.93 oz
Headphones: 0.71 oz
Case: 3.8 oz
Price
Amazon
Amazon
Design
Including aesthetics, the Powerbeats 4 and the Powerbeats Pro are very similar in almost all design aspects – you can simply think of the former as the neckband version of the latter. Their build qualities are similar, with the same IP rating for water resistance, while their identical ear-hook designs allow them to stay securely in your ears. Both are comfortable to wear, easy to carry for everyday use, and include four ear tip options and a Lightning cable. The most notable differences between them lie in the controls category, where the Powerbeats Pro have the advantage.
Fit
The Powerbeats 4 and the Powerbeats Pro are both in-ear headphones designed specifically for sports use, but their wireless formats are different. The former is not completely wireless and includes a short cable connecting to the two earpieces while the latter has a totally wireless format. But while their designs are different, they are practically identical in comfort and stability.
Both earphones have an ear-hook design and are comfortable to wear, with their ear tips not entering your ear canals too deeply like other earphones. They are lightweight and breathable and stay securely on your ears even during workouts with a lot of head movement, with their flexible ear hooks being the biggest reason for their excellent stability. You might find their ear-hook designs uncomfortable for extended use, though, especially if you wear glasses.
Like other in-ear headphones, both Beats products come with different ear tip sizes, allowing you to customize the fit. But instead of the usual three, they include four ear tip sizes, with one pair featuring an uncommon double-flange design for a tighter in-ear seal. For both earphones, all ear tips are made of silicone, with Beats not offering the option to have foam ear tips included instead.
Although both earphones have a comfortable and stable design for sports, the Powerbeats Pro are a bit better in this category overall. Their completely wireless format allows for more freedom of movement and means there is no cable that can get in the way during workouts. With the Powerbeats 4, there is still the risk of the cable getting caught into something, especially since they lack both a shirt clip and a cable management clip.
Build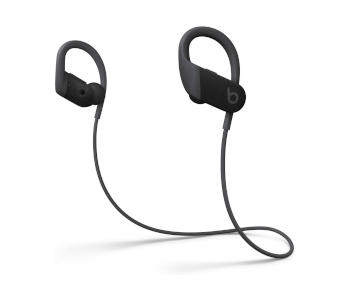 Both earphones have good plastic builds, with their similar IPX4 rating for water resistance meaning they are protected against sweat, which is important for sports use. The ear hooks of both earphones are sturdy and flexible while the cable of the Powerbeats 4 is rounded instead of flat and feels durable. But for the more expensive Powerbeats Pro, the overall build quality is unimpressive for the price, as there are similarly priced and cheaper truly wireless earphones with a more premium build.
Regarding aesthetics, the Powerbeats 4 and the Powerbeats Pro are almost identical, with the cable of the former being the only notable difference between them – the former is basically the neckband version of the latter. Both earphones look sleek and stylish, with the easily recognizable brand logo on their backplates adding to their appeal. Both are also available in multiple colors, with Beats offering three color options for the Powerbeats 4 and four for the Powerbeats Pro, as of this writing.
Controls
The fourth-gen Powerbeats and the Powerbeats Pro have similar control schemes for call and music management, volume adjustment, and voice assistant activation. Both include a multi-function button and a volume rocker, with the former recognizing single and multiple taps and long press inputs for activating different functions. Furthermore, both earphones allow for hands-free Siri controls when connected to a compatible iOS device.
However, the button layouts of the two earphones are slightly different. The Powerbeats Pro feature a multi-function button and a volume rocker on each unit, giving you full controls even when using only one of them. On the fourth-gen Powerbeats, those same buttons are only found on the right unit; instead of another set of control buttons, the left unit has a power button, which is also used for initiating the pairing process.
The on-ear controls of the fourth-gen Powerbeats are especially notable, as most other sports earphones with a neckband design have an in-line remote for controls. But while both earphones have similarly user-friendly and easily accessible controls with almost the same functions, the Powerbeats Pro are the winner in this category.
In addition to allowing for full controls with either earpiece, they have an auto-pause feature, with the audio automatically pausing when you remove one unit from your ear, which is convenient. Once you put it back in, the audio automatically resumes. They also automatically turn on when you take them out of their charging case, with no need to manually switch them on like their neckband counterpart.
Portability
Both the Powerbeats 4 and the Powerbeats Pro are compact and lightweight earphones that are easy to carry for both sports use and casual everyday use. They are tied in this category, with both of them bringing their own set of pros and cons to the table.
The Powerbeats 4 come with a soft pouch that protects them from scratches and minor water spills, but not against hard physical impact. If you want to take a break and give your ears a breather, you can simply wear them around your neck, which makes them easily accessible again. But they don't have any form of cable management, with their earpieces lacking magnets for snapping them together and keeping them more secure around your neck.
On the other hand, the Powerbeats Pro are smaller and lighter, not to mention their completely wireless format means you never have to worry about tangled cables. However, they are not as pocket-friendly as other truly wireless headphones. Their charging case is one of the largest cases among truly wireless headphones, making them more difficult to store in small pockets when docked in their case.
As mentioned, both earphones are very portable and easy to carry, but for purely sports use, you may find the Powerbeats 4 more convenient and more portable. You don't necessarily need to bring their pouch and charging cable since they have a long battery life per charge and can be simply worn around your neck when not in use. It's all about preferences and intended usage in the end, though, as many people will find the Powerbeats Pro more portable despite their bulky case.
Accessories
The two earphones are almost identical when it comes to the accessories included in the package. Both include four ear tip options – with one option being double-flange ear tips that are not commonly seen among earphones – and a Lightning-USB-A cable. The only difference between them is the type of their cases: the Powerbeats 4 include a soft pouch while the Powerbeats Pro come with a hard case that also serves as their charging dock.
Performance
The Powerbeats 4 and the Powerbeats Pro are very similar regarding overall performance. Both are good-sounding earphones with weak noise isolation, low sound leakage, decent mic performance, and excellent integration with iOS devices. The neckband Powerbeats have a better battery life per charge while the truly wireless Powerbeats have better total battery life and wireless range and include a power-saving feature. Aside from those things, there are no other notable differences between the two earphones.
Sound
The Powerbeats 4 and the Powerbeats Pro are two good-sounding earphones with similar but not completely identical sound profiles. They have a similarly deep, powerful, and controlled bass and a clear mid-range, but both are lacking in the treble department. Although they have some differences in audio reproduction – the Powerbeats 4 have a slightly better treble, for example – most people will not notice them.
With their powerful and emphasized bass, both earphones are especially suitable for bass-heavy music genres. They are also good for listening to audiobooks and podcasts and for watching movies and other video content. Unfortunately, you can't modify their sound profiles if you don't like their default settings, as both earphones lack a companion app for customizing the sound.
Isolation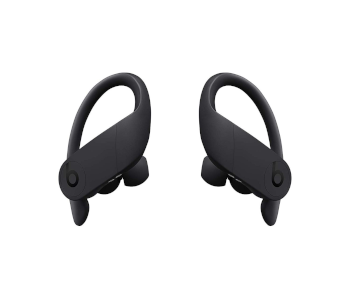 Considering their very similar in-ear designs, the Powerbeats 4 and the Powerbeats Pro are practically identical regarding sound isolation performance. Both have low sound leakage, allowing you to listen to music without bothering people around you too much. On the other hand, both have subpar noise isolation performance, with their passive in-ear seals not blocking a good amount of ambient noise, especially in an outdoor setting.
Both earphones are decent at masking high-frequency noises and reduce a small amount of background chatter. But if you want to block out background noise while running or working out, they are not the best options. While not as open as open-back and semi-open headphones like the Apple AirPods and the Bose SoundSport Free, they are definitely worse than most other closed-back earphones, which are usually good at reducing background noise passively. Their subpar noise isolation also makes them unsuitable for blocking out noise during commutes and in a very noisy office.
Unlike some headphones, both the Powerbeats 4 and the Powerbeats Pro lack a talk-through or ambient sound mode for monitoring your environment without removing them from your ears. If you want to be able to monitor your surroundings at all times while still listening to music, the Powerbeats Pro are the better option. Since both of their earpieces have the same control scheme, you can use only one unit to leave your other ear completely uncovered for better situational awareness, especially while outdoors.
Mic
For both earphones, there's not much to get excited about regarding mic performance, as both are only decent at best in this particular category. Their integrated mics are good enough for calls, but not in very noisy or windy environments. While their mics have decent noise reduction, both earphones are still not recommended for calls in noisy places, as their similarly subpar noise isolation will make it more difficult for you to hear the other person on the line.
Battery
The fourth-gen Powerbeats offer a longer battery life per charge. They can last up to 15 hours on a single charge, which is one of the best marks among neckband headphones. This makes them more suitable for ultramarathons and extended or multi-day outdoor excursions. If you only use them for running or working out for a couple of hours per day, they can last an entire week on just a single charge.
But their much longer battery life per charge doesn't automatically mean they are the better earphones in this category, as the Powerbeats Pro are better in other aspects. While they are limited to nine hours per charge – which is actually one of the best marks among truly wireless headphones – their total battery life is around 24 hours with the additional battery in the case.
Their quick-charge feature is also slightly better, with the earphones gaining one and a half hours of battery after five minutes of charging time – the fourth-gen Powerbeats only get one hour of playback after a five-minute charge. And unlike their neckband counterpart, the Powerbeats Pro have a power-saving feature, with the earphones automatically entering standby mode after being idle for a certain amount of time.
Connectivity
Aside from the Powerbeats Pro having a better wireless range than the Powerbeats 4, the two earphones are practically identical in this category. Both are equipped with Bluetooth 5.0 and the Apple H1 chip and are compatible with iOS and Android, but they integrate better with iOS devices.
With iOS devices, their connection range, stability, and latency are better, not to mention they allow for seamless pairing. Moreover, they support hands-free Siri controls, allowing you to make calls, play songs, check the weather, and set alarms, among other things, without touching your earphones or mobile device. Both earphones are also compatible with the audio sharing function, which allows you to connect two compatible Apple and Beats headphones to one iOS device, with independent volume controls for each pair.
On the other hand, both earphones are limited to wireless connectivity, with no option to switch to wired mode, and lack multipoint technology for connecting with up to two devices at the same time. In addition, they don't have a full-fledged companion app for modifying some aspects of the earphones, such as the sound profile and the controls.
Wrap-up
Beats Powerbeats 4
The fourth-gen Powerbeats are great earphones for sports use, with their flexible ear hooks allowing for a more secure and more stable fit. They are good-sounding earphones with a great 15-hour battery life per charge and easily accessible controls. While they are not as rugged and durable as other sports-oriented neckband headphones, their build quality is good, with an IPX4 rating for water resistance.

Compared to the Powerbeats Pro, the fourth-gen Powerbeats are more affordable and have a longer battery life per charge and a more portable travel pouch. In addition, their neckband design allows you to simply wear them around your neck when not in use. Overall, the fourth-gen Powerbeats are an excellent alternative if you find the Powerbeats Pro too expensive. They are basically the neckband version of the Powerbeats Pro, with the two earphones having more similarities than differences.
Pros
Cons

More affordable price
Great 15-hour battery life
Ear-hook design for excellent stability
Convenient on-ear controls
IPX4 rating for water resistance
Hands-free Siri support on iOS

No auto-pause
No power-saving feature
No companion app for customization
Beats Powerbeats Pro
The Powerbeats Pro are some of the best sports earphones on the market, with many considering them as the best overall in the truly wireless category. Their sound quality, build quality, controls, and battery performance are good while their wireless range and integration with iOS devices are great. With their ear-hook design, they stay securely in your ears even during intense workouts with lots of head movement.

Due to their totally wireless design, the Powerbeats Pro allow for more freedom of movement than the fourth-gen Powerbeats. Furthermore, they have better controls, total battery life, and wireless range and include more features. But on the other hand, they are more expensive and have a bulky case that hurts their portability. On the whole, the Powerbeats Pro are better sports earphones than the fourth-gen Powerbeats, but it's best to wait for their price to drop to around $200 during a sale before grabbing them, as they are very expensive.
Pros
Cons

Completely cable-free design
Ear-hook design for excellent stability
Good battery performance
Ambidextrous onboard controls
Auto pause/play feature
IPX4 rating for water resistance
Hands-free Siri support on iOS

Bulky charging case
No companion app for customization
Very expensive