Headphone Comparison: Beats Solo3 vs. Beats Solo Pro
3D Insider is ad supported and earns money from clicks, commissions from sales, and other ways.
The Beats Solo3 and the Beats Solo Pro are both wireless on-ear headphones that are suitable for casual everyday use, with the latter being the newer model. The Solo3 are regular Bluetooth headphones selling for less than $200, while the Solo Pro are noise-canceling headphones retailing for around $300.
Considering their significant price gap and different pros and cons, deciding between the Solo3 and the Solo Pro is not going to be an easy process. In this head-to-head comparison guide, we'll highlight their strengths, weaknesses, and similarities to help you choose which Beats headphones are for you.
Quick Look
| | Beats Solo3 | Beats Solo Pro |
| --- | --- | --- |
| Form Factor | On-ear | On-ear |
| Enclosure Type | Closed-back | Closed-back |
| ANC | No | Yes |
| Connectivity | Bluetooth, 3.5 mm analog cable | Bluetooth |
| Battery | 40 hours | 22 hours |
| Weight | 7.6 oz | 9.4 oz |
| Price | Amazon | Amazon |
Design
The Solo3 and the Solo Pro are both well-designed headphones with breathable ear cups, tight clamps, and user-friendly on-cup controls. Both their build qualities are good, but the Solo Pro feel more premium overall and are some of the best-built in the current Beats headphones lineup. On the other hand, the Solo3 are more compact and portable and include one more accessory. Both headphones are available in different colors, though the Solo3 have more color options at the moment.
Fit
These two Beats headphones look similar to each other. Both are stylish on-ear headphones with small, circular ear cups that press on the ears and feature the familiar Beats logo. Both are breathable since they don't completely wrap around your ears and have secure clamps, preventing them from easily sliding off upon head movement. However, the Solo3 are more comfortable to wear for long listening sessions, mainly due to their slightly looser fit.
The Solo Pro are quite bulky for on-ear headphones and appear to be over-ear headphones at first glance. They are also slightly heavier than the Solo3, but they are not as heavy as some premium headphones that are mostly made of metal, and with their good weight distribution, you'll barely feel the weight difference. Their earpads are also noticeably thicker, but their tighter clamp hurts their overall comfort level and prevents them from being as comfortable to use for long hours as the Solo3.
Build
While both headphones are primarily made of plastic, their build qualities are good. They are both durable and will not easily fall apart after a few drops. The Solo Pro's construction, however, looks and feels more premium, especially with the matte finish and the exposed metal in the headband. They are sturdier and appear as high-end headphones that are actually worth their expensive price.
Controls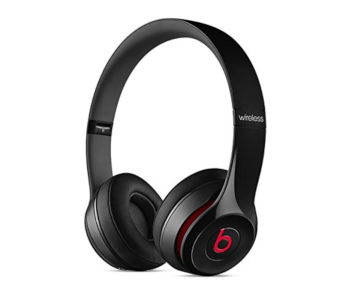 The Solo3 and the Solo Pro don't really differ much regarding controls. Both feature discreet on-cup controls that are user-friendly and easily accessible and allow for basic functions like volume control and call and music management. Their controls are not too confined and are easy to get used to.
The Solo Pro include an additional control for switching between active noise cancellation (ANC) and transparency mode, which comes in the form of a small button at the bottom of the left ear cup. Moreover, they can be easily turned on and off by simply unfolding and folding them, which is convenient.
On the other hand, the Solo3 have a remote in their audio cable, allowing for basic controls even when in wired mode. The in-line remote has the usual three-button setup, includes a mic, and is just as easy to use as the on-cup control scheme. You don't get an in-line remote with the Solo Pro since they don't even include an audio cable in the first place.
Portability
The Solo3 are more portable than the Solo Pro, but not by a significant margin. They are more compact and are more in line with typical on-ear headphones size-wise. They take up less space in your bag when stored and look a bit more discreet when worn around your neck. The Solo Pro, as mentioned, are quite bulky for on-ear headphones, but they are still not as cumbersome to carry for everyday use as non-folding, full-sized over-ear headphones.
Both headphones can be folded into a more compact format and include soft cases for storage. Their respective soft cases are not as sturdy as a hard case, though. The fact that the more premium Solo Pro don't include a hard case is disappointing. There are many other cheaper headphones that include a hard case for storage. For the cheaper Solo3, a soft case is acceptable at their current pricing. But for the $300 Solo Pro, it's ridiculous.
Accessories
Like other Beats over-ear and on-ear headphones, the Solo3 and the Solo Pro are light in accessories – especially the latter. The Solo3 include a soft case, a micro USB charging cable, and an audio cable. The Solo Pro, on the other hand, merely include a soft case and a Lightning charging cable. Yes, you read that correctly – there is no audio cable included in the box for the Solo Pro, which is disappointing for such an expensive pair of headphones. If you want to use them in wired mode, you'll need to purchase a separate audio cable from Apple.
Performance
The Solo3 and the Solo Pro are both good-performing headphones that are similar in sound quality, mic quality, and wireless range. Both charge fast, too. But their similarities end there. The Solo3 offer a much longer battery life per charge and an additional connection option. On the other hand, the Solo Pro are significantly better at noise isolation with their ANC and have a lower sound leakage.
Sound
Both headphones are good-sounding on-ear headphones that are suitable for most music genres and will satisfy most people for casual listening. Their sound signatures are balanced and are actually similar, with a powerful but not too emphasized bass and a detailed mid-range. However, both are not as natural-sounding as open-back headphones and are not recommended for studio use. And unlike some wireless headphones, their sound profiles are not customizable through a companion app.
Isolation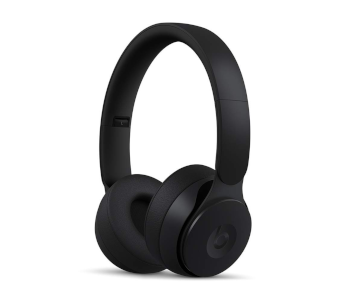 With their ANC, the Solo Pro provide significantly better noise isolation than the Solo3. While they are not quite as good as some of the best noise-canceling headphones like the Sony WH-1000XM3 and the Bose QuietComfort 35 II, they block a good amount of background noise. They are decent at blocking the sound of airplane and bus engines and are very effective at blocking office-related ambient noise like chatter and the sound of air conditioning.
Although they are less comfortable to wear for long flights and commutes and for extended hours at the office, the Solo Pro are much more suitable headphones for commute, travel, and office use. You can easily switch to transparency mode when the situation calls for it. Their sound leakage is also lower at higher volumes, preventing your loud music from disturbing nearby people.
The Solo3, on the other hand, simply provide passive noise isolation with their closed-back design and are less suitable for blocking out ambient noise in particularly crowded or very noisy places. You can use them to mask background noise by increasing the music volume, but you'll need to be mindful of the sound bleeding out from them at higher volumes. Their sound leakage is higher, but that shouldn't be a big issue unless you are listening to music at max volume while in a quiet place such as a library.
Mic
With their mediocre integrated mics, both the Solo3 and the Solo Pro are not the best for business calls – especially in a crowded room – but they are acceptable enough for casual phone calls in a quiet setting. That's also true for most non-gaming wireless headphones, which are usually decent at best regarding mic performance.
Battery
Both the Solo3 and the Solo Pro have long-lasting batteries suitable for multi-day use, but the former is better in this department. They can run up to 40 hours per charge, easily beating most wireless over-ear and on-ear headphones regarding single-charge battery life. If you only use them for a few hours per day, they can last an entire week on just a single charge.
Technically, the Solo Pro also can last up to 40 hours per charge, but only when both their ANC and transparency mode are disabled. With ANC enabled, they can run up to 22 hours per charge, which is still good and is right in line with most noise-canceling headphones. For additional comparison, their 22-hour battery with ANC and 40-hour battery without ANC are the same as that of the Beats Studio3.
The Solo3 and the Solo Pro also charge fast, with both requiring less than two hours to be fully recharged. With their fast-charge feature, the Solo3 allow for three hours of playback after five minutes of charging. For the Solo Pro, you'll need to charge them for 10 minutes to get the same number of playback hours.
Connectivity
Both headphones have excellent wireless ranges but don't support NFC technology and can't connect with multiple devices at the same time. Their Bluetooth pairing processes are both hassle-free, especially when pairing them with Apple devices.
The Solo3, however, offer more than one connection option. As mentioned, they come with an audio cable, allowing you to switch to wired mode when the battery is low or if you want a zero-latency connection. The audio cable ends with a regular 3.5 mm analog plug for universal compatibility with most mobile devices. If you want to use the Solo Pro in wired mode, you'll need to purchase a Lightning to 3.5 mm audio cable.
Wrap-up
Beats Solo3
The Solo3 are a solid pair of headphones that are suitable for casual everyday use. They are more affordable than the Solo Pro and offer a longer battery life per charge, with their 40-hour battery being one of the best among wireless headphones. Moreover, they have an audio cable included in the box, allowing you to switch to wired mode when the battery is low. On the other hand, they are less suitable for listening to music in a noisy environment due to their inferior noise isolation. If you don't care about ANC and simply prefer more portable and longer-lasting wireless headphones for everyday use, the Solo3 will offer better value for the money than the Solo Pro.
Pros
Cons

40-hour battery life
Good sound quality
User-friendly on-cup controls
Fast charging
Includes an audio cable
More affordable than Solo Pro

Subpar noise isolation
Poor app support
Tight clamp
Beats Solo Pro
The Solo Pro are more versatile headphones than the Solo3, with their ANC and better noise isolation making them more suitable for blocking ambient noise in crowded or noisy environments. They are better headphones for commuting, travel, and office use. Their lower sound leakage is also beneficial when listening to loud music in quiet places like libraries. Their build quality is more high-end, but they are not as comfortable for long listening sessions as the Solo3 due to their tighter fit. If you can spend around $300 on a pair of wireless on-ear headphones and prefer headphones that are good at blocking ambient noise, the Solo Pro are a better buy than the Solo3.
Pros
Cons

More premium build quality than Solo3
Good sound quality
22-hour battery with ANC
Good noise isolation performance
Low sound leakage
Fast charging

Expensive
Limited app support
No audio cable included