Headphones Comparison: Beats Studio3 vs. Beats Solo3
3D Insider is ad supported and earns money from clicks, commissions from sales, and other ways.
The Beats Studio3 and the Beats Solo3 are some of the most popular and easily recognizable wireless headphones on the market. Both are available in different colors and are on the expensive side, especially the former, which sells for more than $300. While they look similar to each other at first glance, they are different types of headphones: the Studio3 are over-ear headphones with active noise cancellation (ANC) while the Solo3 are regular on-ear headphones.
However, despite being different types of headphones, these two Beats products have many things in common. They are very similar regarding build quality, controls, mic performance, app support, and wireless connectivity. If you are having a hard time deciding between the Studio3 and the Solo3 for your next headphones purchase, this head-to-head comparison will help you.
Quick Look
| | Beats Studio3 | Beats Solo3 |
| --- | --- | --- |
| Form Factor | Over-ear | On-ear |
| Enclosure Type | Closed-back | Closed-back |
| ANC | Yes | No |
| Connectivity | Bluetooth, 3.5 mm analog cable | Bluetooth, 3.5 mm analog cable |
| Battery | 22 hours | 40 hours |
| Weight | 9.2 oz | 7.6 oz |
| Price | Amazon | Amazon |
Design
The Studio3 and the Solo3 are both well-designed wireless headphones with closed-back ear cups, user-friendly controls, and a foldable design. Both are comfortable to use, and their build qualities are very similar. However, since they are different types of headphones, they are noticeably different in terms of fit and bring different pros and cons in that regard.
Fit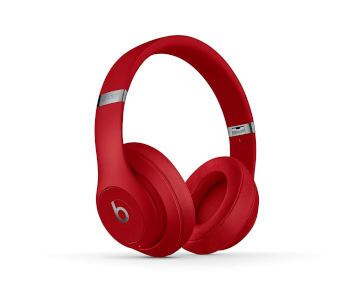 From a distance, the Studio3 and the Solo3 might appear to be the same headphones due to their similar aesthetics, but they are different types of headphones. The Studio3 are over-ear headphones with a bulkier design and a generally more comfortable fit since they don't directly press on your ears. The Solo3, meanwhile, are on-ear headphones with smaller ear cups and a more breathable design, which is beneficial for long listening sessions, especially if you sweat a lot.
Both headphones have tighter clamps that some may find uncomfortable after a few hours of continuous use, especially with the Solo3, which directly press on your ears. On the plus side, this makes for a more secure and stable fit. With their tighter clamps, both headphones are decent enough for sports use, especially considering their wireless connections mean there are no audio cables that might get caught into something while working out.
Build
Regarding build quality, the Studio3 and the Solo3 are very similar. While they don't feel as premium as their expensive price tags suggest, both are a sturdy pair of headphones that won't easily fall apart after just a few minor drops. Both of their headbands are flexible and reinforced with metal, while their ear cups are well-padded and feel durable.
Controls
Like all other wireless headphones, the Studio3 and the Solo3 both feature on-cup controls for convenience. They are about the same regarding controls. Both have user-friendly, easily accessible controls for call and music management and volume adjustment. Their on-cup controls are discreet and blend seamlessly with their respective ear cup designs. The only notable difference between the two is that the Studio3 include an additional control for their ANC feature.
Portability
Both headphones fold into a more compact format, allowing them to take less space in your bag and making them a bit more portable than non-folding over-ear and on-ear headphones. Both are lightweight and are not too cumbersome to carry for everyday use, with their respective carrying cases adding to their overall portability. The Solo3 are slightly more portable due to their more compact design, though, but on the other hand, the bulkier Studio3 come with a more protective hard carry case.
Accessories
Don't expect to see a lot of accessories when unboxing the Studio3 and the Solo3, as both headphones are light on that front. Along with their carrying cases and charging cables, both come with audio cables for switching to wired mode. However, their carrying cases are different: the Studio3's hard carry case offers better protection against physical damage than the Solo3's soft carry case.
Performance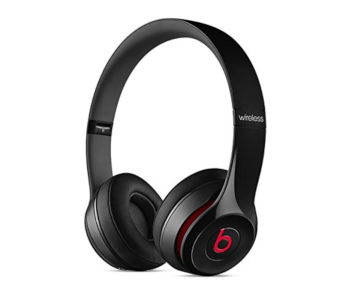 The Studio3 and the Solo3 differ the most in sound isolation and battery life. As expected from a pair of headphones featuring ANC technology, the former offers better noise isolation, along with lower sound leakage. The latter, on the other hand, offers a much longer battery life per charge, making them more suitable for multi-day use. In other areas, the Studio3 and the Solo3 perform similarly, though some may prefer the latter's more consistent audio reproduction.
Sound
Although they certainly won't impressive serious audiophiles, both the Studio3 and the Solo3 are surprisingly good-sounding wireless headphones. Both headphones are suitable for different music genres, but the Solo3 sound more balanced overall and are more consistent. Both are not recommended for professional or studio use, but for casual listening, they should be good enough for most people. Sadly, their sound profiles can't be customized using a dedicated companion app, unlike with some wireless headphones.
Isolation
The Studio3 are much better at noise isolation than the Solo3, and by a wide margin, which isn't really surprising since they are equipped with ANC technology. They are much more suitable for blocking out ambient noise in the office and during commutes. Their sound leakage is also lower, which is especially beneficial when using them in the office, where some people may not like being subjected to the loud sound bleeding out from your audio equipment.
The Solo3 only provide passive noise isolation with their closed-back design. You can use them for masking ambient noise by increasing the music volume, but their sound leakage can be an issue in some situations. There are much better options on the market if you want on-ear headphones with good noise isolation performance – like the newer and more expensive Beats Solo Pro.
Mic
For phone calls, both the Studio3 and the Solo3 are not the best options, especially for important business calls. Their integrated mics are adequate enough for phone calls while in a quiet environment, but in a noisy place, they fare poorly. If you are looking for headphones with a better mic, whether for gaming or office use, consider a boom mic-equipped headset instead.
Battery
Both headphones have long-lasting batteries, making them suitable for long listening sessions and all-day use. The Solo3 can last up to an incredible 40 hours per charge, allowing them to last through multiple days on just a single charge. The Studio3 also can run up to 40 hours per charge, but only when the ANC is disabled. With the ANC feature enabled, their battery lasts up to 22 hours, which is still good. Additionally, both headphones have fast-charge features, providing three hours of playback after five minutes of charging for the Solo3 and 10 minutes for the Studio3.
Connectivity
While both headphones don't support NFC technology and multi-device pairing, they boast excellent wireless ranges when paired with Apple devices, giving you more freedom to walk around the house or in the office. They also easily pair with Apple devices. When their batteries are low, you can use their audio cables to switch to wired mode, which is convenient. While both headphones are optimized for Apple devices, they can also be paired with Android devices. You don't get a dedicated app for customization, though, regardless of your device.
Wrap-up
Beats Studio3
The Studio3 are the better headphones overall. They are more versatile, with their ANC feature and better noise isolation performance making them more suitable for commuting, travel, and office use than the Solo3. While their battery life is shorter when ANC is enabled, they are more than capable of lasting through long commutes and flights and extended office hours. Most people will also find their over-ear fit more comfortable for long listening sessions, as it puts less pressure on the ears. They are very expensive, though, normally selling for around the same price as the Sony WH-1000XM3 and the Bose QuietComfort 35 II.
Pros
Cons

Good noise isolation with ANC
Low sound leakage
Very comfortable
Discreet on-cup controls
Good 22-hour battery
Fast-charge feature

Very expensive
Bulky design
Limited app support
Beats Solo3
The Solo3 are recommended if you prefer on-ear headphones due to their more compact and more breathable design. They are relatively more affordable and are slightly more portable, taking up less space in your bag when folded, which frequent travelers might find preferable. But they are not as good for all-around use as the Studio3, with their inferior noise isolation making them less suitable in a noisy environment. Their tight on-ear fit is also less comfortable for long listening sessions despite being more breathable than an over-ear fit. If you want on-ear headphones with ANC for better noise isolation, check out the more expensive Solo Pro instead.
Pros
Cons

Excellent 40-hour battery
Balanced audio reproduction
Discreet on-cup controls
More breathable design
Fast-charge feature
More affordable than Studio3

Mediocre sound isolation
Limited app support
Less comfortable for long listening than Studio3