Beats Studio3 vs Bose QC35 II Headphone Comparison
3D Insider is ad supported and earns money from clicks, commissions from sales, and other ways.
Whenever you listen to music, you're hoping to get the best sound quality possible. Sure, dollar store headphones can do the job, but investing in a pair of high-quality headphones can make a tremendous difference in both sound and comfort. Not to mention that they are far superior when it comes to longevity and reliability.
The high-quality headphones of yesteryear were extremely expensive and available to only a select few. Unless you were a music professional, you were more than likely to have to settle for an average pair of headphones. This has all changed, with many manufacturers offering high performing headphones at reasonable prices.
If you've been looking around for a pair of headphones focusing on high-quality sound and noise cancellation, you're going to have to invest. However, this doesn't mean you have to break the bank. In fact, Beats Studio3 and Bose QC35 II are two headphones that'll give you the most in both sound performance and comfort for an achievable price.
Both headphones come with their drawbacks. Beats Studio3 is known to have a bulkier carrying case while Bose QC35 II has no aptx, but we'll go into this in more detail further on. When considering this, you're probably asking yourself, which one do I get? Well, we've done an in-depth look at both headphones and will be comparing them to help you figure out which headphone is ideal for you.
Tech Specs
Product Height: 18.4 cm/7.2 in
Product Weight: 9.2 oz
Connections: wireless
Fit: over the ear
Battery Life: 22 hours
The Pros
Battery life of 22 hours
Improved sound quality
Apple device pairing
Noise cancellation
Can make phone calls
Premium headband
Voice assistant support for iOS/Android
The Cons
No aptX
Doesn't fold flat
Carrying case slightly bulky
Lacks adjustable ANC
Tech Specs
Product Height: 18.3 cm/7.1 in
Product Weight: 8.5 oz
Connections: wireless
Fit: over the ear
Battery Life: 20 hours
The Pros
Noise cancellation
Microphone for calls
Highly comfortable
Long battery life
Lightweight
Google Assistant
Optional wired connection
Bluetooth
Features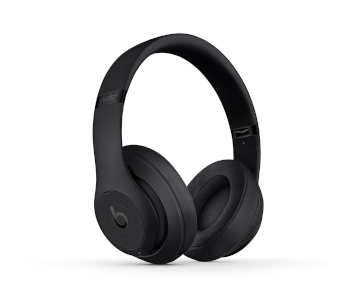 You will probably want more than just the ability to hear the music. Naturally, you want that extra touch. If you're going to be paying a couple of hundred dollars for headphones, then they better offer you something extra. So, let's look at what these two pairs of headphones have to offer.
Beats Studio3 aren't filled with a bunch of extra features, but they do provide you with high-quality basic features such as wireless connection and noise-cancellation. Beats decided to keep it simple when it comes to Studio 3, and focused on the audio; which worked out well as not everyone wants or even needs special features on their headphones. The headphones come with 22 hours of battery life with ANC on. However, if you turn off the ANC, you'll get 40 hours of battery life. But that's only if you're using an Apple device. Non-iOS devices achieve only half of that. If you are in a pinch for charging time, there is a Fast Fuel feature which allows for three hours of playback in 10 minutes.
The Beats Studio3 is powered by micro-USB which is a bit shocking, as Beats are an Apple product and this charging method is considered to be slightly outdated. If you're an Apple user, pairing your headphones to any iOS device is seamless and effortless, which has become a hallmark of everything Apple. If you're not an Apple user, you'll still be able to have a good experience, however, you'll be missing out on the W1 chip which connects beats to all Apple devices with a simple click of a button. You'll be able to pair your beats with an Android but since it's over Bluetooth, you run the risk of it acting finicky.
The Bose QC35 II is a different story. Though nothing has changed in regards to its wireless connection, Bose offers more features for users. For wireless connection, you get Bluetooth 4.1 and aptX codec. The active noise cancellation (ANC) is now adjustable, letting you decide whether you'd like it on or off. Though it's a small feature, if you need to keep your ears alert, you'll be able to do so while wearing your headphones, which is an important feature for joggers or cyclists.
If increased battery life is important for you, you might be better off choosing the Bose QC35 II, as it outdoes the Beats Studio3 by a significant amount. The Bose model offers 20 hours of wireless playback or 40 hours when wired. In addition, the battery life does not depend on whether you're an iOS or Android user: battery life is the same for both.
Another exceptional and useful feature is the Google Assistant. With the Action button located on the left ear, you'll be able to connect to Google Assistant on your device via Bluetooth quickly and reliably, whenever needed. It'll be able to alert you on your device for new messages or access your Spotify account. However, if you're not into using Google Assistant, you can remove it from the Action button. It is a nice option to have, giving you increased versatility while allowing you to keep it simple.
Sound Performance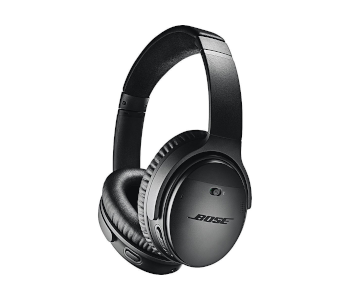 Let's get to what you really want to know about – sound performance. When it comes to headphones, you want a pair that's going to blow your mind and really allow you to sink into the music and not miss a single note. It's time we take a look at look at sound quality between these two headphones.
Both the Bose QC35 II and the Beats Studio3 offer demonstrably high sound quality and noise-canceling performance, which very important for any modern set of headphones. Noise cancellation reduces the ambient sounds that are in the background, providing you a clear and in-depth sound while minimizing any external interference.
When comparing these two headphones, Beats Studio3 simply lacks the level of noise cancellation in the Bose QC35 II. That's not to say Beats don't do a good job. They do, but Bose offers higher performance and can block out plane and train sounds. Bose really sets themselves apart from the competition as a leader in the noise cancellation game. If you're looking for a pair of headphones that'll shut you off from the world, then get them. You will not find a better pair of headphones than Bose QC35 II when it comes to noise cancellation.
Of course, when it comes to ANC, Bose is not exempted from its fair share of minor issues. Bose's ANC works best with deeper pitched noises. If sirens drive by, for example, you will probably hear them regardless of the noise cancellation. If there are strong winds, you'll also hear them as the microphone can become distorted. But, at the end of the day, this happens to every pair of ANC headphones. When it comes to using the microphone for calls, Bose's ANC still remains impressive.
As we have already mentioned, the Beats Studio3 doesn't have the best noise cancellation on the market. If you're really looking for crystal clear sound, opt for Bose. But if having silence while listening to music isn't that important for you, Beats is still worth it. Beats audio performance isn't as bass-dominant as it once was, so there's more dynamic than before. The mid-range can use some tweaking, but if you're listening to hip-hop, pop, or rock, these headphones will work perfectly.
Comfort & Fit
When you're wearing a pair of headphones, you want them to fit comfortably or else they won't be on your ears for too long. Both headphones cover your ears fully and since these aren't dollar store headphones, it's important they fit properly and feel like they're cradling your ears comfortably without pressure.
Let's take a look at Bose QC35 II headphones. Well, when it comes to comfort, you can beat them – no pun intended. Out of these two headphones, Bose is the winner when it comes to comfort. The padding is extremely soft and really cradles the ears well. The clamp force is well-designed and does not feel like a squeeze. On the right ear cup, there's an on/off/pairing switch, as well as volume keys that make it really easy and comfortable to adjust your sound and pairing.
The Beats Studio 3 headphones are foldable, meaning they're easy to transport and pop into your bag. However, this usually brings concerns regarding the joints creaking when you fold them. But don't worry, these headphones have proven to be able to hold up against long-term use. On the left ear, the Beats Studio 3 also has buttons to control volume. That being said, this model can become slightly stiff and tends to have an annoying clicking sound which puts a damper on the experience.
Regarding comfort, they do the job. They're made with foam ear cushions which rest softly against your ears. If you find yourself listening to music for a long period of time, you might notice your ears becoming hot. When it comes to comfort and fit, hands down Bose QC35 II headphones take the lead. But, how will they hold up against the Beats in design?
Design
Though design may not be a crucial feature, it's obviously a very important one. If you're going to be wearing your headphones outside of your home, you want to look good and have it flow with your own personal style. On the other hand, if you plan on using your headphones in the studio or exclusively indoors, looks might not be a significant factor for you.
Let's take a look at the design of the Beats Studio 3. Though they may be Apple headphones, they don't have the traditional Apple look. There's no Apple logo and they're not shiny and white. These headphones have a neutral and more masculine design. The headphones are designed to fit flatter on your head in comparison to the early Beats headphones. These are made of plastic and the material gives it the lightweight feature many people are looking for. However, not everyone is into wearing logos and, unfortunately, Beats has a giant 'b' on each ear, which can be a turn off for the more minimalist user.
The Bose QC35 II looks literally the same as the original Bose headphones. If you liked the original design of Bose then you'll be happy to hear this. If not, then you'll find these headphones flat, but this is based on personal preference more than anything else. Many people like its neutral design because it looks good regardless of what you're wearing or what you're doing. Whether you're walking the dog, jogging, or sitting in the office, these headphones are chic and trendy. Bose headphones are made of matte plastic, making them not only lightweight but more versatile as well.
When it comes to design, it's purely based on your own style preferences. Both models offer a similar look. Essentially the main difference is whether you'd like the matte finish of the Bose or shiny plastic of the Beats model.
Verdict
So which pair of headphones is better? Well, after reading this review, you probably realized even though they may look similar, they're quite different. If you're really looking for a pair of high-quality headphones that will cancel out ambient noise, you need to get yourself a pair of Bose QC35 II headphones. They're one of the best headphones on the market. The Bose QC35 II cost only a little bit more and the couple extra dollars are definitely worth it.
If you're looking for a pair of casual headphones that will give you decent sound and a comfortable fit, then opt for the Beats Studio3 headphones – especially if you're an Apple user. They aren't bad headphones but are clearly designed for iOS users rather than Android users. Even though they're similar in price, it's clear the winner of this comparison is the Bose QC35 II.