The Top 5 Best 3D Printers for Beginners in 2020
3D Insider is ad supported and earns money from clicks, commissions from sales, and other ways.
In 2020, 3D printing is new DSLR photography – a previously inaccessible technology that is now affordable enough for many people to take up as a hobby. Aside from their relatively lower prices, today's 3D printers are also designed to be easy enough to use for casual buyers and small enough to fit in a desktop space.
Still, we expect many of you to still be overthinking the choice of which 3D printer to buy. Don't worry. We're here to help you out with this quick buyer's guide and with a list of some of the best 3D printers that we highly recommend for beginners.
What to look for in a beginner 3D printer
If it's your first time delving into 3D printing as a hobby, then it's understandable if you don't have a complete grasp of the technology. This can be problematic when you're buying your first 3D printer. Despite how seemingly simple modern 3D printers may appear from the outside, you will almost certainly need to tweak with its settings and components regularly.
To make sure that you're getting the best 3D printer for your needs and your skill level, here are some of the factors you need to consider:
FDM or SLA?
We assume that you're looking for a 3D printer that is relatively cheap and compact. With these limitations in mind, you really only have to pick between two technologies: Fused Deposition Modeling (FDM) and Stereolithography (SLA).
FDM will be the default choice for many because it's easier, less messy, and the fact there are more options for inexpensive FDM printers. FDM 3D printers use plastic in filament form as raw material, which is a little less expensive than resin. Another appeal of FDM printing is that it's become so popular nowadays that there's probably no shortage of tutorials and online support for beginners.
SLA may have been developed earlier than FDM, but it's now playing catch-up in terms of adoption. SLA technology is a little more complex than FDM, not to mention the fact that handling liquid resin can result in all sorts of mess. There also aren't that many inexpensive SLA 3D printers available today. However, SLA is the preferred technology for high-resolution 3D printing.
Build volume
Each 3D printer has a limited space to build the project on. This is referred to as the printer's build volume and should be one of the major considerations when buying a 3D printer. This is particularly important if you're planning on 3D printing large-scale projects like props and costumes. Even if you're just working on miniatures, a large build volume is still beneficial as you can print several miniatures at the same time. As you would expect, a larger 3D printer would generally be more expensive.
Safety features
When 3D printing, you will have to deal with factors that would be dangerous if left unchecked – high temperatures, dozens of moving parts, and chemical fumes from the filament. However, keeping an eye on your project as it prints is virtually impossible, given that a single project can take upwards of 12 hours to finish.
Knowing this, it would be prudent to get a 3D printer with built-in safety features. Good examples include an auto-shutdown when a print is completed, a cooling vent with a HEPA filter, or a sensor that can detect if there is longer any filament being fed into the printer. A camera that allows remote monitoring of the printer's status would be great, but this isn't something you can typically find on a budget 3D printer.
Quality of life features
There are about a dozen other features that would be helpful and nice to have for those who are still beginners in 3D printing. Not having these features wouldn't exactly be a deal-breaker for us, but they can make life so much easier.
There's a laundry list of 'nice to have' features for 3D printers but these are what we consider to be the most important – automatic bed leveling, a touchscreen interface, a print resume function, compatibility with either Slic3r or Cura slicer software, and wireless communication capabilities.
Top 5 best 3D printers for beginners
1. BEST FDM PRINTER: Flashforge Adventurer 3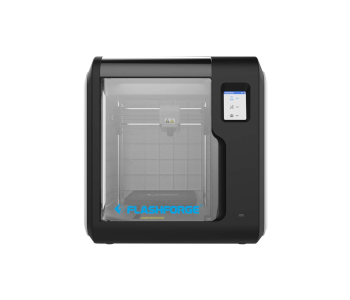 View on Amazon
Our top pick hits just the perfect balance of price, sophistication, and ease of use. The Adventurer 3 from Flashforge is an FDM printer with a compact design and a sturdy metal frame that encloses the entire print chamber.
At around $700, the Adventurer 3 is far from being the cheapest desktop 3D printer available today and might just be beyond the acceptable price range of most beginners. However, we strongly recommend stretching that budget just a little bit if you can, as the Adventurer 3 is easily worth it.
To start, the Adventurer 3 features a long list of features considered too premium for a printer this small. It has a fully enclosed print chamber, a heated print bed, an LED interface with touch buttons, and a dual extrusion system. That last feature is quite surprising, given how few desktop-scale 3D printers have dual extruders.
The Adventurer 3 is a great introductory 3D printer as it does away with most limitations posed by cheap 3D printers. The enclosed chamber and heated bed give you a bit more leeway when handling difficult filaments like ABS or Nylon. While you may not always need the dual extruders, they could come in handy if you're printing a model with support structures or want to print a project in two filament colors.
One downside of the Adventurer 3, aside from its price, is its small build volume. This is an unfortunate compromise for the printer to have an enclosed print chamber and to keep its footprint to a minimum.
Tech specs
Type: FDM
Build volume: 150 x 150 x 150 mm
PROS
Enclosed print chamber
Has dual extruders
Built-in Wi-Fi camera
Has cloud printing function
Has empty filament sensor
Has an LED interface
CONS
Moderately expensive
Small build volume
2. BEST BUDGET: ANYCUBIC Mega S FDM Printer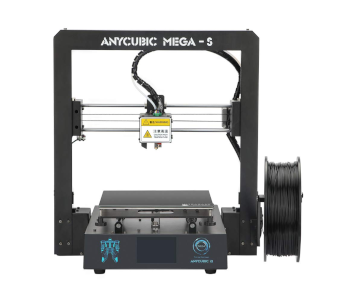 View on Amazon
While there are a lot of budget FDM printers available nowadays, we still prefer the Mega S printer from Anycubic. It may not be the cheapest option, but it provides the best value for money in terms of quality and reliability.
Unlike printers with enclosed chambers, you will have to do some assembly with the Mega S. It's nothing too complicated for even a beginner to handle but you'll have to be extra careful in making sure that the frame aligns perfectly with the rest of the body.
When it's fully assembled, you will quickly realize that a benefit of the printer not having an enclosure is that it can afford to have a slightly larger build volume. You might still need to DIY a print chamber enclosure, though, should you run into warping problems with high-temperature filaments.
The touchscreen interface (with multi-language support), empty filament alarm, and resume print are great quality-of-life additions. The Titan short extruder has even been redesigned to work better with flexible filaments like TPU. The Mega S also comes with Anycubic's patented microporous surface on the print bed which promotes better bed adhesion while printing but also makes finished prints easier to remove when cooled.
Tech specs
Type: FDM
Build volume: 210 x 210 x 204 mm
PROS
Inexpensive
Has an empty filament sensor
Has a resume print function
Touchscreen interface
Slightly larger build volume
CONS
Some assembly required
No print chamber enclosure
3. BEST SLA: ANYCUBIC Photon S LCD Resin Printer
View on Amazon
Printing with SLA technology may seem like a daunting proposition for a beginner, but it doesn't have to be so hard with the right tools. Fortunately, this Photon S resin printer by Anycubic was designed specifically for beginners.
The Photon S comes almost fully assembled and features a durable enclosure with protective and clear panels that surround the build chamber. Instead of a single diffused light source, the Photon S comes with a module of multiple UV lights that help quicken the curing time and achieve a higher level of resolution.
Anycubic has made a great effort in making the SLA printing experience with the Photon S as easy as possible. It has dual rails for the movement of the print bed in the Z-direction to ensure perfect leveling and smooth transition from one layer to the next. The bed leveling system is still manual but can be easily done with an intuitive single-screw system.
The Photon S also comes with its own filtration and odor removal system which is integrated into its ventilation system. This is a much-appreciated safety feature, although we still recommend printing in a well-ventilated place.
There are two major drawbacks to the Photon S – that it's expensive and has a small build volume. However, we find that this is a common limitation in SLA printers, especially if you're looking to buy one on a budget.
Tech specs
Type: SLA
Build volume: 115 x 65 x 164 mm
PROS
Almost fully pre-assembled
High-resolution LED array
Touchscreen interface
Built-in air filtration system
CONS
Moderately expensive
Small build volume
4. Monoprice Select Mini 3D Printer V2
View on Amazon
We know that most people who want to try out 3D printing don't always have the luxury of a lot of space in their homes for a large 3D printer. If this is a situation you relate to, then you might want to check out this Mini 3D Printer from Monoprice Select.
Despite looking like something you'll have to assemble yourself, the Mini 3D Printer ships fully assembled and ready to use. It does have a small build volume but that's an inevitable consequence of its compact footprint. It has a heated build plate, a colored LCD screen interface, and (surprisingly) Wi-Fi connectivity.
The open-source nature of the software used by Monoprice means that this Mini 3D printer can be customized in virtually endless ways. This might not appeal to beginners but is something you might be interested in as you gain experience.
With a design focused on keeping Mini 3D Printer small and cheap, a few concessions had to be made. The 3D printer has no auto-leveling function, instead relying on adjustable screws on each of the four corners of the build plate. You might also have issues printing with high-temperature filaments as the printer's extruder temperature is limited to a paltry 230 °C.
Tech specs
Type: FDM
Build volume: 120 x 120 x 120 mm
PROS
Inexpensive
Comes fully assembled
Uses open-source software
Very small footprint
Comes with color LCD screen
Has Wi-Fi connectivity
CONS
Small build volume
Limited temperature range
No auto-leveling
5. Creality LD-002R LCD Resin 3D Printer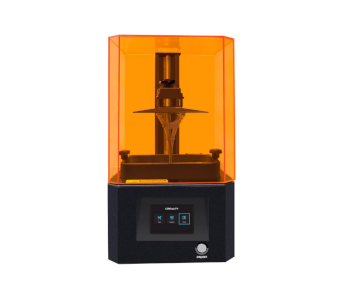 View on Amazon
A desktop SLA printer that costs less than $200 – that description alone should be enough to tell you why the Creality LD-002R belongs on this list. For that price, an SLA printer that delivers on the quality boost of this 3D printing technology is an amazing deal.
The LD-002R resin printer is tiny. While this makes it suitable for small workspaces, it also limits the volume of projects that you can run per batch. Again, this is a limitation that you'll have to deal with if you plan on buying inexpensive SLA printers.
This resin printer from Creality achieves rapid speeds by using an array of LCD lights to cure an entire layer of the model at a time. All critical functions are easily accessible via the 3.5-inch color touchscreen. As with other SLA printers, the LD-002R comes with a built-in venting system with an integrated carbon fiber filter to keep fumes and particulates out.
It's tough to complain about an SLA printer this inexpensive, but it's still disappointing to find that the LD-002R ships without a single bottle of resin. If you're buying this 3D printer, make sure to add some resin on your checkout so you don't end up disappointed when the package arrives.
Tech specs
Type: SLA
Build volume: 119 x 65 x 160 mm
PROS
Very inexpensive
Small footprint
Rapid printing via LCD technology
Color touchscreen interface
CONS
No auto-leveling system
Has built-in venting and filtration
Small build volume
No resin included
Final thoughts
3D printing may still seem like an intimidating technology, but manufacturers know that the mainstream market is one that they have yet to fully attract. For this reason, there's now a pretty wide selection of 3D printers that are compact, inexpensive, and easy to use. The models we've listed here are some of the best beginner-level 3D printers for both FDM and SLA variants. Are you getting one for the holidays? We'd love to hear how your first few prints go!
Warning; 3D printers should never be left unattended. They can pose a firesafety hazard.