A Basic Buying Guide for Beginner Drone Pilots
3D Insider is ad supported and earns money from clicks, commissions from sales, and other ways.
The Holiday season is coming up, which means one thing – huge discounts on many of the best tech products. Drones are undoubtedly on the top of the list of many people, driven by the fact that drones have become a lot more mainstream in the last couple of years.
Along with the surge in popularity of drones came an expansion in the options available in the market. With drones in all shapes and sizes, how can beginner drone pilots know which model if the best for them? Worry no more as we made this list especially for you. Check out our drone buying guide for beginners!
What factors should you consider?
Choosing a drone for a beginner takes into consideration an entirely different set of factors compared to doing the same for a seasoned drone pilot. There is much more uncertainty involved – after all, you don't even know if you're going to enjoy flying a drone in the long run.
However, the basic principle of 'you get what you pay for' still applies here. More expensive drones typically have better features. As a beginner, it's up to you to decide whether these advanced features are worth your hard-earned money.
1. Budget
If you've never bought a drone before, then you would be understandably wary of getting a very expensive model for your first drone. Drones, even those designed for casual users, can cost up to $2000. Fortunately, there's a wide price range for drones and you're sure to find a figure you're comfortable with.
At the lowest end of the price range are drones that cost less than $100. These are what are frequently referred to as 'toy drones' and are designed specifically for kids and beginners. They are small and easy to fly but typically don't come with cameras and have smaller batteries.
If you're looking for a drone with basic camera functions, then a model that costs between $100 to $500 should suffice. The cameras that comes with these drones aren't sophisticated – your phone probably has a better one. However, a basic camera drone should satisfy any curiosity about aerial photography and filmmaking. Just don't expect to capture anything at the professional level.
Between $500 to $1000, you should already be able to buy drones with cameras that can record at 4K resolution. This is pretty much the industry standard in resolution today, so you're not going to feel short-changed when it comes to video quality. A lot of ultra-portable drones across several brands fall within this price range.
If you're willing to spend more than $1000, then you can afford to get some of the best drones in the prosumer range. Aside from having excellent cameras, most of the drones in this price range have advanced features such as expanded autonomous modes, obstacle detection technology, and special camera modes. Drones in this price range are usually excellent and should last you a couple of years before they become obsolete.
2. Indoor or outdoor flight?
Much like remote-controlled cars, a lot of people are looking to buy drones just to fly them indoors. However, indoor drone flight is a lot more dangerous than it seems. The rotating propellers can cause serious damage or injury, especially if you're flying one of the more powerful drones. If you're planning to fly indoors, then it's best to go with a model that is designed specifically for indoor flight.
Outdoor flight is where most high-end drones truly shine. With powerful rotors and GPS-aided stabilization, most drones can maintain a good level of control even in windy conditions. Conversely, drones designed for indoor flight can be light enough to get knocked out off the air by an outdoor breeze.
3. Skill level
Although many drone brands have made great effort to make their drones beginner-friendly, some of the higher-end drones can prove to be overwhelming for someone who has never flown a drone before. Flying a drone is one thing but maximizing its full suite of flight modes and camera modes is another.
The good news is that most drones in the below-$1000 price range are designed with some sort of 'beginner mode.' This mode puts a cap on the speed and range of the drone, preventing it from uncontrollably flying away from you. The responsiveness of the controls is also reduced to help you get your bearings on how to use them.
4. Camera quality
Let's face it – a huge contributor to the increasing popularity of drones is their ability to capture aerial photos and videos. Buying a drone "for the 'Gram" is incredibly common and that's okay. The great thing about modern drones is that you don't even need to spend a lot to get a drone with an excellent camera.
To get high-quality shots, we certainly suggest getting a drone with a mechanical gimbal. A gimbal provides mechanical stabilization to aerial photography, eliminating any jitter and 'jello' effects. Less expensive drones may offer electronic image stabilization, but the performance of such technology is certainly a notch lower than a gimbal.
In terms of resolution, you will almost certainly need to buy a drone that costs more than $500 to record 4K videos. Below this price range, drone cameras at 720p and 1080p resolution abound. 1080p videos aren't bad at all, especially if you're not planning to view your aerial videos in a 4K-compatible monitor.
Best drones for kids and beginner drone pilots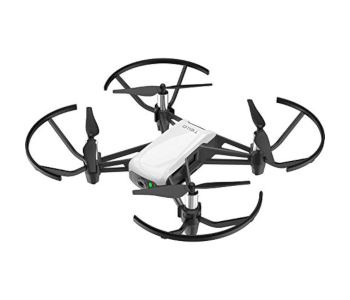 At less than $100, the Ryze Tello is easily one of the best value-for-money camera drones available today. This lightweight drone weighs only 0.18 pounds and does not need to be registered with the FAA before use.
The camera of the Tello can record 720p videos and 5 MP photos. These specs may seem underwhelming based on today's camera standards, but the Tello has the best camera of any drone in the sub-$100 price range. Despite the limited resolution, the pre-programmed camera modes should allow you to take photos and videos that are ready for sharing in social media.
A unique feature of the Tello is that it also doubles as an educational tool. Through the Scratch mobile app, kids can pre-program the Tello using a simple block-based programming platform. This is one of the best ways to introduce young students to coding, resulting in the Tello being a mainstay in many educational institutions.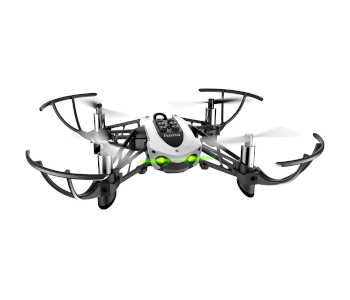 The Parrot Mambo is another example of a drone that was designed specifically for young students and beginner drone pilots. It lacks the sophistication of the Tello's camera but also provides an environment for learning and has a couple of fun tricks up its sleeves.
This small and lightweight drone is a little more modular than most drones. The Mambo can fly perfectly well without a camera and can perform a couple of aerial stunts like barrel rolls and flips. When kids get tired of these tricks, the downward-facing camera can be attached to enhance the experience and take a few aerial photos.
Through the mambo coding app, the Parrot Mambo can be programmed using a tablet or a computer. The advantage of mambo is that it can be used by both beginner and more advanced coding students. The mambo platform supports both block-based programming and text-based coding. If a student wants to progress to advanced languages like Python and Javascript, they may do so with the Parrot Mambo.
Buying a racing drone for a beginner may seem like an unwise decision, but we find that the entertainment factor of a racing drone ensures that it's going to see a lot of use for a really long time. This bundle completes the drone racing experience with a nice handheld controller and FPV goggles.
This drone is small but powerful, able to reach up to 10 m/s speed in Expert Mode. Using the onboard front-facing camera, you can fly the drone using real-time FPV at 720p and 30 fps. If you're not comfortable flying the drone at maximum speeds, you can fly on a mode that throttles the speed to around 3 m/s.
The video quality delivered by the onboard camera may not be stellar, but it gives a good enough introduction to the experience of FPV flight. By using the included FPV goggles, you can fly the drone as if you were riding onboard it. This is an entirely new level of immersion and something you may find yourself craving for once you've tried it.
With its wide range of accessories, the Hubsan X4 Storm Pro is relatively more expensive than many other beginner drones. The FPV goggles alone already give huge value, so you're still getting your money's worth. If you have a large yard or park to fly around, then we certainly suggest getting this drone.
Best drones for indoor flight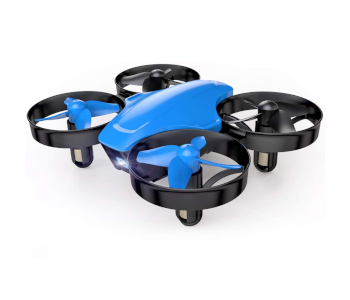 When flying indoors, safety and ease of use are the two most important things to consider. The SP250 Mini Drone from SNAPTAIN covers both. With a compact build and integrated propeller guards, this is the type of drone that can take a beating and won't heavily damage the interiors of your home.
The SP350 comes with a small remote controller and several one-key functions which should help smoothen the learning curve of drone flight. With just a single button, the drone can take off, land, and hold a stable hover. Flying in headless mode makes it easy to control the drone regardless of the direction it's facing.
The drone comes with three batteries that provide up to 21 minutes of total flight time. The SP350 comes in three color variants – red, blue, or yellow. It also costs less than $50, so you won't feel bad if your Holiday gift ends up getting scrapper in just a few weeks.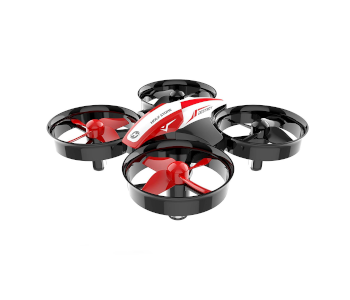 Made by popular drone brand Holy Stone, the HS210 is easily one of the most popular mini drones in the market right now. At just a little over $20, the HS210 delivers excellent value for money. This is a drone that's fun, safe, and surprisingly stable given its size.
The small construction and integrated rotor ducts enhance the drone's efficiency while keeping it safe from getting damaged and causing damage in turn. Releasing the flight sticks automatically enables hovering mode – especially important for kids who are easily distracted. The headless mode allows for worry-free navigation of the drone in any direction, while kids will certainly get a kick out of the drone's one-button 3D flip function.
The three batteries that come with the drone allows for up to 21 minutes of flight time. Should the battery reach critical levels, the drone will emit an audible alarm as a warning. The drone will then land automatically after a minute to prevent causing any damage.
With its price range, the Holy Stone HS210 is basically a no-brainer if you want to give a gift to a kid who's curious about drones.
Mid-range camera drones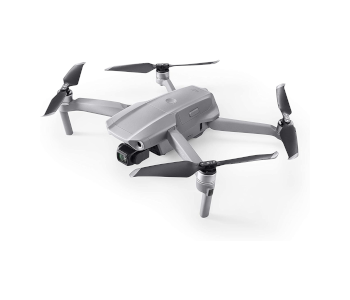 The Mavic Air 2 is one of the most recently launched drones from global brand DJI. As is expected from DJI, the Mavic Air 2 lives up their reputation for quality and innovation. At around $800, the Mavic Air 2 offers features that were previously only available in drones that cost several hundred dollars more.
To start off, the Mavic Air 2 comes with a camera that can capture 48 MP stills and 4K videos at 60 fps. It also has slow motion capabilities (up to 240 fps), HDR/AEB mode, and a max bitrate of 120 Mbps. With those specs, the Mavic Air 2 can certainly pass for a professional-quality camera drone.
Another area in which the Mavic Air 2 surpassed its predecessor is in its obstacle avoidance technology. The Mavic Air 2 is one of the first DJI drones to come with the Advanced Pilot Assistance System (APAS) technology, which uses 3D mapping for the drone to identify nearby obstacles. It also comes with AirSense, an ADS-B receiver that lets the pilot know if there are any manned aircraft nearby.
With so many features, the Mavic Air 2 deserves a whole article all on its own. If you can spare the cash, the Mavic Air 2 is one of the best drones you can buy at $800.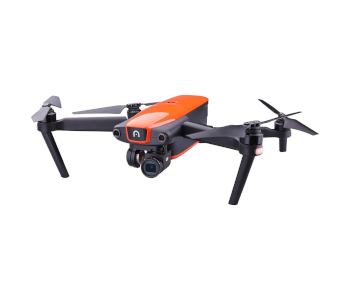 The original Autel Evo was released way back in 2018, so it's unfair to compare it to the current generation drones like the Mavic Air 2. At the time, however, it was arguably a better ultra-portable drone than the first DJI Mavic Pro.
The camera of the Autel Evo can record 4K videos at 60 fps. At the time of its launch, recording 4K videos at that framerate was unheard of with an ultra-portable drone. The image and video quality is top-notch and can be compared to the output of much more expensive drones.
The controller of the Evo comes with a built-in OLED screen. This means that you no longer need to worry about using a phone or tablet and tethering it to the drone's remote controller. This is much better from both a convenience and battery management standpoint.
Autel has leveraged on the idea of the Evo not having a geofencing feature as one of the benefits of their brand. The geofencing feature rolled out on all DJI drones prevents them from taking off if the drone's GPS receiver senses that the drone is in a no-fly zone.
Whether the lack of this feature is a benefit or liability is upon the buyer to decide, but there's no doubt that there's a significant population of drone pilots that prefer not to be inconvenienced by an automatic geofencing feature.
Pro-grade camera drones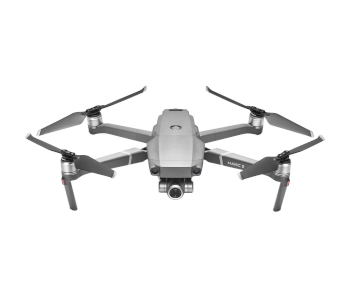 Even at almost two years after launch, the Mavic 2 Pro is considered to be one of the premiere camera drones from DJI. By combining an extremely powerful camera with the signature compact build of the Mavic drones, DJI has been able to come up with a professional-grade camera drone that is highly portable and user-friendly.
The Mavic 2 Pro's camera can record 20 MP photos and 4K videos at 30 fps. Just looking at these specs alone, one may feel like the Mavic 2 Pro is a downgrade from the Mavic Air 2. This is a consequence of the drone's age. The Mavic 2 Pro makes up for this with an adjustable aperture, a wide ISO range, and an expansive color profile. The Dlog-M profile of the Mavic 2 Pro is one of its more powerful features, especially if you record in RAW format and do post-processing.
The obstacle detection system of the Mavic 2 Pro uses an array of sensors that gives it omnidirectional coverage. This enables the drone's many automated modes such as the upgraded Active Track 2.0, Course Lock, and Waypoints mode.
If you're an aerial photography pro, then you're exactly the type of user for which the Mavic 2 Pro was designed for.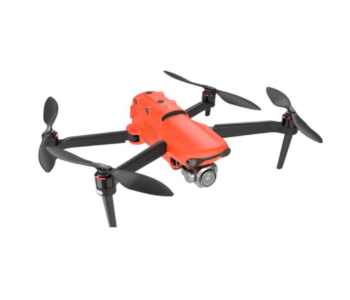 Autel launched the Evo 2 line of drones only recently as a direct competitor the DJI Mavic line. The price tag of the Pro version may be pretty hefty, but there's no question that this is one of the best drones available today – even compared to the more recent drones from DJI.
Let's run down the specs of the Evo 2 Pro. Its camera has a 1-inch sensor that can capture 48 MP photos and videos at 6K resolution, an adjustable aperture, and a 10-bit color range. If you do color grading during post-processing, you'll be glad to experience just how much color information the Evo 2 Pro stores in every photo and video.
The Evo 2 Pro comes with an obstacle detection technology powered by an impressive array of 19 sensors. This allows the drone to create a 3D map of its surroundings, as well as to come up with a flight path to avoid any obstacles. This is one of the smartest obstacle detection systems we have seen so far and puts the Evo 2 Pro right up there with the big names in drone automation.
The Evo 2 Pro costs close to $1800, so it may seem like an overwhelmingly expensive drone for a beginner. It's a huge risk to take but starting off your drone career with an Evo 2 Pro is a great move if you're planning to earn a profit out of it eventually.
Final thoughts
If you've always been curious about buying a drone for the first time, then you'd better keep your eyes peeled for the next few months. As the Holiday season approaches, we can expect huge discounts on drones of all types. We have mentioned approximate prices for some of the drones in this list, but seeing those prices marked down by 20% or 30% will not be unusual.