Best Beginner Drones of 2019
Drones used to be expensive which limited their appeal to a small group of people. In the last few years, drones have become extremely affordable.
Now any budding pilot can take to the skies and operate their own flying robot. You really can get a lot of fun and features for very little money. You can also dive right in and learn with a higher quality craft with more features.
Beginner drones can be cheap as chips, but they don't have to be. I include some very affordable drones here, though affordability is not the sole focus. Ease-of-use and fun flying is the main priority.
Welcome to the beginner's drone guide.
Budget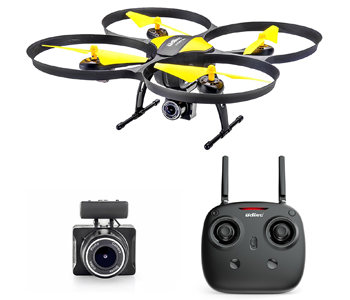 Altair AA818
4.8/5.0
15 Minute Flight Time
150 Meter Range
Perfect starter drone for kids and people just starting.
Check Amazon
Best Value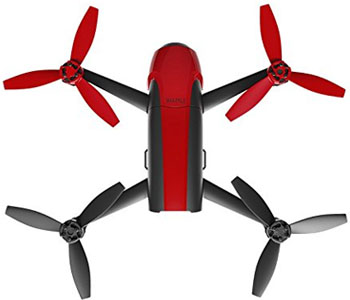 Parrot Bebop 2
4.3/5.0
24 Minute Flight Time
300 Meter Range
Best flight time and good quality camera for the money.
Check Amazon
Top Pick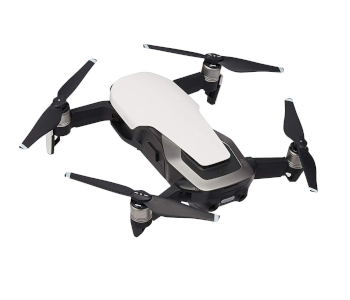 DJI Mavic Air
4.6/5.0
21 Minute Flight Time
4 km (2.4 Mile) Range
Ultra-portable drone with a powerful 4k camera.
Check DJI.com
12 Best Drones for Beginners
Beginner drones are often cheaper because they offer fewer bells and whistles. Some higher-end drones are also suitable for the novice flyer. I include a few of those in this guide too.
The point of this review page is to highlight the best drones available right now for the complete novice and advanced beginner. Each review here follows a simple and familiar format for easy reference.
Under the name of each drone, I introduce the product. I point out the reasons why I think it's a good buy for beginners. I may also highlight any downsides that I think you should know.
At the end of each review, there's a simple table. I have included three columns. From left to right: useful technical specs, the major pros, and the major cons.
Beginner Drone Comparison Table
Here's a table of my 12 best beginner drone picks at a glance (cheapest range to most expensive). I've covered something for everyone, starting from $32 to just under $1000 and plenty between:
Beginner Drones By Budget:
Click below to get detailed information on each drone by each price range.
The Federal Aviation Administration (FAA)
The Beginner's Quadcopter
Key Features of a Beginner Friendly Drone
Beginner Drones Under $100
The drones in this category might appear a bit toy-like, but don't be put off. What you have here are some very capable flying robots that won't break the bank. They will, however, teach you to fly. This is the largest category with five UAVs in total. The prices range from $32 up to around $90.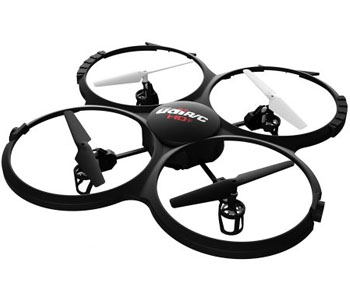 View on Amazon
Editor's Rating: 4.6/5.0
FAA Registration: No
This is a fun drone to fly at any level, but the makers built it with the beginner firmly in mind. It has good elasticated plastic blade guards to help protect against those inevitable beginner crashes.
The crash-resistant design stands up to collisions with walls, trees, and other objects, as well as hard landings. It's a perfect first drone for anyone who wants to learn how to pilot a UAV.
All you do is unpack this drone, charge the battery, and then take to the skies. It's going to give you a memorable first time flying experience. Seriously, this little UAV has "EASY" written all over it.
You won't suffer from boredom flying this simple-to-maneuver robot either. You have options to flip it 360 degrees in any direction, take photos, and record video with sound. Let's look at the little camera.
The UDI 818A HD+ comes with a small 2MP, forward facing camera already attached. The quality of the optics is superb for a drone in this price range. I'd say it's one of the best in its class.
There's a decent remote control with two joysticks and a roll button for performing those instant 360˚rolls. There's also a nice LCD screen that shows your current flight status.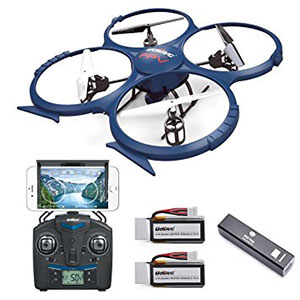 The four channel function ensures stable flying and simple operation: Left/Right, Up/Down, Forward/Backward, and 360° flips. There's nothing confusing about the controller at all.
One annoying flaw with this drone is its user manual. For a beginner drone, I feel they could have written the guide better. Other than that, there's not much to gripe about, not at around $90. This is the perfect starter quadcopter.

Tech Specs
Weight: 130 g (4.6 oz.)
Battery: 2 x 3.7v 500mAh Li-Po Battery
Charging time: 90+ min (1.5+ hrs.)
Control range: 32 m (98 ft.)
Max flight time: 7 – 9 minutes
Max speed: Not known
Camera: 720p 2MP
The Pros
Great beginner drone
Easy to fly
Very agile and robust
Stable flyer
Includes camera
Includes controller
Affordable
The Cons
Poorly written manual
Short battery life
Limited flight range
Drone Flying 101:
Learn how to fly a drone like a pro with
this course
.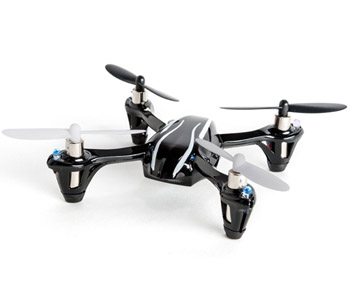 View on Amazon
Editor's Rating: 4.4/5.0
FAA Registration: No
The Hubsan X4 H107 C takes second place. At less than 30 bucks, beginner drones don't get much cheaper than this. The instruction manual that comes with this craft is also very easy to follow.
The X4 flies amazingly well. It's quick too. The controller has all the basic flight settings you'd expect with no extras to confuse a newbie pilot (controller batteries not included).
The thing that'll most likely spoil your fun is the short 9 minute flying time. I always suggest ordering a spare battery or two. It's the only way to prolong your fun and get more practice in.
The X4 has warning indicators that let you know when the battery's getting low. And the transmitter offers a safety feature that warns you when the drone is getting out of range.
This is a great drone to practice piloting skills, but that's about all. It's small and light and handles crashes pretty well. The camera quality is not great at 0.3 MP, but at least it's there to play around with.
It's a great little drone to practice your flying skills indoors and out, but take heed! It sounds like a large swarm of feisty bees. You may want to make sure you're home alone for indoor practice 😉
A bonus of the Hubsan X4 is its Advanced Flying Mode. Still, you won't have to worry about advanced flying in those early days. But it's useful to have once you've perfected your flying skills in Basic Mode.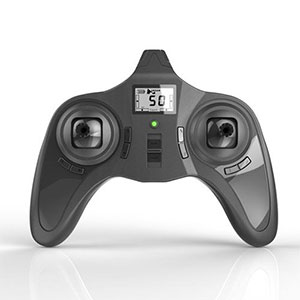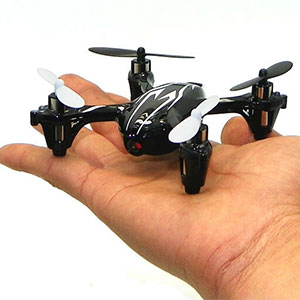 Unlike the UDI 818A HD+ above, there are no blade guards with the X4. This makes the props a bit vulnerable. Then again, it's easy to buy replacement parts if you do break something on the craft.
A lot of drone enthusiasts are getting into racing quadcopters these days. The X4 H107 C is the perfect mini quadcopter to develop your speed skills if racing drones interests you.
The low cost and tiny size of this quad will probably result in a fairly short lifespan of its motors. If you want to fly it long after you've perfected your skills, well… you can always buy new motors.

Tech Specs
Weight: 554 g (1.2 lbs.)
Battery: 240mAh Li-Po Battery
Charging time: 30 – 40 min
Control range: 100 m (328 ft.)
Max flight time: 6 – 9 minutes
Max speed: Not known
Camera: 0.3MP
The Pros
Great beginner drone
Fast charging time
Small and lightweight
Easy to fly and agile
Survives crashes really well
Affordable
Inexpensive spare parts
The Cons
No blade guards
Short flying time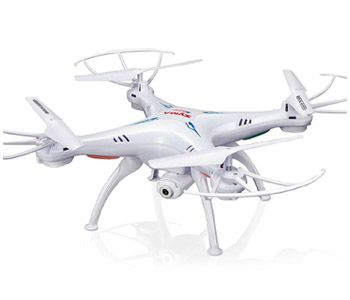 View on Amazon
Editor's Rating: 4.0/5.0
FAA Registration: Yes
Compared to the first two picks, the Syma X5SW-V3 has a few extra features. It's still a great beginner's drone at an affordable cost. Keep reading to see if these extra characteristics appeal to you.
Note that this drone is not quite ready to fly out of the box. Don't worry. The assembly process is quick and easy for anyone—even if you've never put a drone together before.
Consider this UAV if you want to hone in on aerial photography and videography skills as well as flying. The WIFI-enabled camera sends photos and live video straight to an Android or iPhone.
The FPV (First Person View) lets you see what the camera sees in flight. First, you need the app. There's a handy QR code on the side of the box that you simply scan to download the application.
This drone comes with protective propeller guards. Anything that helps to protect against collisions and crash landings has to be a good thing, especially on a beginner's craft.
You need a special smartphone holder to attach your mobile device to the transmitter (included). Once fixed, start the WiFi and open the Syma FPV app. That's about it. You're now ready to take to the sky.
The X5SW-V3 is still incredibly light albeit much bigger than my earlier picks. There's a lot more for the wind to get hold of, though. That means it's not the best flyer in breezy conditions.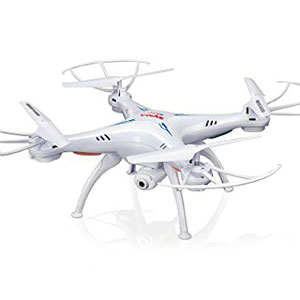 This is a nice stable flyer that's easy to get to grips with in calm conditions. Keep the craft at lower altitudes if you want to fly outdoors in a breeze. This way it'll be much easier to handle.
Make sure you stay in Low-Speed Mode until you're more competent. It's easy to get impatient but take heed. Flying too fast too soon will only end in collisions and crash landings.
One complaint is the low battery life, so make sure you order a spare. By the way, you'll get a little extra flight time without the camera attached. It's something to think about when you're not shooting.
This is still a worthy quadcopter despite its few flaws. At around $55 you really can't go wrong.

Tech Specs
Weight: 635 g (1.4 lbs.)
Battery: 3.7V 500 mAh Li-po
Charging time: 90+ min (1.5+ hrs.)
Control range: 50 m (164 ft.)
Max flight time: 7 minutes
Max speed: Not known
Camera: 0.3MP
The Pros
Good beginner drone
Durable craft
Headless mode
Battery on/off switch
Lightweight
Good for stunts practice
Affordability
The Cons
Short flying time
Short transmission range
Only Android 4.0 and above
Not so good in the wind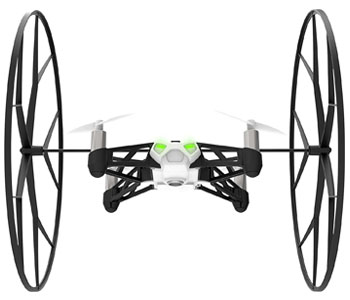 View on Amazon
Editor's Rating: 3.8/5.0
FAA Registration: No
The Parrot Rolling Spider is a palm-sized micro quadcopter. It's actually quite sophisticated despite its simplistic appeal. Unlike many other drones, there's no traditional remote control with this one.
You need a low energy Bluetooth connection to fly this tiny craft via Parrot's smartphone app. No beginner should have any trouble flying the Spider at its most basic settings.
New pilots get to enjoy some simple tap-and-fly modes, like tap to takeoff and tap to land. The drone then does as you command it. These automation features give you a stable, obedient, fun-to-fly craft.
There are plenty of more advanced features to explore once you've got some flying time behind you. You can, for example, control acceleration, climbing & turning rates, and height limits.
I like this drone because it's a very capable independent flyer and hoverer. The odd-looking snap-on wheels help to protect the spinning props. Propeller protection is always a good newbie feature.
The wheels do more than just guard the blades. They protect furniture and vulnerable objects when flying indoors. They also roll the drone across ceilings and up walls. You have to see it to believe it.
When you don't need the wheels on, keep them off. Anything you can do to lighten the load will increase your flight time—currently around eight minutes per charge.
The Bluetooth connection affects how the Parrot Rolling Spider performs. The nearer you are to the outer limits of the flight range, the more chance there is of a sluggish experience.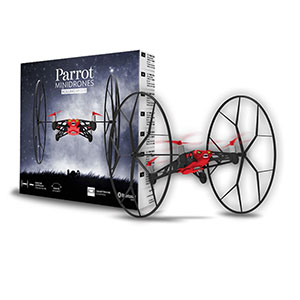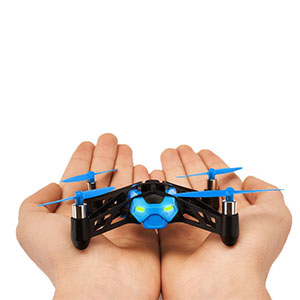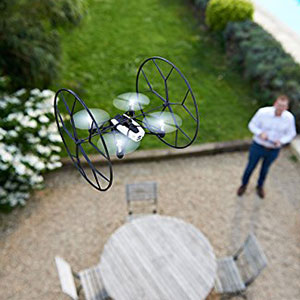 If flying was more predictable this UAV would have been further up the list. The secret here is to keep to within around 20 meters. This way you'll get a more consistent flying experience.
When you become a proficient flyer there's plenty of opportunity to raise your game. Moreover, the Rolling Spider is surprisingly fast and acrobatic when you customize its flight modes.
Although this drone is equipped with a downward facing camera, it won't win you any photography or video awards. It's better than nothing, but its main purpose is for motion detection, not imagery.
Some may argue that this drone is too easy to fly. Don't be deterred. Remember, there are plenty of customizable options to challenge you, but first you have to develop your flying skills.

Tech Specs
Weight: 55 g (7 oz.)
Battery: 3.7v 550 mAh
Charging time: 90 min (1.5 hr.)
Control range: 20 m (66 ft.)
Max flight time: 7 – 8 minutes (wheels off)
Max speed: 5 m/s (11 mph)
Camera: Low Resolution
The Pros
Nice beginner drone
Great design/build
Easy to set up
Durable
Innovative features
Unique wheels feature
The Cons
Limited (Bluetooth) range
Short flight time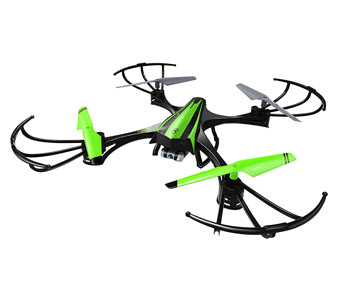 View on Amazon
Editor's Rating: 3.8/5.0
FAA Registration: Yes
The Sky Viper Video Drone V950HD is another beginner-friendly UAV for anyone aged 12 years and older. It's quite a fast drone too. But if you're a budding racer in the making, consider other options.
You will crash as you learn to fly. Believe me; you'll be grateful for the propeller protection guards. This craft also has a polypropylene body, which adds further to its durability and crash-resistance.
The adjustable sensitivity option gives you control over experience levels. That means you have a versatile UAV that allows you to develop your flying skills past the entry-level.
This is a semi-assembled drone so you have to attach a few parts to the body before you can fly it. It's quite big too, but that makes it easier to keep an eye on outdoors.
Some reviewers report how this is not so easy to fly at the beginner level. Looking deeper into these gripes, it seems that impatience and a failure to read the instructions is the cause of most complaints.
For example, you'll want to attach the blade protection guards. You also have to calibrate the Sky Viper Video Drone on a FLAT surface. These are simple things but will cause an issue if overlooked.
You get a camera with the Sky Viper Video Drone. It's not bad, but it's not great either. Then again, for around 83 bucks you have a great UAV to practice your flying and shooting skills. That's pretty good.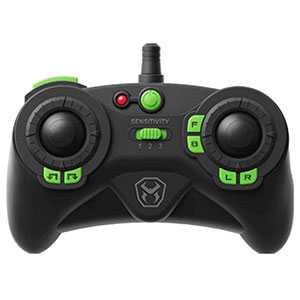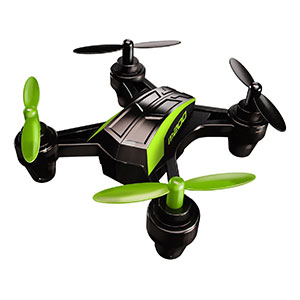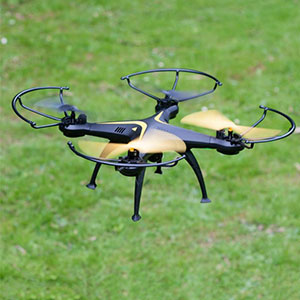 What is impressive about the camera is that it can take 360° panoramic views. You control this with the simple touch of a button. Okay, so the optics may not be astounding but there's a lot to play with.
The 4GB microSD card (included) saves around 20 minutes of video footage. Upgrade to a 32GB card if you need more storage. There's a micro USB cable to upload vids and photos to a computer.
Flight time for the Sky Viper is a measly 5-7 minutes. It's always a good idea to have a spare battery or two with you. Expect around 90 minutes to fully charge the batteries.
A common complaint is about the flight range, advertised at 200 ft. Some complain that you're lucky to get half that. To be fair, though, flight range depends on factors like battery power level and signal.
Overall, the Sky Viper Video Drone is a good choice for new users or those moving up from toy drones. There's no doubt that with regular flying this UAV will help you to become a much better pilot.

Tech Specs
Weight: 771 g (1.7 lbs.)
Battery: 650 mAh 3.7V LiPo
Charging time: 90 min (1.5 hr.)
Control range: 200 m (656 ft.)
Max flight time: 7 minutes
Max speed: 9 m/s (20 mph)
Camera: 720p
The Pros
Intuitive controls
Easy drone to fly
Camera included
Durable design
Responsive RC
Stabilization functions
Size (easy to see)
The Cons
Short battery life
Fairly short flight range
Limited smartphone support
Beginner Drones Under $150
Drones in this price range give you a bit more bang for your buck. The first one is an Amazon #1 Best Seller. The second one is also a high seller with plenty of positive user feedback.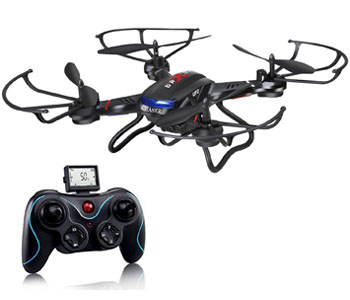 View on Amazon
Editor's Rating: 4.8/5.0
FAA Registration: Yes
At just over 100 bucks this is yet another affordable drone built from durable elastic plastic. The material's an important consideration as it helps to protect the craft from all those beginner crashes.
The F181 quadcopter comes with a set of blade guards. Be sure to attach these before you fly. You'll be grateful for the protection they can provide during a crash.
New users hate the short flight times that plague beginner drones. At around eight minutes the F181 is no exception. The good news is this drone comes with a bonus battery. That's unusual.
Drones can get quite hot with continuous flying. It's a good idea to allow 10 minutes of cooling down time before you take off with a replacement battery. This helps to prolong the life of the motors.
The Holy Stone F181 also comes equipped with a 2MP detachable camera. Leave the camera off until you've mastered flying the drone. The reduced weight will give you a bit more flight time as well.
The camera resolution is 1280×720. You can take still photos and record reasonable video. The image quality is nothing to get excited about. Still, it's more than acceptable for a drone at this price.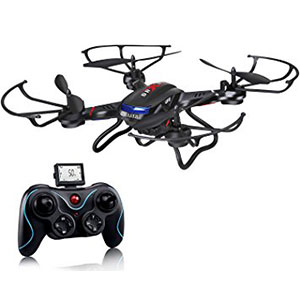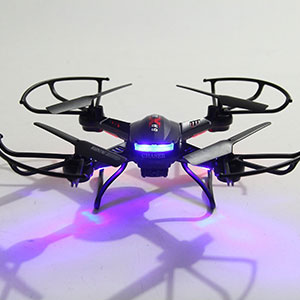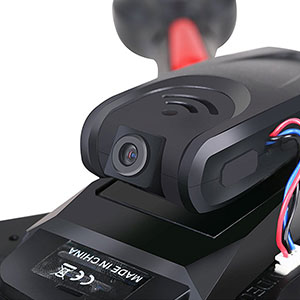 What sets the Holy Stone F181 apart from some of the cheaper models is the steady performance and great design. It's easy to fly and has a bunch of great extras like the camera and headless mode.
It's almost impossible to lose the F181. This is thanks to its headless security and key return features. All you do is flick a button to bring the craft back if it gets out of view or out of range.
These safety features are important considering there's no GPS. All things considered, this drone is a step up from the cheaper micro options. It's a great beginner craft for both teenagers and adults. This is the one for you if you are looking for a starter drone with more features than a basic model.

Tech Specs
Weight: 400 g (14.1 oz.)
Battery: 3.7V 750mAh Lipo (includes spare)
Charging time: 90 min (1.5 hr.)
Control range: 100 m (328 ft.)
Max flight time: 8 – 9 minutes
Max speed: 4.4 m/s (10 mph)
Camera: 720p
The Pros
Great beginner drone
Easy to grasp
Durable
Includes camera
Intuitive controls
Soft landing pads
The Cons
Short flight time
Motors get very hot
Noisy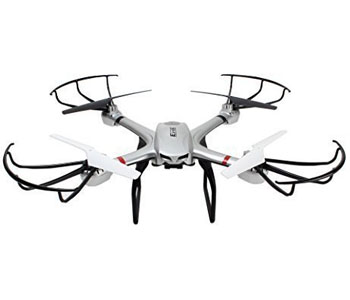 View on Amazon
Editor's Rating: 3.8/5.0
FAA Registration: Yes
The Ionic Stratus medium-sized drone is feature-packed. It's also a great choice for advanced beginners. It doesn't have a camera but it does have a camera mount.
What we have here is a great beginner UAV thanks to its lightweight and simple controls. It comes with some neat flight features too, some of which you won't explore until you gain more experience.
The frame of the Ionic Stratus is sturdy and shock resistant. The overall build is solid, and the propeller guards seem durable. The flimsy landing gear is a bit of a letdown, though, otherwise it's all good.
If you do break something—and you might as a newbie pilot—it's not the end of the world. You can find replacement parts easily enough online. They're inexpensive too.
Some beginner drones don't include cameras nor do they have the option to attach one. Others come with onboard or detachable cameras of average quality. The Ionic Stratus only has a camera mount.
This camera mount lets you fix any GoPro Hero to the front of the craft. Now you have an affordable drone that's capable of taking professional looking still photographs and HD video.
There's been some negative feedback about the inadequate shock mount. Apparently, it can move and interfere with the GoPro. I've noticed how some users fix a simple wedge to keep the camera steadier.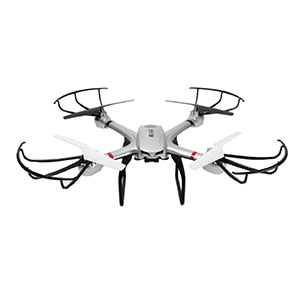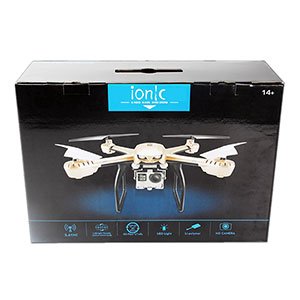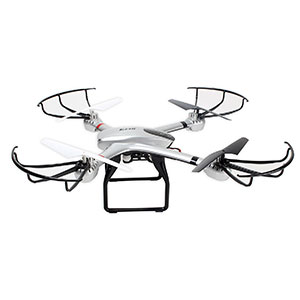 The intuitive remote control gives you a flight range of around 150m (492 ft.) This tends to be more than enough for beginners. I couldn't find anything difficult about any of the basic controls.
The pre-programmed flight modes present pilots with lots of fun while keeping the flying experience simple. More experienced flyers can customize the throttle to make things more interesting.
I understand that not every entry-level user wants a craft of this size, with this many features, and the need to buy a third-party camera. That's why there's a range of beginner drones on this review page.
But then there are those who want an inexpensive, customizable, fast flying drone with semiprofessional capabilities. For them, the Ionic Stratus Drone delivers on all those fronts.

Tech Specs
Weight: 1724 g (3.8 lbs.)
Battery: 7.4V 1200mAh Li-Po
Charging time: 150 min (2.5 hrs.)
Control range: 150m (492 ft.)
Max flight time: 8 – 10 minutes
Max speed: Not known, but quick
Camera: No
The Pros
Great beginner drone
Compatible with GoPro cameras
Fun and easy to fly
Headless mode
Reliable landing gear
Good build/durable
Propeller guard
Value for money
Smart design
The Cons
Poor shock mount
Long charging time
May prove too fast for some learner pilots
Short flight time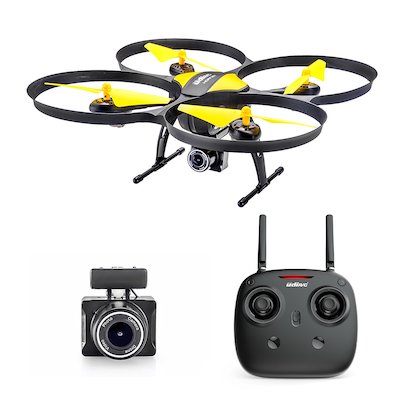 View on Amazon
Editor's Rating: 4.8/5.0
FAA Registration: Yes
Anyone at any skill level can enjoy the Altair AA818 Hornet Plus Drone. It's an excellent choice for beginners who want to explore aerial photography and videography.
Best feature 1: Durable build
Best feature 2: Smartphone ready for FPV experience
Plus points: 720p HD camera, 3 skill settings, flight modes, extra props, customer service
Minus points: Long charging time, no Return Home, no GPS feature
Not all entry-level users want a toy grade drone. The Altair 818 Hornet is an excellent mid-range quadcopter for enthusiastic beginners. The construction uses durable plastics and rubber to make it as crash-resistant as possible. The landing gear has rubber damping that cushions the impact on touchdown. That alone is significant when you consider most damage occurs from hard landings.
Smartphone Control
You can use the drone with a smartphone, though it's not required. So why bother? Well, once you mount the 720p HD Camera (included), you can use a smartphone to receive live video. The camera becomes your eye in the sky, and your smart device screen gives you a birds-eye view. Flying in First Person View (FPV) is not something a total beginner should attempt.
Flying the Altair 818 Hornet
One of the main attractions as a beginner drone are the three skill modes. These are Beginner, Intermediate, and Advanced. The different levels allow new pilots to develop their skills with one quad instead of upgrading each time they improve. That's certainly worth consideration.
There are other impressive features too, including:
Headless mode
One-touch takeoff/landing
Out of range and battery warning alarms
Altitude Hold mode
You can expect around 15 minutes of flight time with the AA818 Hornet. That's on the high side of average. There's also a bonus battery that effectively doubles the flight time to 30 minutes. The battery charging time is nothing special (see below). The operational range is about 490+ feet (150m), and that's far enough for a beginner drone. The video range is good for about 197 ft. (60m).
Altair's Customer Care & Service
Altair includes an extra set of props in the box too. Extras like the bonus battery and spare blades show real attention to customer needs. The AA818 Hornet is an outstanding quadcopter that's fun and easy to fly at any level. It's responsive, durable, flexible, and offers a smooth learning curve for newbie pilots. Best of all is Altair's excellent customer service—should you ever need them.
The Not So Good
There's no such thing as the perfect beginner drone. However, the 818 Hornet is as close to perfect as you can get for the price category. Still, there are a few negatives that may deter some folks. The 100 minute (1:40) charging time is long. That means gaps between flying times even with the bonus battery unless you buy extras. There's no GPS or Return to Home safety functions either.

Tech Specs
Weight: 2.82 lbs. (1279g)
Battery: 2 7.4v LiPo Batteries
Charging time: 100 minutes (1:40)
Control range: 150m (490+ ft.)
Max flight time: 15 minutes
Max speed: Not known
Camera: 720p
The Pros
Great value, feature-packed mid-range beginner quadcopter
Durable build quality
Smartphone-ready for FPV
Three skill level settings
Multiple flight modes
Nighttime LEDs
Extra props
Extra battery
Excellent customer service
The Cons
Long charging time
No Return Home
No GPS feature
Beginner Drones Under $500
I hope you enjoyed reading the eight affordable starter drone reviews above. Now it's time to include a couple of great beginner choices for under $500. Both models are equally priced and equally capable.
The drone makers target these competent flying robots at the more experienced enthusiasts. They're good for that purpose. But they're also user-friendly and have some great beginner flying modes.
If you're willing to spend the money and don't want to go down the stepping-stone route, consider the two choices here. They'll serve you well as a tool for learning, and later as a more advanced craft.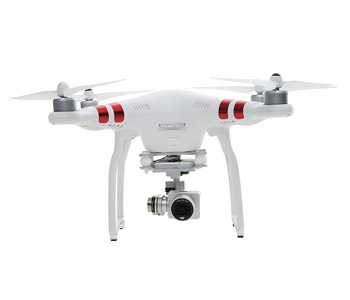 View on Amazon
Editor's Rating: 4.4/5.0
FAA Registration: Yes
You're here because you're ready to move away from the more basic drones. Either that or you want a higher quality craft to learn with. Beginner drones don't have to be cheap but they must handle easy.
The DJI Phantom 3 Standard is nothing less than awesome. It's a breeze to fly too. This is a consumer drone that offers lots of extra stuff that you just won't find with the less expensive models.
The controller for this drone is much easier for the novice than DJI's PRO and ADVANCED models. You don't get all those buttons on the shoulder that could easily overwhelm a new flyer.
The camera is built-in and shoots video in 2.7K. To put that into some perspective, this gives you image quality that's around three times clearer than the picture on an HDTV.
There are better cameras, but they come at a higher cost. For most people, though, the quality offered by the DJI Phantom 3 Standard's optics is clean and accurate.
The main reason to list this drone is not for its filming and photography capabilities. It's here because it's a beautiful flyer and a great UAV to learn with.
One of the most notable benefits of a drone in this category is the amazing battery life. Up till now, we've seen 7-8 minutes on average. This beaut gives you a max flight time of 25 minutes per charge.
Once you've taken to the skies a few times you'll become very comfortable with this drone. It's a consistent and super-stable flyer that doesn't have any bad glitches or nasty surprises.
There's a follow-me option too. This is fast becoming a much sought after feature. The drone simply films your activities without you having to worry about flying the craft.
The GPS and compass features make sure your drone never gets lost. There's a red flashing light that tells you the signal is weak if it starts to fly out of range. But what if you're not looking?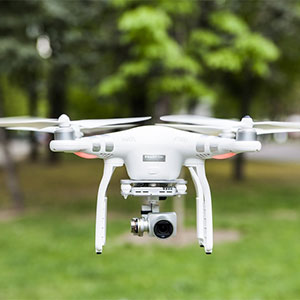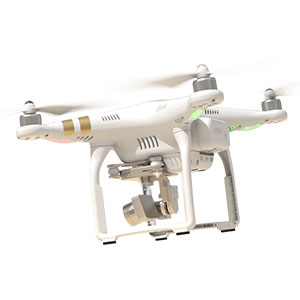 There's also a warning beep to notify you when the craft is almost out of range. But what if you don't hear it? No problem—the drone automatically turns around and heads home.
There are so many useful and failsafe auto fly features to the Phantom 3 Standard. It really is child's play. You may even reach a point where you become bored with the drone's intelligence.
When you're an expert flyer you can leave the basic flying modes and get more creative. You can start to film or take stunning aerial photographs. It won't take long to lose that novice pilot status either.
I love this as a beginner drone because it's so stable. You don't have to worry about flying too high, too far, or losing sight of it. And you can always take back manual controls whenever you want to.
This is a great drone for the advanced beginner. Even so, don't try to fly it without reading the instruction guide end to end. Pay particular attention to the manual controls.
There are a few complaints that the manual doesn't cover everything. It's not the end of the world. There are plenty of YouTube vids and drone communities if you get stuck with anything.
Some complain about the limited flight distance compared to other crafts in this price range. Well, I'm endorsing this primarily as a beginner drone, 1000m is plenty of range for most novice pilots.
There's a lot more to report on the DJI Phantom 3 Standard than I've written here, but that's for you to explore later. After all, the purpose of this guide is to highlight features for entry-level users.

Tech Specs
Weight: 1216 g (2.7 lbs.)
Battery: 15.2v, 4,480mAh
Charging time: 60+ min (1+ hr.)
Control range: 1000 m (3281 ft.)
Max flight time: 25 minutes
Max speed: 16 m/s (36 mph)
Camera: 2.7k HD 12MP
The Pros
Excellent value for money
Very easy for beginners to fly
Solid build quality
Feature-rich app
Intelligent flight modes
HD live video feed
Good flight time
The Cons
Limited range for price
Holder doesn't support iPad
Extra batteries expensive
Only includes 8 GB SD card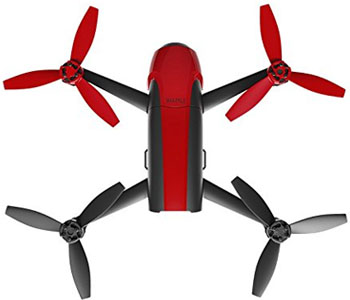 View on Amazon
Editor's Rating: 4.3/5.0
FAA Registration: Yes
The Parrot BeBop 2 is a great drone for beginners through to advanced flyers. The battery lasts for an impressive 25 minutes in ideal conditions. This awards new pilots with lots of valuable flying time.
You have to attach a few parts when you take it out of the box. Don't worry; the assembly is straightforward for anyone at any level. The props are color-coded and simply twist into position.
The BeBop 2 doesn't come with its own controller. You have to fly it using your smartphone and the flight app. You may want to skip this review or pay the extra if you prefer a physical controller.
You can always invest in a bundle. This typically includes an FPV kit. It has the Parrot Skycontroller 2 and a set of cockpit glasses for that ultimate flying experience. These are not beginner tools, though.
Compared to the early version, the new BeBop 2 has an improved camera and is a stronger craft. It's wind-resistant too. This is a particularly useful feature if you live in a breezy part of the country.
The integrated camera has a 180° fisheye lens. It takes 14MP photos and shoots full HD 1080p video. Having a built-in camera is a nice feature for beginners because it's less to think about.
This really is a fun drone to fly. It'll surely help to improve your piloting skills in no time. It looks more like an aerodynamic airplane and less like a spacecraft, though I suppose looks are subjective.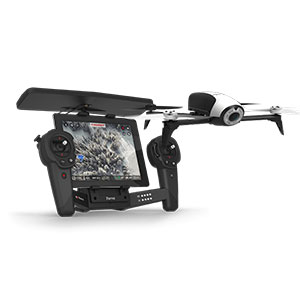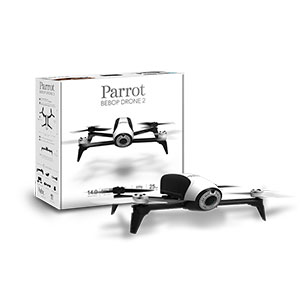 The follow-you feature means the drone flies itself as it films you, or whatever you've got it to track. I have come across a few complaints where users say it's occasionally slow to respond.
The BeBop 2 is light and luggable. It would be even more portable if they gave it retractable legs. It's still easy to put into a bag though, despite the fixed design.
This is not a racing drone but it's quite nippy at around 37 mph with horizontal flying. The top speed doesn't seem to affect image quality either. The wind-resistance feature helps with this too.
You have to pay to unlock in-app to access all the flight features. I don't like this, but it's not a cost issue. It's because these are things that many other drone manufacturers include as standard.
Overall, the Bebop 2 is a superb choice of beginner drone. It's easy to fly, it's portable, and it's safer than the original. It's not without a few faults (see cons table below), but then no drone is perfect.

Tech Specs
Weight: 500g (1.1 lb.)
Battery: 2700 mAh battery
Charging time: 55 minutes
Control range: 300 m (984 ft.)
Max flight time: 24 Minutes
Max speed: 16 m/s (36 mph)
Camera: 1080p 14MP
The Pros
Great beginner drone
Easily portable
Fast and stable
Durable design
Straightforward controls
Autonomous features
Powerful motors
Affordable price
The Cons
Limited range with smartphone/tablet
Limited 8GB memory
Have to pay a fee to unlock the in-app
Beginner Drones Under $1000
Most beginner drone pilots don't want to spend a small fortune learning to fly. But this guide wouldn't be complete without offering something for those who don't mind paying the extra.
The two picks below sell for under 1000 bucks. The typical buyer is the prosumer, but there're also plenty of basic flying features for entry-level users.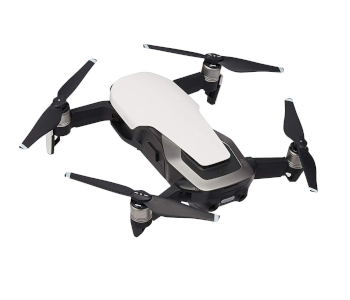 View on DJI.com
Editor's Rating: 4.6/5.0
FAA Registration: Yes
The Mavic Air sits between the DJI Mavic Pro and the DJI Spark drones. It's portable, powerful, and a great choice for beginners serious about piloting drones. It's also a feature-packed quadcopter despite its small size and user-friendly appeal.
Enthusiasts best suited to this incredible flying camera have much in common. They're outdoorsy types and demand portability, easy functions, flight safety, and quality footage.
Meet the Mavic Air's Quality Camera
The onboard camera boasts a 12-megapixel 1/2.3″ CMOS sensor. It has a wide-angle lens to capture high-quality 12MP aerial stills. The camera can shoot stunning 4K video at 30fps (frames per second). Ariel photos and vids are free from blur and shake thanks to the effective 3-axis mechanical gimbal.
Another handy feature is the Air's 8GB internal storage. That means users can save video footage and still images directly to the quad. And if live streaming is your thing, well, you've got that too. Many beginner pilots like to stream their footage in real time and upload it to social media.
Ultra-Portable and Feature Packed
The standout feature of the Mavic Air is its ability to fold down to the size of a regular smartphone. That makes it the perfect travel quad for folks on the move. And getting this puppy in the air is quick and easy even for entry-level pilots. Here are its three easy-to-use smart flight features:
ActiveTrack (follows moving targets)
6 QuickShots choices; one-tap filming options for epic selfie vids
SmartCapture (hand controls)
These things and others are what make complex flights and professional filming easy for beginners. Is it a perfect camera quad? No (see cons below), but it's near perfect for a drone in its class.

Tech Specs
Weight: 430 g (15.2 oz.)
Battery: 2375 mAh LiPo
Charging time: 55 minutes
Control range: 4 km (2.4 miles)
Max flight time: 21 minutes
Max speed: 15.5 mph (25 km/h)
Camera: X
The Pros
Foldable, ultraportable design
Collapsible remote controller (RC)
Easy flight features for beginners
3-axis stabilizing gimbal
Decent flight time
Long control range
The Cons
Obstacle avoidance lacks sensors on the sides
MicroSD awkward to access
Noisy for such a tiny quad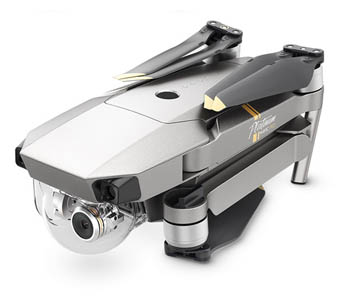 View on DJI.com
Editor's Rating: 4.6/5.0
FAA Registration: Yes
A few beginners won't mind spending $1000 on their first drone. My one pick in this higher priced category has to be the DJI Mavic Pro (consider the 'Fly More Bundle' for an even better deal).
New pilots want to get as much flying time as possible. Well, the 'Fly More Bundle' gives you two extra batteries and a charging hub. There're more goodies, but the batteries alone are worth the extra.
The small, high-quality Mavic Pro controller is awesome. It does a lot despite its simple design. It feels as good as it looks too. You just attach your phone or tablet to the controller and you're good to go.
It won't take you long to figure out the DJI GO App. As a new flyer, and especially considering the price of the drone, you may want to find a nice wide open space for your maiden flight.
DJI Mavic Pro is very easy to fly despite its high quality and sophistication. My advice is to stay well away from the Sport Mode until you're comfortable and familiar with all the drone's basic features.
The makers have designed the Beginner Mode specifically for novice pilots. It has restrictions on how high and how far you can fly. This means you don't have to worry about losing sight or control.
Once comfortable with Beginner Mode, familiarize yourself with Tripod Mode. Although this drone flies well indoors, my advice is to learn outside first—in windless conditions. After that, the sky's the limit.
Let's not forget the portability of the Mavic Pro. This is thanks to its clever retractable legs. With the drone and phone in your bag and a fully-charged battery, you're always ready to take to the sky.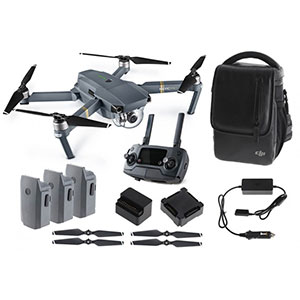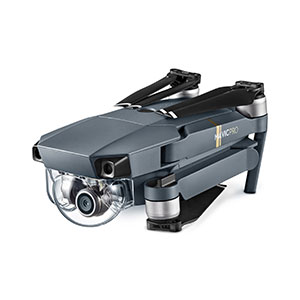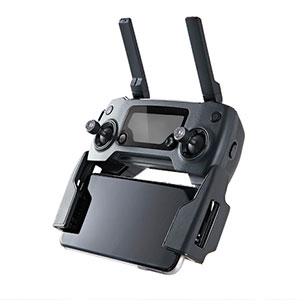 This is a wonderful drone to pilot, but it's more than just a capable flyer. It's also an excellent aerial camera. These impressive optics and recording capabilities contribute to the high price tag.
The camera offers a sharp 4K/24 fps imaging system. It can shoot JPG photos and DNG RAW. Heck, there's even an option for live streaming to YouTube and Facebook if that's your thing.
Ideally, the DJI Mavic Pro is a prosumer level UAV. It still works well as a beginner drone for those who don't want to step-stone through the cheaper models on their way to better things.
Some of the more novice-friendly features include the Beginner Mode, Obstacle Avoidance, and the Return to Home feature, but there's so much more to explore.
As this is a beginner's review, I won't complicate things by looking into the DJI Mavic Pro's full range of impressive capabilities. Just know that there's a lot to marvel at once you've learned to fly.
At the time of writing, the Mavic Pro is perhaps one of the best small sized drone performers in its class. And its numerous smart features make it one of the top quadcopters on the market today.
As a new flyer, you'll only run into problems if you become impatient and try to run before you can walk. Don't attempt to master the more complex features before you've had time to grasp the basics.

Tech Specs
Weight: 735g (1.6 lbs.)
Battery: 2970mAh
Charging time: 60+ minutes
Control range: 4.3 mile (7 km)
Max flight time: 27 minutes
Max speed: 18 m/s (40 mph)
Camera: 4K 12MP
The Pros
Great beginner drone
Small and foldable
Long flight time
Quiet for a UAV
Includes safety features
Autonomous features
Fly by phone or over WiFi
The Cons
Narrow field of view (FOV)
Doesn't launch well from grass
Lots of features (could overwhelm some beginners)
Closing Thoughts
The rapidly evolving beginner's drone market means there are new models coming out on a fairly regular basis. My 12 picks in this guide give you the most sought after drones available right now.
As and when better models arrive, I'll update this page. Please check back regularly.
Thank you for reading, and happy flying.
Happy flying.