Must-Have Podcast Equipment for Beginners – Getting Started
3D Insider is ad supported and earns money from clicks, commissions from sales, and other ways.
Podcasting can be an immensely rewarding pastime or even a fulltime pursuit. There are plenty of opportunities to make money with successful audio files. However, you must create ear-grabbing content to hold the attention of potential listeners. First impressions matter more than anything. The journey begins with the right approach and the use of proper podcasting equipment.
Podcast Equipment Matters
Anyone can create a podcast, that's the easy part. All you need is a microphone and a device to record and save the audio file. But there's more to it than that if you hope to compete in the world of rival podcasters. You may well have a listenable voice and a talent for speaking, but alone they can't cut it. Any podcast with substandard audio is doomed from the outset.
Starting a Podcast
The good news is that podcasting equipment can be both inexpensive and effective. Seriously, you can create impressive quality audio on a budget. Then—when your podcasts take off—you can invest in a costlier setup and raise your game still further.
Here are the 7 tools that podcasters eventually invest in to create an effective home studio:
The microphone
Microphone stands
The audio recorder
Preamps and audio mixers (optional)
Headphones
Headphone amplifier
Podcasting software
The remainder of this guide looks at the above points in more detail and with samples for each.
#1 The Podcaster's Microphone
The microphone is a podcasters' mouthpiece, the tool that records your speech. You only have one voice, but different mics can portray you in a range of fascinating ways. Thus, microphones come in a variety of shapes, sizes, and budgets. Some are better for speech, vocals, interviews, indoor, or outdoors. Think carefully about the type of mic you choose and why you want it.
There are microphones designed for handheld use, desktop, standup, and clip-on types. The latter are those tiny mics that you see a lot on TV for interviews. Clip-on microphones also go by the names lavalier, lapel, lav, body, collar, neck, and personal mics. They all refer to the same thing.
Here are the key terms used to describe microphone types:
USB mics
XLR mics
Dynamic Mics
Condenser mics
I won't get into a micro-analysis of mic types, but it's necessary to know the differences.
USB microphones for podcasting
Those dipping a toe into the podcasting world may want to start with a simple USB microphone. The sound produced by most of these mics is light years ahead of those built into smart devices. They are also the cheapest option and offer plug-n-play simplicity. Consider a USB microphone if you're a podcast beginner who wants to produce a solo, monologue type show.
There are hundreds of USB mics to choose from, so take your time. You may also want to read the feedback for these products from active podcasters. Below are three worthy examples of USB microphones categorized by Best Budget, Best Value, and the current Top Pick.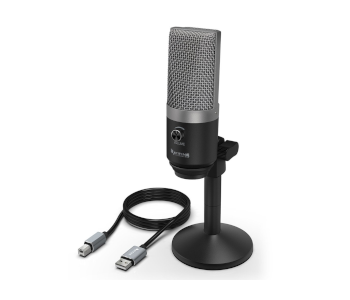 EDITOR'S RATING: 4.7/5.0
The Best Budget pick is a rugged, all-metal USB large-diaphragm condenser microphone by Fifine. It's a highly affordable PC mic that provides plug-n-play simplicity. You can use it with both Windows and Mac computers, and it delivers rich, warm sound right off the bat. This mic is an excellent multipurpose tool too. That means you can use it for a wide range of applications when you're not podcasting.
The on-body controls include a 3.5mm headphone jack and handy volume control. Headphones allow you to listen to your podcasts as you record in real-time. Fifine's portable K670 mic comes with a detachable, metal desktop stand with a substantial base.
The Not So Good
Some users may have to lean into the mic as the stand is quite short. And the microphone mount is plastic and feels flimsy, so it needs handling with care.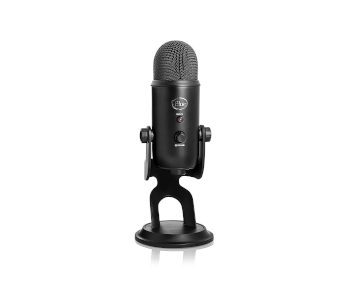 EDITOR'S RATING: 4.6/5.0
The famous Blue Yeti makes the Best Value USB microphone for podcasting. It has a lot to offer and is the most versatile recording tool in its class. This one is the Blackout Edition, but there are ten other colors to choose from if you don't like the dark design. The all-metal construction is built to last, which makes the Yetis an excellent long-term investment. There are some impressive on-body controls too.
This mic has four polar patterns to choose from, switchable via a simple control. There are also a Mute button, a Gain dial, and a Headphone socket with its own volume knob. The Yeti sounds perfect for voice applications, but it also works well with some instruments.
The Not So Good
This mic is big, heavy, and cumbersome. That's also a pro if you intend to keep it in one place. It's a hassle if you need a smaller, more compact and portable setup. Also, some of the plastic controls on the metal body feel cheap, unbefitting, and potentially fragile.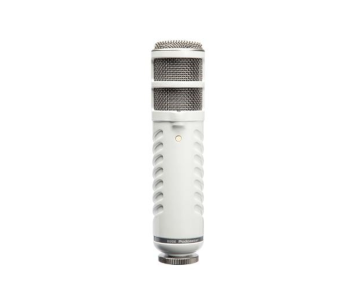 EDITOR'S RATING: 4.2/5.0
The Rode Podcaster makes the Top Pick USB mic choice for podcasting. It's quite expensive and thus aimed more at the semi-pro and professional audio content creator. It's a microphone built specifically for voice applications. The tight cardioid pattern does a superb job with off-axis noise rejection. Podcasters can expect studio-quality sound from this low-profile audio tool.
On-body controls include a 3.5mm stereo headphone output and volume control. Rode's Podcaster dynamic mic comes with a 10ft USB cable and a flat-based DS1 desktop stand. The company backs this and other Rode mics with a one year warranty—extendable to 10 years.
The Not So Good
The Rode Podcaster has a plastic body despite its highish price tag. It's good quality, but you'd think the company would use metal materials for a pro-level product. Moreover, there's no hard-shell or soft padded case to store and carry the mic. The box it arrives in is decent, but it's still only packaging.
Next up: A brief look at three of the current favorite XLR microphones for podcasting.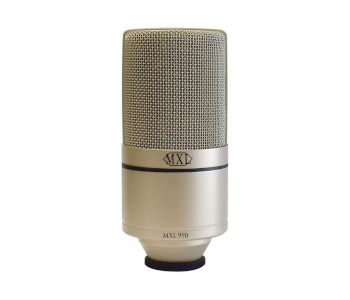 EDITOR'S RATING: 4.7/5.0
The MXL 990 is a popular XLR condenser microphone among podcasters just starting. It produces a rich and surprisingly warm tone for a product in the budget category. MXL's 990 comes equipped with a large-diaphragm FET preamp. The mic seems to work well with both analog and digital recordings.
Those who appreciate vintage-style mics are sure to like the look of the 990. The champagne finish here is one of two designs. The other is the MXL's Midnight Special Edition, which is purple with black chrome. These are not high-end mics, but they certainly excel for XLR condensers in their class.
The Not So Good
This mic comes with a shockmount, and that's great. What's not so good is that it's quite flimsy and may easily break if not handled with care. The 990 is also sensitive to noise, so it does need a quiet environment to produce the best results. I also highly recommend a pop filter.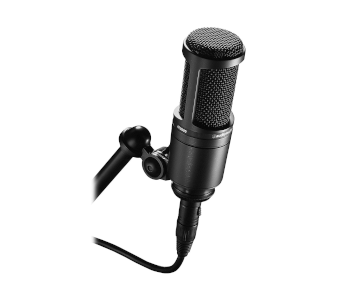 EDITOR'S RATING: 4.6/5.0
This microphone has a resilient all-metal construction and feels as good as it looks. Audio-Technica's AT2020 XLR mic is an excellent choice for most podcasters and YouTubers. It's ideal for the home studio type setup, especially in a space that has some acoustic treatment. The cardioid pattern keeps the focus on your voice while reducing unwanted noise from the sides.
The AT2020 comes with a pivoting stand mount that provides a secure attachment. It also makes easy work of positioning the microphone to where you need it. The mic's protective pouch can also accommodate the mount, so there's no need to remove it for storing or travel.
The Not So Good
A pop filter is a must-have as the AT2020 is sensitive to p-pops and breath sounds. Microphone tone is subjective, but some are sure to want a little more natural bass than this one offers.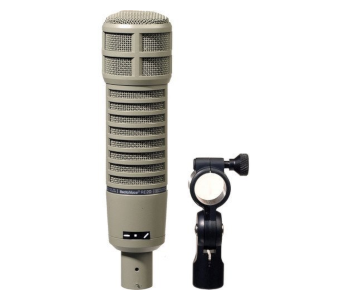 EDITOR'S RATING: 4.8/5.0
The solid steel Electro Voice RE-20 is our Top Pick XLR microphone. It's not cheap, but it's a workhorse that's sure to last a long time with proper care. You can expect smooth, clean, easy-on-the-ear audio with this quality vocal tool. The RE-20 uses something called Variable-D technology. What that does is minimize tonal shifts and proximity effects. In short, it allows you to move without going 'off-mic.'
Other highlights include a built-in blast & wind filter and high SPL handling with no distortion. Some may argue it's too much microphone for voice-only podcasts. I say it all depends on how busy or successful you are or want to be. And it's a no-brainer if you can exploit its versatility. The RE20 here is a superb choice for recording acoustic instruments and kick drums as well as vocals.
The Not So Good
Yes, the price is high for a podcast-only mic, especially for solo talk shows. However, it's right on the money if you can exploit its full versatility. By that, I mean live broadcasts, singing, and musical instrument applications. Lastly, you'd better like the muddy green color as that's the only option.
——————————————————————————————————————-
The next section looks at the pros and cons of condenser and dynamic mics for podcasting. There are sure to be reasons why you may want to favor one type over the other.
Condenser Microphone Vs. Dynamic
Another consideration for podcasters is whether to go for a dynamic or condenser microphone. Each of these mics work in different ways, but let's not get into the technical side here. Both types have pros and cons for podcasting, so let's start with the condenser first.
The advantages of a condenser mic
Condenser mics are the most sensitive of the two and provide the highest output level. The sensitivity can be a problem working from home, though, unless the room is sound-treated. That's because they tend to pick up unwanted ambient noise like fans, keyboards, and barking dogs among other sounds. That's not what you want for a solo or monologue podcast where you need total focus on the voice.
The condenser mic is the best option if you can work in an acoustic treated space. That's because it provides audio that's more detailed and crisper than the dynamic types. It's entirely possible to treat a room at home with sound absorption, proofing, and diffusion on a budget.
The advantages of a dynamic mic
Dynamic mics are less sensitive than condensers. That means you can record without the intrusion of unwanted background noise. They also handle plosives much better, especially the large-diaphragm types. The downside is that dynamic mics have a much lower output level. Turning up the volume can result in lots of hissing, so a dedicated preamp is usually necessary to avoid that.
A dedicated preamp means a device that's only a preamp and not an audio interface with one built-in. The problem with the latter is that they're not very good, especially the entry-level interfaces.
#2 Microphone Stands
Microphone stands come in all shapes, kinds, and sizes. What's right for you depends on the type of mic you use and how you record your podcasts. Stands are vital for audio quality and personal posture. You don't want a support that you need to lean into to speak if you're at a desk for long periods. That would be uncomfortable in a best-case scenario and may have a negative effect on your voice.
Many podcasters who work from the home studio prefer stands with a boom scissor arm. These types clamp to the side of a desk and give unlimited control over mic placement. They also free up desk space, which is always a good thing.
There are 5 main types of tripod stands for podcasting applications:
Desktop suspension boom stands
Tripod boom stands with a long, flexible reach
Round, flat-base tabletop stands
Desktop tripod stands
Overhead mic stands
Examples of podcast mic stands
I've included one example for each of the above mic supports:
#3 The Audio Recorder
A microphone without a recording device is of no use to podcasters. Smartphones, tablets, or laptops can be all-in-one recording tools with their built-in mics. PC and Mac computers are too, but they're not portable. However, NEVER use the tinny fixed mics for podcasting if you're serious about audio quality. Always opt for an external mic when using any of the above devices.
Mobile Podcasters
Computers are perfect if you work from a home studio. However, you need a more portable solution if you're a mobile podcaster who works in the field. A smartphone or tablet may serve your needs. A digital audio recorder gives you even more flexibility, options, and enhanced audio quality. Some handheld recorders have superb integrated mics too, so that's one less item to carry around.
Below are some excellent examples of portable audio recorders. Get familiar with these devices even if you don't need one—yet. It can't hurt to know about all the tools at a podcaster's disposal. The brands that dominate digital audio recorders are Zoom and Tascam, but there are others. Try to stay away from unheard of makes that promote cheap products as they tend to be a false economy.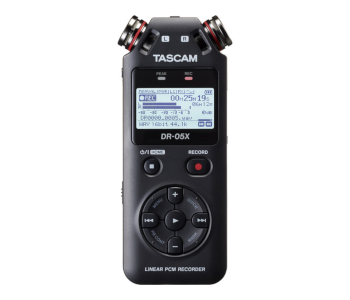 EDITOR'S RATING: 4.4/5.0
The Tascam DR-05X is an excellent value, budget-end handheld stereo digital audio recorder. It has a convenient USB interface and a lot of exciting features. This pocket-sized device lets you record clean, crisp audio wherever you are whenever you want. It works seamlessly as a USB microphone when plugged into a regular computer. That's an ideal setup for podcasters who interview.
Tascam's DR-05X uses two condenser mics, capable of handling quiet to loud sounds. Navigating this puppy and executing its various controls has the smallest of learning curves. It takes no time at all to adjust levels, add markers, or delete any bad takes. The recorder runs on two AA batteries that provide power for over 17 hours of recording time.
The Not So Good
The tiny LEDs are hard to see under direct sunlight, and that's a frustration. The other downside is that it can be a little noisy in an unsteady hand. That's not unusual with handheld recorders. You can also get handling noise down to a minimum with a little practice.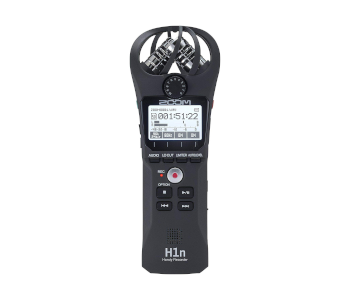 EDITOR'S RATING: 4.5/5.0
The streamlined Zoom H1n is another superb product for podcasters. The recorder has a bright LCD with localized menus and simple 1-touch controls. It's an entry-level device that still meets the needs of many pro-level podcasters and recording artists. Like all pocket audio recorders, the Zoom H1n is lightweight, portable, and ready to record in seconds.
Distortion-free recording is vital for podcasters who record at overly loud events. The H1n can handle up to 120db SPL, and that's quite impressive. Enhanced playback and control is another benefit, along with pre-record, auto-record, and self-time.
The Not So Good
There are a couple of parts that feel flimsy and vulnerable on the Zoom H1n Handy Recorder. One is the SD card slot, and the other is the plastic mic cage. Exposed mics need protection, but it's light and delicate, so I doubt its effectiveness.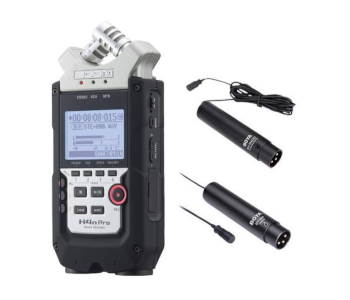 EDITOR'S RATING: 4.6/5.0
Zoom's H4n Pro sells well because it meets the expectations of those who buy it. It's a first-rate four-track recorder used for podcasting, film, music, and other audio applications. Zoom took all that people loved about the H4n and added to it with the PRO version here. Improvements include the advanced X/Y mics, ultra-low noise floor, and natural-sounding preamplifiers.
Other feature highlights include +24/+48V phantom power and two XLR/TRS inputs. It also has a 4-in/2-out USB interface and SD/SDHC card slots that support up to 32GB.
The Not So Good
The Zoom H4n is a tad larger and heavier than some audio recorders. That's because it's feature-packed to bursting point. But its heft also makes it difficult to fit on smaller rigs. The built-in mics are quite exposed and vulnerable too. A protective cage here would have been welcome. The final con is that its complexity means a significant learning curve for novice podcasters.
#4 Preamps and Audio Mixers
Dedicated preamps and audio mixers are nothing to bother with if you're an entry-level podcaster. That's because they make a novice setup overly complicated, especially mixers. You may want to consider these hardware tools later if your podcasting takes off.
Preamps boost or amplify a mic's weak electronic signal to line level. Many audio interfaces and USB mics have preamps built-in. Audio mixers can work magic by enhancing audio quality in a variety of ways. As this is a beginner's guide, I won't go further into preamps and mixers here.
Below are a few popular products if you want to learn more about preamps/mixers. Be sure to read any real user reviews to see how other podcasters have benefited from them.
#5 Headphones for Podcasters
Headphones are a vital piece of kit for serious podcasters. There are plenty of microphones sold as podcaster kits or bundles that include headphones. These products include most or all of what you need to start podcasting. Here are a few examples of mic/podcast kits and bundles:
Why headphones matter
Headphones matter because they allow for close, precision monitoring of your audio. Listening to yourself allows you to hear your voice as others do. It takes a little getting used to, but it's not long before you're comfortable with your own voice. Headphones are invaluable as they help to prevent retakes and correcting mistakes later. The best headphones for podcasting are the closed-back types.
Here's a summing up on the benefits of wearing headphones for podcasts:
Headphones guarantee to make you a much better podcaster (see above)
Help to improve microphone technique
Editing becomes less and easier
Guests who wear headphones get to self-regulate levels
Examples of podcast headphones
There are more headphones to choose from than you can shake a podcaster's stick at. The three examples below show what you can expect in the different price categories: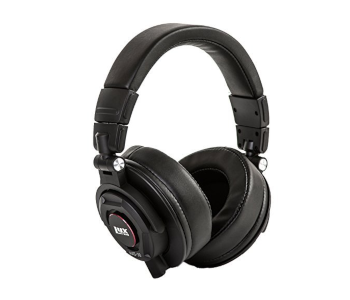 EDITOR'S RATING: 4.3/5.0
LyxPro HAS-30 is an affordable closed-back headphone solution for podcasters. They do a superb job of isolating the wearer from the outside world. It's an excellent choice for the studio, but also elegant enough to wear casually. The construction includes a leather stitched headband and uses comfortable ultra-light materials. The HAS-30 is an ideal headset for podcast creators and listeners.
Consider LyxPro's HAS-30 if you need an inexpensive headset for audio recording and editing. The comfy earpads and crisp sound make them easy to wear for extended periods. That's a vital point for those who spend countless hours perfecting their podcasts.
The Not So Good
The cord is unnecessarily long and can be a nuisance at times, especially outdoors. Some wearers may find the HAS-30 heavy after prolonged periods, but it shouldn't take long to adjust.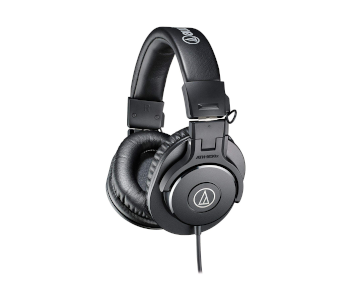 EDITOR'S RATING: 4.6/5.0
The Best Value headphones go to the ATH-M30x by Audio-Technica. This studio monitor headset is lightweight, snug, and sports upgraded earbuds and headband. They retain the same high-quality audio performance as the earlier ATH-M30. Wearers are big fans of the circumaural earcups, which do a brilliant job with sound isolation. And the 15° swivel adds further to the comfort aspect.
Another neat feature is the foldable design that saves space and makes the set portable. The ATH-M30x are perfect entry-level headphones for podcasting and other studio applications.
The Not So Good
The cable is long, built-in, and non-replaceable. I'm not sure why modern headphones have such long cords. It must be the biggest gripe among users of these products. The headphones are well-designed and comfortable for most wearers. Still, some do find them a tad tight and sweaty after prolonged use. That's more likely to be an issue with larger heads and big hair.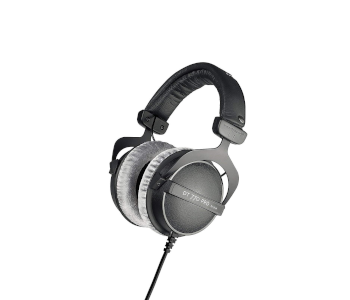 EDITOR'S RATING: 4.7/5.0
Beyerdynamic's DT 770 Pro closed-back headphones make the Top Pick. They're a first-class product meticulously handcrafted in Germany using superior materials. You may want to consider the DT 770 Pro if you need a headset guaranteed to last with proper care. Studio podcasters appreciate the detailed resolution and transparent sound produced by these quality cans.
The sound quality is ultra-clear and neutral with well-balanced frequencies throughout. A single-sided cable makes easy work of putting on and taking off without any risk of tangling. And the ear cups are soft and adjustable to provide tailored comfort.
The Not So Good
This is another headset with a built-in, overly long straight cable. That means if it gets damaged the headset dies. A coiled cable would make the latter less likely. The makers don't seem to be acting on these most common gripes from wearers. Some complain that the bass is lackluster. That's not a criticism shared by all, but there are enough comments to list it as a potential con for some.
#6 Headphone Amplifiers
A headphone amplifier works like all amps in that it makes audio more audible. The ones used for headphones don't need much power. All they do is raise weak audio signals to a perceptible level inside the headset. Modern headphone amps use a digital-to-analog converter or DAC for short. The DAC converts digital audio data to a low-voltage signal for the amp to boost.
Do You Need a Headphone Amplifier?
You need headphone amps if you interview people for your podcasts in the same space. Not everyone is comfortable with the same volume level. You—or your guest—may be hard-of-hearing, or overly sensitive to sound. The perfect level for you may be too loud or too quiet for them. That's why the headphone amp is so valuable. Each person in the room gets to control the loudness that suits them.
Also, your guests may prefer to bring a headset with them. The audio specs are going to be different unless they happen to have the same cans as you. Again, there's no volume control for your interviewee unless you use a headphone amplifier.
Below are 3 headphone amps in 3 price categories, but there are many others to choose from. The mini-reviews can give you an idea of what to expect from these invaluable devices.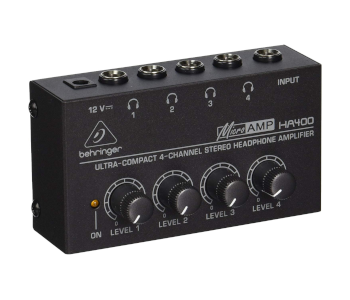 EDITOR'S RATING: 4.4/5.0
The Best Budget headphone amplifier goes to the German designed Behringer Microamp HA400. It's an Ultra-compact system that's ideal for a small home studio setup. The HA400 promises high audio quality with most types of headphones. It includes a separate level control for each channel and works well with headsets even at the highest volume levels.
The Not So Good
The HA400 is ON the moment you plug it in with no option to turn it ON or OFF at the unit. Some rubber cushioning would have been welcome at its base to protect surfaces.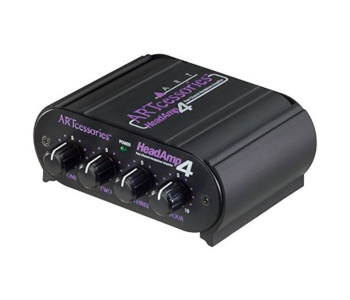 EDITOR'S RATING: 4.5/5.0
The HeadAMP 4 is an 8-output stereo headphone amp of excellent value. It has 1/8" and 1/4″ inputs and outputs, so there's no need to worry about adapters. The unit also boasts low noise, low distortion, and high output. ART's HeadAMP4 is a decent solution for the home podcast studio that needs extra headphone outputs. You can add it to any workstation, laptop, audio interface, and mixers, etc.
All headphone outputs have separate level controls. Worth noting is that you can use this amp with custom earpieces, in-ear, on-ear, and all manner of studio phones.
The Not So Good
The product doesn't include a stereo cable to connect audio hardware to the amp. Cables are not expensive, but they're not all equal either. A substandard cable may result in unwanted interference. New buyers should contact the seller for guidance if they're unsure. The other downside—and a common gripe with headphone amps—is that there's no ON/OFF switch.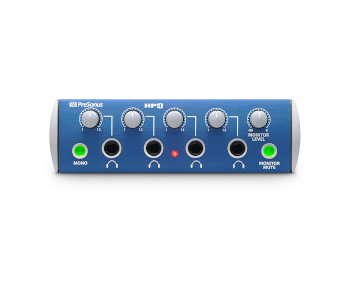 EDITOR'S RATING: 4.7/5.0
The Top Pick headphone amplifier goes to the good-looking PreSonus HP4. It's a four-channel amp that fits right into any podcaster's home studio toolbox. The front and central part of the unit is made of heavy-duty metal and feels rugged and weighty. The HP4 lets you hook up four pairs of headphones and a set of monitors. It's also possible to daisy chain other HP4s if you ever need to.
On the front are the four headphone outputs. Each one has a firm, smooth-turning volume dial for precise adjustment. Also on the front panel is a mono button, a volume dial for monitor output, and a monitor mute button. The PreSonus HP4 is compact, quiet, portable, simple, and super-reliable.
The Not So Good
No ON/OFF switch. It's such an in-demand feature, yet so many headphone amp makers leave it out.
#7 Podcasting Recording Software
Most podcasters feel that their audio files need a little polish before going live. That's where post-editing comes in, and you need a software program for that. There are lots of options, from the very basic to the highly complex. You can find free, cheap, affordable, and expensive software solutions to edit your work. Make sure you start with something simple if you're new to post-editing.
Below are 7 things to bear in mind as you review your podcasting software options:
A clean, uncluttered, easy-to-navigate interface
Offers automation tools for the more mundane tasks
Simple-to-use or automated equalization
Clip leveling and loudness normalization
Supports multiple audio tracks
Nondestructive editing
Tools for crossfades and fades
You can read our Podcast Software Guide for more clarification on all the above (link below).
Software Programs for Podcasters
Here are some of the current favorite podcaster post-editing tools.
There are others, and our Podcast Software Guide looks at all the current favorites. There you can learn how they work, what the offer, and how much they cost—if at all. The guide also mentions the experience level each program is best suited for and pricing plans where appropriate.
Summing Up
That concludes my Podcast Equipment Guide. There's a lot to think about, but you don't need everything all at once. Most of you won't ever need all the gear mentioned here. It's important to know what constitutes a podcasting setup, though. That way, you can adapt your configuration as you gain experience and get better at what you do. Good luck, and happy podcasting.