6 Best 3D Mouse Picks for 2020
3D Insider is ad supported and earns money from clicks, commissions from sales, and other ways.
Efficiency is one of the cornerstones of a successful career in 3D modeling regardless of specialization. You'll gain some through experience or specialized add-ons, but you can improve even further by investing in a mouse whose manufacturer understands the challenges a 3D workflow imposes on creators.
3D mice are all about shaving precious seconds off of the thousands of tasks you perform in CAD or modeling software every day. The most advanced offer better ways of navigating around objects, letting you jump seamlessly between views or rotate around to make precise alterations. Some have the movement limitations of traditional mice but compensate for them by giving you access to more shortcuts and splitting the work between left and right hands more evenly.
Here are the six best 3D mouse picks you can get today. All emphasize precision, speed, and comfort and will have an immediate positive impact on your user experience. Find out more about each of them and start creating elaborate models or scenes quicker.
Budget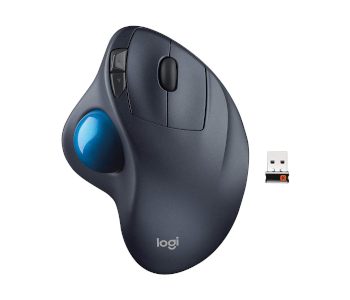 Logitech M570
4.5/5.0
Wireless: Yes
Ambidextrous: No
Exceptional ergonomics & comfort.
Check Newegg
Best Value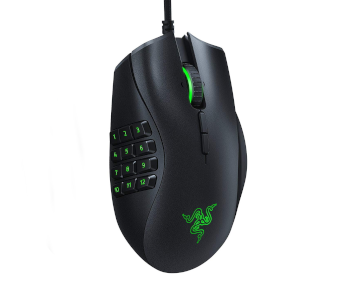 Razer Naga Trinity
4.6/5.0
Wireless: No
Ambidextrous: Yes
Large and comfortable form.
Check Amazon
Top Pick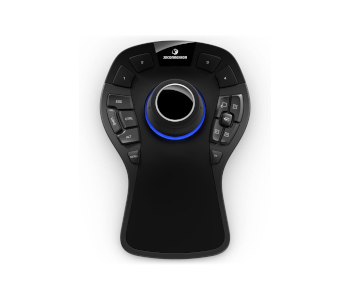 3DConnexion SpaceMouse Pro
4.9/5.0
Wireless: No
Ambidextrous: Yes
It has an intuitive configuration app.
Check Amazon
3D Mice Comparison Table
1. Best Overall – 3DConnexion SpaceMouse Pro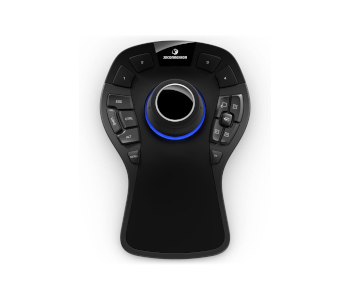 View on Amazon
Editor's Rating: 4.9/5
Having to navigate the 3D space around a model with a mouse designed for 2D environments is one of the main roadblocks to optimizing your workflow. The SpaceMouse Pro shatters this limitation by introducing a sensor with six degrees of movement that makes working with objects feel much more natural. Couple that with a handy assortment of fifteen keys, and you've got a professional 3D modeling tool that's worth every penny.
3DConnexion offers a whole range of SpaceMouse products. Get the SpaceMouse Enterprise if you need more customizable keys or the SpaceMouse for a barebones version that still uses the excellent navigator.
Overview of Features
The SpaceMouse Pro abandons everything you know about mouse design in lieu of an experience centered exclusively on working in three-dimensional space. It's static and designed with superb ergonomics that fit your hand perfectly regardless of dominance. It's made from high-quality materials, has fifteen keys that are easy to reach, and a sci-fi-looking blue LED around the navigator for extra flair.
The navigator is what makes the SpaceMouse Pro so extraordinary. It's a pick-shaped device you can move like an ordinary mouse, but you may also rotate it or pull it up and down for an uninterrupted 3D navigation experience. This lets you spin around objects, pan, and zoom without the clunkiness and restrictions a regular 2D mouse imposes.
The SpaceMouse Pro features a selection of the most frequently used keys regardless of your 3D software of choice. Control, Alt, Shift, and Escape are to the left with a button underneath for menu binding. Five buttons to the navigator's right allow for quick shifts to the front, right, or top views. The central button in this area locks in the view so that moving the navigator only pans and rotates it. A convenient Fill button centers the view on the currently selected object if you ever lose sight of it. Finally, four custom function buttons let you customize the SpaceMouse Pro even further.
The device comes with the 3DConnexion Control Panel, a configuration utility that lets you remap the keys. Using it is straightforward, and you can change each key's function to suit your needs.
What We Didn't Like
The SpaceMouse Pro is a specialty tool and much more expensive than ordinary mice. Plus, it's awkward to work with it in non-3D applications, so you'll need to have a regular mouse alongside it. The navigator is very sensitive and responds to the slightest nudge. This might be bothersome as brushing up against it accidentally can move the view.
Tech Specs
Dimensions: 8 x 5.6 x 2.3"
Weight: 23.4 oz
Buttons: 15
Ambidextrous: Yes
Wireless: No
Pros
Innovative navigator allows for six degrees of movement
Excellent ambidextrous ergonomics
Many convenient buttons, all of them customizable
Intuitive configuration app
Cons
Expensive
Navigator is sensitive to slight touch
2. Best Value – Razer Naga Trinity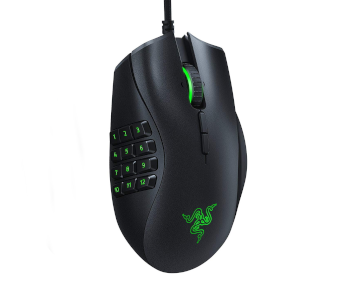 View on Amazon
Editor's Rating: 4.6/5
Mice explicitly designed for 3D modeling are a rare breed, but ones made for MMO gaming might do the trick at a much more attractive price. The Naga Trinity is the best of them. If features three easily swappable side panels, a high profile, and extensive configuration through the Synapse software. It has a maximum of 19 buttons that are sure to satisfy all of your shortcut needs.
Overview of Features
The Naga Trinity is a large mouse intended for right-handed use. It's wide enough to offer rest for your ring finger and long enough for comfortable use by people with large hands who prefer the palm grip. The scroll wheel is clicky and acts as three buttons, while two more controls underneath it cycle through the DPI settings.
The three side panels are the Naga Trinity's standout feature. One has only two buttons and is ideal for mundane productivity tasks. The other two have seven and twelve buttons each, letting you map as many or as few commands as you need. We like the middle panel as its radial arrangement and a central textured thumb rest let you pick which button you need more easily. Swapping the panels out is a breeze since they're held in place with magnets. While that might sound flimsy on paper, they're held firmly in place.
No 2D mouse can replicate the SpaceMouse Pro's navigation, but the Naga Trinity feels great to work with nevertheless. Its 5G sensor ranges from 100 to 16,000 DPI, not that you'll use the higher settings for 3D modeling. The side buttons are responsive but need to be broken in as they're stiff at first.
You can customize the Naga Trinity to an absurd level with Synapse. It lets you map most of the buttons to either single keys, shortcuts, or full-blown macros useful for supplementing your modeling with programming scripts. You can also alter the sensitivity and RGB lighting as well as save custom presets for multiple applications.
What's Bad About It?
Razer Synapse is an invasive piece of software that's great for customization but requires you to create an account and provide the company with an email address. The twelve-button panel has no bumps, so you might not always know which column you're about to access.
Tech Specs
Dimensions: 4.7 x 2.9 x 1.7"
Weight: 4.2 oz
Buttons: Up to 19
DPI range: 100-16,000
Ambidextrous: Yes
Wireless: No
Pros
Excellent value for the money
interchangeable panels allow for a great degree of control
Large and comfortable form
Synapse offers extensive configuration options
Cons
Synapse is capable but invasive
No markings on the MMO panel make precisely picking out buttons harder
3. 3DConnexion Cadmouse Pro Wireless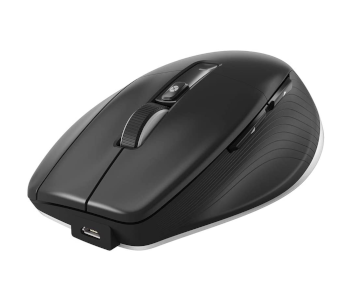 View on Amazon
Editor's Rating: 4.7/5
As its name implies, the Cadmouse Pro Wireless from 3DConexion is a specialized rodent designed for CAD and other 3D software. Its wireless version can connect to your computer through Wi-Fi and Bluetooth, making it a solid choice for users who need to model while traveling. The mouse is large, ergonomically sound, and has enough specific features that we're happy to recommend it over other models even though it might not have as many buttons.
It's also worth mentioning that you can get a version of the mouse for left-handed users. This is a practice we see far too rarely, so hats off to the manufacturer.
Overview of Features
Size ishe first thing you'll notice about the Cadmouse Pro Wireless. It might not be bound by a cord, but it's as large as the Naga Trinity. That's a good thing as you don't want to have an uncomfortable mouse and experience wrist pain after relying on it throughout the workday. Two durable feet let the mouse glide access most surfaces, and the scroll wheel is among the smoothest we've tested.
More experienced users might remember how CAD-oriented mice used to have three buttons. The extra button makes a comeback on the Cadmouse Pro Wireless and is incredibly useful as a replacement for the scroll wheel button, which can be imprecise and hard to press. The two side buttons zoom in and out in 25-percent increments but can be reconfigured.
The radial menu button is another unique addition. It's located under the wheel, where you'd assume the DPI toggle would be. Pressing it brings up a four- or eight-segment radial menu with contextual commands based on the software you're using. Moving the pointer towards a desired field will execute the command inside it, eliminating the need for excessive clicks.
The mouse comes with a receiver that plugs into a USB port and communicates with it through 2.4GHz radio waves. A Bluetooth setting is available too, accessed by toggling a switch on the Cadmouse Pro Wireless's bottom. That's where you'll also find the on/off switch that helps save the battery. Speaking of which, the rechargeable Li-ion cell lasts for an impressive three months if you use the mouse continuously during a 40-hour workweek.
Are There Drawbacks?
The Cadmouse Pro Wireless is great for 3D modeling but not so much for regular use as its button customization is limited to keyboard shortcuts only. Its wireless connection is also spotty if you move the receiver too far away.
Tech Specs
Dimensions: 5 x 2.9 x 1.7"
Weight: 4.9 oz
Buttons: 7
DPI: 7,200
Ambidextrous: No, version for lefties available
Wireless: Yes
Battery life: 3 months per charge
Connection type: Bluetooth, radio
Pros
Excellent set of 3D-centric features
Has third mouse button
Available for lefties
Useful radial menu button
Cons
Buttons can be set only for keyboard shortcuts, not mouse functions like scrolling
Connection issues when working in 2.4GHz wireless mode
4. Logitech MX Master 3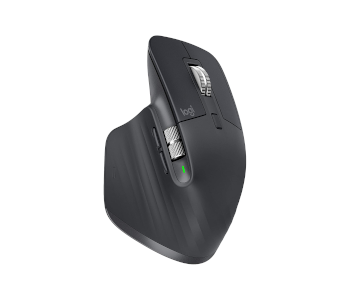 View on Amazon
Editor's Rating: 4.5/5
Is 3D software just one part of your daily toolset? In that case, there's no better tool for boosting your productivity than Logitech's MX Master 3. It wasn't designed for 3D specifically but has two scroll wheels and an abundance of alternative command options that will have most of your must-have shortcuts covered. It's more expensive than our other non-specialized picks, but the productivity boost is more than worth it.
Overview of Features
The MX Master 3 is a chunky mouse with a high profile designed for all-day palm or claw grip use. It has a textured thumb rest and a comfortable surface for your pinky on the opposite side. It's equipped with Logitech's proprietary Darkfield sensor that lets the mouse work seamlessly even on challenging surfaces like marble or glass, provided they're thick enough.
Logitech has equipped the MX Master 3 with two world-class scroll wheels. The regular one is made in Switzerland and uses electromagnets to drive its two spin modes without causing physical wear. Ratchet mode is tactile but silent. It's useful for precise zooming or scrolling. Freespin mode drastically improves scroll speed and is perfect for when you're trying to find a relevant section in hundreds of documentation pages. The second wheel is equally useful and intuitively accessible with your thumb. Set it up to rotate around a selected object, and you're almost at the SpaceMouse's level of convenience.
Speaking of convenience, the MX Master 3 has several remappable buttons, including one that works with gestures. Pressing it and moving the mouse in one of four directions executes a different command. As if that wasn't useful enough, you can also map an additional set of commands and activate them by holding down the Fn key.
You configure the MX Master 3 through the intuitive Logitech Options software. Here's where you can create profiles for different software or access existing ones for Photoshop or internet browsers. The Darkfield sensor has a sensitivity range from 100 to 4,000 DPI. This is excellent for a productivity mouse and allows you to instantly jump from one point on a large monitor to another.
What We Didn't Like
The MX Master 3 is a wireless mouse that connects through Bluetooth or 2.4GHz radio. The latter uses the Unifying Receiver for which there's no storage compartment like on most wireless mice. You'll need to keep track of the receiver as it's easy to lose. Logitech advertises the battery as lasting 70 days with sox hours of daily use. The actual number is closer to half of that.
Tech Specs
Dimensions: 4.9 x 3.3 x 2"
Weight: 5 oz
Buttons: 8
DPI: 400 – 4,000
Ambidextrous: No
Wireless: Yes
Battery life: 70 days per charge
Connection type: Bluetooth, radio
Pros
Exceptional customizability
Precise twin scroll wheels make navigation in 3D easier
Superb ergonomics and build quality
Intuitive configuration software
Cons
No storage compartment for wireless receiver
Mediocre battery life
5. Corsair Scimitar Pro RGB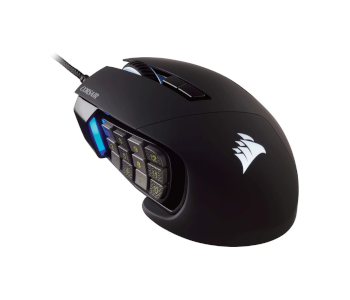 View on Amazon
Editor's Rating: 4.3/5
Corsair's Scimitar Pro RGB is another mouse designed for MMOs like World of Warcraft that can pull double duty as a competent 3D modeling tool. Its twelve-button thumb pad is more refined than the Naga Trinity's, and you can save three onboard profiles for easy switching between applications.
Overview of Features
Users with large hands used to the claw or palm grip will love the Scimitar Pro RGB's size and feel. It's comfortable to hold even with smaller hands and won't tire you out after a day of intense use. Most of its shell is matte black, and there's a prominent Corsair logo towards the bottom. The side is available in either black or yellow.
The thumb pad is the Scimitar Pro RGB's standout feature. It houses twelve buttons arranged in four columns of three. Every other column is textured, and there's a pip on button five that intuitively guides your finger. This setup is much more sophisticated than the Naga's and means you'll never have to guess which button you're about to press. Best of all, the pad is held in place by a screw you can loosen to move it. That gives you two inches of room to work with and lets you position the pad for maximum reach and comfort.
Other buttons on the Scimitar Pro RGB are standard but equally well made. The scroll wheel is responsive and navigates quickly, while the two buttons underneath it are useful for toggling between three onboard profiles or adjusting the DPI.
Corsair's iCUE is a powerful if convoluted config tool for changing every aspect of the Scimitar Pro RGB's behavior. It has numerous presets for all three RGB zones, supports macro creation, and offers application-specific button assignments. You can even sync the mouse's lighting with other Corsair products if you have them.
What's Bad About It?
Binding a button to a function is more complicated than it needs to be. You have to select a button, then choose what kind of action it will perform, and then map it. Pressing the desired button once and assigning a key or combination of keys to it would have been easier. The bottom row of side buttons should be higher up. Pressing any of them might cause your thumb to drag across the mouse pad.
Tech Specs
Dimensions: 4.8 x 3 x 1.6"
Weight: 4.3 oz
Buttons: 17
DPI: 100 – 16,000
Ambidextrous: No
Wireless: No
Pros
Excellent thumb pad with 12 buttons
large and comfortable
has three onboard profiles
Comprehensive configuration software
Cons
Bottom button row sits too low
Convoluted command assignment process
6. Best Budget Option – Logitech M570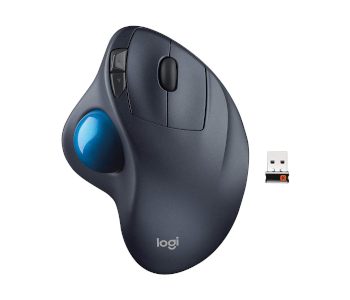 View on Newegg
Editor's Rating: 4.5/5
Using the wrong kind of mouse for 3D can cause problems like carpal tunnel syndrome or general discomfort over long periods. Logitech designed the M570 to combat muscle stress and fatigue with a flawlessly ergonomic shape and a trackball that eliminates the need to move the mouse while working. This novel approach to navigation is also excellent for working with 3D objects as it's more natural and akin to what you're getting with the SpaceMouse Pro. Best of all, it comes in at a tenth of our overall winner's cost.
Overview of Features
Were it not for the SpaceMouse Pro, Logitech's M570 would have been the most outlandish-looking mouse in the list. It's long and much broader than ordinary rodents, offering ample room for the ring and pinky fingers to the right. It's curved and resembles a crescent moon, a shape that mimics the curve of your hand in a relaxed position.
The trackball is located in the middle of the thumb rest. It replaces standard optical sensor movements and keeps the M570 stationery. Coupled with The M570's excellent ergonomics, it ensures your hand is always in an optimum position. You can even use your chair's armrest for constant support since you don't need to move the arm back and forth.
The trackball is also beneficial for modeling. It functions like a normal cursor in standard mode, but you can hold down Ctrl or whatever your software's equivalent is and use it to rotate with the precision its spherical movement gives you.
The M570 uses Logitech SetPoint for basic configuration. It's not as complex as Logitech Options, but you do get the ability to reassign the two small buttons on the LMB's left and adjust trackball sensitivity.
Excellent battery life is another of the M570's advantages. It's a wireless mouse that uses 2.4GHz radio to communicate with the Unifying Receiver and has a compartment for it, unlike the MX Master 3. It doesn't have rechargeable batteries, but two AAs last a year and a half with everyday use.
Are There Drawbacks?
It takes a while to get used to the M570's movement approach, and you wouldn't want to use it for gaming. There's no version for left-handed users.
Tech Specs
Dimensions: 5.7 x 3.7 x 1.7"
Weight: 11.2 oz
Buttons: 5
Ambidextrous: No
Wireless: Yes
Battery life: 18 months per two AA batteries
Connection type: 2.4GHz radio
Pros
Exceptional ergonomics and comfort
Trackball improves navigation in 3D space
Straightforward configuration options
Much cheaper than the alternatives
Cons
Lefties will have to look elsewhere
Has a potentially long adjustment period