Best 3D Pens in 2019
3D Insider is ad supported and earns money from clicks, commissions from sales, and other ways.
Critics said they wouldn't take off – that they were just a novelty. They were wrong. Today 3D pens are fast becoming the affordable and fun way to create 3D printed objects. This guide walks you through the best 3D pens available on the market.
Before we get into the reviews let's first look at what 3D pens are and why you might want to own one.
3D pens are pens that extrude plastic filament instead of regular ink. With 3D pens you can make three-dimensional objects simply by drawing them. They are a lot of fun and open up your creativity.
Children love them because it helps them learn spatial and dimensional thinking. Adults love them because they can create intricate objects and prototype ideas fast without spending time creating complicated computer models.
People's creativity used to be limited to two-dimensional sheets of paper. Unfortunately, this limited many people's artistic abilities to drawing stick figures. 3D pens are opening up a new world to those interested in their artistic side. In short, 3D pens are a lot of fun and will be important for decades to come.
Budget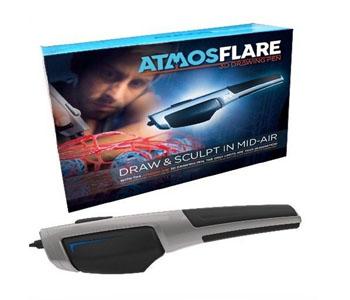 AtmosFlare
3.8/5.0
6.2 x 1 x 1.6″
8.2 oz
Extremely cheap 3D pen that can be hard to use.
Check Amazon
Best Value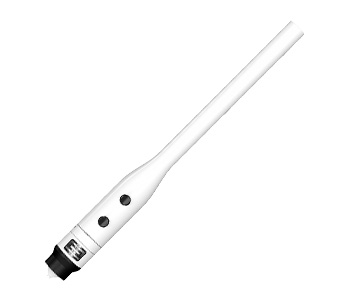 3D Simo 2
4.6/5.0
7 x 1.6 x 0.4″
16 oz
Draw, cut, solder, and burn with this all-in-one 3D pen.
Check 3D Simo
Top Pick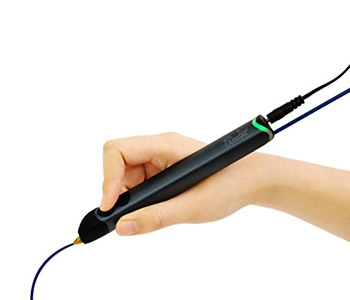 3Doodler Create
4.8/5.0
6.3 x 0.7 x 0.7″
12.8 oz
3D pen with precise control for close details.
Check Amazon
3D pens have gotten a lot better since the first one came out a few years ago. Here are some of the features of the best 3D pens on the market: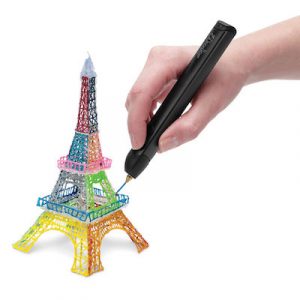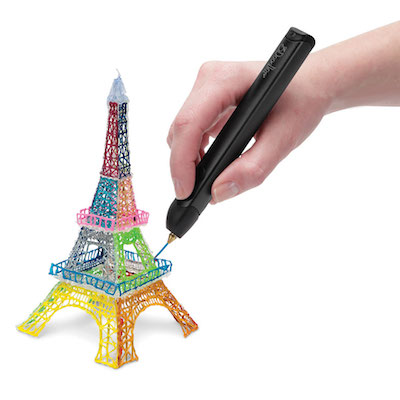 You can print what YOU design
Slim, portable, and lightweight designs
Two heater settings or temperature control
Variety of colored filaments and styles to choose from
Precise extrusion and adjustable feed.
LCD control panel
Unclogging mechanism
Speed regulation
Easy and safe to use (once you get the hang of them)
Not all 3D pens sport the same characteristics. Be sure to choose a product with the features that best suit your 3D printing needs. You'll know what you want by the end of this guide.
The 12 Best 3D Printing Pens
The items below are easily the 12 best 3D pens around. I've listed them by price range for your convenience starting with the most expensive.
Choose Your Budget:
I've created the reviews in an easy-to-understand format that covers three important areas:
The design of the 3D pen
The product's main features
The 3D pens pros and cons
The main features to look for are temperature indicators and temperature adjustment controls. Extrusion speed control is another handy feature to have.
Don't Miss: Best 3D Printers Reviewed
How Do 3D Pens Work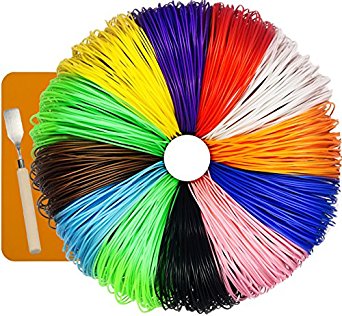 Knowing how a 3D pen works will help you make a better buying decision. Despite being a new technology, 3D pens are not so advanced. They typically look like bulkier versions of normal ink pens.
Handling a 3D pen will come easy if you're familiar with using hot glue guns. For everyone else, it'll take a little practice just like it did the first time you tried to use a computer mouse. The sky's the limit once you get the hang of it though.
Your new 3D pen won't use ink or glue obviously. It takes a special 3D printing filament or material. There are two types of common filaments used in 3D pens:
ABS: Acrylonitrile Butadiene Styrene (Strong petroleum-based plastic)
PLA: PolyLactic Acid (Biodegradable plastic made from corn starch or sugarcane)
You're free to start creating the moment the filament reaches a certain temperature.
If you're not familiar with filaments, read: 3D Printing Materials and What You Need to know. Just scroll down to sections #1 and #2 for an overview on ABS and PLA.
The 3D Pen Printing Process
The pen extrudes—or forces—the material out in a controlled fashion through its nozzle. As soon as the material is out it cools and hardens almost instantly. This is why it takes a bit of practice to get the hang of it.
Before You Buy a 3D Pen
Make sure you know exactly what you want to do with a 3D pen before you buy one. Keep the following three things in mind as you browse these reviews:
Your budget range
Features and limitations of the pens
Filament choices
If you've read everything above this line you're now ready to read the reviews.
3D Pens Over $70
For $70+ you will get a reliable and consistent 3D pen. You will be able to 3D print for hours without running into issues. 3D pens in this price range are also easy to clean. If you have the money, you will be happy you paid a little bit more for quality. Higher quality 3D pens are more consistent in the temperature they melt the plastic at. This means you have more control over how things turn out.
1. 3Doodler Create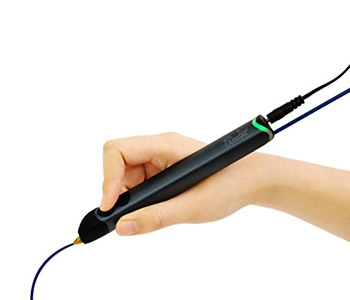 View on Amazon
Editor's Rating: 4.8/5.0
The 3Doodler Create is a leader when it comes to 3D pens and doodling. They have good online support with tutorials and various project plans. This is a great tool for anyone over eight years of age.
3Doodler more or less started the 3D pen industry back in 2013 with a Kickstarter project that raised $2.3 million. If you are looking for a quality brand you can't go wrong with 3Doodler. They have more experience in the industry than anyone else.
To be honest, there's not a lot wrong with the 3Doodler Create. It's why this is such a popular choice across a whole spectrum of users. Hobbyists, professionals, crafters, and artists all love this pen.
It's a good looking 3D pen and a great performer too. All you do is turn it on, insert the plastic of your choice, and start doodling. That's all you have to do to get started.
This latest version of 3Doodler boasts a stronger, slimmer, and much lighter body that's a joy to hold. Its rectangular shape makes pressing the controls easier and smoother too.
The controls on the 3Doodler Create are both intuitive and simplified compared to earlier versions. It's these little touches that make the printing process much easier and a lot more fun.
I personally love this pen's Advanced Drive System. It results in a product with a far smoother and notably faster operation compared to earlier models. The speed and temperature controls help too.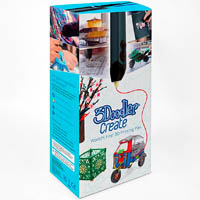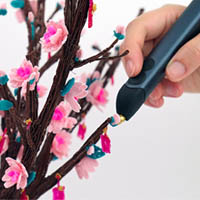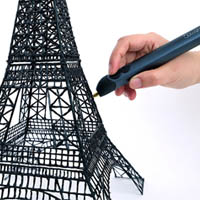 The varieties of plastics are second to none. Available materials include glossy, matte, glow in the dark, flexy, clear, and sparkle. Having so many choices really opens up the possibilities and that's what 3D pens are all about.


Tech Specs
Weight: 12.8 oz
Dimensions: 6.3 x 0.7 x 0.7″
The Pros
Comes in a range of colors
Beautiful slim design
Simple to use (clear instructions)
Two heat settings for ABS & PLA
Wide choice of filament colors & styles
Online tutorials and project plan
One year warranty
The Cons
High cost (around $100)
Some complaints of occasional filament jams
2. Lix Pen UV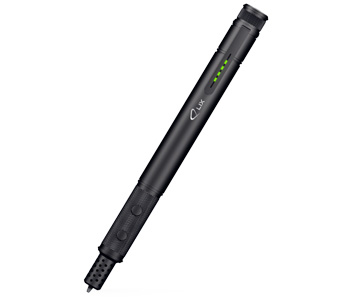 View on LixPen
Editor's Rating: 4.7/5.0
Anyone into miniaturization is going to love the Lix Pen UV New Edition. It's the smallest 3D circular pen on the planet at the time of writing, but is it capable. Well, the first model created quite a buzz. But the newer upgraded version promises to be faster, smarter, and even stronger.
One of the most impressive features of the Lix is being able to write or draw ideas in the air. It's a tool for the more creative among us. It offers serious and practical solutions as well as a fun user experience. The unique design and enhanced features let users explore new approaches to creativity. This could be your perfect tool if you want to transform ideas into solid freestanding 3D objects.
Who Benefits from the Lix Pen UV
The Lix is perfect for anyone who's interested in 3D printing with pens. It's a particularly good choice for contemporary designers. It also works for stylists, architects, and anyone who needs a creative touch. It's for those who want to make a great first impression with a beautiful tool as well as a 3D presentation. It takes a little practice to get used to the Lix but this is the same with all 3D pens.
Using this tiny tool couldn't be easier with a little practice. All you have to do is plug it in, wait one minute—or less—for the ABS or PLA filament to heat up… and away you go.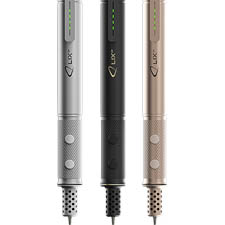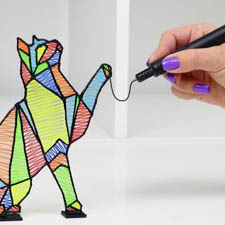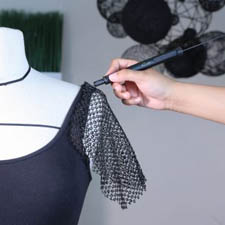 The table below highlights the Lix Pen UV's most important points:
Tech Specs
Weight: 1.6 oz
Dimensions: 0.59 x 6.28 x 0.31″
Material: ABS, PLA
Filament: 1.75 mm
Nozzle: 0.7mm
The Pros
Well engineered
Beautiful, slim, lightweight design
Smallest circular 3D pen ever
Functions like a 3D printer
Quick to melt, fast to cool
Draw and write in the air
The Cons
Takes practice to master
3. 3D Simo Mini 2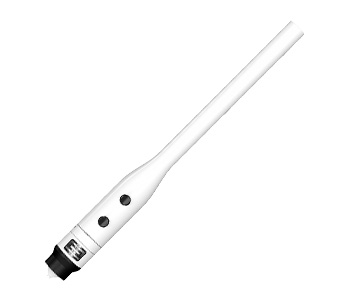 View on 3DSimo
Editor's Rating: 4.6/5.0
The 3D Simo Mini 2 is no ordinary 3D pen. Some would argue that it's the most versatile 3D drawing implement around right now. Keep reading if you want a tool that does more than just print in 3D.
There are four separate attachments that allow you to draw, cut, solder, and burn. That means you get a 3D printing pen plus some. There's a soldering iron, a foam cutter, and a leather/wood burner. Heck, there are even plans to add a drilling feature to this already multi-functional tool.
You can print using a wide variety of filaments with vivid colors. Choices include ABS, PLA, wood, metal, thermochrome, and a few others. The Simo Mini 2 also lets you control the melting temperature of the 3D filament and the extrusion speed. It's all controlled via Bluetooth and the 3D Simo app.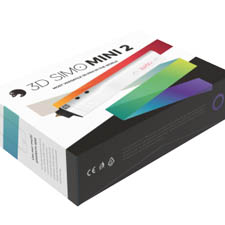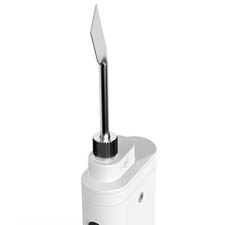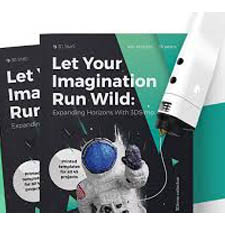 The table below highlights the 3D Simo Mini 2's most important points:
Tech Specs
Weight: 16 oz
Dimensions: 7 x 1.6 x 0.4″
Material: ABS, PLA, wood, metal, thermochrome, others
Filament: 1.75 mm
Nozzle: Various
Power Output: 12V 2A
The Pros
Multi-purpose tool (see review)
Multi-material
Four attachments (included
Temperature and extrusion speed controls
Bluetooth connectivity
The 3D Simo app
The Cons
Price tag
Takes practice to master
More functions mean more that could go wrong
4. Scribbler V3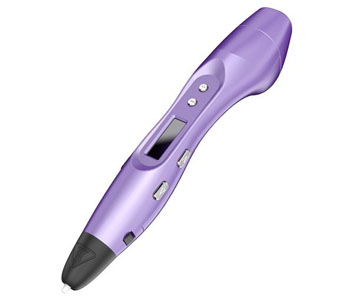 View on Amazon
Editor's Rating: 4.6/5.0
This new Scribbler 3D Printing Pen is version 3. Both the design and usability have improved from previous models. It's another great product for any creative person eight years and older.
With a range of different colors to choose from, there's something to please all doodlers. There are no metal parts in the construction. This keeps the penlight and makes it easier to use for longer periods.
The OLED-display screen and simplistic controls let you concentrate on your printing without having to focus too much on the pen.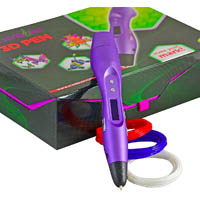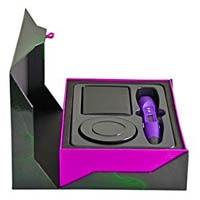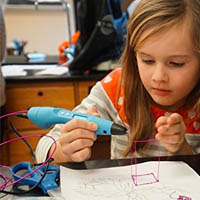 There's a lot to like about the Scribbler in all areas. One of my favorite features is the pen's removable ceramic nozzle. It's a good quality nozzle that's easy to detach and simple to unclog.
You can pretty much use the new Scribbler on most surfaces. If you like to experiment with different materials you're in luck. This pen accommodates ABS, PLA, wood, and copper to name some.


Tech Specs
Weight: 14.4 oz
Nozzle: 0.7mm
Power Input: 12V 3A
The Pros
Adjustable heating temperature
Comes in a range of colors
Lightweight (zero metal parts)
Easy to handle simple to use
Fits nicely in the hands
Works on most surfaces
Nice OLED-display screen
Auto standby mode
The Cons
Short power cord
Buttons might be a bit small for younger children
5. MYNT3D Professional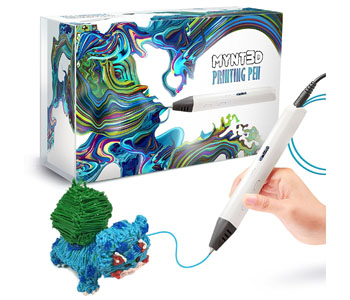 View on Amazon
Editor's Rating: 4.5/5.0
Like the 3Doodler Create above, the MYNT3D Professional also has a rectangular body. The shape is both a personal preference and a feature. People with poor grips tend to prefer a quadrilateral design.
What's so appealing with the MYNT3D Professional is its ultra-slim design and lightweight build. Add to this the carefully placed controls and you have a 3D pen that's comfortable to hold and easy to use.
The speed control lets you manage the rate the filament flows as you draw. This is useful because you can add color to larger areas at higher speeds and slow down for trickier type printing.
Another impressive feature of the MYNT3D Professional is that you can power it using any power bank with a 2A USB output. This means you don't have to work close to a household power socket.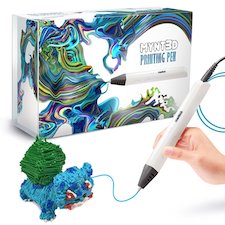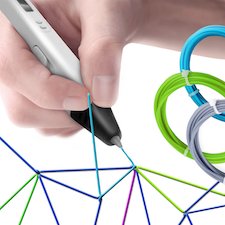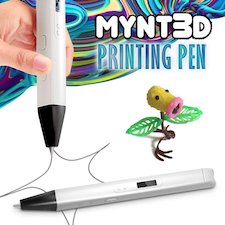 You can use any 1.75mm thermoplastic filament with this pen. This gives you some exciting materials and finishes to choose from for your 3D printing projects.


Tech Specs
Weight: 9.6 oz
Power Source: USB powered
Material: ABS, PLA
Filament: 1.75 mm
The Pros
Attractive slim design
Comes with modular (replaceable) nozzle
Portable power source (USB port powered)
Large OLED display screen
Precise extrusion
Adjustable feed
Adjustable temperature
The Cons
Noisy for a 3D pen
Slow extrusion for experienced users
6. Lay3r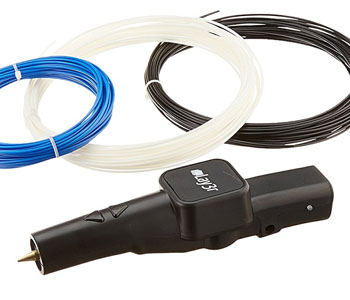 View on Amazon
Editor's Rating: 4.2/5.0
The Lay3r 3D pen has a totally different look to others. The unique design can appear big and awkward at first but looks are deceptive. The pen's perfect balance makes this an easy tool for anyone to use.
This 3D pen is surprisingly light. That's a good thing. Even a few grams can make a big difference in comfort levels when printing for long periods.
There're some cool features with this pen as you'd expect with a product in this price range. The two I want to give a special mention to are the auto shut down feature and the cooling fan.
The auto shutdown powers the pen off after it's been inactive for a few minutes. This not only helps to prolong the pen's life, but it's also a good safety feature.
The cooling fan is another cool feature (pun intended). This tiny onboard fan helps regulate a steady heat. It means you can print for longer uninterrupted periods. It also helps to protect the pen.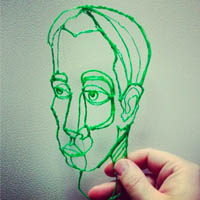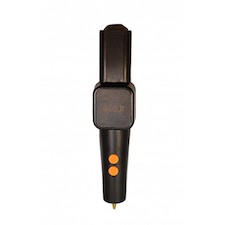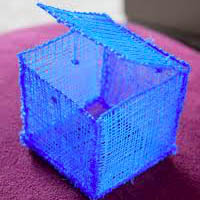 Anyone who likes to be part of an online community will love the Lay3r 3D Pen. There's lots of great advice, video tutorials, and supportive chat rooms to share and swap ideas with like-minded others.


Tech Specs
Weight: 17 oz
Dimensions: 5 x 1 x 1.2″
Material: ABS
Filament: 1.75 mm
The Pros
High-quality product
Easy to operate after practice
Great customer support
Safety auto-shutoff feature
Cooling fan
Fast print mode
12 months Warranty
Great online support Community
The Cons
Big size for smaller hands
Takes a bit of getting used to
Not suitable for unauthorized kids
3D Pens from $30 to $70
You get a lot more value for your money in this price range than you do for slightly cheaper versions. Many 3D pens in the $30 – $70 price range have adjustable speed and temperature settings. You'll experience fewer jams with 3D pens in this price range and find them easier to clean.
Overall, with the 3D pens below you will get the majority of the features of advanced 3D pens without the price tag. Some pens in this price range allow you to use multiple materials.
7. 7TECH
View on Amazon
Editor's Rating: 4.2/5.0
This is perhaps the most user-friendly of all the 3D printer pens in the list. It's a great choice for novices while advanced enough to please more expert doodlers.
You'll find all the controls at your fingertips. You can control the speed the filament comes out. The pen also sports a smart LCD screen to add to the user experience.
There's minimal jamming thanks to 7TECH's advanced unclogging mechanism. If you've worked with 3D pens before you'll know how valuable this is. The temperature adjustment lets you switch seamlessly between ABS and PLA materials.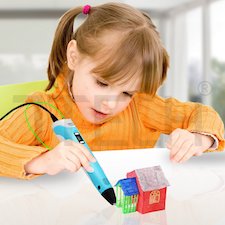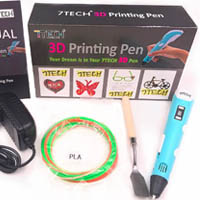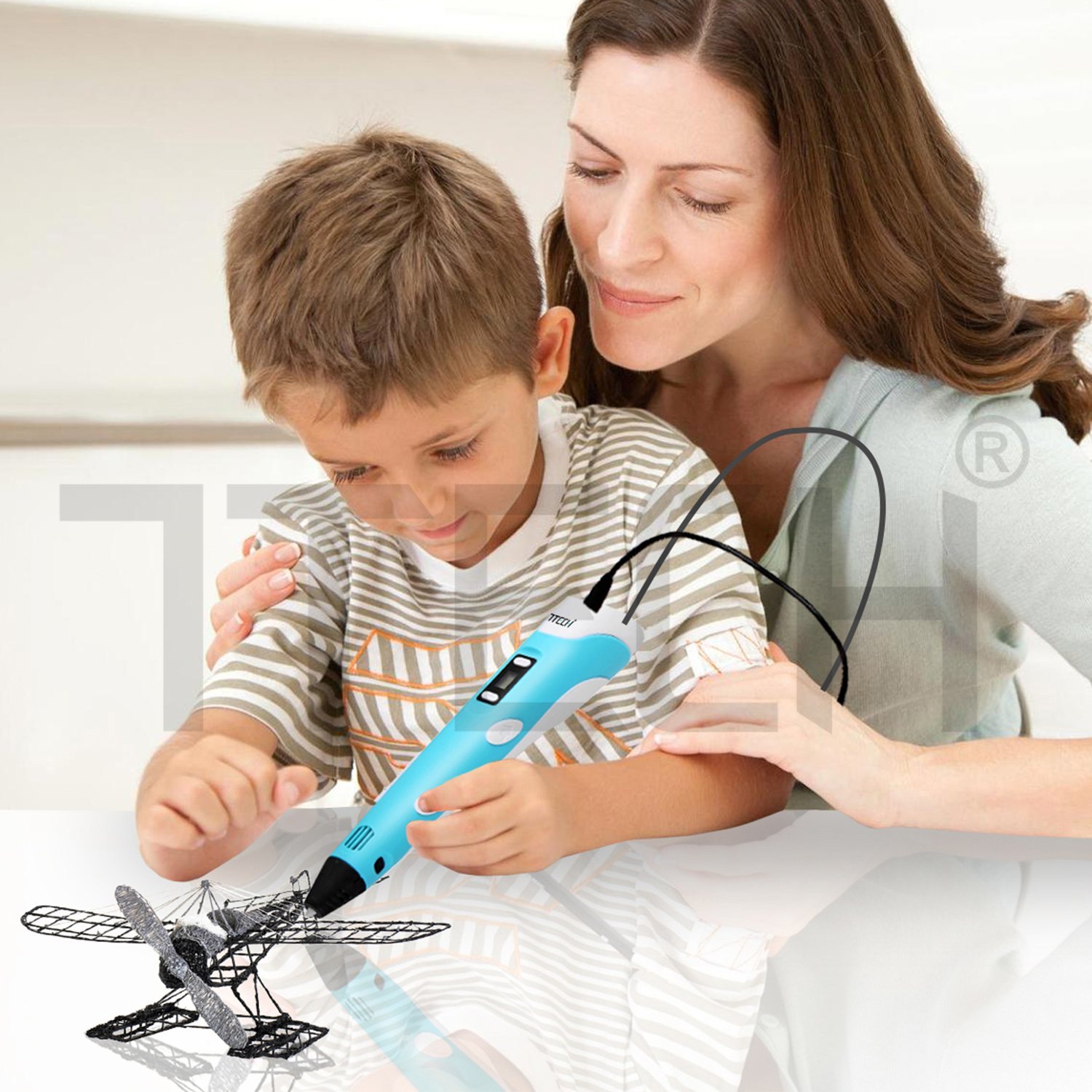 The pen comes with a useful 3D stencil eBook to help get you started. Overall, this is a nice, high-quality 3D pen that already has a lot of satisfied users.


Tech Specs
Weight: 15.5 oz
Dimensions: 18.5 x 4.1 x 2.8 cm
Nozzle: 0.7mm
Power Input: 12V 3A
Heating Temp: 160 to 230 degree
The Pros
Uses PLA or ABS
Automatic standby
Special unclogging mechanism
Very easy to use
Fits comfortably in the hands
Slim and lightweight
One year warranty available
Great value for money
The Cons
Lacks a set of different nozzle sizes
Not ideal for kids (gets too hot)
8. SketchPro 3D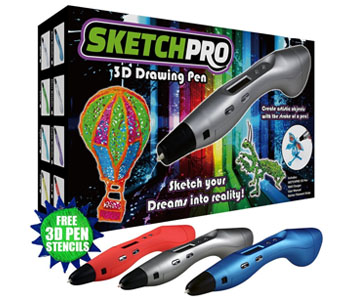 View on Amazon
Editor's Rating: 4.8/5.0
The SketchPro 3D should make your shortlist no matter what your 3D drawing needs are. It's a versatile tool and it sports a sleek design. It's sure to bring out the creative juices in anyone.
A lot of 3D pens are simple to use. The SketchPro takes ease-of-use to the next level though. The comfortable ergonomic design feels like an extension of your hands. Most of the 3D pens in this list are user-friendly but this one is the most manageable. You can access all the buttons without having to fiddle too much.
Everyone loves the large LED screen that helps you maintain control at a glance. It displays the feed details, printing temperature, and a few other useful settings that you can keep an eye on.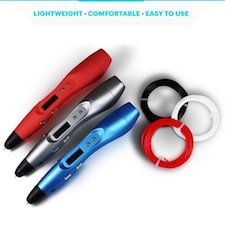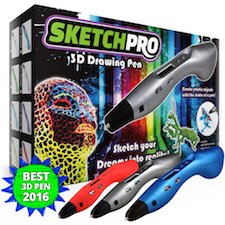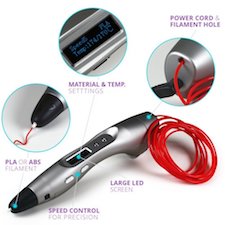 Changing filaments with the SketchPro 3D only takes a few seconds once you're used to it. It only takes a minute to heat up so there's not long to wait before you can resume printing.
This is one of the most durable and consistent 3D pens available. The quick cleaning function and automatic shut off all help to keep the pen in good working order.
You also get a handy e-book with the product that contains 100+ stencils.


Tech Specs
Weight: 17.6 oz
Dimensions: 8.6 x 5.3 x 4.1″
The Pros
Comes in a range of colors
Auto Shut-off feature
Adjustable temperature
Adjustable speed settings
Auto standby mode (90 seconds)
Digital readings
Fast cleaning function
Quick to heat up
Easy filaments change
The Cons
Some reports that it gets a bit temperamental with long usage
9. Kuman 100B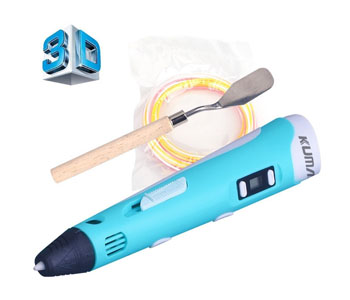 View on Amazon
Editor's Rating: 4.0/5.0
If you like round-bodied pens you'll love the Kuman 100B. Some younger children will find the bottom a bit too wide for their grip though.
Aside from the wide design, I'd say this is one of the better pens for the more serious beginner. It's a really nice looking tool and one that's super easy to use.
Those who can work with the pen's design will find everything at their fingertips. The neat LCD display gives details of speed, temperature, and filament details.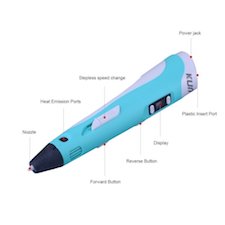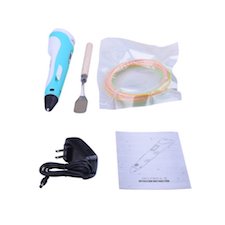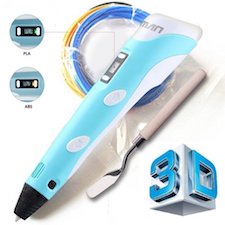 The filament heats up effortlessly and cools down soon after it's out. This is a welcome feature for the novice in particular as it lets them build parts quicker and with less fiddling.
Another nice touch is the freebies that come with this 3D pen. There's the eBook with lots of handy tutorials for one. There's also a free palette knife, shovels, and spatulas for art-style painting.
To top it up you get first-rate after-sales support with this product.


Tech Specs
Weight: 14.4 oz
Heating Temp: <160 to 230 degree
Nozzle: 0.7mm
Power Input: 12V 3A
The Pros
Intelligence auto-standby mode
Great pen for thicker paint applications
Can use either PLA or ABS filaments
Consistent filament heat
Suitable for children over 8 years
Versatile
LCD display for filament control, temperature & speed
The Cons
Extrusion can be slow
Filament gets jammed
Require frequent refills
Not wireless
3D Pens Under $30
3D pens in this price range are a great way to get your feet wet. They also make the perfect gift for kids. Although they don't have all of the bells and whistles, 3D pens under $30 still give you the magical feeling of creating something out of thin air.
You should upgrade to the next price range if you want finer control and the ability to try harder prints. 3D pens in this price range also do not perform well for long-duration prints.
10. Soyan Standard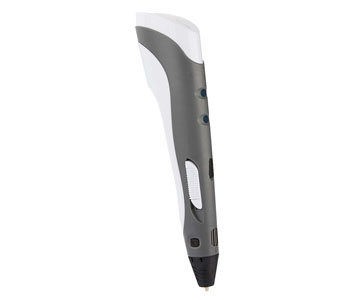 View on Amazon
Editor's Rating: 4.3/5.0
If you're a creative doodler or at least one in the making, then check out the Soyan 3D Printing Pen. The pen's design and shape are similar to that of the Kuman below but without the LCD panel.
The cheap price, reliability, and useful features make this an ideal pen for beginners. The only downside is that it's a little bulky for smaller hands.
There's a useful beginner's book that comes with this pen. It's a well-written guide that includes some exciting first-time projects to get you started.
Like all of my picks here, the Soyan 3D pen is simple to operate once you've had a little practice. The filament comes out easily and hardens almost instantly.
There are two buttons. The first button controls the extrusion speed. The second allows you to extract the filament. These are useful features if you want to swap colors or are ready to move on to another project.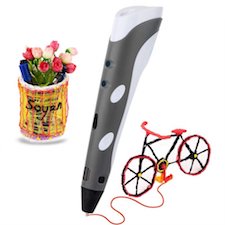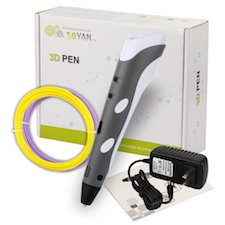 Value for money and smooth operation are other selling points. Being able to use the pen on just about any surface lets you lift your creative ideas off the page and into the air.


Tech Specs
Weight: 9.6 oz
Dimensions: 1.2 x 7.4 x 1.7″
Material: ABS, PLA
Filament: 1.75 mm
Nozzle: 0.4 -0.7mm
Power Output: 12V 3A
The Pros
Affordable price
Lightweight and ease of use
Less clogging than other pens
Slick design
Fast cool technology
Smart standby switching function
Adjustable temperature control
Easy to change colors quickly
The Cons
Shortish cord
Takes some getting used to
11. Glyby Intelligent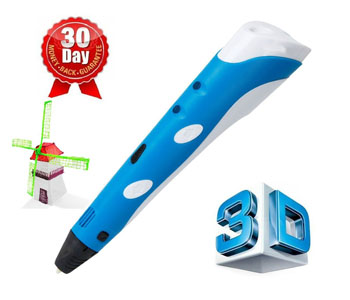 View on Amazon
Editor's Rating: 3.9/5.0
The Glyby Intelligent 3D printing pen is a great choice. It's of particular interest for parents with kids eight years and older. This is a cost-effective pen that lets you print in either PLA or ABS.
This 3D pen does everything you'd expect it to do for the money. You need to look a little higher up the price chain if you want more bells and whistles though. All the same, it's a really great starter pen.
One of the key attractions is the way the pen sits so comfortably in the hands. This allows you to concentrate on printing without worrying too much about the tool.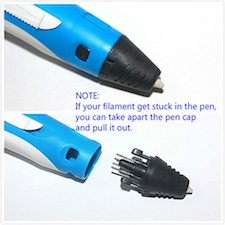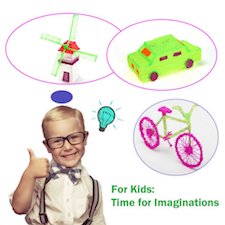 Tech Specs
Weight: 12 oz
Dimensions: 8.5 x 6.5 x 2.5″
Batteries Required: No
The Pros
Comfortable to hold
Simple to operate
Intelligent standby function
Temperature control
Continuous speed regulation
Filament comes out effortlessly
Heats up fast
After-sales protection
12. AtmosFlare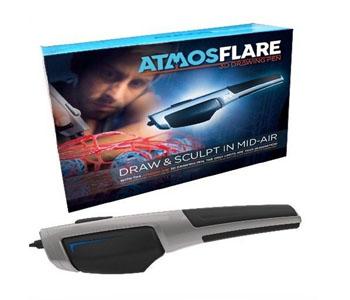 View on Amazon
Editor's Rating: 3.8/5.0
This is the cheapest of our top picks. Even so, don't let the low price of under $15 put you off (prices change, the lowest this item has sold for is $12.56). It's a great pen for anyone who wants to try 3D printing on a budget.
The AtmosFlare is a safe pen for children to use (8 years and above). This is thanks in part to its special ink and safer UV light technology.
It's an incredibly well-made 3D pen for the money. It seems to have pretty good battery life to boot. It does take a bit of getting used to, but then that's half the fun.
The actual pen is a bit bulky compared to some of the competition. It still feels comfortable to hold, but it may be a little 'fat' for smaller hands.
This is a wireless 3D pen. That makes it a great choice for anyone who doesn't like the restrictions of a cable. Wireless technology gives you more room to be creative.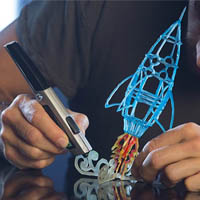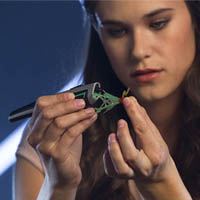 The AtmosFlare adheres to many types of material. It'll stick to most surfaces including paper, wood, plastic, and many others.
Another point worth noting is the impressive after-sales support that comes with this product.


Tech Specs
Weight: 8.2 oz
Dimensions: 6.2 x 1 x 1.6″
Batteries Required: 3 LR44 (included)
Assembly Required: No
The Pros
Very safe to use
Simple to clean
Filaments in 12 colors
Uses UV light for curing
Wireless
The Cons
Takes some getting used to
Few reported cases of poor quality printout
Closing Thoughts
My review here highlights the best 10 3D pens on the market right now. I've covered all price ranges from $12 up to the $100 mark. I'll update this guide when there's something new to add.
I've based each of these reviews on features, usability, reliability, and value for money. I've also taken user review ratings into consideration along with expert opinions.
I hope you've found this review guide useful. Please bookmark the page and check back for updates.
Things to Bear in Mind
There are a few important points to bear in mind as you choose your next 3D pen. If it's a gift for someone else, remember to think about what features are useful to them rather than what you like.
If you're buying for children, look at the more kid-friendly pens. Remember too that most of these products are only suitable for children eight years old and above. Supervise at your discretion.
And finally, look at ergonomics and weight as much as style. We all have different sized hands, abilities, and expectations. If you're going to be 3D printing for long periods, lighter is always better.
Warning; 3D printers should never be left unattended. They can pose a firesafety hazard.