The Top 5 Best Anycubic 3D Printers in 2022
3D Insider is ad supported and earns money from clicks, commissions from sales, and other ways.
Anycubic remains one of the most popular brands in consumer-grade 3D printing. This is mainly because Anycubic has one of the largest selections of desktop-scale 3D printers that are also fairly affordable and have good printing performance.
The range of Anycubic 3D printers is actually quite impressive – they have filament printers, resin printers, printers with large build volumes, and 2-in-1 laser engraver and printer combos. To help you pick out just the very best models, we came up with a shortlist of the most recommended Anycubic 3D printers of this year.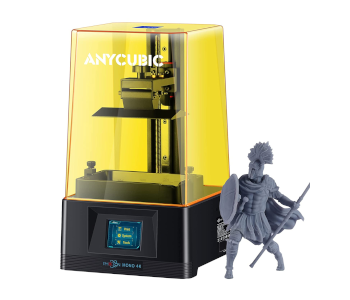 The Photon Mono 4K is our top pick because it is one of the best entry-level resin-based 3D printers. At less than $300, the Photon Mono 4K is considered one of the least expensive 3D printers to get started in resin printing. It features a 4K Monochrome LCD Screen as a light source, allowing it to print at a very high level of detail.
The Photon Mono 4K is the smallest and cheapest of Anycubic's line of resin printers. Despite this, it has a satisfying build volume of 132 x 80 x 165 millimeters. This does not feel small at all when on your desktop, and is only slightly smaller than the build volume of the Elegoo Mars 3. There is enough room here for printing tabletop action figures.
The 35-micron resolution of the Mono 4K is one of its more impressive features. If you're into extremely detailed mini-figures, then this is absolutely the most practical printer for you. It comes with a basic plastic resin tray and the Photon Workshop slicer, although you have the option of using other slicer software.
The Photon Mono 4K has largely gone unnoticed and is in the shadow of the larger Anycubic resin printers, but it is a perfectly capable resin printer at a decent price.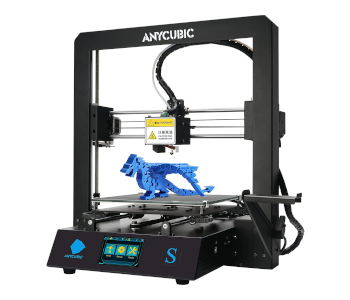 From small, we go to big – the Mega S is Anycubic's filament printer that features a large build volume of 210 x 210 x 205 millimeters. It is a fairly large printer that requires some assembly, although beginners should not have such a hard time with it.
The Mega S has several standout features. It has an upgraded Titan extruder that is designed for precise extrusion and to lower the risk of clogging. The patented heat bed has a texture that promotes better bed adhesion but also facilitates easy removal after cooling. It also has a feature that can resume a print that was interrupted by power loss.
The Mega S has a maximum hot end temperature of 275 C and a maximum bed temperature of 100 C. The touchscreen panel at the front of the printer can be used to monitor temperatures and to change a few basic settings. The printer comes with a Bowden extruder by default, so you might have to plan for a modification if you prefer to work with Direct Extruders.
At less than $300, the Mega S remains one of the most affordable 3D printers despite its relatively large build volume. It's not overly complicated but is highly capable. This printer is suitable for beginners as well as those looking for an upgrade from their smaller FDM printers.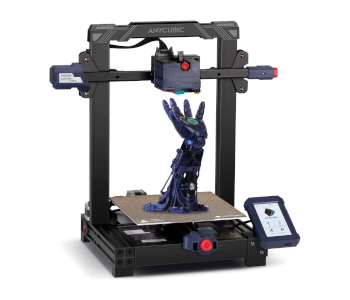 At just above $300, the ANYCUBIC Kobra is still a considerably budget-friendly FDM printer. With an even bigger build volume than the Mega S, the Kobra offers incredible value. It is also a "smarter" 3D printer because of its 25-point precise automatic bed leveling feature.
The Kobra has a maximum printing speed of 180 mm/s, much faster than the Mega S. It has a maximum hot end temperature of 260 C and a maximum print bed temperature of 110 C. It has a removable magnetic print bed made of composite materials with an outer PEI coating. This print bed is pretty much best-in-class in terms of bed adhesion and ease of print removal. The larger touchscreen panel is also a nice touch.
The Kobra has a Direct Extruder, a massive difference from the Mega S. Direct extruders typically deliver slower and less precise 3D printing but are much simpler to use. The rigid frame of the printer makes up for any excess vibration caused by the movement of the heavier print head.
Considering how much the Kobra has improved from the Mega S, it's easy to say that this printer offers more value for money. The smart bed leveling system should help avoid bed adhesion issues, as should the PEI-coated magnetic print bed.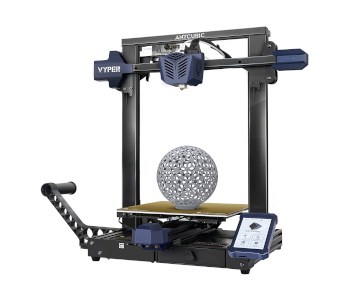 The Anycubic Vyper is significantly more expensive than the other printers we have featured so far at around $430. The premium price of this printer shows up both in its appearance and function – not only does it have better features, but it also looks a lot more elegant and professional.
Just like the Kobra, the Vyper has an automatic high-precision bed leveling system. It also features the same PEI-coated magnetic build platform. The Vyper has an even bigger build volume than the Kobra at 245 x 245 x 260 millimeters. If you're planning a big project, then the Vyper is the way to go.
The Volcano-style nozzle reaches a maximum printing temperature of 260 C. The heated bed can also heat up to a maximum of 110 C. These values are enough for printing with more challenging filaments like TPU or ABS. The Vyper has a maximum print speed of 180 mm/s, but Anycubic recommends keeping this value to 100 mm/s or below.
Like the Mega S, the Vyper has a quick-resume function in case your print is interrupted for any reason. The rack of the printer can be easily disassembled and put together again, despite its large size.
There is a lot to like about the Vyper. Despite being a bit pricey, this 3D printer is still being marketed as beginner-friendly. There is likely no other printer with the Vyper's combination of features at this price point, although there are a lot out there that are similar and might cost a bit less.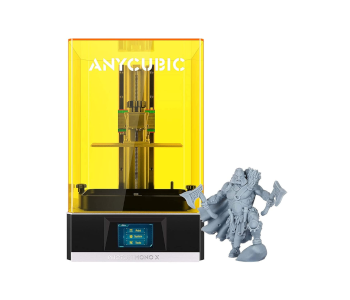 The Photon Mono X isn't just one of the more popular Anycubic 3D printers – it might be the most popular resin 3D printer today. The Mono X is basically an upscaled version of the Mono 4K. It features the same 4K monochrome screen and a similar design factor.
The Mono X has a significantly larger build volume of 192 x 120 x 250 millimeters. It has a printing speed of up to 60 millimeters per hour, which Anycubic claims is three times faster than other resin printers. The Mono X comes with an all-metal pre-sanded build plate that performs exceptionally well in adhesion.
The Mono X allows for remote print management via Wi-Fi. Through a partner mobile app, you can monitor the progress of the print via your smartphone and even adjust print parameters.
If you want to produce high-quality results right off the bat, then the Mono X would be your best bet. It's not cheap but is worth every dollar. You can consider the Mono X a good investment if you're really set on going into resin-based 3D printing.
Final thoughts
Anycubic is well-known for offering a wide range of 3D printers at fairly reasonable prices. Whether you're a beginner or a seasoned user looking for an upgrade, there is likely an Anycubic printer that suits your needs.
Warning; 3D printers should never be left unattended. They can pose a firesafety hazard.