Best Budget Gaming Monitors
3D Insider is ad supported and earns money from clicks, commissions from sales, and other ways.
While building a new PC, many people tend to overlook one key component: the monitor. Typically, the majority of a PC building budget goes into the graphics card and processor, and plenty of cash needs to be assigned to RAM and storage, often leaving little cash left over for the display.
The price range of gaming monitors can vary from less than $100 all the way up to $1,000. As with any form of tech, you get what you pay for and the higher priced products tend to come with additional features and more impressive specs.
Fortunately, you don't need to hand over hundreds of dollars to get a decent gaming display. Respectable models can be found for around $150 or less and we'll be focusing on the best budget monitors in the list below, letting you enjoy crisp visuals and great gaming performance without breaking the bank.
Budget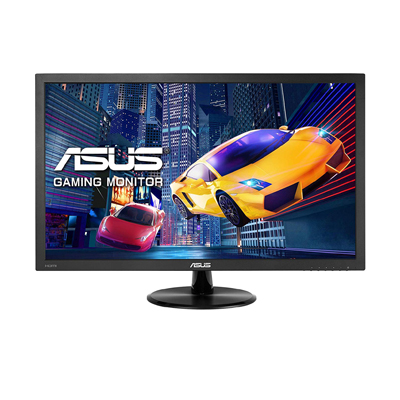 ASUS VP228H
4.4/5.0
Size: 21.5"
60 Hz / 1ms (TN)
Simple and efficient, with lots of connectivity options.
Check Amazon
Best Value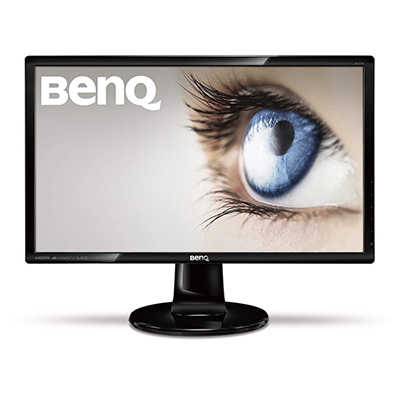 BenQ GL2760H
4.4/5.0
Size: 27"
60 Hz / 2ms (TN)
A large, high quality display with lots of eye-friendly features.
Check Amazon
Top Pick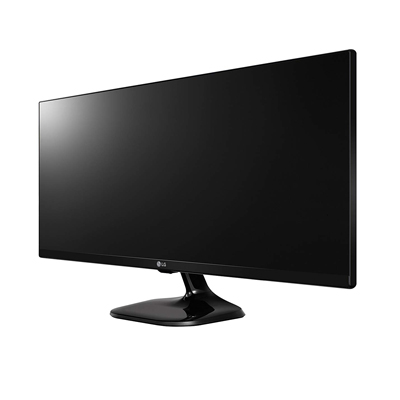 LG 25UM58-P
4.5/5.0
Size: 25"
60 Hz / 5ms (IPS)
Unique UltraWide angle and IPS quality for maximum immersion.
Check Amazon
Gaming Monitor Buying Guide
There are a lot of different tech specs to consider when purchasing a new gaming monitor. With few different forms of panel technology and many different screen sizes, refresh rates, resolutions, and response times to consider, the monitor market can seem like a minefield of complicated terminology. Let's take a look at some of the key factors and what they mean.
Price
Screen size
Resolution
Refresh rate
Panel tech
Response time
Additional features
Now you know what to look for, let's check out some of the best budget gaming monitors money can buy right now. The table below offers a head-to-head comparison of each device, in price order.
10 Best Budget Gaming Monitors Comparison Table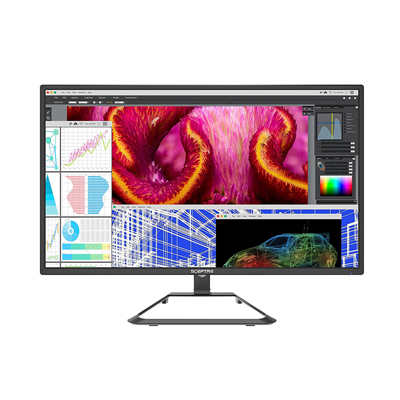 View on Amazon
Editor's Rating: 4.2/5.0
If you're looking for a low-cost introduction to 4K gaming, the Sceptre 4K isn't a bad place to start. This may be the most expensive item on our list, but it's the cheapest example of a 4K monitor you can hope to find right now. So if you really want to try out gaming in the latest and greatest resolution, this is a decent option to choose, but you'll need to have a strong CPU and GPU combo in order to actually run those 4K games without any slowdown or screen-tearing.
This is an IPS display, meaning you'll be getting much bolder color production than you might find from a cheaper TN alternative. Colors really pop on this screen and running recent AAA games like Assassin's Creed Odyssey or even older titles like The Witcher 3 really shows off the full power of the Sceptre 4K. This monitor even comes with some surprisingly strong built-in speakers that provide some solid audio feedback.
On the downside, as this is one of the cheapest 4K gaming monitors out there, you have to expect and accept that the construction of the Sceptre 4K feels a little low budget. There's no tilt or swivel on the stand and some users have complained of dead pixels and other minor visual bugs. It's certainly not a perfect monitor, but if you want to test out 4K gaming on a budget and invest in a future proof display, it's your best option.


Tech Specs
Size: 27 inches
Resolution: 4K
Refresh rate: 60 Hz
Response time: 5ms
Panel tech: IPS
Additional features: Blue Light Shift mode. Built-in speakers.
The Pros
Best value 4K model
Future proof
Speakers provide surprisingly good audio
Exceptional color production
The Cons
Lack of gaming features
4K gaming needs strong CPU and GPU
Some reports of dead pixels
Cheap construction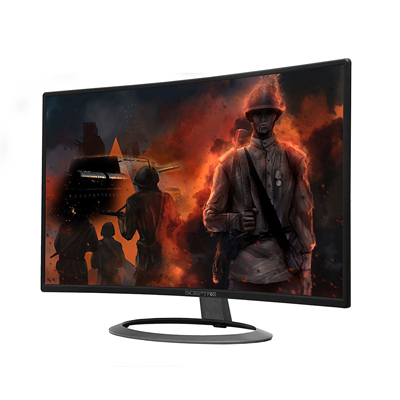 View on Amazon
Editor's Rating: 4.3/5.0
We're sticking with Sceptre and looking at another recent trend in gaming monitor technology that is usually reserved for much higher price points: curved screens. This technology, like 4K, is relatively new but is slowly becoming more and more popular. The major benefit of curved screens for gaming is that the unique shape of the display helps you to feel more immersed in the action, especially when playing a game from a first-person view like Over watch or CS:GO.
Some users don't notice much of a difference when switching to a curved screen, but many people have really latched on to this new technology, with some saying they'd never go back to flat-screen displays again. If you fall into the latter camp, you'll find a lot to love about this monitor, and it's definitely one of the lowest-priced curved displays out there. The price tag looks even better when you see the size of this screen: 27 inches offers a lot of real estate and some superb viewing experiences for games and other media.
Unfortunately, the one major drawback of curved screens is that they need to be viewed from the right angle, so you'll have to position yourself just right to make the most of the Sceptre C278W-1920R. The flimsy construction and stand may make it difficult to find that perfect angle, and you'll also need to spend a little time fiddling with the configuration menus to get the right color and contrast settings. In short, you'll need a little patience getting used to this model, but if you take the time to set it up properly you'll get some great results.


Tech Specs
Size: 27 inches
Resolution: 1920 x 1080 Full HD
Refresh rate: 75 Hz
Response time: 5ms
Panel tech: VA
Additional features: Curved screen. Built-in speakers.
The Pros
Curved screen offers extra immersion
Plenty of input options
Strong performance on both PC and consoles
Lots of screen real estate
The Cons
Cheap construction
Narrow viewing angles
Low quality stand offers little room for adjustment
Needs some configuration to make colors pop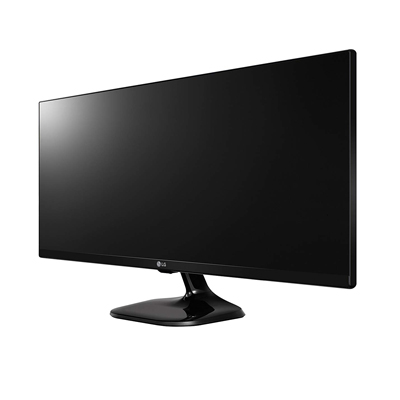 View on Amazon
Editor's Rating: 4.5/5.0
Most of the models you'll find on this list will be offering regular Full HD (1980 x 1080) resolutions, but the LG 25UM58-P brings something different to the table. This is an UltraWide screen with a resolution of 2560 x 1080. It might seem slightly strange at first glance and it definitely takes a little getting used to, but when you actually start loading up some games on this screen, you start to see some very interesting advantages.
The extra wide screen on the LG 25UM58-P actually offers some unique benefits for PC gamers; the additional screen space aids with immersion, allowing you to see more of the action and actually have an edge over your opponents. The wider field of view offered by this monitor especially proves useful in RTS or FPS games, and the IPS technology powering this LG display creates some breathtaking visuals that you really wouldn't expect to find at this price point.
On the downside, the lack of speakers on this monitor may force you to spend extra cash on some additional audio hardware. The absence of a DVI port is also a notable issue that may affect many gamers, but the flaws with this model are relatively minor when you look at the long list of positives.
Overall, the wide viewing angles and brilliant image quality help the LG 25UM58-P stand out as one of the finest budget gaming monitors on the market right now.


Tech Specs
Size: 25 inches
Resolution: 2650 x 1080 UltraWide Full HD
Refresh rate: 60 Hz
Response time: 5ms
Panel tech: IPS
Additional features: Multiple game modes.
The Pros
Fantastic image quality
Custom gaming modes are a good bonus
Extra wide screen offers better immersion
Ultrawide resolution offers a nice balance between Full HD and 4K
The Cons
The extra wide screen needs a little getting used to
No speakers or DVI port
Slower response times than other models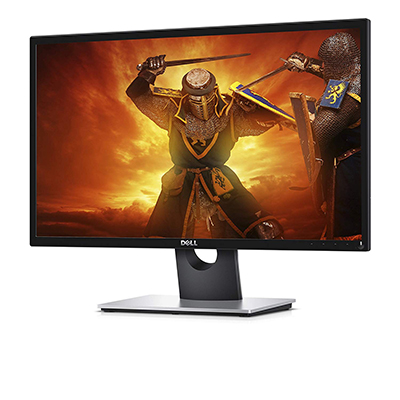 View on Amazon
Editor's Rating: 4.4/5.0
Dell is well known as one of the leading brands in the PC gaming world so it's no surprise to see that the brand's SE2417HG monitor is one of the best budget gaming screens out there. This is a 23.6″ TN monitor with a standard Full HD resolution. The tech specs are relatively simple, with 60 Hz refresh rate and a 2ms response time, but the strong build quality and crisp visuals help this model stand out from the rest.
While many budget monitors tend to look a little basic or even cheap, the Dell SE2417HG has quite an eye-catching design with a nice blend of blacks and grays. Spin it around and you'll find a lot of different input options on the back, including dual HDMI ports and a VGA slot. The presence of two HDMI ports makes this monitor particularly appealing for gamers who want to hook up a console or two in addition to their PC.
As a standard TN display, the SE2417HG doesn't have the widest viewing angles, but it does come with a tilt feature to help you find the sweet spot. It's also a very lightweight display and very simple to set-up and configure. The anti-glare tech helps out on sunny days and you won't need to mess around with the menus too much in order to find the right image settings for this display. On the downside, the lack of gaming modes and features like G-Sync or Freesync make this a decent all-round display but not the most gamer-friendly model.


Tech Specs
Size: 23.8 inches
Resolution: 1920 x 1080 Full HD
Refresh rate: 60 Hz
Response time: 2ms
Panel tech: TN
Additional features: Anti-glare screen.
The Pros
Stylish design and good build quality
Good input options for PC and console gaming
Lightweight and easy to set-up
Good tilting options to find the right viewing angle
The Cons
No speakers
Lack of gaming modes or features
No DVI port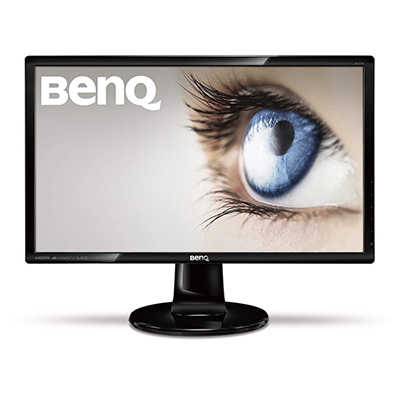 View on Amazon
Editor's Rating: 4.4/5.0
When it comes to gaming monitors, BenQ is a name to trust. Lots of hardcore, long-time gamers go with BenQ branded displays due to their quality as they offer a lot of value for money, and the GL2760H is a prime example of that. It's a budget monitor that functions like a much more expensive model, with great visuals and some very impressive tech specs, especially in the image department. It doesn't have any speakers, so you won't be getting audio from this monitor, but the high contrast ratio creates some excellent colors.
At 27 inches, this is one of the largest monitors on our list and will definitely appeal to gamers who like to sit a little further back and enjoy all the advantages of a larger screen. If you like to watch movies on your PC or stream other media, the additional inches of real estate will definitely be a big bonus. What's more, BenQ has including some great features including Eye Care Technology to reduce eye strain, allowing you to game for longer without getting tired.
When it comes to setting this monitor up, the physical side is made easy thanks to the built-in tilt feature on the display and swivel-friendly circular base. However, the actual configuration menus are strangely complicated, requiring a lot of button presses and needless navigation to get to the settings you want to adjust. This is only a minor issue, but it may test your patience over time.


Tech Specs
Size: 27 inches
Resolution: 1920 x 1080 Full HD
Refresh rate: 60 Hz
Response time: 2ms
Panel tech: TN
Additional features: Eye Care Technology. ZeroFlicker. VESA mountable.
The Pros
Plenty of screen real estate
Very kind to the eyes
Tilt feature and circular base makes it easy to swivel around
Excellent contrast ratio
The Cons
Narrow viewing angles
Lack of speakers
Frustrating and complicated to adjust settings
View on Amazon
Editor's Rating: 4.3/5.0
As we start to drift closer to the $100 mark, it becomes increasingly difficult to find anything but TN monitors. However, this Acer R240HY is powered by IPS panel technology, so if you want to enjoy the benefits of IPS like bold colors and wide viewing angles, this is one of the best value models to choose. When placed side-by-side with a TN model like the BenQ GL2760H, for example, it's clear to see that the visuals are brighter and stronger overall on Acer's model.
However, those advantages are balanced out with a few drawbacks. For instance, some users have reported instances of ghosting when using this model, and one of the main issues that keeps coming up for owners is backlight bleeding. This occurs in dark conditions and shows little patches of light in the corners of the screen. It's not a deal-breaking issue and isn't even noticeable most of the time, but is definitely something to bear in mind if you like your displays to be as problem-free as possible.
On the plus side, this monitor is a nice size at 23.8 inches, which is just right for gaming, and is quite an attractive model too. The circular, ring-shaped base is an elegant addition and the bezels on this model are exceptionally slim, allowing the screen to really pop out at you. This unique aspect means that the Acer R240HY is a perfect choice for gamers who like their hardware to look the part, and it's ideal for those who want to buy multiple monitors and place them side-by-side.


Tech Specs
Size: 23.8 inches
Resolution: 1920 x 1080 Full HD
Refresh rate: 60 Hz
Response time: 4ms
Panel tech: IPS
Additional features: Flickerless. EcoDisplay.
The Pros
One of the best value IPS displays
Brilliant image clarity and wide viewing angles
Attractive design with ultra-slim bezels
The Cons
Some users have reported ghosting
Relatively slow response time results in some motion blur
Backlight bleeding in dark conditions
View on Amazon
Editor's Rating: 4.2/5.0
We're back with Sceptre for the E248W. The first thing you'll notice about this particular model is its ultra-thin bezels. They're not quite as slim as what we saw on the Acer 240HY, but they're still very small and allow you to enjoy the full beauty of the screen without a thick plastic frame eating into the real estate. The slim bezels make this monitor a good option if you're looking to buy a couple of screens and stack them side-by-side.
Visually, the Sceptre E248W sets the bar quite high for a budget gaming monitor. When everything is properly configured and you've got the brightness and contrast settings just how you want them, the images this screen can provide are striking. Despite being a TN display, the E248W is able to offer the sorts of bold colors and deep blacks you'd expect to find on an IPS screen.
Unfortunately, one of the key drawbacks to this model is that it's needlessly complicated to set it all up. It's a lightweight monitor and can be mounted easily, but when you actually turn it on and start navigating the menus, it can take quite a long time to get all the settings just right. Other models, like the Dell SE2417HG for example, make configuration much more seamless. Another notable issue with this model is its audio; the built-in speakers lack clarity and volume, even when turned up to max, so you may have to invest in an external audio system or use headphones.


Tech Specs
Size: 24inches
Resolution: 1920 x 1080 Full HD
Refresh rate: 75 Hz
Response time: 5ms
Panel tech: TN
Additional features: Built-in speakers. VESA compatible.
The Pros
Ultra-slim bezels maximize screen real estate
Impressive color production when properly configured
Good for a dual-monitor set-up
The Cons
Relatively slow response time
Complicated configuration process
Very poor speakers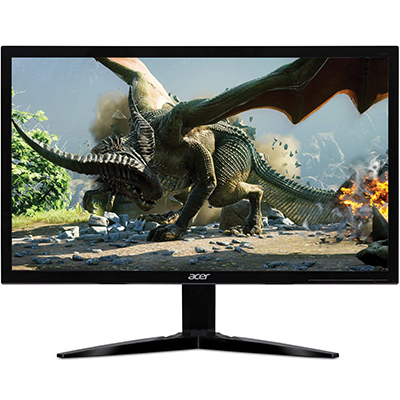 View on Amazon
Editor's Rating: 4.1/5.0
If you're looking for a budget gaming monitor, you'll have to be willing to make a few compromises in terms of quality. The Acer KG221Q is a perfect example of this; it's a good quality, low-cost monitor with some nice advantages and a few drawbacks to justify its attractive price tag. Acer is a leading brand in the monitor market and produces a wide variety of models. This is one of the brand's simplest designs, but it can get the job done for both casual and hardcore gaming.
The first thing to note about this monitor is that it is relatively small at just 21.5 inches, but that tends to be the standard once you dip below the $100 mark. Size isn't necessarily important for gaming monitors as long as you don't sit too far away from the screen. If you have a small desk or tend to be quite close to your monitor, the KG221Q won't be a problem at all and the built-in features like VisionCare technology will help to cut down the risk of eye strain.
This monitor also excels with its rapid response time and offers surprisingly wide viewing angles for a TN display. It's also the only model to come with the AMD FreeSync feature, so if you game with Radeon graphics cards, you'll get even better playing performance from this display. On the downside, as a relatively basic TN model, the colors are quite washed out on the Acer KG221Q and the display emits a frustrating humming noise whenever it's switched on.


Tech Specs
Size: 21.5 inches
Resolution: 1920 x 1080 Full HD
Refresh rate: 60 Hz
Response time: 1ms
Panel tech: TN
Additional features: AMD FreeSync. Built-in speakers. VisionCare technology. Flickerless.
The Pros
Very kind to the eyes
AMD FreeSync for Radeon gamers
Sturdy construction
Surprisingly wide viewing angles
Rapid response time
The Cons
Relatively small screen
Constant humming sound when switched on
Washed out colors
No tilt or swivel options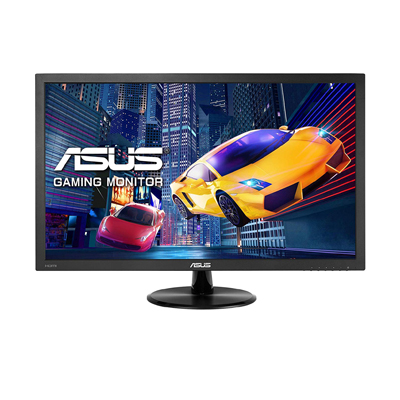 View on Amazon
Editor's Rating: 4.4/5.0
The prices continue to drop as we move onto the ASUS VP228H, which is easily one of the best value gaming monitors money can buy right now. When you look at how much this display costs and the sort of results you can get from it, it's clear to see that you're getting a lot of bang for your buck. The lightning fast response times and surprisingly crisp visuals make this a great monitor for both PC and console gaming and will definitely appeal to hardcore FPS gamers.
The visuals sadly aren't matched by the audio, as the built-in speakers of the ASUS VP228H are relatively tinny and lacking in firepower. They'll be okay temporarily, but you'll want to invest in a stronger audio solution in the long-term or simply use headphones when you play to avoid missing out on any ambient sounds. Another downside to this model is its narrow viewing angles, but that shouldn't be an issue for most users.
As with other models on the list like the Sceptre E248W, the configuration process for the ASUS VP228H is a little complicated. Depending on the light conditions in your gaming room and the sort of brightness and contrast levels you like, you'll need to spend some time in the menus setting everything up. Overall though, with good specs and a lot of connectivity options including dual HDMI ports, this monitor has a lot going for it.


Tech Specs
Size: 21.5 inches
Resolution: 1920 x 1080 Full HD
Refresh rate: 60 Hz
Response time: 1ms
Panel tech: TN
Additional features: Flicker-less technology. EcoDisplay. Built-in speakers.
The Pros
Fast response time
Excellent value for money
Lots of connectivity options
Good for consoles and PC
The Cons
Weak speaker audio
Configuration takes time
Narrow viewing angles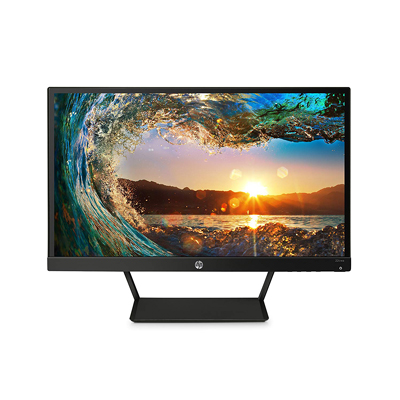 View on Amazon
Editor's Rating: 4.3/5.0
Last but not least, we come to the HP Pavilion 22CWA. This is the lowest-priced entry on our list, so if you're a budget conscious gamer or really want to save as much cash as possible while still enjoying the benefits of a good quality gaming monitor, this might be the ideal option for you. The first thing to note is that even though this is the cheapest entry on our list, it's actually an IPS, not a TN. This means you'll be getting broad viewing angles and impressively bold colors for a low entry fee.
The HP Pavilion is also equipped with very slim bezels, keeping the overall weight of the monitor down and making it a nice option for dual-monitor set-ups. It's also quite a stylish monitor for the price, having a more elegant look than some of its rivals like the ASUS VP228H. Aesthetics have no effect on performance, but if you like your hardware to look good, you'll appreciate the sense of style in this ASUS monitor.
The biggest downside, however, is the response time. At 7ms, the VP228H has by far the slowest response time of any monitor on this list and that will result in some motion blur and even a little input lag in certain cases. We therefore can't recommend this monitor to hardcore gamers who enjoy fast-paced action titles like FPS or racing games. If, however, you're into slower-moving games and don't mind a little motion blur from time to time, it's a perfectly decent option.


Tech Specs
Size: 21.5 inches
Resolution: 1920 x 1080 Full HD
Refresh rate: 60 Hz
Response time: 7ms
Panel tech: IPS
Additional features: Low Blue Light. Flickerfree.
The Pros
Lowest price
IPS tech provides wide viewing angles and bold colors
Relatively slim bezels and stylish design
The Cons
Very slow response time
Small screen might not suit every user
Some bleeding reported by users