Best Cameras Under $200
3D Insider is ad supported and earns money from clicks, commissions from sales, and other ways.
In the age of smartphone cameras which have seriously started to give the lowest end of the digital photography market a run for its money, one starts to wonder whether investing in the newest Samsung or iPhone model would be a better idea than spending less than $200 a new camera.
While mobile photography has grown both technologically and as a bona fide art form, low-end cameras still have a couple of aces up their sleeve. For one thing their sensors are still larger & more accurate, resulting in better image quality. The optical zooms they sport make images captured with them much clearer as no detail is lost due to digital magnification. More in-depth quality and balance options are available to advanced users, while everyone that picks a compact camera up benefits from their much larger battery life compared to that of a power-hungry smartphone.
OK, so cheap cameras are still relevant, but which ones are worth investing in? To help you separate affordable yet worth while cameras from cheap junk there's far too much of, we've rounded up six diverse models, one of which will easily fit your criteria for best camera under $200. Here they are at a glance:
Budget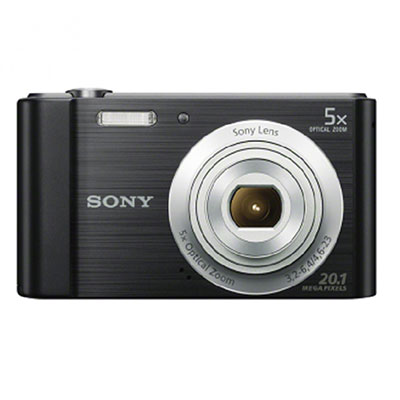 Sony DSCW800/B
4.3/5.0
4.4 oz.
20.1 Megapixels
Feels good in the hand. Decent optical zoom.
Check Amazon
Best Value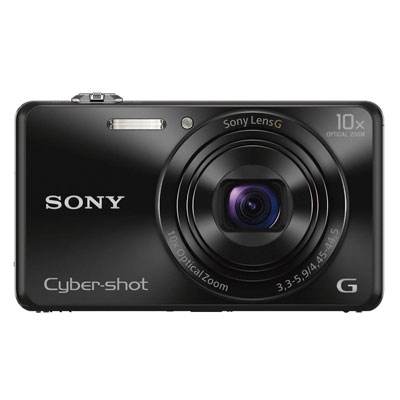 Sony DSCWX220/B
4.4/5.0
3.7 oz.
18.2 Megapixels
Performs well under low light. Good optical zoom.
Check Amazon
Top Pick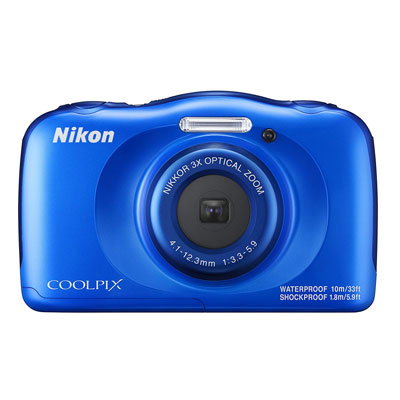 Nikon COOLPIX W100
4.7/5.0
6.3 oz.
13.2 Megapixels
Decent quality of photos.Ggood burst shot speed.
Check Amazon
Best Cameras Under $200 Comparison Table
You can get an even better feel for each if you read the reviews below. There's also a handful of helpful tips on affordable camera selection further down the page. Ready for stellar photography at rock-bottom prices? Then let's go!
1. Nikon COOLPIX W100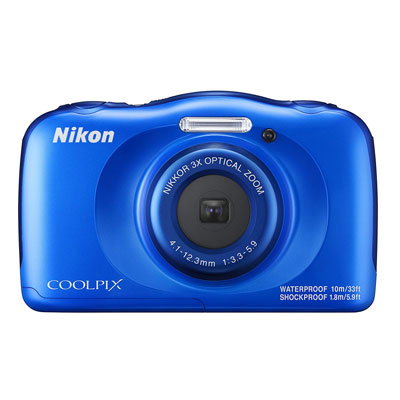 View on Amazon
Editor's Rating: 4.7/5
Do you ever feel like going on a photo adventure, but you don't want to risk damaging your expensive equipment? If you get Nikon'sCOOLPIX W100, braving the depths of the sea or the harshness of the desert in search of a prize-winning photo opportunity will finally be within your reach. It's the most rugged selection in our guide and a shoe-in for the title of best camera under $200 to boot.
The Intrepid Explorer
Apart from the blindingly brightcolor of its case, the COOLPIX W100's most attractive feature is its ability to withstand the elements. The camera is waterproof up to 30 feet, can function in temperatures as low as 14 or high as 104 degrees Fahrenheit regardless of how dusty the conditions are, and it will even survive a drop from 6 feet. Certainly impressive for a camera in this price range, but those are just the physical specs.
Design-wise the COOLPIX W100 showcases some great decisions that improve its functionality. Unlike the vast majority of cameras whose designers assume the user will only be using his or her left hand for stabilization or lens adjustment, this camera features a prominent record button at its top left as well as four identical one that run along the left side of its 2.7-inch LCD screen. You use these to access the default camera mode, jump between shutter speed settings and applied filters etc. Standard menu buttons are off to the right, but you'll hardly ever need them thanks to this simple design decision.
There are cameras with better imaging capabilities that cost $200 or less, but the COOLPIX W100 doesn't lag behind much. 13 megapixels and a 3x optical zoom will be enough for most people, as will the video it shoots in 720p HD. Auto-focus of the later is a bit sluggish, but there is little noise. Another feature the action-oriented will appreciate is the camera's respectable burst shot speed. Combine its "go anywhere" attitude and 4.7 frame per second burst mode, and you can nail some truly amazing underwater shots. Once you have recorded the jellyfish, coral reefs, and schools of fish for posterity, Bluetooth and Wi-Fi are there to let the world enjoy them too.
What Needs to Improve?
You'll want to be careful when using the optical zoom – once its 3x magnification is exceeded, the digital zoom kicks in, lowering image quality considerably. Sadly, there's no way to turn it off, so you'll have to get a hang of pushing the manual zoom to its limit without triggering the digital one if top quality is paramount. Forget about optical zoom in movies altogether. Keep in mind that the COOLPIX W100 lacks optical image stabilization, so if you don't have a tripod / monopod and want to take longer exposures, the results may vary.

Tech Specs
Dimensions: 4.4 x 2.7 x 1.5 in.
Weight: 6.3 oz. with its battery and a memory card
Megapixels: 13.2
Zoom: 3x
ISOrange: 125 – 1,600
Screen size: 2.7 in. 230k pixels
The Pros
Rugged construction
Intuitive control design
Photos and videos are of a decent quality
Good burst shot speed
Wi-Fi and Bluetooth
The Cons
Lacks optical image stabilization
Digital zoom switches on automatically
2. Canon PowerShot SX410 IS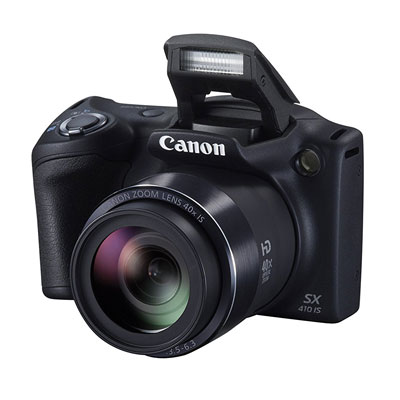 View on Amazon
Editor's Rating: 4.6/5
It didn't take long for Canon to see that the SX400 was stirring up dust among budget-conscious photographers interested in breathtaking landscape photography. With this newer iteration of the same principle, they've introduced an even bigger zoom along with some minor improvements. The SX410 is a camera with excellent capabilities for its price and would have easily made the top of the list were it not for the problems it has with shooting in burst mode.
Closer to the Stars
At 40x, the SX410's optical zoom makes it one of the most powerful yet affordable super-zooms today. In spite of its impressive range, the zoom doesn't turn the camera into a burden though. If you're concerned that such a capable zoom will have a negative impact on your images' sharpness, you can turn the camera's intelligent image stabilization on and get razor-sharp images even at maximum magnification. Pictures taken with it are a bit noisier than the winner's but a casual observer might not even notice.
The battery doesn't contribute much to the SX410's overall weight, and can take up to 180 images, 60 more if you turn the camera's Eco mode on. There's also a powerful flash which extends outward when needed and illuminates even dimly-lit scenes quite nicely.
The SX410 is a very user-friendly camera! Novices will enjoy its Live view feature that lets them tinker with saturation, exposure time, and lighting in an accessible way. Advanced users will love that they can set their own filter / ISO options and take automatically-balanced shots at the same time with the press of the Smart Auto button. Getting to all of the camera's options is quick too as its menus are a far cry from Sony's jumbled mess.
What Needs Fixing?
Sadly, this camera's burst mode is terrible. At just half a frame per second, you can forget about taking any kind of dynamic shots with it. The only other major flaw we'd comment on is the lack of wireless connectivity. USB connection will do for transferring the day's work onto your laptop, but a lack of Wi-Fi puts a serious damper on your social media exposure potential.

Tech Specs
Dimensions: 4 x 2.7 x 3.4 in
Weight: 11.4 oz. with batteries
Megapixels: 20.1
Zoom: 40x
ISOrange: 100-1,600
Screen size: 3 in. 230k pixels
The Pros
Powerful zoom
Intuitive navigation
Beginner-friendly
Sharp, stable images
The Cons
No wireless connectivity
Terrible burst mode
3. Sony DSCWX220/B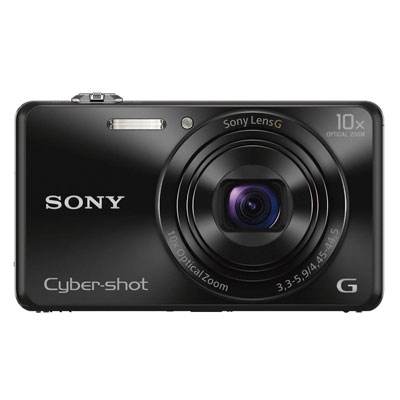 View on Amazon
Editor's Rating: 4.4/5
Sony is aware that many a budding photographer don't have the means to secure high-end, or even mainstream equipment to polish their chops on. Their answer to the eager novice is the DSCWX220/B, a compact camera which comes with a decent set of features. You'll find there's plenty to play with and that the images it helps you create can definitely have the power to impress.
A Well-balanced Companion
On paper, the DSCWX220/B looks like a steal. Its most appealing feature has to be the 10x optical zoom, which runs circles around those found on smartphones. Even max zoom won't impact the picture clarity much as auto-stabilization is there to minimize blur. Other goodies include the ability to shoot FullHD video, Wi-Fi connectivity, and the use of Play Memories, Sony's photo-sharing app which also allows you to control the DSCWX220/B remotely from your smartphone.
You'd have little use of these if image quality wasn't on point. Sure enough, Sony has equipped the DSCWX220/B with an impressive range of filters and balance options. You can take wonderfully contrasting black & whites, richly-colored landscapes, or even posterize a scene. All the while you won't be restricted to ideal lighting conditions to shoot your best work in as the back-lit Exmor R sensor does well when you're forced to shoot under low light.
What Needs Work?
Physically, the DSCWX220/B has an intuitive control scheme with power and shutter controls accessible from the top and the rest spread out among a handful of buttons at the back. Menu navigation on the other hand isn't as intuitive. You'll spend some time getting to know the layout and sometimes nonsensical placement of various options. As there are no custom function buttons to offset this, you'll be spending more time in the camera's menus than you bargained for.

Tech Specs
Dimensions: 3.6 x 2 x 0.9 in
Weight: 3.7 oz.
Megapixels: 20.1
Zoom: 5x (10x digital zoom)
ISOrange: 100 – 12,800
Screen size: 2.7 in. 460k pixels
The Pros
Wide variety of filters
Performs well under low light
Good optical zoom
Can be remote-controlled
The Cons
Clunky menu system
No custom function keys
4. Canon PowerShot ELPH 190 IS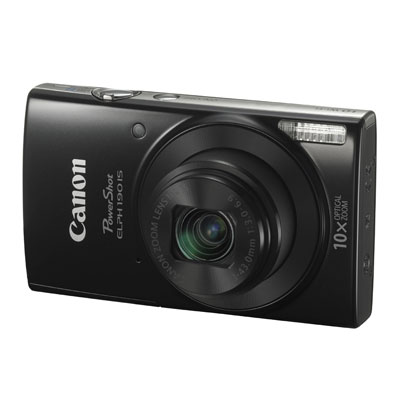 View on Amazon
Editor's Rating: 4.4/5
If point and shoot cameras have one thing going for them, it's portability. Take the PowerShot ELPH 190 IS for example – small enough to hold in your pocket with room to spare, it's a model you'll easily forget is on you, but always have at hand when there's something new to document. Couple that with a powerful zoom and a very user-friendly approach and you have an entry-level camera that's perfect as a gift, and a starting point towards greater things.
A Daylight Delight
The area where you'd expect an ultra-thin camera like the ELPH 190 to struggle – shutter speed – is actually one of this model's high points! It comes to prominence in the light of day where its sensor doesn't have to struggle. Expect to be able to fire off a series of shots in relatively quick succession without complaints from the shutter. Canon's image stabilization technology we've already seen with the PowerShot SX410 IS makes an appearance in this model too, so you don't need to worry about using the zoom to its fullest.
Another welcome similarity to the more expensive models are the easy to use menus. Anyone can start adjusting the way in which their photos will turn out without knowing anything about photography. You get numerous fun image filters that complement one's creativity while also offering elementary effects processing for people unfamiliar with Photoshop, Lightroom and the liketoo. NFC and Wi-Fi make it easy for pictures to be viewed on different devices, or shared online.
Are there Drawbacks?
If only those blasted controls were only a little bigger! With the format being what it is, Canon had to miniaturize and pack the buttons close together, giving people with sausage fingers a really hard time with pressing the right one and nothing else. Although faster than the SX410 IS's burst mode, the ELPH 190 IS has a "burst" of 0.85 frames per second, which is still too slow in most cases.

Tech Specs
Dimensions: 2.2 x 3.8 x 0.9 in.
Weight: 4.8 oz.
Megapixels: 20
Zoom: 10x
ISOrange: 100-1,600
Screen size: 2.7 in. 230k pixels
The Pros
Good price to performance ratio
Very light and portable
Almost no shutter lag in optimum light conditions
10x zoom
Good image stabilization
The Cons
Small, cramped controls
Slow burst mode
5. Fujifilm Instax Mini 90 Neo Classic Instant Film Camera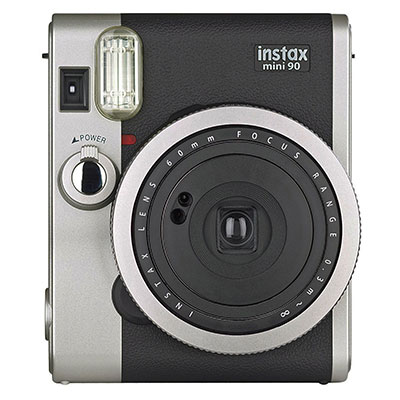 View on Amazon
Editor's Rating: 4.3/5
We couldn't make a guide of accessible camera without including a novelty, or in the case of Fujifilm's Instax mini 90, a throwback to the days of instant Polaroids and no Instagram to share them on. You'd think that a camera with such an age-old idea would be ill-received, or that removing most of today's modern gizmos from it would make the end result feel cheap. Nothing could be farther from the truth!
A (Not So) Novel Idea
Those of you old enough to remember the heyday of Polaroid cameras will take a trip down memory lane, while younger photographers will appreciate its "dated" yet robust appearance. There's not a hint of the cheap plastic disposable camera feel on this one as its body is sturdy and has a subdued color scheme. From the front it looks like a camera you'd have used in the 90s, with the back revealing a small display and a handful of buttons you use to tinker with its exposure settings, shutter speeds, and more.
Even though film is used for every photo, it's interesting that the Fujifilm Instax Mini 90 Neo Classic offers a surprising degree of control when its final outcome is concerned. There are various modes of exposure that let you take longer shots with pronounced backgrounds, or instant ones to capture the action straight away. The best part about the camera is undoubtedly the instant print feature. Each photo you take is printed out and ejected from the camera's side, ready to be admired, laughed at, or gifted.
What's Bad About It?
You have to buy film for it, and Fujifilm's compatible rolls aren't cheap. Considering that each shot will cost you about three quarters, you've got to be really picky when choosing what to shoot and how. The camera's viewfinder will help as much as hinder you in this since it is on the smaller side and offset a bit to the lens.

Tech Specs
Dimensions: 4.5 x 3.6 x 2.2 in.
Weight: 10.4 oz.
Type of film: Fujifilm Instant color film
Print size: 2.4 x 1.8 in.
The Pros
Takes good quality photos
Wide array of customization options for its type
Photos are developed straight away
Looks great
The Cons
Expensive film
Unwieldy viewfinder
6. Sony DSCW800/B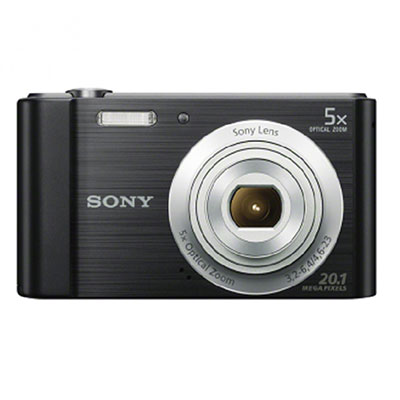 View on Amazon
Editor's Rating: 4.3/5
Sony's W710 was a cheap, small, yet very popular camera that allowed the casual photographer to take it along to a field trip or party and snap away. Sony has taken notice of its success and introduced a wide range of updates to the next installment, including a rock-bottom price. This shouldn't dissuade you from adding it to your repertoire though, as the DSCW800/B is an ergonomic, compact camera that delivers reasonable picture quality while letting you leave the more expensive stuff at home.
More Than What You Pay For
The upgrades Sony has delivered with this models are impressive – the megapixel count has been bumped up to a respectable 20, it now has stabilizing technology which offsets your hands' shakiness quite a bit, and the 20-percent price drop makes the camera even more accessible.
The 5x optical zoom ought to outperform anything your smartphone's camera can put out. Combined with four distinct auto-focus modes including one that does a decent job at tracking faces, quality snaps won't be a distant dream. The camera is best used out of doors during the day or in other good lighting conditions as its smallish sensor isn't exactly sensitive, but considering the DSCW800/B's price this can't really be faulted.
If you want to dabble with making some videos, 720p and 480p recording at 30 frames per second is available too.
What We Didn't Like
Sony had to compromise to put a camera like this out and charge less than $100 for it. The compromises are most felt in its build quality and responsiveness. The plastic frame feels kinda cheap and we wouldn't recommend putting its durability to the test. Even if you take great care of your camera, the lens may stop retracting after longer use. Finally, each shot is slow to take regardless of exposure and aperture settings. This isn't a problem at all if you're in a new city and want to capture all the sights. Expect less impressive results when attempting action photography though.

Tech Specs
Dimensions: 2 x 0.9 x 2.1 in.
Weight: 4.4 oz.
Megapixels: 20.1
Zoom: 5x (10x digital zoom)
ISOrange: Incremental (100 – 3200)
Screen size: 2.7 in. 250k pixels
The Pros
Excellent price
Feels good in the hand
Decent optical zoom
The Cons
Mediocre build quality
Long shot time
What to Look for in a Sub-$200 Camera?
Sensor Size
Zoom & Image Stabilization
Ease of Use
Image Sharing & Remote Control