15 Best Cheap Drones of 2019
3D Insider is ad supported and earns money from clicks, commissions from sales, and other ways.
Everyone has to start somewhere, and it's a good idea for beginners to start with a cheap drone. Before moving on to the big guns, we always recommend starting out small with drones that are inexpensive and easy to fly.
Fortunately, the popularity of drone flight as a hobby in the past few years has led to the development of some of very affordable beginner drones. Despite their low prices, you will be pleasantly surprised at what most of these drones can do. If you are looking to break into the drone hobby, and you want a drone that gives bang for the buck, then you have come to the right place. Below, we have listed some of the best drones available today at $200 or less.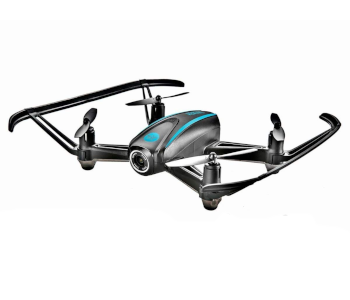 Price: $159.80
The Altair AA108 is an excellent drone with adjustable skill levels, making it accessible for beginners and exciting enough for more seasoned drone pilots. It can fly for up to 10 minutes in a single battery cycle and has a range of 100 meters – just enough to satisfy an over-eager amateur. This drone comes with a headless mode which should make it even easier to control for beginners. Surprising for a drone with its price, the AA108 has a 720p camera and 120° field of vision which provides a real-time FPV video feed. With GPS technology, a drone pilot can even set a custom route that the drone can follow autonomously. All in all, the Altair AA108 is a solid and inexpensive drone that goes above and beyond what is expected of a drone at its price range.
Price: $154.90
The F100 Ghost has a couple of nice features going for it. Brushless motors provide a better power to weight ratio each propeller motor and make the drones a little longer lasting than its contemporaries. The drone comes with the 1080p F100 action camera which can provide live video to a mobile device connected to the controller. To allow beginners to ease into the flight system, the F100 Ghost has High and Low settings, similar to how cars switch gears. If you want better stills and videos, the F100 has a camera mount that is designed to be compatible with GoPro Hero cameras. The battery of the F100 allows up to 15 minutes of flight time, and the original bundle comes with an extra battery.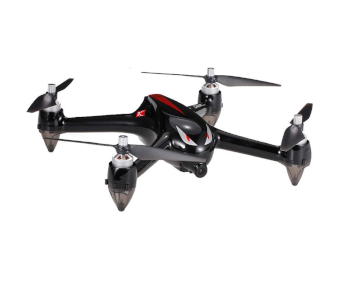 Price: $199.99
Don't let the cartoony eyes of the B2W Bugs drone fool you; it's a seriously well-designed drone that punches way above its weight class. Its brushless motors are complemented with independent Electronic Speed Controllers (ESCS), a combination that works to give this drone longevity by preventing motor burnout. GPS technology allows for better control and autonomous flight. Despite the quirky appearance, the B2W Bugs sports a high-end 1080p camera which can also broadcast real-time FPV video to a mobile device. With a new generation remote controller, the B2W Bugs can be controlled up to 1000m away – far more than many other beginner drones. Even at this distance, the B2W Bugs will give you no reason to worry as it is programmed with a failsafe return to home function.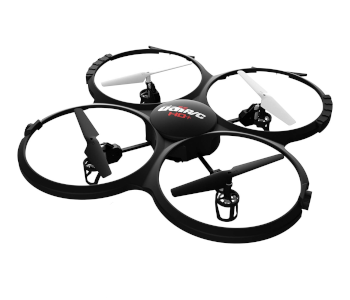 Price: $119.95
The U818A HD+ is a little more geared towards beginners with one-button tricks and 6-axis gyro that keeps it remarkably stable. The drone also supports a headless mode, which makes flying the drone exceptionally easy for beginners. It sports a 720p camera which stores data on a 4GB microSD card that comes included with the drone – not a bad deal for a drone at this price. To make the deal even sweeter, it comes with an extra battery and a 2200 mAh power bank.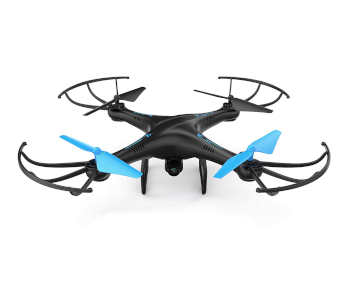 Price: $129.99
The Blue Jay is one of the most affordable drones that offer VR headset compatibility. The live video feed is provided by the onboard 2MP 720p camera, which is not impressive but is a great deal at this price. Flying the Blue Jay is very easy even for beginners with one-key take off and landing, an altitude hold function, and headless mode. The drone can be controlled using either the included remote controller or purely via your smartphone. With GPS technology and custom route mode, setting a route for the Blue Jay to move along automatically is as simple as tracing the path on your phone using the dedicated mobile app. The Blue Jay is a simple but exciting drone that a beginner can learn to fly in 15 minutes but should be fun enough even for more experienced users.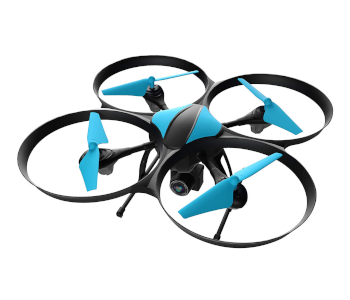 Price: $179.99
The U49W Blue Heron is an excellent drone for new drone pilots who are still learning how to fly. With a 6-axis gyro, the drone shows remarkable stability even in high winds. A headless mode and altitude hold function provide trouble-free flight that is just perfect for beginners. The Blue Heron is ready to fly right out of the box, and it even includes an extra spare battery which should let you fly for an additional 15 minutes per battery cycle. The stability of the 720p HD camera has been improved from previous models to reduce the vibration of capture video.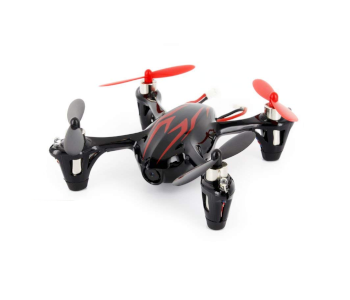 Price: $23.79
The Hubsan X4 H107C is remarkable for being an inexpensive mini-drone that surprisingly comes with a 2MP camera. This is a small and light drone that is made for flight indoors. When flying indoors, the included propeller guards keep it from causing injury or damage should an accident happen. For a drone its size, the H107C is very stable, as aided by the 6-axis gyro system. The onboard camera can record 720p video at 25fps, although it does not provide real-time video, so you will have to record videos blindly. For an inexpensive mini-drone, the Hubsan X4 H107C is unexpectedly packed with features that any beginner drone pilot can appreciate. You won't be making any highlight reel videos with this drone, but you're sure to have a great time flying it around.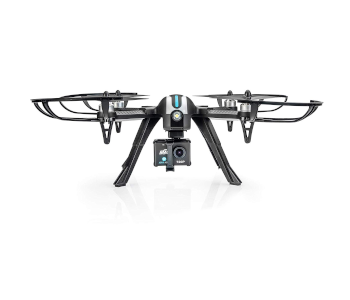 Price: $199.80
One of the more recently released drones in this list, the Altair Tomahawak is more focused on giving beginner to intermediate drone pilots a long and fulfilling flight experience. To achieve this end, it offers an above average flight time of up to 20 minutes and a maximum range of 500 meters. Its combination of brushless motors and independent ESCs delivers more power to the propellers and makes the drone longer lasting than most other drones at this price range. With added power, the Tomahawk is an extremely fast and maneuverable drone. In addition to superior flight performance, the Tomahawk has an onboard 720p camera that can transmit real-time video to a mobile device using a WiFi connection.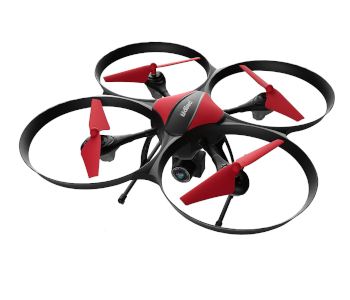 Price: $119.99
The U49C Red Heron is the lower budget version of the U49W Blue Heron. It retains all the features relevant to flight performance and ease of use such as one-key take off and landing, headless mode, and altitude hold function. Although it also has a 720p camera, it lacks the feature of transmitting real-time video to a video display device. The drone can still store photos and videos into an onboard microSD card, but the pilot will have to shoot them blindly. The drone comes with ducted propellers that help keep it safe during flight but has perhaps reduced its thrust and maneuverability. There's not much to complain about in this drone. It is a stable and durable drone that comes with a 72 p camera – at this price, there's not much we can reasonably ask for.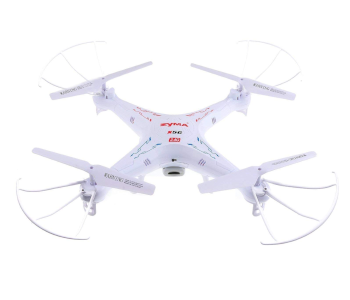 Price: $35.15
The Syma X5C has remained one of the more popular budget drones in the past few years. It is very affordable considering its features – an HD camera, an array of one-button tricks, and 7 minutes of flight time per battery cycle. It even has a 6-axis gyro stabilization system to make drone night easy even for beginners. The Syma X5C comes with a dedicated remote controller that uses spread spectrum technology, effectively increasing transmission range and reducing interference. The onboard camera is not exactly spectacular, and videos can come out a little shaky on windy days. On a calm and sunny day, it is possible to get clear and stable footage. All in all, it is easy to see why the Syma X5C has remained highly popular after several years – it is a low-cost drone that does not skimp on its features at all.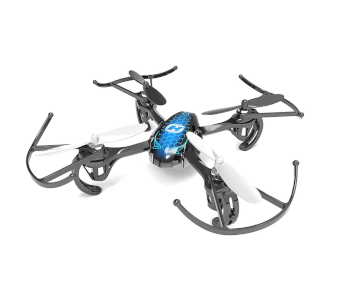 Price: $39.99
The Holy Stone HS170 is an affordable, standard drone that contains all the usual features but in a visually striking package. For beginners, its headless mode is an incredibly easy way to fly. A 6-axis gyro stabilization system makes it even easier to keep the drone stable and level even in windy conditions. The HS170 comes with a unique springy landing gear that protects the drone from damage when landing on an uneven surface but can also bounce the drone too much and result in it flipping over. This tiny drone does not have a camera but provides enough entertainment with its superior speed and maneuverability, enough to provide hours of entertainment.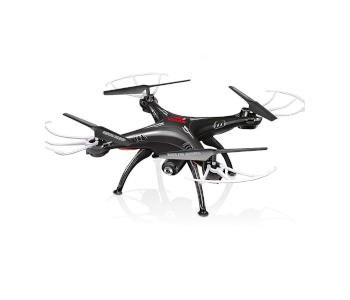 Price: $36.99
The X5SW feels like a worthy upgrade to the super-popular Syma X5C. For just a few dollars more, the X5SW offers real-time FPV video over WiFi transmission. In all other aspects, this drone is similar to the X5C. Relying on WiFi communication means that video transmission suffers from latency, which becomes more pronounced as the drone flies farther. With delays of up to 2 seconds, the X5SW does not exactly offer a top of the line FPV experience, but it can be useful in framing aerial shots. The Syme X5SW is still one of the cheapest drones to offer FPV capability – for this alone, the drone is very much worth its price.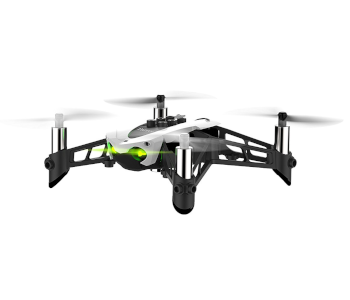 Price: $104.33
The Parrot Mambo is a true toy drone if there ever was one. Without a camera, the entertainment factor of the Parrot Mambo is derived from its accessories. Its Cannon attachment allows you to shoot pellets from the Mambo, while its Grabber accessory allows you to transport objects that weigh 4 g or less. It's a great drone for kids or for beginners who are not really keen on taking aerial photos. With a little creative thinking, the Parrot Mambo can be used for a lot of fun little games. Beyond the attachments, the Parrot Mambo also has advanced flight capabilities aided by an array of high-performance sensors. In case of a crash, the Parrot Mambo has an auto-shutdown feature to prevent further damage. The Parrot Mabo drone is a totally different animal that has unique features, but it is a little too expensive compared to other toy drones.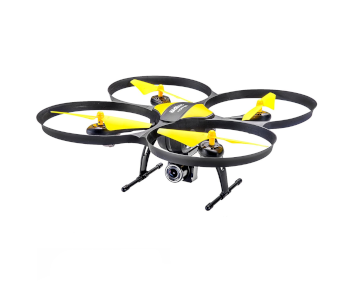 Price: $169.80
The Altair A818 is an upgrade to the original A108. It's a little bigger and faster than its predecessor but retains the same durable frame incorporated with propeller guards. It also has a much longer flight time of 15 minutes per battery cycle. Similar to the old A108, the Hornet sports a 720p camera but comes with the upgrade of real-time FPV transmission to a mobile device. The Hornet comes with the usual beginner-friendly flight modes such as altitude hold, headless mode, and one-key take off and landing. Where the Hornet truly shines is as a beginner camera drone – a training drone for aspiring drone photographers.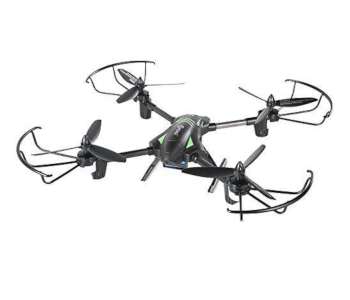 Price: $109.99
The Contixo F6 is dubbed a budget stunt and racing drone that can do a wide variety of tricks and flips. Drone pilots have the option of using any of the 4 speed modes depending on skill level, making the F6 an excellent drone for beginners. It is equipped with a 720p camera with a rotating function which can also transmit real-time FPV video. It is also compatible with VR headsets. With headless mode, one-key take off and landing, and an altitude hold function, flying the Contixo F6 is remarkable simple even for new drone pilots. The battery of the Contixo also provides an exceptionally long flight time of up to 18 minutes. If FPV racing sounds like a thing you can get into, then the Contixo F6 is an excellent drone for you to practice on.
Final thoughts
Drone flight is a highly entertaining and versatile hobby, but it can get expensive as you move up the technology ladder. For new and inexperienced pilots, we strongly recommend any of these budget drones to practice on. Crashes and accidents are unfortunately par for the course of drone flight training, so getting a cheap starter drone makes sense from a financial standpoint.
Going for budget drones does not necessarily mean settling for mediocre models. The drones we have listed here all pretty much deliver on features that are unexpected for their price points. With beginner flight modes, high-resolution cameras, and a couple of one-button tricks, these beginner drones will not leave you disappointed.