6 Best Cheap DSLR Cameras of 2020
3D Insider is ad supported and earns money from clicks, commissions from sales, and other ways.
Most people think of large, bulky DSLRs when asked to picture how a professional camera is supposed to look. That kind of rep makes newcomers wary of embracing a DSLR as their first camera since they seem complicated and unwieldy. Are entry-level DSLRs even a viable option if you're only used to snapping pics with your phone or a compact?
The answer is a resounding yes! Even the least expensive DSLRs create images that put smartphones to shame thanks to their larger sensors. A DSLR gives you more creative freedom since its lenses are interchangeable. DSLRs perform well in low light and have batteries that let you shoot from dusk till dawn. Newer models also connect to smartphones, allowing you to use one as a remote shutter and viewfinder, or to transfer media wirelessly.
This guide covers the six best cheap DSLR cameras available today. They're all surprisingly compact, create stunning photos, and won't break the bank. Decide which model fits you best and up your photography game in style.
Budget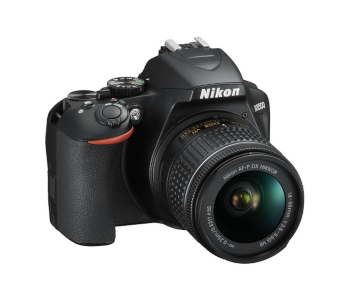 Nikon D3500
4.2/5.0
Sensor: APS-C
Burst: 5.1fps
Has robust autofocus in spite of few AF points.
Check Amazon
Best Value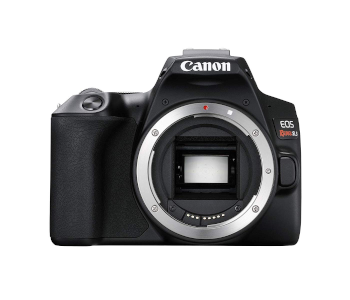 Canon EOS Rebel SL3
4.6/5.0
Sensor: APS-C
Burst: 5fps
Great image quality, light and compact.
Check Amazon
Top Pick
Nikon D5600
4.7/5.0
Sensor: APS-C
Burst: 5.1fps
This produces sharp and detailed images.
Check Amazon
Cheap DSLR Cameras Comparison Table
1. Best Overall – Nikon D5600
View on Amazon
Editor's Rating: 4.7/5
The D5600 might be a modest step forward in Nikon's budget-friendly D5xxx series, but its all-around great performance easily propels the camera to the top of our list. There's something for everyone; top-notch image quality, excellent low-light performance, and a high-capacity battery let you keep shooting and enjoying the results regardless of circumstances. Add a compact frame and easy sharing options into the mix, and you've got the most versatile entry-level DSLR on the market today.
Overview of Features
At close to 24 ounces, the D5600 is light as DSLRs go. That's because its body is molded from a single piece of polycarbonate. The resulting lack of many moving parts reduces weight considerably. The camera's form factor is small, so much so that you might be uncomfortable holding it if you have large hands. However, the pronounced grip and textured thumb rest help you grasp the camera firmly.
Physical controls on the D5600 don't overwhelm the user, and their layout is easy to grasp. There are two dials on the top while the d-pad doubles as an autofocus point selector. You can access more in-depth options either by pressing the information button or by using the vari-angle touchscreen.
In spite of its small body, the D5600 sports an APS-C sensor with a max photo resolution of 24.2 megapixels. Nikon didn't include an optical low-pass filter, meaning that the picture is sharper and more detailed since there's no artificial anti-aliasing. The comparably large sensor also helps with low light images. You can crank the ISO up to values as high as 6,400 and still get impressive results under unforgiving light.
Dynamic range and color balance are on point as well. The D5600 tackles high-contrast street or nature settings with ease and lets you snap photos with a lot of detail that can be recovered during post-processing. The automatic white balance setting almost always makes for natural-looking scenes and is easily adjusted if it happens to miss the mark.
You can choose between 39 AF points on the D5600's optical viewfinder. These bring even fast-moving subjects like pets or kids into focus. The D5600 will capture their shenanigans thanks to 5fps burst or get everything on 1080p videos. These also support slow-motion and time-lapse modes. Best of all, you can keep shooting all day long as the D5600's battery has a whopping 970-shot capacity. Once you're done, you can use SnapBridge to automatically transfer 2MP JPEG versions of photos to your phone or select individual pics and videos without lowering the quality.
What We Didn't Like
The D5600's only major drawback is lack of 4K video support. Creatives focused on video more than photography won't find it a futureproof investment. The autofocus in live view isn't as speedy as that of the competition.
Tech Specs
Dimensions: 4.9 x 3.8 x 2.8 in.
Weight: 23.6 oz.
Sensor: APS-C
Burst: 5.1fps
Battery capacity: 970 shots
ISO range: 100 – 25,600
Max still resolution: 24.2 MP
Max video resolution: 1080p, 60fps
The Pros
Excellent all-around performance at a fantastic price
Huge battery capacity
Intuitive controls
Easily shares photos and videos through SnapBridge
Produces sharp and detailed images
The Cons
Limited to 1080p video
Live view autofocus is sluggish
2. Best Value – Canon EOS Rebel SL3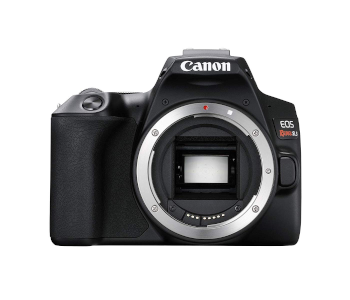 View on Amazon
Editor's Rating: 4.6/5
Are you a novice photographer who needs a DSLR that will help explain the basics but still be a good choice once you've outgrown the training wheels? In that case, Canon's newest SL model in the Rebel line is the obvious choice. It features a guided menu system that explains photography fundamentals in a way that's easy to understand. The camera's specs don't disappoint either. There's a large sensor, even better battery capacity than that of the D5600, and 4K video to boot.
Overview of Features
The SL3 is another lightweight DSLR that packs the latest technological advancements into a small and robust frame. The controls befit a beginner-friendly camera, as evidenced by few steps on the mode dial and few physical buttons. The touchscreen articulates fully and lets you access more advanced options in menus, though. Vloggers will love the screen as it rotates backward and helps with shot framing.
The camera uses a high-quality APS-C sensor that's present in models that cost twice as much. The Digic 8 processor is the brains behind it, allowing you to record 4K videos or fire off bursts of 5fps when the need arises. Using the live view lets you take advantage of Canon's Dual Pixel CMOS AF as well as eye-tracking. These ensure the SL3 keeps its focus on the subject even if it is moving erratically.
The best thing about the SL3 for beginners is the guided menu system. It introduces users to concepts like shutter speed and aperture size with graphics that explain what changing a setting does intuitively. You can also call up more detailed explanations or drop the system in favor of a more conventional layout if this isn't your first camera.
The SL3's picture quality is above average. Intelligent Auto mode is true to its name as the SL3 is good at picking EV compensation or white balance settings on its own. There are also several creative filters you can use to spruce up photos with effects like sepia. These create JPEG images but leave RAW originals intact.
What's Bad About It?
The SL3 has 4K video, but its execution leaves a lot to be desired. You're limited to 25fps in 4K mode, and 1080p bizarrely lacks 24fps. The camera has built-in image stabilization, but that doesn't work on the highest resolution. The lack of a universal flash mount is another questionable design solution. You can only use proprietary Canon flashes with this camera. The working range of the autofocus goes all the way down to -3EV, meaning that pictures taken in dimly-lit rooms still retain crystal clear focus.
Tech Specs
Dimensions: 4.8 x 3.6 x 2.7 in.
Weight: 23.4 oz.
Sensor: APS-C
Burst: 5fps
Battery capacity: 1,070 shots
ISO range: 100 – 25,600
Max still resolution: 24.2 MP
Max video resolution: 4K, 25fps
The Pros
Intuitive menu system perfect for beginners
Fully articulating screen
Great image quality
Light and compact
The Cons
Limited 4K video
Doesn't support flashes from other manufacturers
3. Pentax KP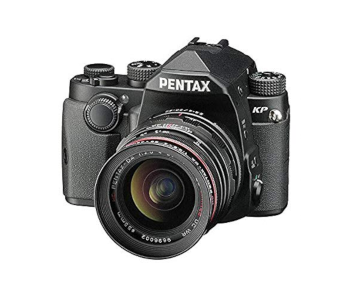 View on Amazon
Editor's Rating: 4.4/5
Intrepid photographers need a camera that can take any weather condition in stride and take breathtaking photos even when little light is at hand. The Pentax KP is proof that such a camera doesn't need to cost more than $1,000. It's built to last, delivers noiseless images with exceptional color accuracy, and even has something to offer seasoned video shooters. At close to $750, the KP approaches the upper limit of what most people would consider inexpensive for a DSLR. Still, the performance you get is well worth it.
Overview of Features
The KP is a workhorse designed to deliver in spite of harsh conditions. The camera is water-and dust-resistant thanks to more than sixty seals and can operate in below-freezing temperatures as well. It has a magnesium alloy body that keeps weight down in spite of its hardiness. Another intriguing physical trait is its interchangeable grip. There are three grips to choose from, each with a different size and texture.
The camera has a prominent pentaprism with a bright optical viewfinder that covers almost the entire sensor. There are 27 AF points to choose from, 25 of which are cross-type. Coupled with a respectable 7fps burs, this makes the KP a capable camera for action photography. While its buffer is small, you don't lose functionality when it is being emptied.
The KP's low-light performance is exceptional. Its maximum native ISO is a jaw-dropping 819,200. Don't expect to get usable shots at this setting, but do rely on the KP to deliver excellent results on settings like 25,600. The working range of the autofocus goes all the way down to -3EV, meaning that pictures taken in dimly-lit rooms still retain clear focus.
Pixel Shift Resolution is another feature that helps with clarity. The KP takes multiple images, displacing the sensor a pixel width each time. The image that results as a combination of these is free from noise and much more detailed than a single shot would be.
This is another camera whose video is limited to 1080p at 60fps. However, there are multiple framerates to choose from, and you get access to focus peaking for optimum results. Audio levels can be manipulated as well, and a microphone jack ensures that sound quality matches that of the video.
Are There Drawbacks?
The LCD isn't on par with the rest of this camera. It articulates only partially, allowing you to make shots at challenging angles but can't be rotated. It also lacks touch functionality, so you'll have to traverse Pentax's menus with the d-pad. The KP's battery capacity is tiny compared to the competition.
Tech Specs
Dimensions: 5.2 x 4.0 x 3.0 in.
Weight: 24.7 oz.
Sensor: APS-C
Burst: 7.1fps
Battery capacity: 390 shots
ISO range: 100 – 819,200
Max still resolution: 24.3 MP
Max video resolution: 1080p 60fps
The Pros
Exceptional low-light performance
Improved detail thanks to Pixel Shift Resolution
Rugged, weather-resistant build
Swappable grip
The Cons
Small battery capacity
Limited LCD functionality
4. Pentax K-70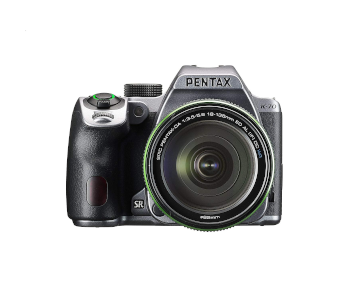 View on Amazon
Editor's Rating: 4.3/5
Do you like the look of the KP but find it too expensive? Pentax also offers the K-70, a slightly older and less costly model that retains most of the KP's best features. These include weather sealing, Pixel Shift Resolution, and excellent low-light results. You'll love the K-70 if you're into landscape or nature photography. However, sports shooters should look elsewhere.
Overview of Features
The K-70's design is more subdued than that of other Pentax models. It's functional, though, offering quick access to two control dials and a deep grip for easy one-handed operation. The K-70 was sealed with the same care as the KP, allowing you to take pictures of snow-covered forests or sandy beaches without worrying about its internal components.
Unlike the more expensive model, the K70 has a fully-articulating LCD vloggers will appreciate. It isn't touch-sensitive but does feature a comprehensive set of menus. Two control dial settings shift priority either to sensitivity or exposure and aperture. You can map custom functions to two buttons, and ones on the directional pad double as controls for ISO, flash, white balance, and drive mode.
The K-70 uses Pixel Shift Resolution to deliver images rich in detail. Its maximum ISO is lower than the KP's, but you're still able to shoot great-looking pictures with four-digit settings and salvage ones shot at 25,600 in post. Autofocus isn't as snappy in the dark, but it takes a tenth of a second to zero in on a subject in daylight. This is thanks to a hybrid AF system that combines phase and contrast detection.
You can control the K-70 remotely over Wi-Fi if you install the Image Sync app. This turns your smartphone into a viewfinder and grants access to a full set of manual options. You can even select AF points by tapping on the screen. File transfer is sluggish, though.
What We Didn't Like
Pentax advertises the K-70 as having a 6.1fps burst mode. You'll rarely reach this figure in real-life settings and shouldn't expect more than 4 fps in anything less than ideal conditions. Moreover, the buffer is limited to only 11 RAW images, meaning you'll have to time shots perfectly.
Tech Specs
Dimensions: 4.9 x 3.7 x 2.9 in.
Weight: 39.6 oz.
Sensor: APS-C
Burst: 6.1fps
Battery capacity: 410 shots
ISO range: 100 – 102,400
Max still resolution: 24.2 MP
Max video resolution: 1080p 60fps
The Pros
Rugged and weatherproof design
Performs well in low light
Detailed images without artificial smoothing or moiré patterns
Articulating screen
The Cons
Burst mode is slower than advertised
Small RAW image buffer
5. Canon EOS Rebel T7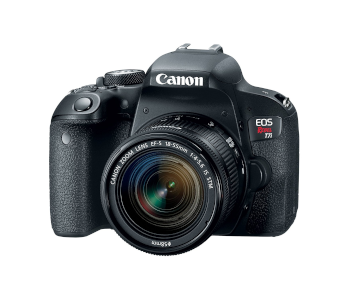 View on Amazon
Editor's Rating: 4.2/5
DSLRs are versatile cameras brimming with features, but these can be overwhelming when first shooting with one. Canon's Rebel series is a long-lasting effort to make photography beginner-friendly, and the T7 is a major success in that respect. It has an excellent Auto mode that takes out all the guesswork and lets you treat the camera as a point-and-shoot before experimenting with more advanced settings.
Overview of Features
Visually, the T7 is almost identical to the SL3. It has an all-black plastic body that's easy to hold and transport as it doesn't exceed 24 ounces with the battery and kit lens attached. Physical controls feel stiff but are clearly marked and let you adjust frequently-used settings like EV compensation or ISO without having to resort to the LCD. You can access the rest through an intuitive, color-coded menu and even add settings you change often to a custom quick menu.
The T7 might be among the cheapest cameras on review, but its image quality remains good. The camera excels in bright light and handles overexposure well. You can take beach photos at noon and still get correctly exposed shots of aquamarine waves and azure skies without a hint of glare. High-contrast locations like shady parks or narrow alleys aren't a problem either. It's only in low light that the T7 starts to show its limitations.
Beginners will love that they can leave everything to the T7 and get wonderful snaps in Auto mode. They can share these wirelessly to their phones or use them as remote shutters. More adventurous users will want to use the camera's numerous effects and style modes to create artistic photos. These are saved separately from the original RAW or JPEG files, so you always have a backup if you aren't satisfied with the result.
What's Bad About It?
The T7 has video but leaves the impression that the feature was implemented as an afterthought. You're limited to 1080p at 30fps, so there's no slow-motion. The lack of screen articulation makes the camera unsuitable for vloggers. The mono microphone is mediocre, and there's no external mic jack.
Tech Specs
Dimensions: 5.1 x 4.0 x 3.1 in.
Weight: 23.8 oz.
Sensor: APS-C
Burst: 3fps
Battery capacity: 500 shots
ISO range: 100 – 6,400
Max still resolution: 24.1 MP
Max video resolution: 1080p 30fps
The Pros
Logical control layout and color-coded menus
Great performance in daylight
Good dynamic range
Wide variety of styles and effects
The Cons
LCD is fixed in place and isn't touch-sensitive
Mediocre video quality
6. Best Budget Option – Nikon D3500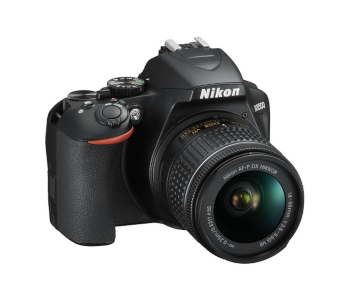 View on Amazon
Editor's Rating: 4.2/5
Nikon0's D3500 is an excellent example of how manufacturers can put out a cheap camera and not skimp out on its most important feature – image quality. It might not have all the bells and whistles featured on more expensive alternatives, but the D3500 punches far above its price class when it comes to sharpness, performance on higher ISO levels, and battery capacity.
Overview of Features
Nikon's entry-level D3000 series is known for incremental updates with each new release, and the D3500 is no different. On paper, the only differences between it and the D3400 are a small reduction in weight, a better battery, and the addition of Bluetooth. What spec sheets won't tell you is that the D3500 is finally comfortable to hold thanks to alterations in grip design. TIts back controls were all moved to the right of the screen, making for an easier time when shooting one-handed.
Autofocus is another spec you'll learn little about when checking an info page. It has only 11 AF points, yet these are spaced out well and cover a large portion of the viewfinder. Working with a limited number of points like this means you'll have to learn how to time shots. Master that, though, and you can expect most if not all wildlife images shot in quick succession to be worthy of publication.
This camera uses the same APS-C sensor as our overall winner. That means image quality is comparable, too, whether in ample natural light or dimly-lit interiors. You can leave exposure compensation to the D3500 and get images that retain details in both light and dark areas every time. EV comp not on point? There's a dedicated button to address any issues manually.
Battery life deserves a special mention since it adds even more value to an already impressive product. Nikon's new proprietary battery lets you snap 1,550 photos, provided you've turned off the LCD. That's more than enough for a busy day of intense shooting and means you can leave a spare at home and have more room for other useful accessories.
Are There Drawbacks?
Controls on the D3500 aren't as customizable or straightforward as on other models we've reviewed. You'll find neither function buttons nor a quick menu. There's a recent settings menu instead, but the convenience isn't the same. Metering and ISO are adjusted by pressing the information button instead of having dedicated controls. A single command dial doesn't help either. The D3500 is another model with a fixed LCD.
Tech Specs
Dimensions: 4.9 x 3.8 x 2.7 in.
Weight: 21.7 oz.
Sensor: APS-C
Burst: 5.1fps
Battery capacity: 1,550 shots
ISO range: 100 – 25,600
Max still resolution: 242 MP
Max video resolution: 1080p 60fps
The Pros
Excellent image quality given the price
Exceptional battery capacity
Robust autofocus in spite of few AF points
Good dynamic range and low-light capabilities
The Cons
Convoluted control scheme
Fixed LCD