6 Best Cheap Polaroid Camera Picks for 2020
3D Insider is ad supported and earns money from clicks, commissions from sales, and other ways.
Smartphones let us create thousands of photos whose quality is slowly catching up to mid-range cameras, but using them can feel ethereal. Limiting yourself to physical film will make you think twice about snapping that photo, but developing it is time-consuming and impractical. Want the best of both worlds? Then invest in a Polaroid camera!
You'd think that cameras which use chemicals to develop photos instantly are a novelty that died out with the advent of digital photography. In reality, it's a niche that's still alive & kicking as kids and adults alike find having physical keepsakes of their fondest memory appealing. There's excitement in watching the blank paper take on the shape of your loved ones. Plus, a Polaroid camera is so easy to use that it might spark your child's life-long interest in photography.
Here are the six best cheap Polaroid cameras available today. Some offer barebones yet effortless selfie-taking while others successfully blend retro charm with modern connectivity. Pick a favorite and start experiencing photography in a unique way.
Budget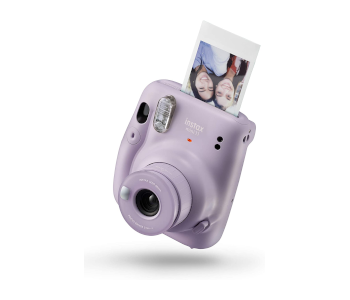 Fujifilm Instax Mini 11
4.2/5.0
Dimensions: 4.2 x 4.8 x 2.7"
Weight: 13.9 oz
Has a reliable automatic exposure.
Check Amazon
Best Value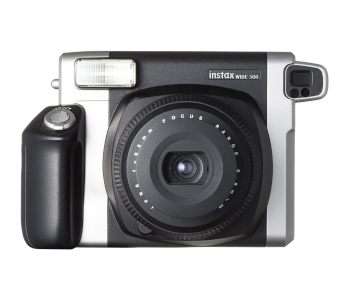 Fujifilm Instax Wide 300
4.5/5.0
Dimensions: 7.4 x 4.8 x 3.8"
Weight:1.3 lbs
Comfortable to hold & easy to operate.
Check Amazon
Top Pick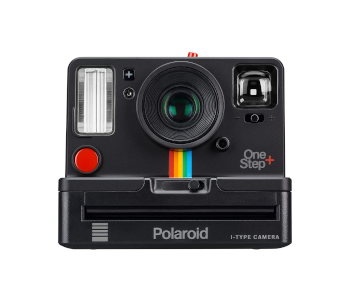 Polaroid Originals OneStep+
4.6/5.0
Dimensions: 5.9 x 4.3 x 3.8"
Weight:1.1 lbs
Internal battery with USB charging.
Check Amazon
Cheap Polaroid Cameras Comparison Table
1. Best Overall – Polaroid Originals OneStep+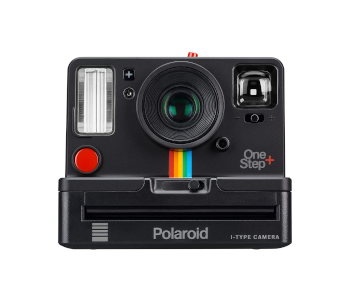 View on Amazon
Editor's Rating: 4.6/5
The company that gave Polaroid cameras their name is still going strong. The OneStep+ is proof that there's room for innovation even in cameras most people would consider rudimentary. It has a focus shift lens, allowing you to take close-up portraits or landscape photos. It also connects to your phone via Bluetooth and becomes much more versatile as you use the app.
Overview of Features
The OneStep+ is an homage to the original OneStep released in the 70s. Its shape is that familiar boxy black. There's even an iconic rainbow cascading from the lens towards the photo dispenser. You frame shots through an OVF positioned to the left, but there are no paralleling issues because of this.
There are only a few controls, but each is self-explanatory and impossible to miss. The shutter release is in front, easy to reach, and as bright red as the on/off button in the back. An equally bright switch on top toggles between distant and close focus modes, while another button lets you suspend the flash if you're shooting in daylight. On-camera tweaking is limited to an exposure control toggle that enables you to adjust TV in full stop steps. Lastly, the back is also home to the Bluetooth button that glows while a connection is active.
Bluetooth connective is the OneStep+'s standout feature. Pairing the device with your phone is easy. Just download the app and press the button. Using the app offers far more control and flexibility as you can manually tweak the aperture and shutter speed. Your phone may act as a remote shutter, and you can activate a timer to include yourself in group shots. Each photo can be digitized, and there's even a social aspect as other OneStep+ users can share their photos.
The quality of pictures you get is on par with other mid-range Polaroid cameras. You can get color and monochrome films, the latter being available in a square format that the competition doesn't support. Each film pack contains eight photos, and the OneStep+ lets you know how many you've used up through a series of LEDs on top. Its battery is internal and charges via micro USB. The camera will start flashing in standalone mode once the battery gets low, or you can check its exact status in the app.
What We Didn't Like
The OneStep+'s film packs are expensive. You also have to be careful during development as the wrong conditions might drastically alter the results. Both film types require dark conditions to develop, while the color film shouldn't be used in the cold since this tints the photos green.
Tech Specs
Dimensions: 5.9 x 4.3 x 3.8"
Weight: 1.1 lbs
Film format: Polaroid Originals i-Type, Polaroid 600
Lens: 106mm f/14 – f/64
Minimum focus distance: 1'
Batteries: Internal, rechargeable
Pros
Bluetooth connectivity allows for in-depth customization and control
Has close focus
Charming retro appearance
Internal battery with USB charging
Cons
Film packs are expensive
Photos need to be developed in warm dark environments
2. Best Value – Fujifilm Instax Wide 300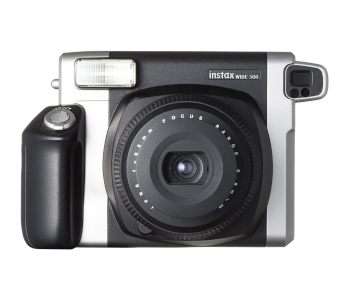 View on Amazon
Editor's Rating: 4.5/5
Original Polaroid cameras use square film, but what if you want to take charming landscapes or large group photos of friends or wedding parties? Fujifilm's Instax Wide 300 is the answer as it puts out images that come in at 3.9 x 2. Inches. It's effortless to use, takes quality color photos, and its film is reasonably-priced for the format.
Overview of Features
The Instax Wide 300 is a large and bulky Polaroid camera that dispenses finished photos from the top. It's available either in white or black with silver trim. We're partial to the latter. Its grip is the most distinctive physical feature; it's deep & comfortable, and the shutter is on top for easy reach. The viewfinder juts out from the left side and provides 0.37x magnification.
Fujifilm equipped the Instax Wide 300 with a 95mm lens, but it's equivalent to a medium-wide lens in 35mm terms. Combined with the camera's wide format, this lets you capture much more of your surroundings than traditional square film and can net some amazing landscapes or group photos. The lens has a close focusing distance of 2.9 feet and can be limited to 9.8 feet for faster focusing. A macro kit that comes with the camera allows you to achieve a minimum distance of 1.3 feet and pull off some exciting close-ups.
The Instax Wide 300's photo quality is excellent for a Polaroid camera. The colors are vibrant ye unmistakably produced by Polaroid film. You can adjust an image's brightness by tweaking exposure compensation to either plus or minus 0.7. You may turn the flash off, but the camera has a sensor that will engage it in dim conditions nevertheless to not let a shot go to waste.
Fujifilm's film packs are more economical than Polaroid Originals. Each contains ten exposures, and the cost per exposure is lower as well. Only one type of color film is available, though, so you'll want to look for a different model if you're into black & white.
What's Bad About It?
The Instax Wide 300 is a limited camera in terms of manual control. Its exposure settings are sparse, and there's only one aperture setting. The camera's size and bulk are a hindrance to portability.
Tech Specs
Dimensions: 7.4 x 4.8 x 3.8"
Weight: 1.3 lbs
Film format: Instax Wide
Lens: 95mm f/14
Minimum focus distance: 2.9', 1.3' with macro add-on
Batteries: 4X AA
Pros
Excellent value for the money
Comfortable to hold & easy to operate
Comes with an accessory for macro shooters
Great photo quality
Cons
Not as feature-rich as more expensive models
Large and heavy for a Polaroid camera
3. Fujifilm Instax Mini 90 Neo Classic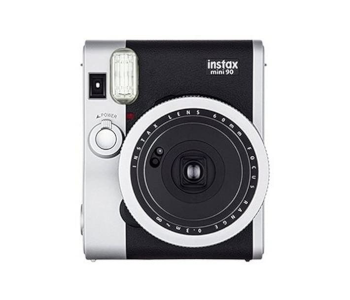 View on Amazon
Editor's Rating: 4.5/5
Do you need a Polaroid camera that's brimming with features that party guests can use effortlessly? In that case, the Instax Mini 90 Neo Classic is an instant buy. It's a charming retro camera with a host of exposure & lens settings. Anyone can pick it up and snap photos, while more experienced photographers will be pleased by its versatility and low price per shot.
Overview of Features
The Instax Mini 90 Neo Classic is the best-designed camera on review. It's small and light, allowing you to easily store it in a travel bag and whip out when needed. A leatherette strip lines its silver body and is available in one of three colors. Unlike our previous two entries, the Instax Mini 90 Neo Classic's OVF is centered.
It's remarkable how the Instax Mini 90 Neo Classic is brimming with controls yet manages to remain user-friendly. You get two shutter releases – one at the center of the on/off switch and another on the top plate. That's useful for quickly switching between landscape and portrait modes and having equally straightforward access to the shutter. You may disable the flash with one button and cycle through various photo modes either with another or using the lens ring. A simple monochrome display shows which photo mode is currently active and the number of shots left.
Switching between photo modes lets you exercise a great deal of control. You can create fun double exposures or use bulb mode to hold the shutter open for as long as ten seconds and capture trippy light trails. Other modes are situation-specific. For example, party mode will dampen the flash so that the picture's dark parts don't lose details. Want to capture the shenanigans of hyperactive children? Switch to kids mode and take advantage of the increased shutter speed.
The photo quality is good, provided the right conditions are met. Expect wonderfully saturated colors and lots of detail. The Instax Mini format is among the cheapest per photo. Even switching to monochrome won't set you back much, especially if you buy in bulk.
Are There Drawbacks?
The Instax Mini 90 Neo Classic is at its best when shooting indoor events. Using it outdoors may lead to overexposed images, even if you set the exposure to the darkest of its three supported modes. The battery is rechargeable, but you'll have to remove it first since in-camera charging isn't supported.
Tech Specs
Dimensions: 4.5 x 3.6 x 2.3"
Weight: 10.4 oz
Film format: Instax Mini
Lens: 60mm f/12.7
Minimum focus distance: 1'
Batteries: Rechargeable
Pros
Abundance of photo modes and settings
User-friendly control scheme
Great picture quality
Appealing design
Cons
Battery can't be charged internally
Tends to overexpose photos taken outdoors
4. Fujifilm Instax Square SQ6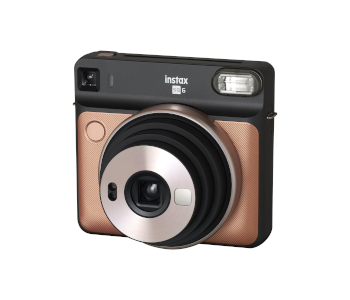 View on Amazon
Editor's Rating: 4.4/5
Fujifilm's instant cameras have a proven track record. Still, they didn't offer a square format until the recent release of the Instax Square film and accompanying cameras. Instax Square SQ6 is the best of the bunch, combining accessibility and a pocket-friendly body with a format that's smaller but easier to use than what Polaroid has to offer. It's not the most comfortable camera on review, but picture quality more than makes up for it.
Overview of Features
The Instax Square SQ6 is true to its name, sporting an almost perfectly square build that's thin and light enough to carry comfortably inside your pants pocket. It has a two-toned color scheme that blends mate and metallic shades together for an attractive effect. Photographers with left eye dominance will love the camera as its OVF is located on the right, preventing their nose & face from smudging the back.
The new Square format uses 2.4 x 2.4-inch exposures that develop instantly without having to be shielded from bright light. The colors are on point and pleasingly saturated. You can tweak any image by adjusting the exposure in 0.6-stop increments. You may also turn the flash off and use a longer exposure time to bring out more details or get usable shots in low-light conditions.
The Instax Square SQ6 takes a page out of the Mini 90 Neo classic's book, offering a handful of shooting modes accessible by a mode toggle button. Each is represented by an LED on the camera's top. You may leave everything to the Instax Square SQ6 by going automatic, adjust the exposure, or switch between macro and landscape modes. A selfie mode is there as well, helped by a mirror close to the lens.
What's Bad About It?
The Instax Square SQ6 has several design quirks. Most photographers frame shots with their right eye, so the viewfinder's position might be an issue. Its square shape leaves no room for a grip, so handling the camera isn't as comfortable as the Wide 300. The shutter button is flush with the body and harder to find than it needs to be. Two CR2 batteries power the Instax Square SQ6. These aren't as easy to come by as AAs, so make sure to buy spares before you need them.
Tech Specs
Dimensions: 5 x 4.7 x 2.3"
Weight: 13.9 oz
Film format: Instax Square
Lens: 65.8mm f/12.6
Minimum focus distance: 11.8"
Batteries: 2 x CR2
Pros
Successfully competes against Polaroid's square models
Thin profile ideal for portability
Flash can be disabled
Lots of modes to choose from
Cons
Some questionable design decisions
Runs on uncommon batteries
5. Polaroid Originals Now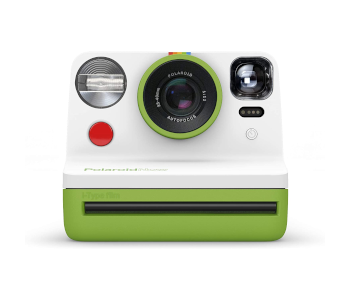 View on Amazon
Editor's Rating: 4.2/5
Do you like the OneStep+ but want a cheaper camera with fewer features? Polaroid also makes the Now, a virtually identical camera appearance-wise with a greater focus on ease of use. It's attractive, can be operated by anyone in seconds, and can pull off some decent snaps if you know what you're doing.
Overview of Features
The Now and OneStep+ have much in common, their appearance being most noteworthy. They've got a similar outward shell with the prominent red shutter button and a bright OVF to the left. However, the Now has fewer physical controls along with a small monochrome display that shows how many more photos you can snap. We also like the two-tone design and fun color choices.
The lens used is plastic. It has a variable focal length that's a bit narrower than a smartphone's lens, around 35mm in full-frame terms. You may focus on subjects as close as 1.8 feet away either manually or by half-pressing the shutter to engage the autofocus. The lens's aperture is fixed at f/11, so you'll need the flash in closed spaces. It's an adaptive model that will glow brighter the farther away you focus.
The Now is a successor to the OneStep 2, a camera with unreliable exposure. The issue isn't present in the newer model. Comparing photos of the two reveals that then Now's flash metering system & autofocus help achieve optimum exposure and color reproduction.
The battery is another feature worth mentioning. It's the same design as seen in the OneStep+ and rechargeable via MicroUSB. It will last between 15 and 20 packs of either I-Type or Polaroid 600 packs. That's impressive, considering the battery has to power the photo's ejection as well as the flash.
What We Didn't Like
The Now uses the same film as the OneStep+ and suffers from the corresponding shortcomings. The autofocus isn't always accurate. It may overshoot objects and cause the flash to be brighter than it should, which leads to washed-out images.
Tech Specs
Dimensions: 5.9 x 4.4 x 3.7"
Weight: 15.3 oz
Film format: Polaroid Originals i-Type, Polaroid 600
Lens: 95-102mm f/11
Minimum focus distance: 1.8'
Batteries: Internal, rechargeable
Pros
Autofocus and flash metering simplify operation
Excellent color reproduction
Long-lasting rechargeable battery
Comes in several fun colors
Cons
Expensive and tricky film
Autofocus performance is unreliable
6. Best Budget Option – Fujifilm Instax Mini 11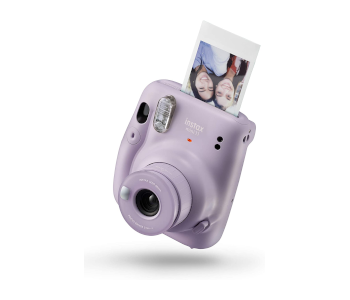 View on Amazon
Editor's Rating: 4.2/5
Polaroid cameras are ideal for selfies you can physically share with friends. Our cheapest camera is also the one that excels at this the most. The Instax Mini 11 is the successor of the popular 9 model. It brings excellent improvements in handling and use friendliness. Operating it is a no-brainer, there's a dedicated selfie mode, and the rounded shape makes it appealing to kids & teens.
Overview of Features
We love the Instax Mini 11's curvy form. There are no sharp edges here, just a study in contours that's slimmer and taller than its predecessor. It comes in a charming selection of pastille colors and can be handled by smaller hands comfortably. Other cameras on review are user-friendly, but the Instax Mini 11 brings this to another level. You only have to press the shutter release to get usable prints almost every time.
Everything about the Instax Mini 11 is intuitive and geared towards snapping pictures of people. The camera is laid out vertically instead of horizontally, suggesting portrait orientation use. It doesn't have a tripod mount, but the base & self-timer let you position it on flat surfaces for steady selfies.
You turn the camera on by pushing a large button near the lens. This extends the lens part-way and puts the Instax Mini 11 into standard mode. You can then manually extend the lens one step further to achieve its minimum 11.8-inch close focus distance in selfie mode.
The camera uses the same film as the Instax Mini 90 Neo Classic. The cartridge slides in the back and should display a yellow circle and a number to let you know that film is present and how much is left of it. The camera runs on two AA batteries, which is great as they're cheap and available everywhere.
Are There Drawbacks?
The Instax Mini 11 produces usable photos most of the time thanks to a competent auto-exposure system. However, it tends to overexpose subjects set against dark backgrounds. Turning the flash off would help mitigate this, but that's not an option.
Tech Specs
Dimensions: 4.2 x 4.8 x 2.7"
Weight: 13.9 oz
Film format: Instax Mini
Lens: 60mm f/12.7
Minimum focus distance: 10.3"
Batteries: 2 x AA
Pros
Great picture quality at a low price
Effortless to use by children and adults alike
Perfect for selfie lovers
Reliable automatic exposure
Cons
Flash can't be turned off
Tends to overexpose shots in contrasting situations