Best Christmas Hoverboards
3D Insider is ad supported and earns money from clicks, commissions from sales, and other ways.
You've come to the right place if you're looking for the perfect hoverboard this Christmas. I've scoured all the online stores to see what's hot and what's not with this year's self-balancing scooters. I've also read reports by industry experts and been through a plethora of user reviews. The end result is a shortlist of the ultimate hoverboard picks for Christmas.
All products on this quick review page are UL 2272 certified so safety is guaranteed. Technology evolves fast. That means there's plenty of product designs and enhancements that weren't around last year. You're sure to find something in this guide whether you're a raw beginner or a seasoned professional. Some boards have high tech features and others just offer a great ride on a budget.
What to Expect from Your Christmas Hoverboard
This is not a passing fad. Hoverboards are here to stay just like roller blades and skateboards—only better. The only potential problem with these boards is that they sell like hot cakes so you have to be quick. I haven't included any that went out of stock during Black Friday and Cyber Monday unless there was a promise of new inventory before Christmas.
Think about what you want your hoverboard for before you buy anything and be specific.
Here are a few pointers to help you create your own list of requirements:
Your budget (fastest way to narrow down your search)
Maximum speed the board can travel at
Minimum and maximum payload (weight of rider)
Maximum distance on a single charge
How long does the battery take to recharge
Does the board have front/rear LED lights
Bluetooth connectivity/mobile app-control
Integrated speakers for playing music as you ride
Anything else that's important to you
Best-Selling Hoverboards as Christmas Gifts
OK, let's get into these hoverboard mini-reviews. Follow the links at the end of each piece if you want to view the best price and check the full tech specs for each product. I've arranged these popular boards in order of price starting with the least expensive at the top. To kick off I've chosen the budget-friendly Hoverfly ECO from GOTRAX. This is an affordable product with an amazing ride.
1. GOTRAX Hoverfly-ECO Hoverboard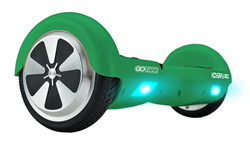 You won't find a much better 6.5 inch wheel hoverboard at this low of a price than the GOTRAX Hoverfly ECO. It's currently on sale for around $180 if you can believe that. It even comes with a handy learning mode for new riders. The trainer program and its small size make this a popular choice for younger riders in particular. It sports the latest self-leveling technology so that you can enjoy the journey without worrying about falling off. It's an unbeatable product at an unbeatable price. The company is based in Denver, Colorado.
The Power Behind the GOTRAX Hoverfly-ECO
A powerful Dual 250W motor will take the GOTRAX Hoverfly ECO to a top speed of 7.4 mph. The battery lets you ride up to a distance of 12 miles on a single charge. The battery recharging time is another impressive selling point at just 90 minutes. To ride this incredible board you much weigh more than 44 lbs. (20 kg) and no more than 220 lbs. (100 kg) for optimal performance.

Sold Out on Amazon: The Gotrax Hoverfly-Eco is sold out on Amazon but you can order it on their site and get it before Christmas.
2. The Friendly VEEKO Hoverboard
The Veeko Hoverboard has a great ride on smooth surfaces. It has a maximum weight capacity of 225 pounds. It's similar to the Hoverfly-Eco except that it has a slightly more powerful 350 watt motor.
It can reach speeds of about 6 MPH and go 6 – 9 miles on a charge. It takes around 120 minutes to charge. It also comes with a 10 minute auto shut off feature to conserve battery life. There is a built in battery life indicator that you can see while riding the hoverboard. It has LED lights to help keep you safe while driving. This is a good hoverboard for beginners.

3. TOMOLOO Hoverboard
The TOMOLOO hoverboard is a big step up from the previous two models. It has the same 6.5 inch wheel size and similar LED lights. It can reach speeds of up to 8 MPH with its silent 300 watt motor. It can travel up to 12 miles on a single charge as well.
This hoverboard has a higher than average weight limit of 264 pounds. It has built in Bluetooth speakers so you can play music on the go and the intuitive mobile app is easy to use and lets you control things like the hoverboard's lights. You can also adjust the max speed, steering sensitivity, and riding mode from the app.

4. Official Halo Rover Hoverboard
The Halo Rover hoverboard is our top pick if you can afford it. This hoverboard has big 8.5 inch tires that are made for off roading. Uneven sidewalks, snow, sand, and mud are no problem for the Halo Rover. It has a weight limit of 45 – 220 pounds.
The Halo Rover has powerful Bluetooth speakers that you can control through the phenomenal app. The app lets you choose training modes as well and it can tell you how far you have travelled. The LG FireSafe battery can give you 10 miles of range at speeds approaching 10 MPH.
The Halo Rover has no-flat indestructible tires and it is water resistant. This well-built machine is made to last for years. This is the Christmas hoverboard for you if you want the best.

Hoverboards are one of the hottest items for Christmas. Make sure you order a few weeks ahead of time to guarantee delivery before the holiday.