Best CNC Machines of 2019
3D Insider is ad supported and earns money from clicks, commissions from sales, and other ways.
Welcome to my guide on the workings and usage of a Computer Numerical Control or CNC machine. This introduction explains what these machines are—in laymen's terms—and why you might want one. Keep reading if you're a novice or someone who could use a quick refresher on CNC technology. Otherwise, jump to the reviews if you already know what they are and just want to check your options.
It wasn't all that long ago when CNC Machining was a process unique to the manufacturing sector. It's a system where computers control precision machine tools. They make production faster, flawless, and more cost-effective. The four typical factory machines that use this technology include:
Routers
Lathes
Mills
Grinders
All the above machines are specialized power tools. Each of these tools is able to cut, shape, or grind various materials into precision parts based on pre-existing designs. The type of machine needed depends on the shape, size, materials, and complexity of the project.
CNC Machines for Home Users
Computer Programing Control
Cutting the Air
Why Would You Want a CNC Machine
The Conclusion
About these Reviews
There's no shortage of options with CNC machines and Router Kits but they're not all equal. Some are great, some are good, and a few are waste of good money. I spent a lot of time looking through many of the best CNC machines before coming up with my top five picks. I also took the opinions of industry experts and user reviews into consideration before finalizing this list.
The five choices here include three router kits and two ready or almost ready-to-use machines out of the box. I've ordered them by type then by price starting from least to most expensive.
Best CNC Machines Comparison Table
The table below lists my picks in the order they appear in the guide:
1. MYSWEETY DIY CNC Router Kit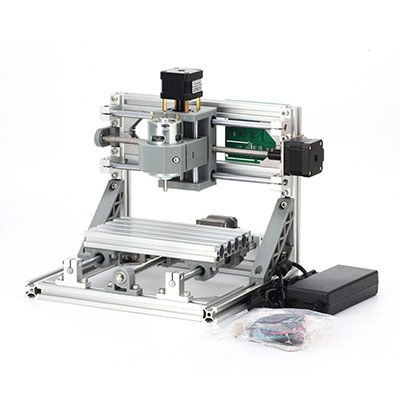 View on Amazon
Editor's Rating: 4.3/5
MYSWEETY is a capable DIY CNC Router Kit. MYSWEETY advertises it as a GBRL control woodcarving milling machine for engraving. It also works with various other materials as well as woods.
Best feature 1: Beginner-friendly
Best feature 2: Durable construction
Plus points: Partly assembled, control via different operating systems, various materials
Minus points: Limited instructions, below average support
This CNC router kit comes partly assembled but there's still some assembly and tweaking from the user end. Going by the user reviews this is an enjoyable experience. It certainly helps you to become better acquainted with the machine. A little experience or aptitude in this area will make the setup process much simpler even though it's not overly complicated.
The board comes preprogrammed and all wiring is plug-n-play.
Basic yet Functional
The machine is both compact and lightweight but it's also a sturdy construction. I'd say the MYSWEETY Router Kit is the perfect choice for new users who want to get accustomed to the technology. It provides a great platform for producing simple models. There is a USB interface and an open-source grbl-based control system to operate the device.
Some users complain that the included software is old and unsupported. Well, you can choose between several other software programs to run this CNC Router. The popular PCB Processing and Toolpath Creation are two of many but you have to buy them separately.
Although promoted as a woodcarving machine you can use other materials. Some of these include plastic, acrylic, PVC, PCB, and various others.
The Not So Good
The setup is simple enough for those familiar with the technology. For first-timers, though, the included instructions fall short. Software support doesn't get many positive reviews either. These are things the complete novice will want to mull over.


Tech Specs
Product Type: Kit
Product Weight: 11.2 lbs. (5kg)
Package Dimensions: 14.2 x 9.2 x 6.5″
Working area: 160 x 100 x 45mm
Materials: Plastic, wood, acrylic, PVC, PCB, and others
The Pros
Great tool for enthusiastic beginners
Robust build
Can use various operating systems
Works well with numerous materials
The Cons
Vague user instructions
Poor Software support
2. DIY CNC Router Kit by Beauty Star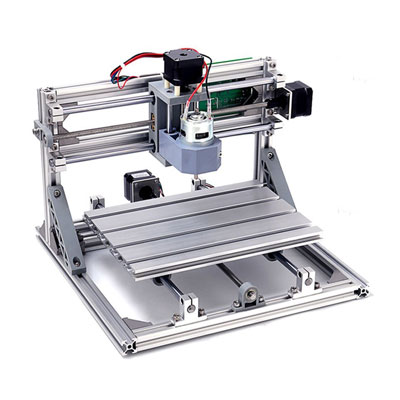 View on Amazon
Editor's Rating: 4.8/5
This DIY CNC router won't suit commercial purposes. It's a great little tool for new users who have some knowledge or mechanical aptitude for working with machines like this.
Best feature 1: Good precision cutting & power
Best feature 2: Compact and lightweight
Plus points: Great research and study machine, tough construction, easy to operate
Minus points: Difficult for beginners to assemble, replacement parts difficult to source
A Great CNCStudy Tool
Consider this affordable CNC router by Beauty Star if you're new to precision cutting. It's a great product for anyone who wants to study the art of fine engraving using a variety of materials. The machine is simple in design, compact, and lightweight, which makes it easy to operate and store.
The working area is not very big (see specs below) but it's perfectly ample for those smaller DIY designs. The powerful 775 spindle motor performs surprisingly well for a CNC router in its class. And although it won't cut hard metals or stone there are plenty of softer materials to experiment with.
Before you can use the machine you first have to assemble it. The setup process part is the least user-friendly side. Once you've put it together you have a sturdy CNC router that's worth every penny.
The Not so Good
The Beauty Star DIY CNC router kit is that it's fairly easy to operate at the beginner level but it's not so easy to assemble. The available documentation doesn't help much either. It's why you'll want some prior know-how or mechanical ability before you buy this product. Make sure you request the manual in English too, that's unless you need the Chinese version.


Tech Specs
Product Type: Kit
Product Weight: 15.54 lbs. (7kg)
Package Dimensions: 17.5 x 11 x 7″
Working area: 240 x 180 x 45mm
Materials: Plastics, acrylic, woods, PVC, PCB, soft metals, e.g., aluminum and copper…
The Pros
Excellent value for money
Precision cutter
Lightweight, compact design
Robust construction
Easyfor advanced-beginners to operate once it's set up
The Cons
Not easy to assemble
Replacement parts might be hard to come across (depending on the part)
Vague instructions
3. BobsCNC E3 CNC Router Engraver Kit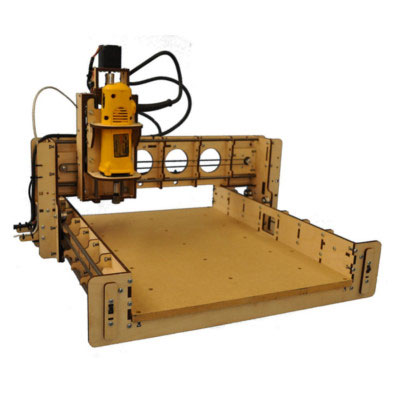 View on Amazon
Editor's Rating: 4.9/5
BobsCNC E3 CNC Router takes things to the next level and that includes a jump in price too. It's easier to assemble than the first two picks. Updated instructions are always available online at any time.
Best feature 1: User-friendly machine
Best feature 2: Works with wood and a variety of other materials
Plus points: Robust construction large cutting area, cuts thick materials
Minus points: Nothing to report
This is an advanced-beginner friendly machine for serious enthusiasts. If your laptop has a spare USB port you can run the machine from that. And unlike the previous devices, there's nothing left to the imagination—instruction-wise. All backup files are available online too. They include Quick Start Guide, Assembly Manual, and a Troubleshooting Guide.
Wood Cutting Wooden Construction
The cutting area is generous at 450 x 390 x 85 mm and the biggest in this guide.
Once you're up and running you can cut various woods up to 3.3″ thick stock. This includes composite wood and hardwoods. You can also use the E3 to cut a variety of other soft materials but always check for compatibility beforehand.
Don't let the all-wood frame construction of this CNC Router put you off. It uses 6mm 5ply Baltic birch and 1/2″ MDF for the spoil-board. It's extremely well-made and as robust as any metal alternative.
Software Choices
You can choose between several choices of software to run the E3. Most of these are free open source. The UGS or Universal G-code Sender is a popular choice. The firmware loaded on the logic chip or microprocessor is grbl and also open source. If it sounds complicated you need to do a little online research. Most of you reading here are most likely familiar with grbl for controlling machine motions.
The Not so Good
There's not a lot to complain about in terms of value for money. I did come across a few reports of software errors but these are not universal as setups and operating systems are personal. If I come across any future complaints I'll update this guide accordingly.


Tech Specs
Product Type: Kit
Product Weight: 26 lbs. (12 kg)
Package Dimensions: 25 x 19 x 25″
Working area: 450 x 390 x 85mm
Materials: Wood and other soft materials
The Pros
User-friendly machine
Robust all-wood frame
Large cutting area
Tool changing mechanism
Cuts up to 3.3-inch stock
The Cons
No major cons to report
4. CNC Piranha FX by Next Wave Automation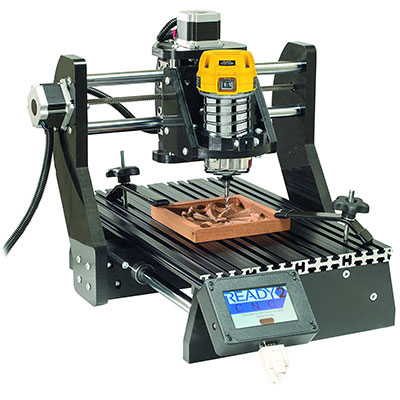 View on Amazon
Editor's Rating: 3.9/5
The CNC Piranha FXpunches above its weight for a machine in its price range. Although priced considerably more than the earlier picks it still costs very little compared to full-scale devices.
Best feature 1: Integrated color touch-screen interface (no computer necessary)
Best feature 2: Fully assembled
Plus points: Perfect for advanced beginners, 3D models library, compact design
Minus points: Initial learning curve
The color touchscreen interface at the front of the machine is a convenient extra. It does away with the need to hook up a laptop or other device. All you do is transfer the files via a simple USB drive. The data then displays on the screen from where you can select the project and let the work being.
The Piranha FX Offers More of Everything
This is the first machine in the guide to come with fully-assembled parts. It's a great choice for advanced beginners and above who want to work on smaller scale projects like plaques and intricate carvings, etc. The Piranha FX even comes with its own 3D models library which is part of the popular Vector Art Sampler Pack. There's software included too but it's for Windows OS' only.
This capable and ultra-precise CNC machine can work with a wide range of materials. Some of these include plastics, solid woods, composite plywood, MDF, metals, and even stone. You can also use it to engrave circuit boards up to a certain size. That brings me on to my next point.
Size Sometimes Matters
The work area is just 304 x 457 x 76mm (12 x 18 x 3″). That's bigger than some of the cheaper models here but it's still small considering the price. This doesn't take anything away from the quality or versatility of the Piranha FX. Next Wave Automation designed their compact machine on purpose. If you want the same product with a longer and taller cutting area then consider the Piranha XL.
The Not So Good
Don't consider this machine if you don't like steep learning curves. It's not a good choice for the absolute beginner unless you have plenty of patience and persistence. It's ideal for the advanced beginner and above who'll no doubt find it quicker to familiarize themselves with all the workings.
Other than the learning curve there's little else to fault with this capable CNC machine.


Tech Specs
Product Type: Fully-assembled
Product Weight: 59.9 lbs. (27 kg)
Package Dimensions: 23 x 16 x 16″
Working area: 304 x 457 x 76mm
Materials: Stone, metals, solid woods, MDF, composite plywood, plastics…
The Pros
Fully-assembled parts
Compact design
Touchscreen color interface
Exceptional cutting performance
3D models library
Suitable for advanced beginners
The Cons
Not ideal for raw beginners
Warning; 3D printers should never be left unattended. They can pose a firesafety hazard.