19 Best Drones for All Types of Commercial Drone Pilots
3D Insider is ad supported and earns money from clicks, commissions from sales, and other ways.
For many people, the appeal of drones lies in how fun they are to fly around and take aerial photos with. While this is perfectly valid, today's drones are designed for much more than hours of silly fun. Nowadays, you can find drones that come with cameras that professional photographers will be envious of, or remote sensors that can rival the accuracy of those used by military and airport operations. With this level of sophistication, it's no wonder that drones have found their way into a huge number of commercial and industrial applications.
If you're an aspiring commercial drone pilot who is in the market for your next cash-earning drone, then here are our picks of the best drones for each commercial drone application.
Best Commercial Drones by Use Case
If you are flying a drone for commercial purposes, you need a Part 107 license from the FAA.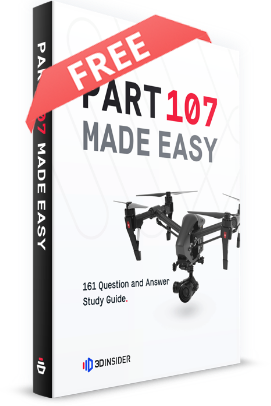 PART 107 Made Easy
161 Question and Answer Study Guide
105 pages of illustrated content
Covers all parts of the Part 107 test
$97 of value for free
Photo and video
By far the most common commercial application of drone technology, drone-based photography and filmmaking have redefined the way we look at things. Taking photos and videos from the ground level is one thing but taking them from way up high offers a perspective the likes of which have never seen before.
In the field of professional drone photography, a 4K camera is practically the minimum requirement. Autonomous photo modes are also a huge plus and can help drone photographers create dynamic and cinematic effects.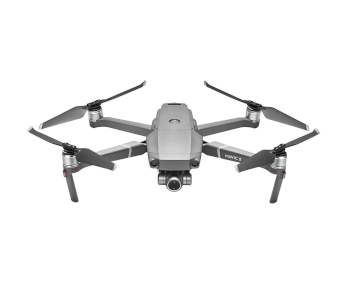 Editor's rating: 4.8/5.0
One merely has to list down the features of the DJI Mavic 2 Zoom to emphasize why it deserves a spot in this list: a 24mm to 48mm zoom lens, a 4K camera, slow-motion video capabilities, HDR, and an omnidirectional obstacle avoidance system. On top of the 2x optical zoom, the Mavic 2 Zoom has even been augmented with an additional 2x digital zoom. This opens up a lot of drone photography possibilities and has even allowed DJI to feature some highly innovative and creative photo modes.
The Mavic 2 Zoom was also one of the first DJI drones to come with an omnidirectional obstacle avoidance system. This was a huge upgrade to the previous Mavic iterations that had limited anti-collision scope.
Best of all, all the advanced photography features and extra sensors of the Mavic 2 Zoom are packed inside the signature ultra-portable design that the DJI Mavic line has been known for. With foldable arms and propellers, you will not need to carry around a suitcase for your drone photography gigs.
While DJI has several models that are much more expensive than the Mavic 2 Zoom, we still wouldn't consider this drone to be an affordable or budget model. It delivers great value for money, though, especially if you are doing professional drone photography.
Tech Specs
Lens: 24mm to 48mm 2x optical zoom
Camera: 12MP, 4K video at 30 fps
Flight time: 31 minutes
Weight: 905 grams
The Pros
Lightweight and portable
Features 2x optical zoom and 2x digital zoom
Has a wide selection of autonomous camera and flight mods
The Cons
Expensive
Lower resolution camera compared to Mavic 2 Pro
Editor's rating: 4.3/5.0
The Inspire 2 is one of the more high-end camera drone offerings from DJI. We'll say it right out of the bat: it's really expensive as far as camera drones go. However, the number of premium features that come with the Inspire 2 make it one of those expensive products that are worth every penny.
Compared to its predecessor, the upgraded Inspire 2 boasts of across-the-board enhancements in terms of flight time, flight performance, flight modes, camera specs, and obstacle avoidance. The build quality is top-notch as it retains the retractable landing gear of the original Inspire. The carbon fiber material keeps the drone lightweight while giving it extra durability.
The Inspire 2 was made to work with DJI's Zenmuse line of cameras and comes bundled with the X5S by default. The Zenmuse X5S is an amazing piece of work, as it can record 5.2K video at 30 fps or 4K at 60 fps. Passionate photographers are sure to get a kick out of the higher resolution videos that the X5S can produce.
Therein lies the biggest issue with the Inspire 2 – the already hefty price tag of the base drone does not include a camera. With the Zenmuse X5S, the Inspire 2 can cost more than four times the price of the Mavic 2 Zoom. This is the reason why the appeal of the Inspire 2 seems limited. We find it very unlikely that anyone outside of professional drone pilots would buy the Inspire 2, and only if they are expecting huge returns on their investment.
Tech Specs
Camera (Zenmuse X5S): 20.8MP, 5.2K video at 60 fps
Flight time: 27 minutes
Weight: 3440 grams (without camera)
The Pros
Excellent build quality
Compatible with the 5.2K Zenmuse X2S camera
Good battery life
High top speed
The Cons
Very expensive
Dated model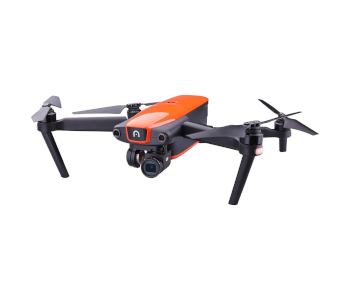 Editor's rating: 4.5/5.0
When the Autel Evo was first announced, it was touted as THE Mavic Pro killer. From its specs, it seemed like it had a fighting chance. It has 3-axis gimbal stabilization and a camera that can capture 12MP stills and 4K video at 60 fps. It had onboard GPS and GLONASS modules, a remote controller with a built-in OLED screen, a higher maximum speed, and a longer flight time.
The fact that it comes with a dedicated controller with an integrated screen works well in favor of the Autel Evo. One of the major complaints when it comes to DJI drones is how unreliable and prone to crashing the DJI GO mobile app is. By not relying on an app on another device, Autel successfully avoids this problem with the Evo.
The Autel Evo does have the benefit of having an ultra-portable design that seems to have been lifted directly from the Mavic Pro. Its array of flight and camera modes also seems suspiciously familiar, especially for DJI drone owners. Perhaps this is Autel showing that they don't need to reinvent the wheel.
Although the Autel Evo looks almost like a clone of the Mavic Pro, there is one thing that Autel can be proud of: their customer service is often credited as being much better than DJI. The Autel Evo is also much cheaper than the Mavic 2 Zoom. The difference in customer service quality and the low price point might be enough for potential drone buyers to make the swing towards Autel.
Tech Specs
Camera: 12MP, 4K video at 60 fps
Flight time: 30 minutes
Weight: 862 grams
The Pros
Remote controller has integrated screen
Ultra-portable design
Superior customer service
Cheap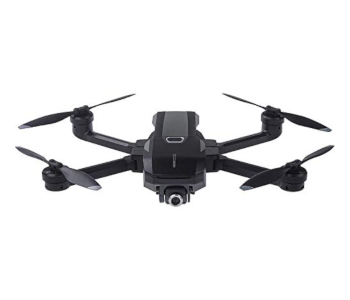 Editor's rating: 4.0/5.0
The Mantis Q is Yuneec's entry into the ultra-portable drone market. Sure enough, it comes with the standard foldable arms that work so well for drone pilots who are always on the move. It's also very cheap – one of the cheapest drones in this entire list. However, does the Yuneec Mantis Q deliver in terms of camera quality?
We're a bit lukewarm on the camera performance of the Mantis Q, and that's mainly because of the lack of mechanical stabilization. It does come with an excellent camera that can record 4K video at 60 fps. However, it relies on electronic stabilization, which, sadly, only works at a maximum resolution of 1080p. In terms of stabilization results, not even the best electronic stabilization technology can rival the performance of a good gimbal.
The Mantis Q does have a few things going for it. It is one of the few drones to feature voice commands. With this technology, you don't even have to touch your controller to get the Mantis Q to take off or to take a photo. It also has an impressive flight time of up to 33 minutes – longer than many other high-end camera drones.
The Mantis Q feels like a camera drone that was on the verge of greatness. However, Yuneec chose to not integrate a gimbal into the Mantis Q, thus keeping its price down. This isn't a bad move, as it appeals to relative beginners and those who don't quite have the budget for an expensive model.
Tech Specs
Camera: 12MP, 4K video at 60 fps
Flight time: 33 minutes
Gimbal: None
Weight: 453 grams
The Pros
Ultra-portable design
Cheap
Voice commands
The Cons
No mechanical stabilization
Editor's rating: 4.4/5.0
The Mavic Air is the little brother of the DJI Mavic line of ultra-portable drones. It's the smallest, lightest, and cheapest of the bunch. It certainly punches above its weight class though, with its gimbal-stabilized 4K camera that can record at 60 fps and can go slow-motion at 1080p and 120 fps.
In terms of flight performance and camera features, the Mavic Air does not deviate much from the original Mavic Pro. It comes with most of the usual camera modes and even has Gesture Controls, which are really fun even if you're probably not going to use them for professional drone photography. Because of its small size, the Mavic Air is very speedy and easy to maneuver. It can get easily blown over by a strong wind, but it can counteract with gyro stabilization and an advanced obstacle avoidance system.
Of course, there's only so much that you can cram into a drone with the size of the Mavic Air. It has a small battery that only allows it a measly 21 minutes of flight time. Its control range is also the smallest of all the Mavic drones at 2.5 miles.
The biggest edge of the Mavic Air, compared to other Mavic drones, is its price. It's the cheapest Mavic drone by a huge margin, although it is still not as cheap as the Autel Evo and the Yuneec Mantis Q. Still, the Mavic Air is a solid buy – a cheap drone that will last you several years.
Tech Specs
Camera: 12MP, 4K video at 60 fps
Flight time: 21 minutes
Weight: 430 grams
The Pros
Ultra-portable design
Cheap
Gimbal stabilization
Comes with an obstacle avoidance system
The Cons
Short flight time
Small control range
Mapping
The mapping industry is uniquely poised to benefit from advances in drone technology. Aside from making the jobs of mapping professionals easier, the use of more advanced sensors and automated systems has the potential of making map data more accurate and repeatable. Here are some of the best drone models that are designed specifically for aerial mapping.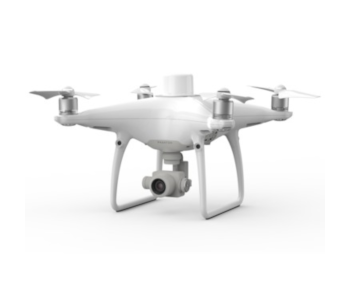 Editor's rating: 4.4/5.0
With the Phantom 4 RTK drone, DJI has come up with a turnkey solution for professional drone mapping needs. While mapping using standard GPS technology is possible by using ground control points (GCPs), having an RTK module ensures a much higher level of accuracy. This is made better by the excellent camera that has been a staple of the Phantom 4 series.
The Phantom 4 RTK comes with a dedicated controller that is pre-loaded with the GS RTK app. This handy app makes it easier to plan surveys by defining the survey area or flight path of the drone. It can also be used for real-time data quality monitoring. By default, the Phantom 4 RTK comes bundled with the D-RTK2 GNSS Mobile Station which acts as a reference point for differential measurements during the survey.
One complaint we have often heard about the Phantom 4 RTK is that it does not shift well to a PPK workflow, contrary to DJI claims. In fact, this deficiency has become so well-known that third-party companies are offering modifications to convert the Phantom 4 RTK's data collection method to PPK. This can be troubling, especially since a pure RTK workflow may not be possible in all types of survey areas.
The Phantom 4 RTK is one of the most user-friendly RTK-enabled drones. Any drone pilot who has ever used a Phantom 4 drone should not struggle with learning how this RTK version works. At more than four times the price of a Phantom 4 Pro, the Phantom 4 RTK is really only meant for large drone mapping services.
Tech Specs
Camera: 20MP, 4K video at 60 fps
Flight time: 30 minutes
Weight: 1391 grams
The Pros
Can deliver centimeter-level accuracy
High-resolution 1-inch CMOS camera
Easy to use GS RTK app
Comes bundled with a mobile station
The Cons
Expensive
Difficult to use with PPK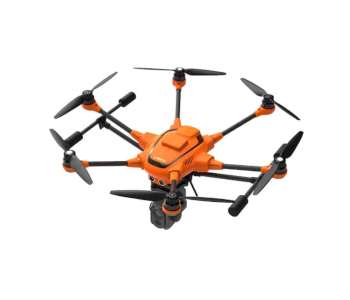 Editor's rating: 4.6/5.0
Yuneec has proven time and again that they are a force to be reckoned with across several drone markets. For the drone mapping category, their flagship product is the Yuneec H520 RTK. It comes with an RTK module that promises centimeter-level accuracy for mapping projects, a Network RTK Base Station, and a redundant GPS-GLONASS module. It comes with the signature hexacopter design for which the Yuneec Typhoon series has been known for.
The H520 RTK offers all-around solutions for mapping professionals. While the RTK workflow relies on the onboard module and the base station maintaining constant communication, the system can support logging of uncorrected position data so that they can be post-processed. Some people might recognize this as the PPK process, a more versatile alternative to RTK.
The H520 platform has even more versatility built into it. It is compatible with a lot of payload options that Yuneec offers, such as the E90 20MP high-speed camera or even the CGOET thermal imaging camera. This is an excellent feature that makes the H520 RTK a great drone for several different commercial drone applications.
Getting the H520 along with all the additional hardware will set you back a little more than $3000 – not cheap, but certainly one of the most affordable turnkey mapping solutions out here.
Tech Specs
Camera: Depends on model
Flight time: 28 minutes
Weight: 1645 grams
The Pros
Can deliver centimeter-level accuracy
Compatible with different payloads
Uses the ST16 Ground Station controller
Comes bundled with an RTK base station
The Cons
Large and heavy
Still quite expensive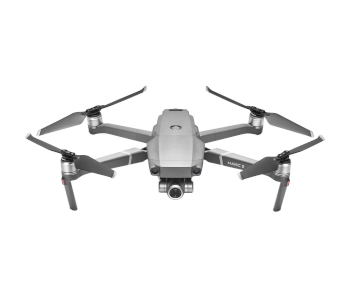 Editor's rating: 4.1/5.0
Not all mapping professionals need the extra 'oomph' of an RTK-aided survey. For photogrammetry professionals who would rather prioritize the level of detail in their maps and can live with a 3 to 5-meter margin of error, then the DJI Mavic 2 Pro is an excellent albeit unconventional choice. While the Mavic 2 Pro is not designed specifically for mapping, it is still compatible with popular mapping software such as DroneDeploy or Pix4D. You can also use DJI's very own GroundStation Pro to plan and execute your mapping surveys.
Mapping with the Mavic 2 Pro gives you the advantage of capturing an incredible level of detail using the onboard Hasselblad camera. This top-of-the-line camera has a 1-inch CMOS sensor, can capture 20MP stills. It has an extra-rich color profile and an extensive ISO range, allowing for accurate color reproduction and high-quality photos even in low light conditions.
One of the major drawbacks of using a non-RTK drone for mapping is that you'll be compelled to set up a few ground control points (GCPs) during your survey. GCPs act like "anchors" to which your map will be adjusted to and can enhance your map's accuracy from 10 meters to about 3 meters. Setting up GCPs can be a very tedious and time-consuming process, not to mention the fact that not all areas in your survey area may be easily accessible.
Although the Mavic 2 Pro is one of the high-end camera drones from DJI, it is a very affordable option as far as mapping drones go. At less than $2000, the Mavic 2 Pro is still cheaper than the most basic RTK-enabled mapping drones.
Tech Specs
Camera: 20 MP, 4K video at 60 fps
Flight time: 31 minutes
Weight: 907 grams
The Pros
Extremely high-resolution camera
Compatible with most survey planning and data processing software
Ultra-portable
Cheap compared to other mapping drones
The Cons
No RTK support
Will need to set up GCPs to enhance survey accuracy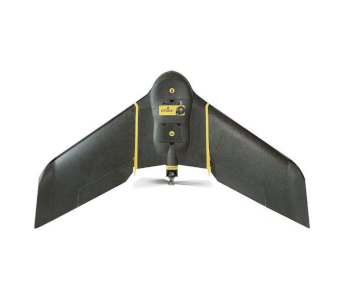 Editor's rating: 4.0/5.0
senseFly is a company that knows all about mapping. One of their most popular products is the eBee X, a fixed-wing drone that can solve just about any of your mapping needs. senseFly offers a huge range of payload options for the eBee x ranging from the SODA 3D mapping camera to the Parrot Sequoia+ for NDVI maps.
A highly dedicated and specialized drone, the eBee X can carry out either RTK or PPK workflows and can achieve centimeter-level accuracy even without GCPs. It is compatible with the several Pix4D mapping platforms for survey planning and data processing.
One of the things that set the eBee X apart from the other mapping drones in this list is its fixed-wing design. Fixed-wing drones are known to be able to fly longer and farther in just a single battery cycle. This means that the eBee X can finish mapping jobs much faster than a fixed-wing counterpart. It features an ultra-robust design and space-grade landing technology, allowing them to work in virtually any setting.
When you get a senseFly drone for mapping, you can rest assured that you are buying your drone from a brand that knows what it's doing. senseFly has specialized in designing industrial mapping drones and have racked up years' worth of expertise. However, the eBee X platform is also very expensive. Along with all the hardware and accessories, the senseFly eBee X can easily set you back more than $15,000. The quality is amazing, but at this price point, we would leave this drone to really successful mapping companies.
Tech Specs
Camera: Depends on model
Flight time: 90 minutes
Weight: 1406 grams
The Pros
Versatile payload options
Long flight time
Faster flight
Ultra-robust design
The Cons
Very expensive
Fixed-wing drone cannot hover in place
Precision agriculture
Precision agriculture is another up and coming application of drone technology that integrates drones' unique mapping capabilities with more advanced sensors to create NDVI maps. These maps can be used by farmers to assess crop health and to come up with area-specific corrective actions.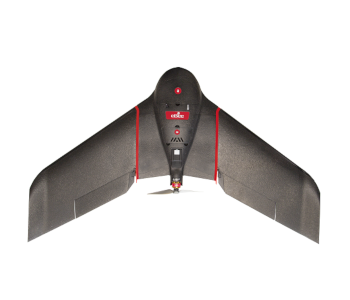 Editor's rating: 4.8/5.0
Another fixed-wing mapping drone from senseFly, the eBee SQ was designed specifically for precision agriculture. It comes pre-installed with the Parrot Sequoia+ sensor, the smallest and lightest multispectral sensor available today. The Sequoia+ comes with four sensors: near-infrared, RGB, red-edge, and red and green. The information collected by each of these sensors can be collected and combined to create different maps, all of which can be valuable in crop health assessment.
Of course, the eBee SQ also benefits from the fixed-wing design that senseFly has been known for. The eBee SQ can fly hundreds of acres in just a single battery cycle, allowing for extremely efficient crop analysis surveys.
Its software and data are compatible with most FMIS and agricultural machinery, making it easier to implement recommendations derived from the data analysis. The eMotion Ag software also has a built-in Flight Manager for easy field-based flight planning and data management.
A benefit of the eBee SQ being a specialized precision agriculture drone is that it's much cheaper than the all-around fixed-wing drone offerings from senseFly. The investment is still quite significant, but the potential savings and increase in crop value will be more than enough to justify the cost.
Tech Specs
Camera: 1.2MP spectral camera and 16MP RGB camera
Flight time: 55 minutes
Weight: 1100 grams
The Pros
Long flight time
Faster flight
Ultra-robust design
Affordable
High-quality multispectral sensor
The Cons
Fixed-wing drone cannot hover in place
Shorter flight time compared to eBee X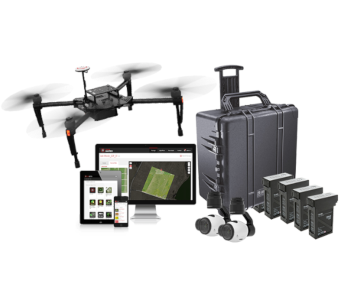 Editor's rating: 4.5/5.0
The Smarter Farming Package from DJI isn't just a single product: it's a set of hardware and software that was put together by both DJI and Precision Hawk for precision agriculture surveys. Everything is built on the fully customizable Matrice 100 frame, which is made of strong and lightweight carbon fiber. With several expansion bays and an onboard SDK, you can even customize your rig as you see fit.
The package comes with all the precision agriculture essentials: a GPS module, a visual sensor, and a multispectral sensor. All the data collected can be processed using the PrecisionHawk Data Mapper software, for which you get a 1-year subscription when you buy the package. Data Mapper also has a mobile app
The Matrice 100 is the perfect platform for DJI's very own precision agriculture solution. With its customization options, it can be loaded with two batteries allowing it to fly up to an impressive 35 minutes. You can also change up the GPS modules for something more accurate, and even the visual sensor for a more high-resolution camera.
The complete DJI Smarter Farming Package will set you back about $8000. There are certainly cheaper options out there, but the appeal of this package is its simplicity and the customizability of the Matrice 100 platform.
Tech Specs
Camera: Separate visual and multispectral sensors
Flight time: 35 minutes
Weight: 3600 grams maximum
The Pros
Lightweight and durable frame
Comes with SDK support
Fully customizable payload
The Cons
Shorter flight time compared to fixed-wing drones
Expensive
Data Mapper subscription is only one year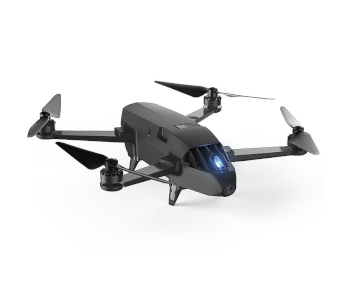 The Parrot Sequoia multispectral sensor has been one of the most popular sensors for precision agriculture surveys, so it would be an injustice if their very own end-to-end solution for precision agriculture. The Bluegrass Fields is a high compact quadcopter that comes equipped with the industry-leading Parrot Sequoia multispectral sensor and a front-facing 14MP RGB camera.
The multispectral sensor works on four different bands: green, red, red-edge, and near-infrared. This data can then be processed using the Pix4D mapping platform. The Pix4D software uses cloud-based data processing to speed up your crop data analysis results even if you don't have sophisticated hardware.
The use of the Pix4D platform also means that the Bluegrass Fields can be seamlessly integrated into your existing workflow. With modules such as Pix4Dfields, corrective actions derived from the data can be implemented into most FMIS and directly into your agricultural machinery.
Being a quadcopter, the flight time of the Bluegrass Fields is quite limited at only 25 minutes. The standard bundle does include two extra batteries, so you can switch out one for another when needed. It also has the dedicated Skycontroller 2, although you'll need a mobile device for real-time data monitoring.
Tech Specs
Camera: 14MP camera and four-band multispectral sensor
Flight time: 25 minutes
Weight: 1810 grams
The Pros
Lightweight and easy to maneuver
Comes with industry-leading Parrot Sequoia sensor
Has a front-facing camera
Cheaper than other agricultural drones
The Cons
Shorter flight time compared to fixed-wing drones
Subscription to Pix4D is limited to one year
Real estate advertising
Technically, drone-based real estate advertising is just an offshoot of drone photography. However, real estate agents can have a different set of preferences. Obviously, camera quality is important for real estate advertising. Other factors, such as flight time and autonomous flight, can also make it much easier to capture nice shots of any property. Lastly, some real estate agents will appreciate a drone that can fly up close or even indoors.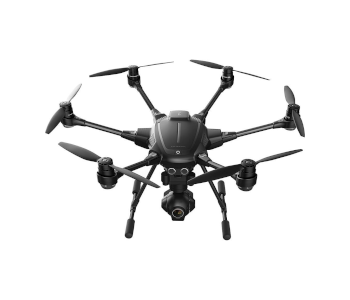 Editor's rating: 4.8/5.0
Leading the pack is the Typhoon H Pro, one of the top-of-the-line offerings from Yuneec. Featuring Yuneec's signature hexacopter design, this drone just oozes power and professionalism. Its landing gear retracts during flight, leaving you free to take photos and videos of your subject at any angle without anything getting in the way.
The 4K UHD camera of the Typhoon H Pro is supported by a 3-axis anti-vibration CGO3+ gimbal which also provides a 360-degree range of motion. The camera has an extra-wide 98-degree field of view and a wide-angle lens. It's simply one of the best cameras out there.
One of the best features of the Typhoon H Pro is the Intel RealSense technology, an obstacle avoidance system that creates a virtual map of its surroundings to help the drone avoid potential obstacles. This pairs up really well with the vast library of autonomous flight features of the Typhoon H Pro, since it makes it possible for you to frame your shots without worrying about your drone crashing into something.
As you can tell, this is a huge drone. It's hard to move around and it's entirely inappropriate for indoor flight. It also needs a huge battery to fly and charging one to full capacity will take up to 8 hours. Those are pretty minor complaints, considering that this professional-grade drone costs less than $1500.
Tech Specs
Camera: 12MP and 4K video at 60 fps
Flight time: 25 minutes
Weight: 5440 grams
The Pros
Stable flight and redundant motors
Comes with Intel RealSense obstacle avoidance technology
Has an excellent camera and gimbal
The Cons
Large and very heavy
Battery takes a long time to recharge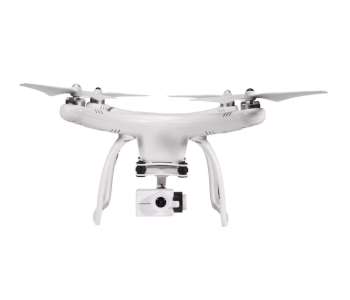 Editor's rating: 4.0/5.0
You don't always have to go to the big brands to find a high-quality drone for real estate photography. Sometimes, something as cheap and as simple as the UPAIR One does the job well enough. This is a great option for aspiring real estate advertisers who have a limited budget and can live with mediocre technical specs.
The UPAIR One has a 2-axis gimbal-stabilized camera that can capture 2.7K video at 30 fps and 12MP stills. While these aren't impressive numbers, the mechanical stabilization and pitch range that the gimbal provides is flexible enough for basic professional needs. Real-time video can be streamed to the 7-inch LCD screen that comes integrated with the drone's dedicated controller.
The mounted GPS module allows the UPAIR One to perform autonomous flight. With programmable flight paths and a Follow Me mode, you can set your drone to fly automatically while you focus on framing your perfect shot. Just be careful when doing this, as the UPAIR One does not come with an obstacle avoidance system.
All things considered, there's no skirting the fact that the biggest advantage of the UPAIR One is its price. At less than $300, the UPAIR One is probably one of the cheapest drones that you can buy and still get professional-grade features. I
Tech Specs
Camera: 12MP and 2.7K video at 30 fps
Flight time: 18 minutes
Weight: 1340 grams
The Pros
Autonomous flight modes
Easy to fly
Remote controller has integrated screen
Cheap
The Cons
Mid-range camera specs
No obstacle avoidance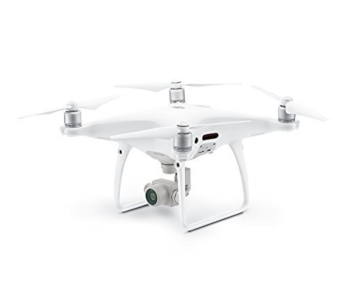 Editor's rating: 4.3/5.0
There's not much that we can say about the Phantom 4 Pro that hasn't been said yet. For a long time, the Phantom 4 Pro was the standard for professional-grade drones. Right now, it's still a strong contender, although its technology can be considered a bit dated.
Even years after its initial release, the Phantom 4 Pro's camera with a 1-inch CMOS sensor is still one of the best in the market. Its ability to record 4K video at 60 fps is complemented by an excellent 3-axis gimbal for mechanical stabilization. The titanium and magnesium alloy construction of the camera and gimbal setup makes it rigid and strong while keeping its weight down.
The Phantom 4 Pro is equipped with a 4-direction obstacle avoidance system and an integrated GPS module that allows for automated flight modes such as Tap Fly and Trace. With a few swipes and presses on your screen, you can command the Phantom 4 Pro to fly to a specified point or along a path, leaving you free to frame your shots.
These features make the Phantom 4 Pro an excellent choice for outdoor real estate shoots. However, it's still a bit too big and unwieldy for indoor flight. The Phantom 4 Pro is also still quite expensive, especially considering that it's already a few years old.
Tech Specs
Camera: 20MP and 4K video at 30 fps
Flight time: 30 minutes
Weight: 1388 grams
The Pros
Exceptional camera and gimbal
Autonomous flight modes
Obstacle avoidance system
The Cons
Not appropriate for indoor flight
Expensive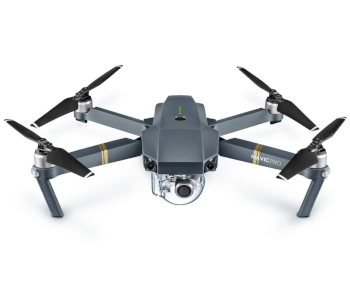 Editor's rating: 4.6/5.0
The original Mavic Pro may have already been succeeded by several upgraded versions, but this ultra-portable drone is still worthy of consideration. After all, its ultra-portable design means that you can maneuver it well when flying indoors. It's also one of the cheapest drones you can get nowadays that has a high-quality camera.
The camera of the Mavic Pro has a 1/2.3-inch CMOS sensor and can capture 12MP stills and 4K video at 60 fps. A 3-axis gimbal provides mechanical stabilization. A real-time video feed can be streamed to your mobile device using the DJI GO app connected to the Mavic Pro's dedicated controller. The controller uses DJI's original OcuSync transmission technology that gives the drone an extra-wide control range and significantly reduces latency.
Aside from its compact build, the dual GPS-GLONASS module makes indoor flight easier with the Mavic Pro. It's not going to be easy as the GPS signal could still drop out, but the redundant module should help with stabilization. With a little practice, you should be able to fly the Mavic Pro indoors and get some butter-smooth interior shots. The Mavic Pro comes with all the usual automatic flight modes, but we don't recommend using those indoors.
The good thing about the Mavic Pro being a bit of an old model is that it's now relatively cheap. Even if you buy a bunch of additional accessories with your Mavic Pro, the whole bundle is still going to come out cheaper than the Yuneec Typhoon H Pro or the Phantom 4 Pro.
Tech Specs
Camera: 12MP and 4K video at 60 fps
Flight time: 27 minutes
Weight: 743 grams
The Pros
Ultra-portable design is fit for indoor flight
Excellent camera and gimbal
Dual GPS-GLONASS module
Cheap
The Cons
Dated model
Controller needs to have a mobile device connected
Structural and utility inspection
Inspection is a very broad category of drone applications. Inspection jobs could be as simple as monitoring the progress of a construction job, documenting a finished building, or looking for damaged sections along powerlines or pipelines. With such a vast realm of possibilities, versatility is considered a premium when it comes to drones for professional inspection.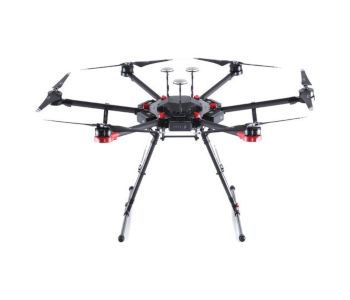 Editor's rating: 4.8/5.0
If we're talking about versatility and sheer power, then the Matrice 600 has to be at the top of this list. One of the few hexacopters to come out of DJI, the Matrice 600 is also one of their biggest drones. Each of the six rotors is powered by an independent battery, giving the Matrice 600 a flight time of up to 35 minutes despite its size and weight.
The body of the Matrice 600 is made of aluminum, and its arms are made of carbon fiber, keeping it durable but with enough "give" to handle rough flight conditions. This drone is huge: about 1.6 meters across. Even without a payload, it already weighs a whopping 10 kilograms.
What really makes the Matrice 600 a versatile is its payload capacity. Powerful enough to carry up to 13.2 pounds of payload, the Matrice 600 can be used for photogrammetry, LiDAR mapping, thermal imaging, or multisensory imaging. If you have the Matrice 600 in your arsenal, you can just mix and match payload equipment to fit the type of drone job you want to do.
For more advanced mapping applications, the Matrice 600 can be enhanced with the D-RTK GNSS system. With an RTK module, the Matrice 600 can achieve centimeter-level locational accuracy. It even works with the DJI Mobile SDK and API SDK so you can program your own custom flight commands.
It comes as no surprise, but the Matrice 600 is one of the most expensive drones from DJI. The base drone without a payload comes up at nearly $5000. Getting a Zenmuse camera for the Matrice 600 will be an additional $1000 to $2500. If you decide to get the RTK upgrade as well as the upgrade to the remote controller, then you are probably looking at something close to $10,000. Still, in terms of versatility and capability, we don't think many options can rival the Matrice 600.
Tech Specs
Camera: Varies
Flight time: 35 minutes
Weight: 10,000 grams (without payload)
The Pros
Versatile payload capacity
SDK compatibility
Redundant rotors
Very durable build
The Cons
Very expensive
Large and heavy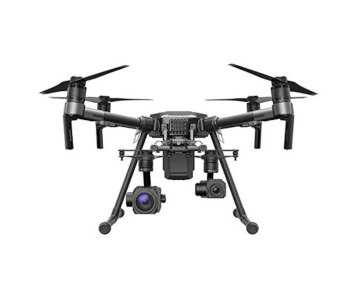 Editor's rating: 4.6/5.0
If you feel that the size and heft of the Matrice 600 are problematic, then the Matrice 200 is a smaller and lighter alternative that offers a similar amount of payload flexibility. The Matrice 200 series offers three options: a Matrice 200 with a downward gimbal, the Matrice 210 with provisions for both downward and upward gimbal, and the Matrice 210 RTK which comes with an RTK module. Naturally, more features come at a higher price.
No matter which Matrice 200 drone you choose, it will always be compatible with the Zenmuse series of cameras. If you need to focus on distant objects, then you can get the Z30 with 30x optical zoom. For thermal imaging surveys, just switch your payload out for the XT2 thermal camera. If you want the best image quality, then the X5S with its 4/3-inch sensor will be the perfect option.
The Matrice 200 also comes with SDK compatibility for custom flight commands. If you are a huge company that employs multiple Matrice 200 drones, then you can use the DJI FlightHub platform for fleet management.
You might expect the Matrice 200 to be cheaper than Matrice 600 because of its size, but there's really almost no price difference. Getting a quotation for the Matrice 200 can be tough because there are a lot of customization and payload options, but you can expect to pay something between $6000 to $10,000 for a complete package.
Tech Specs
Camera: Varies
Flight time: 38 minutes
Weight: 6140 grams (without payload)
The Pros
Versatile payload capacity
SDK compatibility
Fleet management
Smaller and lighter compared to Matrice 600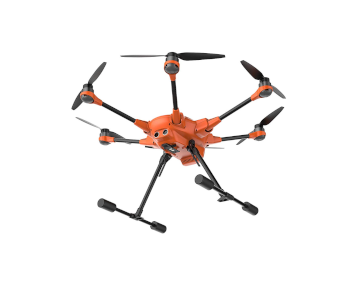 Editor's rating: 4.6/5.0
The H520 is Yuneec' strongest entry into the professional drone market with its hot-swappable provision for payload and a wide range of enterprise-grade cameras. Still sporting the signature hexacopter design of the Yuneec Typhoon line, the H520 was specifically made to work across different industries and applications. The six-rotor design offers unprecedented reliability and stability.
The H520 comes bundled with the ST16S Ground Station, which is the best remote controller of Yuneec so far. It comes with an integrated 7-inch screen that provides real-time video and telemetry data. It also has mission planning functions so you can carry out your flight missions with ease.
The hot-swap capability of the H520 is a great feature that allows for changing payloads without having to power down the drone. Combined with repeatable survey protocols, this allows for data consistency if you have to do different survey types in a single survey area.
Aside from the ease of use factor, the Yuneec H520 is much more affordable compared to the options from DJI. The base drone sells for less than $3000. Even with enterprise-grade cameras, a complete H520 package should not cost more than $6000. This makes the H520 a worthy alternative to the DJI Matrice drones – it's a perfectly capable and adaptable drone, and it comes at a fraction of the price.
Tech Specs
Camera: Varies
Flight time: 25 minutes
Weight: 1633 grams (without payload)
The Pros
Versatile payload capacity
SDK compatibility
Redundant rotors
Comes with an excellent controller
Cheaper than DJI drones
The Cons
Payload choices are limited
Final thoughts
If you are an aspiring commercial drone pilot, the challenge is how to be competitive in a market that is close to getting crowded. One of the best ways is to get the right drone for the job – one that's reliable, versatile and does not hurt your pocket too much. The good news is that there is a staggering number of choices out there.
Just don't forget that after you pick and buy your drone, you'll need to start investing in yourself – specifically on your drone flight skills and knowledge of drone flight rules. After all, a good carpenter does not blame his tools. Having a good drone is only half the battle won.