15 Must-Have Drone Accessories
3D Insider is ad supported and earns money from clicks, commissions from sales, and other ways.
There are several things to think about before buying a drone, especially costlier models. You need to know how dependable the after-sales service is if something goes wrong. Also, consider the cost and availability of spare parts if something needs replacing. Some drone fans like to upgrade their quads with better components. My 15 drone accessories here highlight some of this year's must-have extras.
Accessory Compatibility Matters
A regular newbie mistake is to buy the right accessory for the wrong drone. It's a common shopping blunder but one that's avoidable. Make sure you read the "accessory for" section at the top of each review. The products on this page are from drone makers and third-parties. Compatible accessories help to enhance experiences and make the hobby safer and more enjoyable.
About My 'Drone Accessories' Guide
I've handpicked the 15 drone accessories based on what's hot right now. I looked at their popular usage, feedback from users, and the opinions of experts. The mini-reviews here highlight useful items that add something extra to a pilot's kit. The products are not in any specific order, so feel free to jump to those that interest you. The table below shows the items as they appear on the page.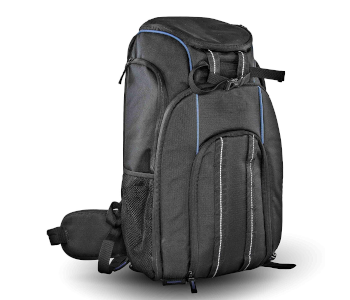 EDITOR'S RATING: 4.8/5.0
Accessory for: DJI Phantom 4, Phantom 4 PRO, Phantom 4 PRO+, Phantom 3 4K, Professional, Advanced, Standard + related accessories, camera equipment, and much more.
SSE Drone Backpack Highlights
This backpack by SSE is a perfect match for DJI Phantom quads (see above) and controllers. It's a lightweight, comfortable bag made of water-resistant nylon. It also has room inside for a full-sized DSLR camera, a couple of lenses, and a tripod if you need it. There's even a pocket for a tablet or laptop up to 17". The interior's adjustable compartments allow flexible ways to arrange your gear.
A Phantom quad can fix to the bag's exterior for quick packing, or inside with the props off. This drone backpack is an affordable and highly practical multipurpose solution for pilots. It's not fully waterproof, but it does come with a rain cover not mentioned in the description.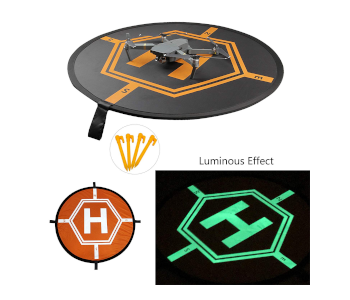 EDITOR'S RATING: 4.7/5.0
Accessory for: DJI Mavic Air, DJI Pro, Platinum, Inspire Pro 3/2/1, Phantom 4 Pro 4/3/2, Matrice Pro, DJI Spark, 3DR, Yuneec Typhoon, Parrot, Holy Stone, and others.
InnoGiz Landing Pad Highlights
There are many benefits for this affordable drone landing pad by InnoGiz. It prevents propeller damage often caused by landing on grass and other drone-destructive surfaces. But this is no ordinary landing pad—it's luminous. So, pilots can land their precious quad safely at night and in poor visibility too. The glowing effect looks pretty cool as well, which is a bonus.
The product's material is high-quality waterproof nylon that's both strong and flexible. It's also light at only 13 ounces, and folds down to fit neatly into its small carrying case. The only negative I found is that the folding and packing away can be frustrating until you get used to it.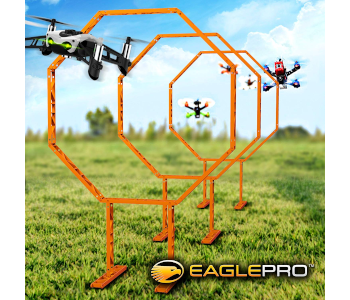 EDITOR'S RATING: 4.3/5.0
Accessory for: All quadcopters 15" wide or less.
Eagle Pro Obstacle Course Highlights
This obstacle course by Eagle Pro is an excellent accessory for drone race training. It's lots of fun and provides multiple ways to configure the course. Setting up is quick and easy, thanks to the simple snap-together parts. Disassembly is just as fast and packs away in no time, which makes it highly portable. And the flexible, crash-safe material doesn't harm your drone if you hit any of the hoops.
It's quite safe to use the obstacle course indoors too if you have space. The one negative is that the material is overly fragile and prone to breakage, hence the lower rating. But it also has to be fragile. That's why it doesn't damage the drone if you hit it. The good news is that the company provides 2 spare arms per hoop, so at least the fun doesn't stop if you break a part.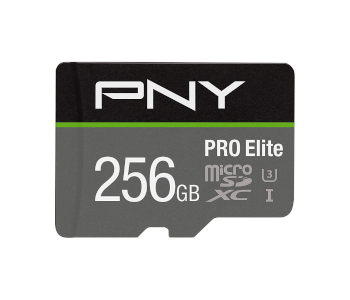 EDITOR'S RATING: 4.5/5.0
Accessory for: All camera drones that accept Class 10/U3 MicroSD cards.
PNY PRO Elite MicroSD Cards
There's no such thing as too much storage space with camera quadcopters. Not all cards are equal, though, not even if they offer the same storage capacity. The PNY PRO Elite 250GB MicroSD card here is a perfect solution for compatible drones. It delivers the read/write speeds aerial photographers demand. The card smoothly captures incredible HD photos and spectacular 4K UHD footage.
Furthermore, this MicroSD card is Class 10/U3 speed rated that guarantees ultra-fast transfer speeds. That means drone pilots get to transfer and share their content almost as it happens.
Quick tech specs:
Read speed of up to 100 MB/s
write speed of up to 90 MB/s
Micro SDXC Backward compatible w/ SDHC devices
Class 10 / U3 rated
Finally, the card includes an SD adapter for use with SDXC devices.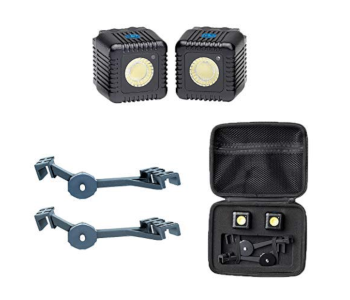 EDITOR'S RATING: 4.6/5.0
Accessory for: DJI Mavic 2 Zoom and Mavic 2 Pro
FAA Compliant Lume Cube Light Highlights
This powerful waterproof Lume Cube light set is for DJI Mavic Zoom and Pro quadcopters. It's a high-quality product that pilots can exploit for commercial or creative use. The ultra-bright lights provide constant illumination from above to below. They also have several strobe lighting speed settings. Another standout feature is the 360° rotation that allows precision illumination in all directions.
Controlling the Lume Cube lights is wireless and works well up to 100ft away. You can control strobe speeds, brightness, and other functions. Creative applications include aerial light painting, lighting subjects, and long-range illumination. Some typical commercial applications are inspections, drone surveillance, security, and anti-collision.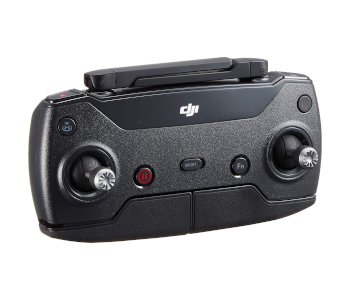 EDITOR'S RATING: 4.8/5.0
Accessory for: Only for use with the DJI Spark camera quadcopter.
DJI Spark Controller Highlights
DJI's Spark doesn't come with a controller unless you buy a combo. It's possible to fly this magnificent little quad with a smartphone, tablet, and hand gestures. So why bother with the controller? The answer is advanced benefits. They include a much better range, faster speeds in Sport mode, and connection to smart devices. The remote controller also has dedicated function buttons.
Consider the DJI Spark remote controller if you want more of everything. The product sells well and ranks high among those who want professional control over the Spark.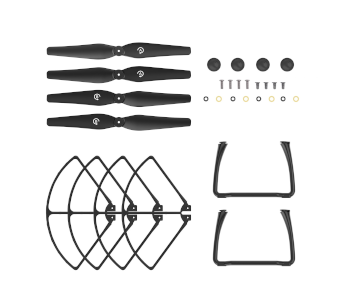 EDITOR'S RATING: 4.8/5.0
Accessory for: Holy Stone HS100 and HS100G quadcopters only.
HS100 / HS100G Quadcopter Spares Highlights
It's wise to keep a few drone spares in case of breakage. This handy kit includes some must-have extras for Holy Stones HS100 and HS100G quadcopters. These are attachment parts, the things that are most vulnerable to damage in a crash. The kit includes 4 black blades, 4 guards, 2 landing gear, 4 blade shims, and 4 fixed rubber parts for the props. There are also 8 screws and 4 caps.
Some complain that the kit is a tad pricey for a bunch of lightweight plastic parts. I agree, but they are all original and essential extras for the kit bag.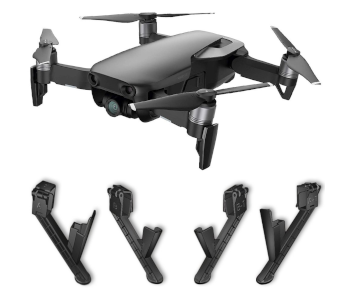 EDITOR'S RATING: 4.9/5.0
Accessory for: DJI Mavic Air camera quadcopter only.
Mavic Air Leg Extensions Highlights
Arzroic designed these legs specifically for the DJI Mavic Air folding 4K camera quad. Having heightened landing gear keeps the camera and gimbal away from dirt, dust, and debris. Many Mavic Air quads have suffered damage when landing directly on uneven and grassy surfaces. These leg extensions help to prevent that from happening. They're an affordable accessory too.
The landing gear works with the original prop guards. You attach them using clasps that don't scratch the arms and keep the equipment firmly in place. The injection molded material is super smooth, ultra-lightweight, age-resistant, and non-toxic. These legs are a no-brainer for Mavic Air pilots.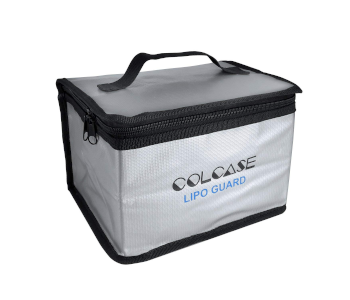 EDITOR'S RATING: 4.1/5.0
Accessory for: Multiple LiPo batteries (15-20 pcs 2200mah 3S)
COLCASE Lipo Safe Bag Highlights
Any drone pilot who uses LiPo batteries should have a safe bag for peace of mind. The COLCASE here is explosion-resistant and fire-resistant. LiPo batteries make bags like these a must-have accessory. It uses a high-quality external Velcro strap at the front and double zipper for added protection.
Warning: This may not be the best battery case. In fact, it has mixed reviews. Please do a lot of research before purchasing a battery bag and look for 3rd party independent testing. Battery cases are not foolproof and you should never charge a battery unattended or leave it fully charged for multiple days. Follow the battery and bag manufacturers' recommendations.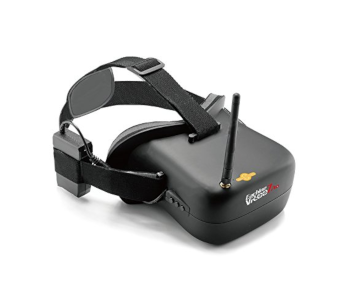 EDITOR'S RATING: 4.4/5.0
Accessory for: Entry-level immersive First Person View (FPV)
EACHINE VR-007 Pro 5.8G 40CH FPV Goggles
Eachine's VR-007 Pro are affordable, lightweight FPV video goggles. They're surprisingly good for the price and offer an excellent introduction to immersive First Person View. Some of the highlights are the 40 channels, adjustable brightness/contrast, and USB charging. They also have a customized eyeglass. That's useful for people with myopia below 400° as they can use the headset without glasses.
I recommend these goggles for anyone who wants to try immersive FPV on a budget. FPV pilots who have experienced higher end goggles will find them subpar, though.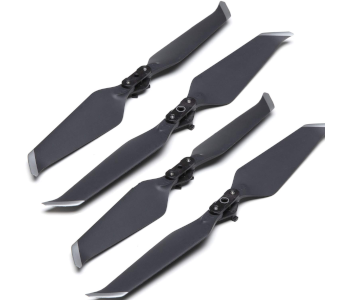 EDITOR'S RATING: 4.9/5.0
Accessory for: Only for Mavic 2 Zoom and Mavic 2 Pro camera quadcopters.
Mavic 2 Low-Noise Props Highlights
The Mavic low-noise propellers are the new generation of precision aerodynamic blades. They are unique in two ways. One, they're slightly quieter than the originals. And two, they extend flight time due to increased efficiency. Drone propellers are the most vulnerable attachments of any quadcopter. You only need one damaged prop to end the fun unless you carry spares.
DJI's Mavic 2 low-noise propellers have a quick-release design that makes swapping a cinch. The only downside is that they seem a tad fragile compared to the originals, especially at the tips. That's something to be mindful of when folding and storing the props.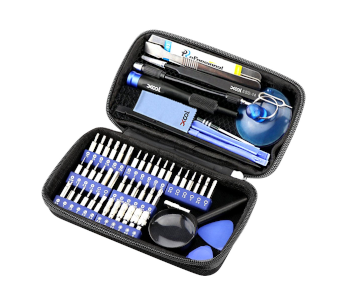 EDITOR'S RATING: 4.6/5.0
Accessory for: Multi-purpose repair kit for drones and electronic devices.
Precision Drone Tool Kit Highlights
Having the right tools to do a job makes repairs and maintenance easier, faster, and safer. The XOOL 58-in-1 Drone Tool Kit is a must-have accessory. It's affordable and has so much packed into a handy box. The magnetic tip makes it ideal for precision work and picking up tiny screws.
You get 42 bits in the following sizes:
Nut drivers: 2.5, 3.0, 3.5, 4.0, 4.5, 5mm
Hex: 0.9, 1.3, 1.5, 2.0, 2.5, 3.0, 3.5, 4.0mm
Pentalobe: 0.8 1.2mm
Torx: T3, T4, T5, T6, T7
Torx security: TR8, TR9, TR10, TR15, TR20
Tri-point: 0.6, 2.0mm
Phillips: PH000, PH00, PH0, PH1, PH2
Triangle: 2.3mm
Flathead sizes: 1.0, 1.5, 2.0, 2.5, 3.5 mm
Spanner: 2.6mm>
SIM eject bit: 1mm
Phillips special size: 1.5mm
This toolkit has wide application, so it comes in handy for jobs other than drone maintenance. It's perfect for servicing iPhones, iPads, game consoles, PCs, and all manner of electronics. You can also use it for those fiddly repairs like wristwatches and eyeglasses, etc.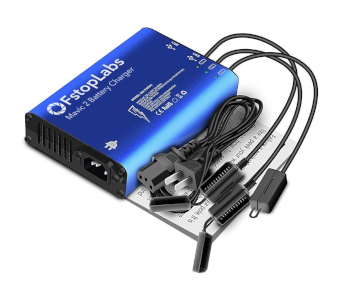 EDITOR'S RATING: 4.7/5.0
Accessory for: Only for Mavic 2 Zoom and the Mavic 2 Pro camera quads.
Fstop Labs Charger & Accessories Highlights
This charger and accessory kit can charge three batteries simultaneously and two USB devices. It's fast too, taking only 60 minutes to recharge three batteries at once. Another welcome feature is the charger's global 120v/220v compatibility. It has three power rails, intelligent charge control, and a built-in power switch. The smart temperature control speeds the fan up as temperature rises.
The charger's outer shell is anodized aluminum alloy. It's the ideal material for protecting the inner circuitry. The unit is also fire-resistant. Fstop Labs has other multi-charging hubs for DJI drones. They include Mavic Pro Platinum, Mavic Air, DJI Spark, Phantom 4, and DJI Tello.
Warning; In general, it's often safer to stick with the official drone manufacturer's charger. 3rd party chargers may not have been tested as thoroughly. Either way, look for independent testing to verify safety and always follow safety practices such as using a high-quality lipo bag, never overcharging batteries, and never storing them at full charge for multiple days.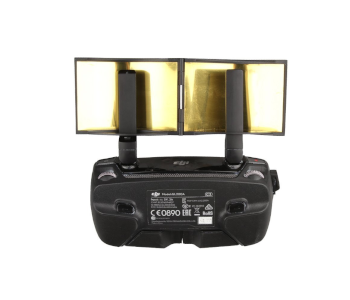 EDITOR'S RATING: 4.8/5.0
Accessory for: DJI Mavic Air, DJI Spark, Mavic Pro, Mavic 2 Zoom/Pro, remote controller.
Range Extender/Booster Highlights
The RCGEEK Drone Range Extender Signal Booster is compatible with multiple DJI remotes. It has a foldable design and is easy to carry. Setting up is quick and requires no tools or tweaking. The device material is copper to prevent corrosion and boost the reflective area. It works by increasing the signal transmission range. That, in turn, improves WiFi video performance and remote control function.
The one negative is that you must aim the antenna booster directly at the drone for best effect.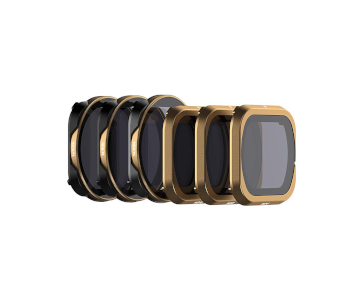 EDITOR'S RATING: 4.7/5.0
Accessory for: Only for DJI Mavic 2 Pro camera quadcopter.
PolarPro ND/PL Filter Set Highlights
You are a serious aerial drone photographer/videographer if you own a DJI Mavic 2 Pro. This 6-pack neutral density (ND) polarizer (PL) filter set is an asset to professional users. Each piece features anti-reflection, anti-water, and anti-oil properties. The filters have multi-layer glass coatings, i.e., optical ND, hydrophobic, and scratch resistance.
The set includes ND4, ND4/PL, ND8, ND8/PL, ND16, and ND16/PL filters. The premium magnetic case provides safe storage and protects the filters during transit.