6 Best Drone Backpacks of 2019
3D Insider is ad supported and earns money from clicks and other ways.
Drones can prove to be a sensitive and rather bulky piece of equipment. After all, not all drone models are compact or foldable that they can fit into a side pouch of a regular backpack. If you are going to spend a few hundred or a few thousand dollars on a decent drone, then you will probably want to protect your investment from getting lost or damaged.
Storing the drone properly is key to protecting it. There are backpacks available in the market which are designed specifically to carry drones. You cannot carry your drone in your hands at every place you go to. In fact, drone backpacks will make it easy for you to move around as your hands will then be free to do other things.
There are plenty of different manufacturers offering various types of drone backpacks. With so many options at your disposal, filtering out the ones you need from the rest of the product lineup is important.
Your choice of a drone backpack has to take into account the size and weight of your drone, the environment and weather conditions of your travel destination, and many other factors. Let us explore the parameters that you should consider as you shortlist the best drone backpacks for your case.
Size
The first thing to look at when researching drone backpacks is the capacity of the backpack. After you find out the exact dimensions of your drone (in the folded form if it is foldable), find out if the backpack is big enough to fit your drone body.
Different drones have different sized cameras and lenses. So, the best idea is to look for backpacks which are designed specifically for your drone model. If you own a DJI drone, then it is highly likely that the backpack manufacturer will have some kind of information about which DJI drones their backpack is compatible with.
Besides the actual drone body, one also has to think about storing propellers, stands, and any other core components of the drone.
Compartments for accessories
Simply carrying the drone body is not enough. The drone has plenty of other accessories like battery packs, charging dock, remote controllers, memory cards, cables, etc. If you are going to buy a backpack dedicated to all your drone needs, then that backpack needs to fit everything related to your drone.
You might need those accessories urgently during a flight session and you might not have the time to drive back to your home or hotel to grab those accessories. Hence, everything needs to be stored in one convenient place.
You would ideally want a backpack where you can change the configuration of the various compartments. That way, you can adjust the inside of the drone backpack according to the changing shapes or additional accessories of your drone as you become more experienced at flying them.
Weather resistance
While the drone body may be water-resistant, the same cannot be said about the drone accessories and the remote controller. Regardless of whether you plan to travel to a rainy destination, it is always a good idea to get a water-resistant backpack.
You might be able to find backpacks which are either completely water resistant or which may have certain compartments which are water-resistant. It will definitely look prudent on your part if you can get some kind of weather-resistance in your backpack.
The type of trip
You will have to think about the type of trip that you are about to take with your drone. If it is a short drive from home on the outskirts of the city, then the backpack needed may be very different from a trip on the other side of the world amidst nature.
Depending on how long your trip is, how far away from home it is, and in what weather conditions it is, you will have to select an appropriate backpack. Shorter trips closer to home might allow you to get away with a smaller or simpler backpack. However, comprehensive trips that are long and way from human civilization will demand a bigger and better backpack.
Repair work with your backpack
The question about bringing your repair kit with you or packing up for the day if the drone breaks down is a philosophical one. Every person will have a different answer as every person's preference for repairing on-site vs coming back the next day will be different.
If you are the type of person that believes in getting the filming done on the same day no matter what, then it may be a good idea to consider a backpack which has extra room for your repair tools. You might find it useful to lug the additional weight of those tools for the convenience of field repair.
If you like performing repairs immediately, then you also need to consider the design of the backpack which can provide you with a flat repairing surface and compartments or pouches in which you can store small screws and nuts without losing them. A strong case which is sturdy enough can turn a carrying case into a small repair table.
The build quality
If you have spent big on your drone, then you will obviously want a high-quality backpack or case to protect that drone. Hence, it is important to check the material with which the drone backpack is made.
You also need to think about the kind of straps that the backpack has and their strength and durability. You do not want the straps tearing out or coming off when you are in the middle of a hike. User reviews should give you a pretty good idea of the quality of backpack.
Now that we have a clear basis of how to shortlist drone backpacks and what features to look for, let us look at some of the best drone backpacks available in the market: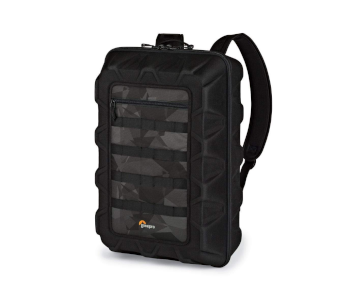 Perhaps one of the most popular backpacks, the Lowepro DroneGuard CS 400 is ideal for a DJI Phantom drones (series 1 through 4 Advanced) or any other such mid-sized drones.
The first advantage of the Lowepro DroneGuard CS 400 is its material. The outside cover is made using Shell technology, which ensures that a sturdy composite structure protects the equipment inside the backpack. The Shell technology also means that the cover is lightweight and no unnecessary weight gets added.
The second advantage is the compartments. The backpack is specifically designed for drones and the shape and size of the compartments ensures that the drone body and all its accessories are easily stored. In fact, you can look at the compartments and tell that it is made for fitting in a quadcopter. The back pad also has specially designed straps which can hold an extra set of propellers in place.
The third feature is the way the outer straps are made. It allows the user to carry the backpack as a case, sling it around one shoulder, or wear it like a conventional backpack. Repair work for the drone can also be done on the reasonably hard outer cover.
You can pick one of these versatile backpacks up for less than $50.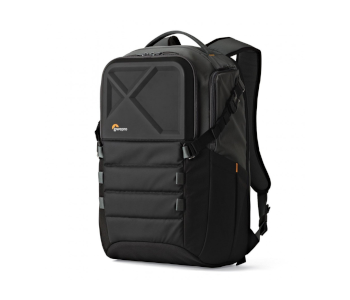 If you are into flying FPV racing drones, then LowePro's QuadGuard BP X2 is what you want. This backpack is designed especially for racing drones. It can actually fit two quadcopters. The internal design is such that one can customize the way equipment is stored.
There are multi-level dividers which separate one piece of equipment from the other. A removable toolbox allows users to conveniently repair their drones in the field. Racing drones frequently require maintenance and the QuadGuard backpack is made with that requirement in mind.
The LowePro QuadGuard BP X2 has a FormShell armored outer cover. Its rugged build quality protects the drone equipment from water, snow, sand, and dust. Compartments on the outside allow storage of sunglasses and smartphones.
The compartments are built in such a way that all pieces of equipment can be secured properly. The remote controller has a dedicated padded compartment which is designed to keep the control sticks in the neutral position.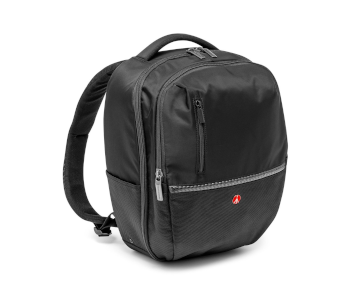 If you do not want to spend big and are simply looking for a medium-sized backpack for your compact drone, then Manfrotto has a great solution. The Advanced Gear backpack can easily hold a portable compact drone along with some accessories.
The Manfrotto Advanced Gear backpack has various compartments in which you can keep the drone, some lenses, battery packs, remote controllers, and much more. It has side straps as well which can hold a tripod.
The entire backpack size is quite small. The material from which it is made is water-repellent nylon. At a price of $59.99, this backpack is quite economical for the budget-conscious consumer.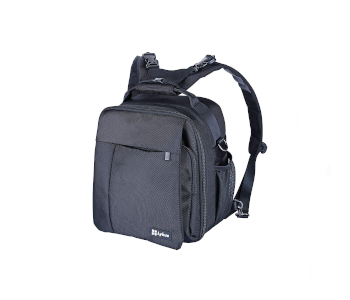 If you own a Mavic Pro or a Mavic 2, then the Lykus M1 is what you should be looking at. Its build quality is excellent and made with hard EVA material. You can literally place a whole can of water and still be confident that nothing will happen to the drone equipment inside.
The compartments are mainly made up of t-shaped dividers and have abundant fastening straps. The dividers not only organize the space inside, but also provide strength to the overall backpack in case some heavy material is kept on top of the backpack when it is closed.
The spacing inside is enough to keep the Mavic drone body along with all of its supporting accessories. There are additional pockets for you to keep a phone, an iPad, and other material.
On the outside, there are a variety of straps which allow you to wear the backpack on the shoulder or sling it on one shoulder. You also have a strap which can go around your airport-bound luggage's handle.
The Lykus M1 is water-resistant and can go to areas with rainfall. You can purchase this strong and useful backpack for less than $60.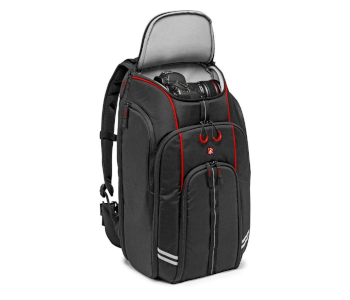 If you are looking for quality and do not mind paying for that superior quality then have a look at the Manfrotto MB BP-D1 backpack. It costs over $140. The Manfrotto brand is a well-known one in the drone and camera industry. DJI's website tends to also sell Manfrotto backpacks as DJI seems to approve of the brand and its quality.
The compartments of the Manfrotto MB BP-D1 are designed quite well. One can easily store the drone body in one molded compartment and a DSLR camera on the top compartment. The top compartment can be easily accessed without opening the main backpack zip.
Of course, for those users who carry only a drone, the top compartment can be used to store the remote controller. There are plenty of other compartments to store supporting drone equipment and accessories as well.
The unique quality of the Manfrotto MB BP-D1 is the fact that you can secure the quadcopter with mounted propellers from the outside, without ever opening the main zip of the backpack. Easy storage and quick removal are what this backpack offers. The tripod can also be secured externally.
The backpack is water-resistant thanks to a special coating which is applied to the outer fabric of the backpack. Most Phantom drones are going to fit in perfectly with this backpack.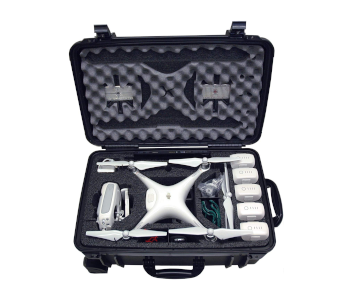 If you want to spend serious money on a superior drone case, then the Case Club Waterproof Case is worth checking out. It costs almost $180, more than any other backpack or case that we reviewed for this guide.
The Case Club drone carrying case is hard on the outside and soft on the inside. The outer surface is as rugged as you can get with a drone case. On the inside, foam is cut specially to accommodate the quadcopter and the propellers. In fact, the shape of the cut out foam is such that the propellers do not bend. The foam is military-grade and can be cleaned by wiping it.
Case Club also sticks in a couple of silica gel canisters to keep out the moisture. There are enough compartments to store supporting equipment like a remote controller, battery packs, cables, chargers, and other stuff that goes with the drone.
This Case Club drone case is made in the USA and is waterproof. The solid outer cover means you can perform repair work on it. Best of all, the drone case is airline approved for checked luggage. Phantom drone users simply love these Case Club Waterproof Wheeled Cases.
Conclusion
We hope that this guide gives you some guidance on selecting the best drone backpack or case for your purposes. We believe that after going through the information above, you will have a good idea of what features to look for in a drone backpack and how to compare multiple backpacks. Happy flying!