Best Drone Cases and Backpacks
3D Insider is ad supported and earns money from clicks, commissions from sales, and other ways.
Drones are expensive investments that need utmost care in handling. As you continue to build up the amount of accessories and gear that you use with your bird, you will definitely need to keep upgrading your drone bag for transporting them. Most veteran drone pilots will tell you it is inevitable to buy more and more gear to enhance your flying experience. They will also tell you that with more equipment comes the need for high quality backpacks, bags, and cases for your drone and all your gear.
Below are the best drone bags from the most respected brands. With these options you can have peace of mind whenever you are on the go with your drone. They have been developed from high quality materials, have great space for the drone and accessories, and provide the best protection to your drone in all circumstances.
Backpacks
1) Manfrotto Backpacks
Our Choice: Manfrotto MB BP-D1 Backpack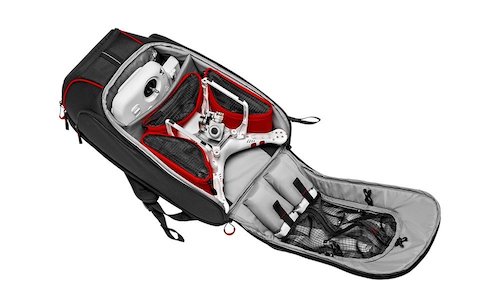 This backpack is made to fit the DJI Phantom series of drones. It meets all the needs of an avid drone pilot and can be used in all terrains and modes of travel.
Best Aspects of the Pack
Size and configuration
This pack has dimensions of 22.05 x 13.39 x 9.06 inches which allow it to accommodate all the DJI Phantom series of drones with ease. The interior has been very well compartmentalized and will keep your items very organized. The pack is configured to provide a snug fit to your equipment so that it remains secure no matter the amount of jostling you experience. It even allows you to store your bird with the gimbal on.
Design
It has a top compartment that allows you to safely store your DSLR camera. It is padded and also has adequate room for the lenses as well as the filters that you may need. It is designed with a designated sleeve for a tablet or laptop and it allows you to fit the two batteries in the outer pockets. The exterior of the pack is minimalist so you do not have the luxury of extra storage in the form of MOLLE. However, there is a hook to enable you to secure your tripod onto it. The pack's design does not make it obvious that it is a drone backpack.
Comfort
It is very comfortable to carry because it is made with a dual carrying option, as a backpack or a hand held bag. It performs well for people in high octane situations like looking for the best shot in remote areas. Once filled with your drone and additional gear, it remains structurally sound enabling you to carry your load without compromising your gait.

The Drones to Use with This Backpack
It can accommodate all the DJI Phantom series of drones.
2) Lowepro Drone Backpacks
The Lowepro brand of specialized backpacks has been in existence for the last 50 years. From creating high end camera bags to exceptional drone bags, there is nothing Lowepro has not thought of when it comes safeguarding your bird.
Our Choice: Lowepro Droneguard BP 450 AW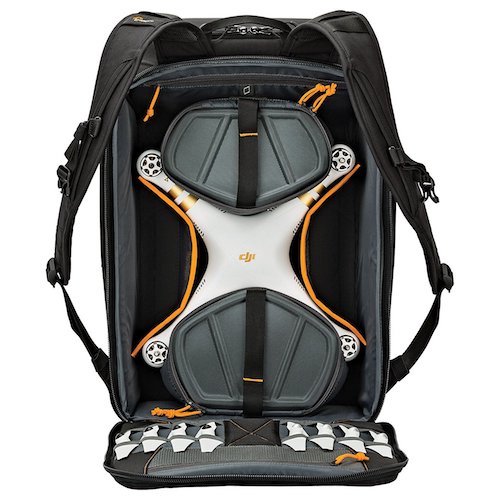 This pack is spacious and has the dimensions to hold the larger birds like the 3DR Solo and Phantoms. It takes quite a number of accessories making it an ideal pack for long treks and constant travel.
Best Aspects of the Pack
Construction
This backpack features a solid exterior that is made from FormShell. It is clean cut with no areas that can snag onto branches when you are out on the trail. The pack can take the rigors of outdoor life and still maintain a decent well-used look instead of deteriorating. The zippers are sturdy and the pack maintains structural integrity whether it is loaded or empty. The compartments on the bag have been created with protective measures in mind from the CradleFit compartment for your tablet, to the top pocket that is also shielded by a rigid FormShell lid.
Size and configuration
With dimensions of 1 x 22.1 x 10.2 inches this is a pack that provides a place for all your accessories plus the bird with utmost ease. You can easily fit everything inside like a 10 inch tablet, propellers, batteries and everyday necessities like sunglasses, keys, and flashlights. It almost guarantees you space for everything that you may want to carry with you.
Design
The detail incorporated into this pack makes it a perfect partner for commercial users who need a functional, practical, and modern pack. The suspension system provides you with impeccable support courtesy of the sturdy and well padded straps that are contoured to fit your shoulder, sternum, and hips. This ensures that you can carry it for long distances without straining your back. The interior is very well organized with everything having a slot. You can customize the interior to fit the drone that you are carrying. While it has no MOLLE for additional external storage it does have enough compartments to keep everything stored away within.
Comfort
We like the comfort on this pack as the ActivZone suspension system provides great ventilation that facilitates wicking while you are out on the trail. Although it is a bulky bag, it is also lightweight for its size making it perfect for the trail.

The Drones to Use with This Backpack
It can accommodate big consumer drones like the DJI Phantom series of drones as well as the Parrot Bebop 2.
3) SSE Drone Backpacks
The SSE brand provides the droning market with exceptional versatile bags for their drones. They focus on durability, functionality, and giving consumers the best bang for their buck.
Our Choice: SSE Backpack for Phantom Drones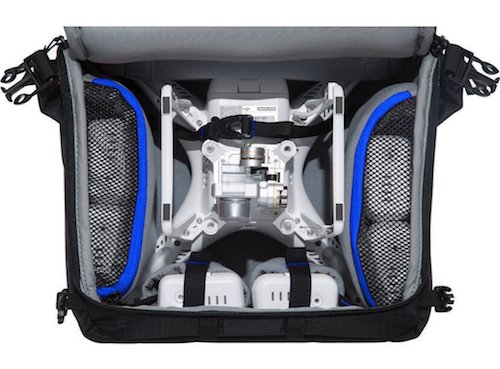 This backpack is considered a universal drone pack, although it caters to the Phantom series of drone best. It allows you to ferry your bird around in a discrete manner because it draws no special attention to itself.
Best Aspects of the Pack
Construction
The pack has a nice looking finish so you do not expect to find a drone inside. It is made to fit the form of the DJI Phantom drones even with their various nuances, which admittedly do not deviate too much from each other. Depending on the drone you are working with, you will find the interior roomy enough to take it and its specific equipment. You will appreciate the option of being able to carry the pack as a backpack or as a shoulder bag when you are on the trail.
It takes impact very well without getting dented or allowing the impact to affect the interior. This is because of the shock absorption ability of the exterior. The additional tripod cup that comes with the pack is perfect for carrying your tripod on the outside of the pack without having it banging all over the place.
Size and configuration
With dimensions of 16.4 x 12.6 x 7.9 inches you are assured of enough room inside the pack to accommodate your drone and keep everything else nicely entrenched without any bending or breaking occurring. The interior has been configured to take a DJI Phantom quadcopter, 6 DJI phantom smart batteries, a smart charger, a remote controller, and a 15" tablet or laptop. The configuration of the pockets and other storage compartments is precise allowing it to take the different sized batteries, remote controllers, chargers, and charging hubs among other things. The top pouch can easily accommodate your DSLR camera and its accessories including sensitive items like microphones.
Protection
Most backpacks will have a harder outer shell to help with impact resistance. However, the SSE drone backpack is made from fabric yet it features a good amount of shock resistance when it suffers any type of impact. The fabric is also hardy and remains intact when subjected to rough terrains not succumbing to tears or infiltration of water or dust.
Apart from protecting your bird it also protects your back from strain when you have it on. It can hold a lot of equipment which could have been detrimental to your back and shoulder if it was not fitted with well padded straps that are wide and sturdy. The suspension system is so impeccable that you can use the pack every day without seeing a shift in the structural integrity of the pack and the straps.

The Drones to Use with This Backpack
It was created with the DJI Phantom series of drones in mind but it can also accommodate other drones like the MJR Bugs 2.
4) The Bangcool Drone Backpacks
Bangcool is a popular brand with offerings for all types of drones because they incorporate customization into their packs to make them versatile. The brand has manufactured both consumer and FPV racing drones, so it has plenty of experience in the drone space.
Our Choice: The Bangcool Waterproof Drone Backpack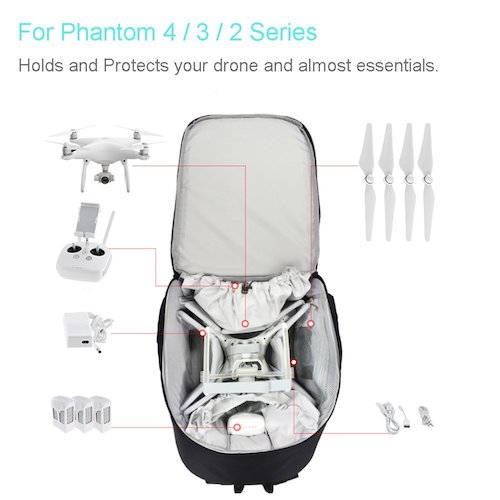 This pack is a functional and high performance pack, just what drone owners have come to expect from Bangcool. The brand scores highly on providing very durable, versatile, and comfortable packs.
Best Aspects of the Pack
Size and configuration
As always Bangcool has invested greatly in the configurability of their pack. The pack is lightweight but that does not take away from its functional and spacious form which comes in dimensions of 20.4 x 14 x 7.6 inches. The outer part is made from waterproof nylon material which is tear resistant and difficult to penetrate allowing it to keep your bird safe at all times.
The sizing has taken into consideration every age demographic and fits even smaller bodied users without overwhelming their small frames. The edges are rounded making it easy to fit in most spaces comfortably. The interior of the pack is easy to configure to your preferred drone (except the Phantom 2) because it is easily customizable. It can handle big drones without being too bulky.
Organization
This is the ideal pack if you are looking at a medium bulk pack. The organization inside the pack is very well thought out. It is well compartmentalized but still allows you to customize it if you feel the default configuration does not work for you. The malleable velcro fabric that is fitted in the interior will ensure that if your drone has had any enhancements on the original design you can still fit it inside.
Design
It is a simple looking pack that stays discrete. The design is clean and neat giving the exterior a plain look. Access to the interior of the pack is from the side nearest to your back which can be awkward for some people, but for others it works great enabling them to access their bird faster. The flexible dividers in the interior mean that you have a myriad of fitting options at your disposal with this pack. It is the ideal pack for someone with a number of different drones that are each used consistently.
Comfort
Because it is lightly padded it does not need an intricately designed suspension system. The padding on the pack is very well done making it a comfortable carry for a long trek. By making it so light weight and slim compared to similar offerings Bangcool has made this the go to pack for every age demographic.

The Drones to Use with This Backpack
It can accommodate the Phantom drones with the exception of phantom 2 as well as other different sized drones like the Parrot Bebop and the Autel X-Star Premium.
5) PowerExtra Drone Backpacks
This brand is a producer of drone backpacks that have worked very well over the years for avid drone pilots. When you think of a sturdy and high functioning packs PowerExtra should be foremost on your list.
Powerextra Waterproof Hard Case Carry Backpack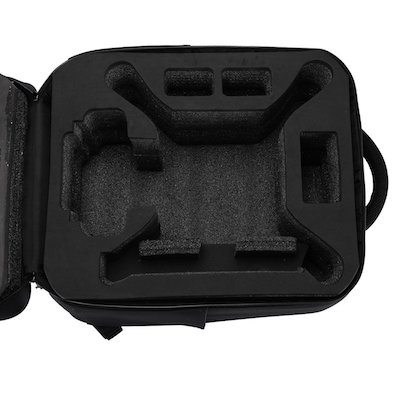 Smart and well designed are just a few of the descriptive words that fit this pack. It functions impeccably and has years of service in it because of the caliber of materials used in its construction and the design.
Best Aspects of the Pack
Construction
This pack has one of the best exteriors in the market when it comes to drone packs. It is a hardcase shell with double EVA protection. This guarantees complete safety for your bird and any of the accessories that you have within the pack. Being waterproof the case will allows you to enjoy pack in all weather situations.
The interior is fitted with high density foam that remains unmovable once the drone or accessories are within. The slots are precisely cut out and the foam provides enough depth for proper embedding of the bird. The interior is fitted with an elastic strap that secures the bird in place. The confidence in this product is so high that it comes with a 30 day money back guarantee and a year's seller guarantee as well.
Capacity
The pack is big enough without being too bulky. Considering the fact that it swallows the Phantom series of drones, it stands at a mere 18.1 x 12.6 x 10.2 inches which seems small but is actually adequate. It can hold your Phantom drone, controller, batteries, charger, and propellers among other items. Even with all these items inside you can still take it on board as carry on luggage and it will fit in the overhead compartment.
Design
Minimalist is the best way to describe this pack. The design is clean and neat giving the exterior a neat look. It is clearly designed to meet the rigors of the outdoors. It is snag-proof and the hard shell case is sleek and waterproof. Although it looks bulky due to its box like exterior, it is quite lightweight and easy to carry. The edges have been softened somewhat to keep water from pooling on the exterior of the pack while the interior is foam fitted with precise cut outs for each of your accessories.
This is a stylish pack that will gel well with your daily activities and even take on a rugged look after consistent use that adds character to your look. Everything goes inside including propellers, so you do not have any hanging items to contend with on the outside when you are out and about. It will fit in small spaces that may otherwise be a challenge for you.
Comfort
It is a light pack which has adequate padding to keep you comfortable on the trail. Because it is ideal for high octane activities, you are not saddled with a hefty suspension system that holds you back from moving. It stays on the back without moving around making it a breeze to carry and easy to maneuver with on tricky terrain.

The Drones to Use with This Backpack
It can accommodate the DJI Phantom series of drones.
6) Think Tank Drone Backpacks
Think Tank has taken the needs and wishes of photographers and drone pilots in the field and actualized them by creating phenomenal packs. They have thought of everything from innovative storage to a lifetime of service with their packs.
Our Choice: Think Tank Airport Helipak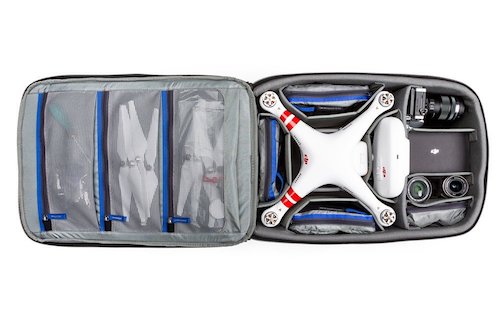 Best Aspects of the Pack
Construction
From the Helipak series of Think Tank backpacks comes the Airport Helipak. The exterior is left clean and without pockets or compartments on purpose. It is big so everything that you need to carry can fit inside the pack without being compromised. It is compartmentalized and organized ensuring that each piece fits precisely in its slot and remains embedded until you remove it. It does a stellar job of protecting the drone and the accessories owing to the sturdy material fitted on the exterior of the bag and the padding that protects the entire pack.
The pack is firm and would not suffer damage from soft impacts. It holds up quite well in the outdoors. It is not delicate, but it may not be the best idea to check it in during flights. It fits perfectly in the overhead compartment even with its girth.
Size and configuration
The inside has been fitted with re-arrangeable dividers that allow you to customize the large interior. With dimensions of 9 x 14 x 20.5 inches you can tell this is not a small bag but it is not overwhelming either. It fits well on all frames, although petite customers may find it draws undue attention to them.
Since it carries larger birds, the option to change the interior to suit your needs translates to being able to fit in more equipment than you would have with the default configuration.
Capacity
It can easily take up to six extra batteries, chargers, 4-5 sets of extra propellers, cameras and lenses, and a laptop or tablet. You can easily fit your laptop or tablet in the top compartment and your propellers on the Phantom thread covers that are fitted on the pack. A lot of thought has been put into the interior of the pack and how to make it possible to pack all your gear inside. They opted to allocate additional small pouches and pockets outside to increase storage capacity.
Design
This is another minimalist design that works well on the trail. The ultra clean exterior ensures that you never have to worry about your pack when out in the brush. Despite its almost plain looking exterior, it is perfect for everyday use. Although it cannot lay claim to be the most stylish pack, aesthetics have taken a back seat to functionality and practicality.
The zippers are very well placed. Each leads to a specific compartment, unlike other packs that have zippers hanging everywhere without a particular function.
Comfort
It has well padded straps which absorb the weight of the back impeccably. The shoulder straps are adjustable ensuring that anyone using it will have more than enough room to maneuver the bag on and off. It sits properly on the back owing to its structural integrity, which it does not lose even after consistent everyday use. Overall the suspension system has been given due attention considering that the pack is built with a high carrying capacity.

The Drones to Use with This Backpack
It can accommodate the DJI Phantom series of drones, as well as the 3DR Solo.
THE BEST DRONE CASES
1) Go Professional Cases for Drones
Go Professional has created a name for themselves because of the quality of materials they use and the precision of their cases. Think tactical, custom fit, and lifetime guarantees when you you see a case from the Go Professional brand.
Our choice: The Go Professional DJI Inspire Landing Mode Case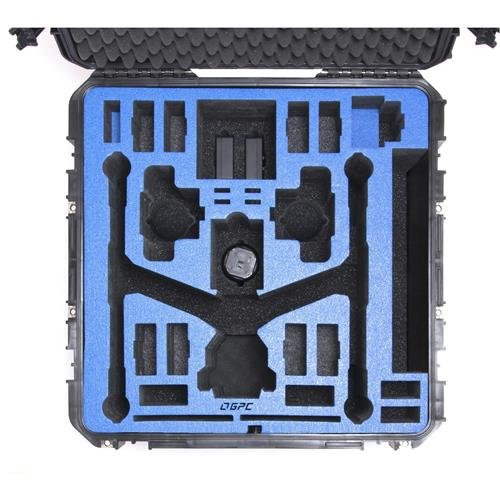 Best Aspects of the Pack
Size and configuration
Cases have become a favorite mode of transporting drones especially for professional drone pilots who have a lot of technical gear for their work. In such instances, the set up process can be long and time consuming so having your drone ready to fly right out of the case is ideal. With this case you can pack your bird in landing mode with the gimbal and lenses on without compromising its safety or losing any components.
The inside of the case is configured to take the drone straight from flight without dismantling it. The embedding is impeccable ensuring the drone does not bang around inside the case. Standing at 31.6 x 15.8 x 20.5 inches, it is not a small case so expect some heavy lifting once it has been filled. The interior has been customized for DJI Inspire drones with very specific cut outs for everything,
Construction
The case is made from military grade SKB material, which is durable and sturdy. It offers utmost protection to the interior of the case ensuring that no water or dust enters and compromises the drone or accessories. The build of the case in terms of locking mechanisms, quality of the materials used, and the size makes it ideal for constant travel and rugged terrain. It is fitted with strong wheels for ease of movement, which is good because this can be a heavy case. This is a bit of a downside for people who work alone as you have to find a way to move around with it.
It can hold the DJI Inspire and still leave a lot of room for additional equipment. It has been compartmentalized so everything has a designated slot, making packing it an easy affair. It can look intimidating especially when packed, but it is easy to pop open and unload.
Capacity
It will take the DJI Inspire, six batteries, at least 2 tablets or laptops, 2 remote controllers, and even a camera. The foam has been nicely excavated so that embedding the drone and its accessories is very easy. There are 4 cavities for additional accessories.
The foam is closed cell which doesn't shift very easily so the spacious capacity inside can become quickly compact when it is fully packed. The foam doesn't compromise on the safety in any way.
Design
This case is built to be indestructible. It has quite neat look with ridges appearing only on the edges of the case. The handles may appear overwhelmed by the case but they work incredibly efficiently in hauling the weight they have to bear. The depth is perfect so the drone and accessories are just near enough to the surface of the case to prevent too much space that can allow dislodging.
This is not a style piece. It's more of a functional partner for your drone. Having said that, the blue surface on the foam inside the case does take away the dreariness of the case to give it some life once opened.
Performance
The case will work well in all terrains having been made dust proof, water resistant, and impact proof. You can expect a long service life from this pack seeing that the exterior is made from high end SKB military material. In fact, the case comes with a lifetime replacement guarantee. It would be really hard to break or damage this case. It has been customized to fit the DJI Inspire 1 and 2 so these birds settle in their slots perfectly.

The Drones to Use with This Backpack
It can accommodate the DJI Inspire 1 and 2.
2) The Case Club Drone Carrying Cases
The Case Club's assortment of cases are high quality and high performing. They do not let you down in offering superb protection. You can never go wrong with a Case Club case when protecting your bird.
Our Choice: The Case Club Wheeled Hard Case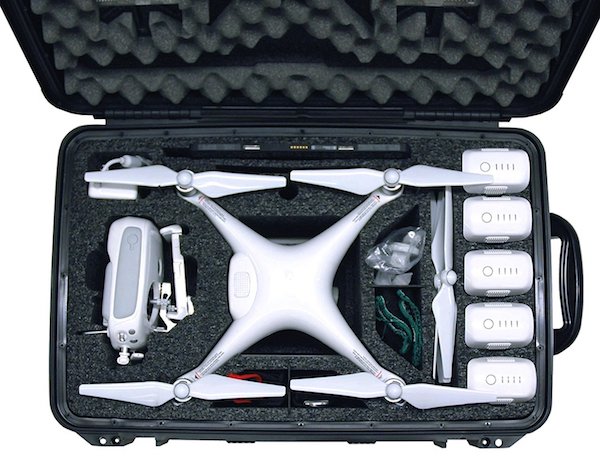 Best Aspects of the Pack
Size and configuration
This case is clearly created for a drone pilot who values their flying experience and seeks to make it better all the time with additional equipment. The interior is configured to match the nuances of the Phantom 4 and its specific accessories. The organization of the case ensures everything has a well-fitting slot that will keep it absolutely safe.
You can choose to leave your gimbal on the drone and the slot for the drone will easily accommodate the drone as is. The foam in the case is military grade closed cell polyethylene which is hard to compromise.
Construction
The construction of the case is very impressive with every little space in the case being put to maximum use. Sometimes a case can be hefty but not well organized but that is not the case with this one. It has been fitted with additional egg crate foam to make it even more secure in harsh environments. Some segments within can even be compartmentalized using the removable plastic dividers.
Opening and closing the case is very easy and straight forward. The latches and hinges move smoothly and when you hear the secure click the case is completely locked. The handle pulls out easily and remains sturdy in your hand. No wobbling here! When you are done it smoothly retracts and snaps back into place. The wheels on this case are not too big, but they are efficient and they move with pure stealth. It is a big case but it performs like a smaller one. You can even use it as a landing and takeoff platform when flying your drone.
Capacity
It will take the DJI Phantom 4, extra propellers, five batteries, a tablet, chargers, and remote controllers. The foam is precisely cut out and accommodates all the accessories and the drone perfectly. You will have adequate room within this case for lenses and filters even with the dedicated slots filled. It is roomy and nothing is at risk of damage when within.
Design
This case is very well streamlined with a lot of thought and consideration given to making the exterior rugged as opposed to sleek. Seeing as it will spend a lot of time in the luggage hull of planes, this is an important aspect in keeping the case put in one place and not sliding around and banging into everything. The wheels are placed on the side of the case as opposed to being fitted under it, which give it a more stylish look rather than just being functional. It does not have frills which is to be expected of such a case where performance is paramount.
Performance
It is dust proof and waterproof . It can also take a punch quite well without incurring any damage. The silica gel canisters protect your drone from being compromised by moisture when you are in areas of high humidity. The foam can be cleaned with a wipe down allowing it to last longer.

The Drones to Use with This Backpack
It can accommodate the DJI Phantom 4, Phantom 4 Pro, and Phantom 4 Pro+.
3) Pelican Cases for Drones
Pelican is a trusted and respected name in the drone world and their cases are usually the first people think of when they are in the market. The cases are masterpieces of quality and high performance, with some even being compatible with every drone ever developed. It is no surprise that they provide drone owners with spectacular cases since they have over 30 years of experience.
Our Choice: The Pelican 1650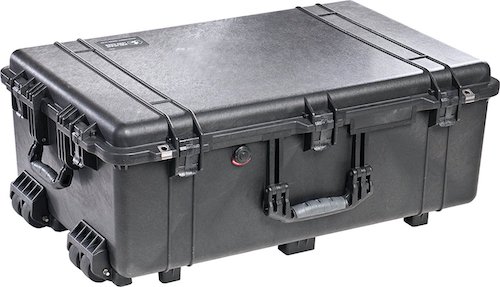 Best Aspects of the Pack
Construction
This is the Fort Knoxx of drone cases. The Pelican 1650 case allows you to become the master of your own plan. You can customize the case any way you see fit.
 Other cases that are smaller than 30.75 x 20.5 x 11.62 inches can fit inside comfortably. It is very roomy with a hardy exterior that can take impact very well.
Pelican cases are kept watertight using polymer o-rings and groove fits, so every time you use it you never have to worry about water damage to your drone.
The retractable handle is firm and sturdy with a comfortable grip on it. This case is popular because of its ability to withstand the rigors of professional life. The stainless steel bearings on the wheels allow it to take the constant movement in various terrains in stride. The wheels lend this case great stability ensuring it does not wobble and harm the drone inside.
Opening it and closing it is simple enough thanks to the smooth opening hinges and the latches that are easy to operate. The exterior is fitted with IP67 rating for water resistance.
Size and configuration
The best part of the Pelican 1650 case is the ability to adapt to any drone because it comes uncustomized. You can literally turn it into anything you want it to be: a DJI Phantom, Mavic Pro, or Parrot Bebop case for example. It comes with the option of Pick 'N' Pluck foam (4 layer set) or 24 pieces of padded dividers. This allows you to change your configurations as you see fit depending on which drone you are using and how much gear you have.
It is a big case, so once filled you have to find a way to move with it. The interior is cavernous and allows you to pack a lot of gear. All the sides have been fitted with a handle to ensure that you can move it easily and it can be easily secured when you are on the move.
Capacity
It will take any drone and other accessories including the batteries, extra propellers, and even cameras with lots of lens options. It is roomy with the option of even moving big monitors as long as you carry it without the drone inside. The lid also has an organizer that can take miscellaneous items that you may need. It allows you to be creative with the space so you can either create a customized cut out interior or leave it flexible enough to take any drone.
Design
The Pelican 1650 is a very professional and clean cut case. It has been created for commercial purposes so functionality ranks highly as opposed to aesthetic. The exterior design is solid and sturdy while the interior nests the items within very nicely. It is very basic in design with the distinct twin ribbed top surface.
Performance
This case is everything you need for your drone. It provides exceptional protection from the elements and absorbs impact without flinching. It is crush proof, waterproof, and dust resistant. It works very well for all drones and provides a nice cushion no matter what the dimensions are. It functions very well and does not get affected by cold or heat like other cases would.

The Drones to Use with This Backpack
It can accommodate all drones.
A drone backpack or case is one of the wisest investments you will ever make for your drone. It is therefore imperative that you make the decision with utmost care and information. Every drone pilot becomes attached to their drones and will do anything to keep it safe. That is why they created backpacks and cases for drones. Just remember not all backpacks and cases are equal.