7 Best Drone Transmitters – Multiple Functions and Prices
3D Insider is ad supported and earns money from clicks, commissions from sales, and other ways.
Buying a drone—or more specifically, choosing a drone—can be a daunting experience for newbies. There are many choices out there, and they all boast exceptional features. We already have updated guides for this year's camera quadcopters so I won't get into those here. This guide focusses on the controllers. It reviews 7 of the best drone transmitters and the things to consider before buying one.
Budget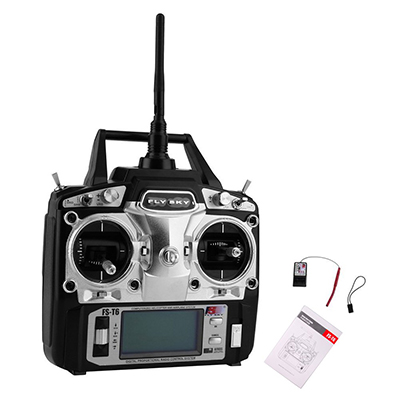 Flysky FS-T6 6CH
4.4/5.0
Weight: 1.92 oz.
Channels: 6
Multi-aircraft support, large screen control, intuitive controls.
Check Amazon
Best Value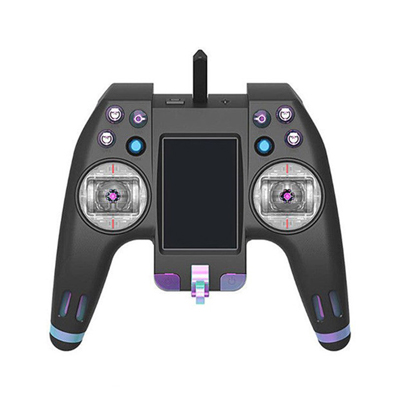 Flysky NV14 14CH
4.6/5.0
Weight: 1.32 lbs.
Channels: 14
Hall sensor gimbals, unique finger grips, collapsible Omni antenna.
Check Amazon
Top Pick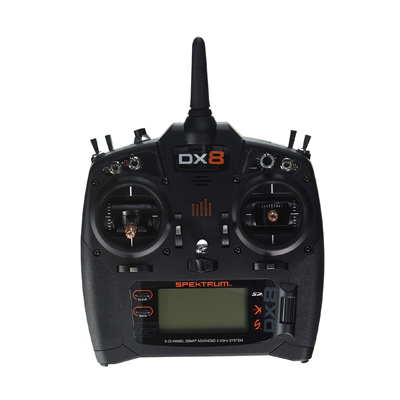 Spektrum DX8 8CH
4.7/5.0
Weight: 4.14 lbs.
Channels: 8
Programmable voice alerts, multi-craft programming.
Check Amazon
Read this short introduction if you not familiar with drone transmitters and receivers. It's an easy-to-understand overview that can help you to make a better buying decision.
How a Drone Radio Control System Works
Your drone needs a transmitter (TX) and a receiver (RX) to fly. These are the two essential elements that make up your radio control system. Pilots also call a transmitter the controller, remote controller, or RC for short. It's the physical device you hold in the hands to fly the quadcopter.
The receiver lives on the drone. Its function is to receive commands from the TX which passes the signals to the flight controller. There's a bit more to it than that, but it's the basic arrangement.
When You Need a Transmitter
Many drones come with everything in the box, including the transmitter and receiver. Sellers define these products by the abbreviations RTF (Ready-to-Fly) and ARF (Almost-Ready-to-Fly). An ARF drone kit may or may not include a transmitter so always check the contents list.
The abbreviation BNF (Bind-N-Fly) is for drones that include everything apart from the transmitter. You may also come across PNP (Plug-N-Play) drones. A PNP product doesn't include a transmitter either. It's also missing the receiver, battery, and charger, all of which pilots must buy separately.
The Benefits of a Third-PartyTransmitter
We can sum up the reasons to invest in an independent drone transmitter with a single point:
More channels, more features, and more flexibility than the stock TX
Controllers that come with drones are often economical units. Most are restrictive and subpar compared to third-party radio systems. The alternatives can be a wise investment even if you only need them for more channels and model memory. Let's look first at the benefits of extra channels.
More channels = more functions
Simple unmanned aerial vehicles (UAV) can get away with three or four channels (CH). A 4CH transmitter controls throttle, pitch, yaw, and roll. Here's a simple breakdown of 4CH functions:
Channel for throttle control
Channel for pitching the drone forward and backward
Channel for left/right turns
Channel for rolling left/right
So, every RC switch, knob, or slider uses channels to send signals to the receiver. The more channels the transmitter has, the more functions the pilot gets to control. Extra channels allow more complex flight functions and a switch between flight modes. You can operate camera gimbals and control retractable landing gear, as two examples.
The benefit of model memory
Model memory is an invaluable feature found with many third-party transmitters. It's quite common for drone enthusiasts to have more than one flying robot in the hanger. They use to need a separate TX for each craft. TX model memory has put an end to that nonsense. Now you can use a single radio system for multiple drones. All you do is retrieve a bird's stored settings, and away you go.
Summing Up
There are good reasons to opt for an upgraded transmitter despite the higher cost. The long-term benefits and cost savings easily justify the extra. This introduction has touched on some of them. Sophisticated models can enhance your experiences whether flying for fun, aerial filming, or racing quadcopters. The rest of this page looks at some exceptional radio controllers(RC) for all budgets.
About this Best Drone Transmitter Guide
Technology changes fast. Drones are more complex and able to do more with every new product launch. Transmitters help to get the most out of these incredible flying machines. The product reviews on this page are the result of extensive personal research. I also took the opinions of industry experts and real user reviews into consideration during the selection process.
7 Best Drone Transmitters Comparison Table
The first three products in the guide are Best Budget, Best Value, and the Top pick. The others are by price order with the least expensive first.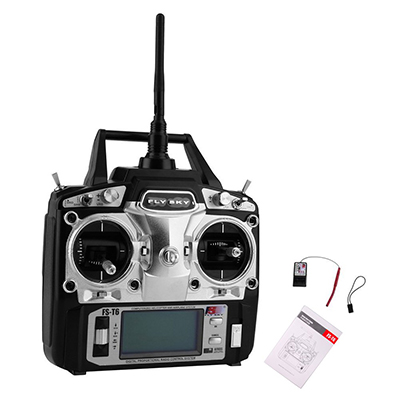 View on Amazon
Editor's Rating: 4.4/5.0
The Best Budget pick goes to the Flysky FS-T6 6CH R TX. It has multi-use appeal but is especially popular for racing quadcopters.
Best feature 1: Multi-aircraft support
Best feature 2: 20 model memory
Plus points: Low power, large screen control, intuitive controls, simplified menus
Minus points: Large size
Flysky FS-T6 6CH R TX RC Highlights
The transmitter has plenty of controls without any unnecessary bells and whistles. Its programmable parameters support a range of craft including helicopters, gliders, planes, and drones. There's a large backlit LCD screen that displays easy-to-read fonts and simplified menus. Programming functions include graphically depicted throttle curves and expo to make changes straightforward.
The TX physical specs include the following features:
Antenna
Easy grip handle
Switches A–D
Knobs A–B
Left/right trim
Left/right joystick
Hook up
Enter (press)
Cancel
LCD Panel
The transmitter can store up to 20 models at a time which means one controller for a fleet of craft. The product boasts low power consumption and high receiver sensitivity. The smart design and easy handling make this an intuitive TX to use and configure for personal use. There's an option to take out a one year warranty on the product for those who want the cover.
The Not So Good
Worth noting is the size of Flysky's FS-T6 6CH R TX. It's not going to be too comfortable to handle if you happen to have below average sized hands.

Tech Specs
Model: Flysky FS-T6 TX
Compatibility: glider/heli/airplane/drone
Dimensions: 7.5 x 3.9 x 11.9"
Product Weight: 1.92 oz.
Channels: 6
Model Memory: 20
Batteries: 8 x AA
The Pros
Multi-aircraft support
20 model support
Low power
Large screen control
Intuitive controls
Simplified menus
The Cons
Size awkward for smaller hands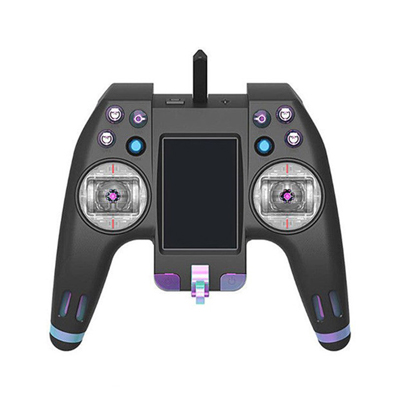 View on Amazon
Editor's Rating: 4.6/5.0
The FlyskyNV14 transmitter is a 14 channel TX with a 3.5in color touchscreen. It has a sleek design and lots of appeal to those into flying First Person View (FPV)
Best feature 1: Intuitive gamepad style design
Best feature 2: 3.5" color touchscreen
Plus points: 14 channels, hall sensor gimbals, 2 receivers, rear switches
Minus points: Incomplete firmware
FlyskyNV14 Highlights
The unusual design is the first thing that drone pilots notice with the Flysky NV14. It looks more like a gamepad controller than a conventional aircraft transmitter. It is that too. But what surprises most folks is the way it fits the hands like a well-tailored glove. The unique ergonomic design exhibits comfortable contours, an intuitive LCD, and silky smooth, precise hall gimbals.
Flysky's NV14 comes with 2 receivers—a small single one, and a larger dual antenna. The device has 32 controls located on the front, top, and switches at the rear. It sounds overwhelming, but it's not. This transmitter is an excellent choice for thumbs and pinchers.
The Not So Good
Everything works and many say the NV14 is the best transmitter they've ever used. However, there is room for improvements. The problem isn't the hardware—it's in the beta firmware which is buggy. There are continual updates, though, so this criticism will hopefully become obsolete before long.

Tech Specs
Model: Flysky FS-NV14 TX
Dimensions: 10.1 x 9.2 x 4.5"
Product Weight: 1.32 lbs.
Channels: 14
Batteries: Dual 18650 swappable
The Pros
Intuitive gamepad style design
3.5" color touchscreen
14 channels
Hall sensor gimbals
Unique finger grips
2 receivers
Rear switches
Collapsible Omni antenna
The Cons
Incomplete firmware (beta)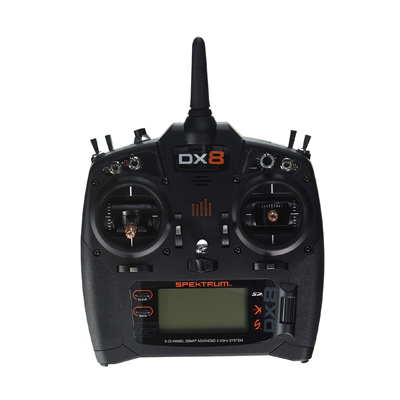 View on Amazon
Editor's Rating: 4.7/5.0
The Top Pick goes to the Spektrum DX8 Transmitter which is an excellent choice for drone pilots. The DX8 offers 8 channels along with a plethora of features and smart functions.
Best feature 1: Programmable voice alerts
Best feature 2: 250 model memory
Plus points: Multi-craft programming features, built-in telemetry, wireless trainer link
Minus points: Vague manual
Spektrum DX8 Highlights
There's a lot to like and plenty to explore with the Spektrum DX8 transmitter. The voice alerts are a nice touch that let pilots listen to data reports while watching the craft. It's possible to program the audible alarms too. They can call out things like the current flight mode and report telemetry info on demand. Another neat feature is the transmitter's 250 model memory capacity.
Multi-Craft Programming Features
There are more aircraft programming features than you can shake a stick at. Pilots get to choose between RC airplanes, helicopters, sailplanes, and multirotors. The multirotor channel inputs include ALT (Altitude), ROL (Roll), PIT (Pitch), and YAW. The simplified Flight Mode Setup and Switch Assignments make light work for drone pilots.
The built-in telemetry is a feature that gives out essential real-time data. Some examples include airspeed, altitude, signal quality, motor temperature, and battery voltage, etc. The Wireless Trainer Link is also worth mention and exclusive to Spektrum. It works by letting DX8 users link up wirelessly with other Spektrum TX's and compatible Spektrum FPV headsets.
The Not So Good
The Spektrum DX8 TX is user-friendly at the basic level. However, there's a lot more to explore if you want to exploit its more complex features. Nothing would be too difficult if the User Manual were clear and detailed, but it's not, it's too vague. The good news is that YouTube has plenty of real user tutorials and reviews. Online vids do a much better job than the company's so-called guide anyway.

Tech Specs
Model: Spektrum DX8
Compatibility: Airplane, helicopter, sailplane, multirotor
Dimensions: 12 x 9.3 x 5.5"
Product Weight: 4.14 lbs.
Channels: 8
Model Memory: 250
Batteries: NiMH (included)
The Pros
Programmable voice alerts
250 model memory
Multi-craft programming
Built-in telemetry
Wireless trainer link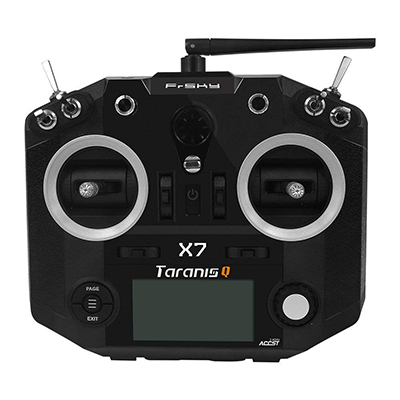 View on Amazon
Editor's Rating: 4.4/5.0
This is a powerful radio system from FrSky. It's their 2.4G ACCST Taranis Q X7; a 16CH controller that punches well above its price bracket.
Best feature 1: Bright backlit LCD screen
Best feature 2: 60 model memory (extendable by SD card)
Plus points: Real-time flight data logging, audio speech outputs, quad ball bearing gimbals
Minus points: No battery or battery tray included
FrSky Taranis Q x7 Highlights
The Taranis Q X7 is a feature-packed, lightweight radio system with a backlit LCD screen. It has a 60 model memory that's extendable still further using a MicroSD card. The real-time flight data logging is a given at this level, but some other features are a surprise. The Haptic Vibration Feedback System offers an alternative to voice and audible alert warnings.
There are also audio speech outputs that relay data on settings, alarms, and values, etc. Another welcome feature of this 16 channel radio is its smooth quad ball bearing gimbals. The physical controls include 6 switches and 2 knobs. Firmware upgrades to the system are painless using the unit's USB port. The port also makes it easy to connect to a regular PC to adjust various settings.
User-friendly Controls Aplenty
FrSky's Taranis Q X7 uses spring-loaded sticks that automatically return to center positions. They make changing between modes one and two a cinch. It's also a simple task to remove the springs if you want a stationary throttle. Pilots can effortlessly navigate the backlit menu using the center button and smooth wheels. And the Q X7's full telemetry capability is one of its most standout features.
The Not So Good
The company thought it would be a good idea to let the end user choose their battery options. This—they say—is why the FrSky Taranis Q x7 doesn't come with batteries or even a battery tray. It's a wrong move and seems to be a significant frustration going by the user feedback.

Tech Specs
Model: FrSky Taranis Q x7
Compatibility:
Dimensions: 11 x 9.8 x 4.5"
Product Weight: 2.2 lbs.
Channels: 8
Model Memory: 60+
Batteries: User's choice
The Pros
Bright backlit LCD screen
Extendable Model memory
Real-time flight data logging
Quad ball bearing gimbals
Audio speech outputs
Vibration alerts
Super Low Latency
The Cons
Battery not included
Battery tray not included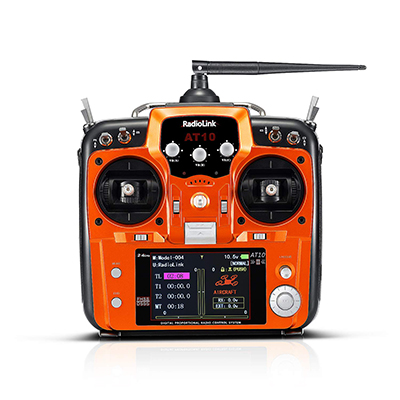 View on Amazon
Editor's Rating: 4.6/5.0
The Radiolink AT10II 12CH RC transmitter and receiver R12DS is a 12 channel TX/RX. It's the Upgraded version of Radiolink AT10 and has plenty to boast about.
Best feature 1: Super-fast response time
Best feature 2: Multiple alarms
Plus points: Real-Time data telemetry, multiple switches, online updates, long battery life
Minus points: Flimsy joysticks, little user feedback
Radiolink AT10II 12CH Highlights
The crucial aspects of any drone transmitter are its handling and features. Bling should be the last thing on the list, but the Radiolink AT10II has plenty of that whether you want it or not. Well, it's as sophisticated as it looks and boasts a super-fast response time of 3ms for 12 channels. The controller also maintains stable control while hopping frequencies in complex urban environments.
This radio boasts excellent ergonomics and sports multiple switches. It has 4 two-gear switches, 3 three-gear switches, 5 VR switches, and a reset trainer switch. Its intuitive navigation menu is super easy to follow. The "next-step settings" mean users don't even need to refer to the manual.
Alarms and Telemetry
Alarms are an essential feature of quality transmitters and this one has plenty of them. There's a low transmitter voltage warning, a low RSSI alarm setting, and many others to boot. The backlit LCD also uses DD sounds and word alarms so that pilots don't miss vital warnings when it's noisy. And the real-time data telemetry provides users with the visible security needed.
Telemetry includes vital data such as speed, distance, climb, voltage, and real-time return latitude. Users can update online using the USB cable to ensure they always have the most advanced setup.
The Not So Good
The joysticks are a letdown despite the otherwise excellent build of this TX. They function well, it's just that they feel flimsy and out of line with the rest of the unit. Another buyer setback is that the Radiolink AT10II has little user feedback compared to some models.

Tech Specs
Model: Radiolink AT10II 12CH
Compatibility: Airplane, glider, helicopter
Dimensions: 7.1 x 3.7 x 8.7"
Product Weight: 2.09 lbs.
Channels: 12
Model Memory: 15
Batteries: User's choice
The Pros
Super-fast response time
Multiple alarms
Real-Time data telemetry
Multiple switches
Online updates
Long battery life
The Cons
Flimsy joysticks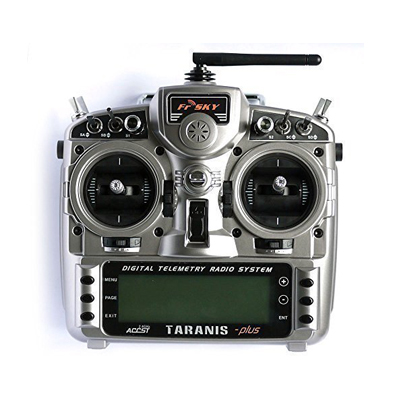 View on Amazon
Editor's Rating: 4.5/5.0
This is the FrSky Taranis X9D Plus. It's a 16 channel 2.4ghz ACCST radio transmitter with 60 model memory (extendable by SD card). It's a popular choice for both race and freestyle quads.
Best feature 1: Quad Ball Bearing Gimbals
Best feature 2: Backlight LCD screen
Plus points: 60+ model memory, haptic/voice feedback, frequency hopping ACCST technology
Minus points: Complicated setup, price
FrSky Taranis X9D Highlights
This radio system is powerful and flexible. It's also easy to upgrade with custom features and firmware updates. The quad ball bearing gimbals give the unit a smooth, easy feel. The fluid handling lets pilots focus more on the flying and less on the controller. The backlit LCD screen makes light work of setting up RC functions and telemetry. It's also possible to configure the radio on a computer if you prefer.
FrSky transmitters are famous for their frequency hopping ACCST technology, excellent range, and reliability. That includes the Taranis X9D Plus. Users can also customize the haptic/voice feedback contingent on the aircraft. Audio Speech Outputs can report things like values, alarms, flight settings, etc. They're especially useful for First Person View (FPV) with no On Screen Display (OSD).
The Not So Good
Some users—and especially novices—think this model has feature overkill. In other words, its many bells and whistles make setting up unnecessarily complicated. It's true too. The menus tend to be awkward to configure compared to rival TXs. Others argue that there's no such thing as too many features. The plethora of custom options also contributes to the price of this transmitter.

Tech Specs
Model: FrSky Taranis X9D Plus
Compatibility: Multiple RC
Dimensions: 16 x 13 x 6"
Product Weight: 1.78 lbs.
Channels: 16
Model Memory: 60+
Batteries: 2000mah NiMH rechargeable
The Pros
Quad ball bearing gimbals
Backlit LCD screen
Haptic/voice feedback
Vibration alerts
Real-time flight data logging
Frequency hopping ACCST technology
Excellent range
The Cons
Complicated setup
Quite expensive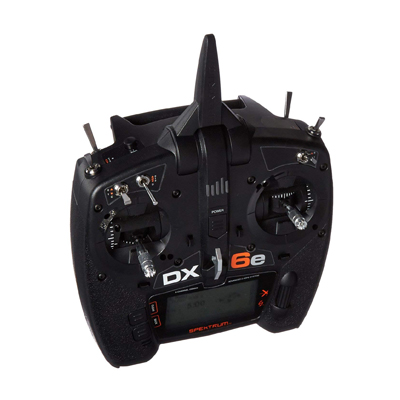 View on Amazon
Editor's Rating: 4.6/5.0
Last on the list is the DX6e 6CH DSMX Multi-Purpose TX which has a 250 model memory. It device gives users the opportunity to share model setups with other transmitters.
Best feature 1: Share model setups with other Spektrum TX users
Best feature 2: 250 model memory
Plus points: Wireless trainer link, built-in telemetry, programmable alerts, ergonomic design
Minus points: Power hungry, vague manual
Spektrum DX6E Highlights
Spektrum's DX6E is an excellent choice for beginners and veteran users alike. It's a flexible TX that has programming features for airplane, sailplane, helicopter, and multirotors. The ergonomic design and sleek black shell add to its feature-packed appeal. It includes 4 two-position switches, 3 three-position switches, gimbal spring configurations, and a wireless trainer link.
The built-in telemetry gives real-time data like battery voltage, signal quality, and much more. It's also possible to program alerts for when telemetry values reach their predefined limits. This TX has 7-point throttle curves for planes and helis and 7-point pitch & tail curves for copters.
The Not So Good
There's far more to like with the Spektrum DX6E 6CH than there is to dislike. It does have a couple of issues, though. The product comes with 4 AA batteries, but it's power hungry. Most savvy users will invest in rechargeable cells. Another criticism is that the manual is too vague in places. The guide is okay for experienced users, but novice pilots find it lacking in some areas.

Tech Specs
Model: Spektrum DX6E 6CH
Compatibility: Plane, sailplane, helicopter, multirotors
Dimensions: 12 x 9.3 x 5.5"
Product Weight: 3.35 lbs.
Channels: 6
Model Memory: 250
Batteries: 4 x AA (included)
The Pros
Excellent value
Ergonomic design
Share model setups with other Spektrum TX users
Generous model memory
Wireless trainer link
Built-in telemetry
Programmable alerts
7 plane wing types and 6 tail
7-point throttle curves (plane/helis)
The Cons
Power hungry
Manual too vague for novice users