Best Drones for Sale in 2019
3D Insider is ad supported and earns money from clicks, commissions from sales, and other ways.
The market for consumer drones has shown surprising growth in the last couple of years, and 2018 is no exception. We have just published our list of new drones released this year, but the truth is there are so many more drones available today.
As a guide for prospective drone buyers, we have come up with a comprehensive list of all consumer-level drones that are currently available, including camera drones, racing drones, and toy drones. Each drone class appeals to a different type of buyer. We hope that with this guide, we can help you decide which drone is best for you.
Drones Covered in this Guide
Toy Drones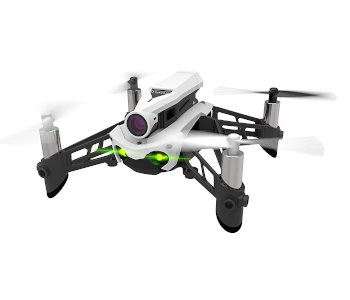 The original Mambo was one of the most popular toy drones, and the FPV version is likely to be another hit. This version comes with a bolt-on 720p HD camera that can transmit live video feed to the Parrot FPV headset. It still comes with easy and intuitive controls that can be accessed from any smartphone.
This drone offers a lot of value per dollar and it comes from a well-respected French brand.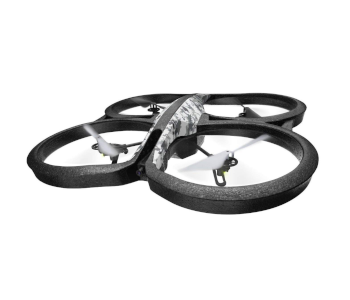 The Parrot AR Drone 2 sets itself apart with a removable "indoors" hull that is made of a Styrofoam body with provisions for propeller guards. It is slightly larger than most toy drones, to a point where it requires FAA registration. We think it's worth the bother for a toy drone that offers a 2MP camera that can shoot 720p videos at 30 fps. As with other toy drones, the AR Drone 2 can perform a few tricks such as flips and barrel rolls. Controlling the drone can be done using any mobile device via Wi-Fi signal.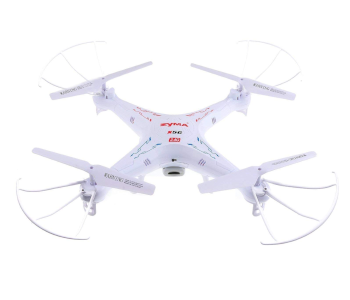 The Syma X5C has been one of the most popular toy drones since it was released, anchored by its ease of use and excellent responsiveness. Despite its small size, it is exceptionally stable in windy conditions. It comes with an onboard 2MP camera that records at 30 fps – nothing impressive, but nice to have on a toy drone. The battery of the Syma X5C allows up to 8 minute of flight time and charging a battery to full will take about 100 minutes. The Syme X5C is very easy to learn to fly, and you'll be zipping around like an expert in no time.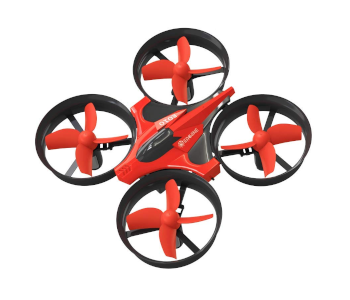 The E010 Mini UFO toy drone comes in an interesting red and black color scheme and the usual tricks that toy drones can do. It has a 6-axis gyro technology that helps keep it stable, and a headless mode that makes it easy for beginners to fly. A few small features, such as return to home and one-key take off and land round out this solid toy drone. It does not come with a camera, which helps make it one of the cheapest drones with acceptable quality.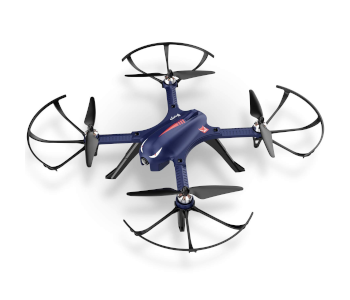 The Bugs 3 drone from DROCON stands out with just a single feature: brushless motors. An unexpected feature in toy drones, brushless motors give the Bugs 3 an unequaled degree of longevity. The increased efficiency of brushless motors also gives the Bugs 3 a longer than usual flight time of 18 minutes. It does not come with a camera, but there is a camera mount that can accommodate a GoPro or other action cameras. It does not have the usual gimmicks like tricks or return to home functions, which might make it the most "adult" toy drone in this list. If you are looking for a toy drone that will not be broken after just a few weeks, then the DROCON Bugs 3 is a solid choice.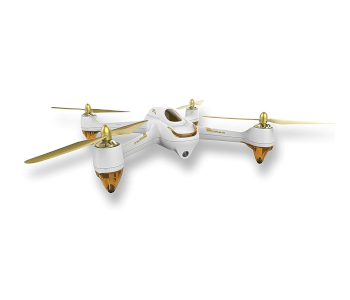 Hubsan is probably one of the most well-known producers of toy drones. The X4 H5010S is a little larger, more complex, and more expensive than their usual offerings. For a toy drone, it has impressive specs: brushless motors, GPS technology, and a 1080p camera. On top of it all, it comes with a controller that has a built-in 3.7" monitor. For a drone its size, the X4 H5010S is remarkably stable in flight, and even gives up to 20 minutes of flight time per battery cycle. Its camera is a lot better than what we have come to expect from toy drones but make no mistake: it's no camera drone. Footage shot from the onboard 1080p camera is wobbly and jittery, at best. Still, the Hubsan X4 H5010S comes packed with more features than you would expect from a toy drone.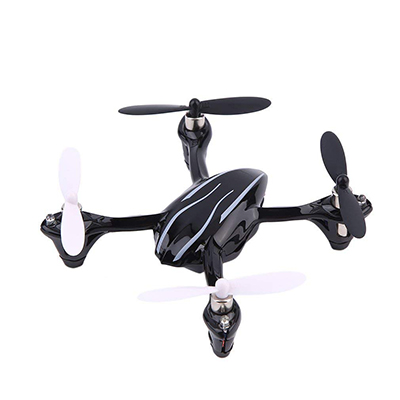 The X4 H107L has been a fairly popular mini-drone in the last several years. It's a small drone that is designed for indoor flight. The controls of the X4 H107L are impressively precise and responsive, making it easy to maneuver even as it hits it top speed. It comes with a dedicated controller that can communicate with the drone up to 30 meters away. We have to stress that this is a really fast drone – flying it outside can be really fun, given that there isn't much wind. Given that, the X4 H107L does not offer anything more than the pure entertainment of flying a small and fast drone.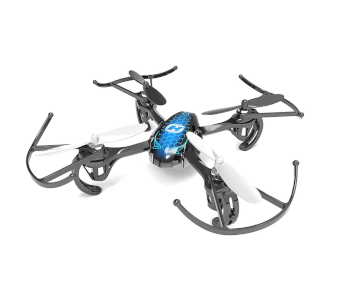 The H170 Predator is a mini-drone that seems to be designed for maximum durability. It comes with a hard-plastic body, built-in propeller guards, and a springy landing gear. It can do the usual toy drone tricks, such as flips and barrel rolls. It also features a headless navigation mode that makes it easier to fly for beginners, as well as gyroscope technology to help keep it stable. There's nothing too complex about this drone. It's so simple that a kid could fly it, which is probably the entire point.
If there was a drone that introduced Holy Stone into the mainstream, then it's the F181. This mini-drone has a body made of hard ABS plastic, and it comes with built-in propeller guards. The selling point of the F181 (at least, at the time of its release) was its mounted 2MP camera that can record 720p camera at 30 fps. While the camera was far from being impressive, it was a nice addition to such an inexpensive and small toy drone. However, it does not have FPV capabilities, so you will end up taking photos and videos blindly. This is a fun little drone that flies for up to 9 minutes in a single battery cycle. As a gift for children or any drone beginner, the F181 should be an excellent choice.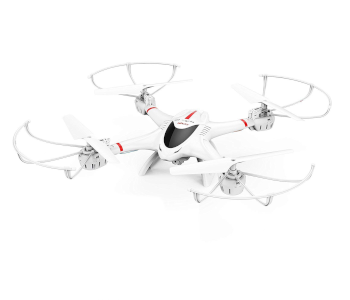 The X400W is an inexpensive drone that has features found mostly in its more expensive counterparts. It ticks off all the usual features of toy drones: headless mode, one-key tricks, 6-axis gyroscope, and propeller guards for indoor flight. It has an onboard camera that can record 720p video at 30 fps. An FPV function can be accessed by connecting a mobile device to the dedicated controller that comes with the drone. The battery gives about 8 minutes of flight time, and the maximum transmitter range is a surprising 100 meters. Coming from a lesser known brand does not hurt the X400W at all – it delivers on all fronts, and at a fraction of the cost of other toy drones.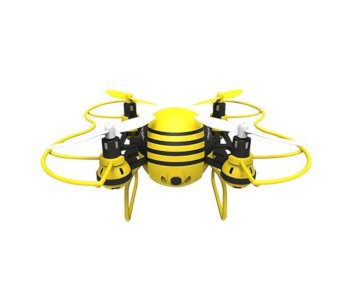 With a yellow bumblebee color scheme, the HASAKEE H1 Drone stands out easily. It is a very small drone with built-in propeller guards, making it quite safe for indoor use. A 6-axis gyro stabilization system makes the HASAKEE H1 easy to fly even for beginners. Surprising for a drone its size, it has FPV capabilities, with the video viewable via a mobile device mounted on its dedicated controller. That being said, it is still a toy drone with a flight time of only 6 to 7 minutes and maximum range of only 50 meters. It doesn't have much beyond what most toy drones offer, but the HASAKEE H1 is a cute little drone that is sure to appeal to children.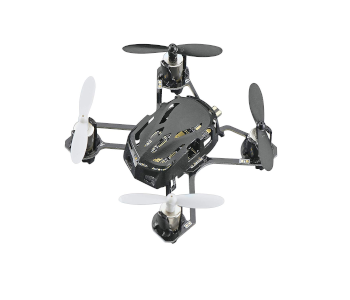 The Proto X Nano lives up to its name: it's so small that you are going to have to hold it with two fingers and nothing else. Possibly the smallest drone in the market today, the Proto X Nano is barely 6 cm in length and weighs only a little over 10 g. The dedicated controller it comes with follows suit, with a size that's much smaller than a typical video controller. With such a small size, it's probably meant to be flown exclusively indoors, as a slight breeze can knock it off the air. As expected, it doesn't have much in terms of features – no camera and no programmed tricks. The Proto X Nano is just a simple and tiny drone that should give hours of solid entertainment.
The Oori from UVify is a micro-drone that is only slight smaller than the DJI Spark but comes loaded with power and speed. Its brushless motors have been optimized for performance, allowing the Oori to travel at speeds of up to 50 mph. The Oori is very fast and agile, but also exhibits very good responsiveness to controls. Its tiny battery allows to fly for up to 15 minutes in a single charge. However, the Oori is much more expensive than most of its counterparts, perhaps making it too expensive for the toy drone market.
Camera Drones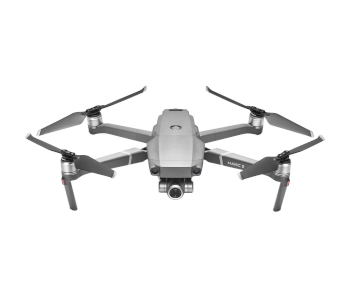 The Mavic 2 Pro is the latest version of DJI's Mavic line of ultra-portable drones. It sets itself apart from all of its predecessor with a Hasselblad camera with a 1-inch sensor that can capture 20MP stills and 4K video at 120fps. Its upgraded gimbal allows for rotation along 2 axes, finally providing a true panning function to a camera drone. The Mavic 2 Pro has made flying safer and easier than ever with an omni-directional obstacle avoidance system. The Mavic 2 Pro's combination of camera quality, portability, and ease of use makes it one of the best camera drones available today.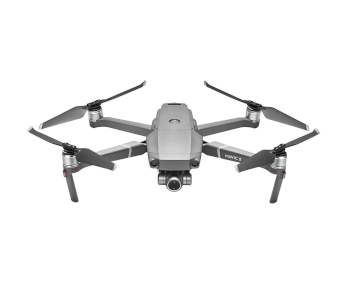 The Mavic 2 Zoom was released at the same time as the Mavic 2 Pro and provides a totally different upgrade to the Mavic line. Its camera quality is at par with the older Mavic drones, with a 1/2.3" CMOS sensor that can capture 12 MP stills and 4K video. The unique characteristic of the Mavic 2 Zoom is in its 2x optical zoom and 2x digital zoom capabilities. This feature opens up a lot of possibilities for drone photography. The zoom capability has also given the Mavic 2 Zoom a few, unique camera modes such as the Dolly Zoom and Super Resolution modes. The Mavic 2 Zoom may not have the same camera quality as the Mavic 2 Pro, but it more than makes up for it with a few unique capabilities that are sure to appeal to the creative side of drone photographers.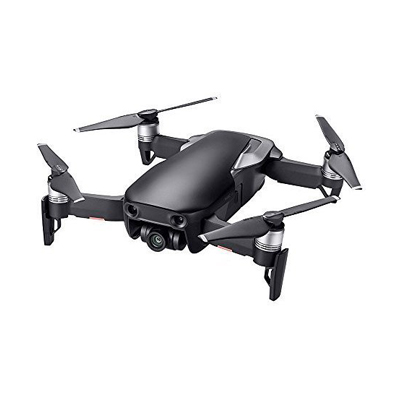 Also just released this year, the Mavic Air is the most affordable Mavic drone. Often considered the love-child of the Spark and the Mavic Pro, the Mavic Air is smaller, lighter, and cheaper than all the other Mavic drones. To achieve this reduction in size and weight, the Mavic Air has settled for a smaller capacity battery and a shorter flight time of only 21 minutes. It also has a much smaller range of only 2.5 miles, a significant downgrade from the 4 miles of the Mavic Pro. However, the Mavic Air does not compromise on camera quality: it still retains the 12MP stills and 4K video capabilities of the Mavic Pro. Will all these features in such a small package, the Mavic Air is one of the best value for money drones available today.
The Mavic Pro is the original ultra-portable drone from DJI. Its distinguishing characteristic is its folding arms and propellers that reduce the Mavic Pro into a size that can on the palm of your hand. The Mavic Pro comes with an impressive 20MP camera that can capture 40K video, a 4.3-mile range, and a maximum flight time of up to 27 minutes. Despite its small size, the Mavic Pro flies with exceptional stability, although tts obstacle avoidance system is limited to the forward direction. The Mavic Pro is the perfect drone for out of town trips, as you can just throw it into any of your regular bags.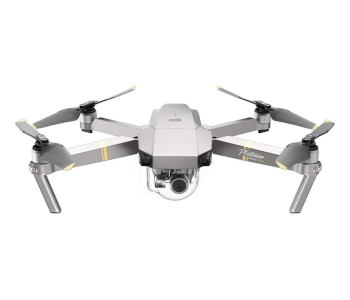 The Mavic Pro Platinum is a minor upgrade to the Mavic Pro that increases its flight time from 27 minutes to 31 minutes, in addition to a new platinum finish. The Mavic Pro Platinum achieves better battery efficiency with an improved propeller design and upgraded Electronic Speed Controllers (ESC). The result is longer flight time using the same battery capacity. The upgrade is a decidedly minor one, but this improvement in technology proved to be monumental for DJI as they were all carried over to the next iterations of the Mavic drones.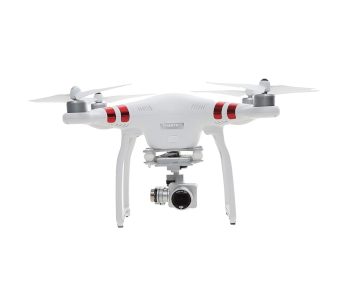 The Phantom 3 Standard will always hold a special position for being the drone that made DJI famous in the field of professional-grade drones that are affordable and accessible to casual drone pilots. The standard version of the Phantom 3 is an old model, so its camera specs are now outdated: 2MP stills and 2.7k videos. Its maximum range is set at a modest 1 km, but it boasts of an above average flight time of 25 minutes. Learning to fly the Phantom 3 Standard is very easy, making it the perfect drone for beginners. Being released several years ago, the Phantom 3 Standard is now also a lot cheaper compared to other DJI drones. However, it's a model that is a little long in the tooth: you might be better off spending just a little more to get a drone with better specs.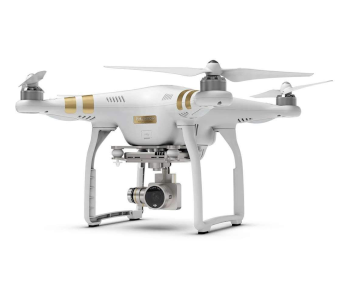 On the surface, the Phantom 3 Pro does not differ at all from the standard Phantom 3. It still retains the same form factor and is incredibly easy to fly. However, the Phantom 3 Pro contains features that make it the best of class out of all Phantom 3 variants. The camera of the Phantom 3 Pro has been greatly upgraded from the standard version with the ability to capture 12MP stills and 4K video at 30 fps. Its 3-axis gimbal provides exceptional stabilization, resulting in very stable video footage. Adjustments to the camera have also been made to rectify the issues with overexposure that have been observed in previous Phantom 3 versions. The Phantom 3 Pro is overall a solid camera drone that is a notch above what most amateur drone pilots are looking for.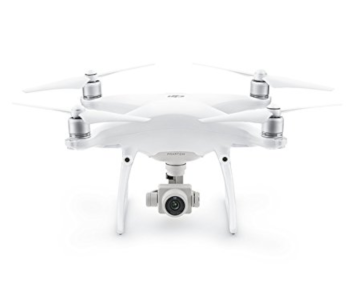 For a long time, the Phantom 4 Pro was considered the standard for professional-grade camera drones. Compared to the Phantom 3 Pro, the Phantom 4 Pro has been upgraded with a larger 1-inch camera sensor that takes 20MP stills. The result is footage that is brighter, with cleaner details and crisp edges. It also comes with more cameras and infrared sensors that improve its collision avoidance capabilities. Considering how excellent the Phantom 3 Pro was, the upgrades heralded by the Phantom 4 Pro practically set the standard for what compact professional-grade camera drones can do.
The Spark is the cheapest camera drone sold by DJI and remains one of the most popular drone models today. With gesture controls and a couple of fun camera modes, the DJI Spark is the perfect entry-level drone for aspiring drone pilots and drone photographers. It's also incredibly light and small, making it one of the most portable drones before the Mavic Pro drones came along. The features of the Spark are nothing impressive but can hardly be described as disappointing: a 12MP camera that can shoot 1080p video, a flight time of 16 minutes, and 2-kilometer maximum range. The Spark is a great drone for beginners with just enough features to satisfy even more experienced drone pilots.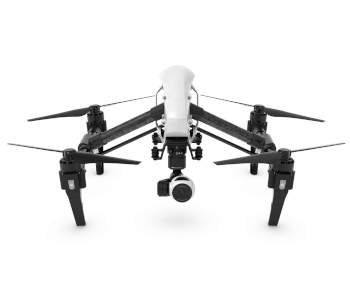 Even though the Inspire 1 is nearing 4 years since its release, it remains one of the most popular camera drones for industrial applications. With a price range that is significantly lower than the Inspire 2, the features of the Inspire 1 do not disappoint. The Inspire 1 can be used to mount the Zenmuse Z30 or Zenmuse XT cameras for specialized uses such as thermal imaging. The Inspire 1 features the ability to control the camera independently of the drone, allowing professional drone pilots to have a focused secondary camera controller. However, being an older model, the Inspire 1 does not have obstacle avoidance technology. Its big size also limits the flight time of the Inspire 1 at only 16 minutes, much less if it's carrying a payload such as a special camera.
The Inspire 2 is the drone that most professional and industrial-grade drone aspire to be. The Inspire 2 still retains the same appearance as its predecessor but now comes with an aluminum composit construction and composite fiber arms, making it a more rugged and durable drone. The Inspire 2 comes with a front-facing FPV camera and a sophisticated obstacle avoidance system that should lessen chances of accidents or crashes. This drone was made to work with the Zenmuse X5S, giving it the ability to shoot 5.2Kvideo at 30fps. Unfortunately, the high price of the Inspire 2 puts it squarely out of the budget of most casual (or even professional) drone pilots. This is a camera drone designed with industrial users in mind.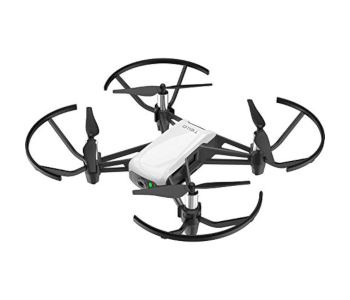 The Tello is a very affordable drone that was developed collaboratively by Ryze, DJI, and IBM. DJI's flight technology helps the Tello deliver good controls and responsiveness, belying its classification as a budget drone. Its features are far from being high-end: a 5MP camera that can shoot 720p video, 13 minutes of flight time, and a range of only 100 meters. However, it does have the capability of providing a live video feed to a mobile device. The Tello is a low-cost drone that performs exceptionally well for its price point – consider it just one notch higher than a toy drone.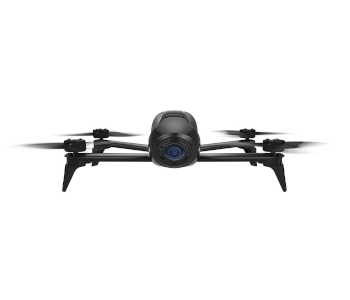 The Bebop 2 Power is a slight upgrade to Parrot's super popular Bebop 2 drone. Its most distinguishing feature is a battery that allows flight time up to 30 minutes – almost double that of its rival, the DJI Spark. The camera, with the ability to take 14MP stills and Full HD video at 30 fps, is a little underwhelming. The Bebop 2 Power does not offer mechanical stabilization, but instead resorts to 3-axis digital stabilization. All things considered, the Bebop 2 Power is a fun consumer-level camera drone that offers a couple of interesting flight modes and camera modes. It's easy enough to learn to fly, and its extended battery life means you will be spending more time airborne.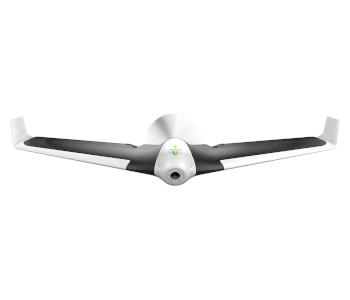 The Parrot Disco FPV, in contrast to most drones in the list, is a fixed wing drone. This gives it the unique advantage of a very long flight time of 45 minutes. Fixed wing drones have a totally different flight experience from regular drones.
True to its name, the Parrot Disco FPV was designed to be operated in FPV mode. Its front-facing 1080p camera delivers a live video feed to the Parrot Cockpit Glasses, making for a really entertaining flight experience. This drone is sure to turn eyes.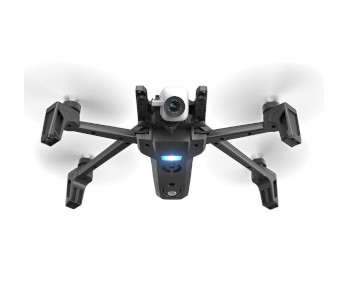 The Anafi is Parrot's entry to the ultra-portable drone market. It has a unique, anterior-positioned camera that allows for complete 180° of vertical panning. The camera of the Anafi is certainly better quality than most ultra-portable drones with the capability to capture 21MP stills and 4K videos at 30 fps. The Anafi has a total flight time of 23 minutes and a maximum range of 2.5 miles. However, its lack of an obstacle avoidance system and general flight instability makes it hard to recommend the Anafi for beginners.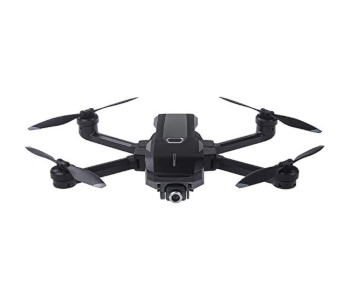 Being one of the major names in drone brands, Yuneec was not one to get left behind in the ultra-portable drone race. The Mantis Q also features foldable arms to make it super portable for storage and transport but sets itself apart with its voice command capabilities. In conjunction with associated smartphone app, a drone pilot may command the Mantis Q to wake up, take off, take photos, or start recording videos. Aside from this novelty feature, the Mantis Q has a camera that can compete with most ultra-portable drones, as it can capture 12MP stills and 4K videos. With 33 minutes, the Mantis Q probably has one of the longest flight times of the commercial drones in its price range. Overall, the Mantis Q is a high-quality drone that is a worthy competition to the offerings from DJI.
The Yuneec Typhoon H Pro is one of the most unique-looking drones out there and has proved to be a worth adversary to the DJI Phantom series. In a departure to the usual rotary wing design, the Typhoon H is a hexacopter that really only needs 5 rotors to operate. With an extra redundant rotor, the Typhoon H provides flight stability that is unequaled by most drones out today. The camera of the Typhoon H can capture 12MP stills and 4K video. It also has slow motion video capabilities, able to capture 1080p video at 120 fps. The Pro version of Typhoon H comes equipped with the Intel RealSense obstacle avoidance technology that actively monitors the drone's surroundings and identified potential hazards.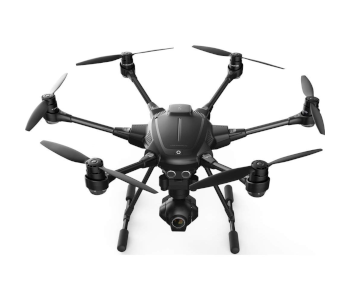 Yuneec's line of professional-grade drones receives a much-anticipated upgrade in the Typhoon H Plus. It still retains the six-rotor design and is now equipped with the Intel RealSesnse obstacle avoidance technology by default. The biggest upgrade to the Typhoon H Plus is in its camera: it now features a 1-inch CMOS sensor that can capture 20MP stills and 4K video at 60fps. The Typhoon H Plus also has a slightly larger frame that supposedly resulted in a 40% noise reduction. With just the camera upgrade alone, the Typhoon H Plus has been catapulted to the upper spectrum of the camera drone market.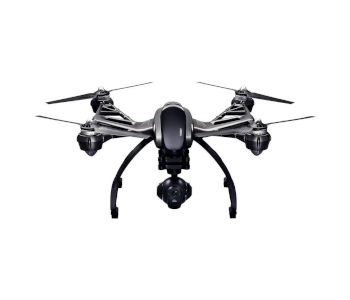 The Typhoon Q500 4K is well-known for being one of the cheapest drones that can shot 4K videos. To make up for the costs of the camera quality, the Q500 has a light plastic chassis that would probably land it in serious trouble should it crash. However, Yuneec seems to have considered this lack of durability in mind when they developed the ST10+ Ground Station controller. This controller provides exceptionally precise and controlled movements, lessening the chances of an accident befalling your drone. With such a light build, the Q500 can stay up in the air for an impressive 25 minutes in a single battery cycle.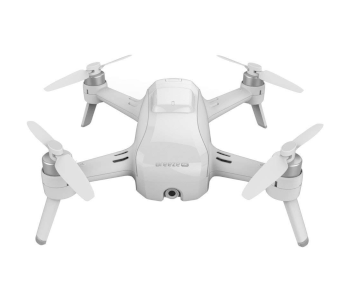 In a departure from their tendency to create super-sized drones, Yuneec released the portable Breeze drone with an impressive 13MP camera that can shoot 4K video at 30fps. The build quality of the Breeze does not inspire much confidence, with a plastic shell that probably cannot endure repeated crashes. It's not a particularly powerful drone, with a max speed of only 5 meters per second and a max range of just 100 meters. However, it's also more affordable than most of its contemporaries, even the budget-friendly Spark.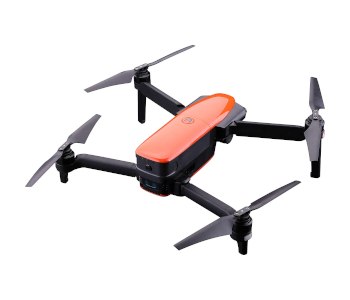 The Autel EVO was one of the so called "Mavic killers" back when it was first announced. True to its reputation the Autel had foldable arms for maximum portability. It has an excellent camera that can shoot 4K video at 60 fps and 1080p video at 120 fps. These camera specs were good enough for professional-grade drones, and the fact that it was available in an ultra-portable drone made the Autel EVO one of the best drones upon its release. The EVO has a two-directional obstacle avoidance system that makes it attractive or new users. However, its flight time, range, and speed are disappointingly below average. The Autel EVO holds the distinction of reigning supreme in the ultra-portable market for a short while, but better drones have been released since then.
With a name as long as intense as the X Star Premium, expectations from this drone were pretty high. Fortunately, the X Star Premium brings a lot to the table: a 4K-capable camera that can shoot 12 MP stills, 3-axis gimbal stabilization, a 108° field of view, and live HD video feed up to 1.2 miles away. Appearance-wise, it has a similar form factor to the DJI Phantom drones. The range of the X Sta premium has improved drastically from the X Star, with the initial 800 meters expanded to 2000 meters. However, it does not have an obstacle avoidance system.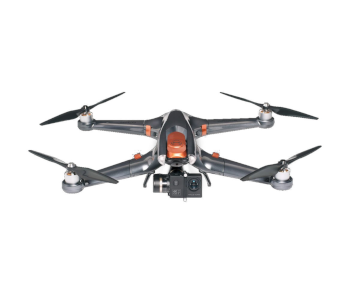 In a deviation from their usual hoverboard products, Halo came out with the Stealth Pro drone which borrows from the foldable wings design of other ultra-portable drones. It is equipped with a 12MP camera that can record 4K video at 30 fps, which can also be removed from the drone and used independently as an action camera. The level of control and responsiveness of the Stealth Pro is impressive, even at its maximum speed of 45 mph. The drone does come with a few nifty tricks, such as a wrist tracker that a person can wear for a slightly different take on the usual "Follow Me" feature.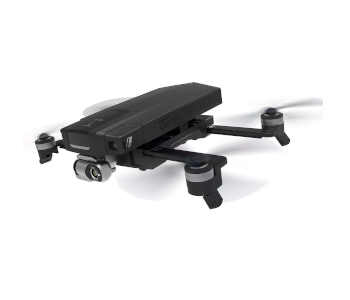 The o2 comes from a relatively unknown brand but was touted as a rival to the DJI Mavic drones. It takes the concept of portability one step higher with a design that allows the drone and its controller to clip together for easier storage and transport. The o2 comes with a camera that is at par with most ultra-portable drones: it can capture 13MP stills and 4K videos at 30 fps. It is supported by a 3-axis gimbal, although most accounts report that videos shot with the o2 tend to come out with some shakiness. The o2 also has obstacle avoidance, although it is limited to the forward direction. All in all, the GDU o2 is not a bad drone for its price range and is worthy of being discussed in the same league as the Mavic drones.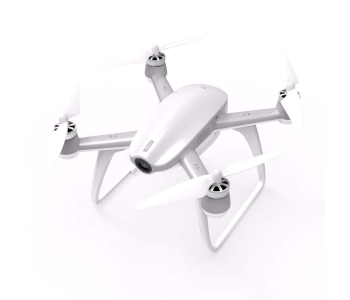 In more ways than one, the Walkera Peri is a Spark "clone". It looks similar to the Spark and has approximately the same size and weight. However, the Walker Peri has the advantage of being a newer model, allowing it to have more advanced features. In an upgrade to the Spark, the Walkera Peri features a camera that can shoot 4K video at 30 fps and is even supported by a 3-axis gimbal. Its 15 minutes of flight time is nothing to write home about, but the Walkera Peri is a worth rival to the DJI Spark that provides great value for its price point.
Racing Drones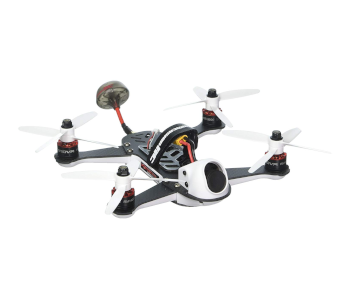 Coming from one of the top names in racing drones, the Vortex 180 Mini comes with a high-quality build and all of the features that drone racers will be looking for. The 180 is actually an upgrade from the 250, with a controller improved with Synergy technology and the Bataflight firmware that ensures that transmission is stable and latency-free. The on-screen display of the video feed has been integrated into flight controller. The Vortex 180 is an extremely powerful drone with 4-inch propellers and 1407 – 3500 kV motors. It may suffer in the quality of video transmission, but in terms of raw power, durability, and flight performance, the Vortex belongs at the head of the pack.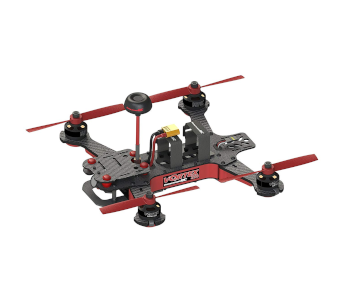 The Vortex 250 Pro has earned the reputation of being virtually unbreakable. With a carbon fiber body and FR4 skid plates, the 250 Pro might just be one of the most durable racing drones available today. From its standard 250 predecessor, the 250 Pro has been upgraded with more powerful motors, improved Electric Speed Controllers, a new flight controller, and a mount for a GoPro camera. With a lower center of gravity allowing it to achieve higher speeds and endless customization options, the 250 Pro was clearly designed for the hardcore drone racer.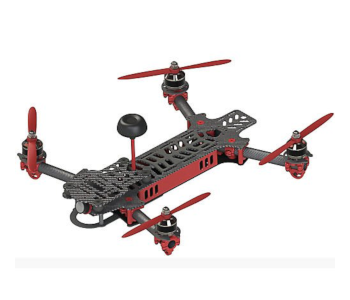 The Vortex 285 was also designed to endure several crashes with a carbon fiber body and molded plastic connectors. The propeller arms are designed to fold into the main body when a crash occurs so that they do not snap off. The bundle comes with a CMOS FPV camera, although the camera mount of the Vortex 285 is also compatible with GoPro cameras. The drone comes with rotorSense firmware, which programs the rotation of the propellers to optimize flight performance. The overall performance of the Vortex 285 depends on what propellers and battery you use with it – these are entirely optional and customizable. This unfortunately means that the Vortex 285 is not ready to fly out of the box, as you'll need to buy some of the components separately. Still, there is little doubt that the Vortext 285 is a very powerful machine, and a high degree of customization means that it can work well with any drone pilot.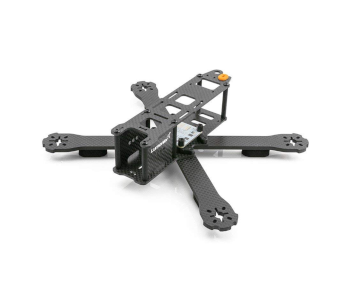 Lumeniere is another well-known manufacturer of high-quality UAV parts and their ready to fly kit does not disappoint. The QAV-R starts off strong with a super durable carbon fiber frame which Lumeniere pairs with some of the best electronics that a racing drone could have. It is powered by Lumeniere 2350 kV motors and 30A BLHeli_S Electronic Speed Controllers. The FPV system is quite standard – transmission using 5.8 GHz Raceband TX and a 600 TVL camera. This whole combination works to make the QAV-R an exceptionally lightweight but powerful racing drone.
The first thing that stands out about the Makerfire Armor 90 is that it looks like a toy drone. In contrast to more technical demanding racing drones, the Armor 90 comes out of the box ready to fly. Belying its simple appearance, it is equipped with extremely powerful l 7500 kV brushless motors, with each motor driven by a 4-in-1 Electronic Speed Controller that can run the Dshot300 protocol for very fast motor response times. It comes with an FPV camera that transmits using 5.8 GHz to a 600TVN camera with a 120° field of view. Of course, this can be upgraded, but it is nice to have a racing drone that comes pre-equipped with FPV capability. Overall, the Makerfire Armor 90 is a great drone for beginner racers. It's very powerful despite its size and does not require as much tinkering.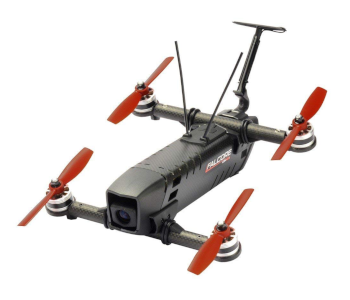 The Connex Falcore is one of the more popular racing drones because of two factors: it comes with everything you need right out of the box, and it has the best FPV technology out of all racing drones so far. The Falcor can stream 720p video at 60fps directly to the controller, which can then be connected to FPV goggles via HDMI input. Despite the high-quality video, the latency of the video feed is only 27 ms – a good figure for FPV racing. It also comes with a unique control mechanism that combines the roll and yaw functions in a single joystick. The Falcore does not come heavily loaded with the electronics that can support competitive racing, but it is a great drone for beginner racers. For the superior FPV technology along, the Connex Falcore is a great buy.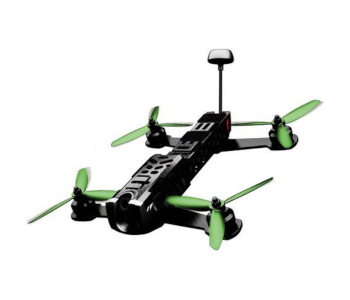 The Vendetta II from Team Black Sheep was one of the earliest FPV racing drones that came out of the box with all of the necessary components. It comes with a carbon fiber frame and GoPro-compatible camera mount. It does already come with the TBS ZEROZERO camera which has been optimized for low light and low latency videos. The Vendetta II does NOT come with a controller, but you will only need to set it up with the TBS Calibri that is running on 72 MHz. Its combinations of motors and propellers gives the Vendetta II speeds of up to 80 mph. Despite the aggressiveness of flight, this drone gets very good and precise response from the controllers. The Vendetta II is an old racing drone model, but it still keeps its reputation as one of the best racing drones in terms of both performance and visual appearance.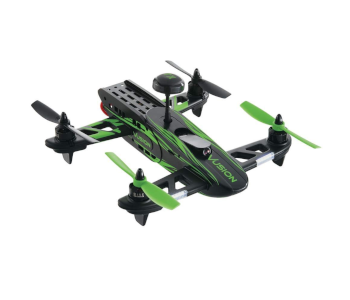 The Vusion 250 is a relatively simple racing drone that focuses on being affordable while delivering satisfactory performance. It comes with everything you could need to start flying, including controllers, batteries, and even the FPV goggles. Simply put, the Vusion 250 is a beginner drone that does not offer anything special in terms of electronics, motors, or ESCs. What it does provide is the ability to start flying as soon as the package is opened, and an easy to learn environment for the beginner racing drone pilot. For the hardcore racer, it's definitely a drone that they will outgrow sooner rather than later.
Final thoughts
The market for drones has grown so much in the past few years that picking a drone to buy can prove to be an overwhelming task of comparing between specs, prices, and looks. The best strategy is to narrow down what you want to buy: are you looking for a drone that has a good camera? Or would you rather have a small, inexpensive drone that you can fly indoors? Are you an aspiring drone racer looking for your next upgrade? Asking these questions can make the decision so much easier.
We hope that our guide has helped you pick the next drone that you are going to buy. We have short-listed and given quick reviews of some of the most popular and best-selling drones per category, but the truth is there are a lot more out there that have not been mentioned.
With the holidays coming up, there is no doubt that drones are going to be a popular gift item, just as in all the past years. If you haven't decided yet, then keep watching this space as we improve our buying guide with more of the best drones.