Best Drones Under $1000
3D Insider is ad supported and earns money from clicks, commissions from sales, and other ways.
The Best Expensive Drones
This guide looks at the best quadcopters between $500 and $1000. At the lower mid-range end are some very capable camera drones. The manufacturers aim the ones nearer 1000 bucks at the prosumer and professional levels. Serious hobbyists with a healthy budget may also want to consider some of the higher-end quadcopters.
Budget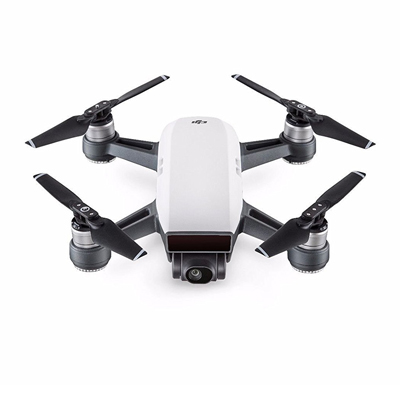 DJI Spark
4.5/5.0
Range 100 m
Flight time 12-15 minutes
Hand gesture control features and return to home feature.
Check Amazon
Best Value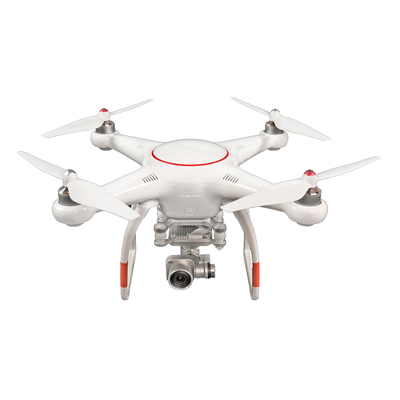 Autel Robotics X-Star
4.8/5.0
Range 1.9 km
Flight time 25 minutes
Beginner-friendly drone and Follow, Orbit & Waypoints modes.
Check Amazon
Top Pick
DJI Mavic Pro
4.7/5.0
Range 7 km
Flight time 27 minutes
Easy-to-fly/control at any level & Obstacle avoidance, wind resistant.
Check Amazon
Before you make a decision make a list of your needs and wants. These typically include:
Camera quality: Lens, still images, video, recording modes, etc.
Flight time: Also consider battery recharge times
Features: Every drone pilot's expectations are different. Know what you want
Flight range: The further you can fly from the transmitter, the more you can explore
The point of the list is so that you don't accidentally pay for features and functions you don't want and won't use. Likewise, you don't want to buy a drone only to find it lacks something you want.
Choose Your Budget:
Not all Drones Are Equal
There's no such thing as the perfect drone for all pilots, not even in this price range. They all offer similar features but not all features and functions provide the same experience. This is why you need to know what you want—specifically—prior to purchase. This way you should be able to find a flying robot that's perfect for YOU. Or if not perfect, as near to perfection as you can find.
Here's my list of drones for less than 100 bucks in the order the reviews appear in this guide.
About My Reviews
All my reviews follow a similar format. I never use complicated explanations or jargon when there's a simpler way to say a thing. And I don't pick the drones in my guides based purely on personal preference. That plays a part but it's not the only factor. I also take expert opinions into consideration and read real reviews from verified purchasers. That last point is important.
There's a lot of competition out there for your hard earned buck. Choices are a good thing in an ideal world. They help to improve quality, features, and prices as drone manufacturers compete for business. Alas, we've seen too many companies jump on the consumer drone bandwagon in recent years. The result is a market inundated with UAVs that can easily overwhelm the consumer.
My reviews are the end results of in-depth research. I present some of the best camera drones available in their class so that you don't have to dig. There will be others, but the ones in this guide are among the most popular for good reasons. They've certainly earned their place on this review page.
1. Autel Robotics X-Star Premium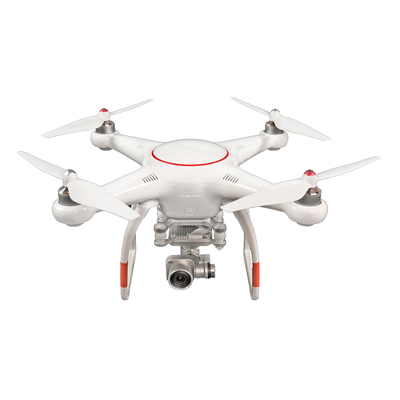 View on Amazon
Editor's Rating: 4.8/5.0
If you know the DJI Phantom then this lookalike drone will seem familiar to you. It's not a Phantom rip-off, though, and it comes with its own set of great features and capabilities.
Best Feature 1: 3-axis (quick-release) stabilized gimbal and 4K Ultra HD video camera
Best Feature 2: Autonomous flying modes via free Starlink app for iOS or Android
Plus Points: Comes with lots of extras and spares, one-touch buttons, beginner-friendly
Minus Points: No obstacle avoidance feature, large size a disadvantage for some
The X-Star Premium is ready-to-fly (RTF) and that means the fun can start soon after unboxing the product. It's basically a quality user-friendly camera quadcopter suitable for all pilot levels, hence the beginner mode. The Ultra HD 4K camera attaches to a removable 3-axis gimbal. That means you can replace or upgrade both the camera and gimbal at any time. It's a nice touch that not all drones have.
Taking Off with the X-Star Premium
This beauty does exactly what you tell it to do in the air. Taking off and landing, though, can take a little more practice. Don't worry. You'll find this flying robot to be pretty crash resistant despite its size.
The X-Star Premium is a popular drone on Amazon and other such sites. You won't find too many complaints about the video quality or the 12MP aerial photos. You can shoot spectacular aerial imagery with the impressive 108° field of view (FOV) lens. Add to this the simplicity of flying the quad and it's easy to see why it's made the top slot in this guide. The size, however, will prove too big for those who want a more portable craft.
The drone saves all footage to a 64GB micro SD card (included) that you can transfer and edit to another device at your leisure. Considering the size of this quad the maximum 25 minute flight time is impressive. Charging the battery takes somewhere around 90-minutes which is about average. You may want to invest in one or two spare batteries to prolong the flight time.
You can use the intuitive controller with any compatible Android 4.2 or iOS 8.0 compatible smartphone. There are certainly lots of fun flight features and great functions to explore. Follow the link below the table for a full rundown on everything the Autel Robotics X-Star Premium has to offer.
The Conclusion
It's a really decent camera drone for around 800 bucks or less. Consider the X-Star Premium if you're getting serious about aerial photography/videography and demand more range and higher quality.


Tech Specs
Drone dimensions: 19.5 x 19.5 x 8.5″
Weight: 840g (1.85 lbs.)
Maximum flight time: 25 minutes
Charging Time: 60 minutes (1 hr.)
Maximum Flight range: 1.2mi (1.9 km)
Camera: Superb 4K UHD
Controller type: Standard RC with integrated LCD screen
The Pros
Robust design, bright orange
Beginner-friendly drone
Great camera with 3-axis gimbal
12MP photographs
High-quality carrycase
Long flight time
Quick charging time
64GB memory card
Follow, Orbit & Waypoints modes
One-touch buttons
The Cons
No obstacle avoidance
A few reports of below average customer support
Landing apparatus could be better for this camera drone
2. DJI Mavic Pro Quadcopter
View on Amazon
Editor's Rating: 4.7/5.0
You can't not like the way the DJI Mavic Pro feels, flies, and functions in the air. Then again it's a DJI product—a company that's earned a reputation for excellence in consumer drones.
Best Feature 1: Incredibly small and potable for a drone in its class
Best Feature 2: 7km (4.3 miles) transmission range
Plus Points: Foldable construction, UHD 4k video, long flight time, fast battery charging
Minus Points: Poor image quality in low light, have to remember to tap-to-focus
The DJI Mavic Pro has a long flight time and impressive flight range. It can also get to where it's going in no time at all. This little craft can reach speeds up to 45mph (Sports Mode only) in ideal conditions. Flying this UAV is a cinch. All you have to do is attach your Android or iOS mobile device to the compact controller. That's about it. You're now firmly in the virtual pilot's seat and ready for takeoff.
A Small but Fully-Feature-Packed Drone
The DJI Mavic Pro has an extra four cameras built into its construction. They don't have anything to do with photography and everything to do with flight safety and flight stability. Two of these cameras face downward. Their purpose is to prevent drifting when flying indoors or outside where there's inadequate GPS coverage. The other two cameras face forward to prevent collisions (obstacle avoidance).
As well as its serious power this tiny drone has a few flight modes that are worth a mention. You've got something called Active Track or Trace, Tripod Mode, Tapfly Mode, and Cinematic mode. Tech bloggers write entire articles on these things alone.
The Conclusion
Summing up the DJI Mavic Pro is easy. It's a solid, foldable, luggable, agile camera drone that sports beautiful 4K footage and crisp 12MP stills. It has a decent flight time and an incredible flight range. Add to this the numerous flight features and its user-friendly appeal and there's your Mavic Pro.


Tech Specs
Drone dimensions: 11.4 x 7.1 x 9.4″
Weight: 735g (1.6 lbs.)
Maximum flight time: 27 minutes
Charging Time: 60+ minutes (1+ Hr.)
Maximum Flight range: 4.3 mile (7 km)
Camera: Built-in 4K stabilized by a 3-axis mechanical gimbal
Controller type: Pocket-sized 2.4GHz RC
The Pros
Folds up to the size of a drinks bottle making it very luggable
Easy-to-fly/control at any level
Great 4K video and photo quality
Runs with Android and iOS
Wind resistant
Carrycase included
Long flight time
Obstacle avoidance
Good choice of flight modes
The Cons
Limited payload
Gimbal can be oversensitive
Remote phone clamps can cover buttons & sensors on some smartphones
3. DJI Spark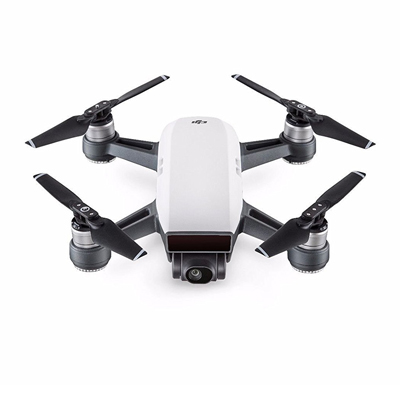 View on Amazon
Editor's Rating: 4.5/5.0
Third on my review list is another popular UAV from DJI. This time it's the compact and lightweight Spark. The Spark is also an excellent travel companion just like the DJI Mavic Pro.
Best Feature 1: Impressive mechanically stabilized HD video camera
Best Feature 2: Gesture controls
Plus Points: Solid, compact, dual-band GPS, obstacle detection
Minus Points: Disappointing flight time, no 4k version—yet, app can prove fiddly
Some folks love a big drone and the bigger the better. If you need something that can carry a high payload a larger craft is a logical decision. If you have visual impairment a bigger drone also makes good sense. But if you're someone who wants a high-quality camera drone that takes up very little space in your travel bag then consider the DJI Spark. Let's look at the reasons why.
If you want to fly your drone close by then all you need is the craft and your hands. That's right, hand gesture controls become your sole controller. This is perfect for those informal get-togethers and aerial selfie opportunities. Seriously, smartphone-free flying is more than just a gimmick. And simply use the remote controller and a compatible mobile device if you want to explore further afield.
Up, Up, and Away
It's easy and fun flying the DJI Spark once you get used to it and it doesn't take long. The impressive flight safety features are all there. You have obstacle detection, visual positioning system, and dual-band GPS. The Spark's full HD camera provides smooth footage and clear images thanks to the two-axis motorized gimbal. There's a reason why the Spark is at #3 and the Mavic is at #2, though.
The DJI Mavic is faster than the Spark. It also has a longer flight range, a longer battery life, and faster battery recharging time. But then these extra features do cost a few hundred bucks more.
The Conclusion
Looking for a compact travel drone? If your budget is at the lower end of this price range then seriously consider the competent DJI Spark. It has a lot more pros than cons going for it. It has a high user rating because it's an excellent product that offers great value for money and lots of flexibility.


Tech Specs
Drone dimensions: 9.8 x 3 x 8.2″
Weight: 300g (10.6 oz.)
Maximum flight time: 12-15 minutes
Charging Time: 90 minutes (1.5 hrs.)
Maximum Flight range: 100m (328 ft.)
Camera: 1080p HD
Controller type: Standard RC with clamp for smartphone
The Pros
Excellent value for money
Compact and lightweight
Perfect traveling companion
Hand gesture control features
Gimbal stabilized 1080p HD Camera
Dual-band GPS
Forward facing obstacle avoidance
Smart flight modes
Return to home feature
The Cons
Low average flight time
Doesn't have 4K video
Firmware upgrades not always smooth
4. DJI Phantom 3
View on Amazon
Editor's Rating: 4.4/5.0
The third and last DJI drone in this guide is the DJI Phantom 3 Professional. It's also the most expensive at around $950. It's not as luggable as the other choices but there are reasons for that.
Best Feature 1: 4K UHD video and fully-stabilized 3-axis gimbal
Best Feature 2: Live HD View via compatible smartphone or tablet
Plus Points: Easy to pilot, stable flier, lightweight and durable, smart modes
Minus Points: Costly batteries, no carrycase, no collision detection feature
You can expect a lot as this is one of the more expensive camera drones in this guide. Well, the Phantom 3 Pro doesn't disappoint. Setting it up is easy even for the raw beginner. It's easy to fly and controlling the stabilized 4K camera is straightforward. It's sturdy too. Most reports say that it survives the usual wall collisions and minor crashes pretty much unscathed.
Learn to Fly by Digital Drone
Another nice feature about this drone is that you can do a virtual pilots course. What you do is fly a digital drone via the DJI app before you actually take to the skies with the real thing. That's a cool feature for newbies who would otherwise be nervous about their maiden flight. The flight controller is uncomplicated and sits nicely in the hands. The simplicity of the RC makes.
Filming with the Phantom 3 Professional is something else. There're none of those washed out bright skies that some models suffer from. The colors of photos and videos are rich and reflect the real world or close to it. If 4K is not a top priority you can always save around 200 bucks by opting for the DJI Phantom 3 Advanced. Everything else is the same aside from the video quality.
Flying inside has gotten easier because of the two ground-facing sensors. What this Vision Positioning technology does is compensate hovering indoors where there isn't a GPS signal or a weak signal.
You may want to consider other features aside from quality filming. There's the unique Beginner's Mode, the powerful Mobile App, and Live Streaming capability to name a few.
The Conclusion
The DJI Phantom 3 Professional is a high-quality camera drone aimed at prosumer and professional aerial videographers. This could be your perfect craft if high-quality UHD 4K video is important to you. My only beef with the Phantom 3 Professional is that it doesn't come with obstacle avoidance, a spare battery, or a sturdy carrycase as standard.
Other than those points there's very little to complain about.


Tech Specs
Drone dimensions: 14 x 10 x 21″
Weight: 1216g (2.7 lbs.)
Maximum flight time: 25 minutes
Charging Time: 60+ min (1+ hr.)
Maximum Flight range: 1000m (3281 ft.)
Camera: 12MP stills, 4K with 3-axis integrated gimbal
Controller type: DJI Phantom 3 RC with smartphone mount
The Pros
User friendly (easy-to-fly) quad
Amazing video and stills quality
Lightweight and durable
High average flight time
Experience live feed with the DJI GO App for iOS and Androids smartphones
Intelligent flight modes
The Cons
RC clamp restricted to certain devices (details from DJI)
High cost of spare batteries
Camera fixed to gimbal
No collision avoidance
5. 3DR Solo Quadcopter
View on Amazon
Editor's Rating: 4.3/5.0
For a little over 600 bucks the 3DR Solo Quadcopter Bundle offers a lot of bang for your buck.
Best Feature 1: User gets to choose their action camera
Best Feature 2: Live HD video streaming from GoPro directly to mobile device
Plus Points: Good flight time and flight ranges, Follow Me Mode, easy saving and sharing
Minus Points: Have to purchase camera as extra
Moving away from DJI we now have the less expensive 3DR Solo Camera Drone by 3DRobotics. Do you want to get more serious about aerial videography? Then look no further than this affordable and capable quadcopter. It's an excellent choice at any level but a fantastic pick for new pilots in particular. It has simple and intuitive controls and a range of useful autonomous flight modes.
From Beginner to Advanced Pilot
Like most of the UAVs on this page it's a good looking craft with a durable design. It can survive those beginner collisions and mild accidents just fine. Not only does it fly well and offer reliable flights but it's also fast if you need it to be. You can expect to reach a top speed of up to 55mph in ideal conditions.
The solo has flight modes that provide advanced pilots with near full manual control. And what's really cool about this quad is that you can choose your own action camera and implement a range of upgrades as and when you need to.
The 25-minute flight time is good and the battery recharge time is average at 90-minutes. The control range is also impressive at around 1.5km or just under one mile. It's not without a few faults though. The GPS can be spotty at times and the craft doesn't come with obstacle avoidance technology.
The Conclusion
At around 620 bucks (at the time of writing) the 3DR Solo bundle is a great deal and a perfect gift either for you or someone else. It comes complete with gimbal, a backpack, and an extra set of propellers. As with all the drones in this guide the positives easily outweigh the negatives.


Tech Specs
Drone dimensions: 20 x 16.5 x 11″
Weight: 1814g w/camera (4 lbs.)
Maximum flight time: 25 minutes
Charging Time: 90 minutes (1.5 hrs.)
Maximum Flight range: 1.5km (0.9mi)
Camera: Not included
Controller type: Video style game controller with built-in 1 GHz CPU
The Pros
GoPro compatible quadcopter
Decent flight time
Good overall flight performance
Control apps for Android & iOS
All-in-one quad with live HD video streaming from a GoPro
Repeatable smart shots
Return to home feature
The Cons
Some reports of drifting during hover mode
Camera/gimbal not included
No collision avoidance
6. Parrot Bebop 2 Adventurer
View on Amazon
Editor's Rating: 4.2/5.0
At just over $550 this is one of the most affordable FPV drones around and with plenty on offer.
Best Feature 1: Parrot Sky controller 2 with cockpit glasses
Best Feature 2: Capture footage in raw, DNG, and Jpeg formats
Plus Points: Decent flight time, stable flyer, impressive FPV accessories (included)
Minus Points: Video prone to glitches at longer distances, lens flare with fisheye lens
I've added the Parrot Bebop 2 Adventurer bundle to this guide because it's a popular name in consumer drones. It also offers a list of impressive features for the money. It's a good choice for the serious beginner but is perhaps more suitable for folks with at least some flying experience.
A Stable Flying Camera Drone
Flying the Parrot Bebop 2 Adventurer is lots of fun thanks to its stability and powerful motors. Takeoff and landing is a cinch. Once it's in the air the Adventurer holds its position pretty well even in blustery conditions. You can control the craft with either a compatible smartphone or by using the Parrot Sky controller 2 (included). Put on the cockpit glasses (included) for an immersive FPV experience.
The inbuilt front facing stabilized camera has a fisheye lens that provides shudder-free footage. Alas, there's no 4K. Still, the 1080P video is more than adequate for a drone in its class as are the crisp clear 14MP stills. Fisheye lenses are not to everyone's liking, though, and this one can show a little lens flare at times. The other snag is that video can become a little glitchy the further out you fly.
The Conclusion
This is an impressive bundle despite a few downsides. It provides a lot of flying fun and opportunities for aerial photographers and amateur filmmakers. You also get an impressive 25-minute flight time with an average 90-minute battery recharge time. The long 1.9km control range is also impressive. For the price tag there's way more to like with Parrot Bebop 2 Adventurer than there is to dislike.


Tech Specs
Drone dimensions: 15 x 12.9 x 3.5″
Weight: 499g (1.1 lbs.)
Maximum flight time: 25 minutes
Charging Time: 90 minutes (1.5 hrs.)
Maximum Flight range: 1.2mi (1.9km)
Camera: full HD 1080P, 14MP, wide-angle w/ 3-axis digital stabilization
Controller type: Parrot Sky controller
The Pros
Nice looking drone, great value
Comes with Bebop 2 Backpack
Stable flyer, fairly wind resistant
Long flight range with controller
Effective digital stabilization
Decent camera/stills and video
Visual Tracking, Follow-me GPS
Cockpit glasses
Stand for smartphone/tablet
The Cons
No lens protection for front-facing camera
Ineffective for low light recording (no ISO settings)
Reports of video glitches at outer ranges
No 4k video
7. Yuneec Q500 4k Typhoon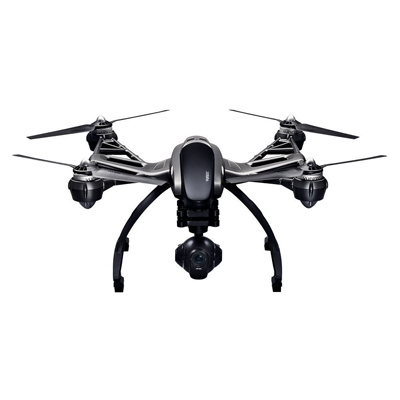 View on Amazon
Editor's Rating: 4.0/5.0
The final pick on this list is the Yuneec Q500 4k Typhoon Quadcopter. Let's look at why it's here.
Best Feature 1: Combined controller with FPV screen and full set of camera controls
Best Feature 2: One of the quietest quadcopters in its class
Plus Points: Smooth flyer, dependable features, sky and ground footage capability
Minus Points: Not travel-friendly, no HD video feed, waypoint navigation has no support
Skip this review if you want a small lightweight luggable camera drone. Keep reading if you want something bigger, more stable, and with the added ability to record on the ground as well as in the air. The Yuneec Q500 4k Typhoon Quadcopter is big when compared to a lot of other camera drones. Its size has some advantages as it helps to stabilize the craft and it's easier to see in the sky.
The Yuneec Q500 4k Typhoon Is Not Alone
The entire kit comes in a quality and sturdy purpose-built case. Inside you'll find a bonus battery, charger, extra set of propellers, the ST10+ controller, a sun shield, the SteadyGrip handheld mount, and a few other goodies. The SteadyGrip is worth a special mention as it's quite unique.
You can remove the camera and its gimbal then attach them to the SteadyGrip battery-powered handheld mount. That's all there is to it. You can now use the drone's camera on the ground.
Flying and filming with this drone is fun and easy to control. The ST10+ RC has an integrated 5.5″ touchscreen display and everything you need to operate the craft. It displays all the essential flight information too. The 4k video and 12MP photo quality is amazing. You'll find lots of reports from happy drone pilots raving about the quality of their aerial footage and still images.
The Conclusion
The Yuneec Typhoon Q500 4K offers an overall smooth and stable flight experience. It's not the only camera drone out there in this price range but you'll certainly want to add it to your shortlist. Consider its size, what you get in the package, and anything else that could check your needs & wants boxes.


Tech Specs
Drone dimensions: Xxx"
Weight: 1130g (2.5 lbs.)
Maximum flight time: 25 minutes
Charging Time: 120 minutes (2 hrs.)
Maximum Flight range: 642m (0.4mi)
Camera: 12.4MP, 4K 3-axis gimbal
Controller type: 10-channel 2.4GHz RC
The Pros
Large quad, steady flyer
Elegant design
RC Integrated FPV monitor
Manual camera settings
Bonus battery included
Free Steadygrip™
Quality 4K UHD video/12MP stills
2 sets of rotors
Spare set of propellers
Sturdy aluminum case
The Cons
Camera not so good in low light
Large quad (can be good or bad depending on the pilot)
Video feed isn't HD