Best Drones Under $300
3D Insider is ad supported and earns money from clicks, commissions from sales, and other ways.
Drones under $300 are at the lower end of mid-range. You can get a ton of value in this price range.
Keep reading if 300 bucks are within your price range. You'll love the seven beauties I've found for you. What we have here are some impressive crafts packed with advanced features and exciting specs. These are quadcopters aimed at serious entry-level pilots and seasoned hobbyists.
Budget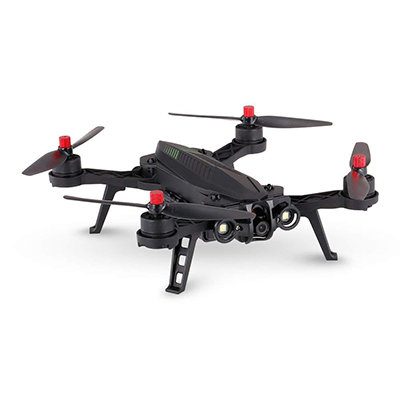 Goolsky MJX Bugs
4.8/5.0
Range 300m
Flight time 12 minutes
Powerful brushless motors and high and low-speed modes.
Check Amazon
Best Value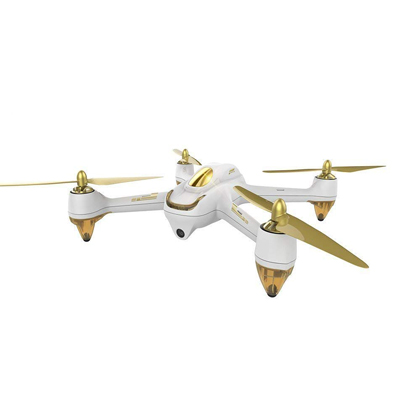 Hubsan H501S X4
4.5/5.0
Range 300m
Flight time 20 minutes
Excellent flight time, long flight range & follow-me function.
Check Amazon
Top Pick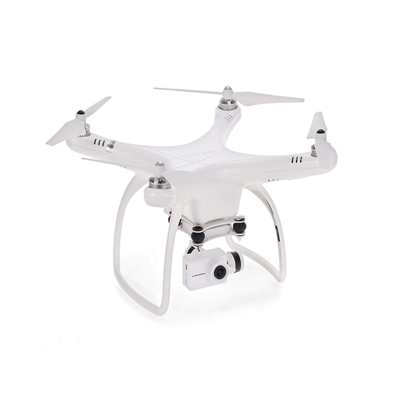 UPair One Drone
4.3/5.0
Range 800m+
Flight time 18 minutes
Great quad for the advanced and incredible flight range.
Check Amazon
Why these Drones?
This is not simply a list of camera drones picked out at random. I have personally researched every machine in this guide and compared them against similar models in the price category. I base my final decision on a number of factors (see below).
These no-nonsense reviews present the most feature-packed models currently for sale on sites like Amazon. It's quite possible to fly some very capable crafts without the need of a second mortgage.
UAVs in this price range should provide everything a budding pilot needs. Some of you will use them as a stepping stone before moving on to the higher end of mid-range or above. Manufacturers usually aim their expensive drones at prosumers and professionals who make money from their hobby.
Choose Your Budget:
About these Reviews
It would be easy to write pieces based purely on my own preferences. That's not how these reviews work. My best budget, best value, and top pick are all mine, but not the the reviews. To remove any bias in these write-ups I take other things into consideration before giving each of these drones a final Editor's Rating. This includes things like the opinions of industry experts and real user feedback.
7 Best Affordable Drones Comparison Table
The table below shows my seven affordable drones in the order they appear in this guide:
The Invaluable Checklist
Unsure about what you want from a drone—exactly? Try to come up with a shortlist of features and functions that matter to you personally because not all drones are equal. They can offer different technologies, control methods, flight experiences, and designs. If you get stuck read two of three reviews before making your checklist of priorities. The tables below each review should help.
Okay, without further ado let's get into the best consumer drones costing less than $300.
1. Goolsky MJX Bugs 6 B6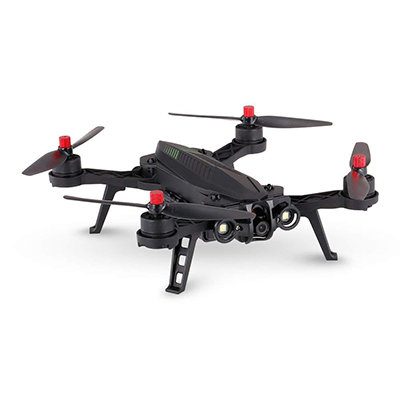 View on Amazon
Editor's Rating: 4.8/5.0
The first of my drone picks for less than 300 bucks is the Goolsky MJX Bugs 6. It uses powerful motors and serves as a great racing quad as well as a capable aerial camera drone.
Best Feature 1: 1806 KV1800 brushless motors
Best Feature 2: 300m smooth image transmission
Plus Points: Weak signal and low voltage alerts, fast stable flyer, high-speed, bright LEDs
Minus Points: Altitude hold not always reliable, top speed not overly competitive
It's hard not to love the MJX Bugs 6. It looks the part of a pro racer even though the company aims it at the entry-level user. I'd say they've got the price/quality ratio spot on with this craft. Immerse yourself in a private world of smooth image transmission. Fly over long distances with VR goggles using the drone's effective FPV capability. Now add to this a top speed of 31mph and enjoy the ride.
It's not in the same league as racing drones that exceed 80mph of course. But if it was then it wouldn't be an entry-level racer. The display qualities are amazing for the price. It starts with the capable 720P HD camera. There's also the 4.3″ LCD remote control display monitor, and FPV G3 goggles (included). And if night flying/racing is your thing the super-bright LED lights will illuminate the way.
Having 4k resolution would have been the icing on the cake. Still, we can't expect everything for a drone costing around 220 bucks (at the time of writing). The 720P HD camera won't let you down and it's more than okay for a UAV in this class.
The Bugs B6 Flying Capability
Overall this is a steady smooth flyer and heaps of fun to pilot. The 6-axis control helps to keep the B6 steady when performing fast maneuvers. The recovery time is impressive too. The maximum flight time is a generous 12 minutes. The flight range is an even more impressive 300m (984 ft.). Alas, the long 2-hours charging time makes it necessary to always keep a couple of spare batteries with you.
The Conclusion
The Goolsky MJX Bugs 6 B6 is not for folks who have experience in high-speed racing. Likewise, it's not for anyone who wants to record ultra-high-quality (UHD) aerial footage. It's ideal for every enthusiastic novice who wants a fun flying experience and an introduction to drone racing. It's also a great looking camera drone and the perfect craft for developing aerial photography and piloting skills.


Tech Specs
Drone dimensions: 11.4 x 11.4 x 3.5″
Weight: 282 (9.9 oz.)
Maximum flight time: 12 minutes
Charging Time: 120 minutes (2 hrs.)
Maximum Flight range: 300m (984 ft.)
Camera: 720P HD
Controller type: 2-way 2.4 GHz
The Pros
Affordable entry-level racing drone
Great design, crash resistant
High and low-speed modes
Excellent FPV functionality
Powerful brushless motors
Decent flight time
Long flight range
The Cons
Some reports that Altitude Hold doesn't always work well
Fast for a camera drone, slow for a racing quad
Frame rates can drop
2. Onagofly Smart 1 Plus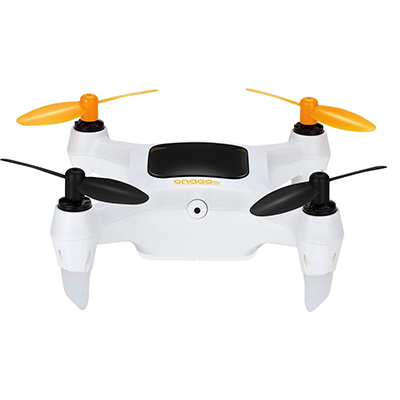 View on Amazon
Editor's Rating: 4.6/5.0
The ONAGOfly 1 Plus is a much-anticipated upgrade to the ONAGOfly 1st generation. It may seem costly for a small quad but it's packed with lots of impressive features as you're about to see.
Best Feature 1: Palm-sized portable nano quad-copter
Best Feature 2: Takes video and photos from any angle
Plus Points: Great camera, GPS navigation, obstacle avoidance, app control, live streaming
Minus Points: Flight time inconsistencies, damaged reputation overlapping from V. 1.0
Feature Packed or What!
Look at what the Plus 1 offers for a palm-sized quadcopter:
Highly-portable craft
13MP HD Sony high-resolution camera with tilt mode
Virtual control mode
GPS mode
Auto-follow and U-turn
One-key take-off and landing
Easy-to-use intuitive app
Instantly share images to social media
Flying the Onagofly Smart 1 Plus using a smartphone and WiFi connection is incredibly easy. For the most part it does what it's supposed to do. That lets the pilot get on with filming and taking aerial photos without having to worry too much about the airborne craft. One complaint from a few users is that the Plus one has a tendency to toilet bowl in the auto-hover mode when left alone for too long.
They call this the selfie-smart nano drone because the Sony 13MP HD camera can track and film you wherever and whenever. The tilting camera lets you shoot at any angle and create some really impressive footage. Whether you're standing on top a mountain, surfing, or doing some action sport, this drone will capture it all in impressive detail.
The Conclusion
The Onagofly Smart 1 Plus is a great gift for anyone who wants a portable and very capable little nano drone. It sports some of the features usually found on higher end drones. The virtual control mode adds to its simplicity. The 10-minute flight time and 100-meter flight range give you plenty of scope for fun. The 30 minute fast recharging time is another bonus feature that checks an important box.


Tech Specs
Drone dimensions: 15 x 5 x 2.6″
Weight: 190g (6.7 oz.)
Maximum flight time: 10 minutes
Charging Time: 30 minutes (0.5 hr.)
Maximum Flight range: 100m (328 ft.)
Camera: 13MP HD Sony
Controller type: Smart phone app control, 2.4G WIFI Frequency
The Pros
Small, portable, powerful
Fun and easy to fly
User-friendly features
Easy to follow app
Virtual control using smartphone
Share to social media instantly
The perfect selfie-drone
Great camera, tilts to capture footage at any angle
The Cons
Battery can be fiddly to change
High price tag for a nano drone
Some reports of toilet-bowling when left in auto-hover mode
3. Hubsan H501S X4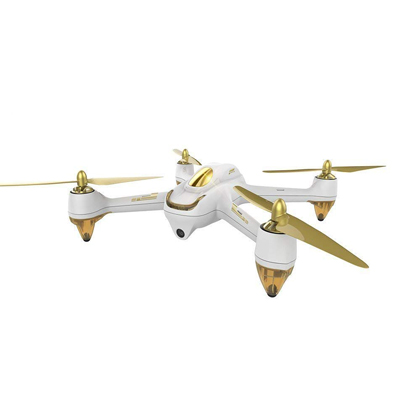 View on Amazon
Editor's Rating: 4.5/5.0
Keep reading if you're searching for a good-looking, feature-rich quadcopter. The Hubsan H501S X4 also sports that much sought-after feature called follow-me mode, but there's plenty more besides.
Best Feature 1: Powerful KV1650 PM1806 brushless motors
Best Feature 2: Decent quality 1080P HD camera
Plus Points: Robust quad, GPS Position Hold, Altitude Hold, One-Key Return & Landing
Minus Points: FLost altitude during acceleration
What's nice about the Hubsan, H501S X4 is that it sports a lot of the same features as the costlier mid-range crafts. It's a particularly user-friendly drone. It's an excellent quad for those who want an introduction to amateur aerial photography and video. Hasan has also equipped this quad with a complete FPV package so that pilots can enjoy real-time video up to a range of 300 meters.
Powerful, Durable, Reliable, User-Friendly
Another great feature is the brushless motors as they're more powerful, durable, and reliable. Most drones in this price category use the old style brushed motors. Now add to this the GPS position hold feature, follow-me mode, altitude hold, and one-button take-off/landing. You have a stable, easy-to-fly quad that delivers a lot of bang for its $219 price tag (at the time of writing).
The 1080p camera has a 120° Field of View (FOV) and is built-in (fixed). It delivers footage that is on the high-side of average so you won't find too many complaints about photos, video, or FPV. On top of all these impressive characteristics is the even more impressive 20-minute maximum flight time. The 150-minute battery charging time is the biggest gripe! Make sure you invest in one or two spares.
The maximum flight-range with the intuitive 2.4GHz controller is a generous 300 meters. The RC also sports a nice 4.3″ color screen which is a nice touch.
The Conclusion
These are just some of the highlights of this amazing Ready-To-Fly (RTF) quadcopter. It's a brilliant consumer drone suited to beginners and enthusiasts alike. Follow the link under the table for a full list of technical specs and impressive features.


Tech Specs
Drone dimensions: 8.7 x 8.7 x 2.8″
Weight: 410g (14.5 oz.)
Maximum flight time: 20 minutes
Charging Time: 150 minutes (2:30 min)
Maximum Flight range: 300m (984 ft.)
Camera: Inbuilt 1080p HD
Controller type: 4-channel 2.4GHz RC with 4.3″ color screen
The Pros
Beautiful design, value for money
Ready-To-Fly (RTF)
KV1650 PM1806 brushless motors
1080p HD camera
Complete FPV package
Excellent flight time
Long flight range
Follow-me function
User-friendly flight modes
The Cons
No blade protection
Long charging time
4. UPair One Drone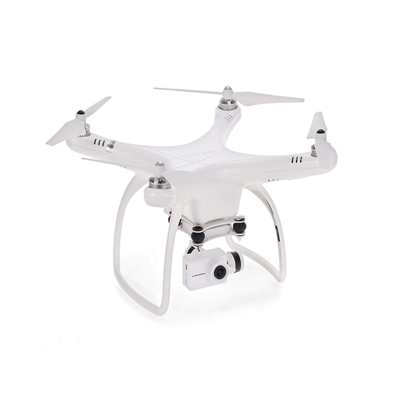 View on Amazon
Editor's Rating: 4.3/5.0
The Upair One is a great all-around quadcopter for under 300 bucks. It looks similar to the much-loved DJI 3. Even so, this craft had made a name for itself based on its own spec sheet and performance.
Best Feature 1: Nice 7″ FPV monitor RC
Best Feature 2: 2.7K camera 1080P full HD with 2-axis gimbahttps://3dinsider.com/wp-content/uploads/2018/08/UPair-One-Drone.jpgl
Plus Points: Low-voltage return home feature, user-friendly, solid build, great value
Minus Points: Non-optimized gimbal, spare parts can be difficult to find
I write these guides because too many budget-priced quads have now inundated the consumer drone market. The problem is there're too many choices now. And a lot of these new arrivals are of "questionable quality". In other words, they can over-promise and under-deliver. The UPair One Drone is not one of them, hence its #4 slot in this guide.
The remote controller doesn't have an HD screen but it's a practical RC all the same. The 2.7K camera is impressive for a drone that costs half the price of a DJI. You can even get a 4K version if you're serious about the aerial photography and videography side of things. There's also First Person View (FPV) live video capability that puts you right in the virtual pilot's seat.
User-Friendly Flight Features Aplenty
This quad flies really well and provides a rewarding experience for the novice to the more advanced user. There are plenty of operator-friendly flight features that help to instill pilot confidence:
Altitude Hold Mode
Headless Mode
One key Return Home
Position Hold Mode
Low-voltage return home
Lost contact return home
The 2-axis gimbal is better than nothing but a 3-axis would have given more camera control to the operator. In fact, the gimbal is one of the biggest gripes for this product. Considering the price tag, though, I don't see this as a major drawback but you may think differently.
The company boasts a flight time of around 18-minutes. This is a little ambitious to be honest. But even a slightly lesser flight time is better than most of the competition. Charging time is average at 90-minutes. The flight range is phenomenal at around 800m. The FPV range is about 500m.
The Conclusion
The Upair One quadcopter looks great, is easy to control, and makes a great gift. It's suitable for drone enthusiasts at any age and skill level. The suggestion is that under-14s should fly it with supervision.


Tech Specs
Drone dimensions: 19×14.1×9.7″
Weight: 1350g (3 lbs.)
Maximum flight time: 18 minutes
Charging Time: 90 minutes (1.5 hr.)
Maximum Flight range: 800m+ (1969+ ft.)
Camera: 2.7K Full HD (1080P)
Controller type: 2.4G RC+FPV monitor
The Pros
2.4G RC+FPV monitor
Nice design, durable construction
Decent flight time per charge
Incredible flight range
Quality camera pics & video
Excellent flight range
Easy to assemble
The Cons
Not always easy to find spare parts for this craft
User manual only available in English and Chinese
2-axis gimbal not great
5. Parrot AR.Drone 2.0 Elite Edition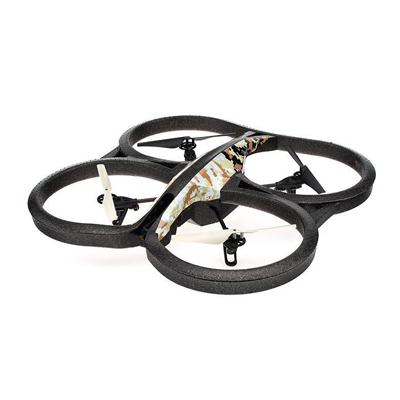 View on Amazon
Editor's Rating: 4.2/5.0
The Upair One is a great all-around quadcopter for under 300 bucks. It looks similar to the much-loved DJI 3. Even so, this craft had made a name for itself based on its own spec sheet and performance.
Best Feature 1: Absolute Control piloting mode (great feature for beginners)
Best Feature 2: Record photos and video footage directly on your mobile device
Plus Points: Crash-resistant, unique acrobatic moves, compatible with iOS and Android
Minus Points: potential WiFi connectivity issues, average battery life
The Parrot AR.Drone 2.0 Elite Edition comes in three color designs; Jungle, Sand, and Snow. You'll either love its style or prefer something more conventional. This craft is a beautiful steady flyer thanks to its effective navigation system and embedded sensors. It may take a little practice if you're a novice but it's an easy quad to fly and to perform impressive stunts.
Camera Quality and Function
The AR.Drone is also a camera quad equipped with a 720p camera that can face forward or down. Video and image quality is okay but not brilliant. It's similar to the footage you'd expect from a budget-end smartphone. The quality is perfectly adequate if fun flying is your priority. You'll need something better if you want to get more serious about aerial photography and videography.
The drone's mobile app looks after all the still images and video footage by saving them to your mobile device (tablet or smartphone). Flying and filming with the Parrot AR.Drone 2.0 is a gratifying experience. The 10-minute maximum flight time is around average for drones in this class as is the 90-minute charging time. The flight range depends on factors such as WiFi and flying environment.
The Conclusion
Are you somewhere between toy drones and mid-range quadcopters? The Parrot AR.Drone 2.0 Elite Edition sits nicely in the middle ground. It's easily portable, heaps of fun, and looks pretty cool to boot.


Tech Specs
Drone dimensions: 23 x 5 x 23″
Weight: 1814g (4 lbs.)
Maximum flight time: 10+ minutes
Charging Time: 90+ minutes
Maximum Flight range: WiFi dependent
Camera: Inbuilt HD 720p 30fps
Controller type: FreeFlight app with smartphone and tablet
The Pros
Great value quad for its class
Durable, crash-resistant
Unique design
First Person View (FPV)
Easy iOS/Android FreeFlight app
Hide, race, and flip modes
Auto-stabilization
The Cons
Short landing equipment
Some reports of WiFi Connectivity issues
Average battery life (flight time)
6. Wingsland S6 Camo Mini Drone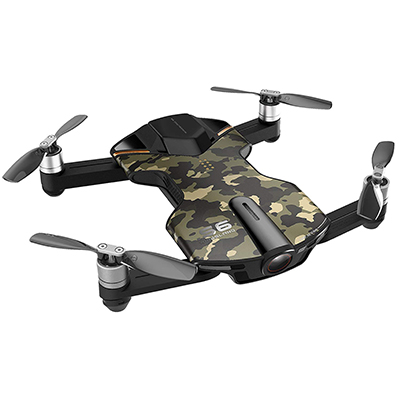 View on Amazon
Editor's Rating: 4.0/5.0
The Wingsland S6 (Outdoor Edition) hasn't quite caught on—yet—but I think it's a worthy contender. It's the first drone in this guide that offers 4k video resolution and costs less than all the other models.
Best Feature 1: 4K30P and 1080P60P HD Video
Best Feature 2: Superior brushless motors
Plus Points: pocketable, portable, lightweight, obstacle avoidance, available in five colors
Minus Points: long charging time, firmware updates fiddly
This ultra-thin phone sized drone has an inbuilt 4K camera and a beautiful foldable design. There aren't many drones that fit this easily into your pocket with so much technology. The camera is something else. You get HD Video at 4K30P and 1080P60P, steadied by the EIS 3-Axis Digital Stabilization. It's all under your control via smartphone and the comprehensive Smart App.
It's easy to take to the skies with the S6 mini quad by Wingsland. All you do is unfold the arms and push the blades into position. Once paired with the smart app you're good to go.
I wouldn't recommend the S6 to the complete beginner because it does take some experience and skill to get used to it. It has lots of user-friendly features but the actual flight control by a mobile device is the tricky part. If it has a remote control device it would be different but it doesn't have that option.
Another unique feature usually reserved for costlier crafts is obstacle avoidance. There are lots of other flyer-friendly flight features and intelligent modes too, including:
One Click Return-To-Home
Course-Lock mode
Home-Lock Mode
Orbit
Follow-Me
Outdoor Auto Hovering
I've only touched on a few of the key highlights and it reads like a review on a much higher-priced drone. On closer inspection, though, it does fall short on mid-range models but it's still excellent value for the money. Some folks prefer to have a drone with a physical transmitter. Others like larger crafts. However, such things are subjective rather than critical.
It would have been nice to see a longer flight time than 10-minutes for this lightweight quad. Some users even say 7-8 minutes is more realistic. The 100 meters flight range is adequate for a small craft. The 120-minute charging time is a major gripe as there's no bonus battery. And some users report that firmware updates are not always smooth.
The Conclusion
I'm a person who likes to travel light so I love almost everything about this capable little quadcopter. It's hard to find such a quality feature-packed craft for the money. The Wingsland S6 Camo Mini Drone makes a nice gift for advanced-beginners and above.


Tech Specs
Drone dimensions: 7.4 x 5 x 3″
Weight: 260g (9.2 oz.)
Maximum flight time: 10 minutes
Charging Time: 120 minutes (2 hrs.)
Maximum Flight range: 100m (328 ft.)
Camera: 4K30P UHD
Controller type: Smartphone and Smart App control
The Pros
Slim and elegant design
Portable pocket selfie drone
Reliable brushless motors
Built-in 6-axis Gyro
Decent 13MP camera/4K video
Sharp photo/clear filming
WiFi Remote Control
The Cons
Average flight time
Long battery charging time
7. ARRIS X-Speed 250B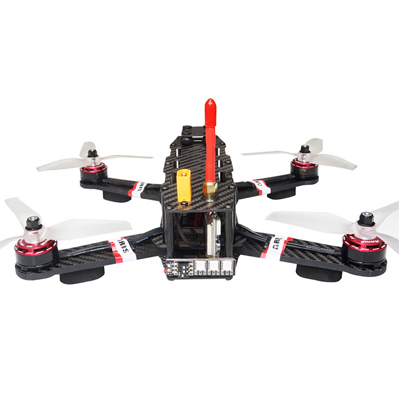 View on Amazon
Editor's Rating: 3.9/5.0
My final choice in this guide is the ARRIS X-Speed 250B V2 Quadcopter. It's another First Person View (FPV) racing drone that comes Ready-To-Fly right out of the box—well almost.
Best Feature 1: Highly-durable frame & arms
Best Feature 2: Powerful brushless motors
Plus Points: Can use FPV goggles, pre-assembled, tuned & tested, Raptor 390 Tower
Minus Points: Restricted camera tilt, RC display dim under bright outdoor light
This version of the ARRIS X-Speed 250B is fully-assembled. They even do some fine-tuning and testing before it leaves the factory. The X-Speed has something called the Raptor 390 Tower that keeps the wiring protected and clean. If you're familiar with this type of craft you'll know how important this is.
The Radiolink AT9 transmitter (included) is intuitive and fully-configurable. Being able to tinker is exactly what you want from a racing drone setup. The only downside is that the transmitter screen is not the easiest to see outdoors on sunny days.
The fitted 700 TVL camera is not bad and takes fairly decent videos without delays. You can adjust the camera from 0-to-45-degrees which is a nice touch though a little restrictive. It's possible to get up to 10-minutes flight time but this ultimately depends on the battery used (not included).
The Conclusion
This is not a beginner's quad. If you're new to racing look at something more suitable at the entry-level like the Goolsky MJX Bugs 6 B6. If you're ready to move up to the next level then ARRIS X-Speed 250B will serve you well. It's fast and furious and provides amazing First Person View (FPV). Opt for an FPV headset like the Fat Shark Dominator V3 for a totally immersive experience.


Tech Specs
Drone dimensions: 7.88 x 9.35 x 2.63″
Weight: 400g (14.1 oz.)
Maximum flight time: 10 minutes
Charging Time: 4S Lipo battery
Maximum Flight range: 900m (2953 ft.)
Camera: 700TVL 2.8mm
Controller type: Flycolor 4-in-1
The Pros
Ready-To-Fly (RTF)
Durable craft
Powerful brushless motors
Fast flyer for its class
Excellent for FPV racing
Upgradable
Vibration damper to steady filming
Reasonable flight time
The Cons
Transmitter screen not easy to see in bright daylight
Camera mount restricts up-tilt
Fairly low Payload capacity